Why Use Email Alternatives to Gmail?
Gmail is a popular email service with a range of features and benefits. Many people love Gmail because of its interface, ease of use, and great search functionality. However, there are several reasons why someone might choose to use email alternatives to Gmail.
Here are some of the most common reasons why people seek out a Gmail alternative:
Privacy Concerns: Gmail is owned by Google, a company that gathers and analyzes user data for advertising and other purposes. Some individuals may have concerns about their privacy and prefer to use email services that prioritize data protection and do not track user activity.
Independence and Diversity: Relying solely on a single email service like Gmail can create a single point of failure. If there are any issues or outages with Gmail, it can disrupt communication. Using alternative emails to Gmail ensures greater independence and diversification, reducing the risk of losing access to your email.
Security Features: Different email providers may offer varying levels of security features. Some best alternatives to Gmail prioritize advanced encryption methods, two-factor authentication, and other security measures to protect users' data and prevent unauthorized access.
User Interface and Customization: While Gmail has a user-friendly interface, some people may prefer the layout and customization options offered by other email providers. Alternative services often provide unique themes, layouts, and organization features that better suit individual preferences.
Specific Features and Integrations: Depending on your needs, email providers, often considered as the best alternatives to Gmail, may offer specialized features and integrations that are not available in Gmail. For example, certain services may be more focused on productivity, collaboration, or specific industry requirements.
Ad-Free Experience: Gmail displays targeted advertisements based on user data and email content. If you prefer an ad-free email experience, you may choose alternative providers that do not include advertisements in their interfaces.
Best Alternatives to Gmail
If you've been using Gmail exclusively for the last several years, you might be surprised by just how much-competing email providers have improved their products. What's more, there are now several popular privacy-oriented Gmail alternatives that have proven themselves to be trustworthy and reliable.
Ultimately, the choice of an email provider depends on your individual preferences, priorities, and concerns. It's worth exploring different alternatives to find the one that best aligns with your needs and values. While Inbox by Gmail was indeed a top-notch product, Google decided to shut it down to sidestep internal competition with Gmail. If you were an Inbox aficionado, you might be interested in exploring these alternatives to Inbox by Gmail. For those who are simply seeking an alternative to Gmail, we've ranked these solutions based on the unique features and offerings they provide beyond Gmail's capabilities.
1. Outlook.com
📝 Best For Microsoft Office Users
The question of Gmail vs. Outlook is one that has been going on for over a decade. In 2013, Microsoft transitioned Hotmail users to its new web-based suite of webmail, contacts, tasks, and calendaring services, called Outlook.com. In addition to a brand-new user interface, Outlook.com featured a much tighter integration with other Microsoft services, such as OneDrive.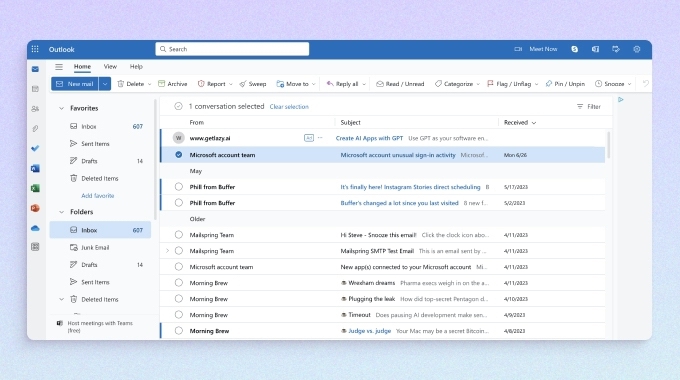 Today, Outlook.com is the best email alternative to Gmail for people who want virtually unlimited storage space, seamless integrations with other accounts, and all the productivity tools one might need to stay organized and on top of all tasks.
Like Gmail, Outlook includes apps through Microsoft Office, custom email signatures, and simple inbox automations. Unlike Gmail, though, Outlook supports attachments up to 500 MB, direct customer support, and the ability to organize messages into folders.
👍🏼 Pros:
Modern design
Tightly integrated with other products from Microsoft
Support for attachments up to 500 MB
Virtually unlimited storage space
👎🏼 Cons:
Some actions take more steps than Gmail users are used to
2. Titan
📝 Best for Marketing Users
Titan is one of the best alternatives to Gmail if you want a custom email address for business marketing purposes. It is designed for small businesses to grow their brand and develop meaningful relations with their customers by providing an email at their domain and features that streamline productivity.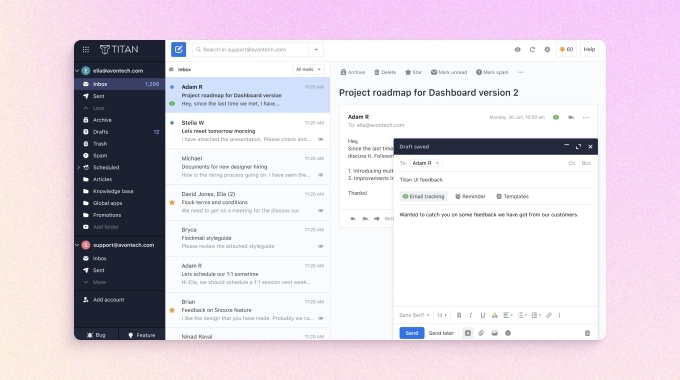 With features such as Schedule Sends, Email Templates, Follow-up Reminders, and more, Titan offers tools to help you plan marketing emails and campaigns. You can also receive read receipts and view advanced email tracking metrics, neither of which are available natively in Gmail but are vital for business-level users.
Titan's contacts, calendar, and storage also provide efficiency from within the inbox, just like Gmail. Although both Gmail and Titan scan messages for spam elements, Titan Mail includes enterprise-level encryption, IP blacklist checks, and more, setting it apart as an effective Gmail alternative.
👍🏼 Pros:
Cost-effective business email solution
Multiple accounts can be viewed at the same time
Works across all mobile and desktop platforms
Designed specifically for small businesses
Support for custom domain names
👎🏼 Cons:
Search function not as advanced as Gmail
Not able to mass delete messages at once
3. Neo
📝 Best for Small Businesses
Neo is one of the best alternatives to Gmail for users seeking a custom email address and domain name for their small business. If users do not have their own domain, Neo offers a free Neo domain and a one-page website to help them create their brand identity and establish credibility.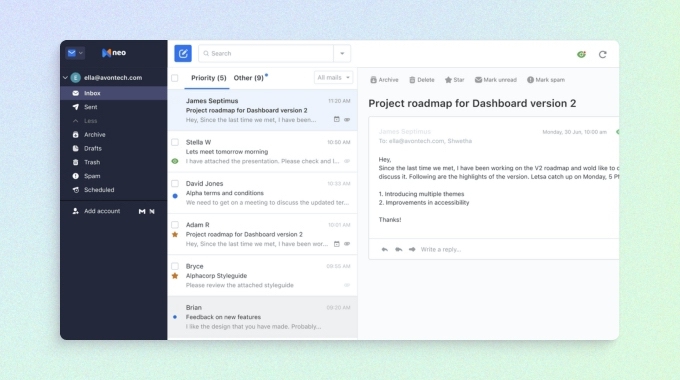 Neo equips small businesses with essential tools for growth, including a Free co.site Domain Name, a Free One-Page Site, Schedule Sends, Email Templates, Follow-up Reminders, and more, allowing them to focus on their expansion.
👍🏼 Pros:
Comes with a free email, co.site domain and a one-page website
Supports multi-account viewing
Works flawlessly on any OS, mobile or desktop
Unique among platforms with read email notifications
Features geared towards small business success
👎🏼 Cons:
Email functionality is unavailable while offline
4. Zoho Mail
📝 Best for Business Users
Zoho Mail is one of the few ad-free email alternatives to Gmail that focuses mainly on businesses but offers professional email with calendars, tasks, notes, and bookmarks to individual users as well. Zoho Mail makes it easy to get a custom domain email for your business so that your customers instantly recognize your emails.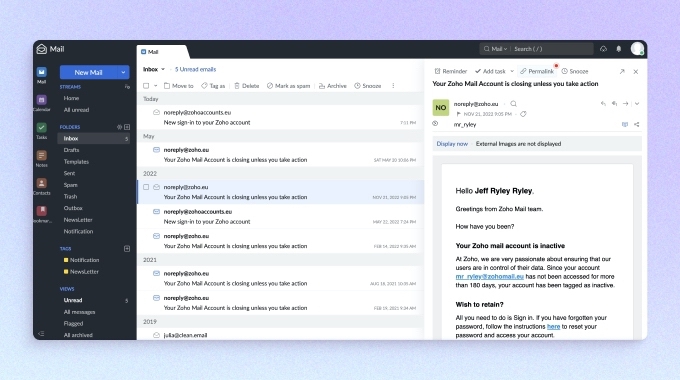 With every Zoho plan option, a strong Gmail alternative, you get access to multiple email accounts, with the free version including up to 5 email addresses. With any of the paid versions, you can also send larger-than-average attachments, which can be helpful for business users. The included 1 TB storage offers far more than Gmail, but the filtering features are far less advanced than Gmail.
All Zoho Mail users get to enjoy a 99.9% uptime guarantee, integrations with products across the Zoho suite, expert 24x7 technical support, and a powerful control panel where admins can set up individual mailbox quotas and privileges, email policies, group accounts, and more.
For a more thorough evaluation of Zoho Mail and Gmail, check out our Zoho Mail vs. Gmail head-to-head comparison.
👍🏼 Pros:
99.9% uptime guarantee
Up to 1 TB storage
No ads to ruin the experience
Many business-oriented features
👎🏼 Cons:
Additional storage beyond 5 GB costs money
5. ProtonMail
📝 Best to Transfer Emails
Founded at the CERN research facility by Andy Yen, Jason Stockman, and Wei Sun, ProtonMail is not just one of the best Gmail alternatives out there, but it's also excellent for Gmail users who want to transfer over their messages.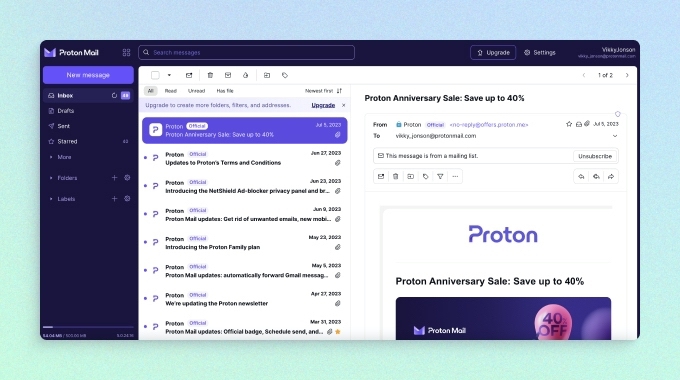 ProtonMail offers a switch important assist tool that makes it easy to quickly transfer all emails, calendar events, and contacts from Gmail or similar alternative emails to Gmail. ProtonMail also bridges to commonly used desktop email apps, like Outlook and Apple Mail. This is great for people who want email access from anywhere, including a laptop or mobile phone.
ProtonMail's servers are in Switzerland and are protected by strict Swiss privacy laws. All new users get 500 MB of email storage for free, and three premium plans are available for those who need more.
For more information, check out our write-up on ProtonMail vs. Gmail.
👍🏼 Pros:
Based in Switzerland
Community supported
Modern inbox design
100 percent open source
Easy to transfer data
👎🏼 Cons:
Does not encrypt subject lines, headers, or metadata
Some complaints about integration with desktop email clients
6. Tutanota
📝 Best for Security
Email privacy has become a huge issue in recent years, with more email users rebelling against large email providers like Google because they share their personal data with third parties. That's what makes Tutanota such a great alternative to Gmail: it's focused on security.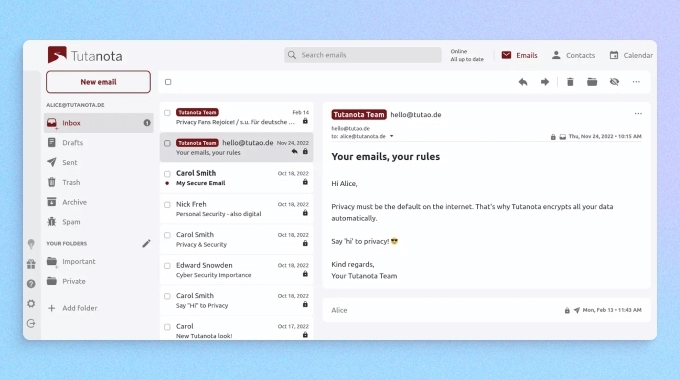 Tutanota encrypts all of your data, including your contact list. Additionally, its forward security ensures that even if someone decrypts one message, they cannot access any additional messages or your mailbox. Even when you send a message, Tutanota's default end-to-end encryption keeps messages safe with non-Tutanota users. This makes Tutanota far more secure than Gmail, which can be helpful for users who care about protecting their data.
There are a few limitations with the free version of Tutanota, but the need for features like automation rules can easily be solved by using a mailbox management app like Clean Email. That being said, the paid version of Tutanota offers far more features for the price than Gmail, making it an affordable Gmail alternative as well as a secure one.
👍🏼 Pros:
Transparent revenue model
Clean and clutter-free user interface
100 percent open source
Allows users to use their own domain names
👎🏼 Cons:
No third-party integration
Free version lacks features
7. iCloud Mail
📝 Best for Apple Lovers
Apple's iCloud cloud storage and cloud computing service users can send, receive, and organize email on any device because iCloud Mail is accessible via IMAP. Free iCloud Mail accounts are limited to 5 GB. Users can send up to 20 MB large attachments or use Mail Drop to send attachments that are up to 5 GB large.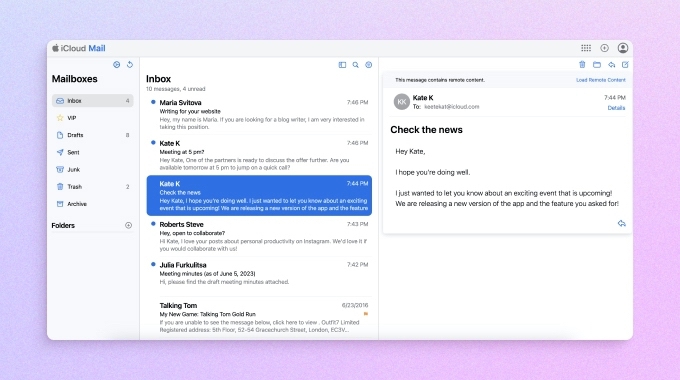 The interface of iCloud Mail is just as well-designed and polished as all Apple products. It offers many of the same great features people know and love from Gmail, but doesn't necessarily offer the advanced templates, scheduled sends, and other business-level features that options like Titan Mail or Outlook provide.
The largest benefit of iCloud Mail, one of the notable Gmail alternatives, aside from its easy compatibility with iPhones and other Apple devices, is the fact that you can manage multiple mailboxes from different accounts or domains and use all of the features included in iCloud. Gmail doesn't offer all of its features for non-Gmail accounts.
In our Gmail vs. iCloud side-by-side comparison, we look at these features more in-depth.
👍🏼 Pros:
5 GB of free email storage space
Ad-free experience
Works on all devices
Polished user interface
👎🏼 Cons:
Not meant for people who don't use Apple products
Lacks advanced features
8. Mailfence
📝 Best for Users Outside the United States
Like Tutanota, Mailfence markets itself as a fully secure Gmail alternative for users who care about protecting their data. Because Mailfence is based in Belgium, it follows Belgian privacy laws.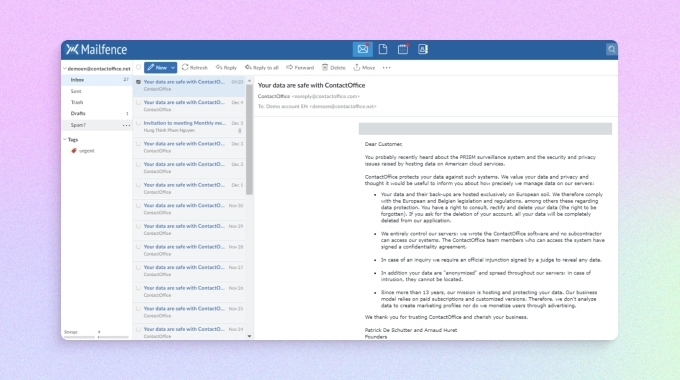 Mailfence believes that privacy is a right, not a privilege. Therefore, the company doesn't track any user activities. It uses non-US SSL/TLS certificates, end-to-end encryption, and multifactor authentication. Because users outside the US must follow stricter security protocols, Mailfence is a much better option than Gmail to ensure these protocols are followed.
Beyond its enhanced security, Mailfence offers many of the same features Gmail users like. There's a built-in calendar that rivals Google Calendar, a Google Drive alternative called Mailfence Documents, and even an instant messaging platform for users.
👍🏼 Pros:
Non-US SSL/TLS certificate
End-to-end encryption
Built-in calendar, document management, and more
👎🏼 Cons:
Only basic email formatting features included
Very plain user interface
9. FastMail
📝 Great for Speed
As the name implies, FastMail is "fast." FastMail the platform runs off lean, unobstructed HTML without ads, cookies, Javascript, and anything else that would slow your inbox down. This is more than Gmail can say since it includes numerous types of "bloat" that slow down its reactivity.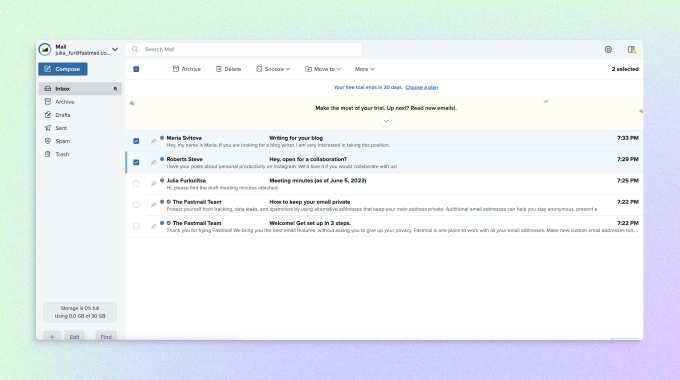 Beyond that, FastMail offers many of the same features as Gmail. FastMail includes spam filtering, labels, automation, and folders. There's a built-in calendar and contacts feature. You can also undo sending, snooze notifications, and more.
Fast Mail, a reliable alternative email to Gmail, prioritizes security and privacy. There are no ads and no tracking. You can also set up an email address with your own domain, something Gmail only offers for paid subscription users.
👍🏼 Pros:
No ads, cookies, or other forms of "bloat"
Spam filtering
Built-in calendar and contacts
Advanced labels and filtering
Custom domain support
👎🏼 Cons:
No end-to-end encryption
No free subscription tier
10. Hey by Basecamp
📝 Best for Email Management
Hey by Basecamp is a great Gmail alternative for users who like a clean and organized inbox. Like Gmail, Hey offers a focused inbox where important, prioritized messages land. You can then route less important messages into other folders, much like Gmail routes promotional messages into their own space. You can even flag messages as "Reply Later" and put them in their own space so you can check messages and come back to them when you have more time to reply.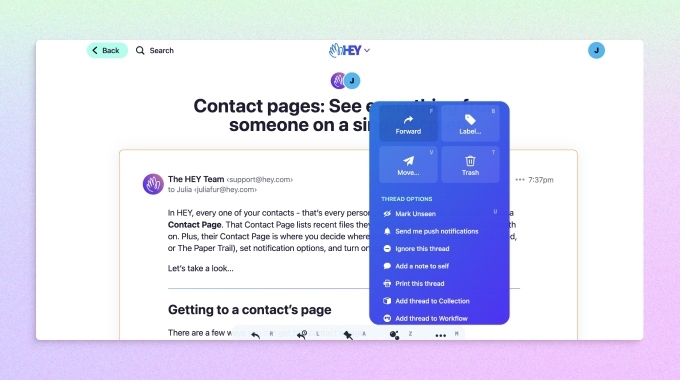 Hey doesn't just stop there with its great mail management. You can use Clips to flag certain text within a message so that it's easily searchable later. Workflows is another great feature that lets you define stages and visually track multiple threads that belong to the same project or discussion. Then, the Focus and Reply feature lets you open replies in a separate, distraction-free window so you can focus on replying to an entire stack of messages at once.
Unfortunately, Hey makes integrating multiple accounts from different email clients tricky, so it may not be the best Gmail alternative for users who manage multiple accounts in one place. You also can't use Hey to mass delete messages, but you can learn how to delete all emails on Gmail.
👍🏼 Pros:
Many great features for organizing messages
Focused inbox (called "imbox")
Clips to highlight important text from messages
Advanced labels and filtering
👎🏼 Cons:
Not best for multiple accounts from different clients
Not the best mobile app
Clean Email: The Best Way To Organize Any Inbox
Regardless of what Gmail alternative you choose, they all come with their benefits and drawbacks. Luckily, most features that Gmail and email services other than Gmail lack can be found in mailbox management tools like Clean Email.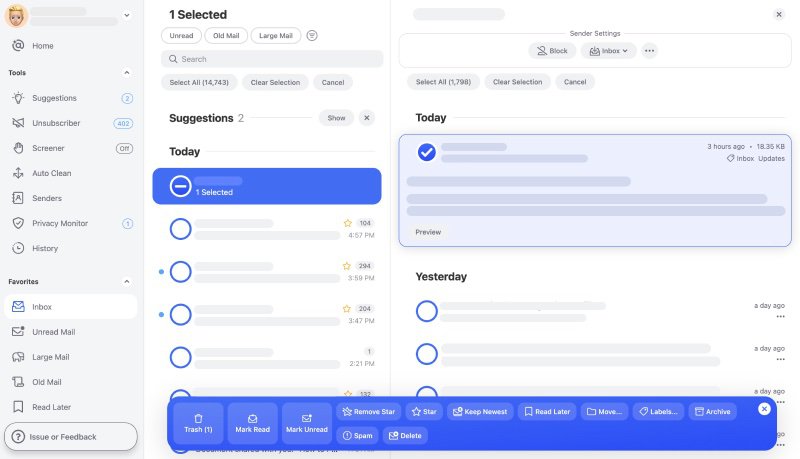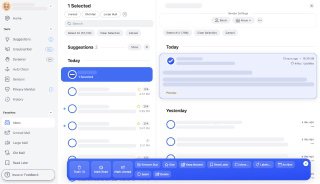 Like Gmail itself, most best Gmail alternatives offer very few features to help you clear out clutter, save time with automation, or provide cleaning suggestions on how to improve your inbox organization. However, that's precisely what Clean Email does — it's an app designed to make your life easier while preventing your inbox from overflowing.
For example, Auto Clean rules automate email tasks based on the parameters you set. You can set Auto Clean rules to move messages into folders, apply labels, delete unwanted messages, and more. Once you set these automation email rules, you'll receive regular summary updates about what Auto Clean activities the app performs on your behalf.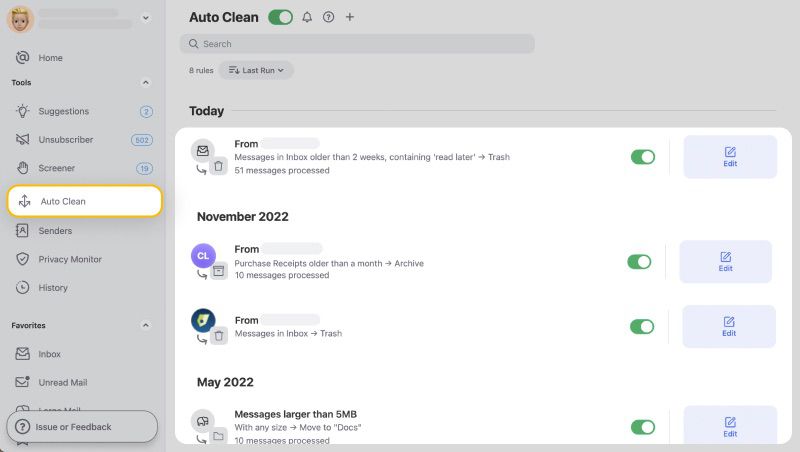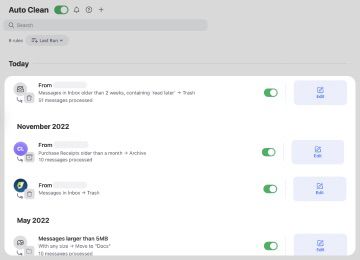 Once you start using the app regularly, you will also receive Cleaning Suggestions based on actions you perform. The purpose of these suggestions is to find additional ways to declutter your inbox and better organize your messages. These suggestions can then be turned into Auto Clean rules, performed on a one-time basis, or ignored.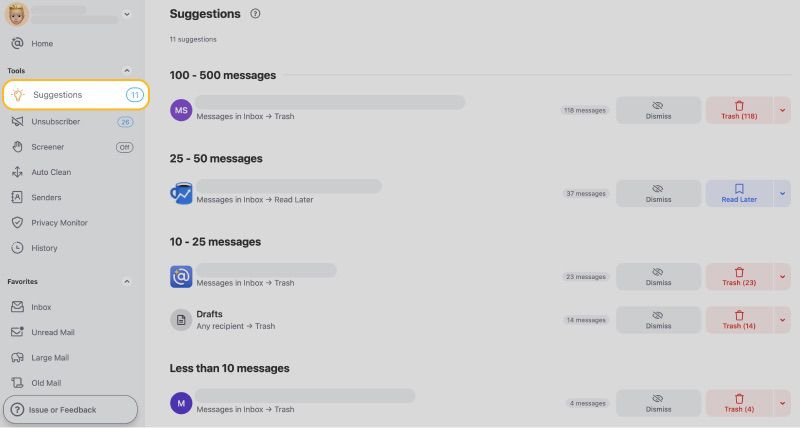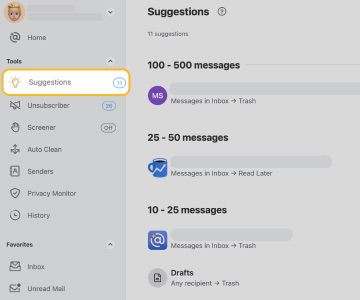 Such features like Keep Newest and Read Later help minimize the number of messages that linger in your inbox and become a perfect way to manage your subscriptions. With Keep Newest, the app will only place the newest message of a thread in your inbox and clear out the rest. Similarly, Read Later will move the flagged message out of your inbox and into another folder so you can review it later.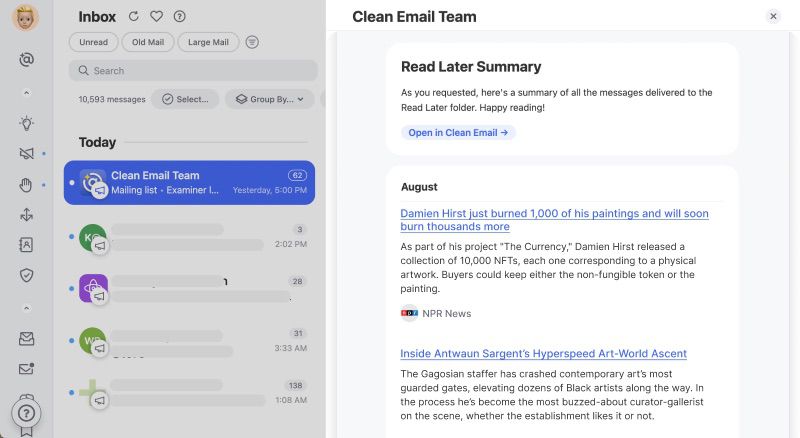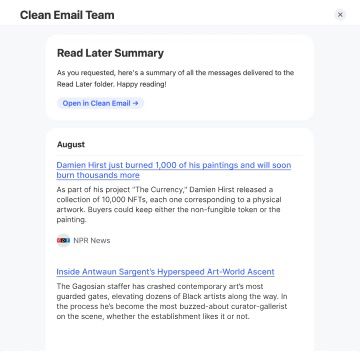 Then, features like Screener puts messages from unknown senders in a quarantine folder so they don't end up in your inbox. Many free email accounts other than Gmail lack sophisticated spam filtering, but this feature ensures no suspicious messages end up in your main mailbox.
Most importantly, Clean Email is designed with security and user privacy in mind. The app encrypts your data and will never analyze, share, or sell your information. We only read email headers including the subject line, sender and recipient information, and similar metadata that is used to sort messages. We never access the content of messages or any email attachments.