It's estimated that the number of email users worldwide will increase to over 2.9 billion by the end of 2019. This creates a huge opportunity for cybercriminals, who collectively send about 14.5 billion spam emails every single day.
The massive number of emails sent every day creates an equally massive problem for individuals and businesses that rely on email for communication with friends, family, colleagues, business partners, and others: how to archive emails that are important in a safe and searchable manner and distinguish them from spam messages at the same time.
The solution to this problem is email archiver software, which has been around for nearly 20 years but has got significantly better, more complex, easier to use, and more affordable in recent years thanks to the rise of user-friendly email archiver software solutions such as Clean Email.
Email archiver software solutions can filter email messages based on certain specified criteria and safely and securely store them away from unimportant emails and spam messages. This helps businesses whose servers are reaching capacity, individuals who are tired of feeling like they're searching for a needle in a haystack every time they need to retrieve an older email, and also those who simply like to stay as organized as possible.
How to Choose Best Email Archiver Software?
There are certain features that every email archiver software solution should have. To start with, you should always choose email archiver software that's compatible with your email client or service of choice. There are many enterprise-grade email archiving tools with a plethora of advanced features and excellent security, but if you use Gmail or Yandex you might want to choose something that has been developed with Gmail and Yandex in mind.
Before you spend money on any email archiver software solution, you should also evaluate how efficiently it can archive emails, especially if you're looking for an enterprise-grade email archiving tool to help you archive thousands and thousands of emails.
Last but not least, you should always choose an email archiver software solution that's easy to use and designed with casual users in mind. Even if the solution ends up being used by skilled IT professionals, simplicity and usability help reduce user errors.
The following email archiving solutions comparison includes three popular email archive software products, starting with Clean Email, the most user-friendly email archiver Mac and Windows on the market today.
Top 5 Best Email Archiving Solutions
Our favorite email archiver is Clean Email. This modern and easy to use inbox cleaner is a perfect companion for anyone who relies on email and wants to be more organized. It can automatically categorize emails based on various criteria into easy to review bundles. Each bundle can then be individually removed, labeled, moved, or, of course, archived.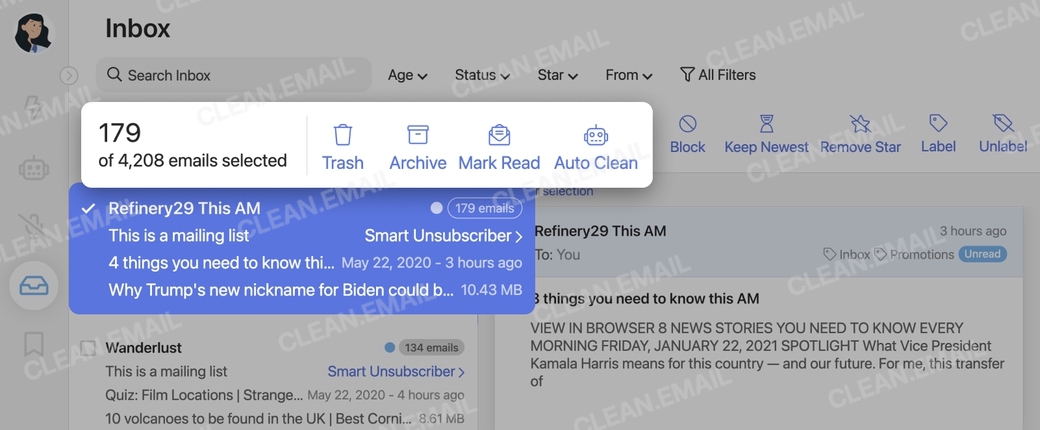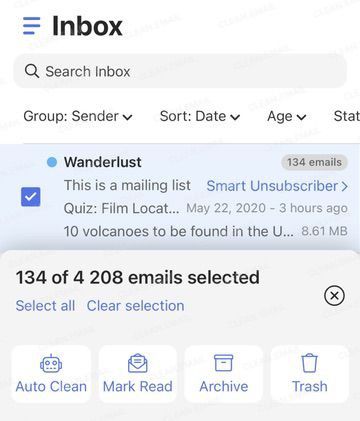 Because Clean Email wants to save you as much time as possible, it comes with a useful Automation feature, which can be applied to new emails without any manual input. For example, you can tell Clean Email to automatically archive all invoices for your online purchases or transaction confirmation emails from your payment service of choice.
Clean Email's Automation feature can also be applied to newsletters and subscription emails. If you don't care about most newsletters and subscription emails that show up in your inbox, you can use the Unsubscriber feature to get rid of them once and for all—even if they don't contain any unsubscribe link you could click on.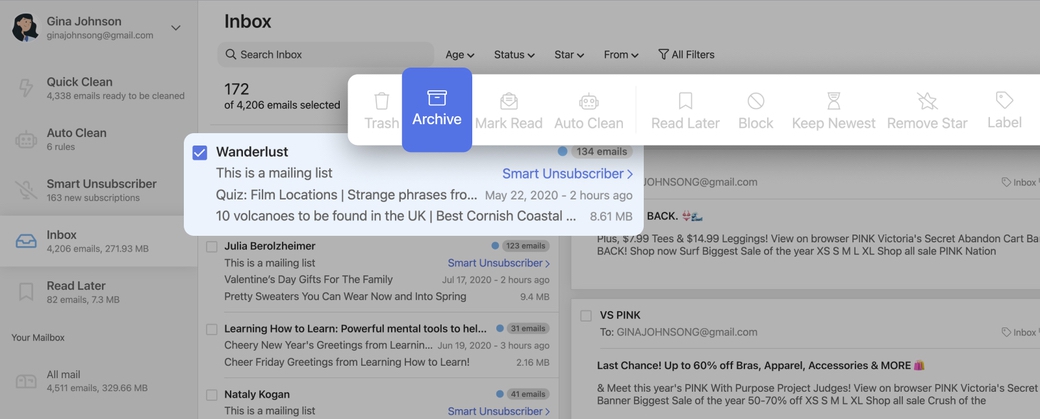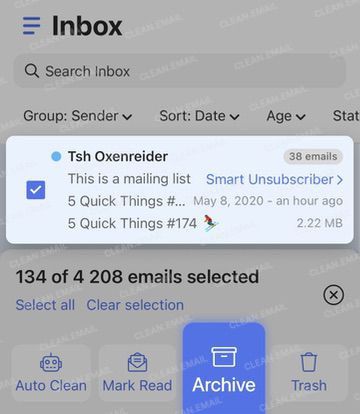 Being a privacy-respecting email archiving solution, Clean Email never reads the content of your emails, so you can trust it even with very sensitive and personal information. It works with all email services and can be tested for free.
Price: starting from $9.99
👍🏼 Pros:
You can try it for free.
Offers many powerful email archiving features.
Automatic email archiving.
Doesn't read the content of your emails.
Excellent value for money.
Works with all email services.
👎🏼 Cons:
Costs more if you want to use it with more than one email account.
IceWarp is a complete email storage solution, aimed at businesses that need to store large quantities of email messages in a secure and searchable way. Besides email archiving, IceWarp's solution also includes robust anti-spam protection with auto-learning filters, adaptive greylisting, and charset filtering. IceWarp is typically used as an alternative to Microsoft Exchange, but it's also compatible with the mail server and calendaring server developed by Microsoft.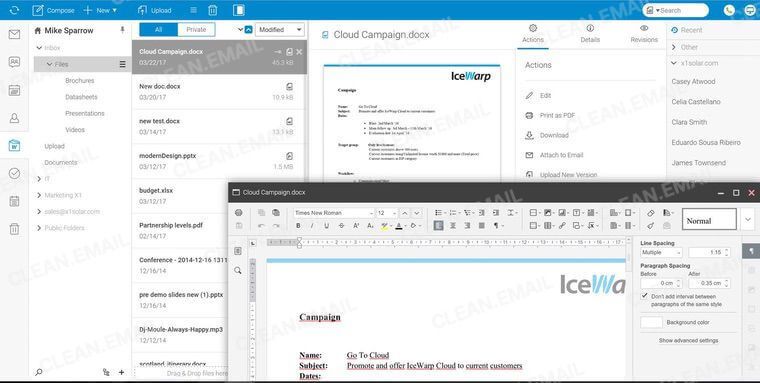 The latest version of IceWarp integrates with TeamChat, a team communication solution with support for instant messaging, file sharing, and appointment scheduling. All communication that happens inside IceWarp is secured by signature-based Kaspersky AntiVirus, online CYREN AntiSpam, and IceWarp Authenticator. This multi-layered security approach ensures maximum protection against malware, phishing, and other online threats.
Because of its scope, price, and focus, IceWarp can only be recommended to businesses that are looking for a complete email storage solution and email archiving is one of their main requirements. Individuals and businesses that are satisfied with their current email provider or server should choose a more focus email solution, such as Clean Email.
Price: starting from $2.50
👍🏼 Pros:
Complete cloud collaboration suite.
Not suitable for individual home users.
Robust security features.
Aid4Mail is an email migration and archiving solution for the Windows operating system. It supports over 40 different email clients and services and comes with an assortment of built-in tools that cover everything from email discovery to email conversion to email forensics to email archiving.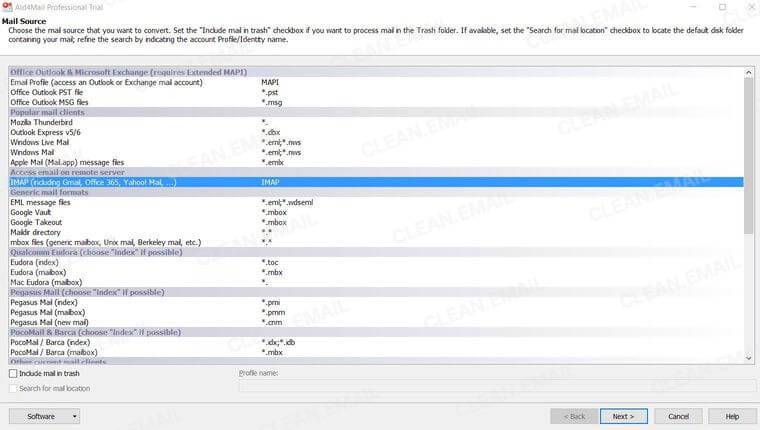 Aid4Mail can archive emails to a number of different formats, including Outlook PST and MSG files, non-proprietary formats like mbox and EML files, formats that don't require an email client program, like plain text, XML, or PDF, intermediary formats like CSV, or Aid4Mail's highly compressed ZIP archive format.
The most important selling point of Aid4Mail is its ability to archive all email messages accurately and completely, including mailbox folder structure, message text formatting, email status information (read, replied, flagged), sender and recipient email addresses, dates and other metadata, and email attachments and embedded contents.
When compared with Clean Email, Aid4Mail noticeably lacks behind when it comes to design and usability. It also hasn't been developed with popular online email services such as Gmail and Yahoo Mail in mind, making it somewhat less suitable for casual home users.
Price: starting from $39.95
👍🏼 Pros:
Supports over 40 different email clients and services.
Archives emails with attachments and formatting.
Can archive emails to a number of different formats.
👎🏼 Cons:
Not as intuitive as other email archiving solutions.
SaneBox is a popular email archiving solution that hides all potentially distracting emails to SaneBox folders, which can be accessed from any email client. To determine which emails are important and which are not, SaneBox relies on its AI algorithms, which the company has been perfecting since 2010. The algorithms analyze your email history without looking at the content of your emails, and you can improve their accuracy by moving any misplaced email to the correct folder with your favorite email client.

To get started with this email archiver software, simply log in to your email account from SaneBox and wait for SaneBox folders to be added. From there on, SaneBox will analyze incoming email messages and either leave them in your inbox if they are important or move them to your SaneLater folder if they are not.
In addition to automatically organizing incoming email messages based on their importance, SaneBox also allows you to schedule breaks from new email with Do Not Disturb, unsubscribe from unwanted emails with one click, snooze non-urgent email for later, track and get notified when someone hasn't replied, and more. It starts from $7 a month, and you can save money by purchasing either the yearly or bi-yearly plan.
Price: starting from $7
👍🏼 Pros:
Accurate email archiving solution.
Works with all major email services.
Doesn't access the content of your emails.
Plenty extra features.
👎🏼 Cons:
Folder-based email organization isn't for everyone.
This email archiver software solution makes it easy to unsubscribe and delete a large number of email messages in just a few clicks. It works with Gmail, Outlook, Yahoo Mail, and just about all other IMAP-based email services.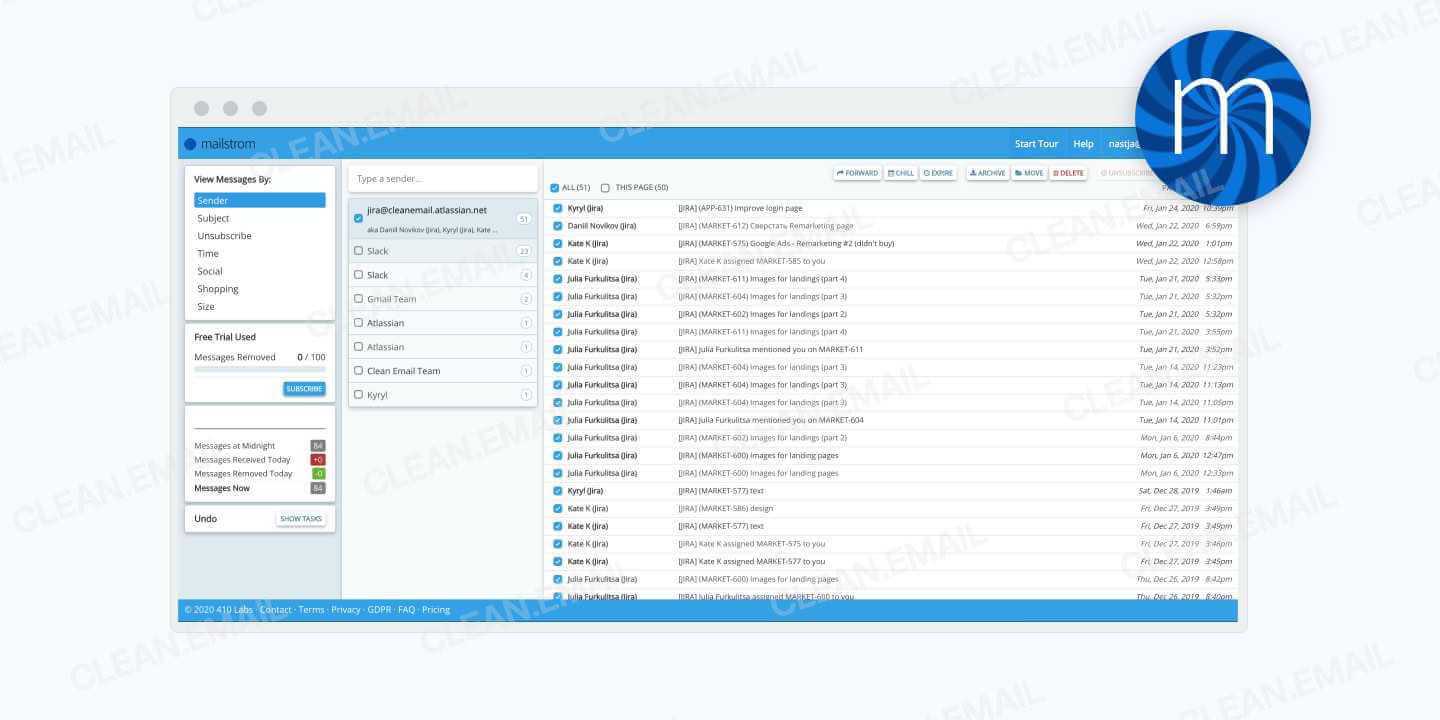 In a way, Mailstrom takes the opposite approach to email archiving compared with SaneBox, which relies heavily on artificial intelligence algorithms. With Mailstrom, only you decide what happens with your emails, but the email archiver software makes it easier by bundling related email messages together, allowing you to act on them as a group.
In addition to automatic email bundling, Mailstrom also offers a one-click Block function to stop any unwanted senders, including unwanted mailing lists that don't contain an unsubscribe link. All these features would be even more attractive if it wasn't for the fact that Mailstrom has access to not only email metadata but also the contents of your emails.
Price: starting from $9.00
👍🏼 Pros:
Works with all IMAP-based email services.
Accurately identifies related email messages.
Makes unsubscribing from mailing lists easy and fast.
👎🏼 Cons:
Requires access to the content of your email messages.
Can be expensive depending on which plan you select.
Conclusion
The more we rely on email for communication, the greater the importance of email archiving becomes. These days, it's not just large enterprises that have to store old emails in a safe and searchable manner. Small and medium-sized businesses and even regular home users should familiarize themselves with available email archiving solutions and use them to protect important emails.
After testing many different email archivers aimed at the business and home sector alike, we've selected Clean Email as our favorite because of its efficiency, usability, and attractive price. Where other email archiving software solutions fail to be intuitive and efficient at the same time, Clean Email manages both flawlessly.