What Does It Mean to Archive an Email?
With over 14 billion spam emails sent every day, individuals and businesses are left with a massive problem. In fact, anyone who relies on email for communication to connect with friends, family, colleagues, business partners, and others needs a way to archive emails so they remain safe, searchable, and distinguishable from spam messages.
The solution to this problem is email archiver software. While this technology has been around for nearly 20 years, it has gotten significantly better, more complex, easier to use, and more affordable in recent years.
Email archiver software solutions can filter messages based on certain specified criteria and safely and securely store them away from unimportant emails and spam messages. This helps businesses whose servers are reaching capacity, individuals who are tired of feeling like they're searching for a needle in a haystack every time they need to retrieve an older email, and also those who simply like to stay as organized as possible.
Does My Email Client Already Archive Emails?
If you use email clients like Gmail, Outlook, or Yahoo, you may be asking yourself, "Doesn't my inbox already provide an email archiver?" The simple answer is yes, you can archive emails in Gmail or archive Yahoo mail straight from your inbox by clicking on "Archive" and the message will move into a dedicated archive folder.
Obviously, archiving emails provides users with many benefits. Not only does archiving emails help you keep your inbox organized and free of clutter, but it can also help you access important data easier and prevent you from losing the meaningful messages you want to keep. Furthermore, business users can protect their inboxes from possible malware and other harmful hacking measures without messing up required compliance measures to store emails.
Unfortunately for many people, archiving individual emails in your inbox takes time and energy, which most of us have little to spare. But what if you could use a simple tool to help you automatically archive emails and clean out the clutter in your inbox? Well, luckily for you, Clean Email can help with that.
Clean Email — A Great Solution For Individuals
Clean Email is a modern and easy-to-use inbox cleaner that is a perfect companion for anyone who relies on email and wants to be more organized. It can automatically categorize emails based on various criteria into easy to review bundles (Smart Views).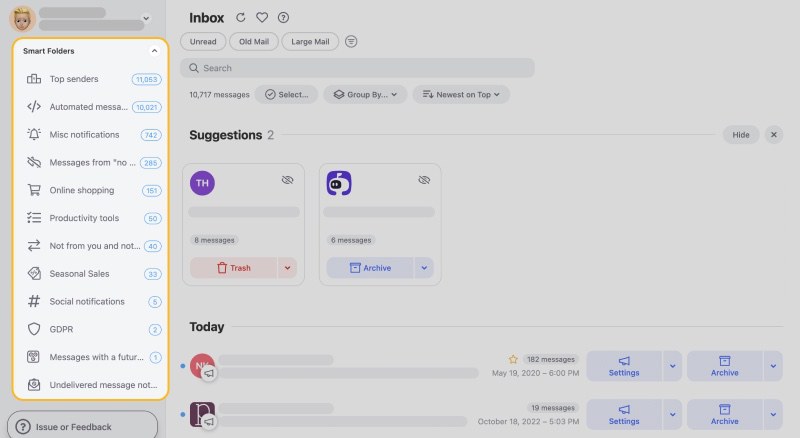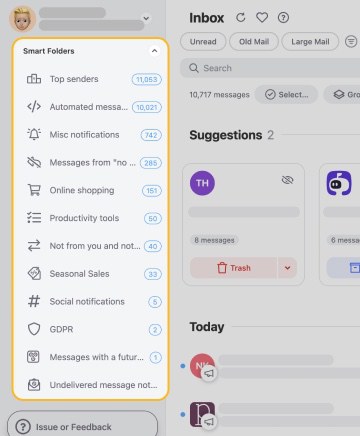 Each bundle can then be individually removed, labeled, moved, or, of course, archived.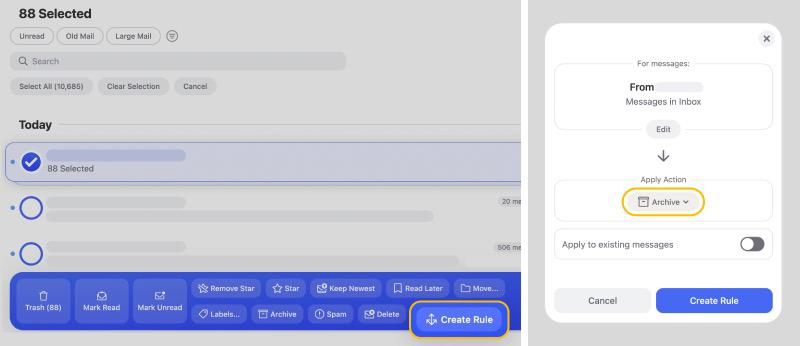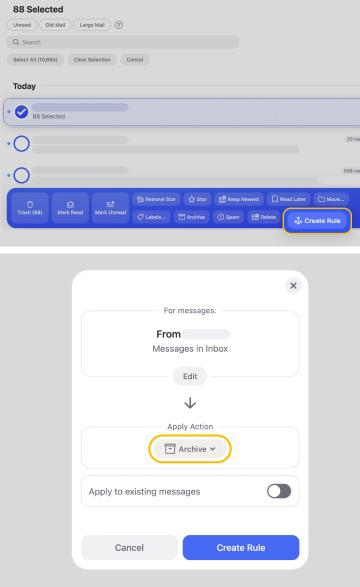 With Clean Email's Auto Clean feature, you can set up specific parameters to automatically sort, label, and archive your emails without any additional work for yourself.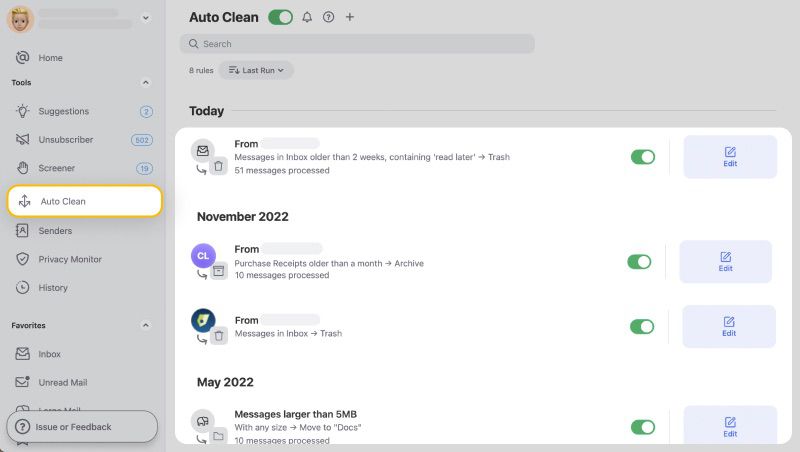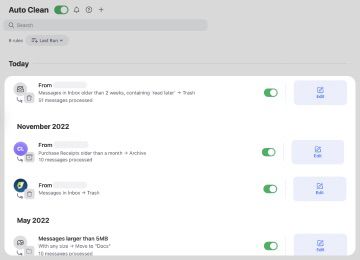 For example, the app can help you automatically archive all social media emails as soon as they arrive in your inbox so they never disrupt your inbox. Similarly, you can set up options to archive emails from your bank while automatically deleting spam messages from lenders you aren't interested in working with.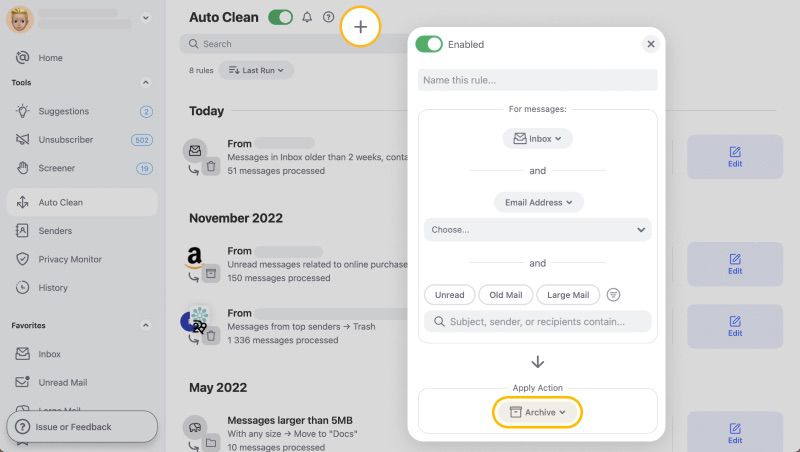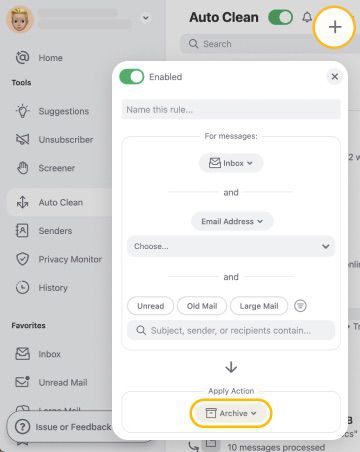 If you don't care about most newsletters and subscription emails that show up in your inbox, you can use the Clean Email's Unsubscriber feature to get rid of them once and for all—even if they don't contain any unsubscribe link you could click on. This is a great way to avoid spam messages and possible complications that can come from opening questionable messages.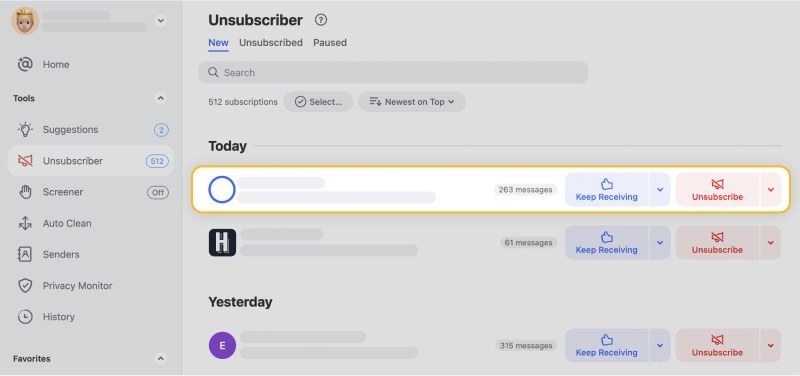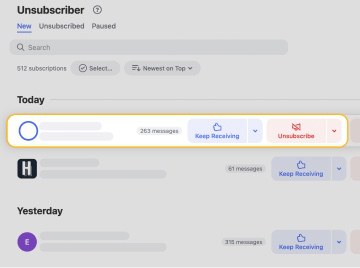 Being a privacy-respecting email management tool, Clean Email never reads the content of your emails, so you can trust it even with very sensitive and personal information. This can be especially important for anyone who needs enhanced security measures in place due to the nature of their business.
Furthermore, the app works with all email services and can be tested for free. So whether you're wanting to archive emails on iPhone or your desktop email client, Clean Email will work well for you.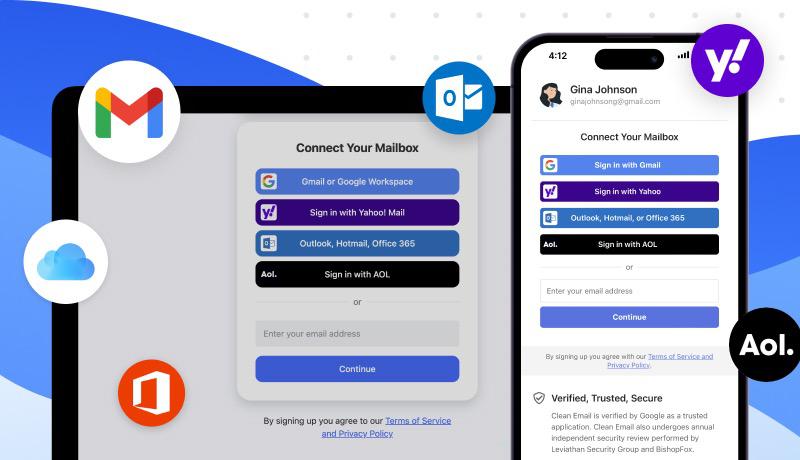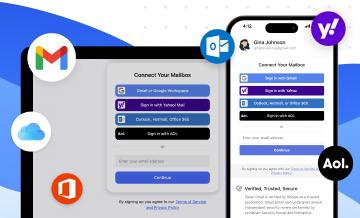 While this is a simple, effective solution for individual inboxes, it's not an effective tool for businesses and IT departments that are managing dozens of inboxes on a single server. Since businesses need to worry about so much more than just keeping inboxes organized, they need more sophisticated email archiving solutions. This is where third-party email archiver software comes in handy.
While archiving emails within your Gmail, Yahoo, or Outlook inbox definitely helps clear out the clutter, it doesn't do what most third-party archiving tools do — securely store your valuable message data in a way that ensures you never lose information or allow it to fall into the wrong hands. For businesses and IT departments, encryption and high-fidelity archiving practices are paramount, especially if your messages include sensitive information. Businesses also heavily rely on automation and data backups, which simply aren't available in your run-of-the-mill inbox archiving.
Therefore, if you're an enterprise-level user who is looking for an archiving solution for your business, you'll want to look beyond the built-in tools within your email client and seek out a third-party email archiver who will not only help you archive dated messages in every user's inbox, but do so in a way that ensures sensitive information is safe, easy to retrieve, and not going to be lost even when a single employee leaves the company.
How to Choose the Best Email Archiver Software
While there are many email archiving solutions out there, not all of them are built the same way. For this reason, you need to know what criteria make a great email archiver software.
First and foremost, you need an email archiver software that's compatible with your email client. There are many enterprise-grade email archiving tools with a plethora of advanced features and excellent security, but if you use Gmail or Yandex you might want to choose something that has been developed with Gmail and Yandex in mind. Similarly, you need an email archiving solution that will efficiently handle your email load, whether you receive a few emails each day or a few thousand. Compatibility is crucial, especially for enterprise-level users.
Furthermore, you'll want a solution you can easily implement and even automate workflows in. Some solutions offer options to retain or delete specific emails based on the criteria you specify, and some even give options to run automated reports so you can keep tabs on what's happening in your inbox. Having an email archiver that allows you to automate tasks will help save you time, relieve the burden on any IT folks on your team, and give you an email archiver you can use regardless of how tech-savvy you are.
On the more technical end, you will want an email archiving solution that provides security through data encryption, multi-factor authentication, and other measures. This keeps sensitive emails safe, even when archiving them or moving them into separate storage. Similarly, you want a solution that will help you reduce your storage needs, be it through single-instance storage, consolidated backup, or other storage reduction measures.
Finally, you'll want to consider if you'd prefer on-premise or cloud email archiving. On-premise archiving captures emails and sends them to an indexed database located in your organization's own physical servers located on-site (hence on-premise archiving). Cloud email archiving works almost exactly the same way — but the emails are indexed in a secure cloud-based environment.
Best Email Archiving Solutions For Businesses
While Clean Email is a great solution to archive incoming emails automatically, larger businesses may need a tool that's better equipped to handle hundreds of inboxes simultaneously as an IT department supervises them. The G2 Catalog can be a great resource to find the best solution for your business, and we have picked up a few of the top tools. Check out the email archiving solutions comparison below:
1. Mimecast
The UK-based company Mimecast offers a cloud-based archive platform. This enterprise email archiver can help companies archive, sync, and migrate messages. Mimecast offers integration capabilities with any existing email system you use, and it is easy to manage once you set it up. It archives every message anyone in your company receives or sends, including internal mail. Then, users can quickly search and recover archived messages in a matter of minutes, no matter why they are needed.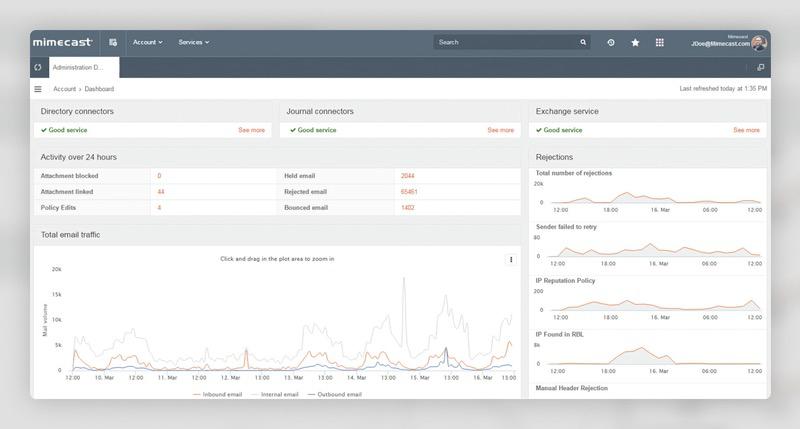 Additionally, this email archiving solution offers online access (meaning you can locate archived messages even when your server is down), Targeted Threat Protection (TTP), and logs every action made by each user. While the system can seem overwhelming at first due to a large number of features Mimecast offers, it's a great tool for enterprise-level users.
Price: All pricing requires custom quotes based on your individual business needs.
👍🏼 Pros:
Once set up, runs automatically with no effort required
Easy to retrieve archived messages through web or plugins
Maintains log of user actions
👎🏼 Cons:
Interface can be difficult to operate for less savvy users
Not always able to directly search for messages from inbox
2. Barracuda
Barracuda email archiving is a great solution for organizations that would like to reduce their overall storage needs and boost productivity for their employees. Barracuda uses a cloud-based system to move information and provide a secondary tier of storage. In addition, Barracuda email archiving provides a simple solution for companies needing to meet specific storage compliance measures or easily obtain records for legal purposes.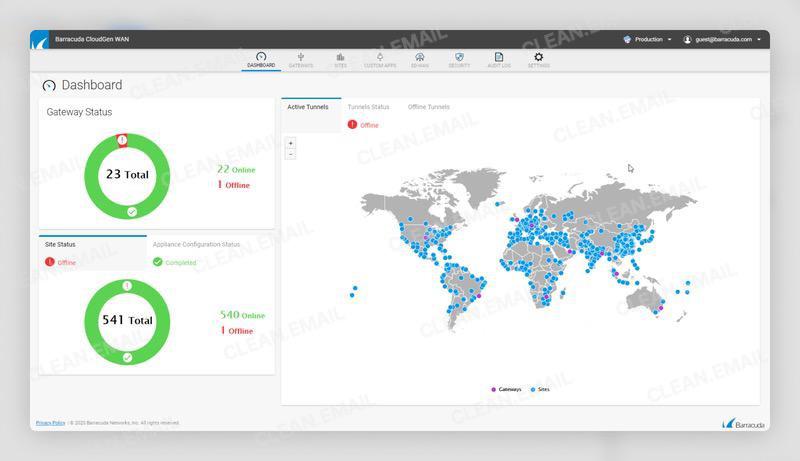 Barracuda email archiving is compatible with any system or device and provides flexible deployment options depending on your organization's needs. Most of all, the company offers 24/7 technical support and other business solutions so your company can rest at ease always.
Price: All pricing requires custom quotes, but rates work on a per inbox basis.
👍🏼 Pros:
Set up is quick — usually less than 1 hour
Lots of customization options available, including folder replication and exporting of data
Desktop search is available for Windows and macOS
Offers instant message archiving for Office365 users
👎🏼 Cons:
Other email management tools (like spam protection) not included
Exporting data can be slow
3. Microsoft Exchange Online Archiving
Like many of the other services available through Microsoft, Microsoft Exchange Online Archiving is a cloud-based, enterprise-level email archiving solution for organizations that use Microsoft Exchange servers or Microsoft 365 plans. The solution provides archiving, compliance, regulatory, and eDiscovery tools, which can help businesses meet their productivity and security needs, no matter the situation.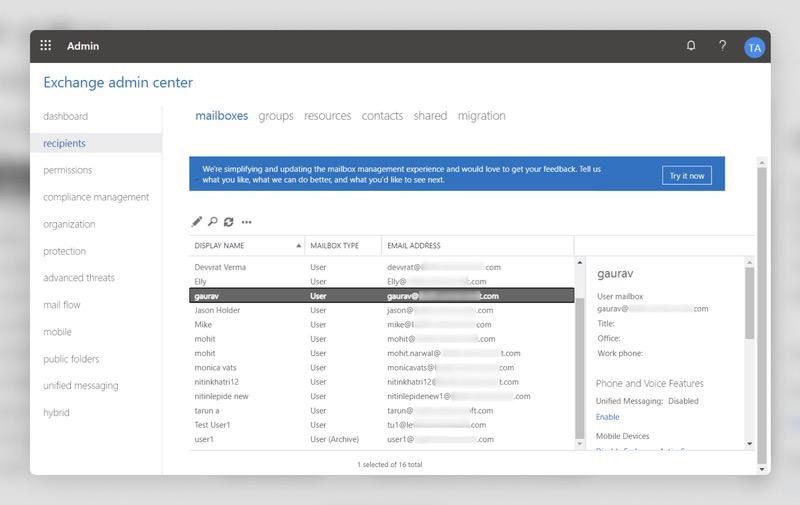 While Microsoft Exchange Online Archiving provides a great, compact solution, it is obviously only meant for organizations that use Microsoft for all of their needs, including their email servers. If you aren't using Exchange Server 2019, Exchange Server 2016, or Exchange Server 2013, then this is likely not the best solution for your company.
Price: $3 per user per month.
👍🏼 Pros:
Unlimited storage
Easy to retrieve archived messages directly through user inboxes
Deleted item recovery available
👎🏼 Cons:
Only works for companies using Microsoft Exchange Server
Final Thoughts
Whether you're a busy individual juggling multiple inboxes or a business looking for the best way to secure everyone's inbox on your team, it's clear that email archiving is the way to go. Whether you're looking for Mac mail archiving or a PC solution, archiving your messages can help you clear out the clutter, easily retrieve important messages at a later time, and secure your inbox from possible invasions. This ultimately leaves you with a clear, easy-to-manage inbox so you can get back to work without any complications.
---
Best Email Archiving Solutions - FAQs
What is email archiving software?
Email archiving software is a tool that helps users store email data, remove unnecessary messages, and reduce server storage needs. It does this by compressing older messages and removing spam from each inbox linked to the software solution.
Which product helps organizations to archive aging emails?
Depending on the size of your organization and your exact needs, there are many email archiving solutions out there to help you archive dated messages. These tools include Clean Email which can help you move incoming messages to the Archive folder automatically.
How much does email archiving cost?
While there are free email archiving software options out there, many people need more robust tools. While prices vary based on the exact tool you choose, the average email archiving solution costs anywhere from $10-$100 per user per month.
How do I store old emails?
If you'd like to store old emails without keeping them in your inbox, you can easily archive them. This lets you retrieve them if you need to reference them later on, but without cluttering up your inbox.
Does Office 365 archive emails?
Each Office 365 account includes an archive mailbox. You just need to go into your user settings and enable archiving.