Outlook Archive Versus Delete
Back in the day, most email services offered so little storage space that their users were forced to delete most emails they received. Thankfully, storage space has become very cheap over the years, and virtually all major email services, including Outlook, now give their users gigabytes of email storage for free.
Considering that most emails are not even 1 MB large, it's easy to see how so many people end up with thousands and thousands of emails just sitting in their inbox, refusing to delete anything because they don't have time to manually separate important emails from subscriptions, newsletters, notifications, and spam.
That's where the Outlook archive folder comes in. Instead of giving its users just two options how to manage emails—let them be or delete them—Outlook makes it possible to move emails into a special archive folder, which is sort of like that junk drawer most people have in their homes, where small items and documents are stored so they don't just lie around the house.
When you archive an email, the email disappears from your inbox, but it doesn't get deleted. It simply moves from your inbox to the archive folder, and you can retrieve it from there at any time. You don't even need to know how to create an archive folder in Outlook because the folder is available by default.
To decide whether you should archive or delete an email in Outlook, try answering the following questions:
Is there a chance that you'll ever need the email again in the future?

Yes = archive
No = delete
Do you want to free up email storage space?

Yes = delete
No = archive
Do you want the email to disappear from your inbox but not from your email account?

Yes = archive
No = delete
If you're still not sure, just remember that archiving is easily reversable but deleting isn't. Even if your Outlook archive becomes obscenely large, you can always quickly and painlessly organize it with the help of a bulk email organizer like Clean Email (more about it later in this article).
How to Archive in Outlook
To archive emails in Outlook.com:
Go to www.outlook.com and log in with your username and password.
Select the emails you would like to archive.

Click the Archive button located right below the search bar.
To unarchive an email, select the Archive folder from the menu on the left, open the email you would like to unarchive, and move the email back to your inbox by clicking on the Move to button below the search bar and selecting the inbox option.
If you're wondering how to how to search archived emails in Outlook in order to find the email you want to unarchive, we have good news for you: you can simply type the subject or the sender's name into the search bar and hit enter.
You can also archive emails manually in Outlook for Office 365, Outlook 2019, Outlook 2016, 2013, and Outlook 2010. If your inbox ever becomes unmanageable, you can use the archive option to move old emails to a separate Outlook Data File (.pst) that you can open from Outlook any time you need it.
Outlook archives emails automatically at regular intervals, but you can change how it behaves by going to File → Options → Advanced. There, choose AutoArchive Settings under AutoArchive and click the Run AutoArchive every n days box and specify how often to run AutoArchive.
Alternatively, you can mark specific emails with the "do not archive" label to prevent Outlook from archiving them automatically. To do this:
Open the email message you don't want to automatically archive.
Press Alt + Enter keys together to open the Properties dialog box.
Check the Do not AutoArchive this item option and click the OK button.
This is how to archive emails in Outlook manually:
Go to File → Info.
Choose the Cleanup Tools next to Mailbox Cleanup and then select Archive…

Select the folder you would like to archive. Keep in mind that Outlook will also save all subfolders beneath the folder you've selected. This is where many people who want to learn how to archive folders in Outlook make a mistake.
Configure your archive options. You can, for example, change how old emails have to be to get archived.
Click OK to start archiving your emails. Depending on how many emails you've selected and the speed of your computer, the archiving process may take some time so be patient.
Archive Outlook Emails Smarter with Clean Email
Clean Email is an online bulk email cleaner that uses powerful filters and rules to give you greater control over your inbox. Compatible with Outlook as well as with most other major email services, Clean Email can quickly analyze your entire inbox without seeing the content of your emails and segment all emails into relevant groups, allowing you to apply actions on entire groups of emails instead of having to manage emails one by one.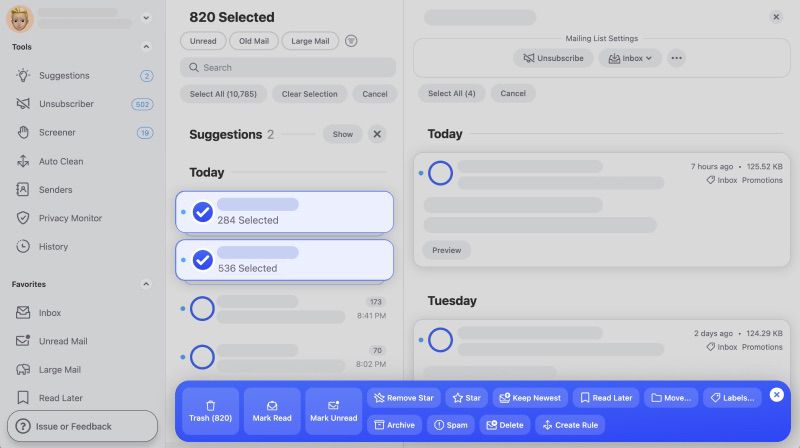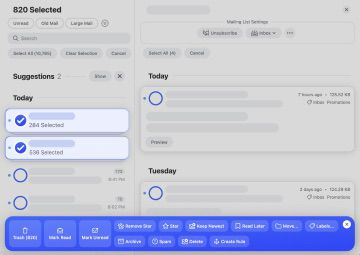 To get rid of email clutter with Clean Email:
Sing in with Outlook and let Clean Email analyze your inbox. Don't worry: Clean Email never downloads full emails. It only analyzes email headers that contain subject line, sender and recipient information, dates, email size, and similar metadata.
Apply any action you want to an entire group of emails, such as emails from dead ends, notifications, junk emails and spam, emails to yourself, travel emails, or subscriptions and newsletters.

Tell Clean Email to apply selected actions automatically in the future. To do that, simply check the checkbox labeled as "Selected and future emails" when applying an action.
All automation rules appear in the "Auto Clean" dashboard, where you can pause, resume, or delete them. Apart from automating your email management, Clean Email can also intelligently unsubscribe you from unwanted emails and block marketers trying to sell you things and services you don't need.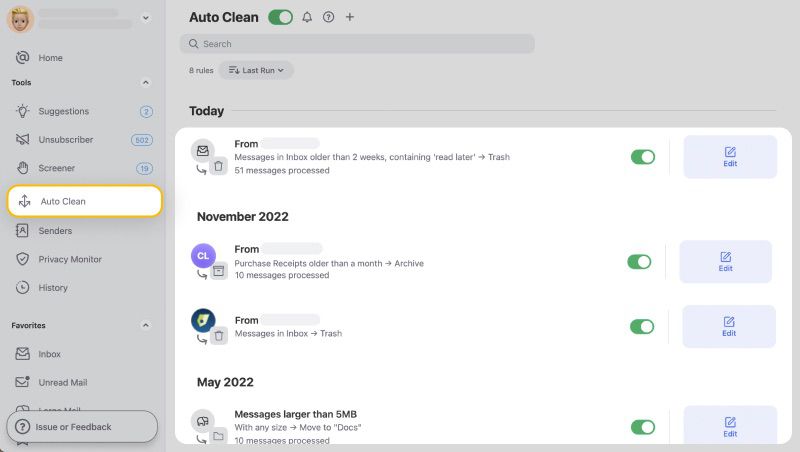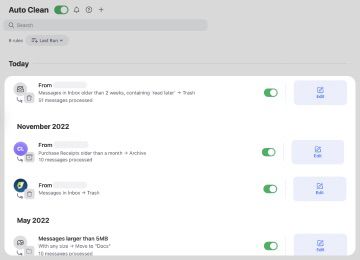 Best of all, you can get started with Clean Email for free just by logging it log in with the email address and current password you use to access your inbox. Clean Email is an A+ rated BBB Accredited business, so you know that you can trust it with your emails.
With this bulk email organizer, you can archive Outlook emails with a few simple clicks:
Go to: https://app.clean.email/
Log in to your Outlook email account.
Go to your inbox and select a group of emails.
Click the archive button to archive all email messages in one go.
Confirm your choice by clicking the Archive button.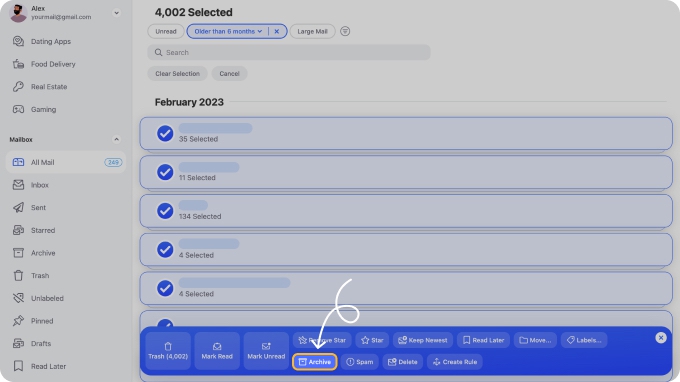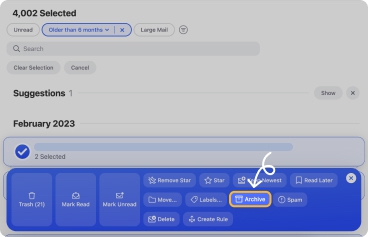 If you would like Clean Email to automatically apply the same action to all future similar emails, all you need to do is click on a single checkbox during the last step.
Conclusion
Email overload is a serious problem that is robbing businesses and individuals of valuable time that could be dedicated to more productive endeavors than email management. The first step how to fight against email overload is learning how to archive emails in Outlook, but there's no reason to stop there. With bulk email organizers such as Clean Email, anyone can archive hundreds or even thousands of emails with just a few clicks and automate email management to such an extent that email overload won't be an issue anymore.
---
How to Archive Emails in Outlook - FAQs
What is archive in Outlook?
You can think of archiving emails in Outlook as an alternative to deleting email messages you no longer need. The difference is that archived emails can be retrieved from the archive folder if you change your mind in the future. Because Outlook features a dedicated archive button, archiving a message instead of manually moving it a specific folder can save you a lot of time when organizing your inbox.
Does archiving free up space in Outlook?
No, archiving emails in Outlook doesn't free up any storage space because archived emails are not deleted. Instead, they are moved to the archive folder, where they stay until they are either manually deleted or moved from the archive folder back to inbox. If you need to free up storage space in outlook, you can sort the archive folder by age and delete all messages older than, let's say, a month. Better yet, you can use a bulk email organizer to clean up your Outlook archive with one click.
How to archive emails in Outlook using Clean Email?
The archive option in Outlook can be confusing, but there's fortunately an easy-to-use alternative for filling up Outlook email archives, and its name is Clean Email. Simply choose the group of emails and click the Archive button to have them archived.
How to archive in Outlook web app?
This is how to archive in Outlook web app:
1. Open your Outlook email account.
2. Select and open the message you want to archive.
3. Click the archive button located in the toolbar.
The email message should immediately disappear from your inbox.
How to unarchive Outlook email?
This is how to unarchive Outlook email messages:
1. Open your Outlook email account.
2. Select the archive folder from the left pane.
3. Open the email message you want to unarchive.
4. Click the Move to button located in the toolbar and select your inbox or any other folder.
How do I stop emails from going to archive in Outlook?
If your email messages are automatically going to the archive folder, then you most likely have the AutoArchive option enabled and set to archive emails at a regular interval. To disable it, you need to visit Outlook archive settings:
1. Open the desktop version of Outlook and go to File → Options → Advanced.
2. Click AutoArchive Settings under AutoArchive.
3. Uncheck the Run AutoArchive every x days box.