What is an Archive Folder in Outlook?
An Archive folder is a designated location to store older or less frequently accessed email messages. It helps you declutter your primary mailbox while retaining important information for future reference.
The Archive folder is a secondary storage location for items you want to keep but doesn't need to be readily available in your primary inbox. Moving such items to the Archive folder allows you to free up space in your mailbox and improve Outlook's overall performance.
Most people place messages that are no longer actively needed but may still hold value for legal, reference, or historical purposes into the Archive folder to file it away. Some emails that may qualify for archiving include messages related to completed projects, old meeting invitations, outdated tasks, or any other data that you want to keep for record-keeping purposes.
The location of the Archive folder can vary depending on the version of Outlook and the type of email account you are using. Typically, you can find this folder in the navigation pane on the left-hand side of the Outlook window. It may be listed under your primary mailbox or as a separate folder within the mailbox hierarchy. The folder name is often labeled as "Archive" or "Archived Items," but it can be customized based on your preference or organizational needs.
How to Archive Emails in Outlook Apps
In Outlook, you can archive emails either manually or automatically. In this article, we will discuss how to archive Outlook emails manually. However, if you find that you are frequently archiving messages from the same sender or after a certain amount of time, you may want to consider using the Outlook auto archive feature for these messages.
Later on, we will also explain how to use the Clean Email app to archive emails in Outlook automatically and manage your mailbox in other ways.
Archiving Emails in Outlook Desktop
Open the Outlook app on your computer.
Select the message(s) you wish to store.
In the ribbon, locate the Delete section.
Select Archive.
Your messages will now move to the Archive folder.
If you need to get to the folder where archived emails can be found after you've moved it, you can locate it in your folder list in the left side panel of the Outlook app. If you can't see the folder list, go to the top menu bar and select View >Folder Pane >Normal.
💡 Note: Although these directions work for both Windows and MacOS, you may also want to know how to archive emails on Mac.
How to Archive Outlook Emails on the Web
Go to outlook.com and log in with your username and password.
Select the emails you would like to store.
Click the Archive button located right below the search bar.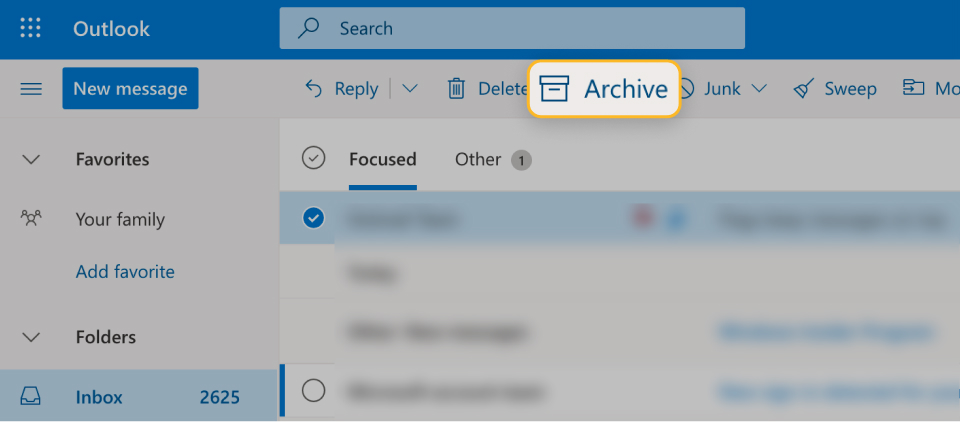 Where archived emails can be found? To find a message you've archived, click the Archive folder located in the folder list on the left side of the page. If the Archive folder isn't visible, click on the arrow next to Folders to expand the list of available folders.
How to Archive in Outlook Mobile
Open the Outlook app on Android or iOS.
From the main inbox, select the message(s) you wish to store.
Tap Archive in the top menu (it's the box icon between Delete and the three dots).
A notification will appear at the bottom of your screen to let you know the message was archived.
To find an archived message, click on the circle in the top left corner of your screen to open the folder list. From here, tap the folder labeled Archive. This works both when you archive email on iPhone and Android devices.
How to Archive Outlook Emails Automatically with Clean Email
Although archiving emails in Outlook can help you clear out some of the clutter from your inbox, it isn't a total solution. Luckily, our mailbox management tool, Clean Email, is!
Sorting and filtering. The app makes it easy to sort and move messages anytime. Unlike Outlook, which simply throws all messages into your inbox, sorted by date, Clean Email lets you select how messages are grouped so you can view them in many ways. You can also use the flexible filters to only view messages that meet specific criteria or use the Smart Folders feature to see groups in bundles based on commonalities they share.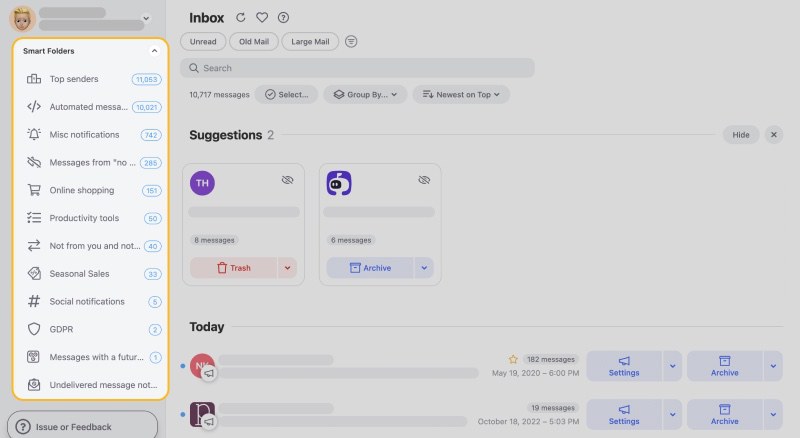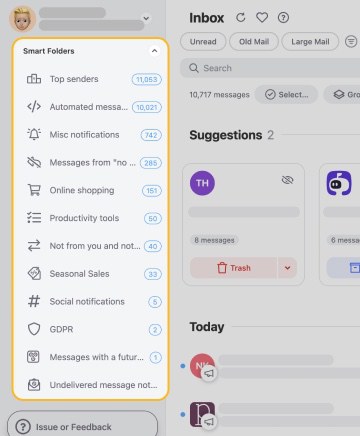 There is an Archive folder in Clean Email with all email messages you archived. You can sort and filter them in many ways and find large emails or old ones—it makes it easier to group by specific criteria and delete once and for all.
Automation. You can set up Auto Clean rules to automate the whole archiving process. With Auto Clean, you can automatically archive emails as they reach a certain age (older than), size, emails from particular senders (email or even a domain), or emails from a specific Smart folder.
To do so, simply:
Go to https://app.clean.email/ and log in.
Choose Auto Clean on the left-hand pane.
Click ✚ on top.

When the pop-up window opens, follow the steps to set up the rule.
Choose Archive under Apply Action.

Press Create Rule to save the automation.
Of course, the app can help you archive old emails in Outlook. When you open the app, you can go to any inbox view, then follow these steps:
Choose the All Mail folder from the left panel. Use the Old Mail filter to adjust the age range of the emails.

Select the emails to manage, or Select All for bulk actions.
Click the Create Rule button on the action bar in blue.

In the action section, select Archive.
Confirm by clicking Create Rule again.
Clean Email isn't just good for archiving emails in Outlook. It offers many other features that even the best third-party email archiving solutions don't have. Features like Unsubscriber help you stop unwanted newsletters and subscription mailings from clogging your mailbox, while Screener places messages from unknown senders in a unique folder that isn't your main inbox.
With all of these features, Clean Email is the best way to maintain your Outlook email account and automate processes.
Where are the Outlook Archive Files Stored?
By default, Microsoft Outlook creates its own sort of archive of your Outlook data. It saves all of this as Personal Storage Table files (.pst) and stores it on your computer. This file type is not exclusive to items you've personally moved to your Archive folder, but those items are included as well as any other data from your inbox Outlook has recently backed up.
The exact location of these files can vary depending on the version of Outlook and the operating system you are using. However, the default location for PST files on Windows is C:\Users\username\Documents\Outlook Files. You can also search for .pst files on your device by opening a File Search and typing in ".pst" in the search box.
You may want to use or look for these files in the following scenarios:
Archiving, so you can save space in your main inbox or keep a record of older emails
Transferring data, if you are setting up Outlook on a new device and don't want to lose data
Restoring data, in the event that you accidentally lose critical information that you had stored in your Outlook desktop app
Outlook Archive Versus Delete
Back in the day, most email services offered so little storage space that their users were forced to delete most emails they received. Thankfully, storage space has become very cheap over the years, and virtually all major email services, including Outlook, now give their users gigabytes of email storage for free.
Considering that most emails are not even 1 MB large, it's easy to see how so many people end up with thousands and thousands of emails just sitting in their inbox, refusing to delete anything because they don't have time to manually separate important emails from subscriptions, newsletters, notifications, and spam.
That's where the Outlook archive folder comes in. Instead of giving its users just two options on how to manage emails—let them be or delete them—Outlook makes it possible to move emails into a special archive folder, which is sort of like that junk drawer most people have in their homes, where small items and documents are stored so they don't just lie around the house.
When you archive emails in Outlook, the email disappears from your inbox but isn't deleted. It simply moves from your inbox to the archive folder, and you can retrieve it anytime. You don't even need to know how to create an archive folder in Outlook because the folder is available by default. Clean Email also offers this option, and it will even help apply the archive to your Outlook inbox, too.
To decide whether you should archive or delete an email in Outlook, try answering the following questions:
Is there a chance that you'll ever need the email again in the future?

Yes = archive
No = delete
Do you want to free up email storage space?

Yes = delete
No = archive
Do you want the email to disappear from your inbox but not from your email account?

Yes = archive
No = delete
If you're unsure, just remember that archiving is easily reversible, but deleting isn't. Even if your Outlook archive becomes obscenely large, you can always quickly and painlessly organize it with the help of a bulk email organizer like Clean Email.
---
How to Archive Emails in Outlook - FAQs
What is Archive in Outlook?
Archiving emails in Outlook is a feature that allows you to store old or infrequently accessed emails separately, keeping your main inbox clutter-free. You may think about it as an alternative to deleting email messages you no longer need.
Does archiving emails save space in Outlook?
Archiving emails in Outlook doesn't directly save storage space as they are merely moved to the archive folder, not deleted. To truly free up space, consider sorting and deleting older messages from the archive, or use a bulk email organizer like Clean Email for efficient cleanup.
How to archive emails in Outlook using Clean Email?
The archive option in Outlook can be confusing, but there's, fortunately, an easy-to-use alternative for filling up Outlook email archives, and its name is Clean Email. Simply get into the Clean Email app, choose the group of emails, and click the Archive button to have them archived.
How to archive in the Outlook web app?
This is how to archive in the Outlook web app:
1. Open your email account. Select and open the message you want to store.
2. Click the archive button located in the toolbar.
The email message should immediately disappear from your inbox.
How to unarchive Outlook email?
This is how to unarchive Outlook email messages:
1. Open your email account and select the archive folder from the left pane.
2. Open the message you want to unarchive.
3. Click the Move to button located in the toolbar and select your inbox or any other folder.
How do I stop emails from going to archive in Outlook?
If your email messages are automatically going to the archive folder, then you most likely have the AutoArchive option enabled and set to archive emails in Outlook at regular intervals. To disable it, you need to visit Outlook archive settings:
1. Open the desktop version of Outlook and go to File → Options → Advanced.
2. Click AutoArchive Settings under AutoArchive.
3. Uncheck the Run AutoArchive every x days box.