Feeling Swamped by Emails Despite Labels?
Opening an inbox filled with messages can make anyone feel stressed. While features, such as Gmail labels, can help manage some emails, it's not always the most effective approach if you want to categorize and quickly locate important messages.
By sorting emails in Gmail using labels for different message types, you can improve your email organization. However, manual sorting is time-consuming and often leads to handling the same emails multiple times as you move and later read them.
Wouldn't it be great if this process could be automated? In just a few minutes, you can learn how to automatically sort emails into folders in Gmail, making your daily email routine more efficient.
📌 For other ways to declutter your mailbox, you can also learn how to auto-delete emails in Gmail or take advantage of Gmail rules in general.
Automatically Sort Gmail Messages
Learn how to set Gmail to automatically sort email messages and maintain a tidy inbox with our step-by-step instructions.
Auto sort emails in Gmail on desktop
Launch Gmail in your desktop browser.
Click the Settings gear icon in the upper right corner and select See all settings.

Navigate to the Filters and Blocked Addresses tab and choose to Create a new filter.

In the "Create Filter" window, define the filter criteria, such as sender, recipient, subject, or other options. Click the Create filter button.
In the following window, pick the action to perform on the filtered emails, like Apply the label, and select or create a new label.
Optionally, tick "Also apply filter to matching conversations" to apply the rule to existing messages.
Click Create filter again and the rule will automatically sort emails as they arrive.
Automatically sort emails in Gmail mobile app
Unfortunately, you cannot set up automated filters using the Gmail mobile app, which makes it impossible to automatically sort Gmail on mobile devices. Instead, configure filters using the desktop browser version or use the Clean Email app, which we will discuss in the next section.
How to Auto Sort Emails in Gmail with Clean Email
While it is possible to automatically sort emails in Gmail, Clean Email can help achieve the same result but more quickly and effectively. The Auto Clean feature lets you create highly adaptable automation rules to sort new mail, delete batches of similar emails instead of tediously managing them one by one, filter messages after a particular date, and more.
Here's how to auto sort emails in Gmail using the Clean Email app:
Go to https://app.clean.email/ and sign in using your Gmail account.
To apply a rule to a specific message, locate it in your All Mail folder or use the app's search bar.

You can also make use of the app's email filters, such as Old Mail, Large Mail, and more, to set more specific parameters.

Select the message and click the Create Rule button at the bottom action bar. Then navigate to the Apply Action section and choose Change Labels.
Now, you can select any existing Gmail label or type a new label name and choose "Create (label)."
Optionally: If you would like this rule to apply to existing emails from this sender as well, turn on the toggle for "Apply to existing messages."
Click Create Rule to confirm.
You can set up as many Auto Clean rules as needed to keep your inbox clean and organized. Furthermore, you can pause, delete, or edit your rules at any time, giving you complete control over your mailbox.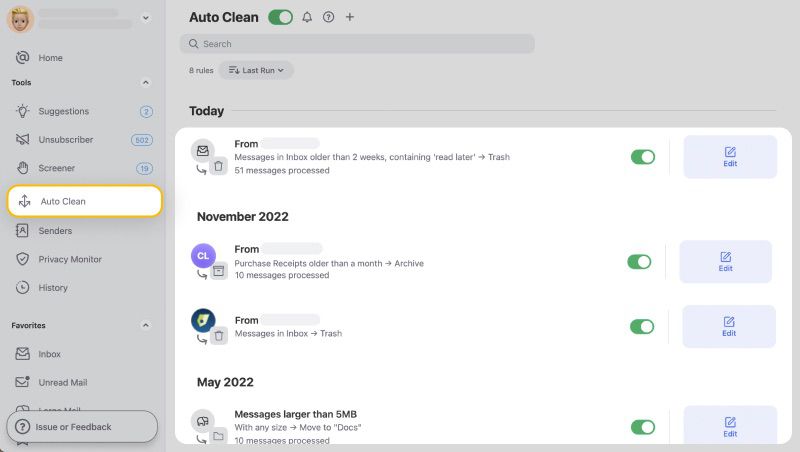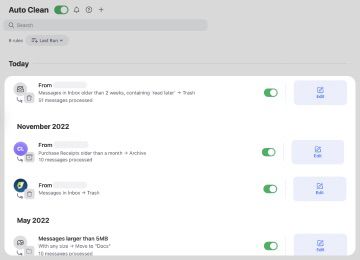 Unlike auto sorting emails in Gmail directly, the app offers additional features to streamline the process. The Smart Folders feature is capable of auto sorting Gmail into folders based on common criteria your messages have. For instance, you can create an Auto Clean rule that moves all messages that qualify for the "Online shopping" Smart Folder to Trash after they become older than 6 months.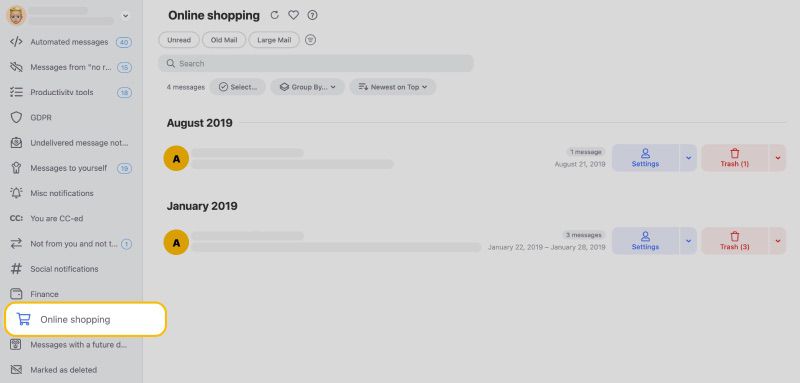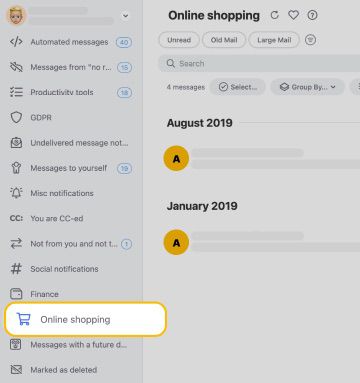 If you receive regular newsletters, you can use the Keep Newest feature to retain only the most recent version of the email. This isn't a feature available to you when organizing emails in Gmail client.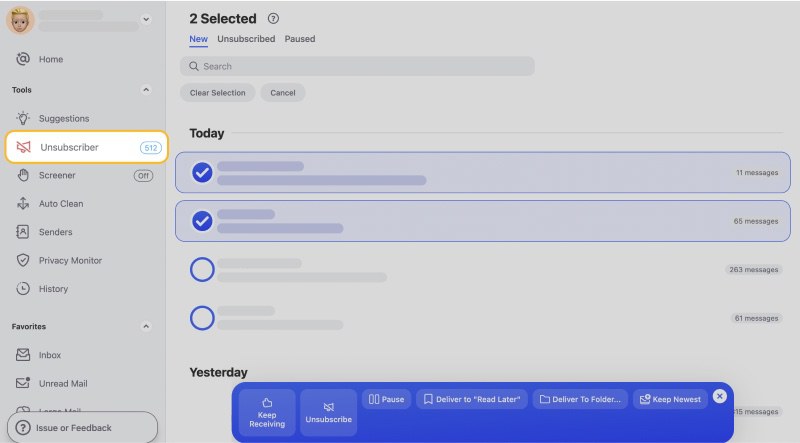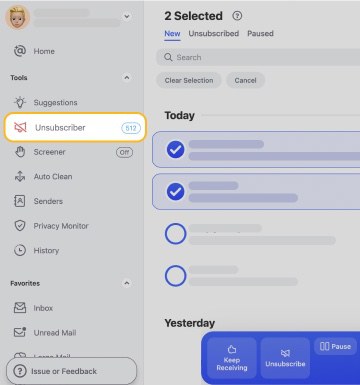 Also, the Cleaning Suggestions feature will recommend ideas to optimize your mailbox based on the actions you frequently apply to your messages. It may even provide suggestions for organizing your emails based on other users' actions, as it learns which messages they consistently manage.
With this app, you can do much more than just automate inbox sorting. Some of the best features include:
Senders: This tool gives you the power to control your inbox by allowing you to block, mute, or take other actions based on a sender's email address.
Unsubscriber: You can easily unsubscribe from multiple or all newsletters and other unwanted mailings listed in one place.
Screener: If you're tired of sifting through emails from unknown senders, Screener is the tool for you. It places emails from unrecognized senders into a quarantine label outside of your inbox, giving you the ability to review and manage them at your convenience.
Privacy Monitor: This tool regularly checks whether your email has been compromised in a data breach, giving you peace of mind knowing that your sensitive data is secure.
Benefits of Auto-Sorting Emails
In real-life scenarios, Gmail's auto sorting feature can come in handy for organizing work and personal emails to maintain a clear distinction between the two, making it easier to focus on the appropriate messages during work hours or personal time.
For professionals such as busy project managers needing to keep track of multiple projects, freelance graphic designers managing clients and industry updates, and event planners juggling communications with vendors and clients auto sorting emails in Gmail using Clean Email can significantly improve efficiency. By organizing emails into dedicated labels for each project, they can quickly locate relevant messages, address pressing issues, and avoid missing crucial updates.
To sum up, while Gmail's built-in features are useful, Clean Email's more robust and flexible tools can help you manage your inbox more easily and effectively.
---
How to automatically sort emails in Gmail - FAQs
How do I automate email sorting in Gmail?
To auto sort emails in Gmail, create a filter based on criteria such as sender, subject, or keywords. This feature can help keep your inbox organized and save time.
Will Gmail automatically sort mail into folders?
Yes, after you instruct Gmail to automatically sort email into folders using its built-in filters and labels feature. However, setting up Gmail filters manually can be time-consuming and less effective. Instead, you can use Clean Email's Smart Folders, which already group relevant emails together, and you can apply rules to email groups with just a few clicks.
How do I automatically sort and label emails in Gmail?
You can sort and label Gmail emails automatically by creating a filter with specific criteria and selecting the label you want to apply to those emails. Gmail will then apply the label to any emails that meet the criteria you set. Alternatively, you can use Clean Email's Auto Clean to set up more customizable filters that you can pause whenever needed, and then turn on again when you want.
Does Gmail have smart folders like Clean Email?
No, Gmail does not have its own intuitive smart filters as Clean Email does. Only if you choose the Default view of your Inbox, your emails will be divided into categories: Social, Promotions, Updates, and Forums. Clean Email, in its turn, creates pre-configured views that automatically group similar emails together, based on their metadata. For instance, you can use the Smart Folders feature to quickly see all your financial emails, messages from productivity tools, online shopping emails, and many others.