Is Your Inbox Cluttered Even Though You Have Folders?
Do you open your inbox and instantly feel overwhelmed by the amount of messages you see? Many people do. Although Outlook AutoArchive can help remove some messages in your inbox, it isn't the best approach if you want to differentiate your messages or easily find the important message when you need it.
However, if you sort emails in Outlook so that different types of messages are in their own folders, this makes organizing emails in Outlook that much easier. Unfortunately, sorting messages manually takes time, resulting in you handling the same emails multiple times as you move them around and then read them later.
Wouldn't it be nice if there was a way to automate this process? In just a few minutes, though, you can learn how to automatically sort emails in Outlook and simplify your daily email routine. Check our short video about how to create email rules in Outlook and keep on reading.
Looking for other ways to cut down on the clutter in your mailbox? You can also learn how to automatically delete emails in Outlook or use the Outlook Sweep rule to help.
How To Make Outlook Automatically Sort Emails
Learn how to make Outlook automatically sort your emails and keep your inbox clutter-free with our step-by-step guides.
Automatically sort emails in Outlook desktop app
Open the desktop application on Windows or Mac.
Right-click on any message you'd like to set up a sorting rule with, then select Rules → Create Rule.

Now, you will have the option to choose the conditions that apply for the rule. The box will say, "When I get an email with the selected conditions," and you will choose the condition from the list you'd like to trigger this sorting rule (i.e., all messages from this sender, messages with the subject line, etc.).
Next, select the action Move to, then specify which folder you want the mail to move into.

Finally, click Save.
Auto sort emails in Outlook web app
Open your web browser and navigate to Outlook.com.
Click on Settings (the gear icon) in the upper right corner.
Scroll down and choose View All Outlook Settings.

When the Settings box opens, go to Mail > Rules.
Click Add New Rule.
Name the rule and select the condition you'd like to trigger the rule from the drop-down menu.
Under Add an Action, choose Move to.
Now, select the folder you want to move these messages to.
Optionally: You can also add another action to this rule, e.g. mark these messages as read.

Click Save to apply the rule.
Auto sorting emails in Outlook mobile app
Unfortunately, you cannot auto sort Outlook emails on mobile as it is not possible to set up the automated rules using the Outlook mobile app. Instead, you must configure the rules using the web app or opt for the Clean Email app, which we will discuss in more detail in the next section.
Use Clean Email to Sort Messages and Clear Your Inbox
While it's possible to auto sort messages in Outlook, you can achieve the same goal faster and more efficiently by using Clean Email. Thanks to a feature called Auto Clean, you can create highly flexible automation rules to sort new mail, delete emails from specific senders, filter certain messages after a specific date, and more.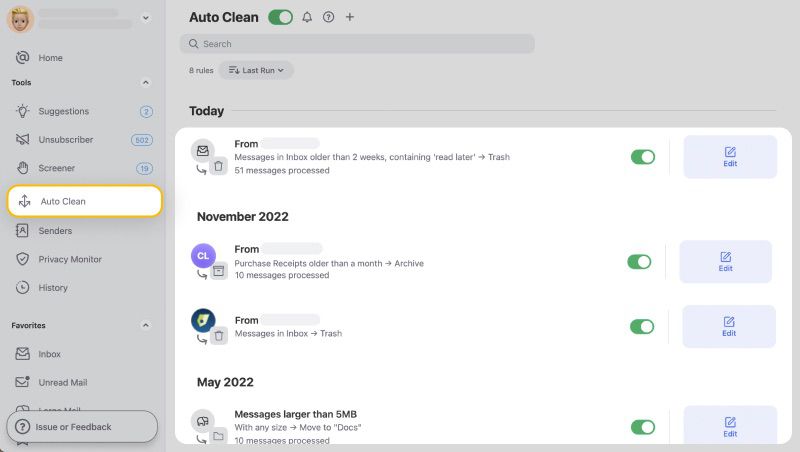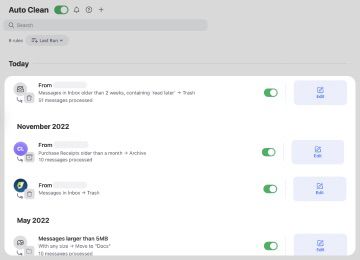 Here's how you can create rules in Outlook using the Clean Email app:
Go to https://app.clean.email/ and sign in using your mail account.
To apply the rule to a specific message, first locate it in your Inbox folder, or use the app's search filters to find it.

After you've located the message, select it and click on the Create Rule button located in the action bar at the bottom. Then, navigate to the Apply Action section and click on Move To.

From here, you will have the option to select any folder you've already created in Outlook to move the messages into. If you haven't already created the folder, you can type a new folder name into the box and then choose Create (folder).
Optionally: You can have Auto Clean apply this rule to existing messages if desired.
Click Create Rule and the rule for all future messages from this sender will be set.
You can set up as many Auto Clean rules as you need and add specific criteria such as email size, age, subject, sender domain, and more. Additionally, your Auto Clean rules can be paused, deleted, or edited at any time, giving you complete control over your mailbox.
Unlike when you auto sort emails in Outlook directly, you can use Clean Email's other handy features to make this process even easier. For example, the Smart Folders feature automatically sorts messages for you based on common criteria. So, you can set up an Auto Clean rule to move all messages that qualify for the "Productivity tools" Smart Folder to a dedicated place in your mailbox that isn't the inbox. You can't do this within Outlook since it only lets you filter messages based on the sender's address, a keyword in the subject line, or other similar metadata.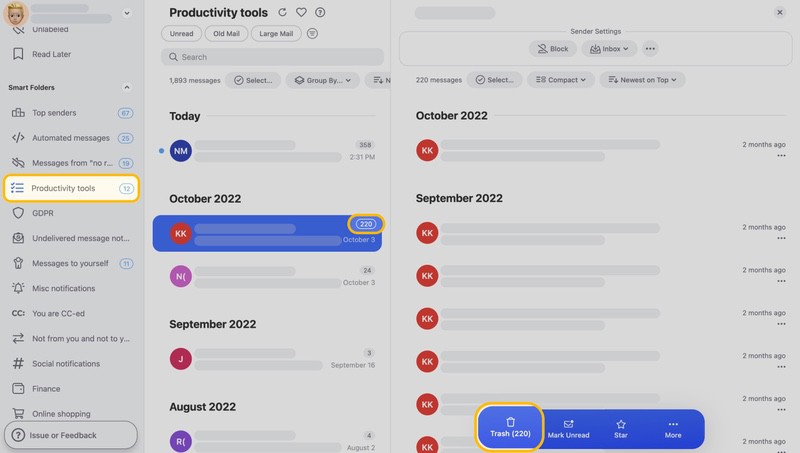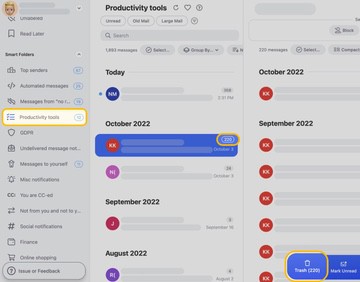 Similarly, if you receive weekly or monthly newsletters, you can use the Keep Newest feature only to keep the most recent version of that email. This applies to any type of recurring message, and it just requires you to set up an Auto Clean rule.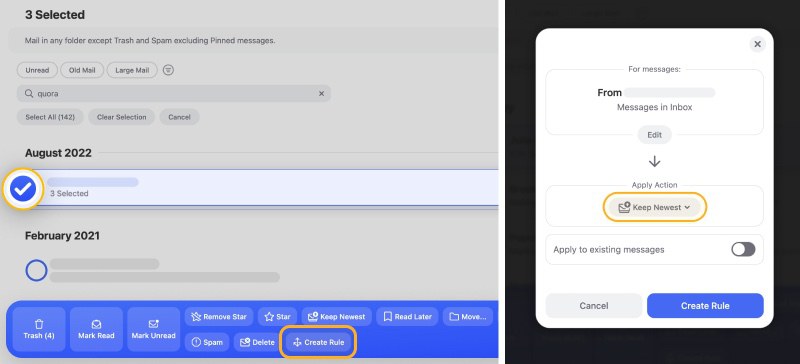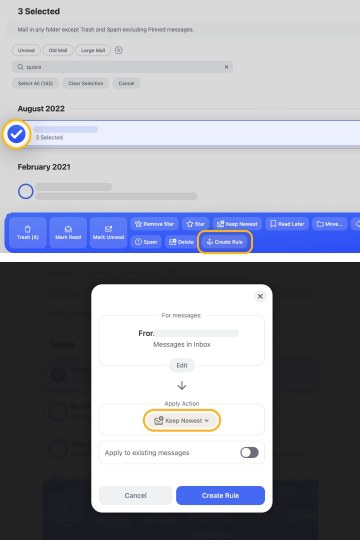 Once you start using Clean Email, Cleaning Suggestions will recommend specific Auto Clean rules or other ideas to help you optimize your mailbox. It may even suggest automation ideas for how to auto sort emails in Outlook based on the other users actions as it learns which messages they always move into dedicated folders.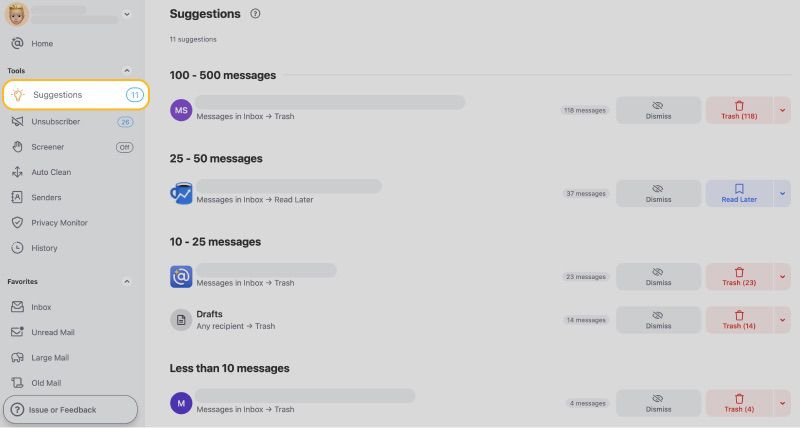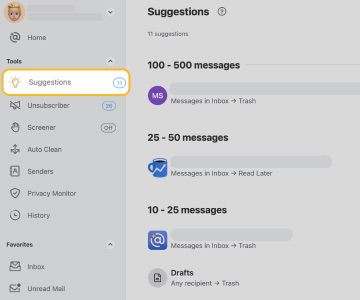 Best of all, you'll receive an Action History Summary each time Clean Email performs the Auto Clean rules and other guidelines you've programmed in the app. This lets you double check that your messages are all sorting the way you want, and it's not available to you if you automatically sort emails in Outlook directly.
Of course, Clean Email is a mailbox management app for organizing emails in Outlook, meaning you can do much more than just set up inbox automation.
Some of these management tools include:
Senders, which can block, mute, or take other steps based on a sender's email address
Unsubscriber, which removes you from newsletters and other mailings you don't want
Screener, which places emails from unrecognized senders into a quarantine folder outside of your inbox
Privacy Monitor, which regularly monitors if your email has been compromised in a data breach
💡 Note: Outlook is both an email provider and an inbox client. With Clean Email, you can only perform actions if you are logged into an Outlook or Hotmail account from the service provider. If you also use Outlook as an email client for Gmail, Yahoo, or another service, you'll need to log in directly from those accounts to use Clean Email.
---
How to automatically sort emails in Outlook - FAQs
Can Outlook automatically sort emails into folders?
Yes, you can set up Outlook rules to auto sort Outlook. It requires just a few steps, then the email provider will do the rest.
What is a quick way to sort messages in Outlook?
One way to do this is by using the Outlook built-in feature called "Rules". This allows you to automatically move incoming messages to specific folders based on criteria such as sender, subject, or keywords. However, with Clean Email, you can create more customized rules and apply them to email groups instead of having to create separate rules.
How do I automatically sort folders alphabetically in Outlook?
If you are wondering how to automatically sort messages into folders in Outlook, you just need to click the Show All Folders A to Z button on the Folder tab, and it will sort them for you.