How Does the Outlook High-Priority Marker Work?
The high-priority marker in Outlook is a feature that allows you to flag an email as important to ensure that it stands out in your inbox. When an email is marked as high priority, it will be displayed with a red exclamation mark next to it, which makes it easier for you to identify and prioritize it among other messages in your inbox.
More importantly, you can also mark an email as high priority in Outlook before sending it, which will indicate to the recipient that the message requires urgent attention. Just know that it's entirely up to the recipient to treat your message with the urgency you believe it deserves. What's more, not all email clients indicate message priority the same, and some don't indicate it at all.
💡 Note: Contrary to popular belief, the high-priority marker doesn't stop emails from going to spam in Outlook because spam filtering in Outlook and other email providers is a separate process that involves a set of algorithms and rules designed to identify and block unsolicited or unwanted emails.
Outlook High-Priority Marker Vs Gmail High-Priority Marker
The Outlook high-priority marker basically says, "Open this message right now! It's really urgent!" The Gmail high-priority markers (the star icon and the yellow Importance marker) are meant to visually signal that a message is important or urgent, but they also teach Gmail which messages it should mark as important automatically next time.
Outlook high-priority messages can be displayed using a smart folder. All Gmail messages that are marked as important using the star icon can be found in the Starred folder, while messages marked as important using the yellow Importance marker can be found under the Gmail Important folder.
💡 Tip: You can star messages from specific senders automatically in Gmail using Clean Email (more about it later in this article), and it takes just one click to set everything up.
How to Send a High-Priority Email in Outlook Manually
By learning how to set email priority in Outlook before sending, you will be able to ensure that important messages get the attention they deserve. This can be particularly useful in a professional setting, where timely communication can make all the difference and other communication channels may not be available.
Desktop (Windows)
Launch the Outlook desktop client.
Click the New Email (or New Message) button from the Home tab in the toolbar.

Click the red exclamation mark (High Imprtance) in the Message tab under the Tags section.
Desktop (Mac)
Launch the desktop client application.
Click the New Message button in the top toolbar.
Click the Priority button located on the right from the Subject line.
Choose High, Normal, or Low, and you are done!
Web
Log in to Outlook.com.
Click the New Mail button in the toolbar.
Click the red exclamation mark in the Message tab.
Choose High, Low, or Normal importance.
How to Mark Emails as Important in Outlook Automatically
Now that you know how to make an email important in Outlook manually, it's time for us to explain how to do the same automatically. Why? Because most important emails you receive probably come from the same few senders, so it makes sense to have Outlook automatically mark them as important.
Desktop (Mac)
Launch the Outlook desktop client.
Right-click on the message and choose Rules.
Click the Create Rule… button.

Specify the condition or conditions for the rule.
Open the Do the following dropdown menu and select the Mark with importance option.
Set the priority level to High.
Click Save.
Desktop (Windows)
Launch the Outlook desktop client.
Navigate to the Home tab and click on the Rules button.
Click the Manage Rules & Alerts option.
Create a new rule by clicking the New Rule button.
Start from a blank rule and select the Apply rule on messages I receive option. Click Next.
Specify the condition for the rule and click Next. For example, you can configure the rule to trigger when you receive a message from a specific person or public group.
Tell Outlook that you want to mark all matching messages as important. Then, click the underlined "importance" link in Step 2 and set the importance level to High.
Click the Finish button.
Web
Log in to Outlook.com.
Click the Settings gear icon and click the View all Outlook settings option at the bottom.

Navigate to Mail → Rules.
Add a new rule.
Name the rule and add at least one condition.
Click the Select an action dropdown menu and choose the Mark with importance option. Then, set the importance level to High.
Click Save.
From now on, your emails will be marked as important automatically. For better visibility, you can pin emails in Outlook to the top of your inbox using the Sort by importance option.
If you would like to have even more control over your Outlook.com email account and how your messages are displayed and organized, then you should connect your email account with Clean Email.
Sort and Organize Your Outlook Inbox Using Clean Email
Clean Email is a powerful email organization tool that works with Outlook.com and other IMAP-based email services. While it doesn't let you set importance markers in Outlook, it offers many other features that you can use to sort and manage your inbox more effectively.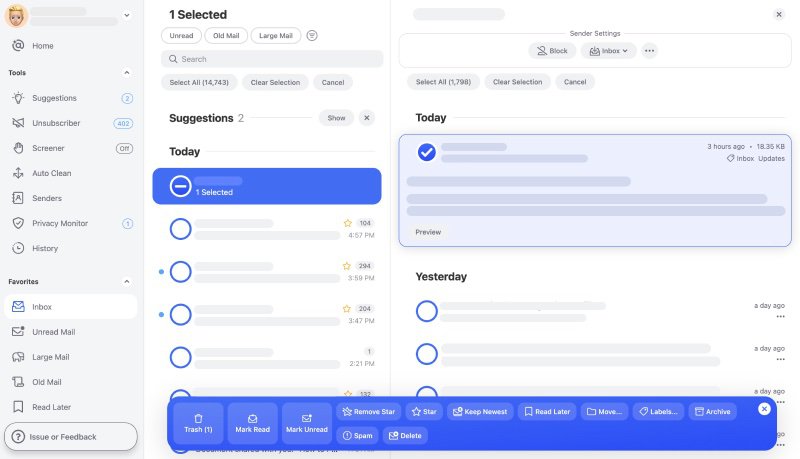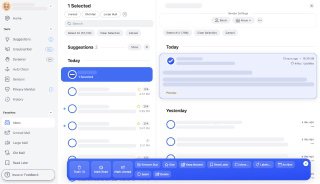 One of the most useful features of the app is its ability to create Auto Clean rules. With Auto Clean rules, you can set up automated actions for certain types of emails based on specific criteria, such as sender, subject, keywords, and more. For example, you could create an Auto Clean rule that automatically sends emails from specific sender and that are older than 1 year to Archive.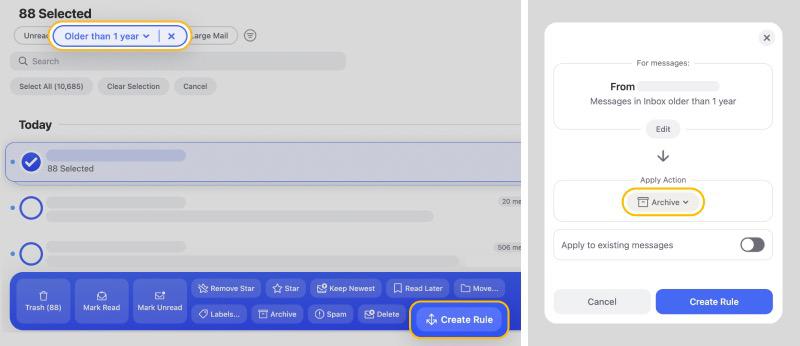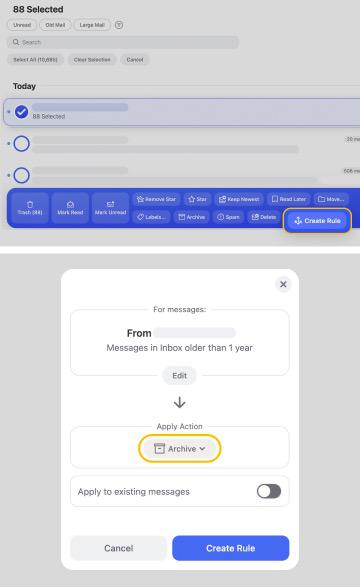 Clean Email also offers Smart Folders, which are pre-configured filters based on certain criteria. These Smart Folders automatically group similar emails together, making it easier for you to stay on top of your email agenda.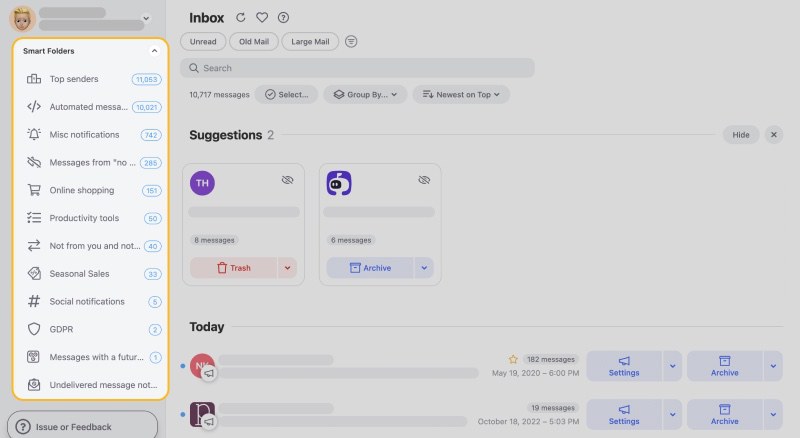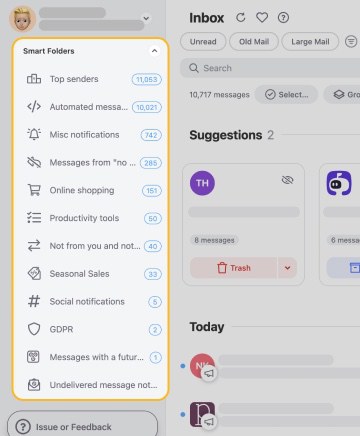 If you're the type of person who likes to be in complete control of how your emails are organized by customizing your Outlook inbox, then Clean Email's extensive inbox sorting and grouping capabilities will definitely come in handy, allowing you to see only the messages you want to see and nothing else.
---
How to Mark an Email as Important in Outlook - FAQs
Can you star important emails in Outlook?
Outlook doesn't have a "star" feature like some other email providers, but it does have a flagging system that can be used to mark important messages for better visibility and to urge their recipients to open them.
How do I make an email high priority in Outlook app?
To mark an email as high priority in the Outlook app, click the New Email button in the toolbar and then click the red exclamation mark in the Message tab.
How to move important emails to the top in Outlook?
You can move important emails to the top of your Outlook inbox by sorting your inbox by priority.
How can the Clean Email app help me avoid missing important emails?
The Clean Email app can help you avoid missing important emails by automating commonly performed email management tasks so that your inbox is always free of clutter.
How to send a high priority email in the Outlook mobile app?
Unfortunately, it's not possible to send a high-priority email using the Outlook mobile app at the moment.