Mark Emails as Spam in Apple Mail Using Native Features
The Mail app has a built-in spam filter that pays attention to which messages you manually mark as spam, learning from you to filter similar spam messages automatically in the future.
💡 Important: For the Apple Mail spam filter to do its job, it needs to be enabled. To do so, go to Mail → Settings → Junk Mail. There, select the Enable junk mail filtering option.
To manually mark emails as spam in the Mail app:
Launch the app.
Select the messages you want to mark as junk. Unfortunately, you can only select individual messages and conversations—not entire message groups (such as all messages sent by the same sender).
Click the Move selected messages to Junk button in the toolbar.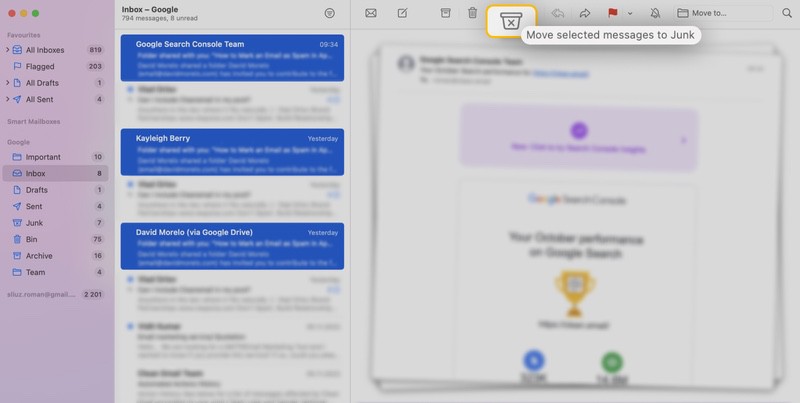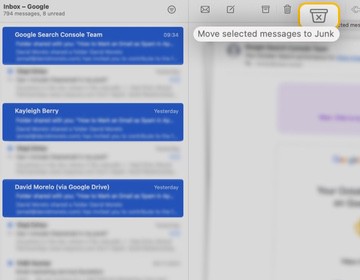 You can also right-click the junk message and select the Move to Junk option from the context menu.
💡 Tip: To junk mail on Mac in bulk using the Mail app, you can hold the Command key while clicking the items you want to select.
Alternatively, the Mail app gives you the option to create a spam rule. This method can be useful if you don't want to wait for a junk message to arrive so that you can mark it accordingly. Because Apple Mail marks as spam rules don't depend on the ability of the app's spam filter to tell apart legitimate messages from junk, its rate of success is 100%.
As you can see, there is more than one way for the users of Apple's email app to mark as spam, but each method has its limitations:
It's not always enough to mark emails as spam just once for the Apple Mail junk filter to mark similar messages automatically in the future.
It's not possible to group messages together to move them to the Junk folder in one go. If you want to junk all messages from multiple senders, then you need to filter them out and select them individually.
Rules in the Mail app take some effort to create because you need to manually specify all trigger conditions. A single mistake can send the wrong messages to the junk folder.
Luckily, there's a better way to mark emails as spam in the Mail app: Clean Email.
Mark Messages as Spam Using Clean Email
Clean Email can mark messages as spam more efficiently than the Mail app and its native features thanks to its flexible message grouping features.
With their help, you can see all messages that have something in common (the same sender, the same subject, and so on) as groups that can be selected with one click. What to junk thousands of messages from, let's say, five different senders? Then you can select them all with just five clicks.
When combined with Clean Email's message grouping is combined with its bulk management, and automation capabilities, you can quickly and painlessly create Auto Clean rules to mark emails as spam from multiple different senders:
Go to https://app.clean.email and sign in to the email account associated with your Mail app.
Go to the Inbox section.

Use the Group By dropdown menu to change how messages are grouped.

Click the icon next to each message group you want to select.
You now have two options:

Click the Spam button to mark the selected groups as junk in one go.

Or click the Create Rule button to automatically mark emails as spam in Apple Mail by creating Auto Clean rules based on the selected groups.

If you choose to create Auto Clean rules, then Clean Email will automatically configure the trigger conditions. You simply need to tell it to apply the Mark as Spam action.
💡 Tip: Are spammy and unwanted messages distracting you from messages sent to you by known senders? Then activate Clean Email's Screener feature to hold all messages from new senders outside your inbox until you either let them in or trash them.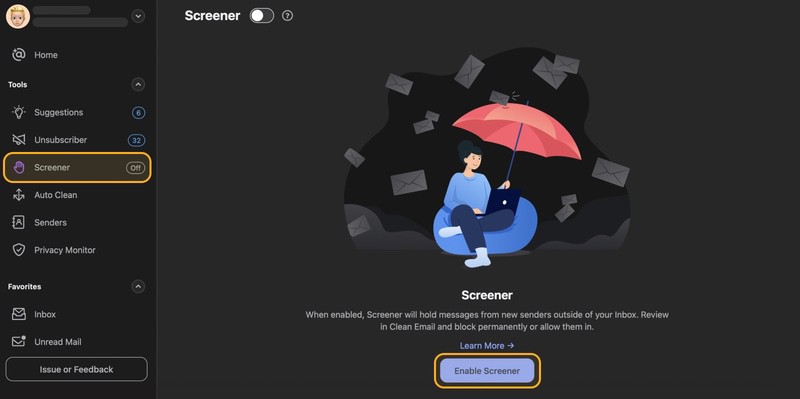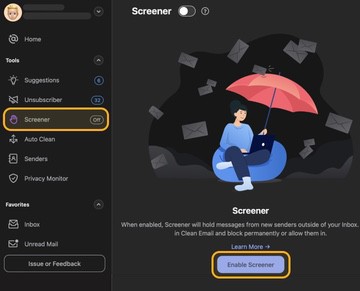 Features like these make Clean Email the perfect tool for Mac users who are tired of Mail junk and would like to finally win the fight against it.
---