Watch Our Short Video Tutorial
Are you a visual learner? Then you can start by watching our short video tutorial.
How to Mark All Unread Emails as Read in Yahoo
As a Yahoo! Mail user, you can mark all unread emails as read using the web-based client and the official mobile app:
Mark All Emails as Read in Yahoo Web Client
To mark all emails as read in the Yahoo web client, you need to:
Log in to your Yahoo inbox.
Hover the mouse cursor over the Inbox folder.
Click the small arrow.
Choose the Mark emails as read option.

Wait until Yahoo finishes marking your messages as read.
Mark All Emails as Read in Yahoo Mobile Client
To mark as read in the Yahoo mobile client, you need to:
Launch the Yahoo mobile app.
Tap the checkbox above your messages.
Tap the Select all option.
Use the Mark as read button below the selected messages to mark them as read.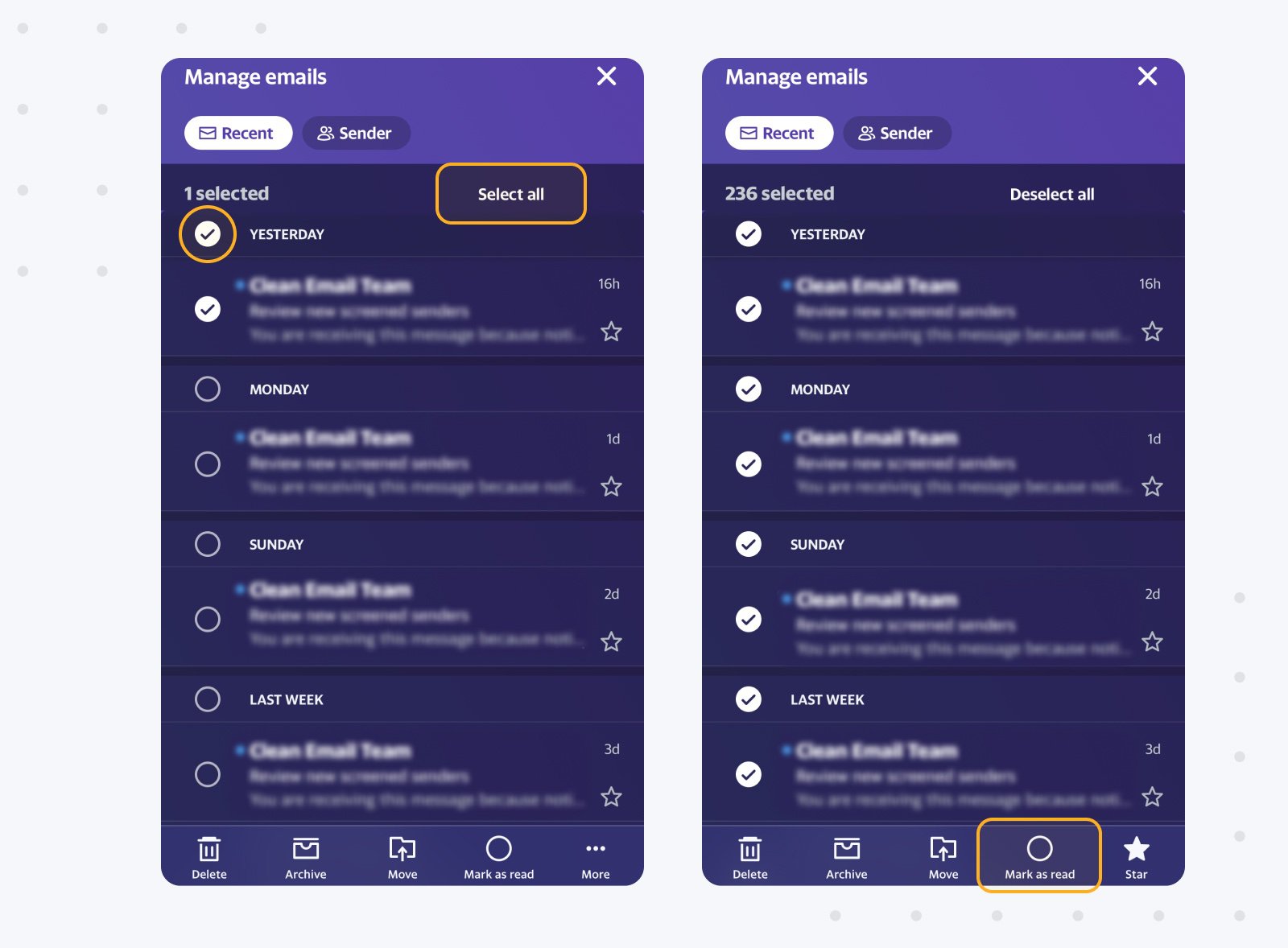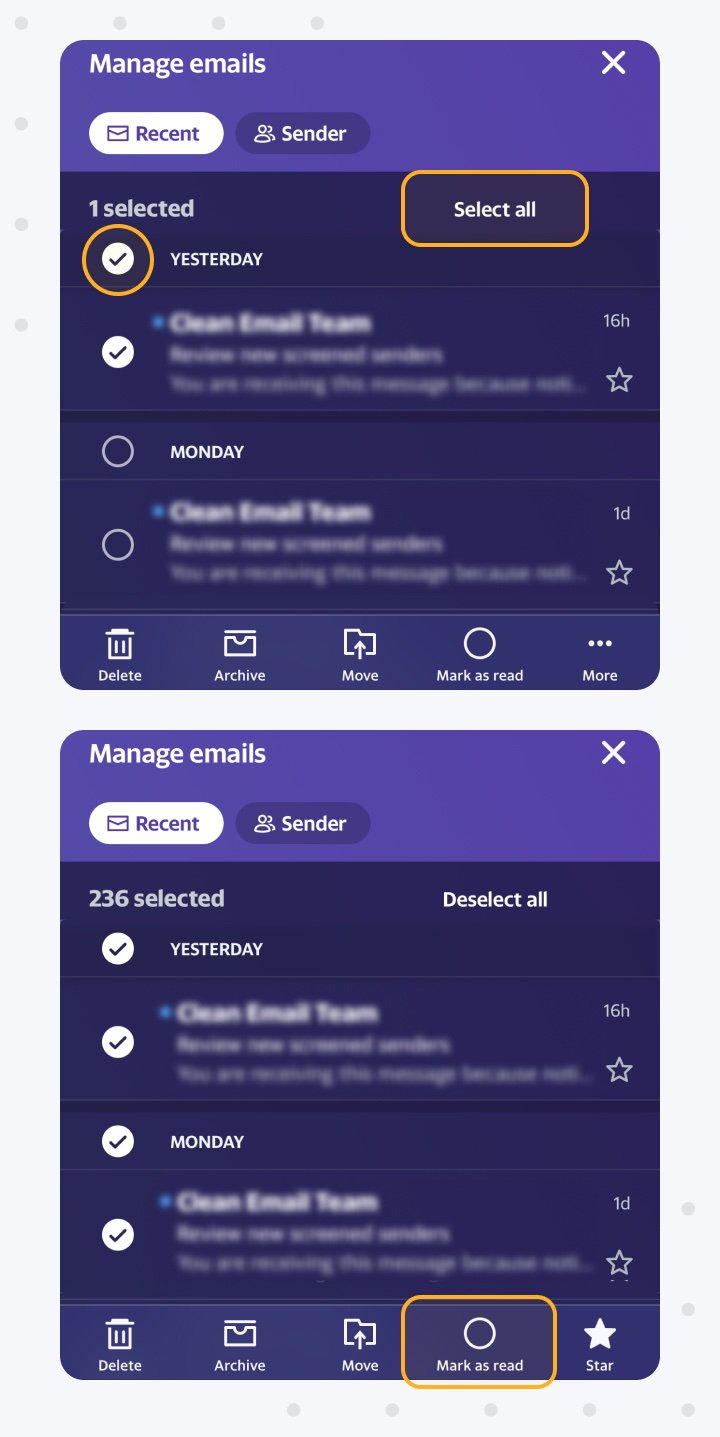 Using this method, it's easy to get rid of unread messages once, but it's only a matter of time before new messages will find their way into your inbox. That's why it's a good idea to automate the process by creating filter rules.
Unfortunately, Yahoo doesn't make it possible to mark messages from specific senders as read automatically because no "Mark as Read" option is available. That's where third-party services like Clean Email come in, allowing you to mark all existing and future emails from specific senders as read in no time.
Mark Emails as Read Automatically Using the Mute Feature
Even though native Yahoo rules can't be used to mark messages as read, rules created using Clean Email can—and it takes just one click to create them.
To mark all emails as read in Yahoo automatically (using Clean Email):
Log in to https://app.clean.email/ with your Yahoo account (you can sign up for free).
Select the Senders tool in the left pane.
Choose senders whose emails you want to mute for good.
Click the button that says Mute (on the right-hand side of the page in the Sender settings menu).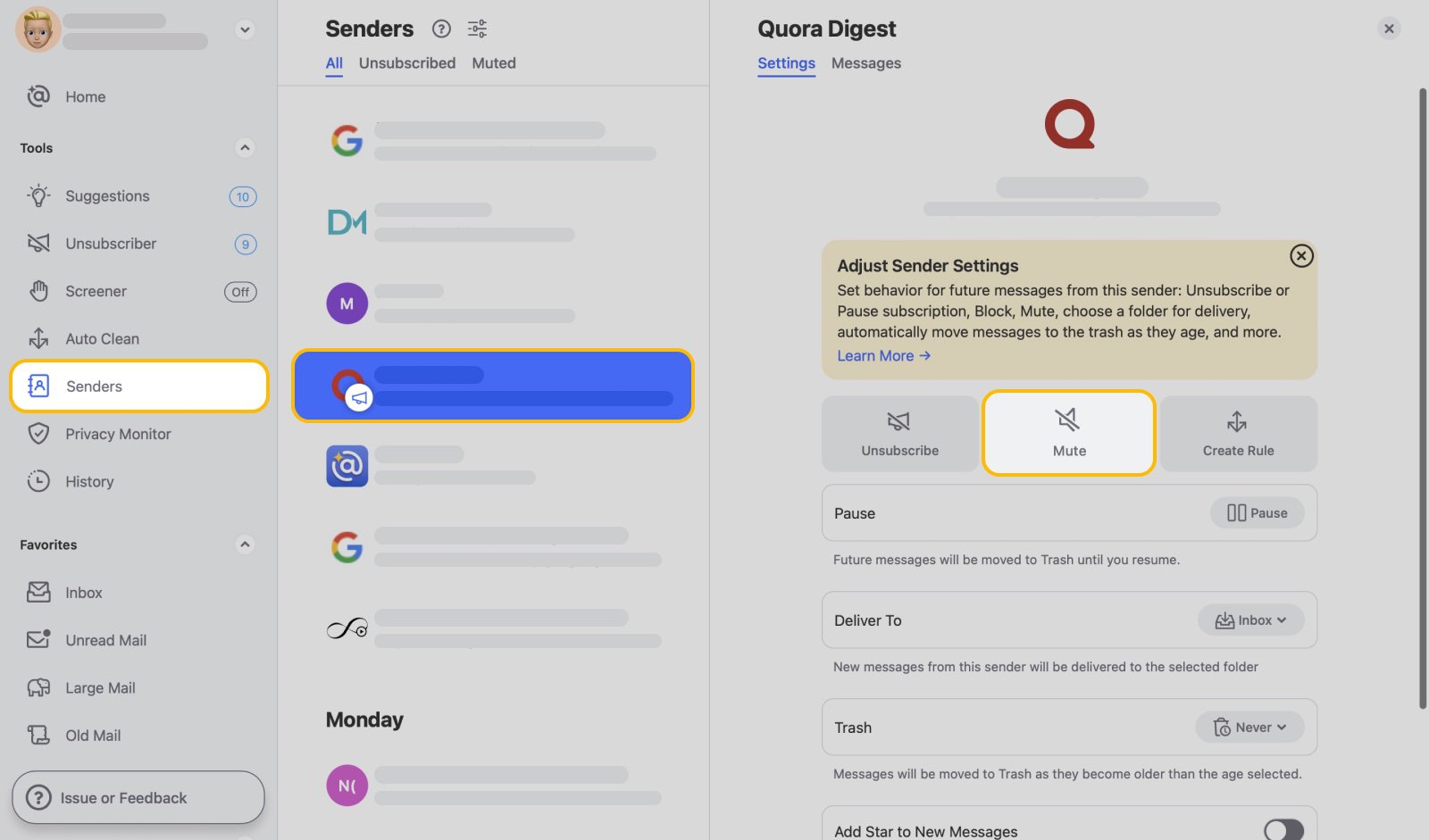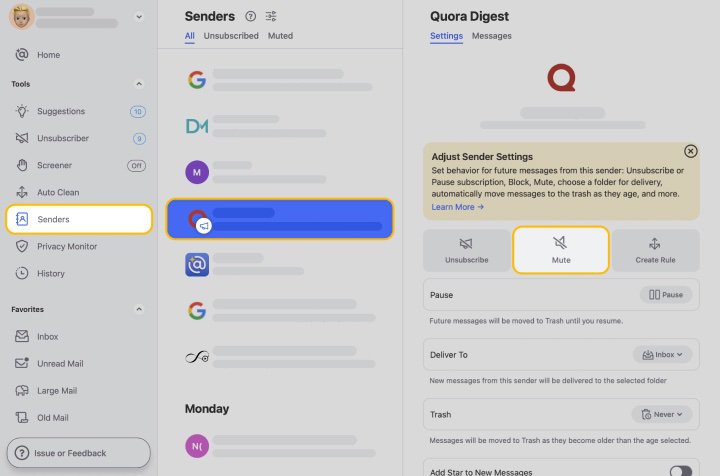 That's all there is to it! This way, all new messages sent to you by the senders you've selected will be automatically marked as read as soon as they reach your inbox.
Create a Specific Rule to Mark Future Messages as Read in Yahoo
With Clean Email, you also can create more specific rules. For example, you can mark as read messages that are older than 3 weeks or messages that have been sent to you by marketers.
To create a specific rule using Clean Email, follow these steps:
Go to https://app.clean.email/ and log in with your Yahoo email address and password.
In Clean Email, select the Inbox folder in the left-hand pane.
Choose a Sender whose messages you want to mark as read and click the Create Rule button in the blue action bar at the bottom of the page.

In the pop-up window, click Edit.

Use advanced filters to create a rule you want Clean Email to follow.
Click the Create Rule button.
You can create as many additional rules as you need to automatically mark emails as read in Yahoo without any manual work required.
---
Mark Emails as Read in Yahoo - FAQs
Can I use Clean Email's Mute feature to mark emails as read for free?
Yes, the free version of Clean Email can process up to 1,000 messages, unsubscribe from 25 subscriptions, and it lets you try the Mute feature (and many other features) for 14 days—no credit card required.
Can I create a rule in Yahoo native to mark all emails as read?
No, neither the web nor the mobile app can create rules that automatically mark messages as read. However, you can create them with ease using Clean Email (available as a web and mobile app).
Can I revert and mark the message as unread?
Yes, any message marked as read in Yahoo can be marked as unread:
1. Select the message you want to mark as unread.
2. Click the three horizontal dots to reveal additional options.
3. Select the Mark as unread option.