Mark Emails as Spam in Gmail Using Native Features
Gmail's native junk reporting feature, called Report spam, leaves a lot to be desired in terms of how well it can defend your inbox against spam. Before we explain why, let's first take a look at how you can use it to mark as spam in Gmail:
Go to https://gmail.com/
Select the message or messages you want to label as junk.
Click the Report spam button.
Now, you might expect all future messages from the same sender to be marked as spam automatically as well. Unfortunately, that's not how the Report spam feature works. When you click the Report spam button, the selected message is moved to the Spam folder, and Google is notified about it.
However, it may take several notifications for Google to start filtering the sender's messages automatically.
Unfortunately, Gmail's filter rules, which can be created by clicking the Show search options button in the search bar to automatically manage your messages, can't help here because there's no option to create a rule that would send messages matching certain criteria directly to the Spam folder.
What's even more limiting is the fact that you can only report individual senders. Want to quickly and easily report all emails with a certain subject line regardless of which address they came from (spammers commonly rotate multiple addresses to avoid junk filters)? Well, you can't! At least not if you rely only on Gmail's native features. Clean Email, on the other hand, makes it easily possible.
Mark Messages as Spam in Gmail Using Clean Email
All Gmail users who are not satisfied with the native junk filtering capabilities should explore third-party inbox cleaners because they offer far more ways to fight junk than Gmail does.
Clean Email stands out as an excellent choice thanks to its extensive email grouping options. By default, the inbox organizer groups messages by sender, but it can also group them by date, subject, label, and more.
Have you received the same unwanted message from multiple senders and would like to block them all in one go automatically? Clean Email makes it extremely easy to mark senders as spam in Gmail:
Go to https://app.clean.email and sign in with your Gmail email address.
Select Inbox from the list of favorites in the left pane.

Click the Group By drop-down to control how the messages are grouped.

Click the icon next to the message groups you want to select.
Click the Spam button to mark the selected message groups as spam and confirm.
To automatically mark future messages from the sender as spam, simply click the Create Rule button instead of the Spam button.
You will be presented with the following Auto Clean rule creation window: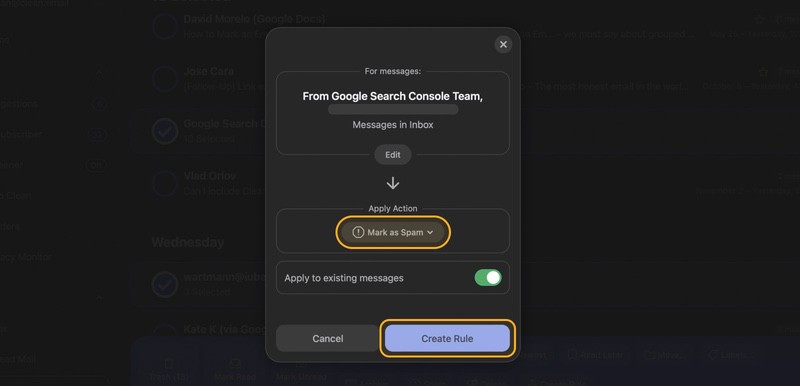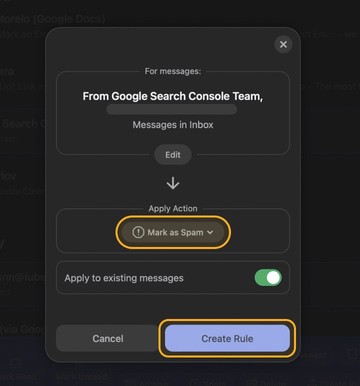 There, you need to choose the desired action (Mark as Spam) and click Create Rule. You can also enable the Apply to existing messages toggle.
To manage Auto Clean rules, select the Auto Clean tool from the pane on the left. That's where you can create new rules from scratch. Just click the Plus icon at the top to create a new Auto Clean rule.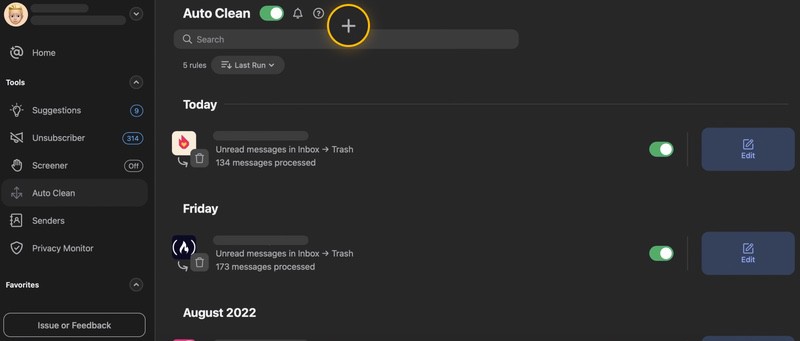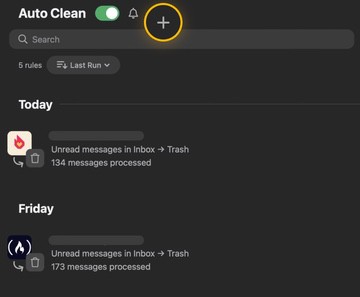 Clean Email lets you create as many rules as you want, making it possible to automate your inbox management to such a degree that you'll never have to think about it again.
💡 Tip: To clean and use your inbox undisturbed by potentially malicious unknown senders, you can enable the Screener feature to hold messages from new senders outside of your Inbox until you review them and decide if you want to block them or allow them.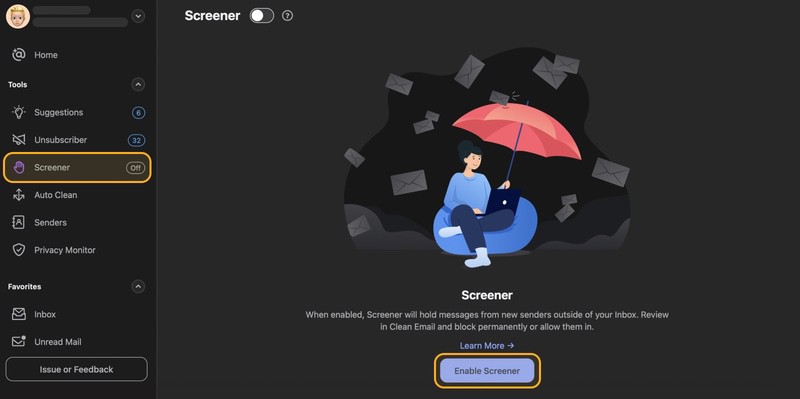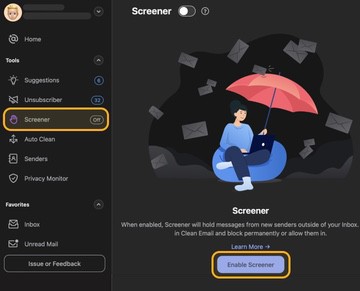 These and other features make Clean Email the perfect inbox organization tool for those who want to learn how to mark as spam in Gmail to defeat spam once and for all.
---
FAQ
How to create Gmail spam filters on a mobile device?
Unfortunately, the native Gmail app doesn't make it possible for users to create spam filters on their mobile devices. If that's something you want to do, then we recommend you use the mobile version of Clean Email for iPhone & iPad or Android.
How else can I keep my Gmail inbox clean besides marking as spam?
Does Gmail automatically delete messages marked as spam?
Yes, Gmail does automatically delete the content of the Trash and Spam folders after 30 days.
What should I do if I mark as spam by mistake?
If you mark a message as junk by mistake, then you can find it in the spam folder and move it back from there to your inbox by marking it as Not spam. For more information, visit the relevant support page on Google's website.