Mark Messages as Spam Using the Gmail App for Android
Most Android devices come with the Gmail app pre-installed, making it easy for their owners to send and receive electronic messages on the go.
To mark a message as spam in the Gmail app:
Launch the Gmail mobile app.
Tap the icon next to the message you want to mark as spam. You can tap multiple icons if you want to select more than one message.
Tap the three vertical dots in the top-right corner.
Select the Report spam option to move the selected message to the Spam folder and send a copy of the message to Google for analysis.
As you can see, learning how to mark emails as spam on Android is easy, but the native spam-reporting feature in the Gmail app can only get you so far.
If you want to mark as spam all messages from a specific sender, or all messages with the same subject line, then you're guaranteed to run into a major problem: the Gmail app doesn't support bulk actions. More specifically, you can't select a large number of emails with a single tap. You can only select them one by one, and that can take a lot of time.
But even if you take the time to select each and every message sent to you by some annoying spammer, there's no guarantee that you won't receive another message from the same spammer again in the future because the Report spam option doesn't immediately update the Gmail mail junk filter. It merely reports the message to Google, and it's up to them to update their filters, as explained on the official support page.
Instead of waiting for Google to update the Gmail app by including more sophisticated inbox management and spam reporting options, it's better to approach the problem proactively by using a third-party inbox organizer like Clean Email.
Automatically Mark Emails on Android as Spam Using Clean Email
Clean Email is an excellent solution for those who are tired of receiving junk messages on Android despite manually marking them as spam over and over again.
Thanks to its advanced email filtering and grouping options, it takes very little effort to select all spam messages that have something in common (sender, subject line, date, etc.) and create 100% reliable Android email spam filters to mark them as spam every single time.
Here's how to get rid of spam email on Android phones using Clean Email:
Download the Clean Email app from the Play Store.
Launch Clean Email and connect it to your email account.
Select Inbox under Favorite Mail Filters.

Take advantage of the available filters and Group by settings to make it easier for yourself to select spam messages.
Tap the icon next to each message group you want to select, then More button.

You can now:

Choose Spam option to mark the selected messages as spam once.

Choose Create Rule to automatically mark as spam all incoming emails based on your selection.
We recommend you use the former option to mark old junk messages from senders that are no longer bothering you to avoid creating a large number of filters that would never be triggered. On the other hand, the latter option is great for instantly stopping active spammers dead in their tracks.
💡 Tip: Try the Screener feature, which is designed to hold messages from new senders outside of your inbox, giving you plenty of time to review them.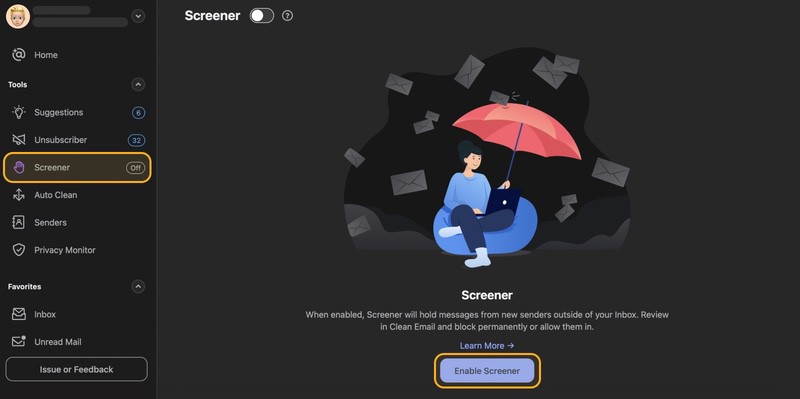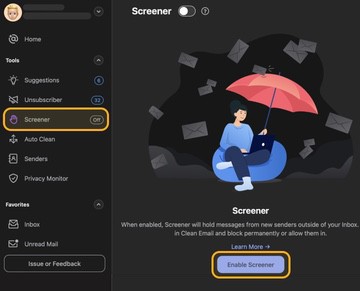 There are many more reasons why Clean Email is such a great way to delete junk mail on an Android phone, and you can discover them yourself for free.
---
Mark Emails as Spam on Android — FAQs
When does Gmail delete messages that are marked as spam?
Messages that are marked as spam in the Gmail app are automatically deleted after 30 days.
Can I create email rules on my Android using Gmail's native features?
Unfortunately, the Gmail app for Android doesn't allow users to create email rules. If that's what you want to do, then we recommend you use a third-party inbox organizer like Clean Email.
Can I still view messages marked as spam on my Android?
Yes, messages that are marked as spam on Android using the Report spam option in the Gmail app are moved to the Spam folder, and you can simply navigate to the folder to view them.