Why Do Emails Go To Spam In AOL Mail?
Many AOL users have discovered that a legitimate message has somehow ended up in the junk folder. But why?
The reason why AOL emails are going to spam is simple: AOL Mail uses advanced filtering technology to protect its users from junk mail. Unfortunately, this technology is far from perfect, and it sometimes marks messages from trustworthy senders as malicious, sending them straight to the Spam folder.
In such situations, it's important to know how to mark messages as not spam in AOL Mail and prevent future similar messages from meeting the same fate. That's exactly what the rest of this article is all about.
Mark Emails As Not Spam In AOL Mail Manually
You should never leave legitimate messages in your junk folder. Instead, you should mark them as not spam so that these emails won't become automatically deleted and, just as importantly, marked as spam again (at least in theory—more about that soon).
To mark emails as not spam in AOL Mail on Computer:
Log in to your email account.
Open the Spam folder and select the messages that you want to mark as not junk.
Click the Not Spam button located in the toolbar above the list of emails.

Go to your Inbox to verify that the selected messages have been moved there.
To mark emails as not spam in AOL Mail on iPhone & iPad:
Launch the AOL mobile app.
Tap the New emails icon in the bottom-left corner and choose the Spam folder.

Select the messages you want to move and tap the Not Spam button located in the toolbar below the list of emails.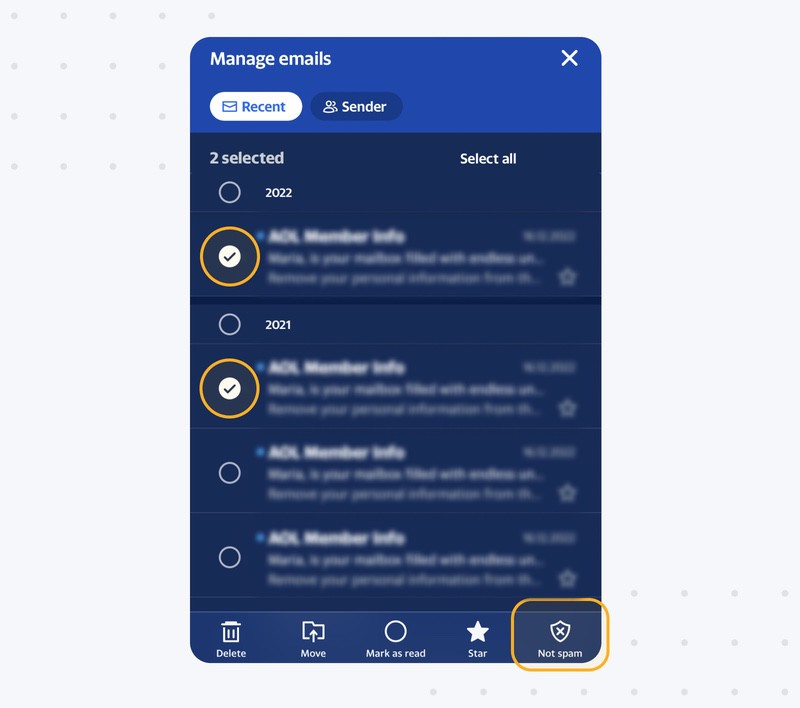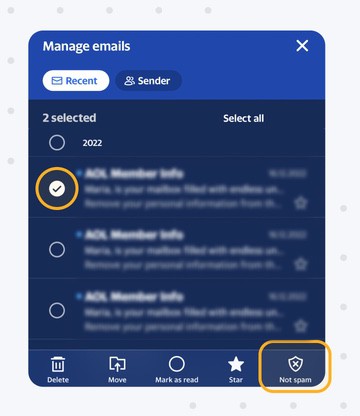 On Android:
Launch the AOL app.
Navigate to the Inbox tab.
Tap the Inbox icon in the bottom-left corner again and select the Spam folder.
Choose the email you want to mark as not spam.
Select the "Not Spam" option in the bottom toolbar.
Now that your messages are back in your inbox, you might think that the job is done and there's nothing more to do. Unfortunately, that's not really the case.
The advanced filtering technology used by AOL to categorize messages isn't 100% predictable, and it might be enough to mark as not spam once or twice for certain AOL messages to stop going to the spam folder. That's why you should also follow the steps described in the next two sections.
Stop emails from going to spam in AOL Mail by adding them to your contact list
The first thing you should do when you find a message from a legitimate sender in your AOL junk folder is to add the person to your contact list.
AOL Mail sees all contacts as trustworthy, so messages sent to you by your contacts shouldn't theoretically be marked as junk at all.
Prevent AOL emails from going to spam by unblocking legitimate senders
When AOL keeps sending messages to junk for no apparent reason, it's time to check if the senders aren't blocked, which sometimes happens when users make a wrong click.
Fortunately, unblocking a sender in AOL is a matter of a few straightforward steps, which are conveniently explained on the official support site.
But wait! There's more you can do to prevent your messages from going to junk, and we explain what it is below.
Prevent Important Emails From Going To Spam Automatically With Clean Email
If you want to definitely stop AOL from sending emails to spam, then you should automatically move emails from trusted senders to the inbox/custom folder by creating AOL filter rules.
This is something Clean Email, a popular inbox organizer for AOL Mail and other IMAP-based email services, makes possible with ease:
Go to: app.clean.email
Sign in with your AOL account.
Select the Auto Clean tool in the left pane.
Click the Create Rule (+) button.

Specify that you want the rule to apply when you receive a message from specific email addresses.
Tell Clean Email where you want to move matching messages (e.g. move them to Inbox).

Click Create Rule to confirm.
That's all there is to it! Just know that Clean Email's rules don't apply to messages that are already present in the junk folder. We recommend you deal with such messages manually.
The good news is that you'll need to organize them just once because Clean Email filter rules will prevent more legitimate messages from ending up in the junk folder.
---
FAQs
Can I create a filter rule in AOL native to stop emails from going to spam?
Yes, you can create rules in AOL Mail, but you won't be able to move messages to your inbox because no such option is available. Alternatively, you can use the Clean Email's Auto Clean feature to create specific custom rules for your important messages.
Can I create filter rules using the AOL mobile app?
No, unfortunately, the AOL mobile app doesn't support the creation of email filters. If you want to create filters on your mobile device, then we recommend you use Clean Email's native Android and iOS apps instead.
Is it free to move incoming emails to inbox using Clean Email?
Yes, the app is free to try for the first 14 days, during which it can process up to 1,000 messages, unsubscribe from 25 subscriptions, and more.