Intro
How many hours do you spend each week reading, sorting, and sending emails? Chances are, it's probably far too many. Email has become a daily means of communication for work and personal use, not to mention a new marketing method for most businesses. Given that the average person has at least two email accounts, many of us spend upwards of two to three hours per day just clicking emails and sorting through our overfilled inboxes.
Luckily, there are now email automation systems in place to help you recoup some of your time each day by making the inbox sorting process so much easier. If you're not familiar with inbox automation, it's essentially a system that lets you create automated workflows for those mundane daily email tasks so you no longer have to do them yourself.
Automating emails can benefit you in numerous ways. Automations save you time by completing mindless or repetitive tasks for you. It also helps keep your inbox clean and organized, which makes hunting down specific emails or responding to important messages that much easier. Depending on the email automation system you use, you can even automatically download attachments, create tasks in your task management system, or log specific conversations and document them if needed.
Email Tasks To Automate
Automating emails saves you time and helps you organize your inbox more efficiently. Even if you only have a personal email account, you can still benefit from email automation in many ways.
For example, you can automate newsletters and marketing emails to go into a separate folder so you can review them at a later time. This clears out your inbox and makes it easier for you to sit down and review multiple emails of the same category at once.
If you use one email account for multiple purposes, you can also automate email messages from specific senders to go into designated folders. If you work as a freelancer or use email for work purposes, you can even take this a step further and automate emails from certain senders to create tasks for you to complete. This can save you hours of sifting through messages and helps you make sure nothing gets lost in the mix.
Of course, you can also use email automation to remove unwanted emails altogether from your inbox. This is a great option if you receive lots of spam emails or unwanted marketing emails you never plan to read.
Ways To Automate Email Tasks
Now that you know why automating email is important, let's take a look at how to automate email tasks. Believe it or not, there are several ways to automate emails based on your goals and the email provider you use.
1. Use Filters To Move Emails Automatically
Many email providers now have filter settings that let you automate emails based on the sender's address or other factors.
On Gmail
If you use Gmail and want to know how to automatically move emails to a folder in Gmail, it's a pretty simple process. You just need to click on the arrow to the right of the search bar and create a filter using the search terms you used. You can create new labels or use existing ones, and you can even apply a new email automation filter to older messages in your inbox with a few clicks.
In Outlook
If you use Outlook for your email, you can also sort your Outlook incoming emails into specific folders automatically using the Outlook Rules feature. Like Gmail's filtering system, the Outlook Rules feature is a free feature available both in the web and desktop versions of Outlook. You can easily automate email tasks directly from the message in your inbox with just a few clicks.
On Yahoo
For those who use Yahoo for their personal email, you can also learn how to move emails to a folder in Yahoo Mail automatically. You can access over 500 built-in filter options for your Yahoo inbox through the Settings icon in your inbox. From there you just name the filter, establish the email automation rules you want, and save it. It's that simple.
2. Auto Delete Old and Spam Emails
In many cases, you can also use email automation features to delete old emails or spam messages you don't want in your inbox.
Gmail
With your Google inbox, you can set up a Gmail auto delete filter that will automatically delete old or unwanted emails from your inbox instantly. If you need to know how to auto delete spam in Gmail, it works very similarly to Gmail's other filter options — you just select the "delete it" option instead of sorting it into a specified folder.
Outlook
Your Outlook inbox also offers an option for Outlook automatically deleting emails if you want. Just like other filters, you can use the Outlook Rules feature to help you delete unwanted emails altogether.
Yahoo
Although Yahoo offers a fairly great spam filtering system already, you can also set filters for Yahoo deleting emails automatically if you use Yahoo Mail. It works like other filters.
While deleting emails can sometimes help clean out your inbox, it's not always the most practical approach. In some cases, you may want to unsubscribe from marketing emails or other content instead of just deleting them when they come in. Luckily, Clean Email is here to help you learn how to unsubscribe from emails, and we even offer a simple solution with our Unsubscriber tool.
3. Use Labels To Automatically Sort Incoming Emails
If you want to automate email messages before they even hit your inbox, you can use labels to automatically sort those incoming messages as soon as they arrive. By creating these labels, you can save yourself lots of time and keep your inbox clear by letting the system do all of the heavy lifting. Just like the postal service sorts all of our snail mail, email automation filters sort messages as they arrive and drop them straight into the folder that's their final destination. Then you can tackle each folder or secondary location when time allows, which makes your load lighter and you more productive.
In your Gmail inbox, you can set up new labels by clicking on the dropdown menu near the search bar from your inbox. From there, you can create terms for the subject line, sender's email, or words within the body of the message itself. You can even enter in more than one of those search terms to make sure that you filter the correct messages.
Then, choose the options you want to apply to messages with these terms. You can choose to sort them into a certain folder, star them within your inbox, archive them, or even delete them altogether. You can also apply category labels or mark them as read.
After you enter the terms, click "apply the label" and select "new label." Then you label the filter and "create filter" to save it.
For Outlook users, you can use Outlook's category system to sort emails and apply specific labels to them within your inbox. From Home, look for the Tags section and select "Categorize" from the options. Then press "All Categories" and "new" to make a new category. From there, you name and assign a color label to the category and save it.
Once you've created custom categories, you can use Outlook Rules to automatically apply your custom categories to emails. To do this, look for a message that meets the criteria of your category, then select "Create Rule." From there, you'll go through the settings for the rule and assign the category of your choice to the messages you want to label. Then just name the rule, push apply, and you're done.
Unfortunately, Yahoo doesn't have the same type of label options as Gmail or Outlook. Instead, Yahoo users only have the choice to apply filters and sort specific emails into folders, not apply labels or categories.
To filter emails in Yahoo Mail, though, you can just go to the settings menu on the right hand side, then select "more settings" and scroll down to "filters." Within the filter settings, you can set the rules for the filter and select what folder you want these emails sorted into. You can have as many folders as you'd like, so this is a good system for labeling emails even if it feels different.
4. Use Third-Party Email Automation Apps To Make It Even Better
While most major email providers include simple tools to help make automating emails easier for you, they don't always help you automate everything you may want to.This is why third-party email automation apps and services like Clean Email exist — to help you maximize efficiency and stay organized.
If you use your email for business purposes, email automation apps can help you sort emails to assign to other team members to complete. In fact, you can even set up automations with many apps that will automatically forward specific emails to another address so you don't even have to worry. This works extremely well for bills, meetings, and similar business matters.
Some automation apps and services also connect with other apps and software programs you may commonly use, like Trello, Asana, or Wrike to turn emails into tangible tasks on your to-do list. Furthermore, email automation services can help you automatically download attachments from clients or other businesses and store them in Dropbox or Google Drive so you have the documents you need handy without taking the time to open emails and download each individual attachment.
Whether you use your email for business or personal uses, you can use email automation apps to sort emails by labeling them, placing them into folders, marking them as read, or even archiving them. This can help you keep your inbox cleared out and better organized so you can work more efficiently.
Automation apps can also help you add events to calendars, send automatic replies to certain addresses, or even help automate outgoing emails. There are really endless possibilities in what many of these third-party email automation services can help you accomplish.
Why Clean Email?
Whether you're trying to achieve Inbox Zero or simply organize your inbox so you can optimize your time, Clean Email is here to help. With features like Smart Views, an Unsubscriber, a Privacy Guard, and automations, we can help you work smarter (not harder) when it comes to your email inbox.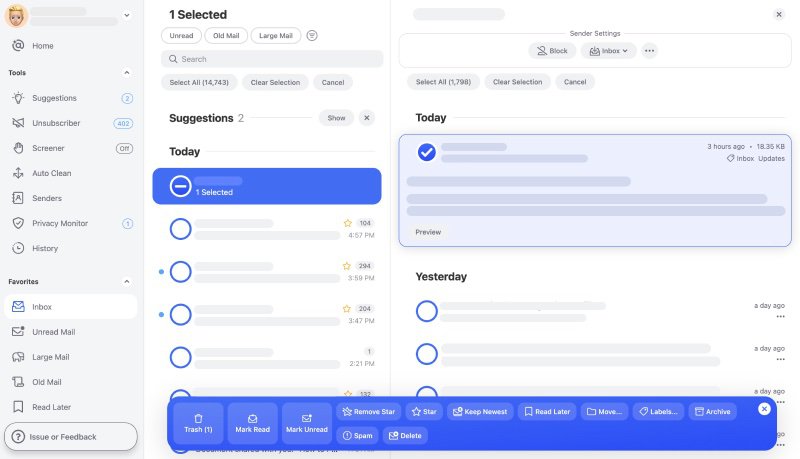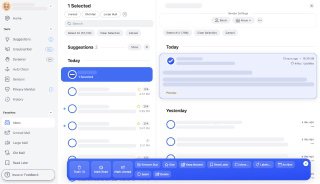 Clean Email syncs with your email mailbox. Then, the Auto Clean feature gives you the option to create endless "set it and forget it" automations that can help remove, archive, label, or categorize old and new emails. These settings make checking your inbox easier and more efficient, especially if your time is limited each day or you have multiple inboxes to check on.
The Auto Clean feature can also help you mute or block emails from specific senders, which can be helpful if your account seems to receive a lot of spam or unnecessary marketing emails. Unlike unsubscribing, though, you can turn off these blocks at any time, giving you the flexibility to change your mind if emails become more relevant in the future.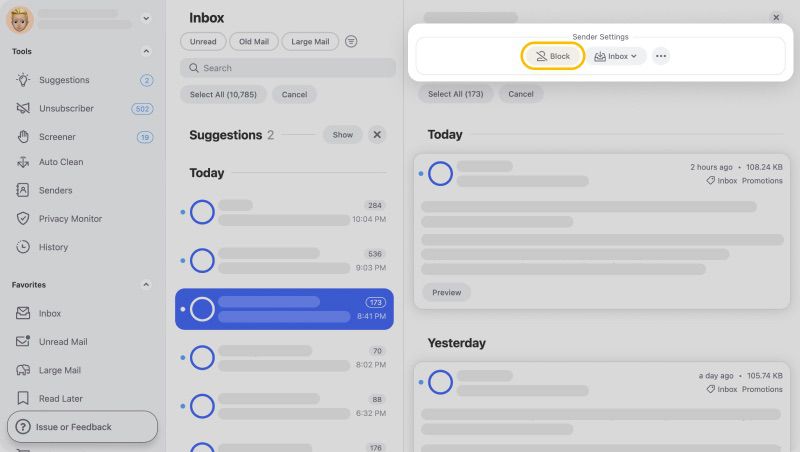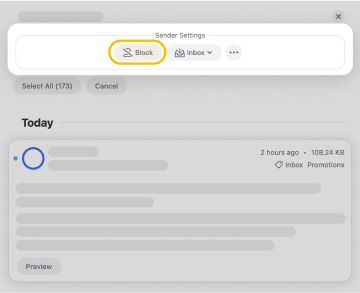 Furthermore, Clean Email's Auto Clean feature can help you automate email tasks to keep the newest versions of certain emails or move older messages into a "Read Later" folder for your convenience. This can really help cut down on the clutter of newsletters and other emails that enter your inbox on a regularly-scheduled basis, and these settings help you make sure you're not reading a message that's outdated or no longer relevant.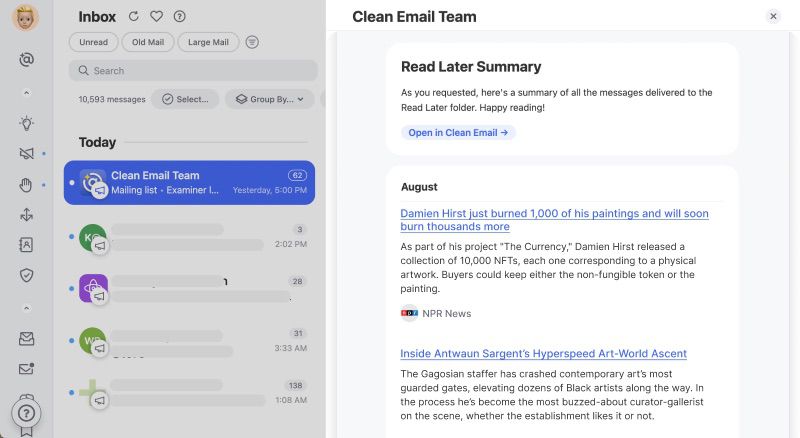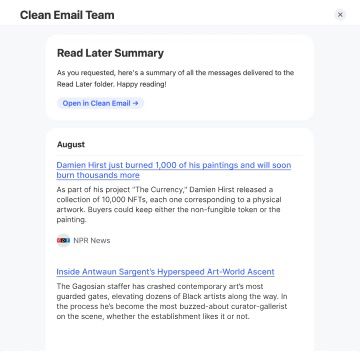 Clean Email syncs with most major service providers, including Gmail, Outlook, Yahoo, and more. The app also encrypts your data and never sells your information to other companies, so you can rest easy knowing that your email automation needs are taken care of and you're in safe hands.
Wondering to know more tips and tricks to automate your emails tasks? Check out our guides on how the Outlook Auto Archive feature works and how to archive emails in Gmail automatically.