Auto Archive in Gmail to Keep Your Inbox Empty
It's estimated that the average employee sends and receives around 120 emails every single day. That's a lot of messages to process, so many people never do, leaving old emails on a growing pile, with new, unread emails occasionally getting buried under layers and layers of social media notifications, newsletters, invoices, and other more or less important messages.
But things don't have to be this way. It's possible to maintain a clean, well-organized inbox without spending an obscene amount of time on its management. All you need to do is automate email actions such as archiving using inbox management features present in Gmail or a third-party inbox organizer tool like Clean Email.
Why Is Gmail Automatically Archiving Emails?
Are your emails getting automatically archived, and you're not sure where to find archived emails in Gmail? You're not alone. There are many users who have experienced or are currently experiencing the same problem because Gmail works slightly differently than many other email services.
When a Gmail email is archived, it doesn't go to a dedicated Archive folder. Instead, it disappears from the Inbox folder and is moved to the All Mail folder. This may happen automatically if the Send and Archive feature in Settings > General is enabled.
To turn off the automatically archive Gmail emails feature:
Log in to your account and click the settings gear icon.
Select the See all settings option.
Go to the General tab.
Click Hide "Send & Archive" button in reply.
You should also know that it's possible to move messages to the Android and iPhone email archive by swiping them to the left or right from your inbox. The emails you've archived on your mobile device can be found inside the All Mail folder.
How to Disable Archive in Gmail
It's not possible to disable the archive feature in Gmail. The best you can do is disable the Send & Archive button by following the instructions above. If you accidentally archived a message, you can always manually retrieve it from the All Mail folder.
How to Auto Archive Email in Gmail
Now that you know why Gmail sometimes archives emails on its own, it's time to learn how to archive emails in Gmail automatically using labels and filters.
How To Auto Archive in Gmail on Web
To auto archive emails based on certain criteria when using the web version of Gmail:
Log in to your account.
Click the small Show search option button on the right side of the search bar.
Specify your auto archiving criteria.
Click Create filter.
Check the Skip the Inbox (Archive it) option.
Check the Never send it to Spam option.
Click Create filter.
How to Archive on Mobile
Unfortunately, it's not possible to automatically move emails to a folder in Gmail on mobile, so you need to use your computer to set up the auto archive Gmail feature. You can, however, manually archive individual emails on your smartphone or tablet with a simple gesture:
Launch the Gmail app.
Find the message you want to be archived.
Swipe the email left or right to archive it.
Gmail Filters Versus Third-Party Tools
Gmail filters can go a long way in helping you keep your inbox organized, but they're not exactly convenient to use. Their setup takes a lot of time, and a single mistake can cause your inbox to behave unpredictably.
Fortunately, there are also third-party inbox organizers like Clean Email. With their help, learning how to auto archive emails in Gmail barely requires any effort, so they're well worth the investment if you depend on your inbox a lot.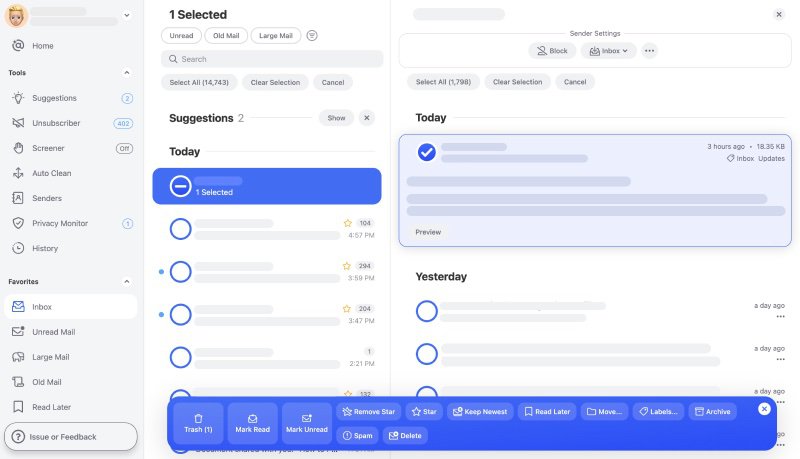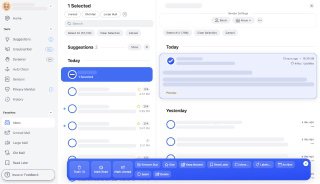 Clean Email also works with Yahoo, AOL, iCloud, and Outlook (learn more about the Outlook auto archive feature), just to name a few popular email services that are compatible with it.
Move Emails To Archive Automatically With Clean Email
Even veteran Gmail users don't always know how to automatically archive emails in Gmail using labels and filters. That's why increasingly many users rely on third-party inbox organizers like Clean Email to make the archiving process easier and optimize Gmail inbox.
What makes Clean Email such a great archiving companion is that it combines intelligent inbox organization with one-click automation of commonly performed email actions, such as archiving.
When you connect the app to your inbox for the first time, it will analyze your emails and categorize them into the so-called Smart Views, making it easy to display, for example, all emails that are larger than 10 MB, social notifications, emails you've sent to yourself, and more.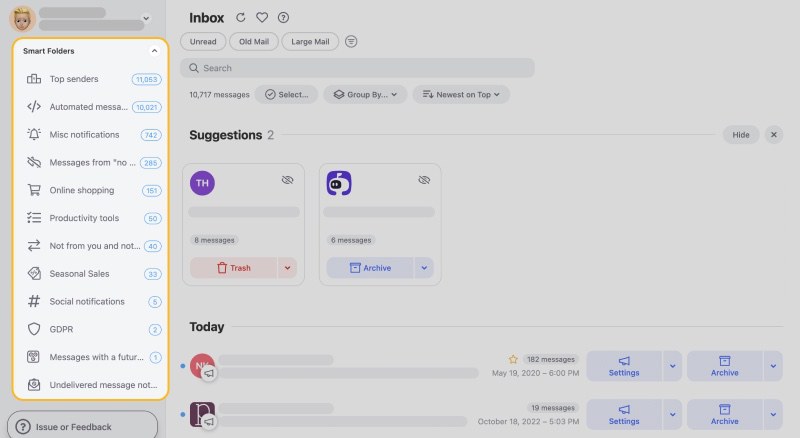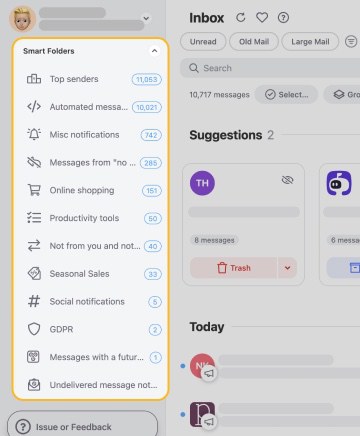 Similarly, Clean Email can automatically select all emails from the same sender, so you need to apply the desired action just once to make a huge difference in how organized your inbox is.
Let's say that you want to archive all emails from a specific sender and ensure that future messages from the same sender are automatically archived as well. Here's what you need to do:
Go to: https://app.clean.email/
Sign in with your mailbox credentials.
Go to the Inbox folder and select the sender whose messages you want to be archived.
Click the "Select all" filter to select all messages from this sender.
Click the Archive button.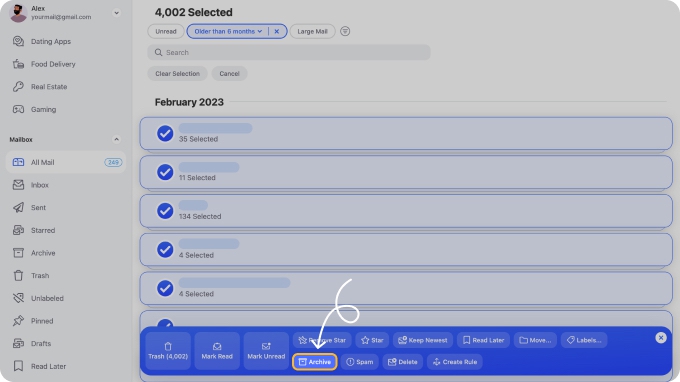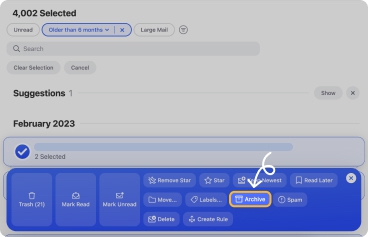 Create an Auto Clean rule and apply it to both existing and future emails from this sender.
Click Create and Run Rule to confirm.
That's how little effort it takes to archive emails, and learning how to auto delete emails in Gmail with the help of Clean Email is just as straightforward.
---
Gmail Auto Archive - FAQs
Can Gmail automatically archive emails?
Yes, you can auto archive Gmail emails by setting up filters or using a third-party inbox organizer app like Clean Email.
Why is my Gmail automatically archiving?
If your Gmail is automatically archiving the emails you send to others, then the Send and Archive feature is most likely turned on. You can disable it by clicking the Hide "Send & Archive" button in Settings. It's also possible that you have enabled an email filter to auto archive Gmail by date or some other parameter, so you should check that as well.
How do I stop Gmail from archiving messages?
To stop Gmail from automatically archiving messages, you need to learn how to delete auto archive filters in Gmail. Log in to your account and open all settings. Then go to the Filters and Blocked Addresses tab. Delete all unwanted filters.
How do you set up archive in Gmail?
There's no need to manually set up an archive in Gmail. All archived emails can be found inside the All Mail folder, and unarchiving them is as easy as moving them back to the Inbox folder.
How do I stop Gmail from archiving all my mail automatically?
If Gmail is automatically archiving all of your emails, then there's almost certainly a broad filter that's causing your inbox to behave in this way. To disable it, log in to your account and open all settings. Then, go to the Filters and Blocked Addresses tab and delete the unwanted filter.