Don't Let Unwanted Emails Ruin Your Gmail Inbox
When Gmail launched in 2004, the email service offered one gigabyte of storage space for free. Today, Gmail users get to enjoy 15 GB of free storage, but that's still not enough for some. Why? Because spam messages account for around 45 percent of all email traffic.
Indeed, it doesn't take much time for spam messages to accumulate and eat up gigabytes of valuable storage space, leaving little room for messages that are actually important. Sure, you could purchase additional storage space from Google and call it a day, but that would be akin to throwing in the towel and letting spammers win.
Instead, you should learn how to automate email management using the solutions described in this article so that you can enjoy a clean, organized inbox without wasting hours of your precious time.
How To Auto-Delete Emails In Gmail
Gmail has many useful features, and one of them is the ability to automatically manage incoming messages using filters.
A filter is essentially a conditional statement whose purpose is to instruct Gmail which action or actions it should take when certain conditions are met. For example, you can configure a filter to make Gmail auto delete all emails that come from a specific email address or have the word "money" in the subject.
Although powerful, filters are fairly easy to create, and you don't need to have any programming skills whatsoever. Here's how to auto-delete emails in Gmail using filters:
Log in to your email inbox.
Click the Settings gear icon
Select the See all settings option.
Go to the Filters and Blocked Addresses tab.
Click Create a new filter.
Specify the conditions under which the filter will be applied.
Click Create filter.
Click the checkbox next to Delete it.
(Optional) If you want to, you can also choose to apply the filter to all matching conversations.
Click Create filter again.
From now on, Gmail will automatically delete each and every new email that matches the conditions you've specified when creating the email filter. You can create an unlimited number of email filters and manage them all from the Filters and Blocked Addresses tab.
How To Auto-Delete Old Emails In Gmail
As useful as filters are, making it possible to auto-delete Gmail spam, they are not without limitations. For starters, filters in Gmail take quite many steps to create (10 to be precise), and a single mistake or inaccuracy when creating them can lead to important emails disappearing and your Gmail inbox behaving unpredictably.
More importantly, however, Gmail filters can't be easily configured to auto-delete old emails. Yes, you could navigate to scripts.google.com and create an auto-delete script to accomplish the task, but that's not something that you can do without at least basic programming skills.
Fortunately, there are Gmail-compatible third-party inbox cleaners that not only make it possible to auto-delete old emails in Gmail but perform many other time-saving inbox management tasks as well.
One great inbox cleaner app is Clean Email, and here's how to automatically delete old emails in Gmail with it:
Go to: https://app.clean.email
Log in to your inbox.
Select Inbox from the left pane and tell Clean Email to display emails that are older than a certain age using the filter next to the search box.
Select all groups of emails that you would like to automatically delete once they become older than the age you selected.
Click the Trash button and choose to apply the action to all selected and future similar emails.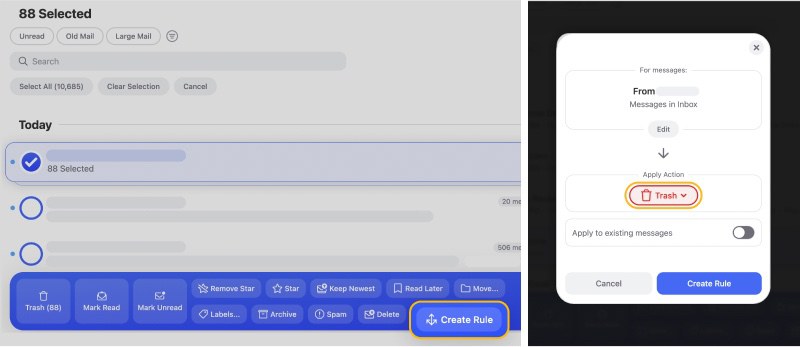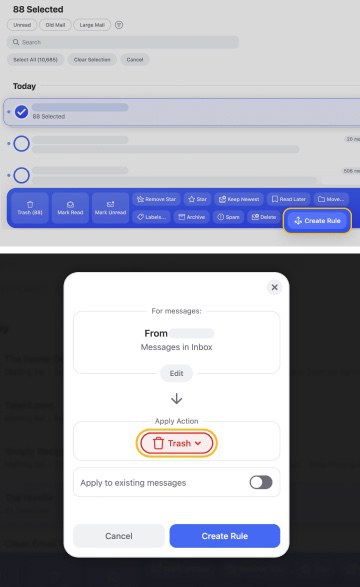 Confirm.
In addition to manually filtering your inbox to only display emails that have exceeded a certain age, you can also explore Clean Email's Smart Views, which are basically preconfigured views that let you quickly see and manage various common email types.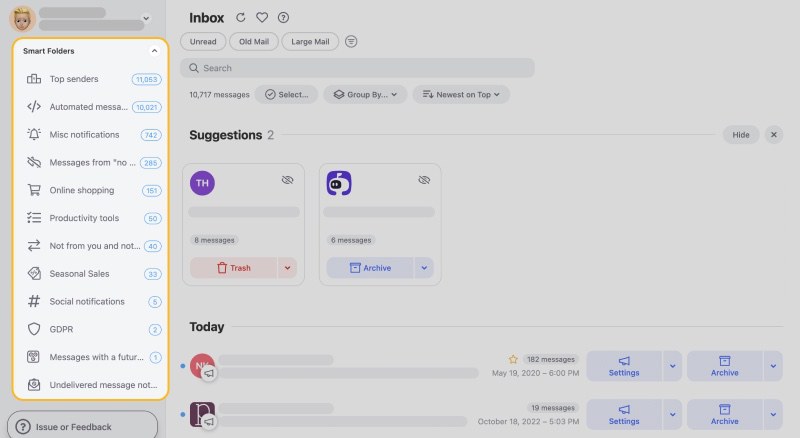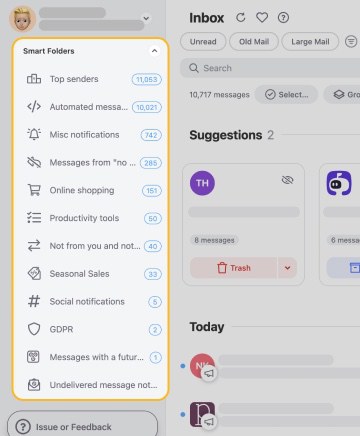 When cleaning a messy inbox for the first type, it's useful to use the Quick Clean tool. This tool automatically displays the most problematic groups of emails and suggests what you can do with them, enabling you to clean your inbox with a few simple clicks.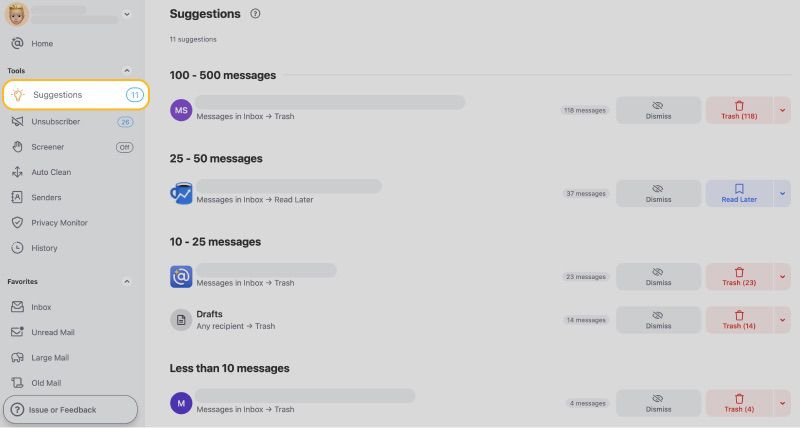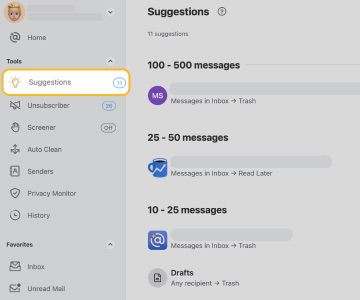 Keep Your Inbox Clutter-free With Clean Email
Clean Email comes with a handy feature called Unsubscriber. This feature directly addresses the fact that many email users these days are bombarded with subscription emails they've signed up for in the past (either knowingly or unknowingly) but are no longer interested in. Thanks to Unsubscriber, you can quickly and easily say goodbye to unwanted subscriptions even if they don't give you an option to unsubscribe.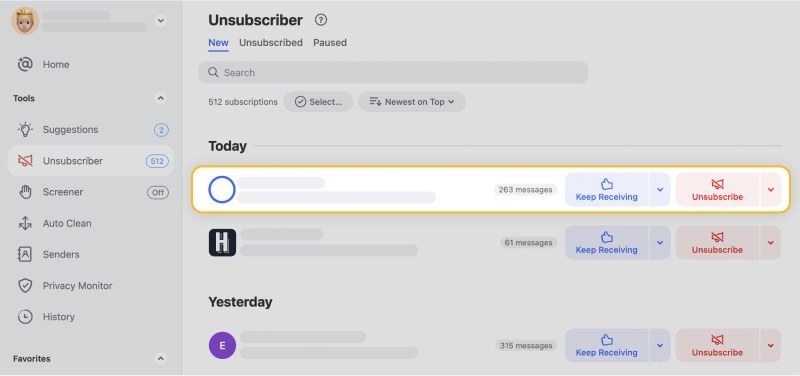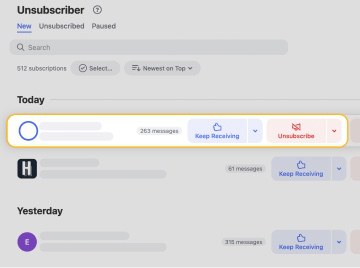 The Read Later feature lets you move emails out of your inbox so that you can catch up with them later, when you have more time to go through them (follow our guide on how to automatically move emails to folder in Gmail). In a similar fashion, Clean Email gives you the option to Mute distracting email threads so they don't keep you from focusing on your work.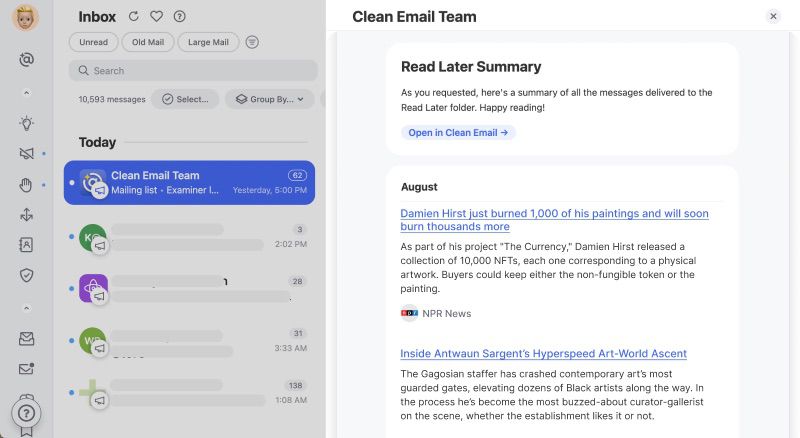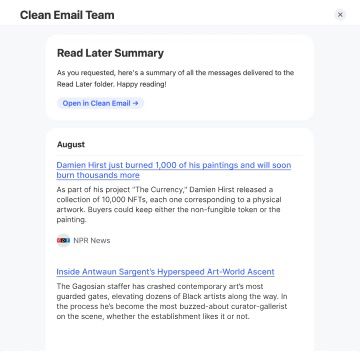 These and other useful inbox management features are created with focus on user's privacy and security. All Clean Email users can rest assured, knowing their emails and other personal information are well-protected against all kinds of known and emerging cyber threats alike.
Besides Gmail, Clean Email also works with Outlook (learn how to automatically delete emails in Outlook and how to move Outlook incoming emails into specific folders with Clean Email), Yahoo (Clean Email makes Yahoo deleting emails automatically easy), and other major email services.
---
How to Auto-Delete Emails in Gmail - FAQs
Can you set Gmail to auto-delete?
Yes, it can be configured to auto-delete emails that meet certain criteria using its filters. Alternatively, you can achieve the same result but more easily using a third-party inbox cleaner, such as Clean Email.
Why is Gmail automatically deleting emails?
Does Gmail auto-delete old emails on its own? It does, but only those that it considers to be spam. If you want Gmail to auto delete promotions and other types of email messages as well, then you need to manually create corresponding email filters.
How do I turn off auto-delete in Gmail?
To turn off an auto-delete spam Gmail filter:

1. Log in to your email inbox.
2. Click the Settings gear icon
3. Select the See all settings option.
4. Go to the Filters and Blocked Addresses tab.
5. Click "delete" next to the filter you no longer want to use.
How do I stop Gmail from deleting old emails?
This mail provider automatically deletes emails that are older than 30 days from Trash and Spam. Unfortunately, there's no way to automatically delete spam in Gmail using a different time interval at the moment.