Stop Wasting Your Time And Automate Email Management
Whether you're a casual Outlook user or it's your professional lifeline, keeping your inbox neat and organized is a must to avoid missing key emails and opportunities they bring. However, manual inbox management can be time-consuming and inefficient. As email has come a long way since its inception, so have the tools for organizing it.
If you find yourself sifting through every single message to determine its importance or whether it should be trashed, you're burning time that could be better used. Thankfully, it's a breeze to learn how to automate email deletion, and we're going to walk you through the whole process in this article. Check our short video about how to automate email tasks in Outlook and keep on reading.
Outlook's Auto Delete Emails Feature
Outlook is capable of automatically deleting emails that you don't consider to be important or legitimate, but it requires initial setup. You can achieve this by accessing either the web version of Outlook or the Windows/Mac application.
💡 Note: If you're aiming for enhanced control over your inbox, discover how Clean Email can assist in creating customized email rules.
On the Web
Outlook.com provides its users with the option to create both Outlook Sweep rules and standard rules within the platform, enabling a more tailored approach to email management.
How to auto delete emails in Outlook using the standard rules:
Log in with your email address and right-click on any message that you find irrelevant or malicious.
Now select Advanced actions, then click Create Rule.

Specify what you want to do with messages from this sender. If you want to delete them automatically, then tell Outlook to always move them to the Deleted Items folder.
Press OK to confirm.
How to create Sweep rules:
Log in with your email address and select the message or messages you want to be deleted automatically.
Click the Sweep button on the top menu bar.

Choose a pre-set action, indicate the destination to move the sender's messages (e.g., Deleted Items folder), and click OK to confirm.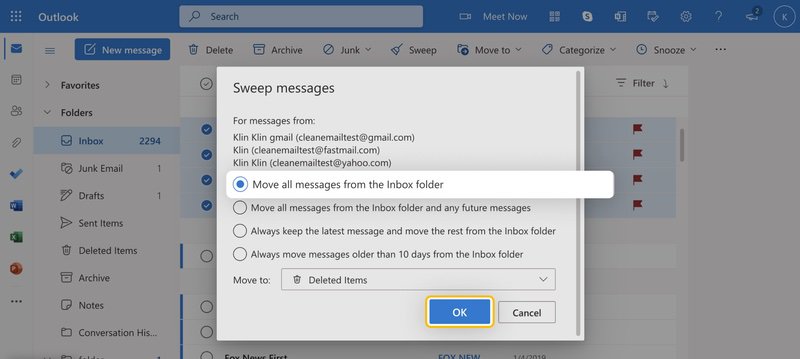 Windows/Mac Desktop
Configuring Outlook to auto-delete emails is just as easy when accessing your email account through the Windows or Mac desktop email client. Simply follow these steps:
Launch Outlook for Windows or Mac.
Right-click on any message that you'd like to be deleted automatically.
Select Rules and choose the Create Rule option.

Configure the conditions for the rule and specify that you want to move all emails that match the conditions to the Deleted Items folder.
Click OK or Save to create the rule.
With a bit of effort, it shouldn't be a problem to figure out how to automatically sort emails in Outlook using rules or how to move Outlook incoming emails into specific folders automatically.
On Mobile
Unfortunately, creating email rules is not currently available in the Outlook mobile app. However, you can use a third-party app like Clean Email, which provides advanced features to auto-delete emails and organize your inbox using rules on desktop and mobile devices. In the next section, we will discuss how to use the Auto Clean feature to simplify your email management process.
Enhanced Solution: Using Clean Email's Auto Clean
Clean Email provides a more advanced and efficient solution for managing and organizing your inbox than the Outlook auto delete emails feature. Plus, the app offers a consistent experience across different devices and platforms, making it a superior choice for email management.
Here is to create custom rules with the Auto Clean feature:
Go to: https://app.clean.email/ and sign in with your mail account.
Go to the Inbox folder and select the message you want to set the rule for.
Select the message and click the Create Rule button in the action bar at the bottom of the screen. Go to Apply Action and choose Trash.

Optionally, you can refine your rule by adding criteria such as age, size, keywords, and more. You can also turn the Apply to existing messages toggle on to apply the rule to all existing messages from this sender.
Click Create Rule to set the rule for all future messages that match the criteria you've set
How to Automatically Delete Old Emails in Outlook
The desktop version of Microsoft Outlook has a useful feature that makes it possible to automatically delete emails that are older than a certain number of days, weeks, or months. The feature is called AutoArchive, and here's how you can use it:
Launch Outlook for Windows or Mac.
Right-click your Inbox folder or any other folder of your choice. Select Properties and switch to the AutoArchive tab.
Click the Archive this folder using these settings options.
Choose how old you want the emails to be before automatically deleting them.
Select the Permanently delete old items option to delete emails without moving them to a different location first. Click OK to confirm.
Unfortunately, the AutoArchive feature can only be applied to entire folders—not specific senders and email messages in general. If that's what you want to do, then the Clean Email app is your best option:
Go to: https://app.clean.email/ and sign in with your email account.
Select Inbox from the left pane and click Old Mail filter above the search box. Then specify the age of the emails you want to automatically delete (e.g., 6 months).

Select an email from any sender whose messages you would like to delete automatically. All messages from this sender or senders will be automatically selected.
Locate the Create Rule button on the action bar and click it.

If necessary, specify additional rule criteria, and under the Apply Action section, choose the Trash option.
Press Create Rule button and you're done!
How to Stop Outlook Automatically Deleting Emails
If you would like to delete or modify any rule you've created to stop Outlook automatically deleting emails, you can do so from Settings → View all Outlook settings → Mail → Rules when using the web version.
To view and manage your rules using the desktop version of Outlook, click the Rules button in the top toolbar again and select the Manage Rules & Alerts option.
Disabling the AutoArchive feature in Outlook for Windows or Mac is a matter of selecting the Do not archive items in this folder option located in the AutoArchive tab.
Clean Email makes it extremely easy to prevent Outlook from auto-deleting emails. All you need to do is select the Auto Clean tab and manage your rules as you see fit.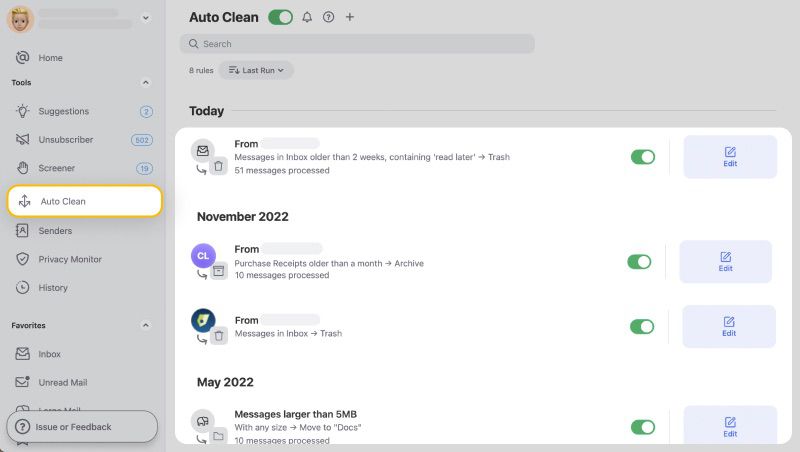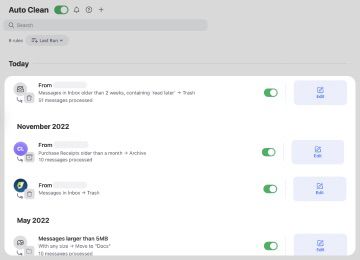 Keep Your Inbox Clutter-Free
Learning how to automatically delete emails in Outlook is a great first step, but there's a lot more that you can (and should) do to keep your inbox clutter-free, which is where third-party inbox organizers like Clean Email come in.
With Clean Email, you can unsubscribe from emails on Outlook with a simple click, and it doesn't even matter if the newsletter you want to unsubscribe from includes an unsubscribe link or not.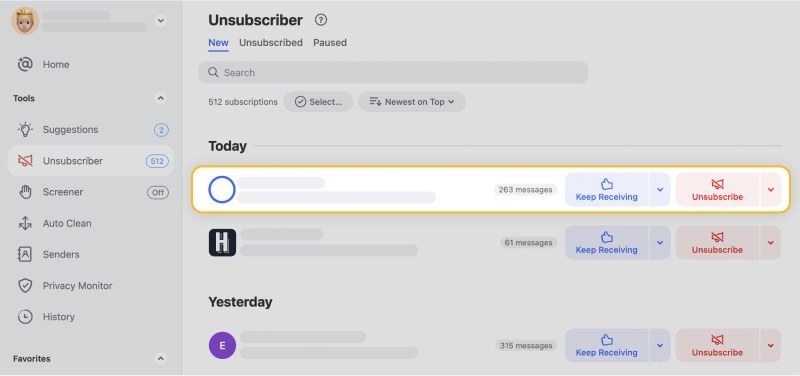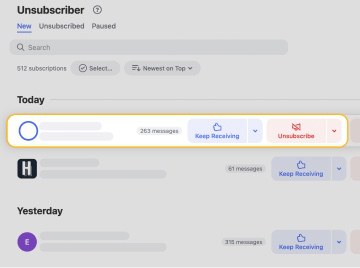 You can also quickly and automatically delete all emails that come from social media networks using Clean Email's Smart Folders, which are handy predefined filters that make email organization a breeze.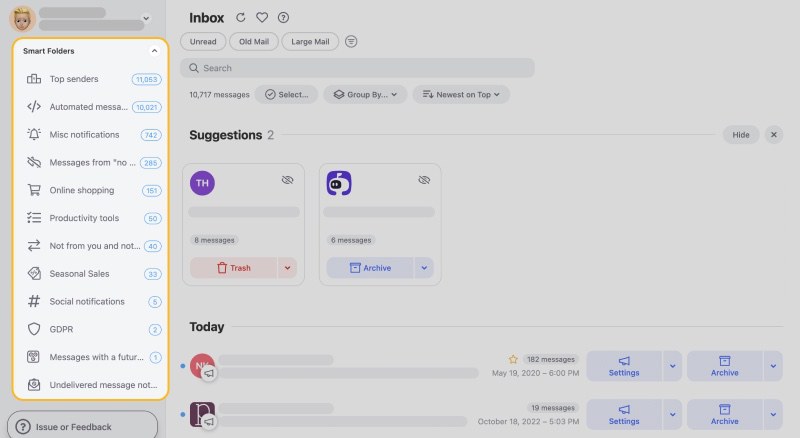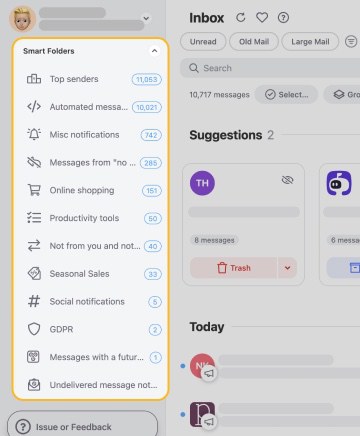 Other kinds of unwanted email messages can be prevented from ending up in your inbox using the app's Block feature, which lets you block any sender without notifying them.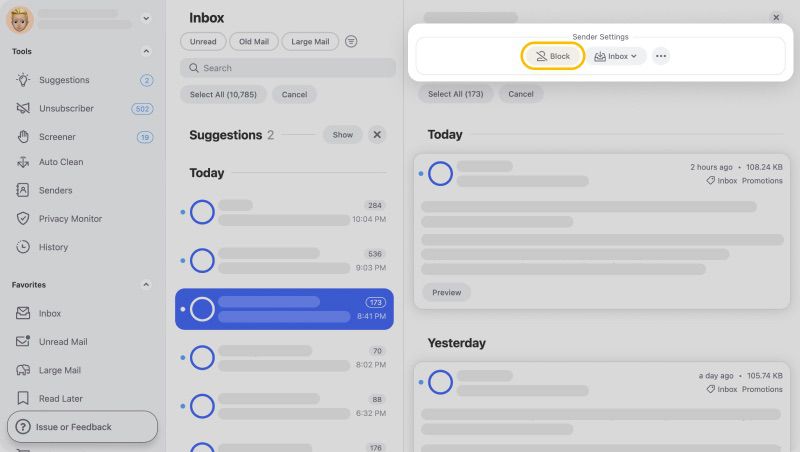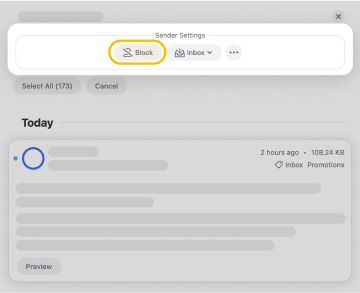 Best of all, the app can automate any email management action—not just deletion. For example, you can tell it to automatically move online order notifications to a dedicated folder, label invoices from clients accordingly, or mark forwarded emails as read.
To sum up, Clean Email provides advanced features and a user-friendly interface that make email management easier and more efficient than Outlook rules. It offers cross-device compatibility, prioritizes emails, and streamlines the management process for a clutter-free inbox.
---
Make Outlook Auto Deleting Emails - FAQs
Can you set Outlook to auto delete emails?
Yes, Outlook allows you to auto delete emails through rules and AutoArchive features. However, managing emails in bulk can be time-consuming, and Clean Email offers a simpler and more effective solution to automate email management.
How do I turn off auto-delete in Outlook?
You can turn off the auto-delete feature in Outlook by deleting the corresponding rule or disabling the AutoArchive feature. We explain how to do both of these things in this article.
Why are my Outlook emails deleting themselves?
If your Outlook emails seem to be deleting themselves, then there's a chance that you have the AutoArchive feature turned on. Right-click your Inbox folder, select Properties, go to the AutoArchive tab, and turn the feature off.
Why is Outlook automatically deleting emails?
Outlook may auto delete emails due to the email filters/settings set. To prevent this, review your email settings and adjust any filters or rules that may be causing unwanted deletions.