How to Auto Forward Emails in Outlook Apps
The average person maintains between two and four separate email accounts. Sometimes this means people need to transfer messages from one email account to another, which is why email forwarding and email forwarding services exist. Understanding how to forward Outlook emails to another email can greatly streamline your workflow, especially if you often transfer messages between accounts.
💡 Note: Outlook gives users the option to forward messages both manually and automatically. The instructions diven in this article will outline how to automatically forward emails in the Outlook app. When it's necessary to manually forward a message, the following steps should be taken:
In the Outlook web app, you can forward an individual email by opening it, clicking on the "..." icon at the top, selecting Forward, entering the recipient's email, and hitting Send.
For the Outlook desktop application, simply open the desired message, click Forward on the toolbar, fill in the recipient's email address in the To field, and press Send.
How to Automatically Forward Emails in Outlook Web
Go to Outlook.com and log in to your account.
Select the Settings icon from the toolbar.
Click the View all Outlook settings option at the bottom of the newly appeared Settings pane.

Select Mail → Forwarding in the Settings dialog box.
Select the Enable Forwarding check box.

Enter the email address where you want the forwarded messages to be sent.
Select the Keep a copy of forwarded messages check box if you want to keep copies of the forwarded messages in your Outlook account.
Finally, click Save.
How to Automatically Forward Emails in Outlook Desktop
Open the desktop application.
Activate the Home tab. Next, click Rules (located under the Move section of the ribbon).
Choose Manage Rules & Alerts and select New Rule.
Now, the Rules Wizard dialog pops up.
Under Start From a Blank Rule, select Apply Rule on Messages I Receive. Click Next.
Choose which messages you want to forward. To forward all emails, leave everything blank and click Next.
Select Forward to People or Public Outlook group. Enter the email address where you want to forward emails automatically.
If there are any, select the email criteria you want to exclude from this rule.
Name the newly created rule, and don't forget to check the Turn On This Rule option. Finally, click Finish.
If you would at any point like to stop automatically forwarding emails, all you need to do is disable the rule you've just created from Rules → Manage Rules & Alerts.
How to Set Up Email Forwarding in Outlook Mobile
Unfortunately, there is no way to set up Outlook automatic forwarding directly from the mobile app. However, you do have a few options based on your needs.
You can individually forward messages by selecting them and choosing Forward.
You can access Outlook from your mobile web browser and go through the steps on how to set up Outlook email forwarding on the web.
Why Use Outlook Automatic Forwarding?
Outlook automatic forwarding is a valuable feature for enhancing your email management efficiency. If you're managing multiple email accounts, automatic forwarding can channel all your communications to one preferred address, ensuring no critical emails are overlooked. It's also a helpful tool for balancing work and personal communications, segregating each type into its respective account for easier tracking.
Additionally, it can act as an insurance against accidental email deletion, as forwarded emails provide an extra layer of backup. By using automatic forwarding, you can simplify your digital communication process, reduce clutter, and focus on what's truly important.
Once you know how to auto forward emails in Outlook, you can program specific messages that end up in one email account to go to the preferred address you own. This keeps unnecessary messages out of your work or personal address so it's in the correct place for you to keep up with.
Use Clean Email to Automatically Filter Emails in Outlook
Clean Email is a bulk email organizer that is most known for its ability to group related emails into easy-to-review bundles, allowing its users to delete/archive/move them with a single click, and much more. While the app can't help with Outlook email forwarding, it deserves recognition for its automation features, which make Outlook email management all that much easier.
For example, you can use the Auto Clean feature to perform specific organization tasks automatically whenever the specified criteria are met. With Auto Clean, you can mark messages as read/unread, move emails to any folder, archive messages, and delete them. You can also automatically sort emails, remove messages from particular senders, filter specific emails beyond a given date, and much more, all tailored to your preferences.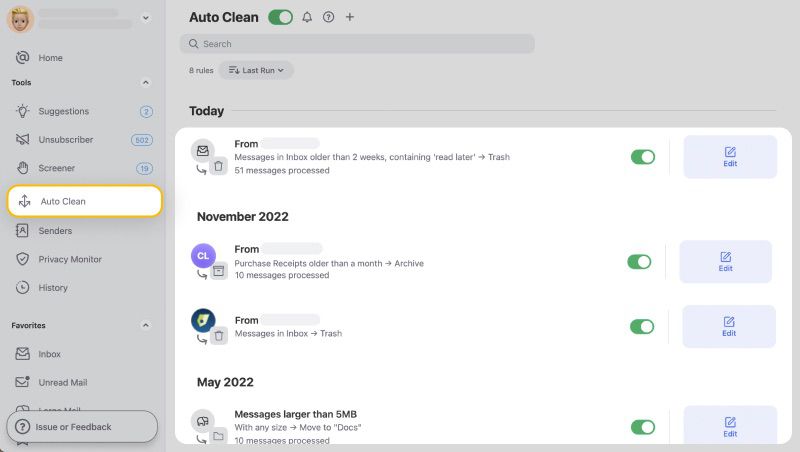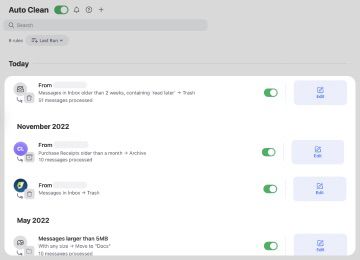 To leverage the Auto Clean feature to move emails to a certain folder automatically, follow these simple steps:
Sign in at https://app.clean.email/.
Locate the specific message for a rule in your Inbox or via search filters.
Select the message and click Create Rule, then Move To under Apply Action.

Choose an existing folder or create a new one.
(Optional) Apply this rule to existing messages by clicking the relevant toggle.
Click Create Rule and the new rule will be set.
Also, Clean Email automatically groups your messages by default. You can change this from grouping by the sender to anything you want by using the Group By drop-down to control. Moreover, when the default Group by option is selected, meaning that messages are grouped by the sender, you can click the Settings button for a group to adjust sender settings. This includes blocking, unsubscribing, or controlling the folder to which the sender's messages are delivered.
Alternatively, you can view all your email senders by selecting the Senders tab located on the left panel. Here, you can organize your senders based on the quantity of messages, name, or other specified criteria. By selecting a particular sender, you gain access to a variety of quick actions applicable to their messages. These actions include options like Add a star, Keep Newest (which maintains only the most recent message and deletes the rest), Create Rule, among others.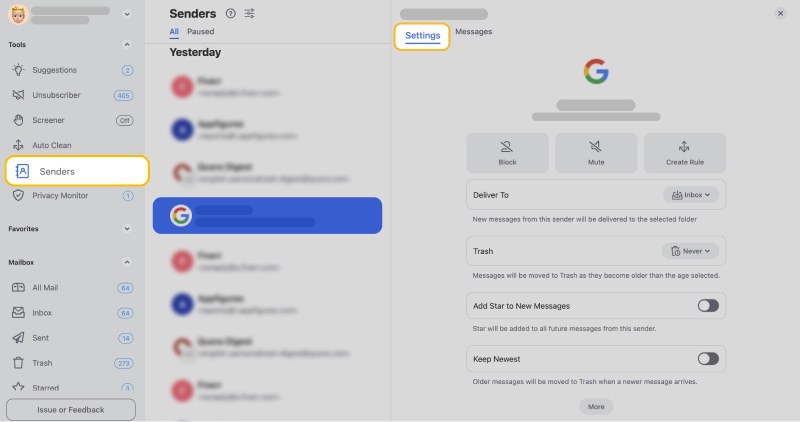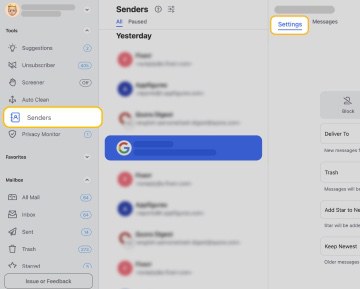 You can cut down on the number of excess messages in your inbox by using the Unsubscriber feature. This is an efficient tool for managing email subscriptions, displaying all in a single place for convenient handling. It enhances productivity by enabling you to manage multiple subscriptions simultaneously, thereby minimizing inbox clutter.
This tool shines particularly in handling grace periods required by some senders to process unsubscribe requests. It catches any emails sent during this period and diverts them to Trash, preventing inbox clutter. This significant reduction of junk messages aids in stopping unwanted emails from being auto forwarded, keeping your inbox impeccably organized.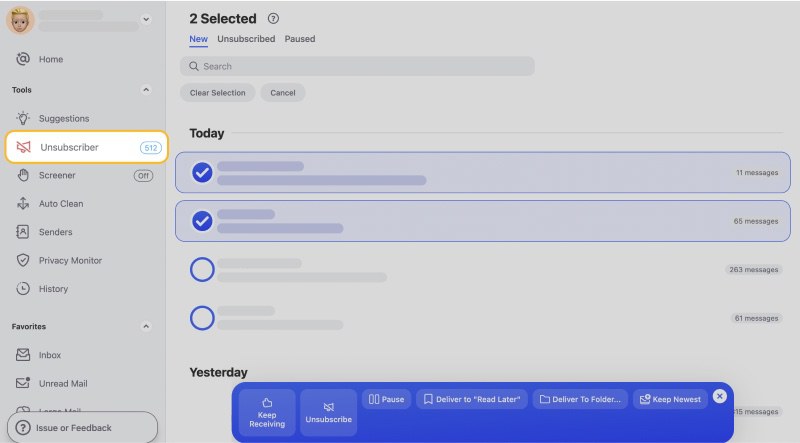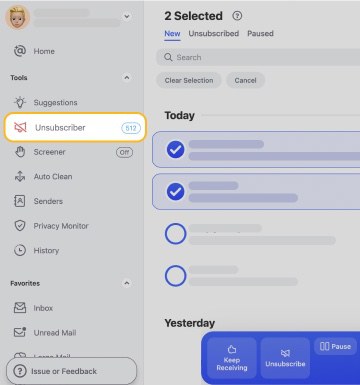 Cleaning Suggestions is a feature that gives you ideas on what rules to create or what quick actions to take. Clean Email makes suggestions based on similar messages that you have previously cleaned, or based on similar messages that are frequently cleaned by other app users.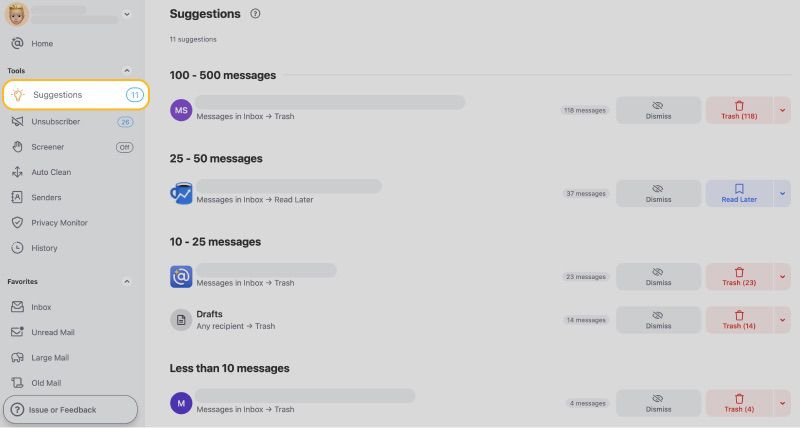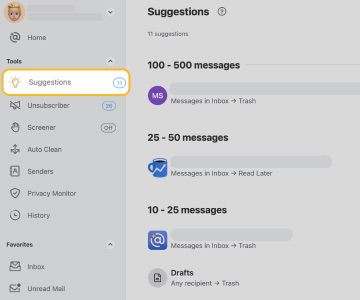 Clean Email isn't an email client, but rather an advanced email management assistant compatible with any IMAP-based email provider, including Outlook.com. It offers superior features for handling bulk emails, outperforming standard management capabilities typically found in most email clients.
The app also keeps your information safe with data encryption and limitations to what it reads. We will never share, sell, analyze, anonymize, or otherwise use your data.
Discover our practical guides on Outlook automation, designed to help you boost productivity and streamline email organization:
---
How to Auto Forward Emails in Outlook - FAQs
Why use Outlook automatic forwarding?
There are many examples of why it can be useful to automatically forward an email in Outlook. For example, your boss may ask you to forward all messages from a certain customer to their email address. Automatic forwarding can also be a highly effective backup tool, allowing you to easily duplicate all incoming email messages by sending them to another email address.
Can you forward several emails at once in Outlook?
In the Outlook desktop app, forwarding multiple emails at once as separate messages isn't natively supported. You can attach multiple emails to a new email message for forwarding. Similarly, the web version of Outlook also lacks this function.
How to automatically forward emails in Outlook app?
If you want to set up an Outlook rule to forward email in the Outlook web app, go to 'Settings' → 'View all Settings' → 'Mail' → 'Forwarding'. There, create a new Outlook auto forward rule and click the 'Save' button to activate it. In the Outlook desktop app, you can automatically forward emails by creating a new Outlook auto forward rule under the 'Home' tab → 'Rules' → 'Manage Rules & Alerts'. This rule can specify the conditions an email must meet to be forwarded to the designated email address.
How to forward Outlook to Gmail?
If you want to automatically forward emails from Outlook to Gmail, all you need to do is create a corresponding rule in the Outlook desktop application. To do that, select 'Rules' on the 'Home' tab, choose the 'Manage Rules & Alerts' option in the dropdown, and then click 'New Rule'.
How to automatically forward emails in Outlook 365?
In Outlook 365 cloud-based service, automatic forwarding can be set up by going to 'Settings' → 'View all Outlook settings' → 'Mail' → 'Forwarding'. Here you can enter the email address you wish to forward emails to, and choose whether to keep a copy of forwarded messages in your primary account. Outlook 365 cloud-based service and Outlook.com share the same interface and functionality, which is why the steps to set up automatic email forwarding are identical in both.
How can I forward a folder of emails in Outlook?
In Outlook, forwarding a folder of emails isn't directly possible. What you can do is select all the emails in that folder (Ctrl + A for Windows, Command +A for Mac) and attach them to a new email for forwarding (hit 'Forward' in the 'Home' tab to create a new message with the selected emails). However, note that this will forward them as attachments in a single new email, and not as separate messages.