Why Use Outlook Automatic Forwarding?
Let's imagine for a second that you have a business email address that you use exclusively for work-related purposes. You typically read emails sent to this address only through your work computer, but you would like to read them on your smartphone as well. However, your company doesn't allow its employees to use their own devices to access their business email addresses for security reasons.
With automatic email forwarding, you can have all work-related emails you receive sent automatically to your personal email address. As a nice bonus, you end up with multiple copies of your emails, which may come in handy if you ever accidentally delete the wrong email or forget your login credentials at the worst possible moment.
How to Automatically Forward Emails in Outlook.com
Let's start with how to auto forward email in Outlook.com since that's the version of Outlook with the most users. Outlook.com launched in 2012 is a complete redesign of Windows Live Hotmail, featuring webmail, contacts, tasks, and calendaring services.
At the time of writing this article, Outlook.com has around 400 million users with the seamless integration of Office Online that allows them to edit Microsoft Word, Excel, and PowerPoint documents attached to email messages without having to download them first.
Go to Outlook.com: https://outlook.live.com/
Select the Settings icon from the toolbar.
Click the "View all Outlook settings" option at the very bottom of the newly appeared Settings pane.
Select Mail → Forwarding in the Settings dialog box.
Select the Enable forwarding check box.
Enter the email address where you want the forwarded email messages to be sent.
Select the Keep a copy of forwarded messages check box if you want to keep copies of the forwarded messages in your Outlook account.
Finally, click Save.
How to Automatically Forward Emails in Outlook 365
Outlook 365 is part of Microsoft Office 365 Suite, which is a line of subscription services that Microsoft offers as part of the Microsoft Office product line. It includes up-to-date versions Microsoft Office applications, hosted Exchange Server, Skype for Business Server, and SharePoint, and, of course, Outlook 365.
Outlook 365, just like all other parts of Microsoft Office 365 Suite, is offered on a software as a service basis, and it can be configured through an online portal. This is what you need to do to auto forward Outlook 365 emails:
Sign into your Outlook 365 account.
In the top right, select Setting and then choose Options.
Click on Inbox rules and New.
Choose Automatic Processing and Inbox Rules.
Select New.
Select Apply to all messages and then Forward the message to.
In the next window, Add the email address you want mail forwarded to.
Click the Save button to create the rule.
Just keep in mind that not all Outlook 365 setups are the same. Not all network administrators are happy about employees learning how to auto forward emails in Outlook 365, which is why they sometimes disable certain apps and features.
How to Automatically Forward Emails in Outlook 2016
Since all versions of desktop Outlook newer than 2010 are mostly the same, the instructions below also apply to Outlook 2019, 2013, and 2010.
Open Outlook 2016.
Activate the Home tab and click the small arrow located under Rules → Manage Rules & Alerts.
Select New Rule.
Select Apply rule on messages I receive under Start from a blank rule and click Next.
Choose which messages you want to forward. To forward all emails, leave everything blank and click Next.
Select Forward to people or public Outlook group.
Click the link for people or public group.
Enter the email address where you want to automatically forward emails.
If there are any, select the criteria for emails you want to exclude from this rule.
Name the newly created rule and don't forget to check the Turn on this rule option.
Finally, click Finish.
If you would at any point like to stop automatically forwarding emails, all you need to do is disable the rule you've just created from Rules → Manage Rules & Alerts.
How to Forward Emails in Outlook on Mac
The Mac version of Outlook is largely identical with the Windows version, and the concept of auto-forwarding remains the same regardless of which platform you use. Here's how to forward emails in Outlook on Mac:
Launch the Mac version of Outlook.
Click the Home tab and select Rules.
Pick the Edit Rules option from the dropdown menu.
Select your inbox on the left and click the small plus icon at the bottom of the right pane.
Give the new rule a descriptive name, such as "Email forwarding."
Specify the desired conditions.
Click OK to save the new rule.
The new rule will be listed in the Rules window, and you can click the red dot in the upper left to finish and return to Outlook. When you receive a new email matching the rule you've just created, it will be automatically forwarded to the specified address.
How to Forward Multiple Emails in Outlook
If you're interested in forwarding multiple emails in the desktop version of Outlook, then we have good news for you: you need to learn just one simple shortcut, and you can forward as many messages as you want.
What's the magical shortcut? CTRL + left-click. When you hold down the CTRL button and click on an email message, it will be added to your selection, and you can repeat this action as many times as you want.
Another useful shortcut that you should consider learning is CTRL + SHIFT + left-click. Shift clicking enables you to select all emails between the currently highlighted email and your mouse cursor.
Once you have your emails selected, you can simply click the Forward button (located in the Home tab) and enter the recipient's address you want to forward them to.
How to Forward a Folder of Emails in Outlook
To forward an entire folder, you can use the CTRL + A shortcut to select each and every email message in the folder. Then, simply click the Forward button and forward the selected emails to the intended recipient as you would normally.
The only problem with this method is that you need to first add emails to the correct folder in order to bulk-select them. Fortunately, you can automate this with a simple rule:
Open an email from a sender whose messages you want to automatically transfer to a certain folder.
Select Rules → Create Rule in the Message tab.
Select the From checkbox and choose Move the item to folder in the Do the following section.
Pick the desired folder and select OK.
From now on, all emails from the sender will be automatically moved to the specified folder, and you can then select them all in one go by pressing CTRL + A.
How Clean Email Automatically Filters Emails in Outlook
Clean Email is a bulk email organizer that is most known for its ability to group related emails into easy-to-review bundles, allowing its users to delete/archive/move them with a single click. While the app can't forward your Outlook emails, it deserves recognition for its automation features, which make it possible to automatically apply any action to new emails without any manual work.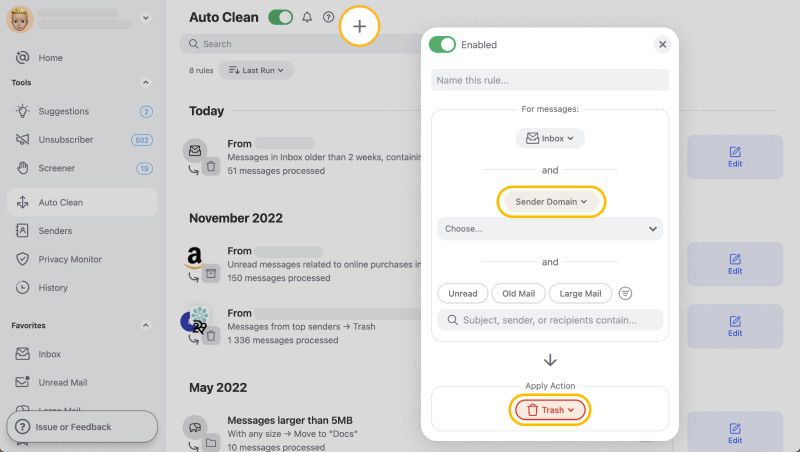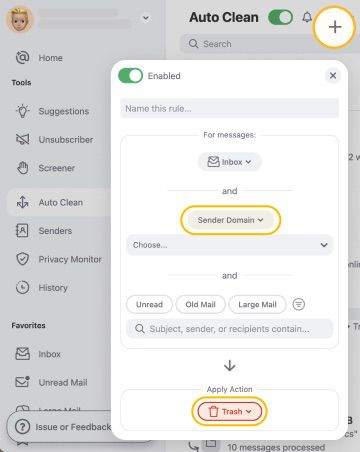 The way Clean Email's filters work far exceeds email filtering capabilities of Outlook, Gmail, and other similar email services. Let's say you want to automatically archive all emails from Facebook so they don't clutter your inbox. Simply tell Clean Email to find all emails from Facebook and check the checkbox labeled as "Selected and future emails" when archiving email messages.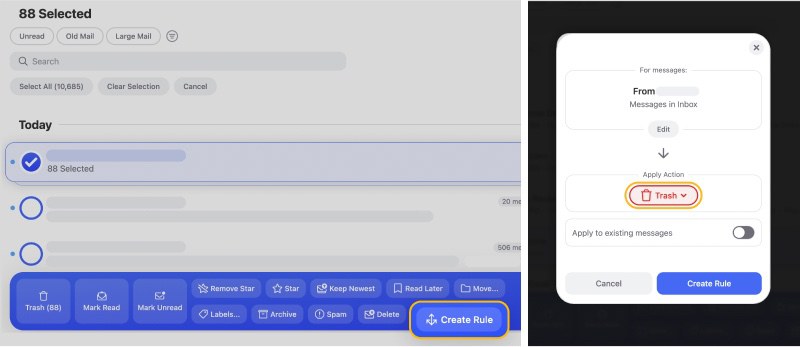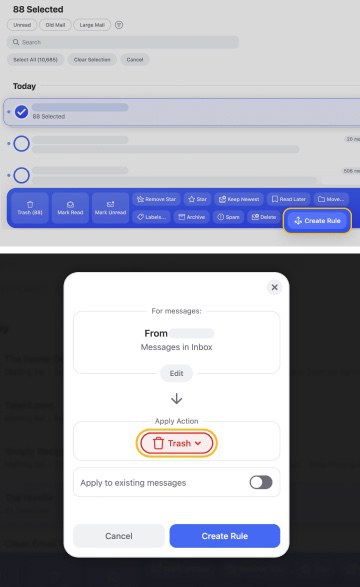 The next time you receive an email from Facebook, it will be archived automatically, so it won't clutter your inbox and waste your valuable time.
Conclusion
Knowing how to forward email in Outlook may come in handy for a variety of different reasons, and we hope that this article has demonstrated to you that the whole process is actually quite simple. If you would like to take inbox management automation to the next level, you should use Clean Email to automatically filter all kinds of emails to have more time to spend on those that actually matter.
---
How to Auto Forward Emails in Outlook - FAQs
Why use Outlook automatic forwarding?
There are many examples of why it can be useful to automatically forward an email in Outlook. For example, your boss may ask you to forward all messages from a certain customer to her email address. Automatic forwarding can also be a highly effective backup tool, allowing you to easily duplicate all incoming email messages by sending them to another email address.
Can you forward several emails at once in Outlook?
Yes, Outlook, unlike some other popular email services, lets you forward several messages at once. You simply need to select all emails you want to forward using the Shift and Ctrl keys and then click the Forward button and enter the recipient's address. When you click Send, all selected messages will be forwarded.
How to automatically forward emails in Outlook app?
To set up automatic forward in Outlook web app, go to Settings → View all Settings → Mail → Forwarding. There, create a new Outlook auto forward rule and click the Save button to activate it.
How to forward Outlook to Gmail?
If you want to automatically forward emails from Outlook to Gmail, all you need to do is create a corresponding rule. To do that, select Rules on the Home tab, choose the Manage Rules & Alerts option in the dropdown, and then click New Rule.
How to automatically forward emails in Outlook 365?
Forwarding in Outlook 365 can be configured from Settings → Options. There, click on Inbox rules and New.