Why Should You Auto Archive?
Are you someone who is inundated with emails every single day? Then you will want to auto archive in Outlook to:
Keep your mailbox clean and organised.
Only see important messages you need right now.
Save emails in folders.
Automate manual tasks to save time.
Auto archiving allows you to use your mailbox more productively and only see the emails you need right now. You can always retrieve archived emails at a later date.
You can move Outlook emails into specific folders automatically to free up your time and create a streamlined inbox. You can also read here to find out more about how to automate email tasks.
What is Auto Archive Feature in Outlook?
The auto-archive feature in Outlook allows you to automatically archive emails that are past a certain age. For example, you can store emails that have reached three months old within the Outlook auto-archive settings.
With the auto-archive feature, you can move or delete emails within your inbox to save time and keep your inbox tidy.
When setting up this feature, you can choose different properties for different folders or configure the same settings for all.
You can have all six-month-old emails automatically archived or messages from your tasks folder automated to be archived at three months.
You can archive any emails with attachments if the attachment is saved within a folder; otherwise, Outlook cannot locate it. For example, items that are held within Microsoft Excel or Word can be archived and retrieved later.
Click here if you want to learn how to automatically delete emails in Outlook or how to automatically forward emails in Outlook.
How To Set Up Auto Archive in Outlook
The following text will help you understand how to AutoArchive in Outlook and how to set it up.
For Outlook 2010 and later:
Head into Outlook and select the File tab; then choose the options tab within the file menu.
Choose the Advanced tab.
Select AutoArchive Settings within the Advanced tab.
Click the AutoArchive Every box, type in the number of days into the box to choose how often you want the feature to run.
Be notified before the archiving process by selecting the Prompt Before AutoArchive box.
Type a file name in the Default archive file box to specify where to transfer the items or browse and select from the list.
Finally, select OK two times to confirm.
For Outlook 2007 and 2003
Go into Outlook and click on the Tools menu, then select Options, Other.
Select AutoArchive.
Select the AutoArchive Every box and decide how often you want the feature to run by typing a number in the days' box.
Select the Prompt Before AutoArchive box if you want to be notified when the action is about to take place.
Type a file name in the Default archive file box to transfer archived items into or select from a list when choosing browse.
Confirm by selecting OK two times.
Remember: Although the AutoArchive feature is turned on, you must now set properties for each folder within Outlook.
How To Create Auto Archive Rules in Outlook Web
There are two ways you can create rules within Outlook.
But first, what are rules?
Rules are actions you put in place for specific outcomes. For example, you can create a rule to archive emails containing a particular subject or store messages from a specific sender.
You can only create rules in Outlook using the web version, not on mobile.
One way to create rules is directly through an open email:
First, open your mail account and sign in.
Select an email from a sender you would like to be archived.
Click on the three dots at the top and choose to create a rule.
Here you can create a rule to automatically archive in Outlook.
When you create this kind of rule, ALL emails from this sender will automatically archive.
However, you may not want to do that if some emails from that sender are sometimes important.
Here's how to create AutoArchive rules to remove emails with a specific subject or body.
Go into your mail account on the web and open settings.
Select to view all Outlook settings, then click through until the dedicated settings menu pops up.
Select Rules, add a new rule.
Add a name for the rule and complete the conditions section.
Add in keywords you don't want to see in future.
Choose to archive these emails, then hit save.
Create Outlook Auto Archive Filter With Clean Email
You can create your AutoArchive filters within Clean Email to help clear out your Outlook inbox.
Clean Email makes the process of automating actions easy, with just a few clicks.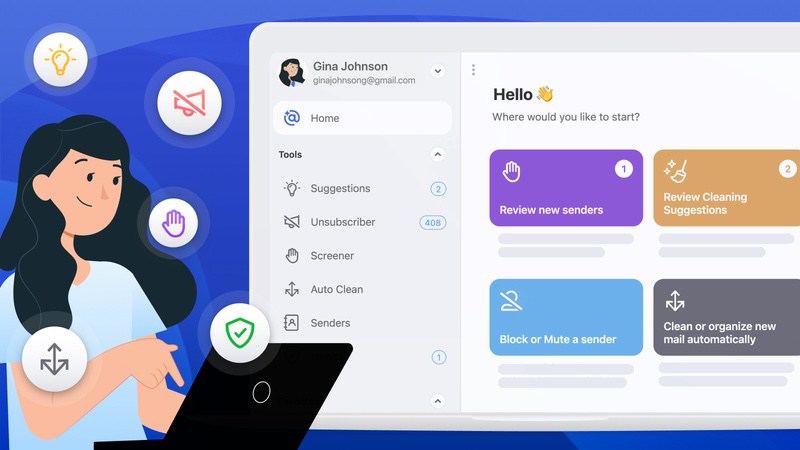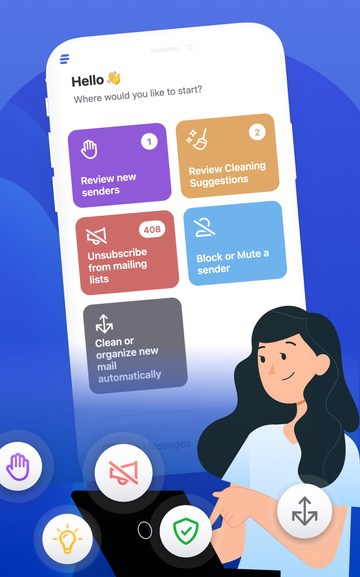 Groups of emails can be auto-archived within seconds, and you can even create your own rules for specific senders and keywords.
To archive email bundles, you will need to:
Open the Clean Email app.
Head into your inbox and use our Smart Views feature to select the group of messages you wish to be archived. For example: Choose a group from the left sidebar; this may be Emails older than 6 months, Emails from "dead ends", or Social media notifications. You can also create an email group using the app's sorting filters, e.g. click the dropdown "Group" menu, group messages by the sender, then sort by date.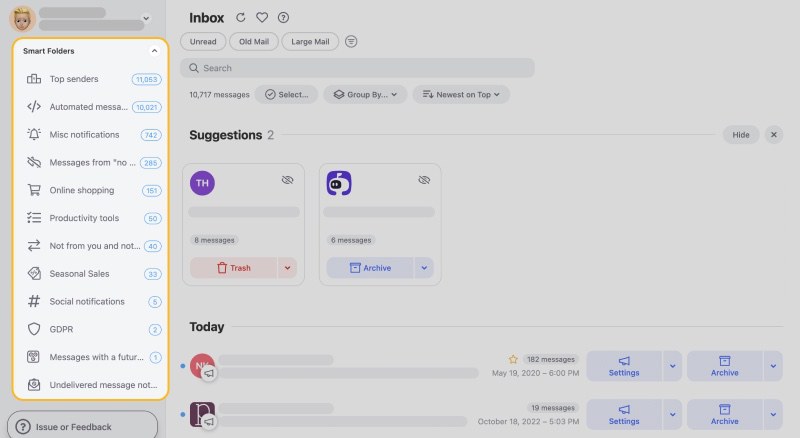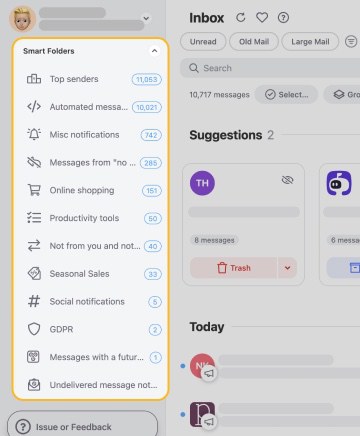 Click the archive button at the top, a pop up will appear. Here you can choose to archive emails one time only or store any future messages.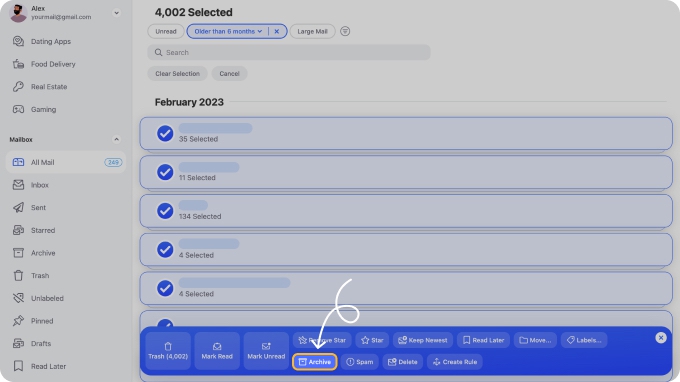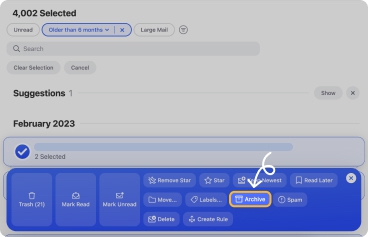 Or you can continue to create your own rule by choosing to only archive emails from this sender that contain a specific keyword.
Click through to 'create advanced auto-clean Rule' and complete the drop-down menu, then hit 'create and run rule'.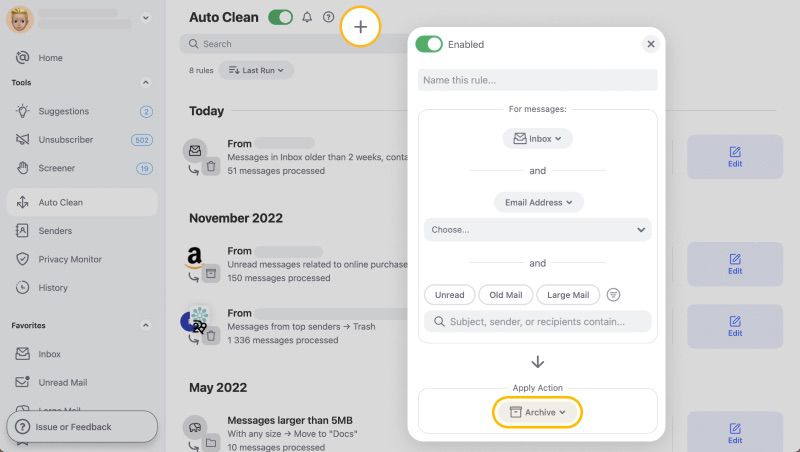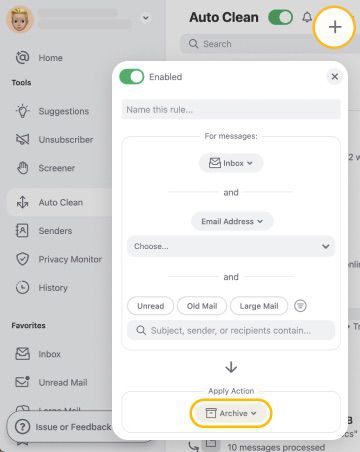 You can create as many rules as you like until your inbox is clean and tidy. To edit or change them, click on the Auto Clean robot icon to view your rules.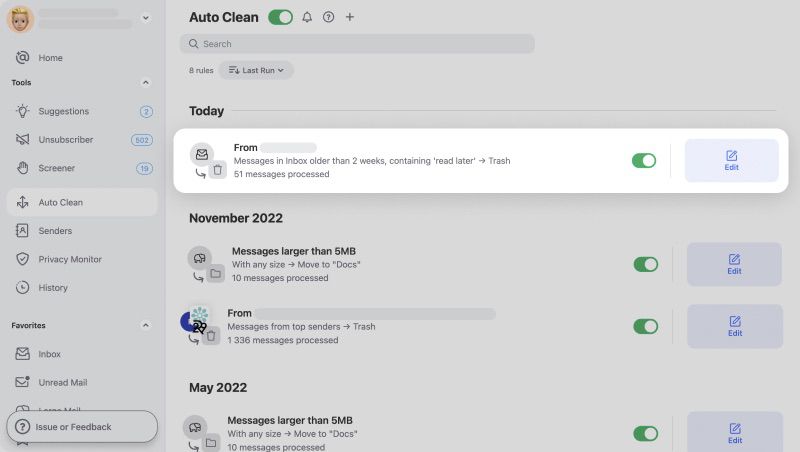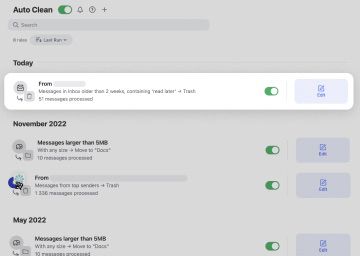 Clean Email always focuses on users' privacy and security; nobody else can see or access your emails or any rules and actions you create.
You can find more helpful articles like this on the Clean Email Blog. Follow our guides on how to move emails to a folder in Yahoo Mail automatically and how Gmail auto archive works.
---
Outlook AutoArchive - FAQs
How do I automatically archive emails in Outlook?
To automatically archive emails in Outlook, click the File tab and select Options. Click Advanced, then AutoArchive Settings. Click the box for Run AutoArchive Every and type how often you want it to run.
What happens when you auto archive in Outlook?
All emails you choose to automatically archive will be moved to an archived folder. You can view this folder any time to retrieve your emails.
How do I turn off auto archive in Outlook?
To turn off AutoArchive in Outlook, go into advanced options, click AutoArchive settings and uncheck the box for running AutoArchive every x amount of days box.
Does Office 365 automatically archive emails?
Emails will be automatically archived every 14 days by default in Office 365 unless you change these settings.