What Is Chuck App?
Chuck app is an inbox cleaner for iOS, which means that you can use it on your iPhone, iPod, and iPad. It supports many popular email services, including Gmail, Exchange IMAP, Yahoo, Outlook, iCloud, AOL, Google Apps, Office 365, Fastmail, and all standard IMAP accounts. Chuck app has been available for some time now, and it boasts an excellent user rating, with users praising its intuitive nature, functionality, and performance.
What Is Clean Email?
Clean Email is a web-based inbox cleaner with native iOS and Android apps that works across all popular operating systems and is verified by Google, Yahoo, and AOL as a trusted application. Just like Chuck app, Clean Email supports all IMAP-based email services, which includes basically all popular and not-so-popular free and paid email services that you may come across these days. Apart from being universally liked by its users, Clean Email is also A+ rated BBB accredited business.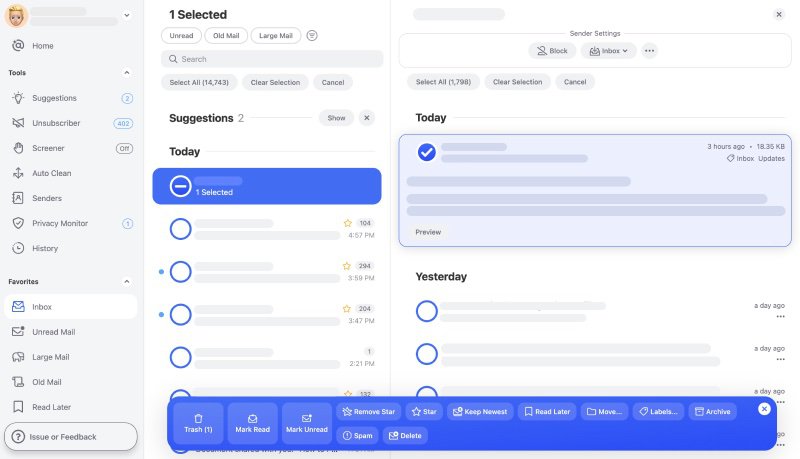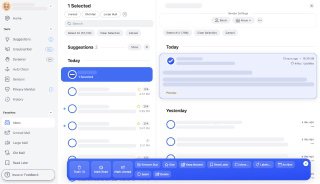 Features
Chuck app, also called Chuck Email, aggregates all your messages into a single place, allowing you to delete, archive and sort batches of emails in just one tap. It also comes with a handy unsubscriber feature, enabling you to unsubscribe from unwanted email lists without wasting your time looking for unsubscribe links, which marketers love to hide in a plethora of creative ways.
Being a full-fledged Chuck app alternative, Clean Email is also able to organize emails into easy-to-review bundles and unsubscribe you from unwanted email lists, but it can do more than that. Thanks to its remarkably easy-to-use automation features, you can use Clean Email to automatically remove, archive, move, or label emails as they arrive in the future without having to spend hours and hours configuring complex email filters for each email account you use.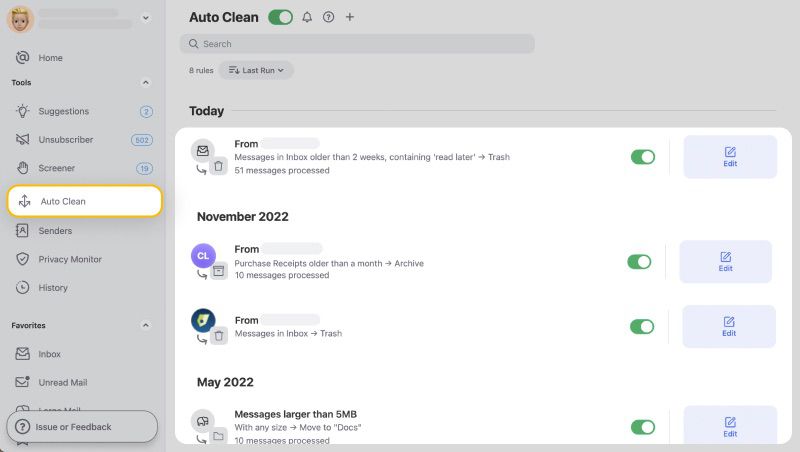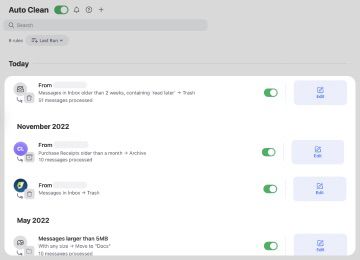 Being an iOS app, Chuck app is designed with touch input and small screens in mind, which heavily influences how the app looks, feels, and behaves. Depending on how many emails you need to organize, you might find yourself longing for a keyboard and mouse to help you process emails just a bit quicker.
Chuck app can group emails by sender, subject, or time, and you can further filter email messages by attachments, starred, and other criteria. Handy one-tap actions for unsubscribing, marking email messages as spam, and moving emails to folders, among other things, are intuitive and take advantage of 3D Touch, but they can't be easily automated.
Clean Email, on the other hand, is a true automatic email organizer that runs equally well on all modern operating systems and can be controlled with touch and mouse alike. Even though Clean Email is capable of far more granular email organization than Chuck, it rarely takes more than just a few clicks or taps to organize hundreds and even thousands of email messages.
In fact, one of Clean Email's signature features, email automation, makes it possible to automate common email management tasks, allowing you to forget about email organization so that you can be more productive when using email to communicate with family, friends, and colleagues.
Verdict: Both Chuck and Clean Email are capable of organizing a large number of email messages in bulk, but only Clean Email can automate email management and make it unnecessary for you to ever again waste any significant amount of time because your inbox has become so cluttered that you can barely use it.
Privacy Policy
For inbox cleaners like Chuck app or Clean Email to do their magic, you must authorize them to access your inbox, and that's where problems may start.
The Chuck app's privacy policy states (410 Labs, Inc. (d/b/a Chuck):
"...410 Labs collects non-personally-identifying information of the sort that web browsers and servers typically make available, such as the browser type, language preference, referring site, and the date and time of each user request. 410 Lab's purpose in collecting non-personally identifying information is to better understand how users use its web services and applications."
"...410 Labs discloses personally-identifying information only to those of its employees, contractors, and affiliated organizations that (i) need to know that information in order to process it on 410 Labs's behalf or to provide services available via 410 Labs' products. Some of those employees, contractors and affiliated organizations may be located outside of your home country; by using Chuck, you consent to the transfer of such information to them."
The Clean Email's privacy policy says:
"We use your email address to communicate with you and to authenticate with 3rd party products integrated with our system. We will never sell or rent your email address or ANY personally identifiable or even aggregated information to another company."
"For diagnostic purposes, our engineers may have access to private data (e.g., to fix a problem with the service). Before gaining such access, however, they must get management approval, and we are committed to maintaining the privacy of that data. Regardless, we will not read the bodies of your email messages (we may have to look at the envelopes (To/From/Subject/Date) as part of our diagnosis, but we ignore the bodies of messages)."
The Clean Email app doesn't share any user data with any third-party for any purpose. That's because Clean Email's algorithms only analyze email headers that contain subject line, sender, and recipient information, dates, email size, and similar metadata. For Clean Email to work, it doesn't need to access the content of emails or attachments, and even the non-identifying metadata it collects get automatically purged from its servers after 45 days.
As such, Clean Email fully complies with Google's updated privacy policy, which came into effect on June 26, 2019, prohibiting third-party applications from using Gmail's APIs to share user data for purposes such as targeting ads, market research, email campaign tracking, and others. Each year, Clean Email passes a multi-step process including verification by email providers and external security assessments.
Pricing
Chuck is a free iOS app with subscription options available in the form of in-app purchases. Included among the features that are available only to paying customers are advanced filters, dynamic suggestions, cleanup suggestions, account toggle, smart select, and no limit on the number of accounts. You can pay either on a monthly ($2.99) or annual ($29.99) basis, with the latter option being slightly cheaper.
Your Chuck subscription will automatically renew after 1 month or 1 year unless you turn off the auto-renew option at least 24-hours before the end of the current subscription period. Considering that Chuck is most effective when you have hundreds or thousands email messages that need to be organized, there's really no reason to pay for it on an ongoing basis. To save money, you can purchase the premium subscription for one month, clean up your inbox, cancel the subscription, and renew it only when your inbox needs cleaning again.
Despite being a significantly more capable inbox cleaner than Chuck app, Clean Email costs the same amount of money if you pay for one year of service upfront. You can also pay on a monthly basis (starts from $9.99 a month), but there's actually a good reason not to cancel your Clean Email subscription when you reach Inbox Zero: the useful automation features that prevent your inbox from turning into an unorganized mess.
In addition to Clean Email's automation features, you can also enjoy unlimited use of the Unsubscriber feature and everything else this Chuck app alternative has to offer. If you would like to share your Clean Email subscription with friends and family or use it for your business, you can purchase a heavily discounted plan. Regardless of which subscription option you select, you always have the right to cancel your subscription at any time—no fine print or commitments to worry about.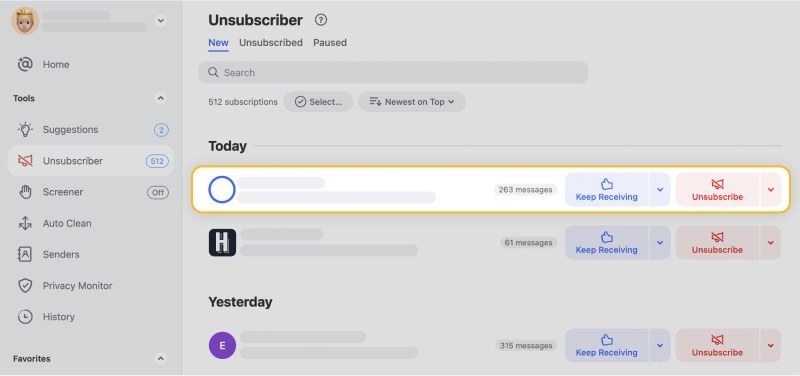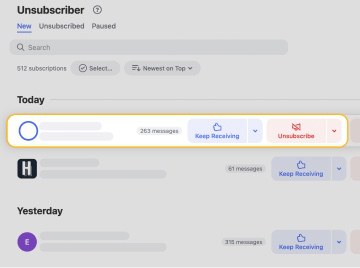 Verdict: You can try both Chuck and Clean Email without paying and purchase a premium subscription only when you decide that you really have use for it. Clean Email offers a better value because of its automation features, which constantly monitor your inbox and automatically organize incoming email messages based on previously defined rules.
Conclusion
If you're looking for a Chuck email alternative that works on more platforms than just iOS, Clean Email should be your first choice. This excellent Chuck app alternative offers a wide range of email management features at a price anyone can afford, its privacy policies are in line with Google's, so you don't have to worry about Clean Email sharing your personal data with third-parties. To get started with Clean Email, all you need to sign up for free with your personal or business email account.
To get started with Clean Email:
Visit the sign-up page.
Sign up for free with your personal or business email account.
Once connected, Clean Email will index all emails in your inbox by analyzing email headers only (Clean Email doesn't see the content of your emails).
Feel free to close Clean Email. It will continue indexing your inbox in the background.
Select the Quick Clean option from the left panel.
You will see several bundles with emails that are commonly cleaned by Clean Email users.
Select the most appropriate action for each email bundle.
To unlock more features and take your inbox management to the next level, purchase a premium subscription. You can cancel it any time.