If you search for email apps in App Store, you'll be presented with an excruciatingly long list of email clients, management tools, and miscellaneous utilities. The question is how you distinguish best iPhone email apps from those that are merely good.
Well, there are several checkboxes that email apps must tick if they want to be truly excellent, starting with design and user experience.
Because we live in a fast-moving information era where cutting-edge technologies become obsolete seemingly in a blink of an eye, our time to learn new things is significantly limited. Best email apps for iPhone are so intuitive that you can simply pick them up and start using them without going through tutorials or reading how they work.
They are also designed with the latest usability principles in mind. Operations that take multiple steps in lesser email apps often take just one step in best email apps, and all important features are put front and center, so you never have to look for them when you need them.
Best iPhone email apps support all major email service providers, including Gmail, Outlook, Yahoo, and other POP3 and IMAP email services. Some also support Exchange, which is Microsoft's proprietary alternative to the POP3 and IMAP application-layer internet standard protocols.
Some people believe that a free email app for iPhone can never be truly great, but our own experience tells us something else. Some of the best iPhone email apps we've tested are completely free and have been since they were first released. Others are free for a limited period of time so that you can thoroughly test them and decide whether they're worth the price.
Best Email Apps for iPhone
The native email app in iOS, called simply Mail, is undeniably capable as far as native apps go, but it still pales in comparison with many third-party email apps available in App Store and elsewhere. We've tested many such apps and selected five that we liked the most.
Price: Free + $1.99 per month for 100 GB of extra storage space or $9.99 a month per month for 1 TB of extra storage space.
Gmail is a free email service developed by Google and launched in 2004. While it's possible to access Gmail from the web, you will do yourself a huge favor if you download and use the official Gmail app for iOS instead. The Gmail app provides real-time notifications, allows you to easily switch between multiple accounts, search your mail faster with instant results, and respond to Google Calendar invites right from the app, just to name a few of its many features.
With Gmail, you get 15 GB of free storage space, which is shared across all Google services, including Google Drive and Google Photos. Should you ever need more, you can purchase 100 GB of extra storage space for just $1.99 per month or 1 TB for $9.99 a month.
👍🏼 Pros:
Support for non-Google email accounts.
Automatic email filtering.
Multiple layouts available.
Seamless integration with other Google apps and services.
👎🏼 Cons:
No text customization.
Notification issues.
Price: Free + $6.99 per month (or $6.99 per month) for extra 50 GB of email storage space.
Like most people, you're probably familiar with Outlook from Windows. Well, the iOS version of Microsoft Outlook is nothing like the clunky, bloated application you're forced to use at work. Outlook for iOS is sleek, gesture-friendly, fast, and packed with many surprisingly useful features that you don't find anywhere else.
Outlook for iOS supports Microsoft Exchange, Office 365, Gmail, Yahoo Mail, and iCloud, but it works best with Outlook.com (including Hotmail and MSN), a web-based suite of webmail, contacts, tasks, and calendaring services from Microsoft. With Outlook.com, you get 15 GB of email storage space per free Outlook.com account, and you can get more storage space and an ad-free inbox by purchasing an Office 365 subscription. The cheapest Office 365 subscription, Office 365 Personal, costs only $59.99 per year and includes all major Office applications for 1 user as well as OneDrive and Skype.
👍🏼 Pros:
Intuitive gestures.
Integrated calendar.
Support for Office document attachments.
Lets you view files stored in the cloud without downloading them.
👎🏼 Cons:
Limited email organization and sorting capabilities.
Edison Mail is a smart iPhone email app with a powerful AI assistant that automatically extracts useful information from your email messages so you can see your upcoming meetings, travel itinerary, bills due, and so on at a glance. In addition to its AI assistant, this innovative email app can also offer a sleek dark mode to protect your eyesight from blue light, touch ID email account protection, and customizable HTML signatures for each email account.
Edison Mail works with all major email services, including Gmail, Outlook, Yahoo, iCloud, and Microsoft Exchange. The developers of Edison Mail promise that the app will stay free forever, generating revenue solely by creating aggregate research reports and selling them to businesses that want to learn more about their customers and consumers in general. The good news is that you can opt-out of the data collection program at any time and still keep using Edison Mail.
👍🏼 Pros:
Well-designed unified inbox.
Support for Gmail email aliases.
Email assistant.
One-tap unsubscribe.
👎🏼 Cons:
Shares user data with third parties.
Triage isn't a full-fledged Mail replacement as it doesn't try to include all the features one would expect an email client to have. Instead, it's a tremendously useful productivity tool for busy people that helps you stay on top of your email. Whenever you have a few minutes of spare time, you can open Triage and quickly read all new emails, which are presented as a stack of cards through which you can swipe with intuitive gestures. Triage supports Gmail, Yahoo, iCloud Mail, and most email services that use IMAP.
👍🏼 Pros:
A novel approach to email management.
Works with most email services that use IMAP.
Ingenious swipe gestures.
👎🏼 Cons:
Limited functionality.
Occasional sync issues.
Price: Free + optional Premium subscription that costs $6.39 per active user per month.
We can recommend Spark to anyone who uses both an iPhone and an Android device and would like to manage email with the same app on both platforms. All versions of Spark are packed with useful productivity-enhancing features whose purpose is to help users achieve and maintain Inbox Zero. Spark can intelligently prioritize email messages to reduce noise, schedule emails to be sent later, snooze emails for a more convenient time, or find older emails in an instant.
Teams can appreciate its collaborative features, which make it easy for multiple team members to create, discuss, and share emails straight from the app. For example, you can write a catchy sales-pitch and invite your colleague to add more information about your product or service. You can then invite your editor to proofread the email before you send it to the potential customer. It costs $6.39 per active user per month to unlock unlimited collaboration, but large enterprises can get a great discount.
👍🏼 Pros:
Advanced integration with cloud storage providers.
Smart notifications.
Polished user interface.
Support for dark mode.
👎🏼 Cons:
Users report problems with Exchange email accounts.
Price: Free + an in-app subscription for $49.99/year to use the app after the 14-day trial ends.
Newton Mail is a subscription-based email app for iPhone, iPad, Android, Mac, and Windows that amazes with its broad range of features and a highly polished user experience. The developers of Newton Mail have studied what problems email users encounter most often and decided to solve them one by one.
For example, many email users are frustrated because it's impossible to know when recipients open their emails. Newton Mail has a feature called Read Receipts, which allows you to know who read your email and when. Unlike other similar email tracking tools, Newton's Read Receipts work across all platforms on all email accounts.
Newton Mail can also automatically get useful insights about senders, giving you the sender's job, organization, and social media profiles in a single click. On average, this feature alone can save you about 12 minutes of time per every new sender, according to Newton Mail's developers.
👍🏼 Pros:
Support for read receipts.
Integrates with many third-party productivity apps.
Instant push notifications for all email accounts.
One-click unsubscribe.
👎🏼 Cons:
Free only for a limited time.
Price: Free + $5.99 per month for a single Pro account.
What would it take to upgrade email for the 21st century? The people behind Spike think that the answer lies in instant messaging. Instead of grouping emails into endless threads that are difficult to follow because they contain useless information such as headers and signatures, it streamlines the email experience and makes it more conversational by allowing you to communicate with others just like you would with an instant messenger.
Because words don't always cut it, Spike makes it easy to make voice or video calls right from the app. Thanks to Spike's collaboration features and intelligent file attachment management, you can streamline your workflow and reduce the number of apps needed to get things done. Spike is free for individuals who want to use it with a personal email address, but employees are required to pay $5.99 per account per month for a Pro account.
👍🏼 Pros:
Conversational approach to email.
Handy collaboration features.
Previews all common file types.
👎🏼 Cons:
The user interface can be somewhat laggy.
Price: Free or starting at $9.99 a month for a paid account
Clean Email is an easy-to-use inbox cleaner that works with all major email services. Its purpose is to help you achieve Zero inbox, which is a state of not having any unread email messages left in your inbox.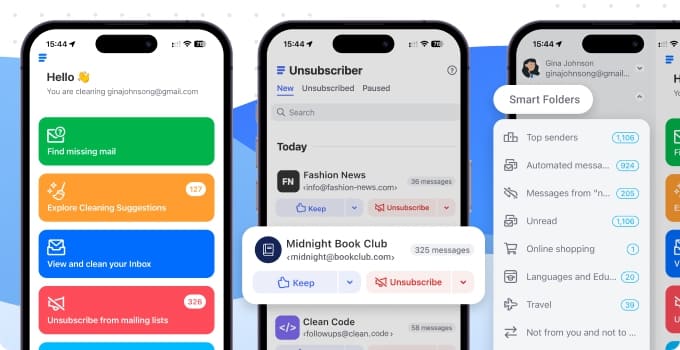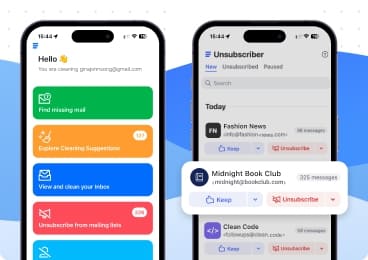 Clean Email organizes all of your emails into easy to review bundles, which you can easily remove, archive, move, and label as groups of emails instead of selecting them one by one. You can also Instruct Clean Email to apply selected actions automatically thanks to its Automation features. For example, you can mark unimportant emails are read, archive emails from marketers, or delete emails older than 30 days.
Besides its Automation features, Clean Email also has a feature called Unsubscriber, enabling you to instantly unsubscribe from multiple emails with a single click.
Clean Email also has a web version and Android app.
Conclusion
An alternative email client for iOS can help you handle email messages more efficiently, allowing you to use your time for more interesting and fulfilling pursuits. But regardless of which email client you decide to use, it's always a good idea to automate email management with Clean Email as its features go far beyond those of mobile email clients.