5 Best Email Apps for Mac
Mac users have always been known for their high demands when it comes to apps. They refuse to settle for apps with a poor user interface and even poorer performance, which is why they use Mac computers (macOS 10.10+ including macOS 12 Monterey) in the first place. Unsurprisingly, there are many best email apps for Mac to choose from, each offering a slightly different set of features in a slightly different package.
Spark presents itself as an email client of the future. What's so futuristic about this Mac email app is how it organizes emails. Using advanced algorithms, Spark is able to sort emails according to their content, so that your personal emails are not mixed with newsletters and notifications. This makes it a lot easier to read and reply to important emails and ignore everything else.
When you see an important email that you would like to read but can't at the moment, you can just swipe it to snooze it for another day. Accidentally snoozed the wrong email? Simply click the Undo button to undo the last action. With Spark, you can search for specific emails using natural language, so searches like "attachment from Peter" are entirely possible.
Spark is great for teams since it supports private in-line comments, shared emails, and advanced email collaboration with real-time editor and a side-chat to talk to colleagues. As long as you're fine with 5 GB of team file storage and only 2 active collaborators, you can use Spark for free. Spark Premium costs $6.39 per active user per month when billed annually, and it includes everything teams need to take full advantage of email as the most reliable and versatile communication tool in the world.
Mailspring is an elegant Mac email client that indexes your emails so you can use the advanced search queries to instantly find messages buried deep in your inbox. All major email providers, including Gmail, iCloud, Office 365, Outlook.com, Yahoo!, and IMAP/SMTP, are supported, which is great news if you have multiple email addresses from several different email providers.
Most professionals these days are well aware that email signatures leave a lasting impression, and they sometimes pay several dollars each month for them. Mailspring comes with a built-in email signature editor, allowing you to create a dazzling email signature, with your picture and links to your social media, in a matter of minutes and without spending any money at all.
Thanks to a built-in translator, Mailspring makes communication in other languages much easier, but this free email app for Mac also has a spellcheck feature to check your English spelling mistakes. Keep in mind that some features are available only in Mailspring Pro, which costs $8 a month.
Airmail is an award-winning best Mac email app. With support for iCloud, MS Exchange, Gmail, Google Apps, IMAP, POP3, Yahoo!, AOL, Outlook.com, and Live.com, Airmail brings to the table a unified inbox that's optimized from the ground up for performance. The developers of Airmail claim that it brings email to the 21st century, and we can't but agree.
If you're a Gmail user and swear by keyboard shortcuts, you will be pleased to know that Airmail supports all common Gmail shortcuts. It also supports multi-touch gestures and lets you add attachments simply by dragging them from your desktop or any folder on your computer. You can get Airmail from the Mac App Store for $9.99—no subscription needed.
Check out our comparison of the best Gmail apps for Mac in 2023.
Postbox is a Mac email app that lets you filter email in real-time so you can quickly and easily focus your attention on what's most important. You can organize emails by tag or by contact and seamlessly view messages by project or event, just to give two examples.
Postbox integrates with countless other productivity-oriented apps, including Evernote, Slack, Todoist, Dropbox, Asana, IFTTT, OneNote, MailChimp, Google Drive, and many, many others. If you would like to write more emails in less time, you can reuse common responses by inserting pre-canned snippets of text, images, or blocks of HTML with just a few keystrokes. Being a professional email client, Postbox is not exactly cheap, costing €34.00, but it's well worth the price.
Canary Mail is all about encryption. More specifically, it's all about unbreakable end-to-end encryption that takes just one click to use but billions of years to break. If you're an advanced PGP user, you can even manage your own keys and exchange encrypted emails even with people who don't use Canary Mail.
Besides encryption, Canary Mail has many other features to help you focus on what's important and ignore everything that isn't. With Smart Filters, you can quickly isolate unread emails or find email with unopened attachments. Natural Language Search makes it possible to find emails using natural search queries such as "emails from dad" or "newsletters this month."
You can find Canary Mail in the Mac App Store for $19.99, which is a fair price for an email client that can help you keep your secrets hidden from strangers.
Bonus: Clean Email
Unlike all other Mac email apps featured in this article, Clean Email isn't an email client. Instead, it's a bulk email organizer whose purpose is to help you get rid of emails cluttering your inbox. Clean Email accomplishes this by grouping similar emails together, creating easy-to-review bundles that you can manage as if they were a single email. So, instead of removing, archiving, moving, or labeling hundreds or thousands of emails individually, you can manage them in bulk.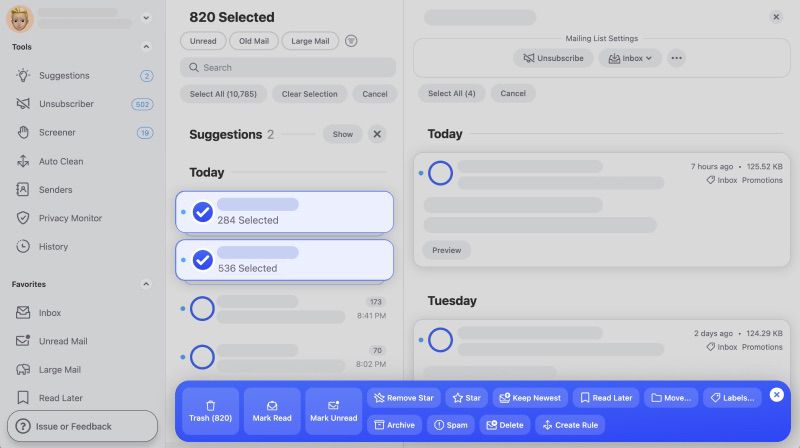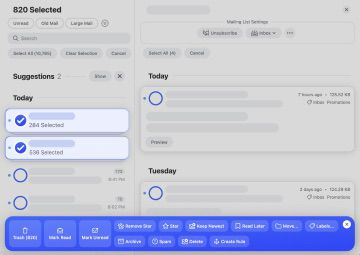 What's more, you can instruct Clean Email to apply selected actions to emails automatically as they arrive. For example, you can tell Clean Email to automatically move all emails from your work colleagues to a folder labeled "Work" so you can easily find them in the future.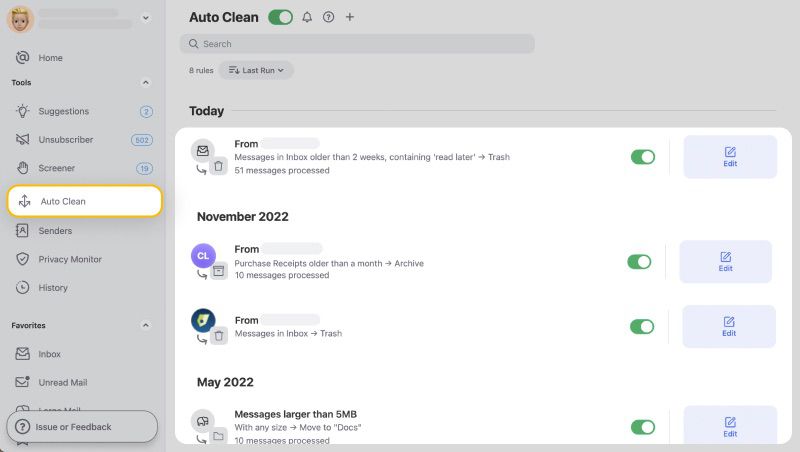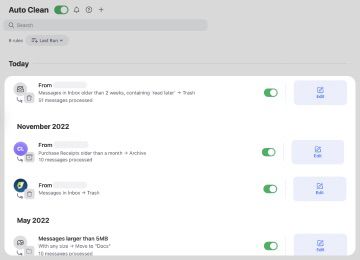 If you're like most people, you probably receive hundreds of promotional emails and notifications every single day. Such emails quickly pile up and become unmanageable, but not with Clean Email. With its Unsubscriber feature, you can make sure that newsletters and unwanted subscriptions will not show up in your mailbox, and the "Delete and Block" feature can make sure that emails that match your selection will never reach your inbox again.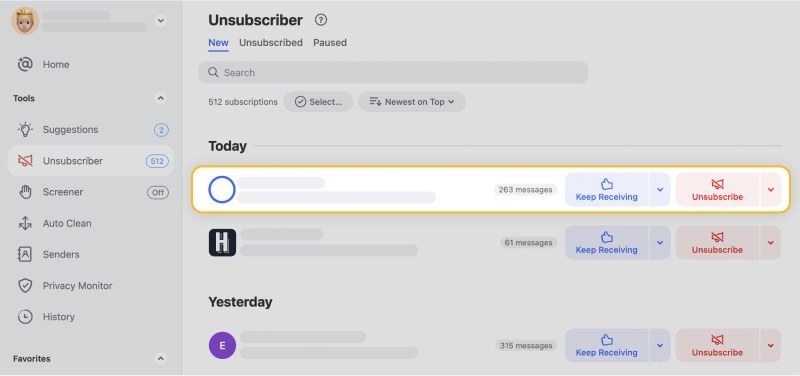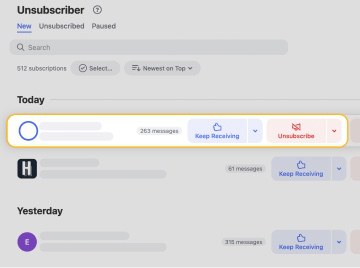 Conclusion
With so many great mac Email apps to choose from, there's no reason to stick with Apple Mail. Each best email app for Mac featured in this article can help you be more productive, and the same is true for Clean Email, our personal favorite free email tool for Mac.