The Best 10 Email Apps for Android
Gmail

: Best Overall

Outlook

: Best for Microsoft Office Users

Yahoo

: Best for Organization

Edison Mail

: Best for Spam Removal

Spark

: Best for Collaborative Emails

Blue Mail

: Best Features

Clean Email

: Best Mailbox Management

ProtonMail

: Best Security

Spike

: Best for Chat-Like Emailing

Canary Mail

: Best AI Learning
What Makes a Great Email App?
There are hundreds of email apps today, but that doesn't mean they're all great for most users. In fact, many email clients for Android are lacking in features and tools that users find essential. There's no reason to settle for a subpar tool when there are dozens of other choices out there for you.
For this reason, we took the time to carefully evaluate what makes a great email app and compile all of the best options for Android users into this list.
First and foremost, we tested each best free email app for Android on this list to ensure they met the following criteria:
Offers a free version of the email app
Compatible with all IMAP email clients
Supports multiple email accounts
Works with the latest version of Android
Once we verified that these basic needs were met, we looked for the best email app Android users would enjoy based on its design and beneficial features. Some considerations we took into account included:
The app's ability to sort and organize messages
Features that could make email management easier, such as automation or advanced spam filtering
Any unique tools that aren't available from other apps, such as additional storage, collaboration features, or AI integration
Finally, once all of this data was compiled, we determined the top 10 applications overall and broke down each app based on its unique features and how it stands out against the competition. The end result is this list of the 10 best email apps for Android, labeled based on what makes them a great option.
1. Gmail: Best Overall
Although Google Gmail comes pre-installed on nearly every Android smartphone, this popular email client still takes the cake for the overall best free email app for Android. The fact that more than 1.2 billion people on the planet use it speaks volumes about it. However, its rich variety of features and easy compatibility with Android are what really make the email client stand out for mobile users.
As the best free email client for Android users, Gmail excels in providing a user interface that is easy to navigate. Its simple, intuitive design doesn't take long to master, and you can read, reply, and write new messages in just a few taps. I also like that you can sign into multiple accounts on your Android device and use the All Inboxes view to review all new emails at once, regardless of which address they came to.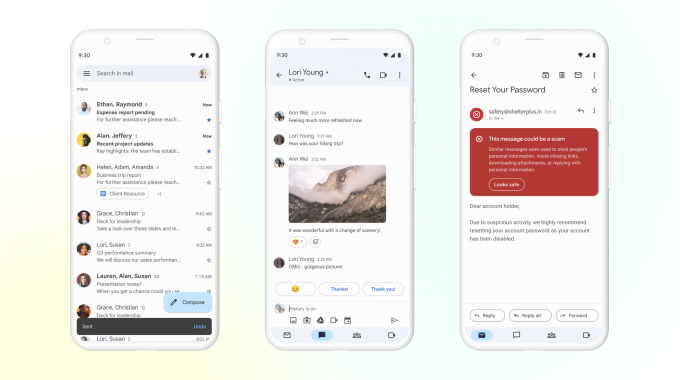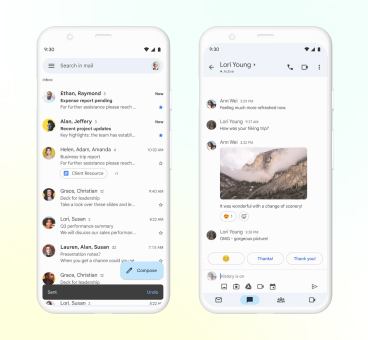 Gmail also offers some unique features that help it stand out from other of the best Android mail apps. For example, the Smart Compose feature uses computer learning to analyze your writing style so it can provide personalized suggestions anytime you start writing a new message. Similarly, Smart Reply evaluates the full context of your email chain, then provides recommendations for a response so you don't have to think or type.
Despite its mobile-friendly design and standout features, Gmail also comes with some drawbacks. For instance, any time I block senders on the app, it simply moves messages from that sender to Spam instead of permanently blocking them as Clean Email and other apps do.
The Gmail app can also sometimes lag or crash, and Google's recommendation to use Gmail Go may or may not be an option based on the Android device you own. This lighter version of the email app can help with lag for users who have supported devices, but during my testing, I found that my Google Pixel 7a phone isn't compatible.
2. Outlook: Best for Microsoft Office Users
Long gone are the days when Outlook was an ugly and clunky enterprise-grade Windows application that everyone hated to use but couldn't live without. Now, Outlook's mobile version rivals many other options as a quality Android email app that provides its own useful features.
Although its modern, streamlined design is nice, what really sets Outlook apart from another best email clients for Android is all of the hands-free features that are included. I discovered that I could use the Play My Emails tool to listen to messages while driving and even use voice commands to reply, archive, delete, or flag emails after I listened to them.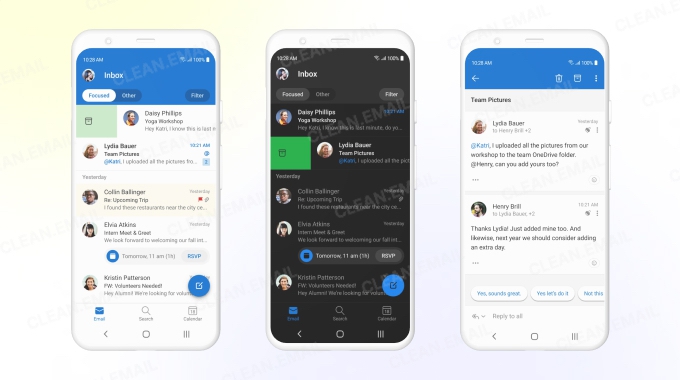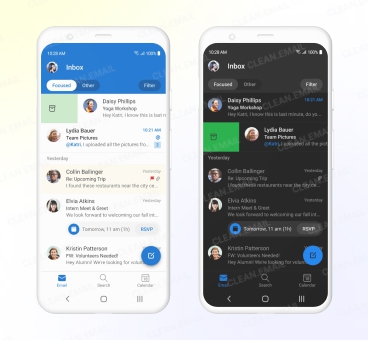 Outlook is also a great option for users whose workplaces run on Microsoft 365. This makes it easy to open, edit, and send Microsoft Word or Excel documents from your phone without fighting compatibility issues between Microsoft Office and Google Drive.
The main disadvantage to using the Outlook Android app is the fact that not all of Outlook's best features, like creating Outlook rules, are available via mobile. That being said, users who want a more streamlined inbox with fewer features and options will appreciate Outlook mobile or Outlook Lite, an even more basic version of the mobile app.
3. Yahoo: Best for Organization
As an avid Yahoo! Mail user since the early 2000s, I firmly believe Yahoo's mobile app deserves a place on any list determining the best email app for Android. It offers many of the same features as Gmail, Outlook, and other email clients, plus some unique attributes that make it stick out from the rest of the pack.
First and foremost, Yahoo Mail gives you multiple sorting options for your messages, called Views. While most other Android email apps let you sort by date or sender, Yahoo has built-in options to view messages based on certain criteria like Receipts, Shopping, or Subscriptions. These views make it easier to go through messages of a certain type in one sitting so you can easily clean out your inbox.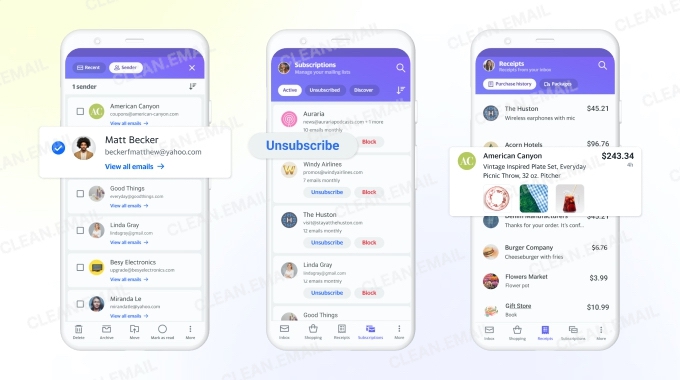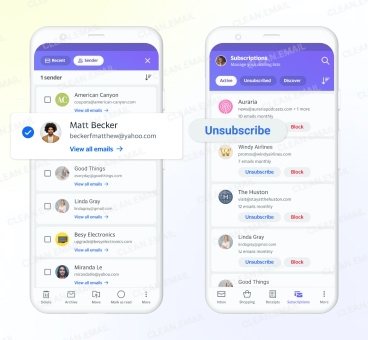 Based on my personal experience, Yahoo also does a far better job of identifying spam messages than Gmail. Typically, Yahoo uses its own data about spam messages along with an analysis of your message history to determine when a new incoming message is junk or malicious. You don't even have to flag messages a single time (although you certainly can). Yahoo also scans all of your emails with Norton Virus Scan before you open them, providing another level of safety.
Also, Yahoo's impressive 1TB of free storage beats virtually all of its competitors and offers the Yahoo Go app for users who want a more basic inbox on their Android phone.
Unfortunately, Yahoo comes with its fair share of drawbacks as well. For example, it doesn't offer the same automation options that Gmail or Outlook provide. Although this is frustrating, it isn't impossible to work around thanks to other email tools like Clean Email.
4. Edison Mail: Best for Spam Removal
Edison Mail is the best Android mail app that isn't as well known. However, that doesn't make it any less deserving to be on this list of the best email apps for Android. Edison Mail is a third-party mail app that works with Gmail, Yahoo Mail, AOL Mail, Hotmail, Outlook, Exchange, IMAP, Alto, iCloud, and more. It provides many great features, including some unique options that others on this list do not.
Like Yahoo Mail, Edison Email gives you many view options to streamline your reading process. You can view all inboxes in a single tab, choose a "focused view" to only see important messages, or view items based on criteria like Subscriptions, Travel, Packages, Bills & Receipts, Entertainment, or Deals.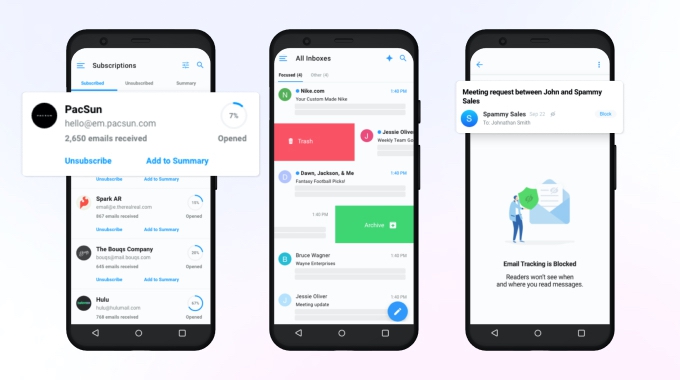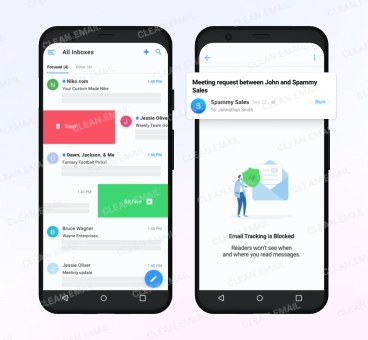 Based on my experience, though, it's the spam filter and spam removal tools that really make Edison Mail stand out from the competition. Unlike other Android email apps, Edison Mail blocks tracking pixels automatically. With each message in your inbox, you also have the option to both block the sender's address and mark the message as spam, giving you the ability to better control future emails you receive. Furthermore, the single-click unsubscribe tool makes it easy to remove yourself from mailing lists you no longer want to be on.
5. Spark: Best for Collaborative Emails
Spark is another best email app for Android that is compatible with a variety of IMAP email clients. Regardless of your technology skills, this app rises above the rest in terms of ease of use and user experience. It also offers a lot of unique benefits for both individual and business users.
What we discovered about Spark is that it offers a lot of features that are best suited for teams that work together. For example, you can add multiple users to a collaborative inbox. This lets you store internal discussions alongside client communications without having to CC or BCC people into and out of the email thread. You can also attach resources or data, and assign people to follow up on messages, These features are amazing for customer service teams, IT support, or anyone hunting for the best Android productivity apps.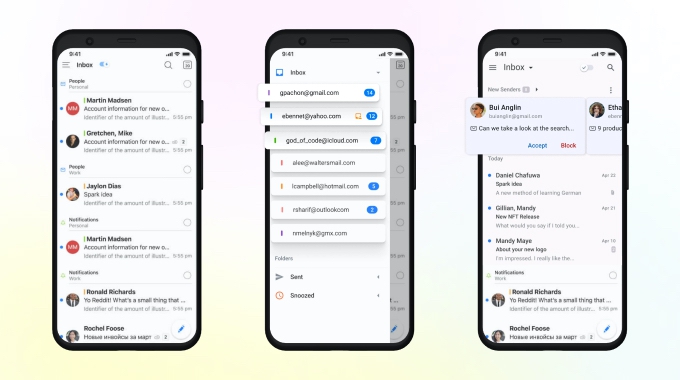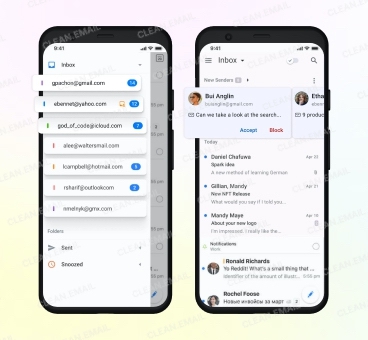 Also, Spark does a great job filtering out possible spam without automatically dumping it into a folder you'll probably never look at. This feature, aptly named Gatekeeper, essentially places all messages from an unknown sender into a special folder until you make a decision on whether or not it is spam. Very few email apps offer something like this, aside from Clean Email's Screener tool.
Unfortunately, our testing determined that Spark is not compatible with Windows. While this doesn't affect its functionality on your Android device, it does mean you can't go between a desktop and mobile app throughout the day if you use a Windows PC.
Blue Mail is an enterprise-ready email client with support for virtually all popular mail providers as well as IMAP, POP3, and Exchange (ActiveSync, EWS, 365). Although there's a bit of a learning curve with this feature-filled email app for Android, it seems like everything it packs in is more than worth the time it takes to master each and every tool built into the software.
The distinctive advantage of Blue Mail is the fact that it offers dozens of useful features. Some things we found most useful that weren't offered by other competitors include:
Rich-text signatures and composition capabilities
A task board for emails that lets you set reminders to read or reply later so you never forget a message
MagicSync so that everything stays up to date no matter what device you use at any given time
Unified Special Folders, which gives you an "all inboxes" type of view but with every folder, including drafts, spam, and archive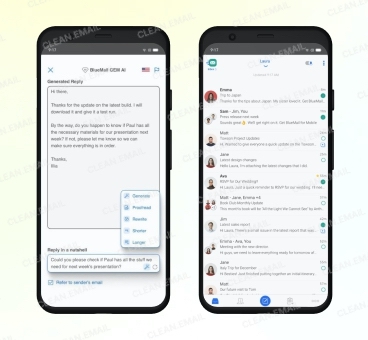 Despite all of its features, Blue Mail can sometimes lag a bit or fail to notify you about a new message. Although this isn't something that happens with every message or even every single day, it does happen frequently enough to frustrate the average user who likes to reply to messages in a timely fashion.
7. Clean Email: Best Mailbox Management
If you are looking for the best Android email app in terms of mailbox management, then Clean Email is the one. It isn't an email client (!) that can help you send new messages, but it does include a lot of features that work alongside any email client on this list of the best email apps for Android and make it easier than ever to read, organize, and clean up messages.
The wide variety of view options is just one of the features that really help Clean Email distinguish itself as the best mail app Android users can access. For instance, you can use flexible filters to pick out messages based on very granular options, including how old the message is (in weeks) and the type of sender (people, automated systems, or mailing lists). You can also use the pre-formatted Smart Folders to see messages based on over a dozen unique criteria.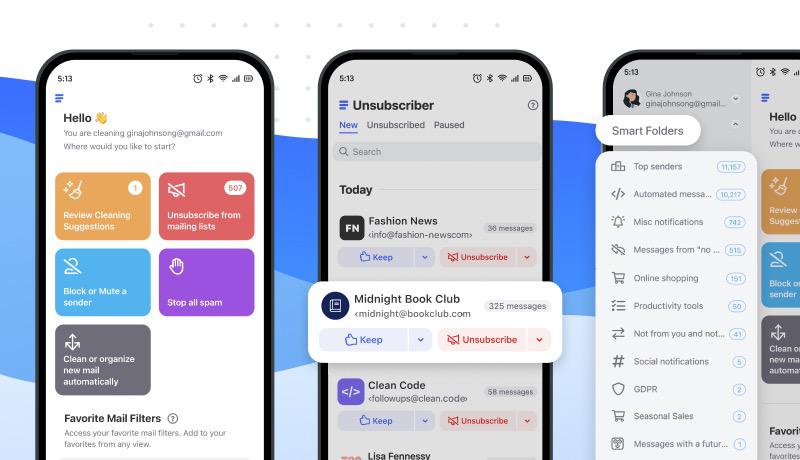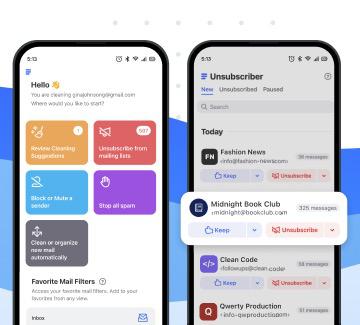 What I personally like about Clean Email is the Auto Clean feature. Although some other options, like Outlook, let you set up some automation rules, Clean Email gives you complete and total control over message automation so that you spend less time sorting messages and more time on what's truly important.
You can download Clean Email for absolutely free, and it's incredibly easy to connect as many unique email addresses to the app as you want. Although its lack of sending functionality can be a pitfall for some, the time you will save with mailbox management is more than worth it.
ProtonMail is by far the best free email app for Android when it comes to security features. Unlike virtually any other best Android email app, ProtonMail uses both end-to-end encryption and zero-access encryption to protect your messages. This security remains in place no matter which email client you use, including Gmail, Yahoo, or AOL.
Other security features only available in ProtonMail include:
Password-protected messages
The ability to send expiring emails
Blocked tracking pixels
Advanced PGP settings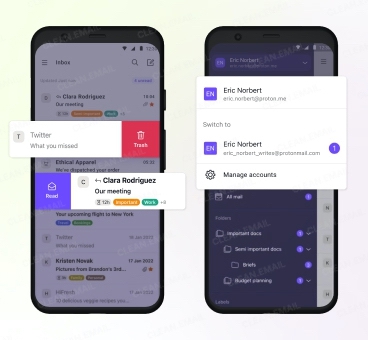 Unfortunately, all of this security comes with a caveat — your ability to search your own inbox. Our testing proved that ProtonMail's search is very limited since the email app can't actually access any data within your messages. For people like me who heavily rely on search functions, this may be a deal breaker.
9. Spike: Best for Chat-Like Emailing
Spike has one of the most efficient and user-friendly Android email app interface out there. It transforms your existing email into a chat-like inbox and makes email feel as simple as sending a text, while still keeping the professional persona to anyone on the receiving end. You also have the option to toggle between this "chat mode" (called People Mode) and a more traditional email format (Inbox Mode).
Spike also outshines the competition with how it organizes email threads. The app takes out repeating threads and clutter to make emails more organized than ever before. Our testing also showed that Spike automatically sorts your low-priority and high-priority emails for you so that you can focus on what's important and avoid getting overwhelmed with unimportant distractions.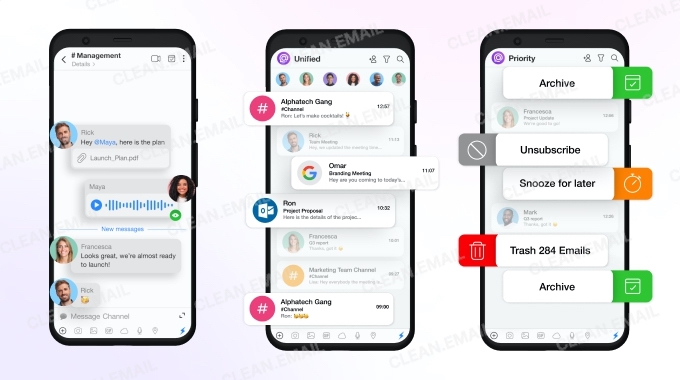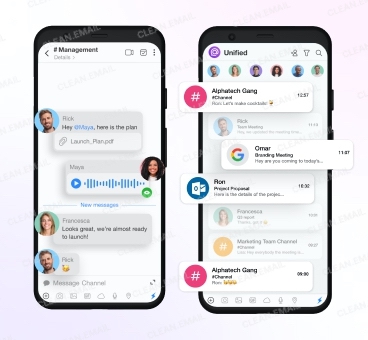 Despite these promises to streamline your inbox with chat-like emails without all the threads, I noticed that the interface itself, combined with the dozens of features Spike throws at you, actually creates more distractions and makes it harder to simply check your inbox. Over time, I think I would adjust to the setup and be less bothered by this, but initially, it felt too overwhelming.
This small complaint aside, Spike helps you use email in a better and more efficient way. It is definitely the best email client for Android users who are looking for a more modern approach to email.
Canary Mail isn't just an email app for Android — it's your new co-pilot for electronic messaging. How? Through machine learning and AI, of course!
Canary Mail offers most of the same tools and features as any other application on this list of the best email apps for Android. However, the biggest benefit of Canary is the aforementioned "Copilot," the app's AI tool. This feature learns your writing style so it can draft responses for you. Additionally, you can request to give copilot instructions and it will draft a reply based on the information you provided. You can also review and edit any responses Copilot generates, which is great for those who don't love the professional and polite write-ups we observed during our testing.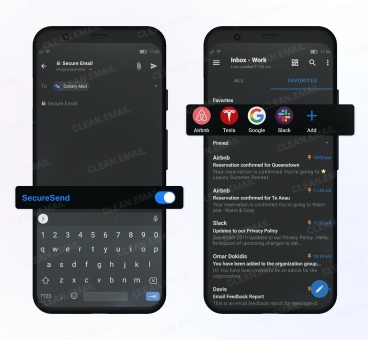 Canary Mail also uses machine learning and AI within other parts of the email app, such as AI-assisted search and prioritizing messages for you. These features make it easier to find and comb through your inbox, especially when it's overfull.
Unfortunately, no app is perfect, including one with AI tools. One of the biggest issues with Canary Mail is random glitches that seemed to occur with notifications or toggling between views. Upon further research, it seems that small hiccups are common complaints for Canary Mail users, so I know I wasn't in the minority here.
Final Thoughts
Selecting the best Android email app is definitely no walk in the park. However, after testing each of the abovementioned options with multiple email addresses, it seems fairly clear that each of these top 10 choices can provide the best choice for various users who are looking for both a free or paid email service.
If you are currently unsatisfied with the email client for Android you are using, we strongly recommend making a list of the features that you think make the best email apps, then select an application from this list that offers most of them. At the end of the day, the best email app for you is the one that makes your life easier based on its features. And, with these 10 options to choose from, chances are there's at least one tool that will do the job.