Why Should I Use an Email Client?
Ask yourself how much time you spend opening, reading, and replying to emails every day. Most likely a lot more than you'd like. One reason why most people spend too much time managing emails is that we simply receive too many of them. The average office worker, for example, receives around 120 emails per day, according to recent statistics, and the number is growing year by year.
A good email client for Mac helps you reduce the time you spend on email management with features like keyboard shortcuts, filtering, snooze, and others. If you can save just 30 seconds per email by using the Mac default email client, you should be able to spend an hour less on email management every day.
And if you can also reduce the number of emails you receive by using an inbox cleaner with automation functionality, such as Clean Email, you might not have to spend any significant amount of time on email management at all.
5 Best Email Clients for Mac
Airmail is an award-winning email client for Mac and the best email client we know of. This best Mac email client is designed from the ground up to give a consistent experience regardless of whether you use single or multiple accounts. It offers support for iCloud, MS Exchange, Gmail, Google Apps, IMAP, POP3, Yahoo!, AOL, Outlook.com, and Live.com.
Airmail has an Apple-inspired user interface that helps you manage your emails without getting distracted. You can customize Airmail to fit your workflow and integrate it with various third-party services, including Asana, Trello, Wunderlist, Todoist, OneDrive, Box, or Bear, just to name a few.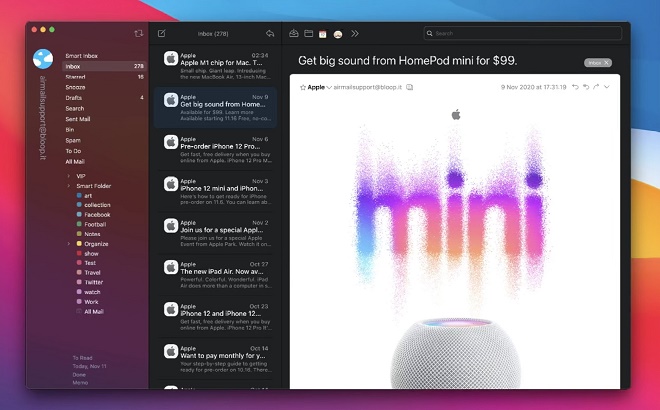 With Airmail, you can choose exactly when to read and send emails, which may come in handy when you're busy or working late at night. To organize your emails even further, you can assign various task management labels to them to easily locate all critical information you need access to in the future.
Being the best email client for Mac, Airmail can afford to be rather expensive, costing $26.99 at the time of writing this article. The good news is that you can often find out heavily discounted, especially around holidays.
Price: $26.99
👍🏼 Pros:
Clean user interface
Email snooze functionality
Extremely customizable
Supports Gmail shortcuts
Fast and easy setup process
Integrates with many third-party services
Great performance
Apple Mail is the default email client software in macOS (including macOS 12 Monterey), and most email users won't ever need anything else. Apple Mail uses a two-column view to display a list of all emails right next to an email composition window, allowing you to jump back and forth between multiple emails with ease. When you receive a reply, the new email is automatically grouped with all the previous emails from the same conversation, so you can follow the conversation without having to search for individual emails.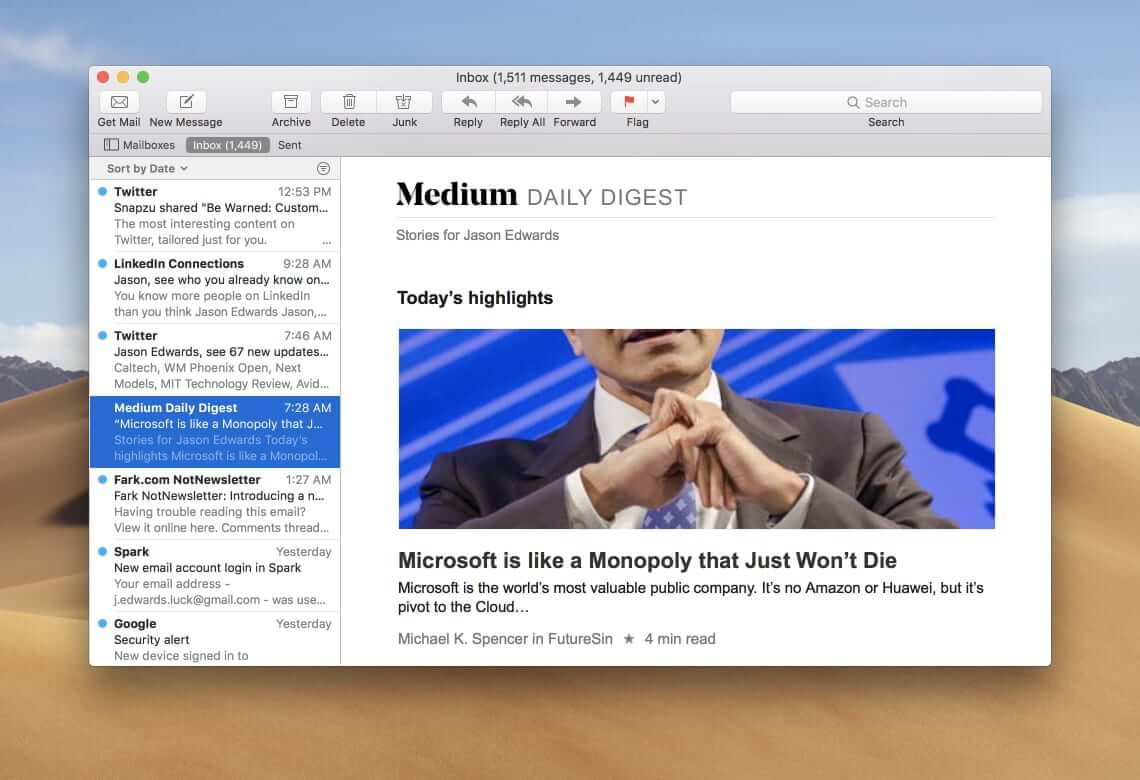 Apple Mail can integrate all email services, such as Outlook, Gmail, and iCloud, into one place, and its polished user interface doesn't stop being responsive even when managing multiple very large inboxes. Searching through multiple email accounts is a breeze because a single search returns results from all email addresses in your Apple Mail. Of course, you can also choose to search only an individual email address, which speeds things up a bit.
Although Apple Mail doesn't support too many advanced features, it does support PGP encryption for enhanced email privacy. To send encrypted and signed messages, you must have a personal certificate in your keychain and the recipient's certificate must be in your keychain.
Price: Free
👍🏼 Pros:
Included with recent versions of macOS
Easy to use
Familiar user interface
Support for third-party plug-ins
👎🏼 Cons:
Poor performance
Doesn't have too many advanced features
Spark is a smart email client Mac users should know about. It automatically sorts emails based on their content so you always know if you have any unopened business-related emails left before you move on to newsletters and social media notifications.
It's also arguably the best email client for teams, allowing you to create, discuss, and share with your colleagues thanks to its revolutionary collaborative email experience. Multiple team members can compose emails together in real-time, and entire email threads can be shared on Slack, Messages, your team CRM, or any other medium.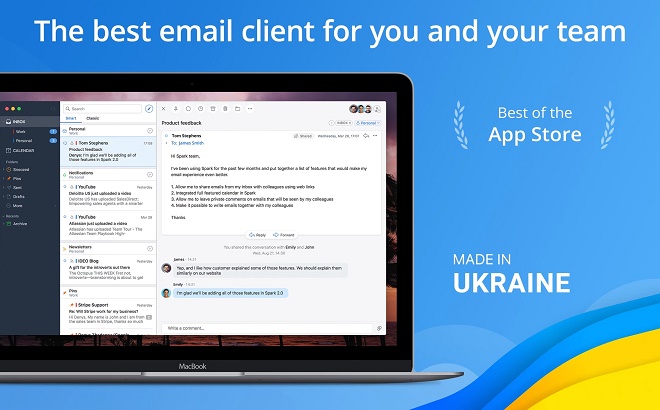 Sparks aims to be an email client that works for its users—not the other way around. If you receive an email that you can't open right now but don't want to forget, you can tell Spark to snooze the email and remind you later. Thanks to Spark's ability to process natural language, retrieving old emails is easy, and you don't even have to remember the sender because a search for a specific word or phrase mentioned in the email is typically enough.
If you encounter something about Spark user interface or its behavior that you don't like, there's a good chance that you can tweak the particular thing and customize Spark to your liking.
Price: Free (or $6.39 per active user per month for Spark Premium)
👍🏼 Pros:
Smart inbox that doesn't bother you with unimportant emails
Email snooze functionality
Customizable
👎🏼 Cons:
Sends usage statistics to several third-party companies
Postbox is a beautiful email client for Mac and PC. One of its most interesting features is the large collection of pre-canned responses that you can insert with just a few keystrokes to save time. You can create your own pre-canned responses, complete with images and HTML, to automate some of the more boring parts of your job. Postbox can send content to your favorite apps, including Evernote, Slack, Asana, Todoist, OneNote, Gmail, Instagram, and many others.
The latest version of Postbox brings a whole host of new, exciting features that all heavy email users can appreciate. You can now change how Postbox looks and select from 20 professionally designed themes, quickly insert pre-formatted blocks of HTML into your messages, enjoy OpenPGP support provided by a specially designed version of Enigmail, and manage your inbox using intuitive swipe gestures, just to give you some examples.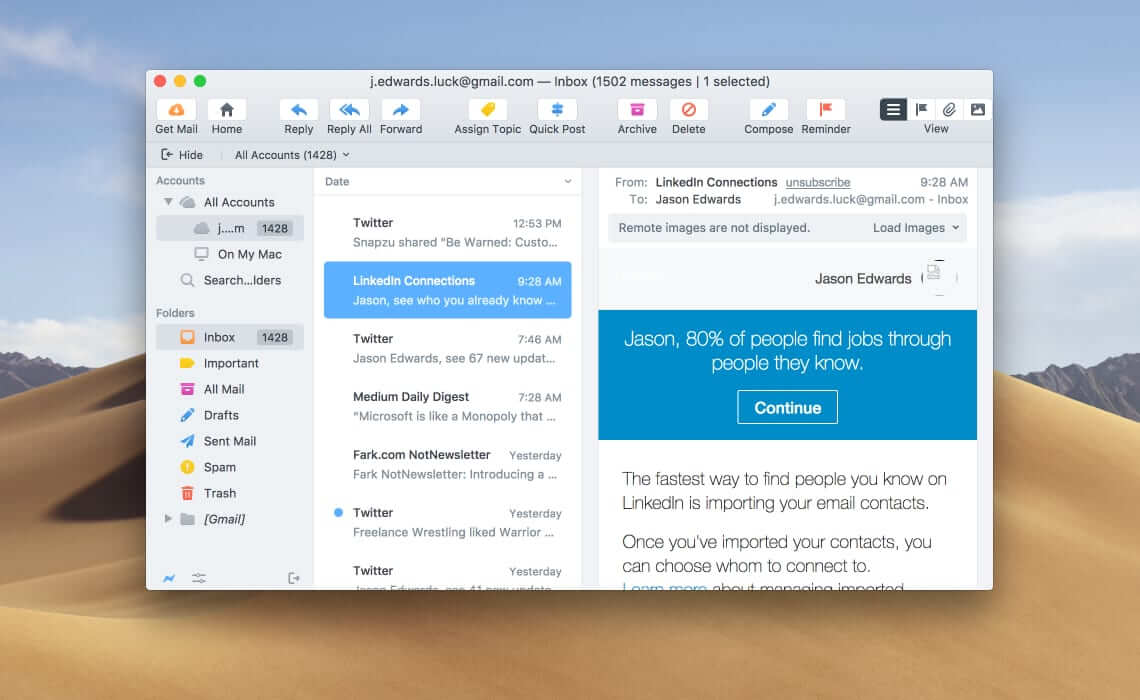 Best of all, the latest version of Postbox can execute third-party code, which means that third-party developers can now develop add-ons of the email client, or Experiments as Postbox calls them, and have them featured in Postbox Labs.
Unfortunately, you still need a fairly powerful computer for Postbox to run breezily. If you have an older Mac, you may experience annoying slowdowns.
Price: $2.49 per month
👍🏼 Pros:
Prevents sending an email without an attachment by accident
Comprehensive filtering options
A large selection of email templates and ready-made responses
Beautiful user interface
Thunderbird is among the best email clients for Mac because of its open source nature, support for third-party extensions, and tabbed user interface that allows you to accomplish more in a single window. Thunderbird has an integrated web browser, so you can follow links without leaving the application.
At the time of writing, there are over a thousand Thunderbird extensions available for download. Some of the most popular extensions include Lighting, which is a calendar that's fully integrated with Thunderbird, Enigmail, which provides OpenPGP message encryption and authentication for Thunderbird, and Quicktext, an extension that lets you create templates that can be easily inserted into your own emails.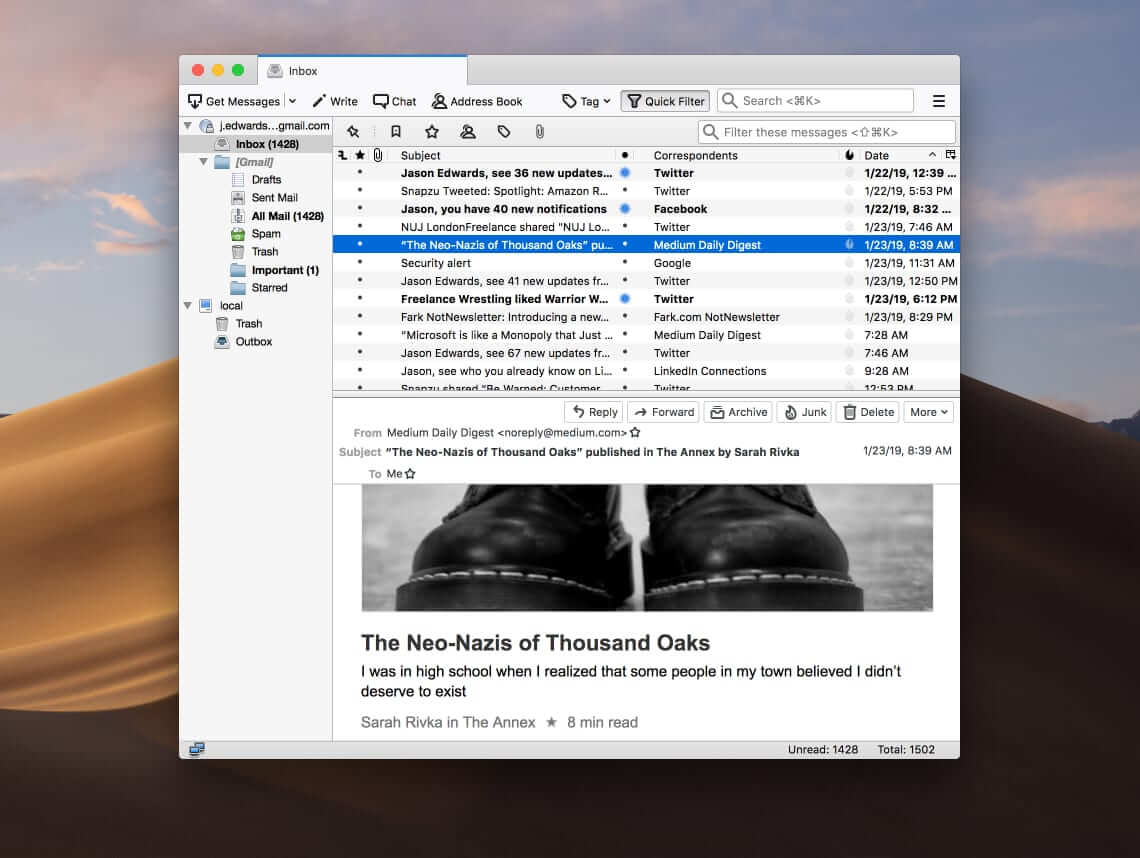 With these many other extensions, you can make Thunderbird truly yours and customize to perfectly fit your workflow. If you would like to take Thunderbird customization a step further, you can also explore Thunderbird themes and dress your email client in new clothes.
What keeps Thunderbird from being the best email client for Mac are its poor integration with macOS, outdated user interface, and slow development. In 2012, Mozilla announced that the company was dropping the priority of Thunderbird development, and things have been progressing at a fairly slow pace since then. You can follow the development of Thunderbird on its official blog.
Price: Free
👍🏼 Pros:
Free and open source
Multiplatform
Lighting calendar integration
Integrated web browser
Great filtering system
👎🏼 Cons:
Poor integration with macOS
Outdated user interface
Slow development that only focuses on security and stability
Use Clean Email to Manage Emails More Efficiently
Even the best email client for Mac can't help you eliminate email clutter and prevent spam emails from reaching your inbox and robbing you of your valuable time—that's something only Clean Email, an online bulk email cleaner with clever email management automation functionality, can do.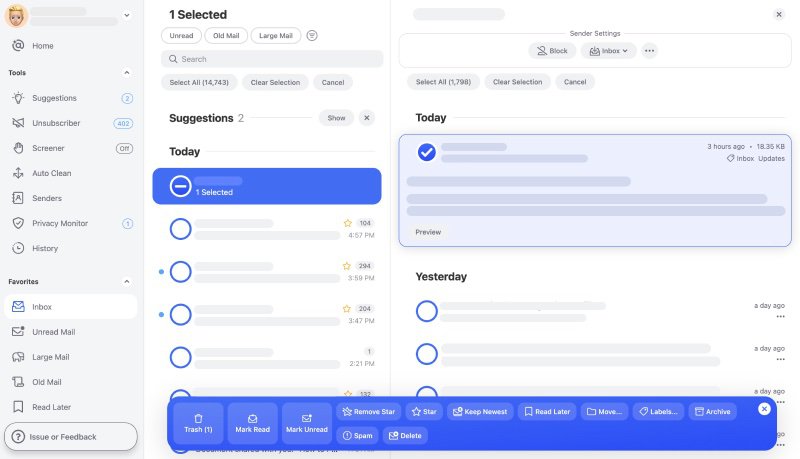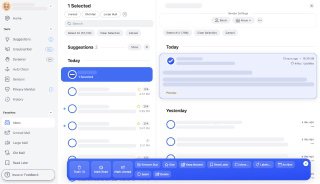 Clean Email relies on sophisticated algorithms to analyze email headers, which contain subject line, sender and recipient information, dates, email size, and similar metadata. It sorts your emails into bundles depending on their type, and you can apply various actions to manage entire bundles of emails with a few clicks, instead of having to handle each email individually.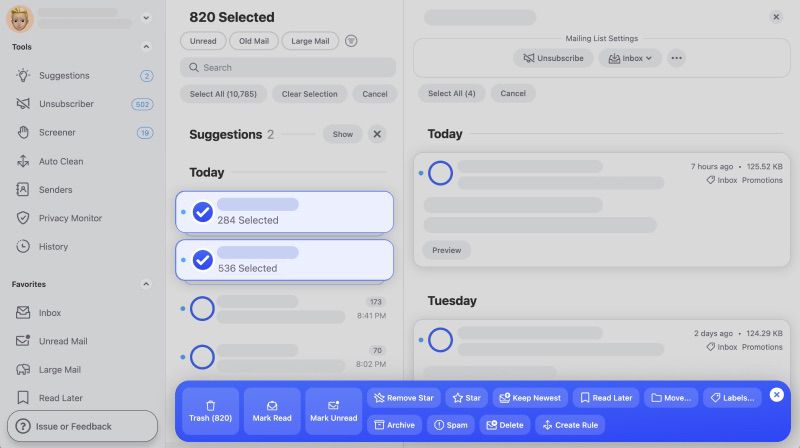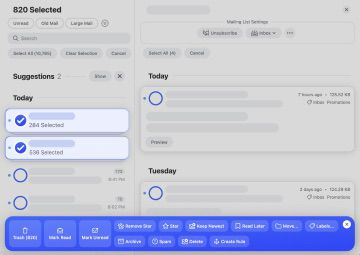 Thanks to its email management automation functionality, Clean Email can learn from you and apply selected actions to new emails automatically to protect you from unwanted and malicious emails. Clean Email works with all major email services, and it takes less than a minute to get started with it.