What Makes a Great Email Client for Mac?
There are dozens of email apps for Mac. Therefore, choosing the best mail client for Mac can feel like an overwhelming task if you don't know how to accurately compare your options.
How do you know what makes an email app a great option? Well, when we compared the solutions to find the best email client for Mac, we evaluate and test all of these features:
Configuration: Does the free email program support both IMAP and POP3? Does it import your messages and contacts automatically? Does the application sync across multiple devices, including iPhone or iPad?
Ease of use: Is this one of the best mail clients for Mac in terms of setup? Can you easily navigate the app's features? Is it hard to locate buttons and settings? Are there keyboard shortcuts available?
Email Management: Does the app support a unified inbox for users who have multiple addresses linked? Can you use filters or labels to sort messages? Does the app include a search function? Is there a spam filter built in? Can you program inbox automation tasks? Is it also available for iOS?
Customization: Can you customize the layout? Can you import a custom signature? Can you change the font type and color? Does it support email templates? Does it integrate with other apps?
Pricing: How much does the app cost? Is there a free version available?
Check our top best email client apps for Windows in case you are looking for one.
7 Best Email Clients for Mac
Mac users have always been known for their high demands when it comes to apps. They refuse to settle for applications with poor user interfaces and even poorer performance, which is why they use Mac computers in the first place.
Unsurprisingly, there are many great Mac mail clients to choose from, each offering a slightly different set of features in a slightly different package.
Here is our list of the top email clients for Mac:
Apple Mail - Best Native Option With No Downloads or Payments Required.
Spark - Great for Those Who Want Lots of Sorting and Communication Options.
Microsoft Outlook - Best for Microsoft Office Users or Professionals.
Airmail - Best for Those Who Enjoy Gmail Features.
Edison Mail - Best Features for Cleaning Out Spam.
Canary Mail - Best Email Client for Security.
Mimestream - Best Gmail app built specifically for macOS (beta).
Bonus. Clean Email - Best to Keep Your Inbox Clean and Organized (not an email client).
Keep reading to know more about each solution, how it is different from others, and how we review and evaluate it.
1. Apple Mail
✔ Best Native Option With No Downloads or Payments Required
For those who just want to stick with what's pre-installed on your Mac, Apple Mail is a great choice. It's the best email client for Mac since it's built entirely with Apple compatibility in mind.
Apple Mail is easy to set up, has an easy-to-use interface, and is compatible with most IMAP and POP3 email clients, including Gmail, Yahoo, Outlook, and AOL. When you set up your mailboxes within Apple Mail, you have the option to view each one separately or see all messages at once with the unified inbox.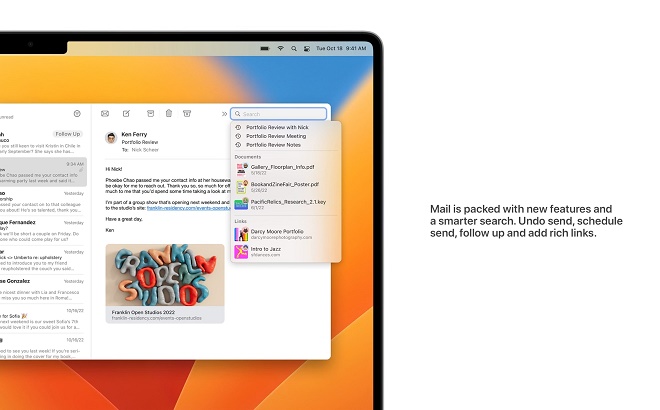 Unlike most other email apps for Mac, Apple Mail gives you the option to set up custom notifications across your browser, within the OS, and other places that may be helpful to see when you have mail. You can mute these notifications at any time, which is good when you need to focus on work.
Also, Apple Mail has recently added some new features that help make it shine as the best free email client for Mac. These features include the ability to unsend messages you hit "enter" on too soon, improved search functionality, and reminder settings for messages you want to wait to send or haven't received a response from in several days.
Although Apple Mail doesn't support too many advanced features, it does support PGP encryption for enhanced email privacy. To send encrypted and signed messages, you must have a personal certificate in your keychain, and the recipient's certificate must be in your keychain.
👍🏼 Apple Mail Pros:
Comes built-in to Mac devices
Easy to use
Custom notifications with MacOS
Ability to unsend messages
👎🏼 Apple Mail Cons:
Very basic search functionality
No advanced features
Very few app integrations
2. Spark
✔ Great for Those Who Want Lots of Sorting and Communication Options
Spark presents itself as an email client of the future. Like Apple Mail, it's compatible with any IMAP or POP3 email client. However, Spark Mail really stands out in terms of the features it offers in comparison to Apple Mail.
What's so futuristic about this Mac email app is how it organizes emails. Using advanced algorithms, Spark's Smart Inbox feature can sort emails according to their content, so that your personal emails are not mixed with newsletters and notifications. This makes it a lot easier to read and reply to important emails and ignore everything else. You can even use the Gatekeeper feature to keep out messages from unknown or suspicious senders (much like Screener in Clean Email, which we will discuss below).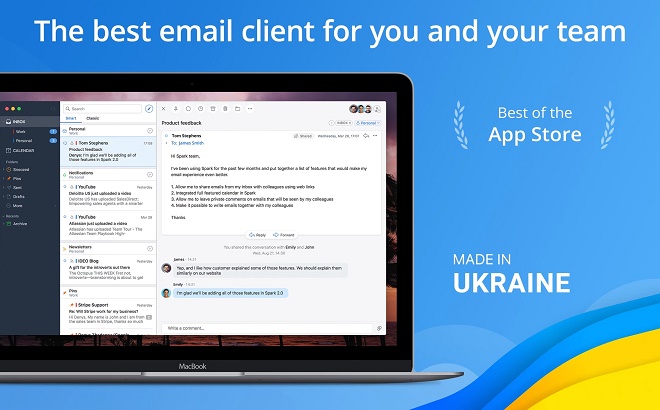 Also, Spark is one of the only best email apps for Mac that provides great features for teams and colleagues. It supports private in-line comments, shared emails, and advanced email collaboration with a real-time editor and a side chat to talk to colleagues.
Spark pricing: Free for 5 GB of team file storage and only 2 active collaborators. Spark Premium costs $4.99 per active user per month when billed annually, and it includes everything teams need to take full advantage of email as the most reliable and versatile communication tool in the world.
👍🏼 Spark Pros:
Smart inbox makes it easy to sort emails
Prevents mail from unknown senders (Gatekeeper)
Great tools for team collaboration
👎🏼 Spark Cons:
Free version has limitations
Very few app integrations
3. Microsoft Outlook
✔ Best for Microsoft Office Users or Professionals
Although we usually associate Microsoft with Windows PCs, Outlook is another Mac email client you can choose to use on your Apple device. It's compatible with any IMAP or POP3 email account and offers a wide variety of features.
Some prefer Apple Mail's simple interface. However, Outlook offers more features in terms of advanced search functions, setting filters, and programming automation rules. Of course, all of these same things can be achieved by using a mailbox management tool like Clean Email (and are often easier to do in Clean Email than in Outlook). However, if you want these features directly in your inbox, Outlook is a great choice.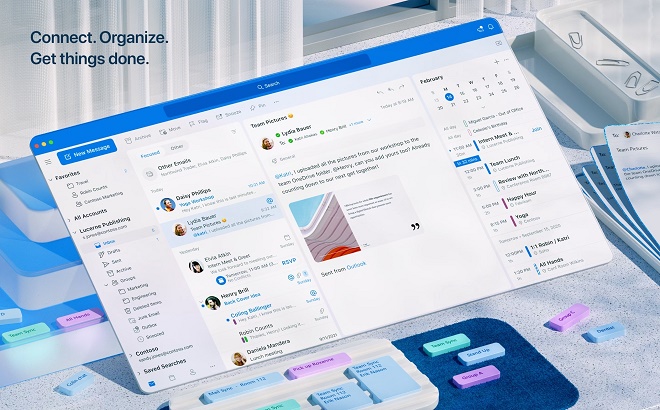 Unlike Apple Mail, Outlook offers a lot in terms of productivity and work efficiency. You can easily attach Microsoft Office documents to your emails, merge items into your Outlook calendar, and connect with One Drive (if you use that).
Finally, Outlook offers more in terms of customization to the look of your inbox and customizing features.
Microsoft Outlook pricing: Free.
👍🏼 Microsoft Outlook Pros:
Best compatibility with MS Office
Many customization options
Advanced search and filtering options
Ability to automate inbox tasks
Free for Mac users
👎🏼 Microsoft Outlook Cons:
Cluttered view compared to simpler email apps
Free version is limited in features
4. Airmail
✔ Best for Those Who Enjoy Gmail Features
Airmail is an award-winning best Mac email client. With support for iCloud, MS Exchange, Gmail, Google Apps, IMAP, POP3, Yahoo!, AOL, Outlook.com, and Live.com, Airmail brings to the table a unified inbox that's optimized from the ground up for performance. The developers of Airmail claim that it brings email to the 21st century, and we can't but agree.
With the latest version of Airmail, you'll find many features that aren't available in Apple Mail or several of the other options on this list. For example, Airmail now offers an AI composer, which can help you save time with quick reply messages. It also offers more advanced search functionality and app integrations, neither of which are available with Apple Mail.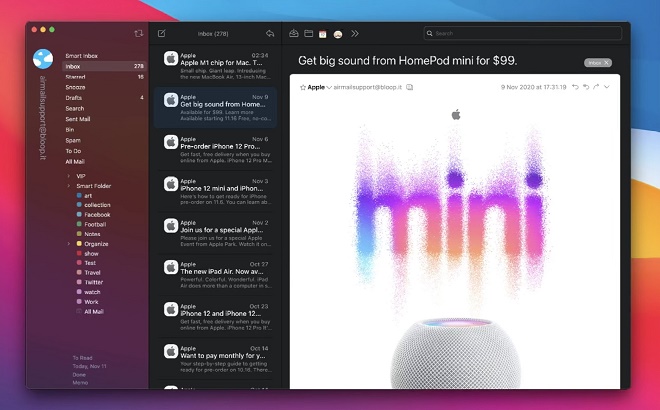 If you're a Gmail user and swear by keyboard shortcuts, you will be pleased to know that Airmail supports all common Gmail shortcuts. It also supports multi-touch gestures and lets you add attachments simply by dragging them from your desktop or any folder on your computer.
Finally, Airmail lets you set up automation rules for messages when they hit your inbox, which can really help you save time and avoid sorting emails. As we will share later, though, the Auto Clean feature in Clean Email can let you set up automation steps regardless of what Mac email apps you use.
Airmail pricing: Many features are free. Airmail Pro subscription has two options: $9.99/mo. and $29.99/yr. Airmail for Business costs $49.99—no subscription needed.
👍🏼 Airmail Pros:
Unified inbox
AI composer
Keyboard shortcuts and multi-touch gestures
Can program automation rules
5. Edison Mail
✔ Best Features for Cleaning Out Spam
Edison Mail claims to be the best email client for Mac because of its unified inbox and other standout features. Like Apple Mail and the other options on this list, Edison Mail works with virtually any email account. It's also completely free to download from the App Store.
Unlike Apple Mail, Edison Mail offers a focused inbox, which lets you separate important messages from subscriptions and other automated messages. You can also pin messages and come back to them later when you're ready to respond or snooze certain messages during hours when you're busy.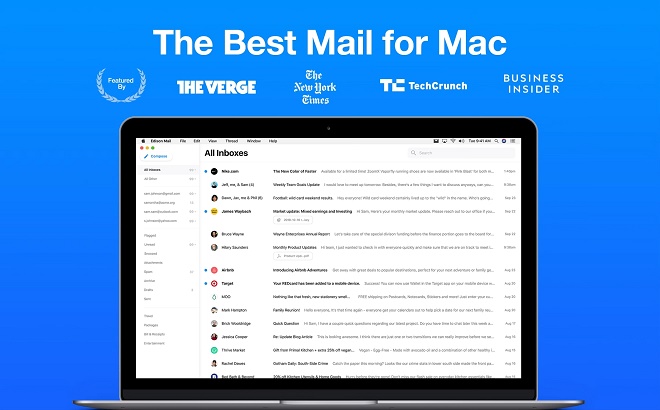 Other features, like unsubscribe and block, let you limit messages you don't want from hitting your inbox. The advanced search functionality also makes it easy to locate messages anytime.
Edison Mail pricing: Free. However, Edison Mail+ is available for $14.99/mo., or $99.99/yr., and is 'available in all locations but is currently optimized for use in the USA,' as stated on the vendor's website.
👍🏼 Edison Mail Pros:
Focused inbox
Unsubscribe and block features
Options to snooze and pin messages
Completely free
👎🏼 Edison Mail Cons:
Can't unsend messages
Very few app integrations
6. Canary Mail
✔ Best for Security
Canary Mail is all about encryption. More specifically, it's all about unbreakable end-to-end encryption that takes just one click to use but billions of years to break. If you're an advanced PGP user, you can even manage your keys and exchange encrypted emails even with people who don't use Canary Mail.
Besides encryption, Canary Mail has many other features to help you focus on what's important and ignore everything that isn't. With Smart Filters, you can quickly isolate unread emails or find emails with unopened attachments. Natural Language Search makes it possible to find emails using natural search queries such as "emails from dad" or "newsletters this month."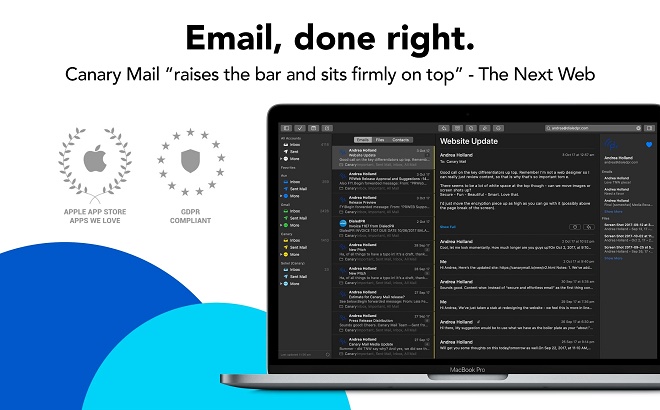 Although Canary Mail doesn't offer as many features as some of the email apps on this list, it does now offer an AI tool called co-pilot, which will help write replies for you when you're at a loss for words.
Canary Mail pricing: Free for standard features and $19.99 for Pro features (a fair price for an email client that can help you keep your secrets hidden from strangers).
👍🏼 Canary Mail Pros:
End-to-end encryption
Smart filters to isolate messages
Natural language search
AI for replies
👎🏼 Canary Mail Cons:
Can't unsend messages
Very few app integrations
Not free
7. Mimestream
✔ Best Email App for Mac with an Exceptional Gmail Experience
As the developers of the app say, the journey to create the best email client for Gmail on Mac has led them to Mimestream 1.0 (now available in beta)—where the robustness of macOS with the versatility of Gmail united. This app stands out as an ideal solution for seamless email management.
From sophisticated triage features such as labels, server-side filters, and Gmail search to unique elements like markdown substitutions and macOS Focus Filters integration, Mimestream has your needs covered.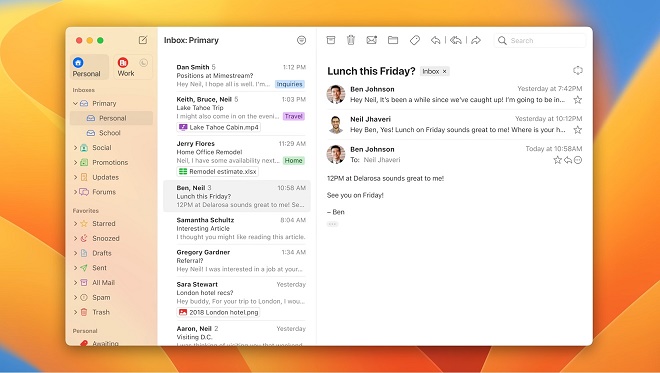 One of Mimestream's greatest strengths lies in its new additions, including a beautiful dark mode, push notifications, advanced keyboard shortcuts, and more. Constant improvement and innovation are at the heart of Mimestream, making it not just another email app for Mac but a solution that grows and evolves with your needs.
Mimestream opts for the Gmail API instead of a traditional IMAP protocol, ensuring a lightning-fast, feature-rich experience. It brings the Gmail experience to your desktop with the speed and style of an Apple app and delivers a powerful set of Gmail-specific features to make managing your inbox both simple and enjoyable.
Mimestream pricing: A fully functional 14-day trial is available for download exclusively from the website. After the trial period, pricing for Mimestream is $49.99/year or $4.99/month, with team and company plans available.
👍🏼 Mimestream Pros:
Designed exclusively for Mac and Gmail users
Fast, feature-rich experience
Innovative features like Gmail API and markdown substitutions
Multiple account support with a unified inbox
👎🏼 Mimestream Cons:
Pricing is subscription-based
More suited to Gmail users
Bonus. Clean Email
✔ Best to Keep your Inbox Clean and Organized
Although most of the best email apps for Mac on this list offer great features, there isn't a single one that provides the perfect solution for organizing and sorting your messages so you can maintain a clean, easy-to-operate inbox.
Clean Email for Mac isn't an email client but a mailbox management tool that helps you take control of your inbox. In fact, Clean Email is a useful app for anyone who wants to cut down on clutter or set up automation rules so they can spend less time checking email.
With the Smart Folders tool, you can look at messages after they are sorted into predefined folders based on commonalities the messages share, like "messages with attachments" or "seasonal sales." It lets you quickly see messages with common information and apply bulk actions to the entire Smart Folder at once.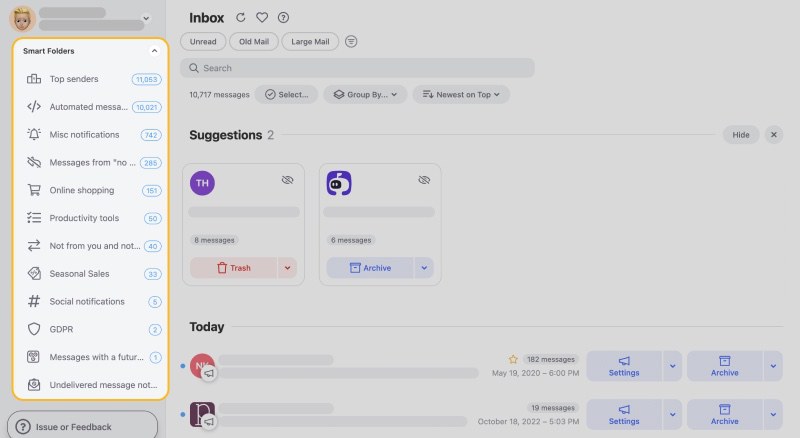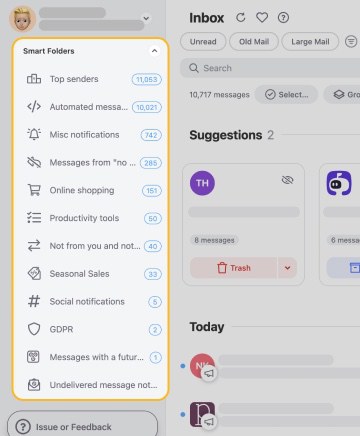 Then, the Auto Clean tool lets you program inbox automation rules that handle basic tasks like moving emails into separate folders, deleting unwanted messages, or flagging emails from specific senders. To set up an Auto Clean rule, you can log into the Clean Email app, go to the Auto Clean section, then press the + sign to create a new rule. The app will take you through the necessary steps to program a new Auto Clean rule.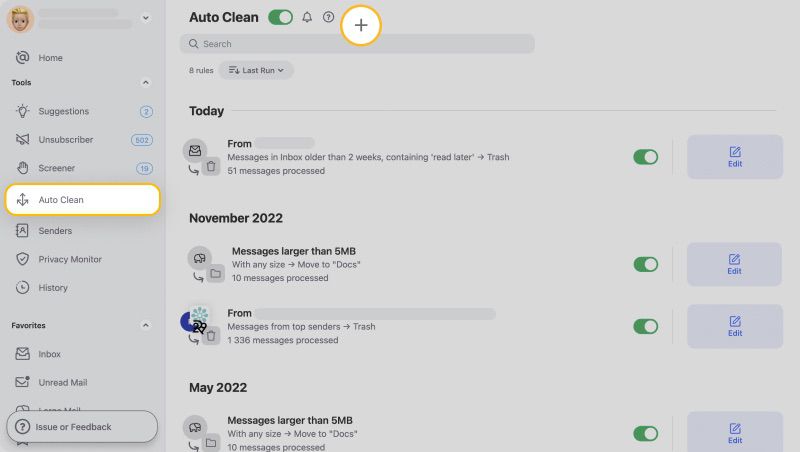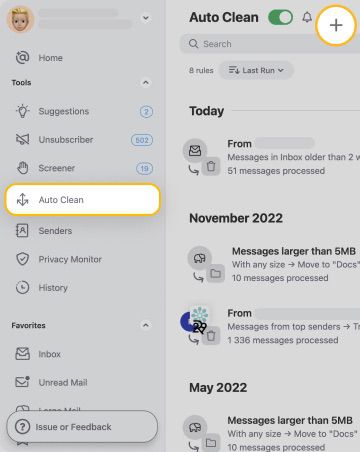 If you receive a lot of mass mailings from advertisers or organizations, you can use the Unsubscriber to remove your address from these lists. When you log into Clean Email, you can access the Unsubscriber tool to see all the domains that have you registered on a list. Next to each one, you can press the Unsubscribe or Keep Receiving button. By clicking the drop-down arrow next to both options, you will access the other actions to be applied to your subscriptions such as Read Later, Pause, Keep Newest, and more. This cuts down on the clutter and removes you from lists for good.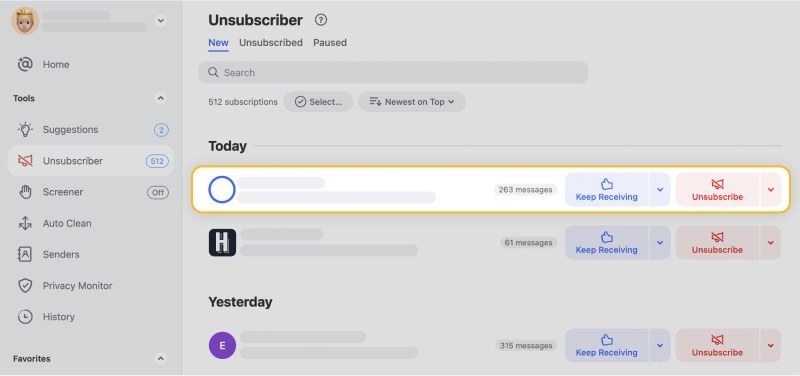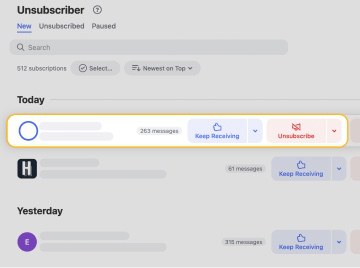 Other useful features that Clean Email offers include:
Action History: This feature shares every task Clean Email performs for you so you can review the actions later.
Cleaning Suggestions: This tool provides a custom list of suggestions to clean up your mailbox based on past actions you performed.
Screener: This tool puts emails from unrecognized senders into a special quarantine folder that isn't in your main inbox.
Senders: This page shows you a list of all senders who have sent messages to your email address. It gives you the possibility to conveniently search for specific senders, and manage their messages any way you like (unsubscribe, block, move to a certain folder, and more. For more information about the available actions, please see Sender Settings).
Clean Email pricing: Free for 1,000 email messages and offers a 14-day trial to try advanced features. Check the pricing plans with a 15% discount applied for Mac users if you subscribe via the website.
Clean Email works with most email providers and works alongside any features within your preferred email app. Also, because we care about your safety and security, Clean Email protects your data. You don't have to worry about personal information ever falling into the wrong hands since Clean Email doesn't store or sell any information from your email.
Why Use an Email Client?
Ask yourself how much time you spend opening, reading, and replying to emails every day. Most likely a lot more than you'd like. One reason why most people spend too much time managing emails is that we simply receive too many of them. The average office worker, for example, receives around 120 emails per day, according to recent statistics, and the number is growing year by year.
A good email client for Mac helps you reduce the time you spend on email management with features like keyboard shortcuts, filtering, snoozing, and others. If you can save just 30 seconds per email by using the Mac default email client, you should be able to spend an hour less on email management every day.
Combine this with an efficient inbox cleaner that boasts automation features, such as Clean Email, and you can drastically reduce the volume of emails you receive. This approach might eliminate any significant time dedicated to email management, freeing you up for more productive tasks.
Conclusion
With so many great Mac email clients to choose from, there's no reason to stick with Apple Mail. Each best email app for Mac featured in this article can help you be more productive, and the same is true for Clean Email, our personal favorite cleaning and organizing email tool for Mac.
Check also our articles about The best email app for iPhone in 2023 and the Best email client for Android.