What Is an Email Client?
An email client is a software application used to access and manage a user's email. Most email clients today support multiple email services, including Gmail, Yahoo, Yandex, Outlook, and self-hosted business email systems, and they often make it possible to consolidate emails from all connected addresses into a single, unified view.
Some email clients come only with the most essential features, while others support things like encryption, contact management, out-of-office responses, phishing filtering, image blocking, and others.
When choosing among the best email clients for Windows 10 and 11, you should first decide whether you're willing to spend any money on an email client or not. Although excellent free Windows 10 email clients are easy to find these days, but paid desktop email clients are often more polished and come with professional support.
Top 7 Best Email clients for Windows 10 and 11
We present the top 7 best email clients for Windows 10. Our selection is based on customer reviews and our desire to feature something for everyone.
Price: $1.34 a month or one-time purchase of $36
Inspired by the Sparrow email client for macOS, Mailbird is an award-winning email client for the windows operating system that differentiates itself from other email clients by having a simple design and focusing on speed and usability. With Mailbird, you can manage all your emails and contacts from multiple email accounts easily in one unified inbox and integrate apps like Facebook, Dropbox, Asana, or Google Calendar with a click of a button (learn more about how Mailbird filters work).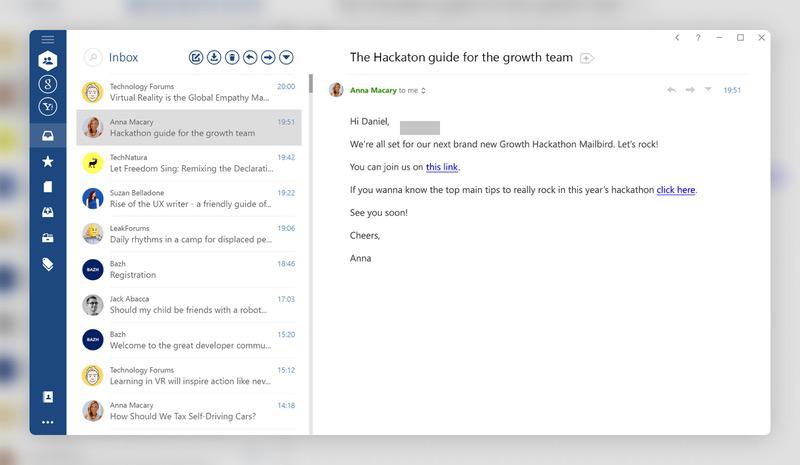 Mailbird is known for being extremely efficient, and the email client barely consumes any significant amount of processing power even when it's connected to several dozens of email accounts at the same time, along with a few apps. You can try Mailbird for free forever, but it's necessary to purchase a license to enjoy all of its features. You can either pay annually or pay only once to save money in the long run.
👍🏼 Pros:
Performs great even with many inboxes
Integrates with third-party apps
Easy to use
👎🏼 Cons:
Doesn't support CardDAV or CalDAV
Price: from $5.99 per month with Office 365
Microsoft Outlook is probably the best-known email client in the world. It's available as part of the Microsoft Office suite, and it can be used as a stand-alone application or with Microsoft Exchange Server and Microsoft SharePoint Server for multiple users in an organization. In the past, Microsoft Outlook had a very bad security reputation, but Microsoft took many corrective steps to fix it, and most security experts agree that Microsoft Office is now on par with other popular desktop email clients.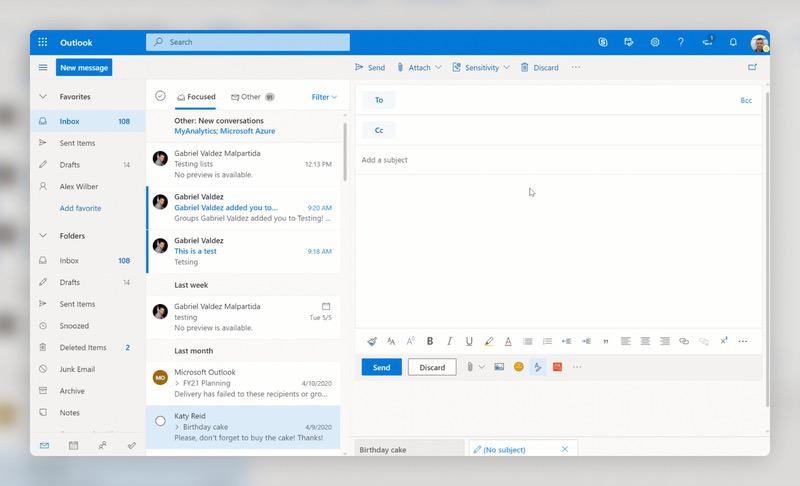 What makes Microsoft Office one of the best email clients for Windows 10 and 11 is the wide range of features it offers. You can go beyond the basic email tasks and manage your calendar, share meeting times, schedule meetings with colleagues, and get reminders. Microsoft Office is also available on mobile devices, so you can remain productive no matter where you are.
Keep in mind that Microsoft Outlook and Outlook.com are two separate products. The former is one of the best Windows 10 email clients, and the latter is a free email service that looks and files like Microsoft Outlook.
👍🏼 Pros:
Integrates flawlessly with Microsoft products
Does everything you could possibly want it to do
👎🏼 Cons:
Offers an overwhelming number of features
Not cheap unless you have an educational license
Price: Free
First released in 2003, Thunderbird is hands down the best free email client for Windows 10 and 11. This free, open source, and cross-platform email client developed by the Mozilla Foundation is available in 59 languages and is built on a stable foundation provided by the Firefox web browser.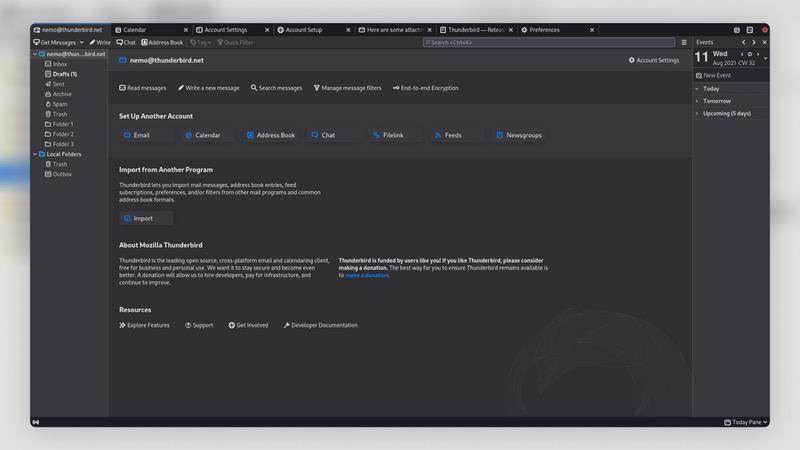 Thunderbird supports themes and extensions, so you can make it your own, and it includes a newsgroup, news feed, and chat (XMPP, IRC, Twitter) client to help you manage all your communications needs from a single place.
👍🏼 Pros:
Open source
Portable
Support for news feeds and chat
👎🏼 Cons:
Stagnating development
Feels dated
Price: one-time purchase of $49.95
Available for Microsoft Windows and macOS, eM Client is an extremely capable email client that has been in development since 2006. Its target audience are individual users and businesses that have a use for an email client with calendar, tasks, contacts, and chat.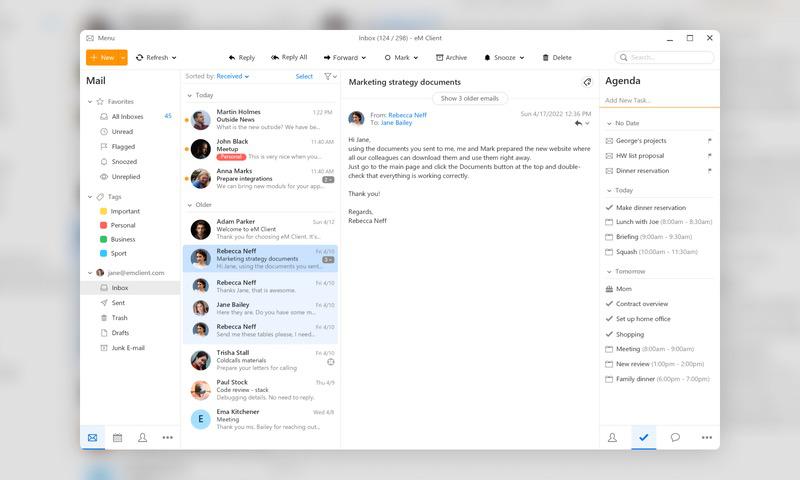 Recently, the developers of eM Client added support for PGP encryption, allowing users to create and import their PGP keys to send encrypted and signed email messages. In addition to PGP encryption, eM Client can also offer live email backups, automatic avatar downloading, improved table editor, basic image editing, and auto-replies for Gmail, among other features.
eM Client is available in two different editions. The free edition is unfortunately very limited because it can't be used for commercial purposes or display emails from more than two email accounts at once. To unlock all features eM Client has to offer, you have to purchase the Pro edition for $49.95. If you own an older version of eM Client, you can purchase an upgrade license instead of buying the Pro version again.
If there's something we can criticize about eM Client, it's the lack of polish that becomes apparent after you use the email client for a while. Some features could be made a lot more intuitive, and there's no excuse for the occasional crashes considering how long eM Client has been in development.
👍🏼 Pros:
Exchange functionality
Dark theme available
Support for email filters
👎🏼 Cons:
Consumes a lot of memory
Feels unpolished
Prone to random disconnects
Price: $0 for the Community Edition and $4 a month for the Pro Edition
Rambox isn't a traditional email client. Instead, it's a productivity suite whose purpose is to help its users organize their workspace by managing multiple applications from a single place. Like most people, you probably keep one tab open with email, another tab with your messenger app of choice, and one more tab with a calendar. On top of that, you rely on dozens of other online apps that you open and close as you need them. Wouldn't it be simpler to have them all in one place, accessible with a simple click?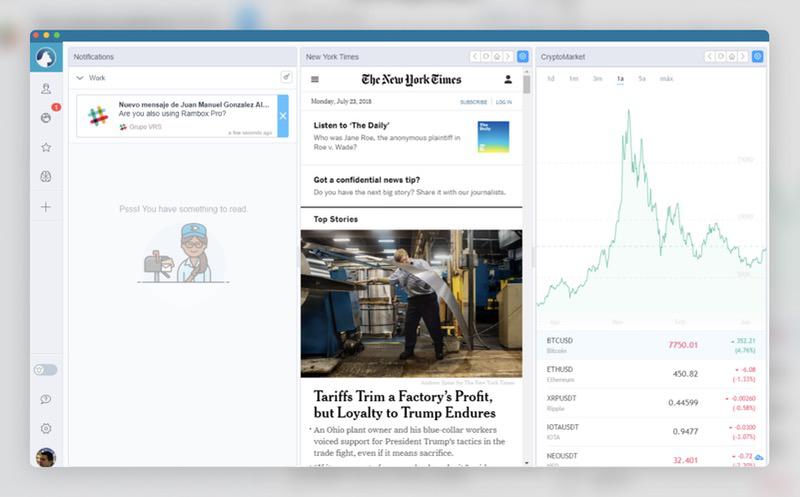 Once you have installed Rambox on your Windows computer, you can simply add all your applications and organize them in groups. At the time of writing, Rambox supports over 600 different applications, including all major email clients, instant messaging and social apps, calendar and scheduling apps, and project management tools.
To take your productivity to the next level, Rambox lets you choose the time you want to receive and prevent notifications so you can work undisturbed when you want to work and handle incoming emails and messages when you have time for them. The Pro version of Rambox, which costs $8 a month, offers a mobile view that allows you to use the mobile version of each app you add to Rambox. This can be helpful when you want to access a certain mobile-only feature from your desktop computer.
👍🏼 Pros:
Provides a unique way to organize your workspace
Easy to usee
Cross-platform
👎🏼 Cons:
Doesn't offer a unified inbox
Isn't suitable for heavy email users
Price: $8 a month for the Pro version
There's a noticeable lack of beautifully designed email clients, such as those that are available to macOS users. Fortunately, there's Mailspring, a cross-platform email client that respects modern usability principles and doesn't make simple tasks unnecessarily complicated.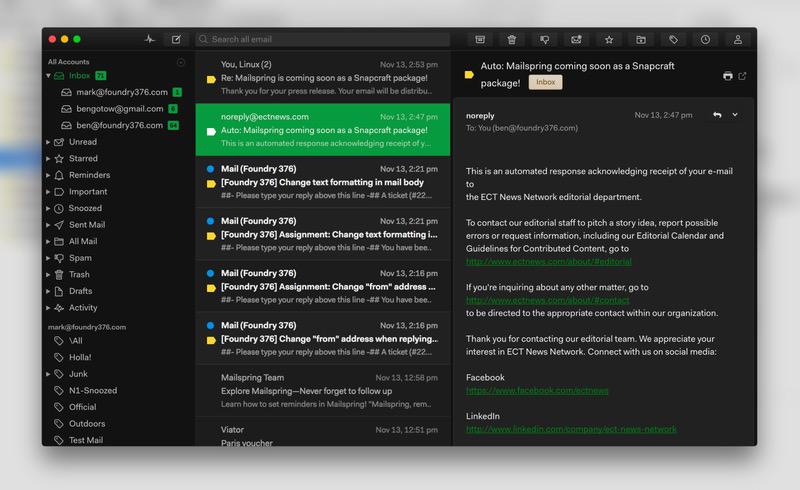 You can use it to access all IMAP/SMTP email services (Gmail, iCloud, Office 365, Outlook.com, Yahoo!, and others) you rely on and conveniently see all emails from them displayed in a single unified inbox. Even if you have tens of thousands of emails, the advanced search feature will help you find the email you're looking for thanks to its support for Gmail-style search queries.
Do you often receive emails in languages you don't speak? With Mailspring, you can translate them with a single click—no need to leave the email client. Mailspring itself has been translated into English, German, French, Spanish, Korean, Japanese, Chinese, Polish, and Brazilian Portuguese.
If you don't like Mailspring's default design, you can easily change it by choosing from a number of professional themes. To gain access to extra features, such as contact and company profiles, read receipts, link tracking, and quick reply templates, you will need the Pro version, which costs $8 a month.
👍🏼 Pros:
Beautifully designed
Touch and gesture support
Unified inbox
👎🏼 Cons:
Requires a Mailspring account
Stability issues
Poor performance optimization
Price: Free
Despite being one of the best email clients for Windows 10 and 11, Claws Mail is nearly 20 years old (first released in 2001). Unlike many other email clients that were around back then, Claws Mail remained in active development as an open source project. Yes, it's spartan design makes it feel outdated, but nobody can question its functionality and reliability.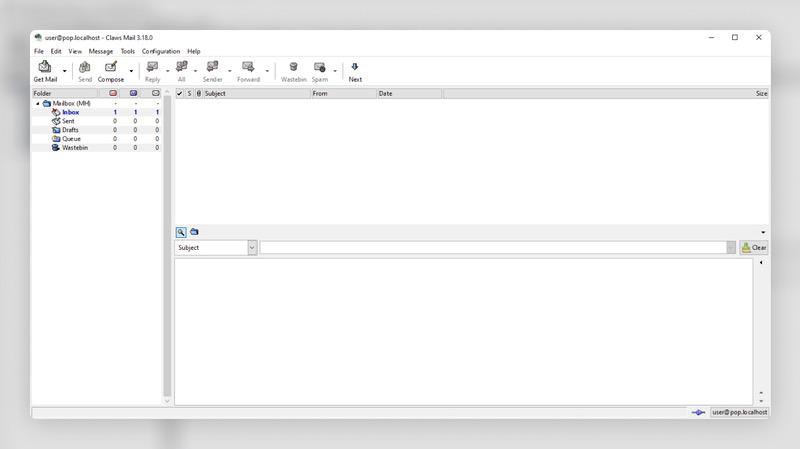 Claws Mail manages messages in the standard MH format for fast access and data security. It supports quick responses, themes, RSS feeds, and plugins, some of which are included in the standard Claws Mail package. The range of available plugins is truly wide, and you can use them to customize Claws Mail exactly to your preferences. For example, there's a plugin that enables the scanning of incoming mail received from a POP, IMAP, or LOCAL account using SpamAssassin, a plugin that enables the viewing of PDF and PostScript attachments, and a plugin that enables mail notification via LEDs on some laptops.
The best thing about Claws Mail, however, is the fact that you can download and use it for free. In fact, you can even customize its code if you wanted to.
👍🏼 Pros:
Open source
Easy configuration
Robustness, stability
How Clean Email Can Add Value to Email Management
Clean Email is a popular email cleaner that helps you take control of your mailbox.
💡 Note: Clean Email is not an email client. It is an email management tool that you can use along with your email client.
Thanks to its powerful algorithms, Clean Email can quickly analyze thousands of email headers (the app never downloads full emails) and sort your emails into easy-to-act-on groups. With a click of a button, you can remove, archive, label, or mark each group, so it doesn't take a long time to reach Inbox Zero.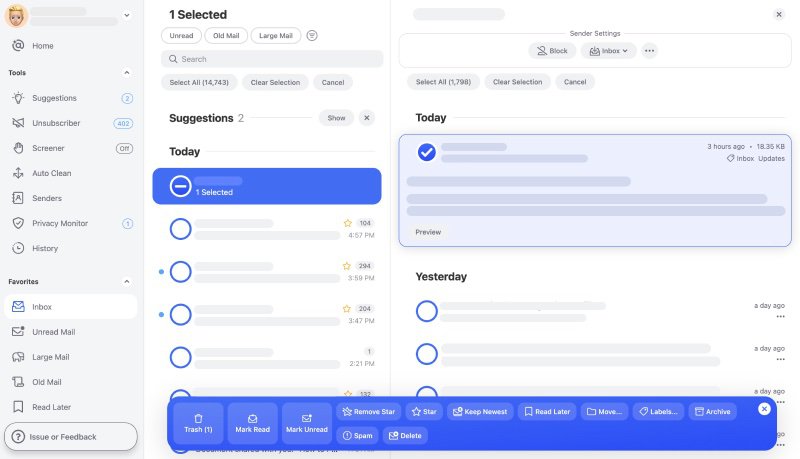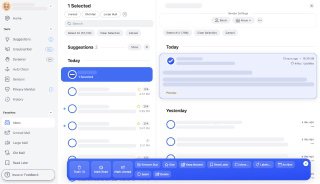 What's more, Clean Email comes with automation features that allow you to apply various actions to new emails without any manual work. For example, you can automatically label all emails from social media sites accordingly, you can mark all annoying forwards from your relatives as read, or you can delete old emails so they don't take up space in your inbox.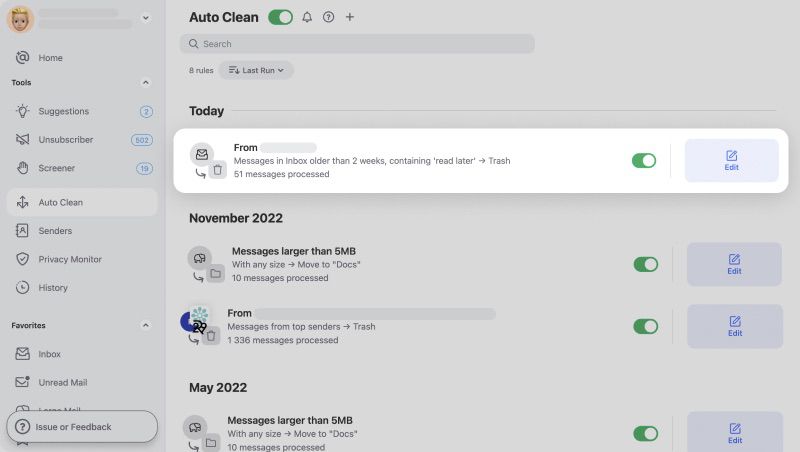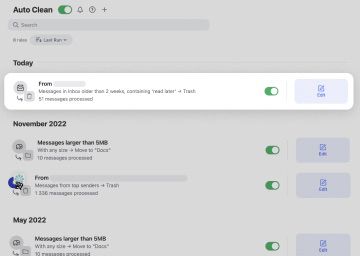 Creating automation rules is as simple as it gets, and the same ease of use also applies to the rest of Clean Email.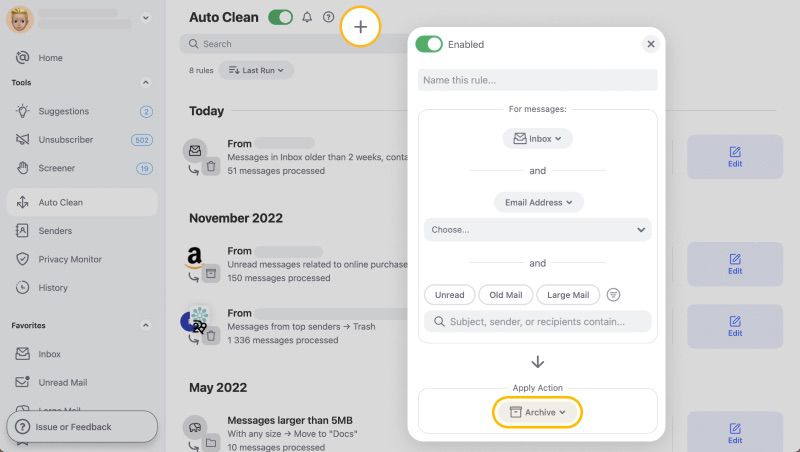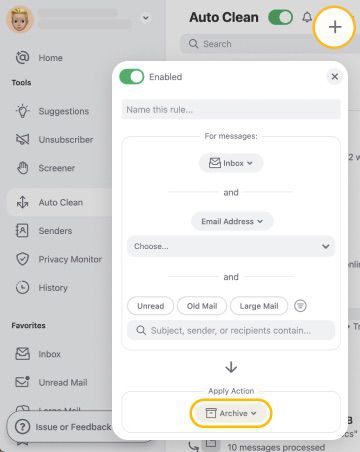 You can try the app right now for free to clean up to 1000 emails. Considering how much time Clean Email can save you every day—not to mention the opportunity cost of missed emails due to poor email management — it's clear that paying for Clean Email is one of the best decisions any email user can make.
Conclusion
Staying on top of incoming emails is not easy, but it can be much easier with the best email client for Windows 10. Best email clients make complicated things effortless, and they're indispensable if your goal is to achieve and maintain inbox zero. Besides using the best Windows 10 email client for your needs, you should also consider using Clean Email to take control of your mailbox and quickly organize thousands of emails with just a few clicks.