Price: $79 for a lifetime license
Most people today use more than one free or paid email service. If you count yourself among them, you should consider using Mailbird as your email client. With it, you can manage all your emails and contacts from multiple accounts easily in one unified inbox and enjoy integrations with apps like Facebook, Twitter, Whatsapp, Dropbox, Google Calendar, Asana, Todoist, and many others.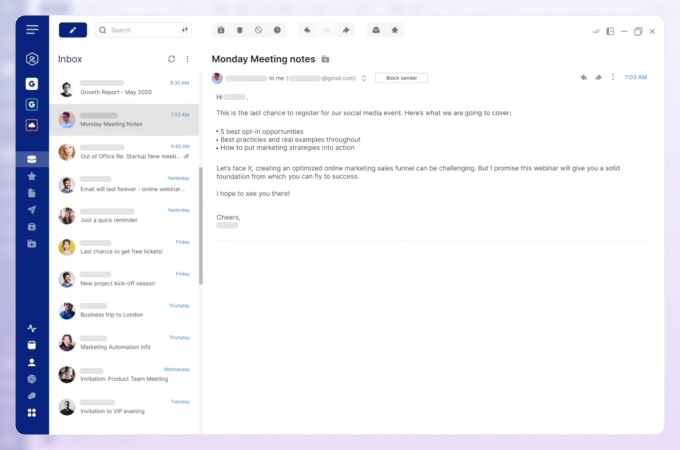 Because not all email messages arrive at the right time, Mailbird gives its users the option to snooze them for later, allowing them to focus on what needs to be done at the moment and come back to them later. Thanks to its integrated Speed Reader, you can understand the gist of long emails in no time.
If email is an essential part of your daily workflow, you'll appreciate Mailbird's intuitive keyboard shortcuts for archiving, composing, replying, forwarding, and many more activities. So far, Mailbird has been translated into 17 languages from all over the world, and its developers are committed to making its multi-language support even better.
Mailbird is heavily customizable, and its pricing models are suitable for everyone from individual home users, who can use it for free with certain limitations, to businesses. The free version of Mailbird can't be used for commercial purposes, and it lacks many useful features. For example, paying customers receive priority support, the ability to snooze emails for later, LinkedIn Lookup Feature, Exchange Mail support, and more.
Mailbird proves that the venerable email can be just as accessible and convenient as modern instant messaging services. Its flexible pricing structure makes it accessible even to home users who are on a tight budget, and its bulk discounts make it an attractive alternative to Microsoft Outlook for businesses that would like to empower their employees with a modern email management software solution.
Pros:
Heavily customizable.
Integrations with third-party apps.
Modern user interface.
Lifetime license available.
Cons:
Doesn't support inbox rules.