What is Email Management?
Email management entails efficiently managing and organizing emails to improve productivity and communication. With the widespread use of email as a primary mode of communication in personal and professional settings, effective email management becomes crucial to avoid overwhelming inboxes, ensure timely responses, and stay organized.
Critical aspects of email management include:
Inbox Organization
Email Filtering
Unsubscribe and Spam Handling
Prioritization and Time Management
Archiving and Deleting
Setting Email Boundaries
Using Templates and Canned Responses
Email Security
Collaboration and File Sharing
Mailbox Maintenance
However, not every email management tool offers all of these features. And even when they do, not every application performs all of these tasks effectively. So, instead of lumping every email management system together, we will tease apart the best email management software based on the functions you will benefit from the most.
For example, if you would like an email tool to handle your incoming correspondence, you need an email client. Gmail and Mailbird are examples of superior email clients, although there are many options available to users.
If you would like to process and organize emails en masse, you should consider an email management service like Clean Email or Sanebox. These tools help you quickly sort messages, program automations, remove spam, and more.
Businesses often need a solution to manage the high volume of customer emails they receive each day. In this case, customer service email management software like Freshdesk, Zendesk, and HelpScout are for you.
Finally, if you need software to manage your email marketing campaigns, email campaign management service like Mailchimp or SendGrid is a good solution.
How We Determined The Best Email Management Apps
No email management software is made to fit every single user's needs. However, people expect some basic features from the best email management apps.
When comparing dozens of email organization tools to develop our list of recommendations, we considered the following criteria:
Compatibility with a wide range of email services
Automated sorting, filtering, rules, and AI options
Email prioritization
Unsubscribe options
Attachment management
Scheduling and reminders
Privacy and security
Pricing
To determine all of this, we carefully compared lists of features for numerous tools, then tested each email manager app to ensure that it not only offered all of the features listed but that the user experience was genuinely worthy of earning a spot on this list. Therefore, you won't simply find another list compiled by merely copying and pasting the top search results for "best email management software," you'll see a list of carefully curated options based on first-hand experience.
The Best Email Management Software Reviewed
As we mentioned, not all email management apps work the same way. Therefore, we've broken down our top 10 recommendations based on whether they are an email client, a mailbox management tool, a customer support system, or made for marketing purposes.
Email management software apps:
Gmail — best automated message sorting
Mailbird — ideal for managing multiple inboxes
Outlook — great for programming inbox rules
Spark — best for large attachment sending
Email management tools and services:
Clean Email — perfect for filtering messages
Sanebox — good for set it and forget it sorting
Customer service email management software:
Freshdesk — ensures the right employee gets the email
Zendesk — ideal for sharing files with customers
Email campaign management software:
Mailchimp — best for automation workflows for individual customer journeys
SendGrid — powerful API makes customization a breeze
The 4 Best Email Management Software (clients)
If you're looking for the best email client to use, these email management apps offer robust features that help you achieve Inbox Zero and save time when responding to messages.
📌 Tip: If you also want to visualize your email activity and get easy-to-read metrics on how many emails you send or receive in a given day or view your email traffic based on hours of the day and days of the week, you can use EmailAnalytics alongside any of the below-mentioned email clients.
1. Gmail
Price: Free; Business plans start at $6/month
Gmail is by far one of the most popular email services out there. It is user-friendly and feature-rich, and its constant updates and improvements continue to make it a preferred choice for millions of users worldwide.
One notable benefit of Gmail that we like is the powerful email organization features it offers. The service includes built-in machine learning algorithms that automatically sort and categorize emails into different tabs, such as Primary, Social, Promotions, and Updates.
You can customize these tabs and create rules to sort emails into specific labels or folders, simplifying the inbox management process. What's more, you can use the Priority Inbox feature to focus on the most important messages, which Gmail determines for you based on how you interact with messages over time.
💡 Note: Unfortunately, Google does not offer a standalone desktop client specifically for Gmail. The most common way is to use Gmail through a web browser, by visiting mail.google.com.
Another major strength of this email manager app is its automations. With Gmail, you can schedule emails to send at specific times and get automated reminders for important messages you need to respond to by a certain time. Also, the app simplifies unsubscribing from unwanted messages by offering an automated "Unsubscribe" feature.
Unfortunately, one potential downside we noticed is Gmail's attachment size limit. You can only send and receive attachments of 25MB or less within the email software. You can work around this by saving files to Google Drive and sending them that way, but it isn't always the most convenient option, especially if you are sending it to someone who doesn't use Google Drive.
That said, Gmail is a great email management tool in terms of user privacy and security. It incorporates encryption to protect emails during transit and while stored on Google's servers. It also offers two-factor authentication (2FA) to add an extra layer of security to user accounts. Google has implemented robust measures to prevent spam and phishing emails from reaching users' inboxes, reducing the risk of falling victim to online scams.
👍🏼 Pros:
Free accounts are available.
Compatible with virtually any device.
Many organization and sorting options.
Easy to unsubscribe from unwanted emails.
👎🏼 Cons:
Doesn't support large file attachments.
Some features require lots of manual work.
2. Mailbird
Price: $79 for a lifetime license
Most people today use more than one free or paid email service. If you count yourself among them, you should consider using Mailbird as your email management software. With it, you can manage all your emails and contacts from multiple accounts easily in one unified inbox and enjoy integrations with apps like Facebook, Twitter, Whatsapp, Dropbox, Google Calendar, Asana, Todoist, and many others.
Because not all messages arrive at the right time, Mailbird gives its users the option to snooze them for later, allowing them to focus on what needs to be done at the moment and come back to them later. Thanks to its integrated Speed Reader, you can understand the gist of long emails in no time.
If email is an essential part of your daily workflow, you'll appreciate Mailbird's intuitive keyboard shortcuts for archiving, composing, replying, forwarding, and many more activities. So far, Mailbird has been translated into 17 languages from all over the world, and its developers are committed to making its multi-language support even better.
Mailbird is heavily customizable, and its pricing models are suitable for everyone from individual home users, who can use it for free with certain limitations, to businesses. The free version of Mailbird can't be used for commercial purposes, and it lacks many useful features. For example, paying customers receive priority support, the ability to snooze emails for later, LinkedIn Lookup Feature, Exchange Mail support, and more.
Mailbird proves that the venerable email can be just as accessible and convenient as modern instant messaging services. Its flexible pricing structure makes it accessible even to home users who are on a tight budget, and its bulk discounts make it an attractive alternative to Microsoft Outlook for businesses that would like to empower their employees with a modern email management software solution.
👍🏼 Pros:
Heavily customizable.
Integrations with third-party apps.
Modern user interface.
Lifetime license available.
👎🏼 Cons:
Doesn't support inbox rules.
3. Outlook
Price: Free; $69.99/year for full features
Microsoft's email tool, Outlook, is widely used for email and personal information management. It offers a range of features to enhance productivity and organization, not to mention it is highly compatible with a variety of devices and email platforms.
Like Gmail, Outlook provides robust email organization features with automation capabilities. One of our favorite features is Outlook Rules, which you can set to automatically sort incoming emails into designated folders based on specific criteria like sender, subject, keywords, or recipients.
Outlook also offers a "Focused Inbox," which automatically separates important emails from less critical ones, ensuring users focus on what matters most, which is another amazing feature for users who receive large quantities of messages per day.
Outlook also offers many nice integrations with other Microsoft products, which is a unique feature that helps it really stand out from other email software. The calendar integration is particularly beneficial, as you can create and manage events and tasks based on emails you receive. You can even share your calendar with colleagues or family members.
Unfortunately, Outlook limits file attachments to just 20MB, and it doesn't play well with attachments that come from Google. However, it does integrate with OneDrive, making it easy to save attachments to the cloud and access them later.
Outlook, much like Gmail, includes an unsubscribe feature that allows users to easily opt-out from mailing lists. However, this option is only available for messages where Outlook detects an unsubscribe link.
As a Microsoft product, Outlook places a strong emphasis on privacy and security. The email management tool incorporates encryption to safeguard emails during transmission and while stored on Microsoft's servers. Users can enable two-factor authentication (2FA) to add an extra layer of protection to their accounts. Microsoft regularly updates and patches security vulnerabilities to ensure a secure email experience for users.
👍🏼 Pros:
Outlook Rules make it easy to automate inbox tasks.
Easy to integrate with Microsoft OneDrive and calendar.
Strong emphasis on security and privacy.
👎🏼 Cons:
Doesn't support large attachments.
Not all features are included in the free version.
4. Spark
Price: Free - $6.99/month based on the plan you select
Spark is a feature-rich email client developed by Readdle, designed to provide users with a seamless and organized email experience across different platforms. It's a great option for those who are managing multiple inboxes simultaneously and want a single solution to host everything.
Spark is compatible with a wide range of mail services like Gmail, Outlook, Yahoo Mail, iCloud, and many others. It also offers support for IMAP and Exchange accounts, making it suitable for users with various providers.
Spark excels as an email organization tool through automation and AI-powered features. It utilizes smart algorithms to automatically categorize and sort emails into relevant sections, such as Personal, Notifications, Newsletters, and Pinned, based on content and sender behavior. Users can create custom rules and filters to further automate inbox management, ensuring a clutter-free mailbox.
Also, like other popular email software, Spark simplifies the process of unsubscribing from unwanted email lists. The app detects newsletters and promotional emails and offers an easy one-tap "Unsubscribe" option directly within the message, making it convenient for users to manage their subscriptions.
Unlike mainstream message providers like Gmail and Outlook, Spark lets users send attachments up to 2GB. Additionally, Spark seamlessly integrates with cloud storage services like Dropbox and Google Drive, allowing users to send and receive large attachments without hitting email size limits.
Spark integrates a built-in calendar, and you can set reminders and snooze emails to deal with them at a more convenient time. It's also able to sync with calendars from Google, Outlook, and iCloud.
👍🏼 Pros:
Variety of AI-powered organization features.
Supports attachments up to 2GB.
Connects with Google, Outlook, and iCloud calendars.
👎🏼 Cons:
Subscription is needed for most features.
The 2 Best Email Management Tools and Services
Although email clients have come a long way, not all of them provide the right tools and features to really help you follow the recommended email management tips that keep your inbox under control. Luckily, that's where our recommendations for the best email management tools come in: they give you complete control over your inbox and even provide automation capabilities that take email management off of your plate completely.
1. Clean Email
Price: Free for cleaning up to 1000 emails, Subscription
Clean Email is an easy-to-use yet potent inbox management application that can help you reach Inbox Zero quickly. It works with all popular mail service providers and reduces the tiresome task of inbox cleanup to a few simple clicks. By grouping related emails into easy-to-manage bundles, the app allows you to organize your emails with ease.
With Clean Email, you can completely automate the management of your emails by configuring the application to perform various inbox management tasks for you. If you sometimes struggle to defend your inbox against unwanted subscriptions, you can take advantage of Clean Email's Unsubscriber feature to make sure that newsletters, unwanted subscriptions, and other junk emails won't show up in your inbox ever again.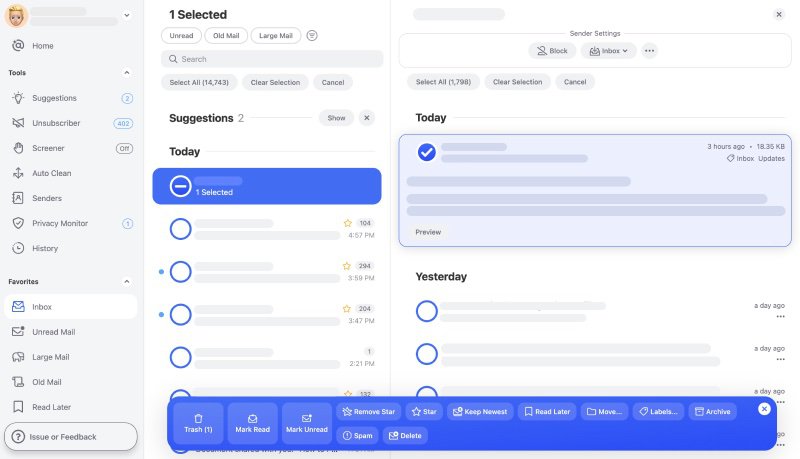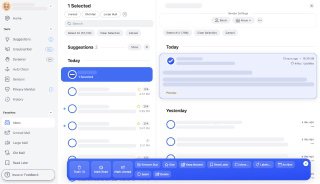 Furthermore, Clean Email makes message prioritization a breeze thanks to its flexible filters and advanced grouping features. You can use filters to narrow down the list based on many criteria, including sender, status, age (how long ago you received it), and email/attachment size. You can also let the app do the work for you and use one of many predefined filters (called Smart Folders) and see all emails that meet the specified criteria.
Unfortunately, Clean Email is not an email client, meaning you can't send or reply to messages within the app. However, because of the dozens of organization tools it offers, it can be the perfect companion to Gmail, Outlook, or any other provider. This way you can still use the features of your email client you like, while also adding an arsenal of new features to help you manage your inbox.
Clean Email also prioritizes security and your privacy. The app only collects what it needs to help you organize your messages, and it does not read or store any of the contents within your messages. Everything remains encrypted, your data is never sold or shared with a third party, and you can remove access to your inbox at any time. With Clean Email, you're in control always.
👍🏼 Pros:
Unique features: Unsubscriber, Screener, Sender Settings, Privacy Monitor, and more.
You can test all premium features for free.
Automatic email management.
Maximum security.
Works with all IMAP accounts, including Gmail, Outlook, and Yahoo.
Dedicated apps for iOS, Android, and Mac.
👎🏼 Cons:
Doesn't have a desktop app for Windows users.
Doesn't support sending messages.
2. SaneBox
Price: starts at $7 a month
SaneBox presents a unique approach to inbox management. It connects to your mail account and creates multiple folders, which it uses to automatically organize your emails. The SaneLater folder is meant for distracting emails, the SaneNews folder is for newsletters, and the SaneCC folder is for CC'd emails.
All you need to do is check your SaneBox folders once in a while with any email client and correct any mistakes made by SaneBox. The biggest advantage of this approach is that you don't have to learn how to use a new application—everything happens in your email service.
Because SaneBox has been helping users defeat spam since 2010, its algorithms have become very proficient, and their accuracy is excellent. When they make a mistake, you can easily correct it with just a few clicks.
SaneBox starts at $7 a month, but you can save a lot of money by purchasing a yearly or bi-yearly subscription. Students, non-profits, and government agencies can get 25% off by reaching out to SaneBox customer support during their free trial. Regardless of which plan you choose, you can cancel it at any time.
👍🏼 Pros:
No need to learn a new application.
Reputable email manager app.
Great results.
👎🏼 Cons:
Its unique approach isn't for everyone.
The Best 2 Client Service Email Management Software
Even a small business receives dozens of customer support messages per day. Unfortunately, those messages can easily get lost if they're going straight to your Gmail or similar. These options are our top recommendations if you need a customer service-focused email management service.
1. Freshdesk
Price: Free trial available; starting at $15/user per month
Freshdesk is by far one of the most popular customer support help desk email management systems. Most people love it because it is widely compatible with email providers, can integrate multiple accounts, and offers a range of features to efficiently manage support tickets. In fact, businesses of any size can benefit from Freshdesk.
The biggest benefit Freshdesk provides to its users with a robust email organization tool and automation options. As our testing showed, the software employs AI-powered automation to automatically sort, categorize, and route incoming support emails to the appropriate teams or agents based on predefined rules and criteria. This automation streamlines the ticketing process and ensures that inquiries are addressed promptly by the relevant team members.
Furthermore, Freshdesk allows users to prioritize support emails efficiently. The platform automatically assigns priority levels to incoming tickets based on predefined rules like keywords, requester type, or urgency. This feature ensures that critical issues receive immediate attention and resolution.
However, one major flaw with Freshdesk is its lack of spam prevention measures and removal tools. The system does not have an "Unsubscribe" feature for emails, nor does it use a sophisticated spam filtering system like some other apps may provide. We also noticed its lack of scheduling capabilities, meaning you can't use the system for marketing blasts and support tickets.
That being said, Freshdesk does adhere to industry-standard security practices, including data encryption, secure transmission of information, and access controls. Additionally, Freshdesk complies with data protection regulations to ensure the safety of sensitive customer information, which can be very important for certain types of businesses.
👍🏼 Pros:
Supports multiple users and provides collaborative features.
Provides automation options for assigning emails to the right person.
Security features protect data within messages.
👎🏼 Cons:
No spam or unsubscribe features.
No calendar integration.
2. Zendesk
Price: Starting at $19/month per agent
Zendesk is another leading customer service and support platform that offers a comprehensive set of features to help businesses manage customer inquiries and support tickets efficiently. It supports various email providers and can integrate with multiple mail accounts, allowing businesses to centralize their customer support communications and manage emails from different sources within the platform.
As our testing proved, Zendesk excels in email organization with powerful automation capabilities. It can automatically sort, categorize, and route incoming support emails to the appropriate departments or agents based on predefined rules and keywords. This automation simplifies the ticketing process and ensures that customer inquiries are addressed by the right teams promptly.
Furthermore, Zendesk supports email attachments, meaning you can easily receive screenshots and other attachments from customers or send them attachments with directions, shipping labels, or other helpful pieces of information. However, it is not designed for email marketing, so it does not offer opt-out features or similar anti-spam measures. It also doesn't let you schedule messages to send at ideal times.
That said, Zendesk places a strong emphasis on privacy and security. It implements industry-standard security measures, including data encryption, secure transmission of information, and access controls. Additionally, Zendesk complies with data protection regulations to safeguard sensitive customer information.
👍🏼 Pros:
Compatible with a variety of email clients and other business tools.
Provides automation options for assigning emails to the right person.
Security features protect data within messages.
👎🏼 Cons:
No spam or unsubscribe features.
No calendar integration or scheduling capabilities.
The Best 2 Email Management Software and Services for Email Campaigns
Most email clients are great for sending quick messages to one or two people. However, they are not ideal for sending carefully crafted email campaigns for your business. Luckily, the tools below are designed to do exactly that. They are not the best email manager apps in terms of inbox management, but they are good for marketing and transactional messages, as you'll see below.
1. Mailchimp
Price: Free base plan; plans with all features start at $13/month
Mailchimp is a popular email marketing platform that provides a comprehensive set of features to help businesses manage their email campaigns and engage with their audience effectively. It supports various email providers and can be integrated with different email marketing tools, making it versatile and accessible as an email management service.
One of Mailchimp's major perks is its automation workflows because they let you create automated emails based on individual customer behaviors, triggers, or specific events. These workflows can include automated sorting, filtering, and personalized content delivery, ensuring that subscribers receive relevant emails based on their preferences and actions. It also gives you the ability to segment your subscriber lists and target specific groups based on criteria like engagement level, purchase history, or demographics.
Furthermore, Mailchimp includes an easy-to-use "Unsubscribe" feature for email marketing. When recipients click the unsubscribe link in marketing emails, Mailchimp automatically removes them from your mailing list, ensuring compliance with anti-spam regulations and helping you maintain a clean and engaged subscriber list.
Unfortunately, Mailchimp is not meant to be an email client, so it is missing many of the notable features we have mentioned about other email management tools. That being said, Mailchimp does give you complete control over scheduling when your messages are sent and provide reporting metrics on open rates, click rates, and other data about customer behaviors.
Mailchimp also takes privacy and security seriously. It implements industry-standard security measures, including data encryption, secure transmission of information, and access controls, to protect customer data. Mailchimp also complies with data protection regulations to safeguard sensitive information and maintain user trust.
👍🏼 Pros:
Great scheduling capabilities for marketing emails.
Includes required anti-spam measures.
Easily integrates with most systems.
2. SendGrid
Price: Free version available; pricing starts at $15/month for paid plans
SendGrid is a reliable email management system designed for businesses and developers to send transactional and marketing emails efficiently. While it may not have traditional email organization or prioritization features, its focus on email delivery performance and robust API capabilities make it a valuable tool for businesses seeking a seamless email delivery solution. It is compatible with various email services and easily integrates with multiple programming languages, frameworks, and email clients, making it suitable for developers and businesses with diverse email needs.
Because SendGrid primarily focuses on email delivery, it is not set up to offer mail organization features like automated sorting, filtering, or rules. In fact, it's not even an email client by default. However, developers can implement custom email organization tool logic using SendGrid's API and webhooks to manage incoming email responses if needed. Otherwise, you can easily reroute responses to marketing emails sent through SendGrid to go to your primary inbox or a location like Freshdesk or Zendesk.
Although it's the inverse of what we traditionally think of regarding unsubscribing, SendGrid provides an unsubscribe feature so businesses can comply with anti-spam regulations and provide recipients with a straightforward way to opt-out from receiving marketing emails.
Where SendGrid really shines, however, is in its scheduling capability. SendGrid offers an email scheduling feature that allows businesses to send emails at specific dates and times, ensuring that messages reach recipients at the most appropriate moments. You can even use the app's built-in performance metrics (open rate, click rate, etc.) to adjust your scheduling and maximize returns based on your email list.
👍🏼 Pros:
Great scheduling capabilities for marketing emails.
Includes required anti-spam measures.
Easily integrates with most systems.
Benefits of Using Email Management Software
Using email management software offers numerous benefits for individuals and businesses alike. Some of the key advantages include:
Improved Organization: Email management software helps users organize their emails more efficiently. With features like folders, tags, labels, and automated sorting, users can easily categorize and prioritize emails for quick access and better workflow.
Time Savings: Automated filtering and sorting features save time by reducing the need to manually process and organize emails. This allows users to focus on more important tasks and respond to critical emails promptly.
Enhanced Productivity: By streamlining email organization and providing easy access to important messages, email management software boosts productivity. Users can navigate their inbox more efficiently, ensuring no important emails get overlooked.
Better Email Prioritization: Many email management tools offer prioritization features, allowing users to identify and address high-priority emails first. This ensures that critical communications receive prompt attention.
Reduced Email Clutter: Automated unsubscribe features and spam filtering help reduce inbox clutter by removing unwanted and irrelevant emails, leading to a cleaner and more manageable inbox.
Attachment Management: Email management software often includes features to handle attachments more effectively. Users can easily preview, download, and share attachments, avoiding clutter from large files.
Seamless Collaboration: Some email management tools offer collaboration features, enabling teams to work together on emails, share drafts, and coordinate responses more efficiently.
Email Scheduling and Reminders: Users can schedule emails to be sent at a later time, allowing them to compose messages when most convenient and have them delivered at optimal times. Reminders also help with follow-ups and important dates.
Privacy and Security: Many email management tools prioritize data privacy and security, implementing encryption and other protective measures to keep emails and sensitive information secure.
Centralized Communication: Email management software often integrates with other tools and platforms, allowing users to manage various communication channels from a centralized location, leading to better organization and collaboration.
Reporting and Analytics: Some tools provide reporting and analytics features, giving users insights into email performance, open rates, and click-through rates, which can help optimize email campaigns and improve communication strategies.
Conclusion
You don't have to be an email management guru to maintain a clean inbox. All it takes is a handful of good habits supported by an excellent email management software application such as the ones recommended above. The best part? You can mix and match any of the above-mentioned suggestions to really take your mailbox organization to the next level.
---
Best Email Management Software - FAQs
What is email management software used for?
Email management software can be used for a number of purposes. However, all uses revolve around giving users a more fitting and flexible hand in managing their mailbox from faster communications to email security. They are all within the scope of an email management tool.
What are the best email management apps for Mac?
There is no one size fits all when it comes to email management software. If security from sophisticated phishing attacks is what you need an email app for on your Mac, then we recommend SpamTitan. However, if you need a tool to help you manage email overload, then we recommend Clean Email inbox cleaner.
How to choose email management software for small businesses?
When looking for the best email management tool for small businesses, ensure to have a budget. As a small business, you don't want to spend so much on an email tool. Look for a tool on a budget while considering its effectiveness. Ensure to look for public reviews of various tools before making a final decision.
What software is needed to send an email?
You can use a desktop mail client such as Mailbird, Mailspring, or Postbox. If you would like to manage your mail accounts on your mobile device, some of the apps you can use are K-9 Mail, Edison Mail, or Triage.