10 Best Email Software in 2023
We've rounded up the best email software for Mac and Windows and here are ten email client software applications we liked the most.
Price: Free or $3.25 a month for Mailbird Personal
Even though Mailbird is only available for the Windows operating system, it was actually inspired by email client software for macOS, the Sparrow email client. Sparrow was eventually acquired by Google, but its no-frills user interface that emphasized usability over features has made a huge impact on many developers, including the team behind Mailbird.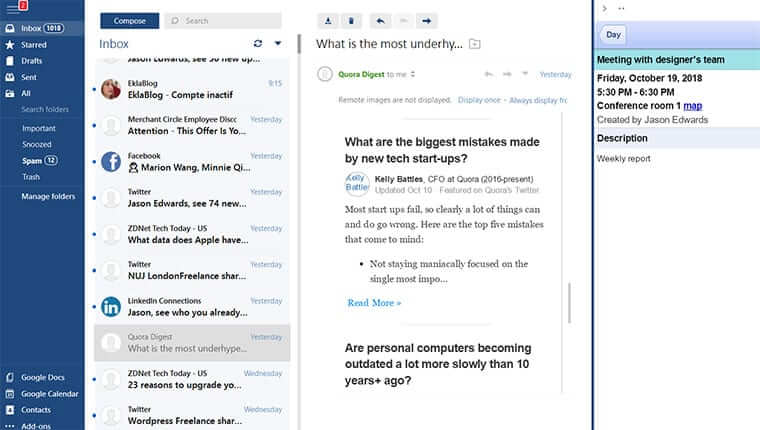 Mailbird was first released in 2013, and its second, and so far the latest, version launched in 2015. Soon after its release, Mailbird received a number of positive reviews praising its simple design, focus on speed, and integrations for Facebook, WhatsApp, Veeting Rooms, and more.
The main selling point of Mailbird is its unified inbox, which allows you to see emails from many different inboxes on a single screen as if they were all stored inside a single inbox. You can customize the look of Mailbird and choose from dozens of astonishing layouts and color themes. Mailbird is free to download and use, but the paid version of this excellent free email software offers more features and is definitely worth paying for (learn more about how Mailbird filters work).
👍🏼 Pros:
Modern user interface
Attractive design
Third-party integratons
Great performance
Customizable
👎🏼 Cons:
Limited email automation capabilities
Price: Free or $49.95 for eM Client Pro
eM Client is more than one of the best email software applications in 2023. This excellent free email software offers a calendar, tasks, contacts, and even chat, giving you all the tools you need to manage your online and offline life. You can import emails from all major online email services, including Gmail, Exchange, and iCloud, and eM Client can also import an existing configuration from an external source, such as Microsoft Outlook.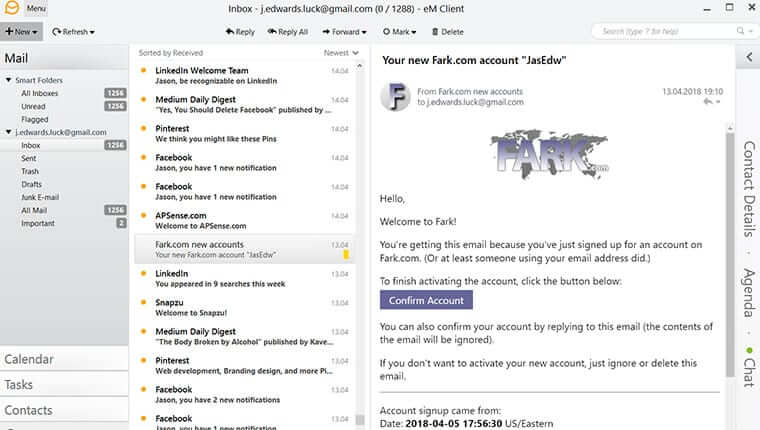 Just because eM Client can do everything from email to task management to chat doesn't mean you must use it the way it's set up by default. You can customize eM Client however you want and change its appearance and even behavior to suit your needs. Multiple customizable themes ship bundled with eM Client, and many more are available from the community.
eM Client is fully optimized for touch, so it works great even on modern devices such as tablets and hybrid devices. Because eM Client has an integrated bulk email software tool for backups, you won't lose your emails even if your email provider becomes compromised and you lose access to your email account.
👍🏼 Pros:
Works with most popular email providers
Integrated translation feature
PGP encryption support
Live email backup
👎🏼 Cons:
You can use the free version with only two accounts
Price: Free
Thunderbird is the most popular open source free email software application in the world. It runs on Windows, Linux, macOS, and FreeBSD. Thunderbird's strategy is modeled after the Firefox web browser, whose rendering engine, called Gecko, it uses to display emails.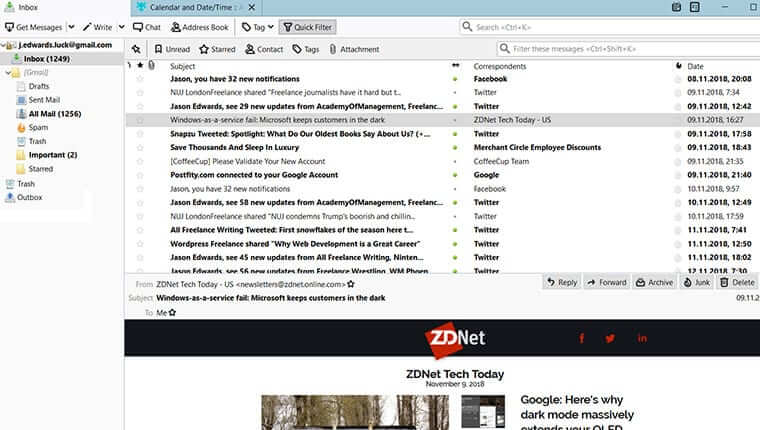 Thunderbird is loved by many because of how customizable and extendable it is. You can choose from hundreds of different themes and install countless powerful add-ons to add new features and change the behavior of Thunderbird.
For example, the Lightning add-on adds a powerful calendar that's fully integrated with your Thunderbird email, allowing you to organize your schedule, access remote calendars, and much more. Being an open source email client, Thunderbird is supported by its generous community and enterprise supporters.
👍🏼 Pros:
Completely free and open source
Supports extensions and themes
Highly customizable
Price: €19.95 for The Bat! Home or €39.95 for The Bat! Professional
The Bat! is a unique email software for Windows whose purpose is to protect your correspondence against third-parties. It supports end-to-end encryption to prevent even your email provider from reading your private messages, and it automatically blocks malicious code and tracking pixels that spread via email to protect you from email hacking.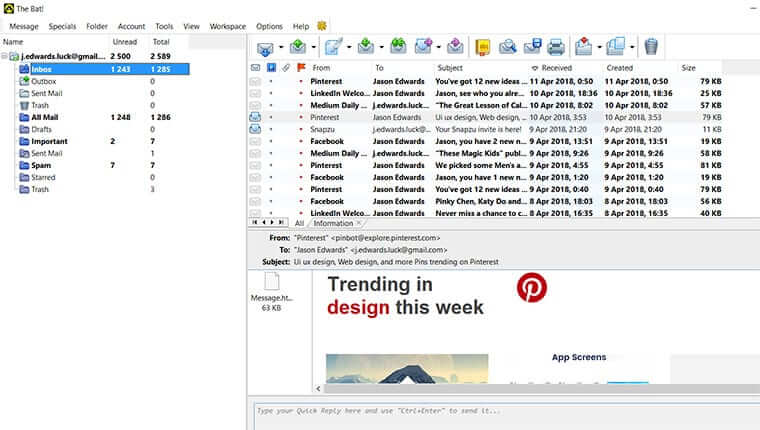 Apart from these unique capabilities, The Bat! is a fairly standard email software for Windows. You can use it to manage multiple IMAP4, POP3, RSS, and MAPI accounts from one place, compose and customize your messages, manage your contacts, and more. You can try The Bat! for up to 30 days without paying before you will be asked to purchase either The Bat! Professional for €39.95 or The Bat! Home for €19.95.
👍🏼 Pros:
Useful filters and templates
Highly secure
Support for multiple email accounts
👎🏼 Cons:
Outdated user interface
Takes a lot of time to learn
Price: $39 a year or $119 for a lifetime license
Hiri is one of the best email software applications for Windows, macOS, and Linux, and you can try it for up to 7 days without paying. The team behind Hiri wanted to create an email client that would be easy to navigate and wouldn't overwhelm its users with a myriad of unnecessary options and features. The result of their effort is Hiri, a streamlined email client with Exchange and Active Directory support.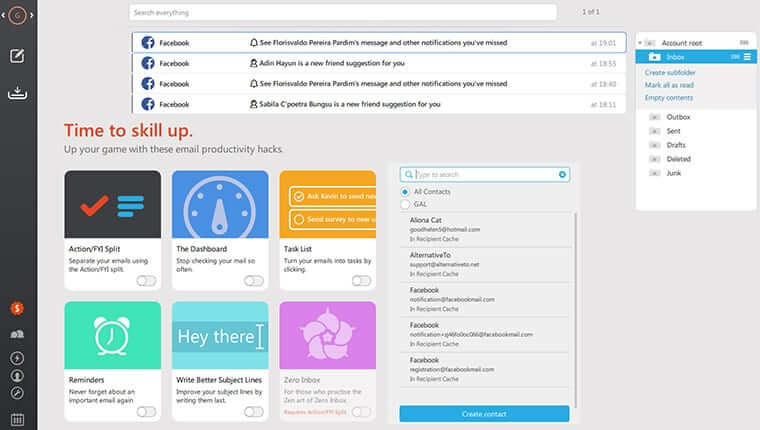 Hiri works even when you're not connected to the Internet, and it doesn't rely on any third-party services to process your email, contacts, tasks or calendar items, making it exceptionally safe and trustworthy. The premium version of Hiri is somewhat more expensive than other email software clients featured in this article, but we think it's worth paying for.
👍🏼 Pros:
Clutter-free email experience
Support for Exchange and Active Directory
Integrates a to-do list and calendar
Competitive price
👎🏼 Cons:
Only supports Microsoft email accounts
Price: Free or $6.39 per active user per month for Spark Premium
Spark is a modern email client for iPhone, iPad, Mac, and Android (Windows version is in development). What it brings to the table is a modern design and intelligent email prioritization. This email client software can recognize emails from real people and pin them to the top of your inbox so you won't miss them. Other emails, such as notifications and newsletters, can be archived in bulk with a single click.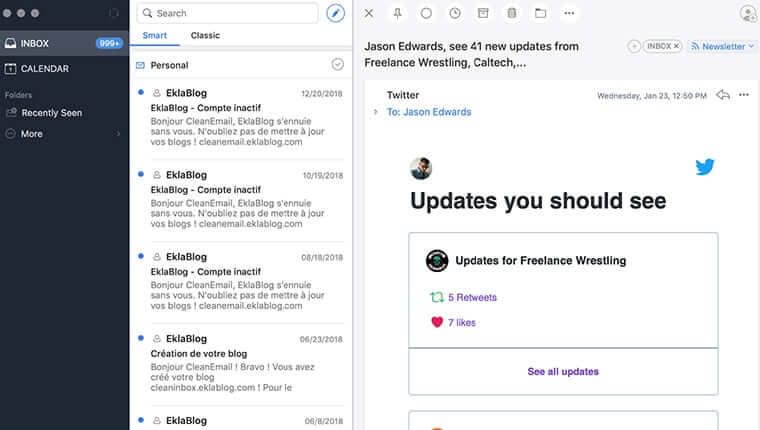 Spark's ability to recognize important emails also enables it to intelligently notify you only about emails from people you know, helping you remain productive throughout your day. If you receive an important email that you can't deal with at the moment, you can snooze it for later and handle it when you have more time.
For teams, Spark offers a number of collaborative features, including private team comments, shared drafts, and email templates. Multiple team members can compose an email message together, each contributing a certain section in real-time.
👍🏼 Pros:
Smart email prioritization
Team collaboration features
Natural search
Integrations with third-party services
Price: $19 for a 1-year license or $39 for a lifetime license
Postbox is a clean email client for Mac and Windows. Clearly inspired by Apple's approach to user interface design, it strives to be elegant, simple, and powerful. You can use it with any IMAP and POP3 email account, including Gmail, Yahoo, AOL, or Hotmail.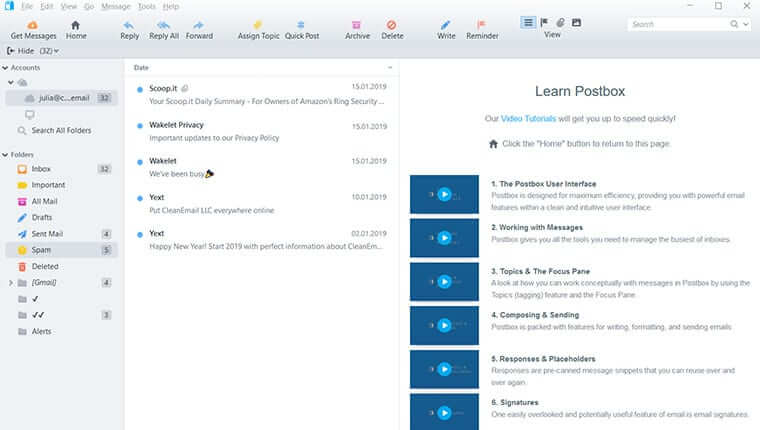 You can add an unlimited number of email accounts and group them any way you want. For example, you can group together your personal and work email accounts so that you can see all personal or work email with a single click. If you have a lot of folders, Postbox gives you the option to pin those that you use the most to the Favorites Bar for easy access.
When composing email messages, it's often useful to open multiple emails for reference purposes. Postbox makes this easy with its tabbed user interface, allowing to view inboxes, folders, and messages in tabs.
👍🏼 Pros:
Works with any IMAP and POP email account
Advanced privacy and security features
Tabbed user interface
Affordable lifetime license
Price: Free or $2.99 monthly/$9.99 yearly for Airmail Pro
Designed specifically for macOS, iOS, and watchOS, Airmail is a beautiful email client that doesn't fail to impress with its performance and features. You can use it with all your IMAP and POP3 email accounts (Gmail, GSuite, iCloud Mail, Exchange, Office 365, Microsoft Outlook, and others), and it doesn't really matter how many of them you add—Airmail will always maintain its performance and responsiveness.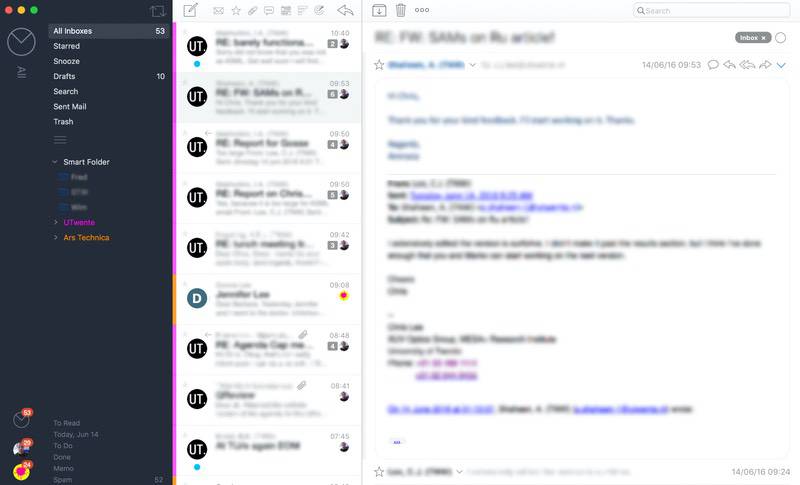 When managing multiple email accounts at the same time, it's important to effectively separate important emails from those that can wait. By default, Airmail displays emails from all inboxes at once with its unified inbox feature, but you can also switch to the so-called Smart Inbox when you want to see only the most important emails.
Many marketing emails these days feature hidden tracking pixels that track your behavior and send information about you to advertisers and various third parties. By activating Airmail's Privacy Mode, you can block all tracking pixels and prevent embedded images from loading automatically. Airmail users on iOS can add extra security by enabling Touch ID or Face ID and making it impossible for others to read sensitive email messages.
👍🏼 Pros:
Smart inbox
Privacy mode
Compatible with macOS, iOS, and watchOS
Price: Free
Claws Mail is a venerable open source email client that has been around since 2001. Since then, it has been ported to nearly every operating system, including Windows, macOS, Linux, BSD, and Solaris. The developers of this free email software intended to be lightweight and highly configurable, ideal for all kinds of email users.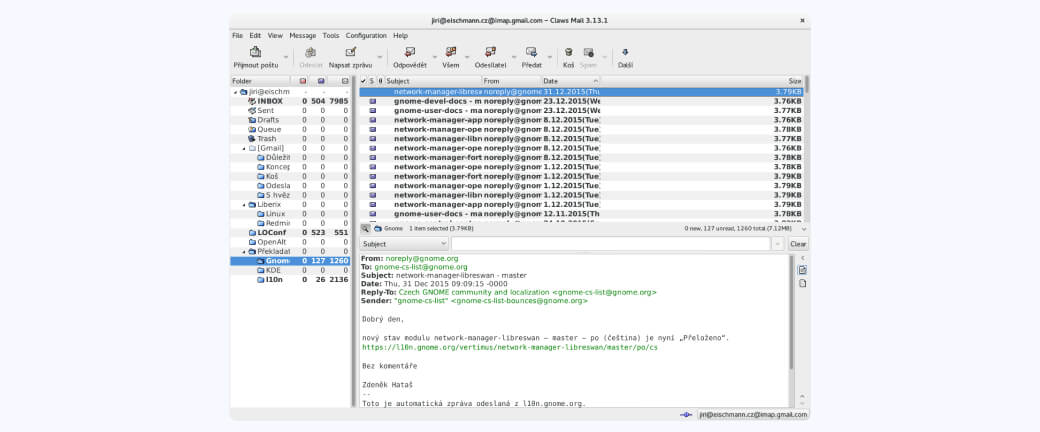 In its default configuration, Claws Mail offers support for quick responses, multiple email accounts, filtering, user-defined headers, templates, spell checking, and more. Extra features, such as an RSS reader or calendar, can be added using Claws Mail plugins, some of which can be found on its website, while others are scattered in GitHub repositories and other places on the internet.
For most email users, Claws Mail won't be their first choice because there are many other email clients with a much higher degree of polish. But if you use an alternative operating system, Claws Mail may just be the best email software for your use case.
👍🏼 Pros:
Multi-platform
Highly configurable
Lightweight
Support for plugins
Price: Free or $5.99 per user per month when billed annually for BlueMail Business
Looking for a modern email client that you can use on your personal Mac, your iOS or Android smartphone, and your work PC? Then stop looking because BlueMail is exactly the right email client software for you.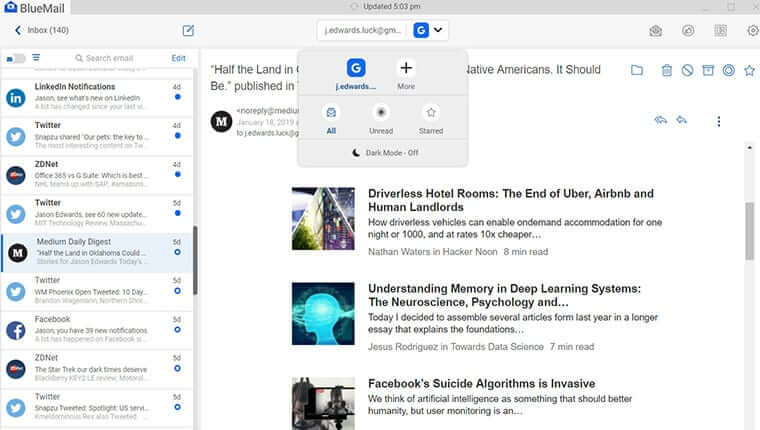 Despite offering a ton of options, BlueMail surprises with its intuitive configuration options and effortless inbox set up. All you need to do to add a new email account is log in with your email address and password, and BlueMail will automatically figure out the most optimal settings for you.
BlueMail introduces a people-centric approach to email organization, allowing you to aggregate all emails from a single sender together with a click on the People Switch. In addition to emails from real senders, BlueMail can also cluster together emails from machines, services, and newsletters, helping you keep your inbox clean and organized.
👍🏼 Pros:
Runs on Windows, Mac, Linux, Android, and iOS
Free plan
Integrated calendar
Smart email grouping
👎🏼 Cons:
Its layout takes some time getting use to
How Clean Email Can Help
While Clean Email isn't an email client, it's among the best email software to use in 2023. This popular bulk email software can intelligently analyze your mailbox and group all emails it finds into easy-to-review bundles.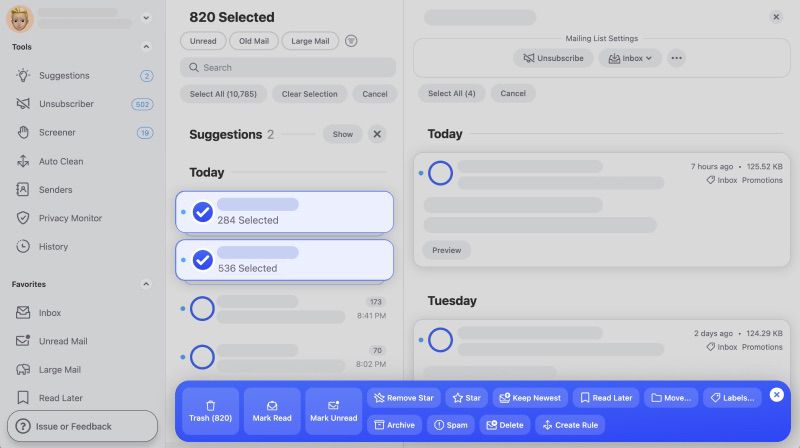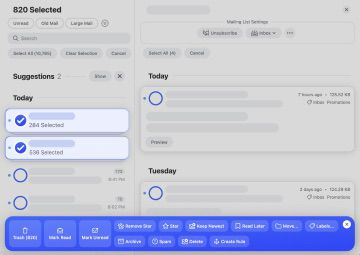 For example, Clean Email can recognize email from social media websites, online stores, or financial institutions and put them on several corresponding piles. You can then move, delete, archive, mark, or label whole bundles of emails, instead of having to manage emails individually.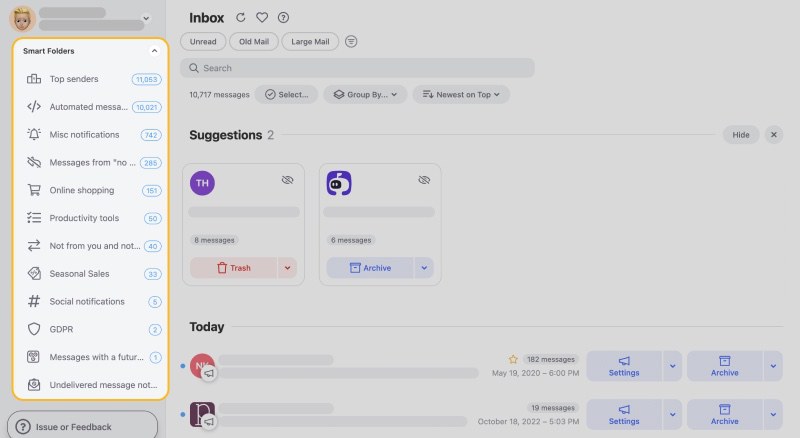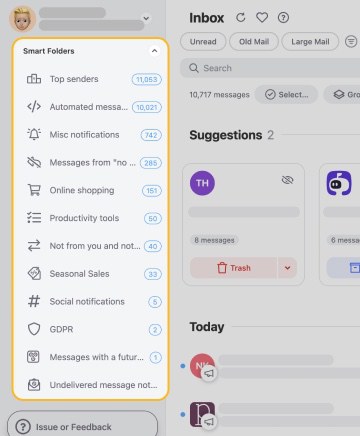 What's more, Clean Email can also automate email management for you thanks to its automation features. With the Auto Clean feature, you can apply any action to new emails coming to your mailbox without any manual work. If you spend just 10 minutes every day on email management, imagine how much time Clean Email can save you in a year.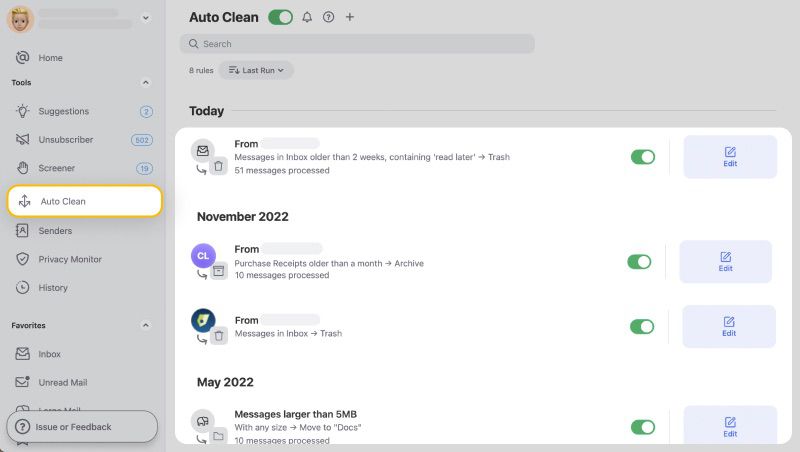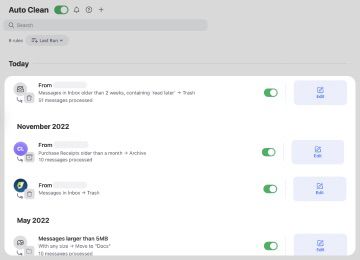 Conclusion
Learning how to use the best email software in 2023 is among the best investments you can make if you're sick and tired of wasting hours every week on email management and would like to spend your time more productively.