The Best Email Cleanup Tools
Our favorite email cleanup tools have to be Clean Email, Mailbird, and Sanebox. Sanebox is good for those wanting to work with a variety of email clients and wants their email sorted based on past interactions with your inbox. This tool splits your emails into three folders and allows you to decide later which is important in order to train the Sanebox filter (check out what the best alternative to Sanebox is and why).
Mailbird is limited to Windows users, but still worth trying. Organize your email, calendar, tasks, and messages all in one tool. Not many productivity tools are able to do this with as much ease.
Clean Email is an excellent way to keep your inbox organized. This productivity tool has a variety of Smart Folders to place your emails in. These Smart Folders include Travel, Finance, Subscriptions, and more. With one click you can have your inbox instantly organized in the way you see fit.
1. Clean Email (Web, Android, iOS)
Price: Freemium (a premium subscription available)
Clean Email is the best email tools because it can transform a messy inbox with thousands of unread emails into an organized one with just a few clicks.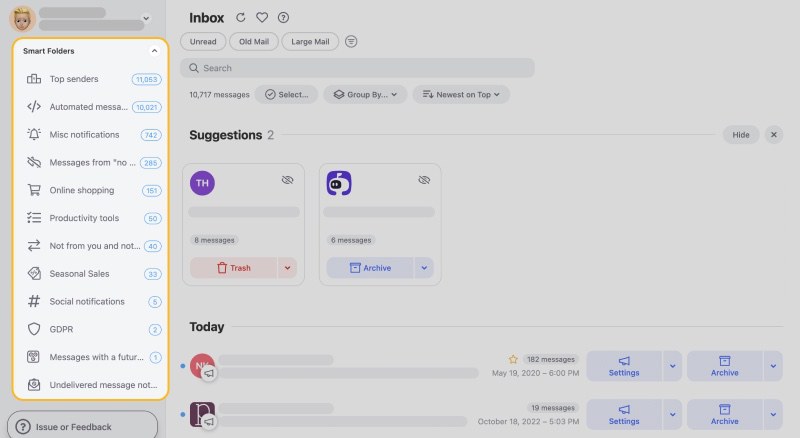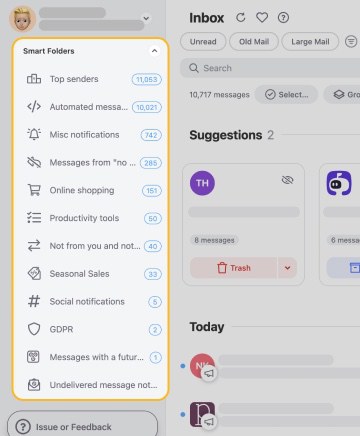 By intelligently bundling related emails together, it makes it easy to organize them in bulk, instead of having to go through them individually, which can be extremely time consuming. From there, you can tell Clean Email to automatically apply selected actions in the future so that you don't have to perform deep cleaning of your inbox ever again.
👍🏼 Pros:
Intelligent email cleanup
Multiple cleanup options available
Supports all major email services
Email cleanup automation
👎🏼 Cons:
Certain features require a premium subscription
Price: Freemium (a premium subscription available from $3.25 per month)
Mailbird is an advanced email client with many useful email cleanup features. For example, it can snooze messages for later, helping you focus only on the emails you need to at the moment. It can also unsubscribe you from unwanted subscriptions with a single click even if you don't see any unsubscribe link.
Mailbird works with all email services, but it runs only on Windows, and its developers don't plan to bring it to Mac or Linux.
👍🏼 Pros:
Receives frequent feature updates
Modern user interface
Third-party integrations
Price: Freemium (a premium subscription available from $7 per month)
SaneBox is a venerable email cleaning tool that has been helping its users maintain Inbox Zero for over 10 years. It works with all email services, including Gmail, iCloud, and Outlook. When SaneBox identifies new email messages, it uses its advanced AI to analyze their content and learn which messages are important and which can be moved to the SaneLater folder, keeping your inbox clean and organized.
👍🏼 Pros:
Simple yet effective email cleaning tool
14-day free trial
Access to Inbox Zero Academy
The Best Email Unsubscribe Tool
We all know how spam and subscriptions can overshadow the important information when it comes to your email. By using an email unsubscribe tool, you can finally get to the emails you want to see. Like Clean Email, Unroll.Me, and Unlistr are great at doing just that.
Clean Email lets users see all of their subscriptions in one bucket allowing them to easily click a button to unsubscribe. Unroll.Me has a similar feature that groups your subscriptions to give you the choice of unsubscribing via Google, Yahoo!, Outlook, and AOL. Unlistr has the same features as Clean Email and Unroll.Me, but it is only available on Outlook, iOS, and Android (learn why Clean Email is the best Unlistr alternative).
Unsubscribing has never been easier when you utilize these tools. Subscriptions can be easily overlooked and create an overwhelming experience with email overload. This way you'll be able to keep track of which subscriptions you want and declutter by removing the ones you don't.
1. Clean Email (Web, Android, iOS)
Price: Freemium (a premium subscription available)
Thanks to its Unsubscriber feature, Clean Email stands out as the best email unsubscribe tool available, making it possible to instantly unsubscribe from any unwanted subscription (even if it doesn't contain an unsubscribe link) with a simple click. Besides subscription emails and newsletters, you can also block any other sender whose emails you no longer wish to receive. Because Clean Email is accessible from the web, you can use it from any device with a modern web browser. That said, Clean Email also offers Android and iOS app that makes it incredibly easy to unsubscribe on mobile devices.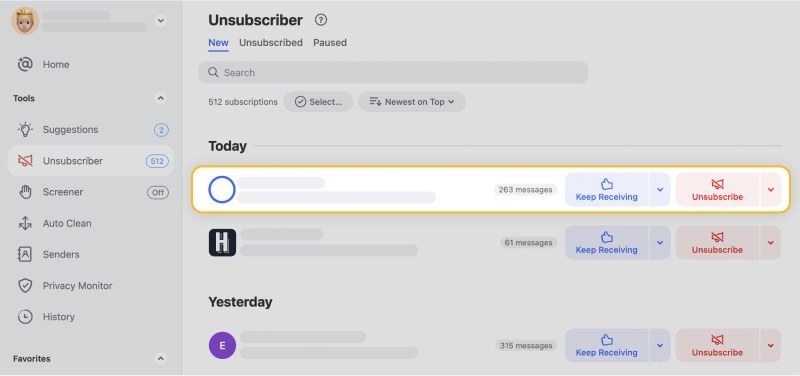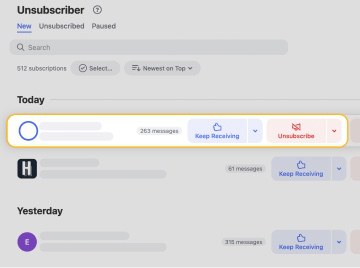 👍🏼 Pros:
One-click email unsubscribe tool
Works with all email services
Intuitive user interface
👎🏼 Cons:
Certain features require a premium subscription
2. Unroll.Me (Web, Android, iOS)
Price: Free
Unroll.Me is a completely free email unsubscribe tool that shows you a list with all your active subscriptions, allowing you to unsubscribe from any subscription with a simple click. It also lets you combine multiple subscriptions into a single digest to save you time for more important things in life. Unroll.Me can afford to don't change any money for its services because it shares user data with various third parties, most of which use it for marketing purposes. If you're not interested in some corporation analyzing your email habits, use Clean Email instead.
👍🏼 Pros:
Completely free
Simple to use
Polished mobile apps
👎🏼 Cons:
Analyzes and sells user data
3. Unlistr (Android and iOS)
Price: Freemium (a premium subscription available from $6 a year)
Unlistr is an affordable unsubscribe tool for Android and iOS that makes it easy to remove unwanted subscriptions from multiple email accounts. You can use it for free, but it's highly recommended to purchase a premium subscription for $6 a year to unlock more features. At the moment, Unlistr is not available to new users because its developers are working on some major changes. It's not clear when it will become available again, however.
👍🏼 Pros:
Automatic unsubscribe feature
Makes it easy to clean up multiple email accounts
👎🏼 Cons:
Not open to new users at the moment
Runs only on mobile devices
One of the best ways to combat disorganization and increase productivity is to get organized. Email tools like Sortd, Shift, and Clean Email make it easy. Sortd is perfect for those who use Gmail accounts because it is able to import all your emails into your sales pipeline and keep track of your most important client contact information and notes.
Clean Email allows you to have control by placing rules when sorting out your email. This email productivity tool uses an algorithm to weed out unwanted mail and group emails together for easy browsing. It is a great way for you to filter a wide variety of emails in one mailbox.
Shift is a desktop app that let's you access all your email accounts from one place, streamlining your workflow and offering integrations with countless third-party apps. In addition to email accounts, Shift can also consolidate your social media accounts, calendars, and other apps and services.
There are many email organization tools to choose from, and these should be at the top of your list. They're easy to use and quickly sort through your email faster than any human can.
1. Clean Email (Web, Android, iOS)
Price: Freemium (a premium subscription available)
We've already mentioned several reasons why Clean Email is one of the best email organization tools available, but we still have more to cover. For example, you can define what types of emails you think are important to prevent Clean Email from ever touching them, thus improving its performance and accuracy. If you're not interested in familiarizing yourself with everything Clean Email has to offer, you can simply use the Quick Clean feature to combine emails from all over your inbox into a single screen with easy-to-select actions that can be applied with a single click.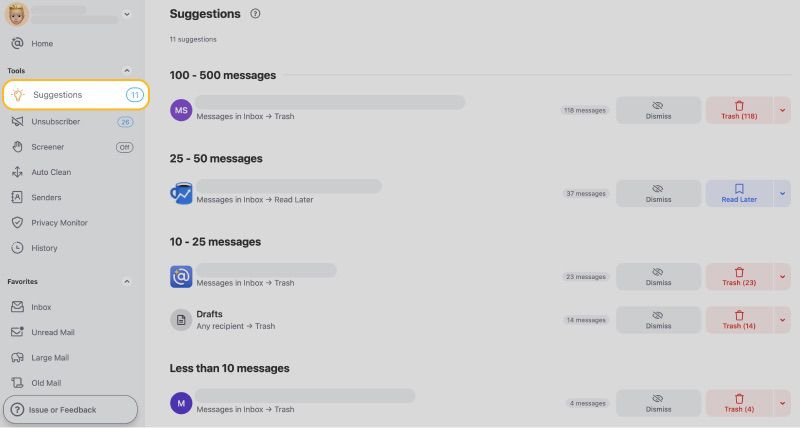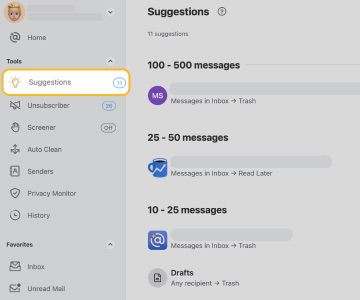 👍🏼 Pros:
Lets you easily create automation rules
Can block unwanted senders
Fully compliant with new Gmail privacy policy requirements
One of the best email tools for achieving Inbox Zero
👎🏼 Cons:
Certain features require a premium subscription
2. Sortd (Google Chrome)
Price: Freemium (a premium subscription available from $6 per month)
Sortd is a Google Chrome extension that transforms Gmail into a dynamic workspace where you can organize your tasks and prioritize email messages. We recommend Sortd to all customer service professionals, project managers, and sales people who spend many hours every day in Gmail and often struggle to stay organized. If you're part of a team, you'll be happy to know that Sortd has a whole bunch of collaboration features that let you transform any Gmail account into a shared workspace.
👍🏼 Pros:
Transforms Gmail into a dynamic workspace
Collaboration features
Built-in to-dos
👎🏼 Cons:
Available only for Google Chrome
3. Shift (Windows, Linux, Mac)
Price: Freemium (a premium subscription available from $99.99 per year)
If you're like most people, then you rely on multiple email accounts and communication apps every day, constantly switching between them to keep on top of new messages. What if you could access all your email accounts, apps, and workflows from a single place? Well, that's where Shift comes in. Available for Windows, Linux, and Mac, this application is one of the most versatile email tools available, and you can try it for free.
👍🏼 Pros:
Allows you to consolidate other email productivity tools
Beautifully designed
Doesn't use a lot of bandwidth
Which Tool Came Out On Top
After analyzing some of the top email productivity tools, we came to an agreement that Clean Email comes out on top. With its ability to help users work smarter and faster than ever before. It's no wonder many consumers are switching over to Clean Email. You have the ability to handle up to 1000 emails for free while it categorizes your mail for easier sorting.
The premium features make this email cleaning tool stand out from the rest. You can see your subscriptions and choose which to unsubscribe from and the Auto Clean feature allows you to dictate new coming emails based on your rules. It is compatible with iOS, Android, and MacOS.
Not only is it compatible with most systems, but it also has the functionality of a regular inbox with added features. Categorizing your emails no longer has to be done manually. The rules you set up will be applied to every existing and incoming email. All you have to do is click the folder to see all that's inside. You also have the ability to block senders who are bothering you with spam to keep your inbox clean.
Benefit From Using Clean Email
Sort through subscriptions
Auto Clean feature allows rules to apply to incoming emails
Unlimited email handling with a premium account
Block senders with a click of a button
These are just a few of the many pros Clean Email has to offer to its users. Email management tools are a lifesaver for any business owner and individual. You'll have peace of mind knowing that you didn't miss an important email or the headache of sorting through numerous messages.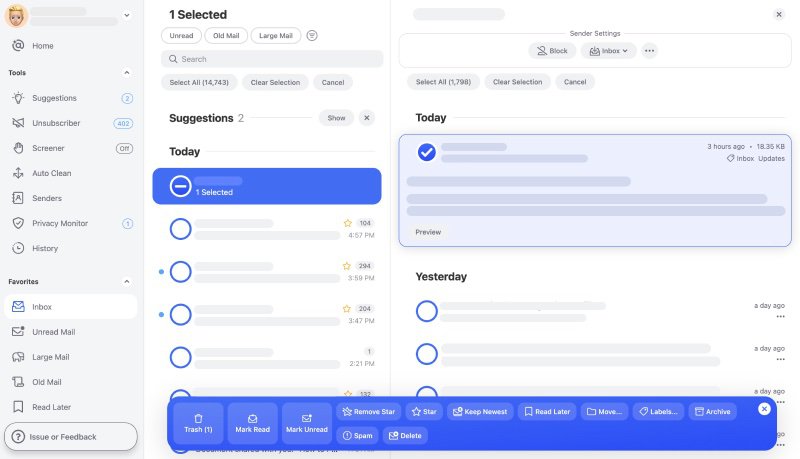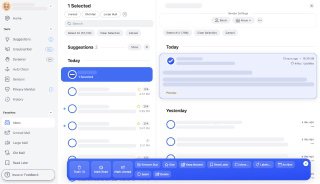 We want you to make the most out of the email productivity tools available so you can optimize your time and efforts into other parts of your day. Their mission is to allow you to unsubscribe from unwanted emails and newsletters, stop spam, and keep your inbox under control. With Clean Email, you can do that very thing with a click of a button. Sort through top senders and subscriptions with ease so you can get the important mail first.