What Is an Email Client and Why Should I Use One?
If you're like most people, you probably check your email at least once every day. And if you're someone whose work involves communication with customers, clients, and coworkers, the chances are that you deal with emails all the time.
Even though we spend so much time writing, forwarding, and managing emails, we hardly ever pause for a moment and think about how we could improve our emailing experience. We use clunky web interfaces that are not meant for professional use, we accept outdated applications as if alternatives didn't exist, and we settle for the default email apps on our mobile devices even though app stores are full of excellent third-party email apps.
Broadly speaking, an email client is a computer program used to access and manage a user's email. But when we use the term email client in this article, we only mean those email clients that can be installed on a desktop computer or a mobile device—not web-based email clients that are hosted remotely and are accessible only from a web browser.
Desktop email clients have several major advantages over their web-based counterparts. They tend to be much better integrated with the operating system(s) they are designed for, and their superior responsiveness makes them much more suited for handling heavy email loads on a regular basis.
Many email clients make it possible to manage all your emails and contacts from multiple accounts easily in one unified Inbox, and some can even be extended with third-party extensions or integrated with other applications.
7 Best Free Email Clients
These days, there's no shortage of powerful free email client software applications for all operating systems, including Windows, macOS, Linux, Android, and iOS. Below are seven of our favorite email clients, each offering its own unique set of features and capabilities.
With its attractive freemium pricing model, elegant design, and support for Gmail, Yahoo, Outlook.com, iCloud, and other IMAP/POP3 secure email providers, Mailbird has established itself as one of the most praised email clients for Windows. Its features include a unified inbox, app integrations, custom sounds, shortcuts, multi-language support, LinkedIn lookup, email snooze, and much more.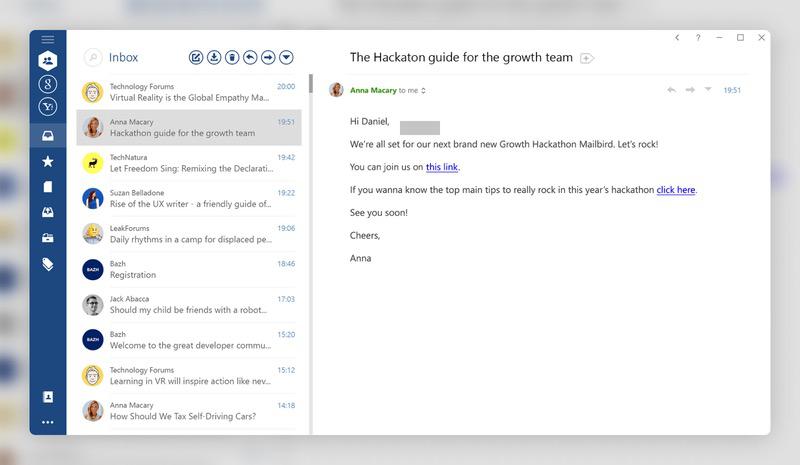 Mailbird recognizes that all email users have different wants and needs by including multiple unique layouts to match your style and the way you work. If you receive just a few emails every day, you can configure Mailbird to show a reading pane in the same window so that you can simply click on an email and see its content right next to it. On the other hand, if you receive a lot of emails—some more important than others—you may appreciate the option to switch off the reading pane so that you can see more unread messages at the same time (learn more about how Mailbird filters work).
You can get Mailbird Pro for a fraction of its full price if you catch one of many deals that are periodically published on Mailbird's website throughout the year. But even at its full price of €39, Mailbird is well worth it, and we highly recommend it to all Windows users who want more than the Mail app has to offer.
👍🏼 Pros:
Modern design
Customizable
Many third-party integrations
Lifetime subscription available
👎🏼 Cons:
Isn't available in Microsoft Store
2. Thunderbird (Windows, macOS, Linux, and FreeBSD)
Thunderbird is a free and open-source cross-platform email client developed by the Mozilla Foundation, the people who are behind the Firefox web browser. It was first released in 2004 and nearly killed off in 2015, when Mozilla Executive Chair Mitchell Baker announced in a company-wide memo that Thunderbird development needs to be uncoupled from Firefox. But Thunderbird is still here, loaded with great features and available in 59 languages.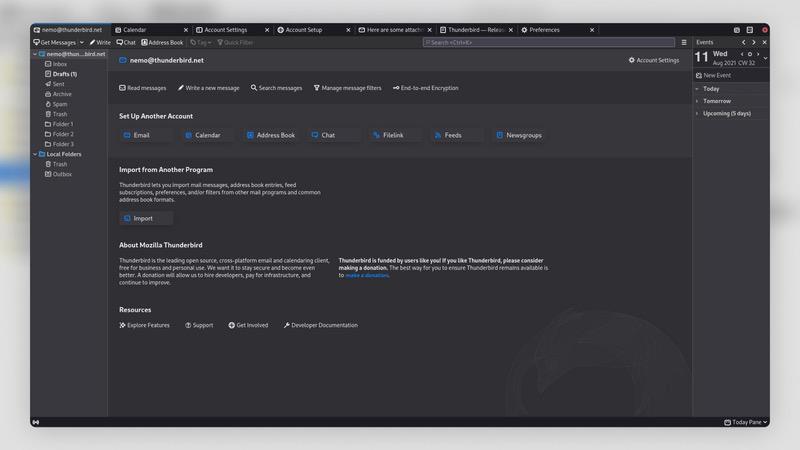 Thunderbird is one of only a few email clients that support addons and themes alike, making it very easy to customize it whichever way you'd like. For example, the Lighting addon allows you to organize your schedule and life's important events in a calendar that's fully integrated with your Thunderbird email, and the Enigmail addon adds support for OpenPGP message encryption and authentication. Thunderbird is available on all major operating systems, including Windows, Linux, and macOS.
👍🏼 Pros:
Free and open source
Lets you add an unlimited number of email accounts
Extensions
Works on many different operating systems
3. Postbox (Windows and macOS)
Even though Postbox is a commercial email client for Windows and Mac email client, we've decided to include it on this list anyway because you can download a free trial version from its website to see how it works without paying a single dollar. "Clean" is the word that perhaps best describes Postbox and its approach to email management. The application is clearly laid out and logically divided into several sections.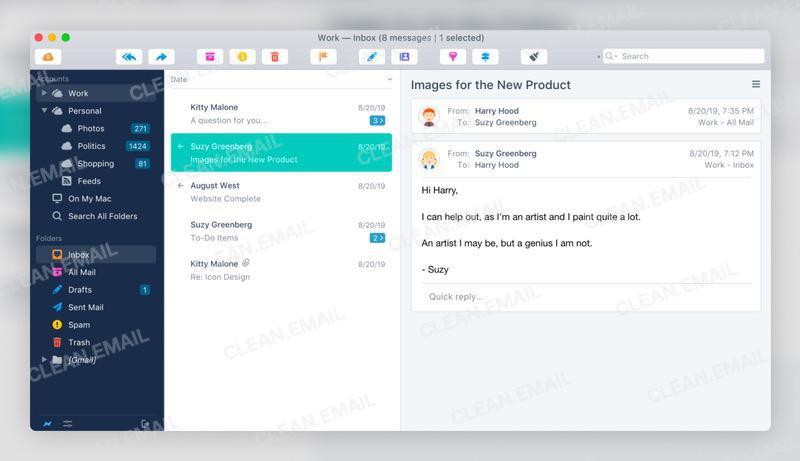 Postbox allows you to filter messages in real time, organize by tags or contacts, or send large files as links to Dropbox, Box, OneDrive, and various other cloud storage services. This modern email client even comes with a large selection of pre-canned snippets of text, images, and blocks of HTML, all of which you can insert into your emails with just a few keystrokes and customize them as you see fit.
👍🏼 Pros:
Modern user interface
Quick filtering
Good management of attachments
4. eM Client (Windows and macOS)
Intended for power users who receive a lot of email messages on a daily basis, eM Client is a feature-packed email client for Windows and macOS. It works with all major email services and can be deployed from the cloud with server settings pre-configured thanks to its support for the MSI package format, which is one reason why so many businesses swear by it. If you're already using a different email client, such as Microsoft Outlook or Thunderbird, you can import most data with a few clicks instead of having to manually set everything up from the ground up.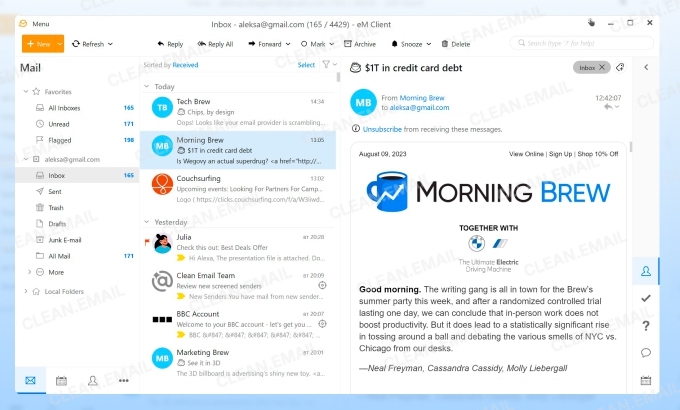 By default, eM Client is divided into four sections, but you can customize it however you want. Especially worth mentioning is the right sidebar, which brings you quick contextual information to boost your productivity and save you time. It can display everything from contact details to email history to your agenda, making the information available at a glance.
eM Client has been developed to effortlessly handle large inboxes, and the superfast search feature makes it clearly evident. Whereas many other email client software applications make you wait a long time before displaying search results, eM Client is nearly instantaneous.
👍🏼 Pros:
Simple setup
Powerful features
Automated deployment
👎🏼 Cons:
The free version lets you manage only two email accounts
5. Mailspring (Windows, macOS, and Linux)
If you're looking for an easy-to-use free email client that runs on all major operating systems, Mailspring is a fantastic option because it has everything you need to efficiently manage your email messages across multiple inboxes.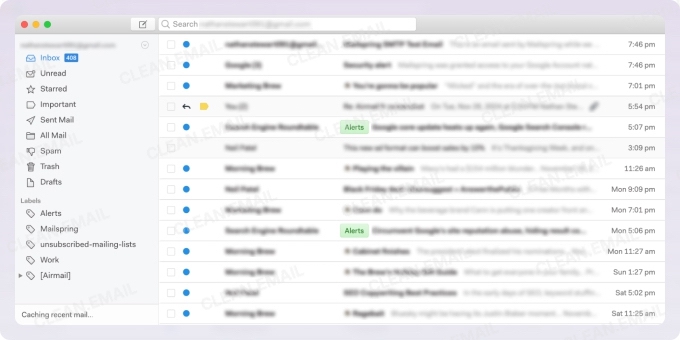 Mailspring's features include touch and gesture support, advanced shortcuts, fast search functionality, unified inbox, themes and layouts, built-in spellcheck, and translations into dozens of languages. Despite offering so many features, it runs great even on slower computers thanks to its C++ sync engine, which has been designed to perform as efficiently as possible.
Heavy email users should consider paying for Mailspring Pro because it comes with multiple useful features that are not included in the free version. For example, Mailspring Pro can automatically retrieve information from social media and the web about unknown contacts, and it can track how your contacts engage with the emails you send them. Just know that Mailspring Pro is relatively expensive compared with other best email clients, costing $8 a month.
👍🏼 Pros:
Runs on all major operating systems
Packed with useful features
Elegantly designed unified inbox
6. Airmail (macOS and iOS)
The users of Apple products have a thing for beautiful apps that make powerful features accessible to anyone. In our opinion, Airmail is the best email client for macOS and iOS because it looks and feels like it were developed by Apple. That's also one reason why it was awarded the prestigious Apple Design Award for outstanding design and innovation.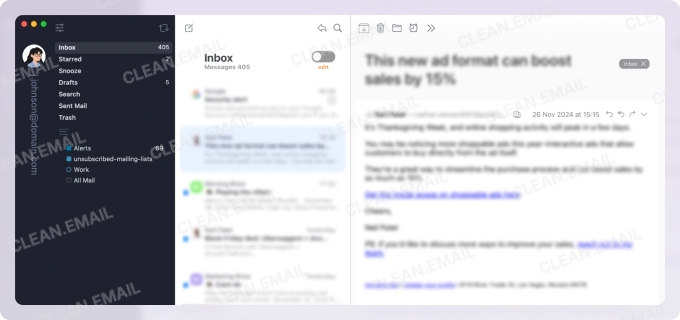 Just like all other email client software applications featured in this article, Airmail lets its users add as many email accounts as they like, and it supports both IMAP and POP3. Regardless of how many email accounts you have, you can see all your email messages at once with the unified inbox feature. Airmail can even automatically filter out newsletters and other distractions, so you quickly process important emails instead of first having to go through dozens and dozens of junk messages.
Not too long ago, Airmail received a lot of criticism from its users for suddenly switching to a subscription-based model. One Airmail developers said that the change was made due to "increasing backend service expenses," and he explained that the base app still has all core features. Fortunately, the two available subscription options are affordable ($2.99 monthly or $9.99 yearly), which means that Airmail remains the best Mac email client available.
👍🏼 Pros:
Works on both macOS and iOS
Looks and feels like a true Apple app
Polished user experience
Seamless multi-account support
👎🏼 Cons:
Suddenly switched to a subscription model
Sometimes places design over function
Microsoft Outlook isn't technically free (Microsoft offers a 1-month free trial for home and business users), but many users can use it without paying for it because it's included in Office 365, a line of subscription services offered by Microsoft as part of the Microsoft Office product line. If you're a student, your school most likely has a partnership with Microsoft thanks to which you can sign up for Office 365 Education for free.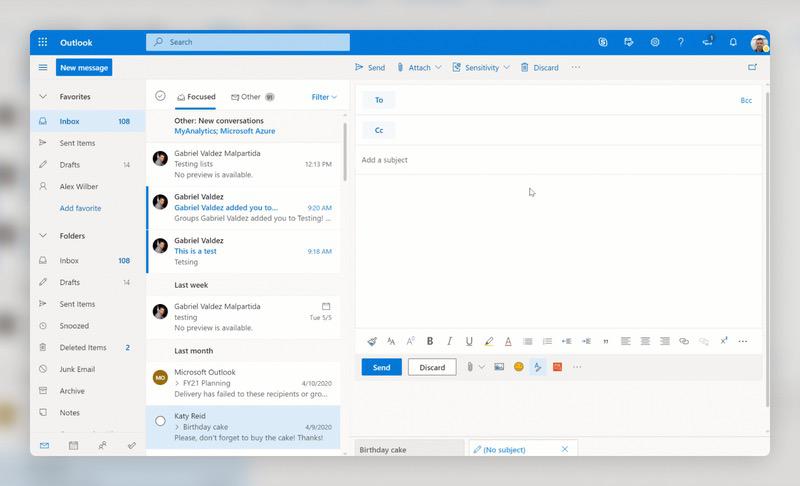 It's true that Microsoft Outlook doesn't have the most modern design, but it lets you work efficiently with email, calendar, contacts, tasks, and more from one place, and that's the most important thing. Its enterprise-grade security features make it suitable even for enterprise users who have to meet strict compliance requirements and protect confidential information from hackers and other malicious third parties. You can use Microsoft Outlook on both Windows and macOS, and there's also a version for mobile devices and the web.
👍🏼 Pros:
Polished mobile and web apps
Comprehensive features
Great integration with other Microsoft products
👎🏼 Cons:
Not as intuitive and modern as other email clients
Can feel sluggish even on a modern computer
How Clean Email Can Add Value to Email Management?
As useful as email clients are when it comes to day-to-day email management, using them to organize a bloated inbox full of spam emails is a painful experience. Regardless of which email client and service you use, you can make your life much easier by allowing Clean Email to automatically organize your inbox for you and achieve Zero Inbox.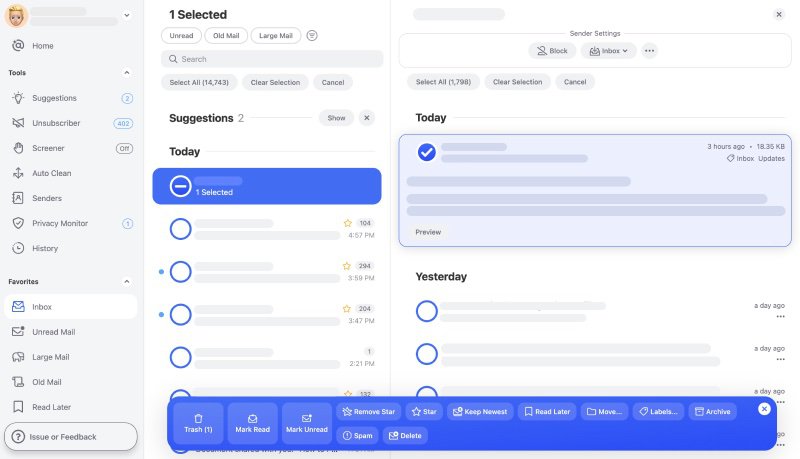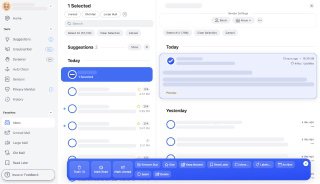 While Clean Email isn't an email client, it is a sleek and easy to use email management tool with powerful filters and clever algorithms that can group emails together based on set parameters without opening them.
Clean Email also boasts Auto Clean feature that makes it possible to apply various actions to incoming emails automatically, so you're left only with the most important emails.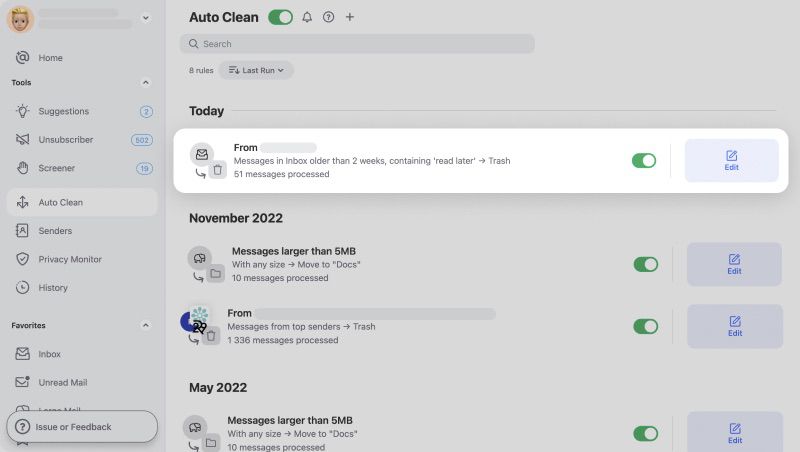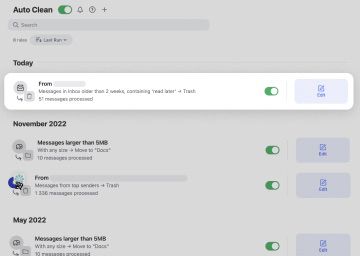 The Unsubscriber feature makes sure that newsletters and unwanted subscriptions will not show up in your inbox.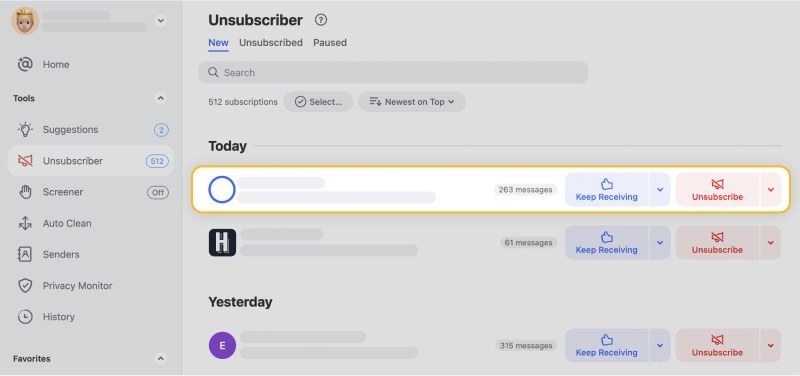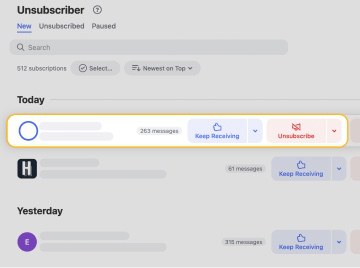 Getting started with Clean Email could hardly be any easier. You simply sign in with your email account and let the app take care of the rest for you. It is available on Mac, iOS, Android, and web. The app uses a very simple pricing structure, and its cost is negligible considering how much time it can save you.
Conclusion
We hope that this article has helped you find an email client that suits your needs and allows you to be more productive. With a great email client and a capable inbox cleaner such as Clean Email, email can once again be the useful communication tool it was before spam made it difficult to use.