Top Free Email Programs for Windows 10 in 2021
All email programs listed below have one thing in common: you can use them for free. Some give you the option to pay for a premium version and unlock extra features, but it's up to you to decide if you want to spend money to simplify your email management.
If you use email on a daily basis, paying a few dollars each month for an email program that can automatically organize your emails for you ensure that you'll never miss an important email can be a great investment.
Are you familiar with the concept of Inbox Zero? This rigorous approach to email management is aimed at keeping the inbox empty—or almost empty—at all times. If you consider yourself to be a tidy and organized person, achieving Inbox Zero is most likely right up your alley. Clean Email helps you achieve it with its powerful filters and rules that automatically move emails into relevant groups that you can then manage in bulk.
For example, you can tell Clean Email to delete all marketing emails that clutter your inbox, label emails from coworkers accordingly, or move all emails from a particular sender to a separate folder. You can also mark all emails as read and instruct Clean Email to apply certain actions automatically to new emails as they arrive.
Before you even know it, there won't be a single unread email in your inbox, and you'll be able to enjoy the peace of mind that comes with knowing that your emails are organized as well as they can be. With Clean Email, you can manage accounts registered with Gmail, Outlook, AOL, and all other major email providers.
👍🏼 Pros:
Free to try
Easy to use
Supports all major email services
Powerful filters and rules
Automation features
Just because email has been around for a very long time doesn't mean that email programs should have a conservative user interface and look as if they were designed for Windows XP. Mailbird is powerful, beautiful, customizable, and intuitive email program that lets you manage multiple email accounts at the same time, so there's just one inbox the check every morning, instead of two, three, or even ten.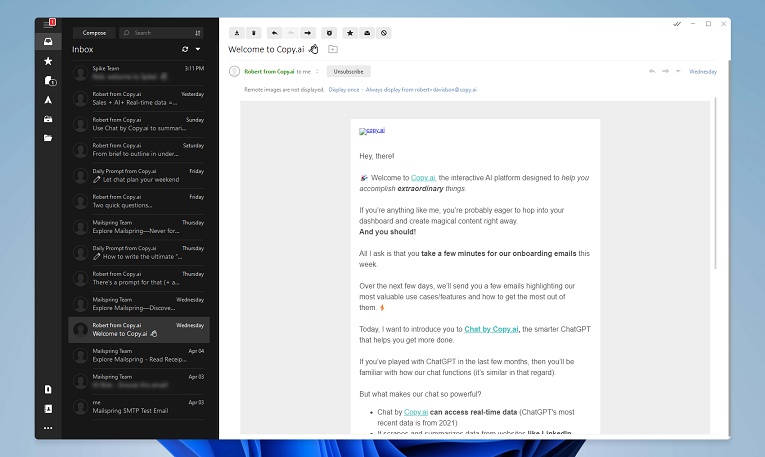 It's available in 17 languages, supports convenient keyboard shortcuts, has snooze and attachment search functionality, and integrates with apps like Facebook, Twitter, Whatsapp, Dropbox, Google Calendar, Asana, Todoist, and many others.
Mailbird works on Windows 10, and you can download it for free with relatively minor limitations. That said, we highly recommend you purchase the lifetime license for Mailbird Pro, which costs only around $20 if you manage to buy it on sale.
👍🏼 Pros:
Beautiful and highly functional user interface
Unified inbox that lets you manage emails accounts from a single window
Affordable price
Third-party app integrations
Snooze functionality
👎🏼 Cons:
No automation features or bulk email cleanup functionality
If you believe in open source software and look for a new free email client for Windows 10, Mozilla Thunderbird is a great choice. This free and open-source cross-platform email client, news client, RSS, and chat client is developed by the Mozilla Foundation, and its strategy is modeled after that of the Mozilla Firefox web browser.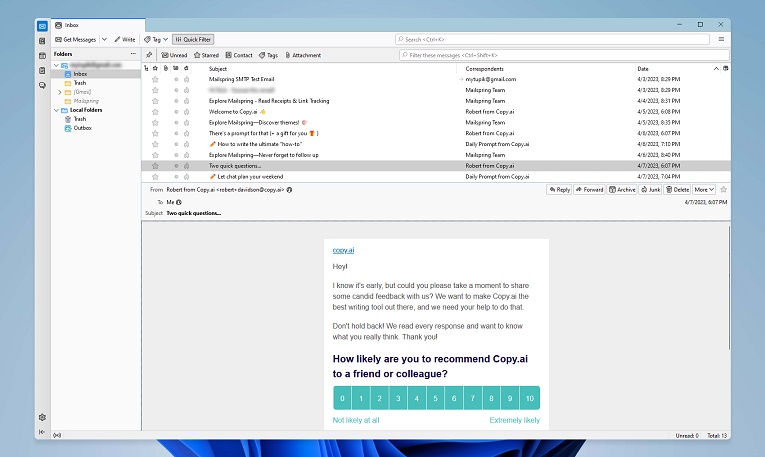 Thunderbird lets you manage accounts that use IMAP, SMTP, and SSL/TLS protocols, and it has a whole host of useful extra features to convince you to give it a try. Its one-click address book allows you to quickly and easily to add people to your address book, so you never have to look up an email address on the internet ever again.
An automatic attachment reminder displays whenever you forget to include an attachment before hitting send. And you can open multiple email tabs in the same window to minimize desktop clutter.
👍🏼 Pros:
Free and open source
Tabbed user interface
Automatic attachment reminders
Support for various third-party online services and extensions
👎🏼 Cons:
Doesn't have full support for Microsoft Exchange Server
eM Client is a full-featured email program for Windows that gives you everything you need to manage your emails, tasks, and contacts in just one application. Its developers understand that email is a communication tool that works best when its integrated with other applications and services.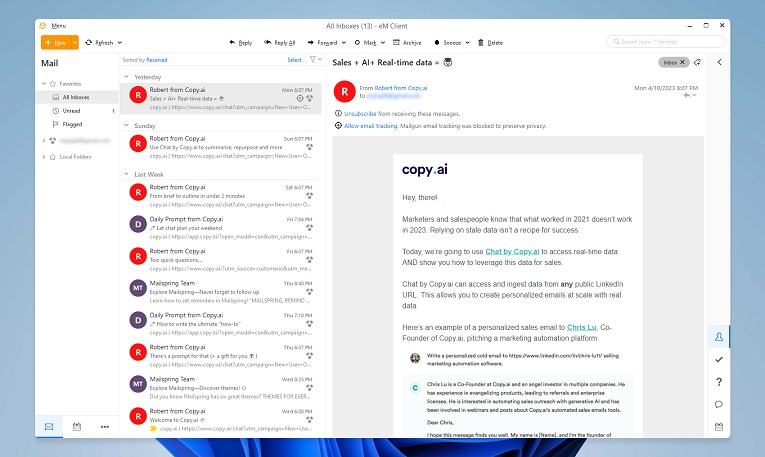 While you can use eM Client as a stand-alone email program, it shines the most when you take advantage of its calendar management system that lets you manage your appointments in a beautiful and highly customizable interface, comprehensive contacts with several views and exhaustive fields, and built-in chat functionality for instant communication with friends and colleagues alike.
You can try eM Client for free, but you have to pay for eM Client Pro to unlock all of its features. eM Client is primarily a Windows email program, but there's also a beta version of eM Client for Mac computers, which you can try for free.
👍🏼 Pros:
Comprehensive features with integrated chat
Easy to set up
Built-in translation tool
👎🏼 Cons:
Free version is very limited
Windows Mail is the default email program in Windows 10, and you shouldn't dismiss it just because you use Outlook at work and dislike it with passion. Mail and Outlook have very little in common. The former is a lightweight email program designed with simplicity in mind, while the latter is an enterprise-class personal information manager. Mail can't do much, but the little it does works great, and it's just a few clicks away.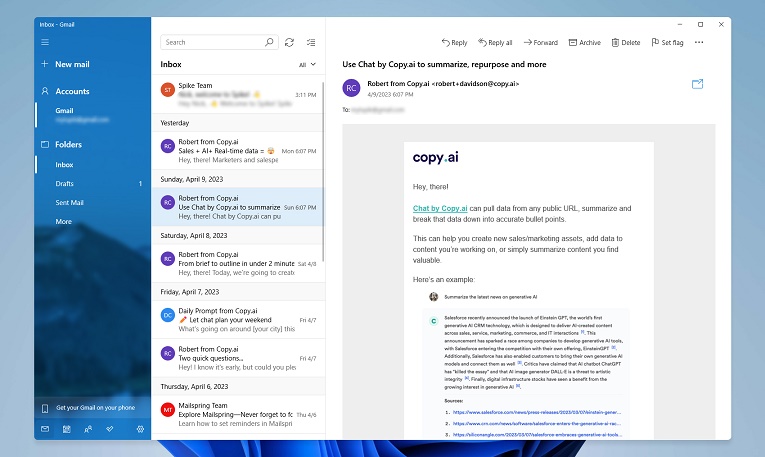 👍🏼 Pros:
Free and included with Windows 10
Beautiful user interface
Easy to use
Support for email signatures
👎🏼 Cons:
No support for rules and filters
Limited functionality
Mailspring is a modern, elegant email client for Windows, Mac, and Linux. The application looks and feels exactly the same across all supported operating systems, making it perfect for email users who use a different operating system at home and a different operating system at work. All IMAP/SMTP email accounts are supported, and adding a new account is a simple matter of entering your username and the correct password.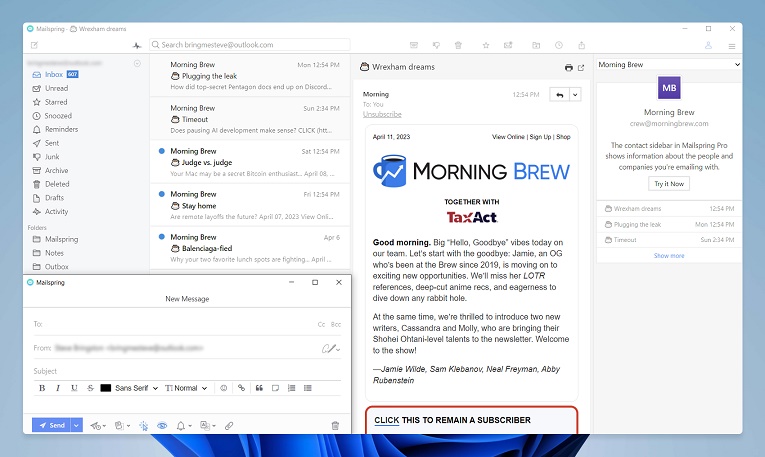 It would be beyond the scope of this article to name all features Mailspring has to offer, but we can't neglect to mention its advanced search feature with support for Gmail-style search queries. This feature alone makes Mailspring an easy choice for people who need to frequently find a specific email message.
Other noteworthy features include a beautiful signature editor that lets Mailspring users create stunning email signatures—no coding required. If you receive emails in different languages, Mailspring can automatically translate them for you into English, and it can also catch all spelling mistakes so that you don't embarrass yourself by sending an email with an easily avoidable spelling mistake.
👍🏼 Pros:
Elegant user interface
Snoozing support
Integration with Gmail
Unified inbox
👎🏼 Cons:
You must have a Mailspring ID
Doesn't let you display messages as plain text
Let's not beat around the bush: Claws Mail is far from attractive. In fact, we would dare to call it one of the least visually appealing email programs for Windows 10. But if you can get past the dated user interface, there's a lot that Claws Mail can offer.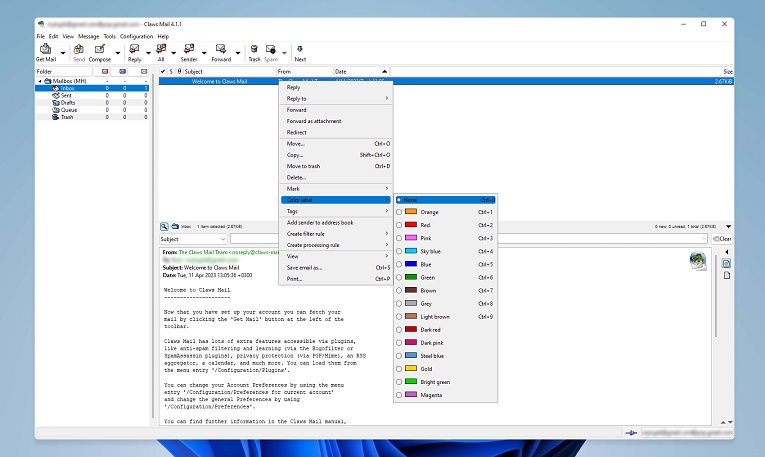 For starters, it can double as an RSS aggregator, so you can use it to automatically check websites for updates. If you don't care about RSS feeds because you use your Windows email program for email only, you should know that Claws Mail does everything an email client should do and more. It has extensive search and filtering capabilities, supports GPG and SSL, features templates for messages, and provides a great plain-text email editing experience.
Even though Claws Mail has been around for nearly 20 years, it's still just as actively developed as when it was first released. Claws Mail developers are always quick to fix any known bugs, and they listen to users when it comes to requests for new features. For these and other reasons, Claws Mail is one of the best email programs for Windows 10.
👍🏼 Pros:
Open source and free
Support for plugins
Handles multiple email accounts
👎🏼 Cons:
Adding email accounts is somewhat complicated
Outdated user interface
If you're looking for a modern email program for Windows 10, you've just found it. Postbox was created to simplified email management and make email more enjoyable to use. Its secret weapon? A beautiful user interface that doesn't overwhelm the user with a ton of features yet makes it easy to access all important functions.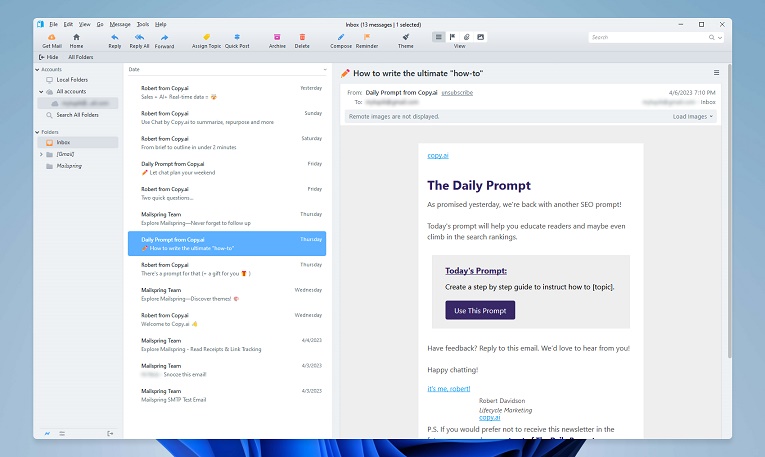 Postbox works with Gmail, iCloud, Yahoo, AOL, Office 365, Outlook, Fastmail, ProtonMail, and other IMAP or POP email accounts. Regardless of if you use it to manage a single email account or twelve, you can always view all unread emails at the same time or find a specific old email with a single search query.
Reading new email messages is just one part of the overall email experience, and the people behind Postbox know this. To help you write emails more efficiently, Postbox features support for pre-canned responses, and it also comes with over 300 pre-formatted clips that let you add pro-styling to your email messages without any HTML or CSS. You can try Postbox for free, and its pricing starts at $19 per user.
👍🏼 Pros:
Modern user interface
Powerful search functionality
Pre-canned responses
Multiple free themes to choose from
👎🏼 Cons:
No native support for Microsoft Exchange
The Bat! is one of the oldest Windows 10 email programs that are still in development. It was first released in 1997, and there are currently two versions of the software: a Home version and a Professional version.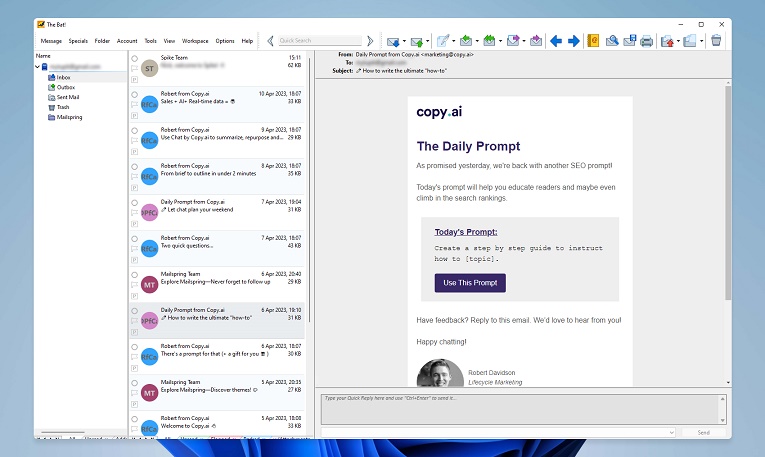 Both versions of The Bat! are designed from the ground up to protect your email messages against unauthorized third parties using multiple encryption streams, including robust end-to-end encryption (E2EE). In addition to encryption, The Bat! also ignores all scripts and executable code included in email messages and checks attached file extensions to catch all malware.
The Bat! certainly isn't a sleek-looking email program for Windows 10, but its clunky user interface isn't nearly as unintuitive as it may appear to be at first. It's just that The Bat! is geared toward more advanced users who are already familiar with most of the features it supports. As a new user, you may feel somewhat lost at first, but we recommend you give it a few days before you give up on it.
👍🏼 Pros:
Open source and free
Strong security
End-to-end encryption
Powerful filters
👎🏼 Cons:
Clunky user interface
Geared toward more experienced users
BlueMail by Blix is a cross-platform email program that works just as well on Windows as it does on Linux, Mac, and iOS. You can use it to manage an unlimited number of email accounts in a people-centric fashion. To help you combat inbox clutter, BlueMail automatically clusters similar emails together so that you can spend less time on inbox management and more time on what actually matters.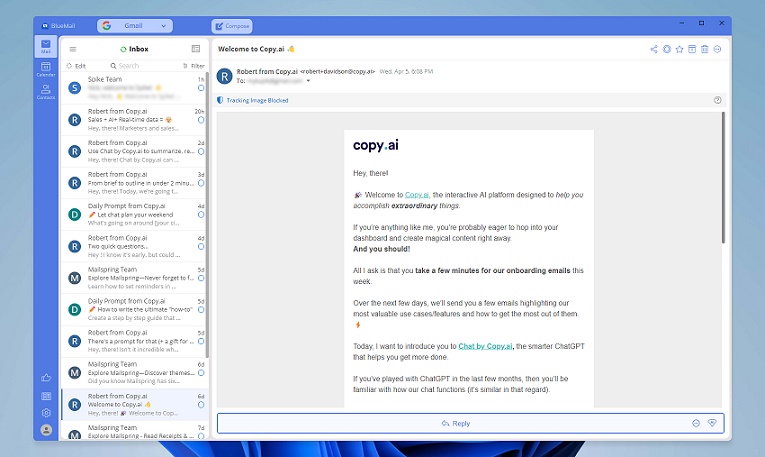 If you have sensitive eyes, and you'd like to give them the opportunity to rest a bit, you can activate BlueMail's night mode with a single click. BlueMail can even switch between day and night mode automatically to always deliver a comfortable email viewing experience.
What really makes BlueMail one of the best free email programs for Windows 10 is the fact that the free version doesn't contain any ads and includes all main features except those that target business users.
👍🏼 Pros:
Works across all major platforms
People-centric approach to email management
Integrated calendar
Spike is a relative newcomer to the email software game, but it has done an excellent job of adapting to today's email standards and becoming a great email client for Windows 10. The application has a sleek appearance and easy-to-use interface and has a web-based option in case you need to access your inbox from another computer on which you can't install software.
Spike makes emails feel more like text messages, with real-time reply bubbles for casual conversations. However, this doesn't mean that it can't be used for professional email management as well, since it allows unlimited email accounts and up to 10 group chat rooms for collaborative efforts.
Spike also includes a savvy notes section and a to-do list that allows you to prioritize certain tasks and emails. The intuitive nature of the program makes it a great Windows email client for both personal and professional email users.
👍🏼 Pros:
Intuitive GUI
Sophisticated filtering
Modern appearance
Unlimited inboxes
👎🏼 Cons:
Professional version is not free
Text message appearance can get cluttered for longer messages
Conclusion
Best email programs for Windows 10 are not just nice to have. They are essential in dealing with the astonishing number of emails that arrive in our inboxes on a daily basis. Whether it's a bulk email management tool with automation features or an email program with a unified inbox, you should equip yourself as much as possible to enjoy email without frustration and limitations.
---
Best Email Programs for Windows 10 - FAQs
Which are examples of email client programs?
Email clients for Windows 10 are email software programs that can be installed on a Windows operating system. Some examples include Microsoft Outlook, Windows Mail, Inky, Spike, Slack, and MailChimp. These programs allow you to access your inboxes and messages without logging into a particular website.
Does Windows 10 have an email program?
Windows 10 comes equipped with the Mail application, which allows you to link any of your mail accounts, whether personal or professional. It might not be the best email client for Windows 10, but it certainly gets the job done for those who don't need too many bells and whistles.
What is email software used for?
Email software is used to help users access, organize, and filter their messages without going to a website. It can also provide additional security and offer a more intuitive user interface than many standard web-based programs.
What is the best email program to use with Windows 10?
The best Windows 10 mail app will be different for each person, but Mailbird has a variety of features that allow users to access their messages while maintaining a clean inbox and managing several accounts.
What is the best free email software?
Clean Email doesn't just work for Windows 10 – it is available for Mac, iOS, and Android devices as well. This makes it among the best email clients for any device.