What Makes a Great Email Program for Windows?
Because there are so many email clients out there, choosing the best application can feel overwhelming. Luckily for you, we're here to help you identify what features to look for in mail programs so you can select the best option based on your needs.
When comparing Windows email apps, consider the following features:
Configuration: Does the free email program for windows work with both IMAP and POP3? Does it transfer over your messages and contacts? Does the app synchronize in the event you use a mobile app or another device?
Ease of use: Is the program easy to set up? Can you quickly navigate through the features? Is it difficult to find certain buttons or settings? Are there keyboard shortcuts?
Email Management: Does it have a unified inbox? Can you apply filters? Is there a search function? Is there a spam filter? Can you program automations? Is it also available as an email app for Android or iOS?
Customization: Can you change layouts? Add a signature? Customize the font? Create templates? Does it integrate with other applications?
Pricing: Is it truly a free email client for windows? Are there hidden fees?
Top Free Email Programs for Windows 10 and 11
There are literally dozens of email programs out there that help you combine multiple inboxes in one centralized location. However, all of the email programs listed below have one thing in common: you can use them for free.
Mail

— a simple built-in Windows solution with a focused Inbox.

Mailbird

— feature-filled and perfect for app integration.

eM Client

— the best in terms of customization.

Mailspring

— an ideal solution for anyone who searches their Inbox regularly.

Mozilla Thunderbird

— the best free-to-use option out there.

Postbox

— a powerful app for busy professionals.

The Bat!

— a Great option for technical users.

BlueMail

— ad-free Inbox options on any device, anytime.

Spike

— modernize your email to collaborate on a whole new level.

Claws Mail

— a free program with lots of options for plugins and customization.
Bonus: Clean Email — the best email management and organization solution to use with your favorite email client for Windows.
When compiling this list, we didn't just look for free email programs — we also compared each of these free email programs for windows using the previously mentioned criteria: configuration, ease of use, email management, customization, and pricing or hidden fees.
As you'll see, each of these email programs for windows offers its own unique set of features and challenges to deal with. However, we strongly believe at least one of these free email programs for Windows 10 and 11 will meet your needs — it just depends on what you're looking for.
1. Mail (formerly Windows Mail)
📝 A Simple Solution With A Focused Inbox
Mail is the default email program in Windows 10 and Windows 11, and you shouldn't dismiss it just because you use Outlook at work and dislike it with passion. In fact, Mail and Outlook have very little in common.
Overall, Mail from Windows is a lightweight program designed with simplicity in mind. While this means Mail can't do much, but the little it does works great, and it's just a few clicks away.
The program offers a focused inbox and a three-pane screen layout. However, you can customize the background, change layout colors, and change the font. You can perform simple and advanced searches, and the application offers a decent spam filter.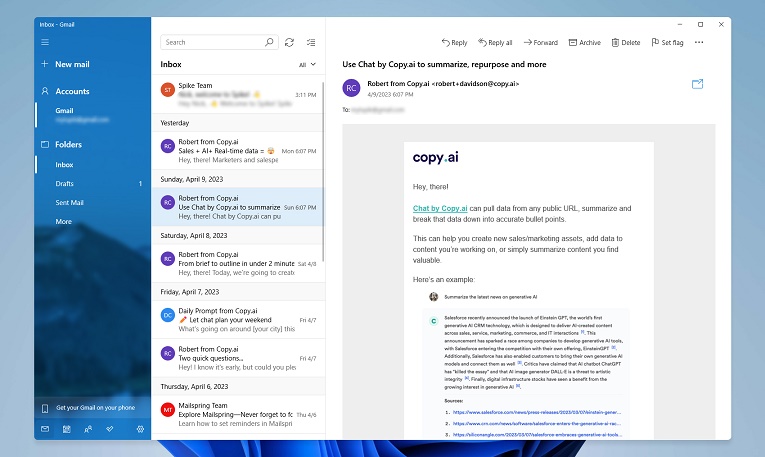 However, there's no option to apply filters or set up any sort of task automation. The good news is you can use Mail alongside a mailbox management app like Clean Email, which would give you access to any features Windows Mail is missing, like filtering, Smart Folders, and automation. It's always a good idea to use an inbox management tool alongside your email app because it makes it easier to maintain a pristine, well-organized mailbox.
Mail does come with several great tools in the settings section. For example, you can set a custom signature and program basic auto replies as needed. Although you can set up an auto reply and schedule sending ahead of time, you cannot create email templates. There also aren't any keyboard shortcuts or tricks to save time within the program.
Since Mail is already included in your Windows 10 or 11 operating system, you can just search for the program. Then, once you open it, just go to Settings > Manage Accounts > Add Account to add in all of the addresses you'd like to manage from Mail.
Mail pricing: Completely free to use, no strings attached.
👍🏼 Pros:
Free and included with Windows 10 and 11
Beautiful user interface
Easy to use
Support for email signatures
👎🏼 Cons:
No support for rules and filters
Limited functionality
2. Mailbird
📝 Feature-Filled and Perfect for App Integration
Just because email has been around for a very long time doesn't mean that programs should have a conservative user interface and look as if they were designed for Windows XP. Mailbird is a powerful, beautiful, customizable, and intuitive program that lets you manage multiple accounts at the same time, so there's just one inbox to check every morning, instead of two, three, or even ten.
Like Mail from Windows, Mailbird offers focused inbox and layout customizations. It supports search and folder separation. Additionally, the program offers spam filtering, an unsubscribe feature, and a wide variety of Mailbird filters. These features really help Mailbird stand out from Mail.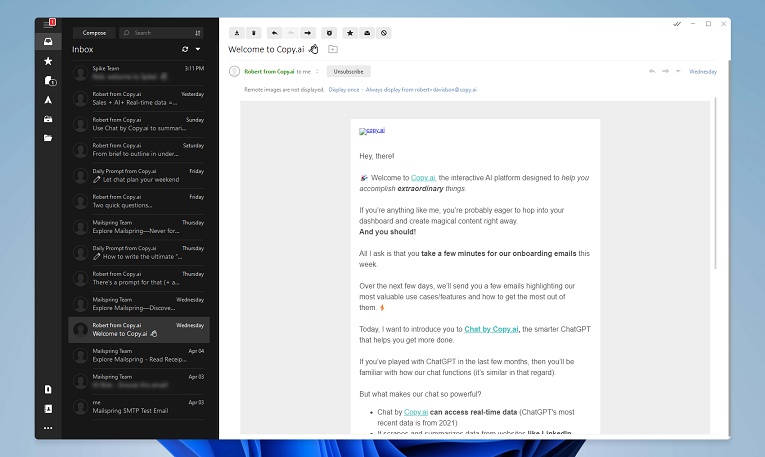 Mailbird offers a lot of standout features when compared to Mail. For example, it's available in 17 languages and supports convenient keyboard shortcuts. Furthermore, Mailbird integrates with apps like Facebook, Twitter, Whatsapp, Dropbox, Google Calendar, Asana, Todoist, and many others.
Mailbird works on Windows 10 and Windows 11, and you can download it for free with relatively minor limitations. It is fairly easy to set up and mostly walks you through the steps during your first session. However, you can go in and add a new address at any time by going to Menu > Options > Accounts. From there, you can add a new account or make changes to already existing accounts.
Unfortunately, the free version of Mailbird is only available as a limited trial, meaning you'll eventually have to invest in this application if you want to continue using it.
Mailbird pricing: In addition to its limited free version, Mailbird offers a monthly personal plan for $3.25/month, a personal one-time fee plan for $99, and a business version for $5.75 per user per month.
👍🏼 Pros:
Beautiful and highly functional user interface
Unified inbox that lets you manage emails accounts from a single window
Affordable price
Third-party app integrations
Snooze functionality
👎🏼 Cons:
No automation features or bulk email cleanup functionality
3. eM Client
📝 The Best in Terms of Customization
eM Client is a full-featured email program for Windows that gives you everything you need for managing emails effectively, and contacts in just one application. Its developers understand that email is a communication tool that works best when it's integrated with other applications and services.
Like Mail and other options on the list, eM Client offers a unified inbox. However, it also offers a handy calendar system that lets you manage your appointments. It also has a tabbed sidebar, a variety of customization tools and themes, the ability to view messages in thread view, and a notes/to-do feature. All of these options help boost productivity and make eM Client more than an inbox — it's a must-have work tool.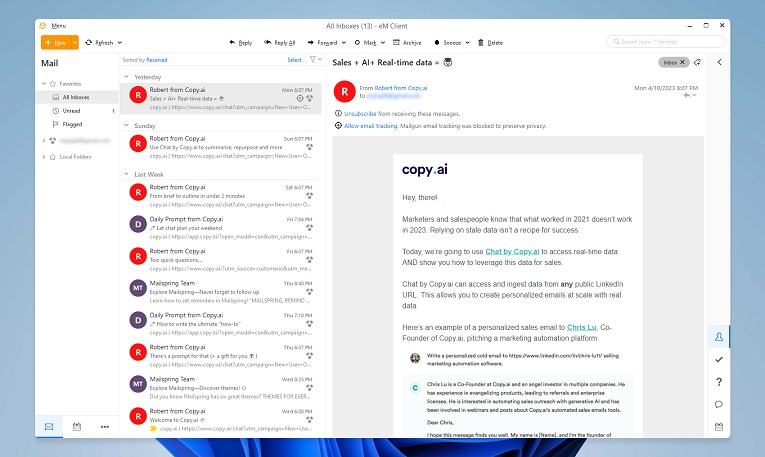 Like Windows Mail, you can set up a custom signature in your eM Client. However, you can also set up email templates, which can save you time. eM Client also integrates with other apps, much like Mailbird does, taking its productivity skills to the next level.
This application is also available as an email client for Mac, which is yet another thing Mail doesn't offer. Unfortunately, the latest update to eM Client happened over a year ago, and there don't seem to be any indications that they will roll out more updates soon. Additionally, the free version is quite limited in terms of features, meaning not everything the application has to offer comes for free.
To get started with eM Client, download the application. Then, to add your addresses, navigate to Menu > Accounts > +Add Account. It's that simple!
eM Client pricing: The free version doesn't include all the features mentioned above, and it limits you to two email addresses. However, you can spring for the pro version for a one-time fee of $59.95.
👍🏼 Pros:
Comprehensive features with integrated chat
Easy to set up
Built-in translation tool
👎🏼 Cons:
Free version is very limited
4. Mailspring
📝 An Ideal Solution for Anyone Who Searches Their Inbox Regularly
Mailspring is a modern, elegant email client for Windows, Mac, and Linux. The application looks and feels exactly the same across all supported operating systems, making it perfect for users who use a different operating system at home and a different operating system at work. All IMAP/SMTP email accounts are supported, and adding a new account is a simple matter of entering your username and the correct password.
Like most of the other options on this list, Mailspring offers a unified Inbox with several great themes and custom view options. Additionally, the app can translate into 7 different languages, offers mailbox insights, and localization options.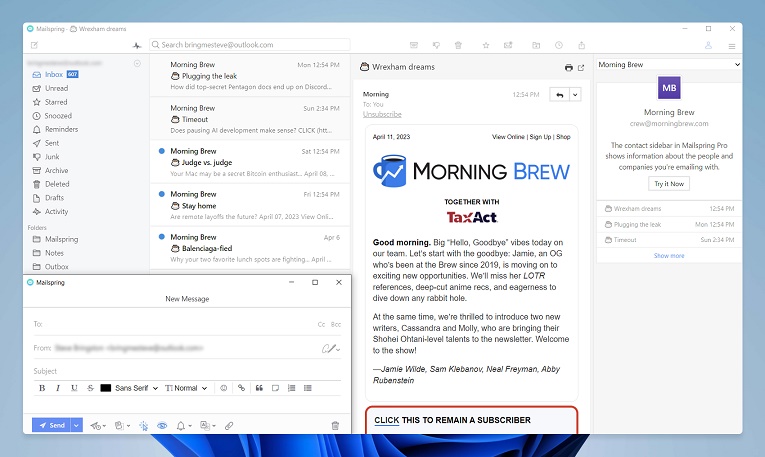 However, where Mailspring really shines is with its advanced search feature that supports for Gmail-style search queries. You can search based on multiple criteria, search the contents of the message, and search in specific folders or across the entire mailbox. This feature alone makes Mailspring an easy choice for people who need to frequently find a specific message.
Other noteworthy features include a lovely spell check that catches all spelling mistakes so that you don't embarrass yourself by sending a message with an easily avoidable spelling mistake.
Because Mailspring is free and open-source, it isn't always updated as regularly as some options on this list. This could be a turn-off for those who worry about security or anyone who just likes getting regular app updates.
To start using Mailspring, go to Preferences > Accounts to set everything up. Then you can go to Preferences > General to customize your inbox view and select a theme.
Mailspring pricing: Mailspring offers a free version that is full of features, but their Pro version adds contact profiles, link tracking, actionable inbox insights, and more, all for just $8/month.
👍🏼 Pros:
Elegant user interface
Snoozing support
Integration with Gmail
Unified inbox
👎🏼 Cons:
You must have a Mailspring ID
Doesn't let you display messages as plain text
5. Mozilla Thunderbird
📝 The Best Free-To-Use Option Out There
If you believe in open-source software and look for new free email clients for Windows 10, Mozilla Thunderbird is a great choice. This free and open-source cross-platform email client, news client, RSS, and chat client is developed by the Mozilla Foundation, and its strategy is modeled after that of the Mozilla Firefox web browser.
Like Windows Mail and many of the other options on this list, Thunderbird supports multiple accounts and lets you manage any MAP, SMTP, and SSL/TLS email address. It also offers spam filtering and virus protection, plus a calendar app.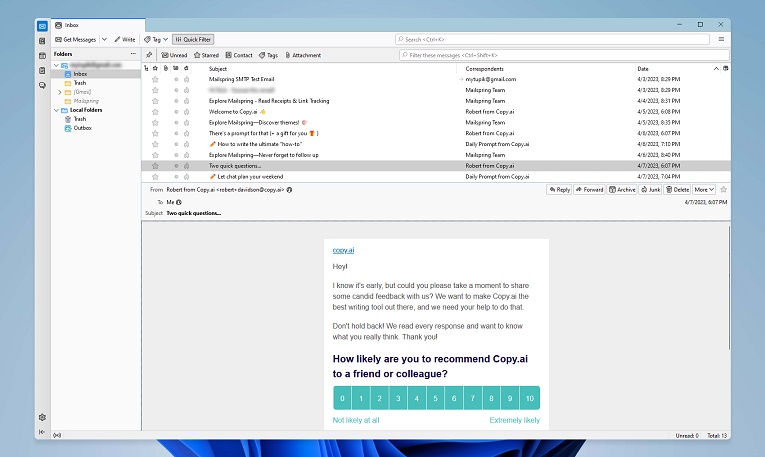 Unlike most of the other email programs for windows, Thunderbird offers a one-click address book that is feature-filled and helpful. You can import contacts from Google, iPhone, or Android as well, meaning you can save time and still access all the addresses you need.
Furthermore, Thunderbird offers an automatic attachment reminder display whenever you forget to include an attachment before hitting send. Your inbox also offers numerous filtering options, the ability to tag messages, and the ability to establish your own customized folders.
Of course, if you're worried about Thunderbird lacking integrations and add-ons since it's free and open source, then let me put those fears at ease. Believe it or not, Thunderbird offers lots of handy add-ons, not to mention the open-source functionality gives developers the opportunity to code their own custom add-ons if you can't find what you need.
To get started with Thunderbird, download the application, then navigate to Tools > Account Settings > Account Actions > Add Mail Account. Once you've added all of the addresses you'd like to support within Thunderbird, you can begin testing out all of its other features.
Thunderbird pricing: As you've already read, Thunderbird is the only completely free program on our list. There are no hidden fees and no catches — it's all free and it's all ready for you to test out!
👍🏼 Pros:
Free and open source
Tabbed user interface
Automatic attachment reminders
Support for various third-party online services and extensions
👎🏼 Cons:
Doesn't have full support for Microsoft Exchange Server
6. Postbox
📝 A Powerful App for Busy Professionals
If you're looking for a modern email program for Windows 10, you've just found it. Postbox was created to simplify inbox management and make email more enjoyable to use. Its secret weapon? A beautiful user interface that doesn't overwhelm the user with a ton of features yet makes it easy to access all important functions.
Like Mail from Windows, Postbox works with Gmail, iCloud, Yahoo, AOL, Office 365, Outlook, Fastmail, ProtonMail, and other IMAP or POP email accounts. Regardless of if you use it to manage a single email account or twelve, you can always view all unread messages at the same time or find specific old messages with a single search query.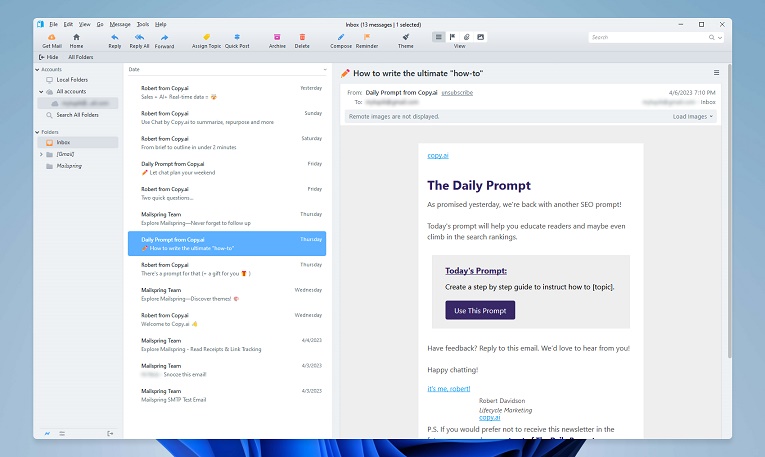 However, Postbox offers a lot of features that Mail does not. For example, the program includes pre-canned responses, and it also comes with over 300 pre-formatted clips that let you add pro-styling to your messages without any HTML or CSS. You can even bring in third-party code to customize Postbox even more, making it perfect for those who can't find anything that fully meets their needs available "in the wild."
Furthermore, Postbox offers advanced filtering features that Windows Mail does not. You can also use the "tagging" feature to apply topical tags to messages and use these tags for filtering and sorting purposes. Postbox also supports the same labeling system as Gmail, which is great for users who are accustomed to labeling or categorizing their messages.
Unlike any other email programs for Windows on this list, Postbox supports Smart Folders, which are essentially sorting systems that compile messages with similar criteria you specify. Of course, Clean Email offers this very feature as well, meaning you can enjoy it even if you don't decide to go with Postbox and use another option instead.
To set up a new account in Postbox, go to the File, then select New > Mail Account and enter the needed info to set it up. Once you plug all of your addresses in, you're ready to start taking advantage of all of Postbox's features.
Postbox pricing: You can try Postbox for free, but you'll eventually have to pay a one-time fee of $79 for lifetime access.
👍🏼 Pros:
Modern user interface
Powerful search functionality
Pre-canned responses
Multiple free themes to choose from
👎🏼 Cons:
No native support for Microsoft Exchange
7. The Bat!
📝 A Great Option for Technical Users
The Bat! is one of the oldest Windows 10 email programs that are still in development. It was first released in 1997, and there are currently two versions of the software: a Home version and a Professional version.
Unfortunately, since The Bat! is a lot more technical than the other programs on this list, you'll probably want to read over their configuration guide before you get started. However, once you get the hang of it, The Bat! is fairly easy to set up and use – assuming you don't let your free trial expire.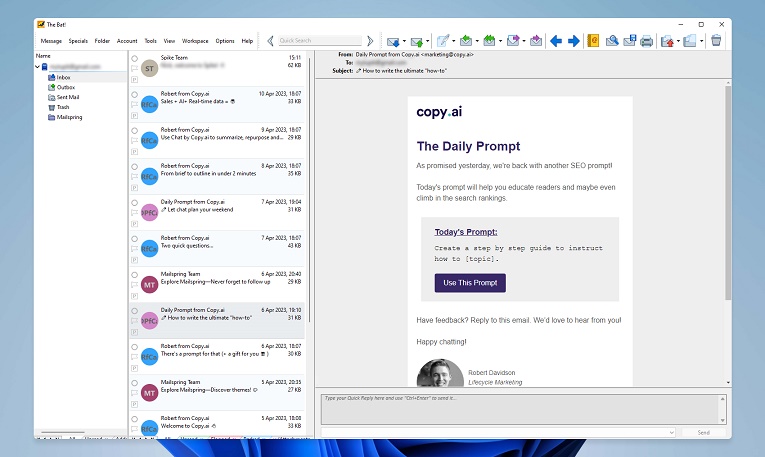 The Bat! also isn't as sleek-looking as other email programs for Windows 10 and 11, but its clunky user interface isn't nearly as unintuitive as it may appear to be at first. It's just that The Bat! is geared toward more advanced users who are already familiar with most of the features it supports. As a new user, you may feel somewhat lost at first, but we recommend you give it a few days before you give up on it.
Some of the features that do make The Bat! comparable to other options on the list include its address book, multilingual interface, filtering options, the ability to create templates, and smart sorting.
The Bat! pricing: The Bat! is only free for a limited time (30 days). After that time, you'll have to pay $49.99 for the Home version or $59.99 for the Professional version.
👍🏼 Pros:
Open source and free
Strong security
End-to-end encryption
Powerful filters
👎🏼 Cons:
Clunky user interface
Geared toward more experienced users
8. BlueMail
📝 Ad-Free Inbox Options on Any Device, Anytime
BlueMail by Blix is a cross-platform email program that works just as well on Windows as it does on Linux, Mac, and iOS. In fact, BlueMail is known as one of the best email apps for iPhone as well as for Windows.
Like the other options on this list, BlueMail supports IMAP, SMTP, and POP3 email clients. It offers a unified inbox view, along with a calendar tool and a task board. You can use it to manage an unlimited number of inboxes in a people-centric fashion.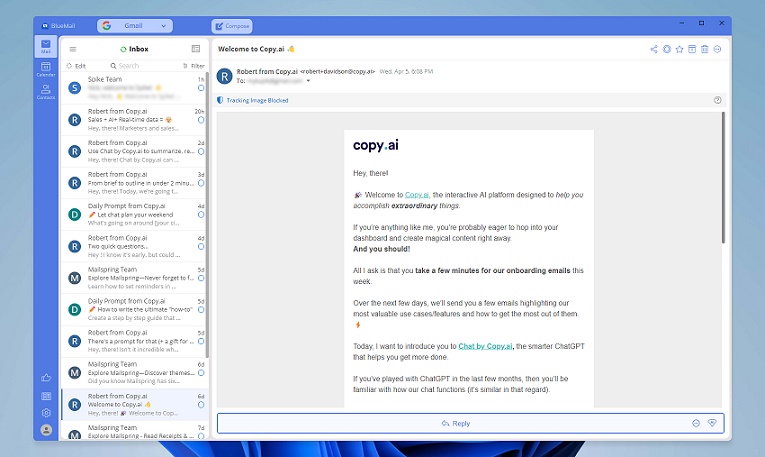 What's more, BlueMail includes a number of useful features that aren't available in Windows Mail. To help you combat inbox clutter, BlueMail automatically clusters similar emails together just like Clean Email's Smart Folder tool, so that you can spend less time on inbox management and more time on what actually matters. BlueMail also supports synchronization across multiple devices, which is great for those who may use it on their phone as well as their PC.
Of course, what really makes BlueMail one of the best free email programs for Windows 10 is the fact that the free version doesn't contain any ads and includes all main features except those that target business users.
If you're ready to get started with BlueMail, go to Various Account Settings > Add Account. Keep in mind that there are some automatically built-in set ups for Gmail and other common addresses. Otherwise, you'll have to manually add your address and the relevant settings before you can see your messages displayed.
BlueMail pricing: The majority of BlueMail's features are included in the free version. However, you can pay $4.49/month for the business version or $6.99/month for the enterprise version. These versions net you bonus features like app integration, corporate configurations, and branding options.
👍🏼 Pros:
Works across all major platforms
People-centric approach to email management
Integrated calendar
9. Spike
📝 Modernize Your Email to Collaborate on a Whole New Level
Spike is a relative newcomer to the email software game, but it has done an excellent job of adapting to today's email standards and becoming a great email client for Windows 10. The application has a sleek appearance and easy-to-use interface and has a web-based option in case you need to access your inbox from another computer on which you can't install the software.
Just like the other options on this list, Spike lets you bring everything together in a unified inbox. It also supports the custom organization with folders, tags, pins, and starring. Spike also supports translation into 10 different languages, and a calendar to make it easy to transfer your emails into actionable items.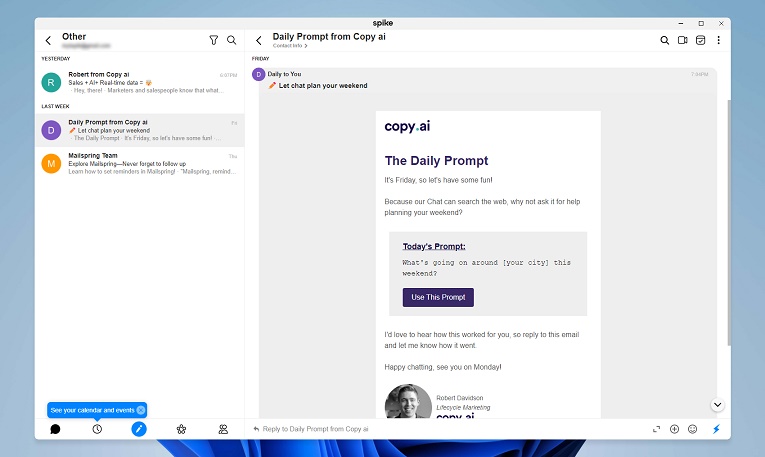 Unlike the other options on this list, Spike makes emails feel more like text messages, with real-time reply bubbles for casual conversations. However, this doesn't mean that it can't be used for professional email management as well, since it allows unlimited email accounts and up to 10 group chat rooms for collaborative efforts.
When it comes to sending features, Spike offers a lot more than Windows Mail. You can schedule out messages, undo sending when you push "enter" too soon, and you have the option to snooze messages from certain senders if they're getting too annoying.
Spike also includes a savvy notes section and a to-do list that allows you to prioritize certain tasks and messages. The intuitive nature of the program makes it a great Windows email client for both personal and professional email users.
After downloading Spike, just sign in with one of the addresses you'd like to use in Spike. Then you're ready to get started with the program.
Spike pricing: Unfortunately, the free version of Spike is limited to just one email address and limits search to 60 days. However, Spike offers two paid versions that increase the features and number of addresses it supports. The Pro version costs just $5 per month, while the Business account is $10 per month.
👍🏼 Pros:
Intuitive GUI
Sophisticated filtering
Modern appearance
Unlimited inboxes
👎🏼 Cons:
Professional version is not free
Text message appearance can get cluttered for longer messages
10. Claws Mail
📝 A Free Program With Lots of Options for Plugins and Customization
Let's not beat around the bush: Claws Mail is far from attractive. In fact, we would dare to call it one of the least visually appealing email programs for Windows 10 and Windows 11. It's got a fairly dated-looking interface in comparison to other free email programs for windows 10, yet it's one of the few truly free options available.
Like other programs on this list, Claws Mail offers IMAP and POP3 support for multiple email accounts. Unlike Windows Mail, it does support templates, filtering options, and automatic message saving. It also has an expansive list of keyboard shortcuts that can save users time when performing email tasks.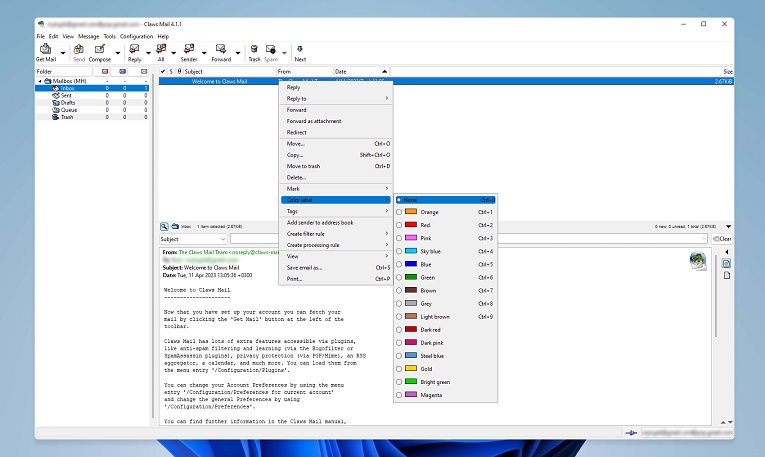 The dated user interface aside, there's a lot that Claws Mail can offer that goes above and beyond the other options on this list. For example, it can double as an RSS aggregator, so you can use it to automatically check websites for updates. If you don't care about RSS feeds because you use your Windows email program for email only, you should know that Claws Mail does everything an email client should do and more. It also supports GPG and SSL and provides a great plain-text editing experience.
Even though Claws Mail has been around for nearly 20 years, it's still just as actively developed as when it was first released. Claws Mail developers are always quick to fix any known bugs, and they listen to users when it comes to requests for new features. For these and other reasons, Claws Mail is one of the best email tools for Windows 10.
To start using Claws Mail, you'll need to download it from the website. Be advised, you may also need to download additional plugins before you're fully operational, depending on what features you'd like to have.
Claws Mail pricing: Like the other open-source options on this list, Claws Mail is completely free to use.
👍🏼 Pros:
Open source and free
Support for plugins
Handles multiple email accounts
👎🏼 Cons:
Adding email accounts is somewhat complicated
Outdated user interface
Not worried about the cost of your Windows email client? Then check out our recommendations for the best paid email client for Windows.
Clean Email Can Improve Any Email Program
Are you familiar with the concept of Inbox Zero? This rigorous approach to email management is aimed at keeping the inbox empty—or almost empty—at all times. If you consider yourself to be a tidy and organized person, achieving Inbox Zero is most likely right up your alley.
Achieving inbox zero isn't always as easy as it sounds. And although any free email client for Windows offers some great features, none of them can offer what the combination of an email app and inbox management tool like Clean Email can do together.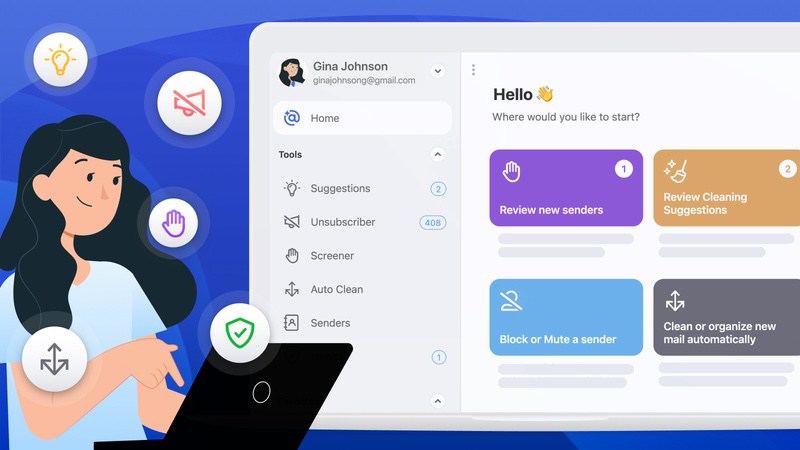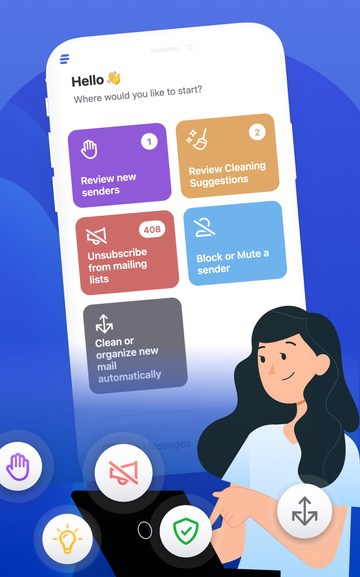 Clean Email isn't an email client, which means it can't send messages for you. However, it is a bulk email organizer that can help you reach your goal of achieving inbox zero. In fact, Clean Email is a useful tool that can help you cut down on your inbox clutter with its powerful filters and rules that automatically move emails into relevant groups that you can then manage in bulk.
One of the top features of Clean Email is Auto Clean. This tool makes it easy to establish inbox automation rules that handle basic tasks like moving messages into folders, deleting spam, or flagging messages from specific senders. To set up a new Auto Clean rule, all you have to do is hop into your Clean Email app, go to the Auto Clean tool, and press the + sign to start programming a new rule. The app will walk you through the steps.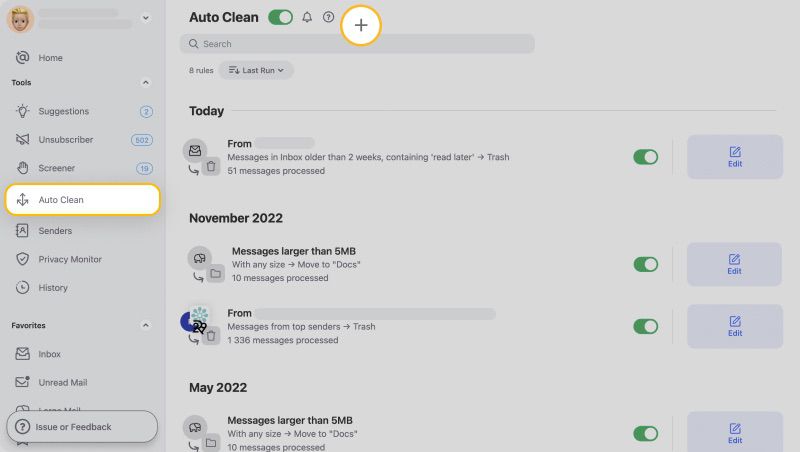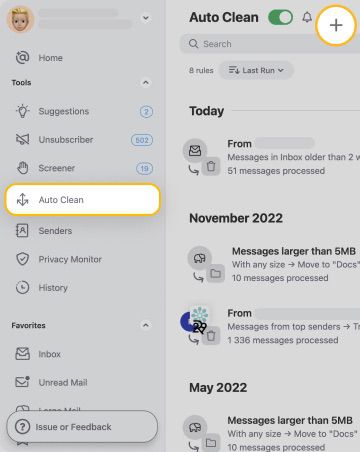 Another stand-out feature of Clean Email that helps you manage your mailbox is Smart Folders. As we mentioned earlier in this article, Smart Folders compares messages in your mailbox, then automatically sorts them into categorized folders based on commonalities like "social media notifications" or "financial records." When you log into Clean Email, you can then go to the Smart Folders one at a time and apply bulk actions to every message in that bundle.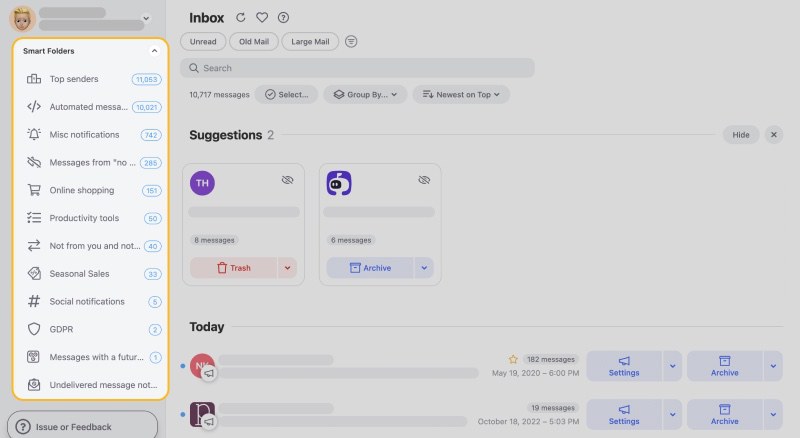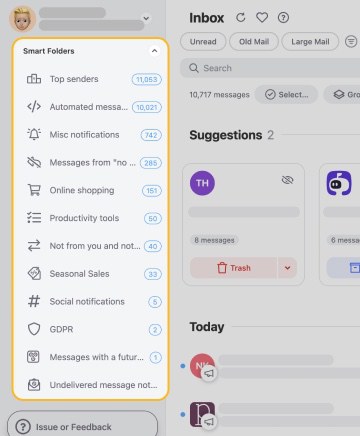 Other useful features that Clean Email offers include:
Screener: places messages from unknown senders in a quarantine folder instead of your inbox.
Unsubscriber: removes promotional messages from your inbox by automatically unsubscribing you.
Senders: automatically clears messages from flagged senders when they hit your inbox.
Cleaning Suggestions: offers a customized list of suggested actions based on past decisions with similar messages in your inbox.
Action History: tracks every task it performs for you so you can review it.
Before you even know it, there won't be a single unread email in your inbox, and you'll be able to enjoy the peace of mind that comes with knowing that your emails are organized as well as they can be. Clean Email is compatible with Gmail, Outlook, AOL, and all other major email providers. You can try and sign up to it here (completely free).
---
Best Email Programs for Windows- FAQs
Which are examples of email client programs?
Email clients for Windows 10 and 11 are software programs that can be installed on a Windows operating system and help you work with your mail. Some examples include Microsoft Outlook, Mail, and Spike. These programs allow you to access your inboxes and messages without logging into a particular website.
Does Windows 10 have an email program?
Windows 10 comes equipped with the Mail application, which allows you to link any of your mail accounts, whether personal or professional. It might not be the best email client for Windows, but it certainly gets the job done for those who don't need too many bells and whistles. And it's free.
What is email software used for?
Email software is used to help users access, organize, and filter their messages without going to a website. It can also provide additional security and offer a more intuitive user interface than many standard web-based programs.
What is the best email program to use with Windows 10?
The best Windows 10 mail app will be different for each person, but Mailbird has a variety of features that allow users to access their messages while maintaining a clean inbox and managing several accounts.
Is there a free alternative to Microsoft Outlook?
If you exclusively use Microsoft products but don't want to shell out the premium for Outlook, you should test out Mail from Windows, the default email program for Windows 10 and Windows 11.
Is the Windows 10 Mail program any good?
Mail is a very basic program. While it easily connects to Gmail, Yahoo!, and other mailboxes, it offers very little in terms of bells and whistles compared to some of the other free email programs out there.