ProtonMail
Mailbox size: 500 MB
Maximum attachment size: 25 MB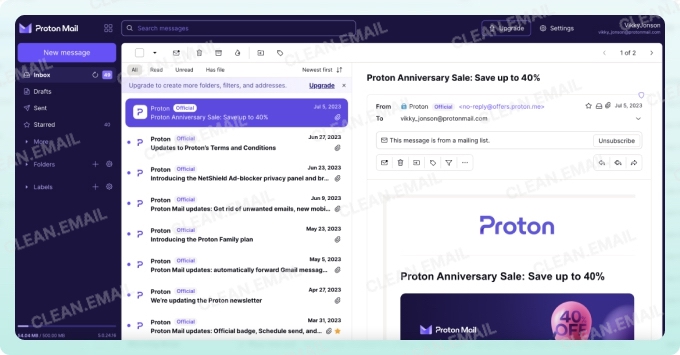 We live in the day and age of government and corporate surveillance and big data analytics. Everything you type, like, or search for, is collected, analyzed, and sold to the highest bidder by corporations who care about their shareholders first and ethics second. If you're tired of being part of the system and allowing technocrats to exploit your personal information to make a profit, we recommend you sign up for a free ProtonMail account.
Launched in 2014 at the CERN research facility by Andy Yen, Jason Stockman and Wei Sun, ProtonMail is a privacy- and security- conscientious email service that uses client-side encryption to protect email contents and user data before they are sent. ProtonMail is based and incorporated in Switzerland, a country with strong privacy laws, and its code is open source and publicly available. Unlike many other encrypted email services, ProtonMail is surprisingly easy to use and optimized for productivity. Even if you don't speak the language of technology, you'll be able to use ProtonMail and reclaim your personal information.
ProtonMail offers a highly rated app for Android and iOS. The app has been designed from the ground up to provide maximum privacy and security when reading, composing, and managing email messages on the go. It's also the only way how to comfortably access ProtonMail apart from ProtonMail's web app. That's because this email service doesn't integrate with third-party email clients (IMAP/SMTP) due to its unique design, which prioritizes security over interoperability.
Pros: Free privacy-oriented email service, open source, passed multiple independent security audits, end-to-end encryption.
Cons: Limited mailbox size with the free plan, poor customer support, doesn't integrate with third-party email services.