12 Best Gmail Add-Ons
It's easy to forget that Gmail launched back in 2004. A lot has changed since then, and Gmail now has so many features that most users barely scratch the surface of what it can do. But what if you're not like most people? What if you like to take advantage of each and every feature available to improve your productivity and enhance your email workflow?
In that case, you will be pleased to know that you can make Gmail even smarter and more capable than it already is using Gmail add-ons, which have been supported since 2017. An add-on is a piece of software that enhances another software application. As such, Gmail add-ons are not independent applications that can be run on their own. Instead, they integrate with Gmail, allowing you to customize your email experience in many exciting ways.
To ease you into the world of Gmail add-ons, we've selected 12 best Gmail add-ons, making sure to include something for everyone. Included are the best free Gmail add-ons, the best Gmail add-ons for business, and also a bonus for those who would like to take their inbox management to the next level and spend less time organizing emails and more time being productive.
More than 250,000+ professionals have added Right Inbox to Gmail for next-level email productivity. High performers use Right Inbox to get the most out of Gmail with email tracking, email follow ups and email scheduling.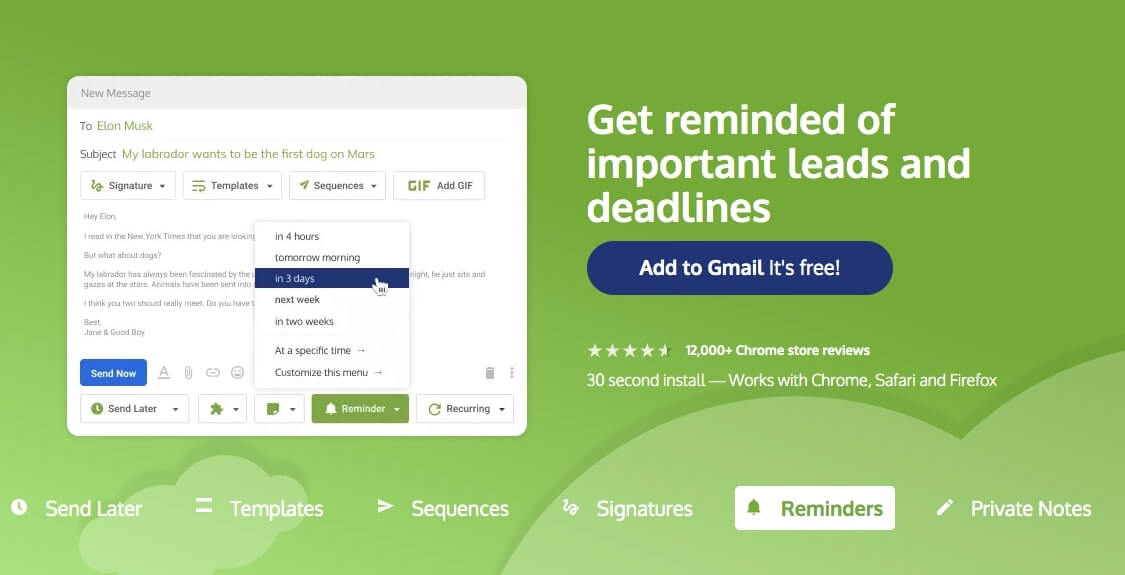 Right Inbox saves you time on repetitive tasks and helps you to send better emails, in less time consistently. By installing the gmail add on, you'll get all the functionality that you wish Gmail included as standard. Other features include email notes, email templates and email signatures.
Most support teams use a separate helpdesk to manage customer queries. But the problem with conventional helpdesks is that they come with a steep learning curve and are complicated to use.
A solution like Hiver helps you overcome these difficulties by being the first helpdesk built for Google Workspace. That means teams can deliver fast and empathetic customer service, right from the tool they are already familiar with - Gmail.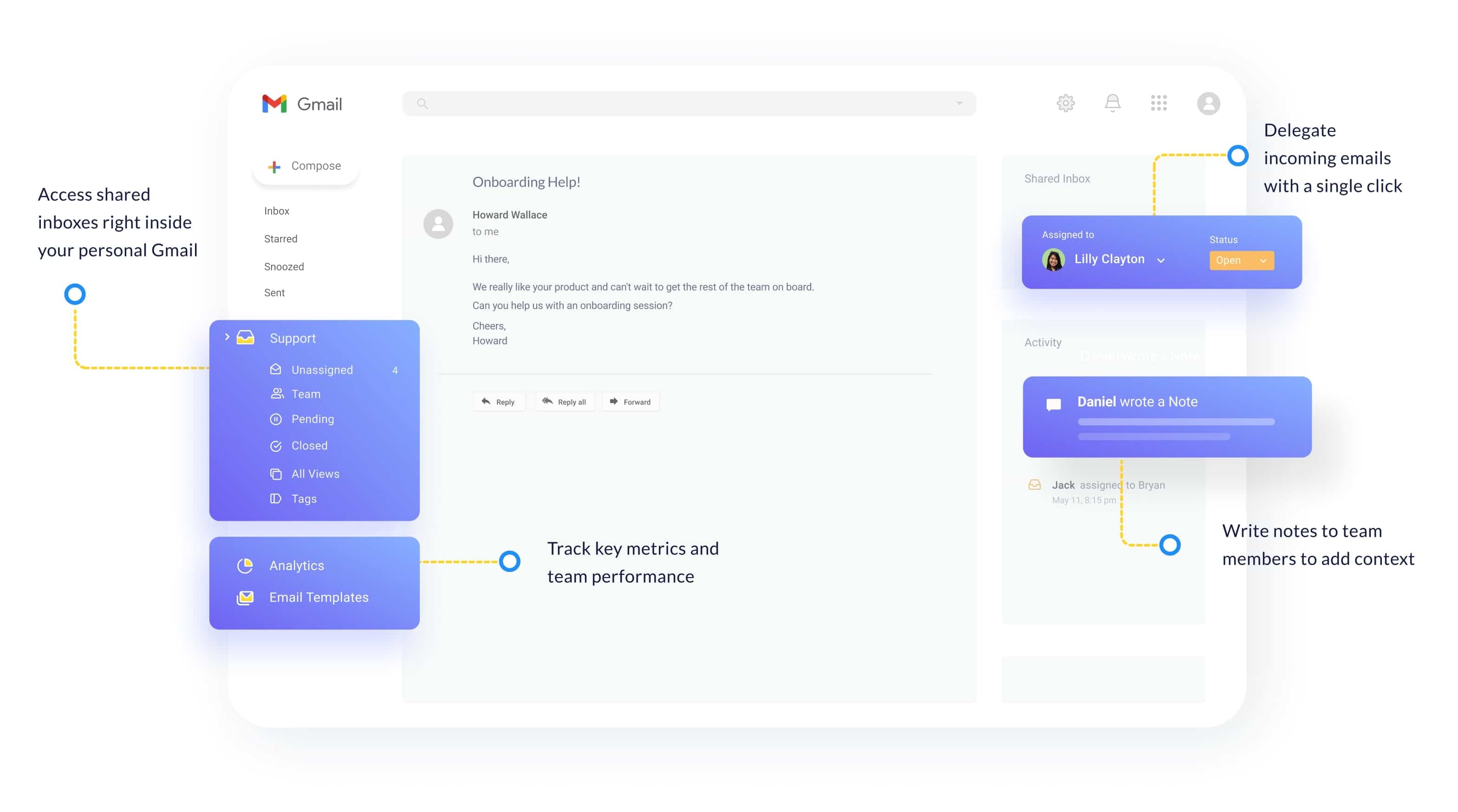 Hiver fits intuitively within Gmail's native interface - making it extremely simple to use - and enables you to delegate, track, and collaborate on customer queries. Teams that use Hiver are also equipped with powerful automations (that help you create customizable workflows) and advanced analytics (that help you analyze team performance in a detailed manner).
Hiver's pricing starts at $12/user/month and comes with a 14-day free trial.
Dropbox is a popular cloud storage service that started in 2008 as a modern alternative to transferring files on USB flash drives. Since then, Dropbox has been translated into 17 languages, and the service is available for all major operating systems, including Windows, macOS, Linux, Android, and iOS.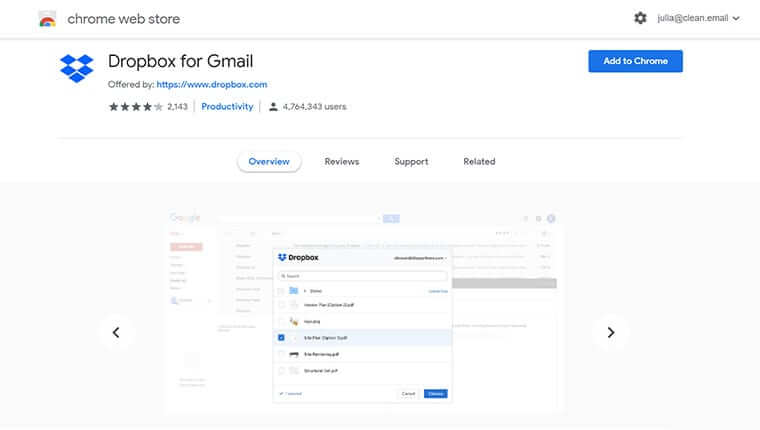 What's beautiful about Dropbox is that the service allows you to access your files from anywhere. Let's say you're visiting your parents for Christmas and suddenly remember that you haven't yet sent an important email with a PDF attachment to your boss. With this Gmail add-on, you can simply retrieve the file from your Dropbox cloud storage without leaving Gmail and send it with a single click.
Yes, you could also just open Dropbox in a web browser, download the file to your device, and include it as an attachment, but that would take an unnecessarily long time. Considering that it takes just a few seconds to install the Dropbox add-on, using it is a no-brainer.
Boomerang is one of those best add-ons for Gmail that you won't be able to live without once you discover how powerful it is. Essentially Boomerang lets you take control of when you send and receive email messages. It adds a second send button and a handy calendar picker that allows you to tell Boomerang when to send your message.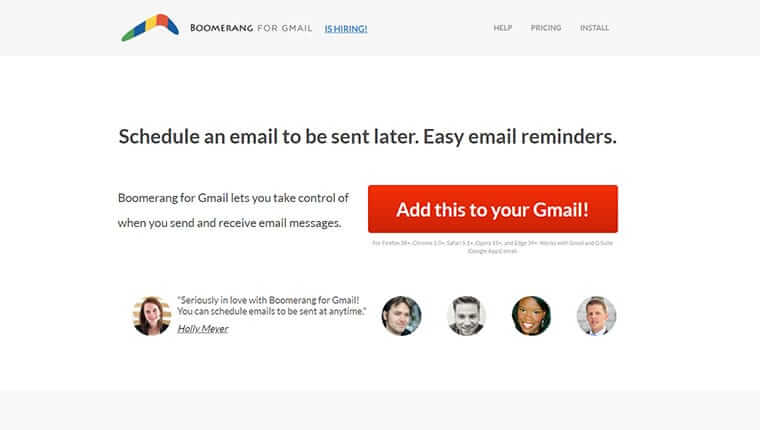 Once an email message is scheduled to be sent in the future, you don't even have to be connected to the internet for the message to be delivered. Besides scheduling emails to be sent later, Boomerang can also take messages out of your inbox until you actually need them. If you send just 10 emails a month, you can use Boomerang for free, and unlimited plans start at $4.99 a month. We let you decide whether they're worth it.
Do you often get emails from recruiters, companies, and potential business partners? If so, you probably know how difficult it can be to tell which of them are legitimate and which have been sent by spammers and phishers. With Discoverly, you can easily deep dive into social media networks to find information about senders.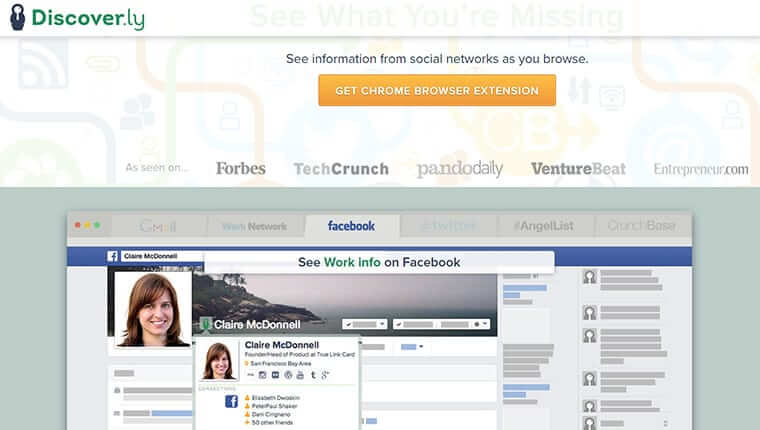 With a single click, Discoverly looks up contacts in Gmail, LinkedIn, Facebook, and Twitter to find mutual connections, tweets, Facebook posts, LinkedIn profiles and blog posts, and much more. Discoverly works with Boomerang, and we highly recommend it to job hunters, salespeople, recruiters, entrepreneurs, and just about everyone else who doesn't enjoy responding to emails from unknown senders.
To make a good first impression in real life, you have to dress well, present yourself appropriately, have a winning smile, be open and confident, use small talk, speak clearly, make eye contact, use body language, and much more. But how do you make a good first impression when sending an email? With a gorgeous email signature!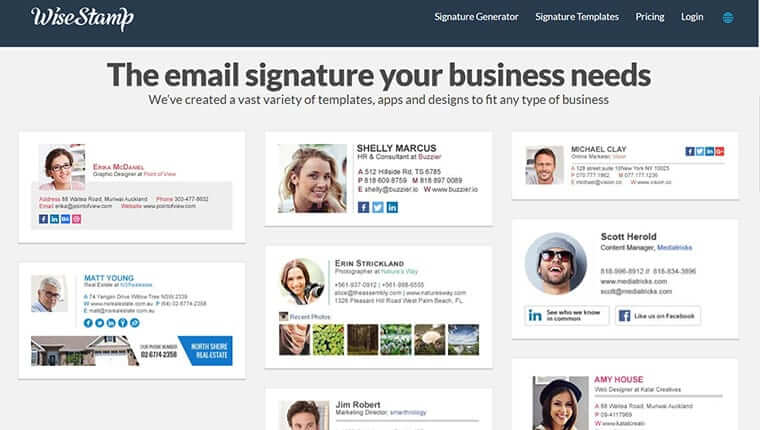 WiseStamp is an online service that lets you quickly and easily generate a customized email signature using a vast variety of templates, apps, and designs to fit any type of business. WiseStamp has already helped over a million professionals improve their online image, and it can do the same for you. WiseStamp is free to use, but you need to upgrade to a paid plan to unlock all features.
7. KeyRocket
As you may already know, Gmail supports a ton of keyboard shortcuts to allow its users to compose emails without taking their hands off the keyboard. The only problem is that there are so many of them that remembering them all—or even a small fraction of them—can be a challenge.
Fortunately, there's KeyRocket, a simple Gmail add-on that tracks every move you make in Gmail and suggests appropriate keyboard shortcuts, helping you learn them naturally. KeyRocket is free, and it doesn't collect any data on your Gmail usage.
How many times a day do you stop working on an important task and open Gmail to check if you have a new email message in your inbox? Most people do it more often than they realize, losing as much as several minutes each time they check.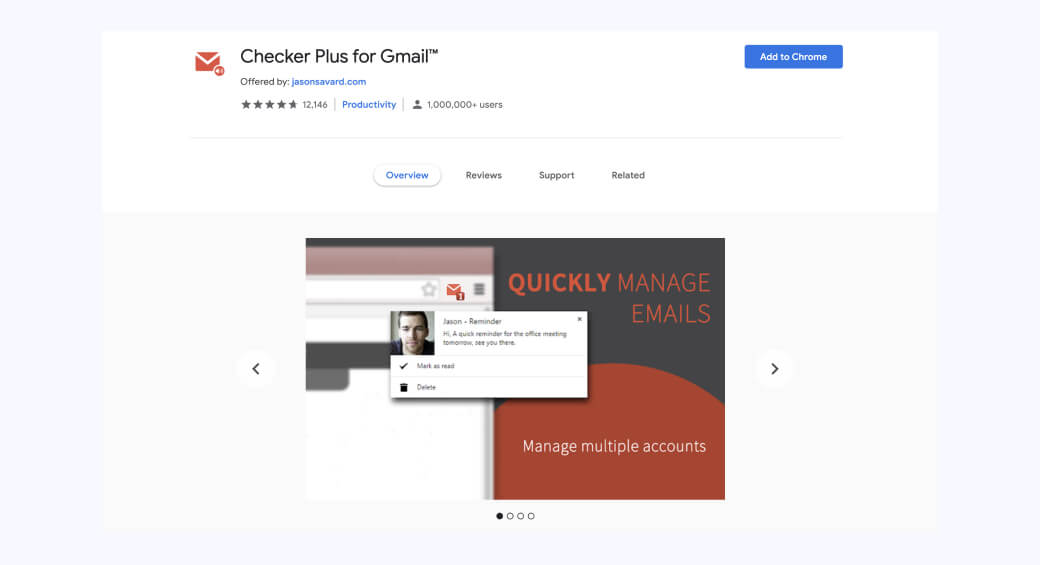 Checker Plus for Gmail is a useful Chrome extension that you can use to get real-time notifications for multiple Gmail inboxes. You can read or listen to emails straight from the extension without opening your Gmail account, and there are many customization options to play with.
For example, you can activate voice notifications so that you don't miss important emails even when cooking or doing paperwork. You can also monitor only a specific Gmail label, such as the one you use for work-related emails.
Zoom is a provider of video conferencing solutions, and its Gmail add-on is boon to all professionals who would like to schedule video meetings straight from Gmail. With a simple click, the add-on can escalate any email conversation into a video collaboration session with a frictionless experience across desktops, mobile devices, and conference rooms.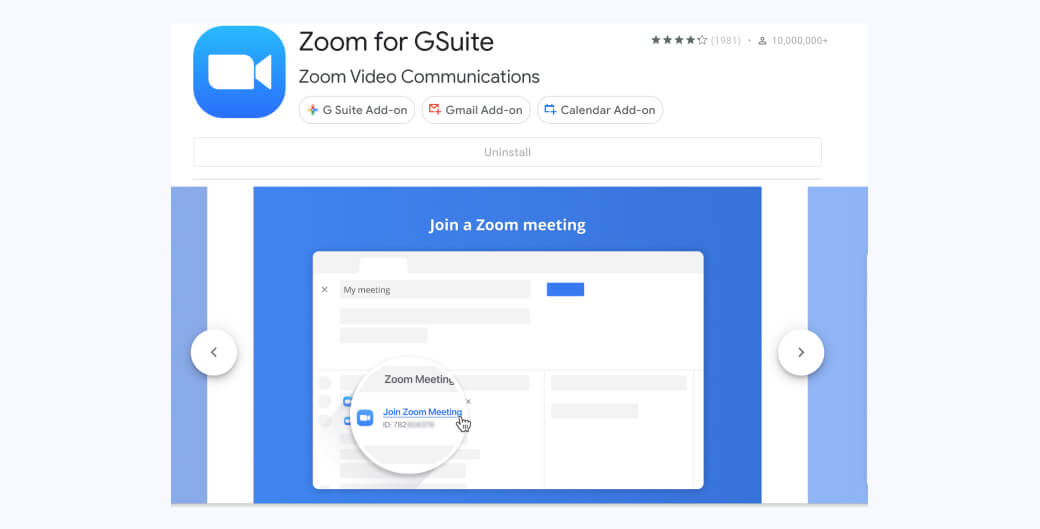 Zoom for Gmail features a simple and quick login process that doesn't require you to create a password, and it supports Google OAuth two-step verification for an extra layer of security. When you're not participating in a video meeting, you can use this add-on to schedule meetings with colleagues, see what meetings others have scheduled with you, and more.
It always sucks to receive an email from someone who seems to know you but be unable to remember who they are. With Cleanbit Connect, you can figure it out in just a few seconds. This must-have Gmail add-on can instantly retrieve information about senders from the internet, including location, job title, social profiles, and email address.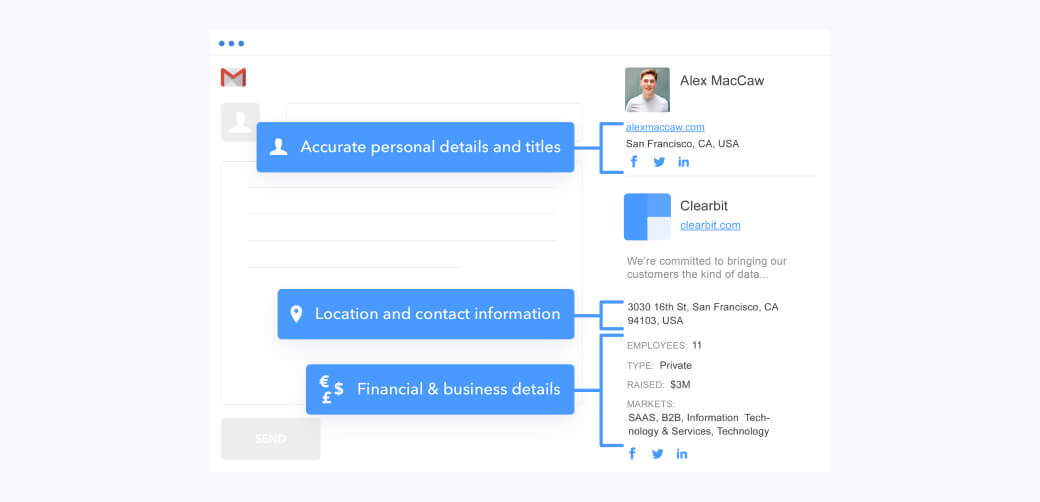 Cleanbit Connect can also be used as a powerful contact list that makes it very easy to find any sales email address just by typing the name of the associated company. All these features are available for free, but you have to be willing to let Clearbit Connect share some information about you with third-party advertisers and service providers. As an individual user, you probably have nothing to worry about, but businesses should read Clearbit Connect's privacy policy very carefully.
Providing customer support via email can be a real challenge, especially when multiple employees share responsibility for a single inbox. By supercharging your Gmail inbox, Gmelius makes it easy to overcome this challenge and handle all emails in a timely manner.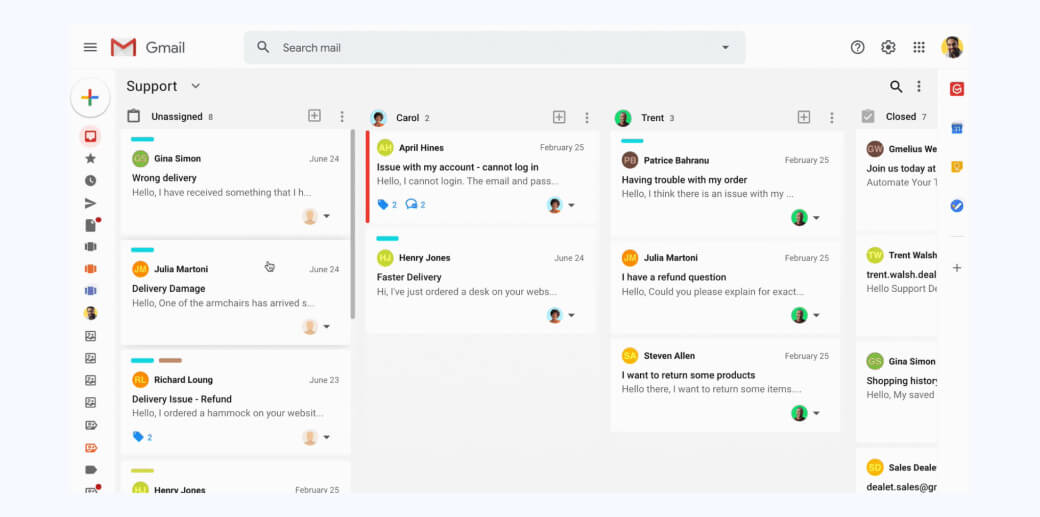 Essentially, Gmelius does three main things: lets you easily manage group emails from a shared inbox, provides a real-time view of your team's pipelines, and automates your company's processes. Each one of these core functionalities is designed with the average email user in mind, so there's no need for lengthy onboarding.
Gmelius can also detect and block email trackers, quickly unsubscribe from newsletters, report when your recipient clicked on any of your links, and send recurring emails. You can try it for free for 14 days before upgrading to one of its three premium plans.
Who said that emails couldn't be fun? With Gfycat for Gmail, you can give your emails a personal touch by inserting a chuckle-worthy GIF with a few clicks. Gfycat started in 2013, and the user-generated short video hosting website has since then become the top destination for GIFs on the internet.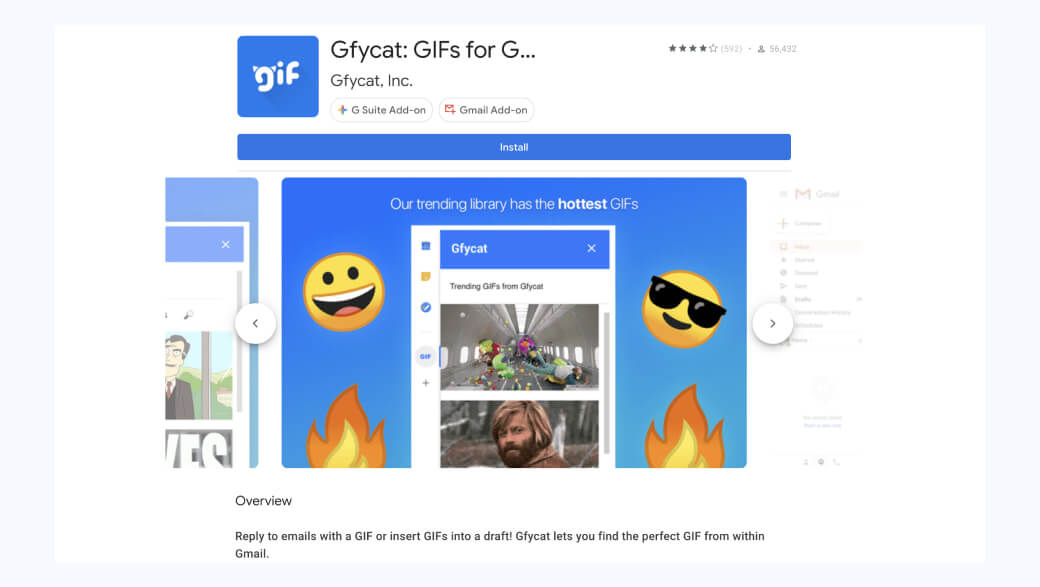 Today, Gfycat hosts millions of GIFs organized into multiple categories, including gaming, reactions, stickers, celebrities, and others. Its users upload thousands of new GIFs every single day, and it rarely takes more than an hour for viral video clips to appear on the website as short GIFs. On the Gfycat website, you can create your own GIFs from YouTube, Facebook, Twitch, or a local video file.
Clean Email is a third-party service that works with Gmail as well as with several other email services. The purpose of Clean Email is to help email users achieve and maintain Inbox Zero, which is a rigorous approach to email management aimed at keeping the inbox empty at all times. Instead of managing emails one by one, Clean Email organizes emails in groups, allowing you to act on multiple emails at the same time.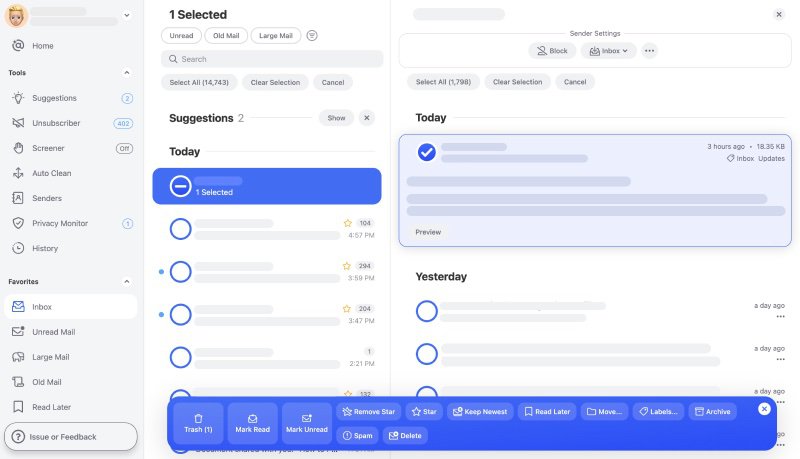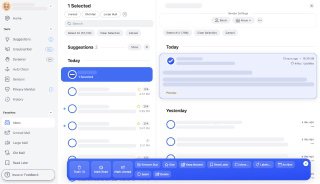 Besides making it possible to clean up your inbox with only a few clicks, Clean Email also ensures that your inbox stays empty going forward. It can intelligently unsubscribe you from newsletters and other unwanted subscriptions, block senders, and automatically apply selected actions to emails as they arrive.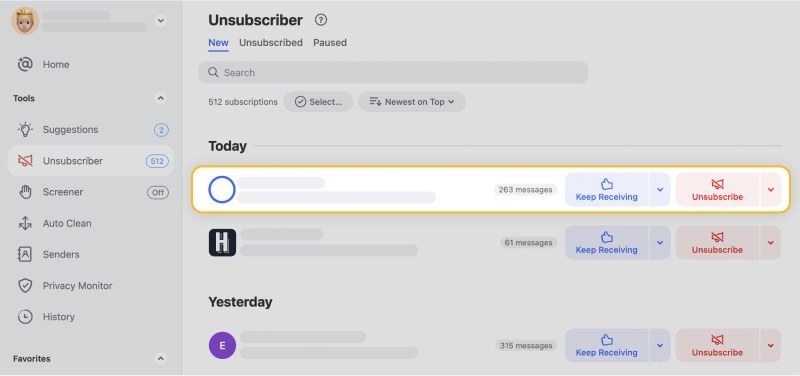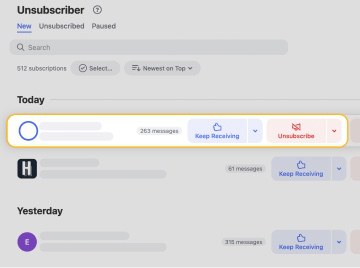 Conclusion
Gmail add-ons are handy when you want to use Gmail to its full potential and take your productivity to the next level. Most Gmail add-ons are free, and those that aren't are usually very affordable, especially considering how much time they can save you.