Mailstrom vs Clean Email: Side-by-side Comparison
In this comparison table, we will highlight the key features and differences between Clean Email and Mailstrom, two popular email management tools, helping you determine if Clean Email is a viable Mailstrom alternative.
Clean Email

Mailstrom

Free trial
Yes
(shows all emails, managing up to 1,000 emails + up to 2,000 emails from social sharing, unsubscribing from 25 subscriptions, 14-day trial for Premium features)
Yes
(shows the latest 5,000 inbox emails, managing up to 2,500 emails, unsubscribing from mailing lists, Premium features are not available in trial)
Unsubscribe Feature
Yes
(Unsubscribe and delete, Pause subscription, Read Later (rollup), Keep Newest)
Yes
(Unsubscribe, Unsubscribe and delete)
Automated email rules
Yes
(for Delete, Archive, Move, Mark Read/Unread, Star, Keep Newest, Label, Spam, and more actions)
Yes
(for Move action)
Intuitive email filters
Smart Folders (33 filters including 'Social Notifications', 'Online Shopping', 'Finance', and more) + sorting by size, date, sender, label, and more
4 filters: 'Shopping', 'People I've emailed', 'Social', and 'Mailing lists' + sorting by size, sender, date, and subject
Reply / Forward emails
No
Yes
Cleaning Suggestions
Yes
(shortcuts to clean messages quickly)
No
Screener
Yes
(keeps emails from unknown senders out of your Inbox)
No
Email providers supported
Gmail, Outlook, Yahoo, and any IMAP email service
Gmail, Outlook, Yahoo, and any IMAP email service
Platforms
Web, macOS, iOS, Android
Web
Multiple accounts support
Yes
Yes
Available in the EU & EEA
Yes
Yes
Sharing data with third parties
No
No
What Is Mailstrom App?
Mailstrom is an email management software that lets users apply bulk actions to any number of emails in their mailbox. This inbox cleaner identifies bundles of related mail, grouping all messages from the same senders together so you can act on them collectively instead of having to delete, move, or archive every email individually.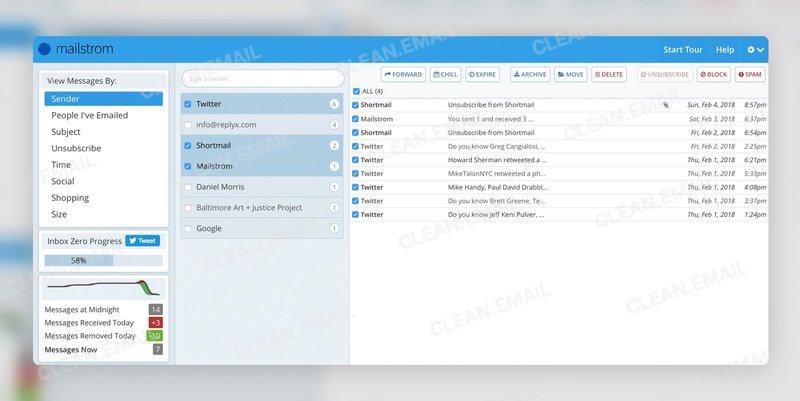 Additionally, the Mailstrom app lets users unsubscribe from mass mailings, block specific senders, establish automation rules, and receive email reports.
What Is Clean Email?
Clean Email is a Mailstrom alternative that offers many of the same features. Like the Mailstrom app, Clean Email lets you apply bulk actions to groups of messages. It can also identify related messages based on sender, subject, and other factors like messages with attachments or messages with the same type of content (i.e. social media notifications).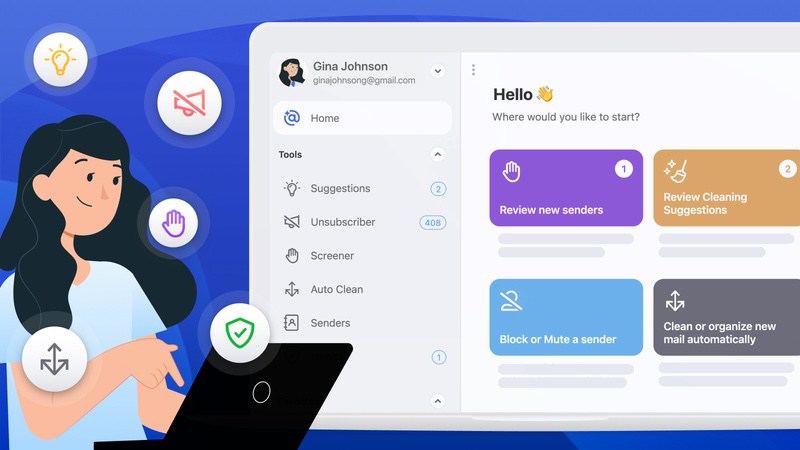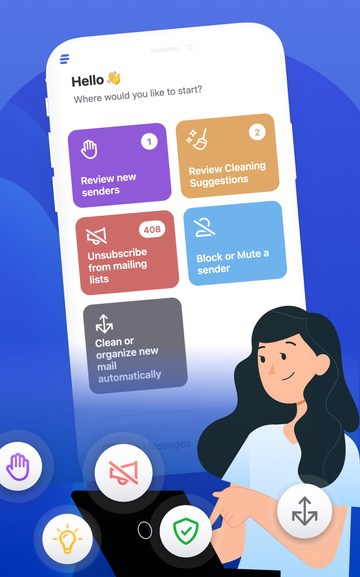 Furthermore, you can remove yourself from unwanted subscriptions and block emails from senders you don't want to communicate with. You can create email automation rules, quickly clean out clutter, and more through the app. All in all, this email cleaner offers over a dozen inbox management features, making it one of the best Mailstrom alternatives.
💡 Note: The primary difference between Clean Email and Mailstrom lies in the fact that Mailstrom enables users to reply to and forward emails, whereas Clean Email does not function as an email client. However, Clean Email boasts a more comprehensive range of email management features, which we'll discuss in greater detail in the next sections.
Key Differences Between Mailstrom and Clean Email
On the surface, Mailstrom and Clean Email both appear to be very similar products. However, there are some key differences between the two apps when you take a closer look and compare them in-depth. In fact, there are notable distinctions in terms of the features each app offers.
Features
Mailstrom and Clean Email provide various mailbox management features, with some differences that may go unnoticed by users. However, as you'll see in our breakdown below, there are times when Clean Email offers much more.
Block & Unsubscribe
Even though your email service of choice most likely has a built-in spam protection mechanism, the chances are that you still receive spam messages from time to time. That's because email spammers are getting more and more creative, constantly finding new ways how to circumvent spam filters. They are often willing to go as far as to send highly targeted emails that are virtually indistinguishable (at least from the point of view of spam filters) from legitimate emails.
Mailstrom comes equipped with a handy one-click Block function. By simply selecting an email and hitting Block, you can prevent future messages from undesired senders. You can also input a domain name into the search field, which selects all existing addresses from this domain in your mailbox, and blocks them all at once. However, this doesn't block future emails from new addresses within the same domain.
In Clean Email, you'll find a more robust blocking feature. The app allows you to block an entire domain, including all existing and future addresses from it. Plus, you can create a single rule to block multiple domains at once, a step up from blocking domains individually as in Mailstrom.
Of course, not all unwanted emails come uninvited. Online shopping often leads to subscriptions to numerous mailing lists, resulting in an overload of marketing emails. Mailstrom's Unsubscribe feature allows one-click unsubscribing from mailing lists, but only when an unsubscribe address is available. If such an address doesn't exist, the option to unsubscribe via the sender's website in a new tab is provided, putting the work back on you. It's important to note that Mailstrom only permits unsubscribing from one subscription at a time.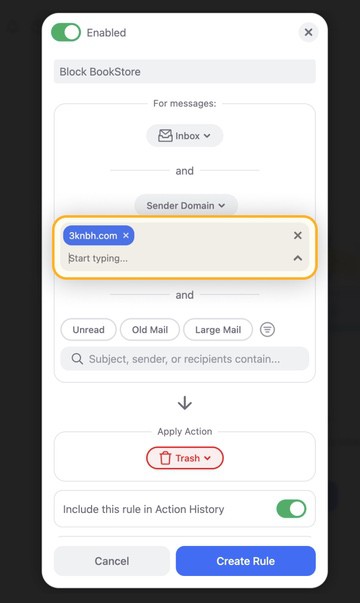 Compared to Mailstrom, the Clean Email's Unsubscriber tool functions even when senders don't provide an unsubscribe option. The tool also allows users to move messages from specified senders to a Read Later folder or keep only the most recent message from a particular domain. Clean Email offers a subscription pausing feature, enabling users to temporarily halt emails from select senders. Additionally, it allows unsubscribing from multiple subscriptions at once, streamlining the process and saving time.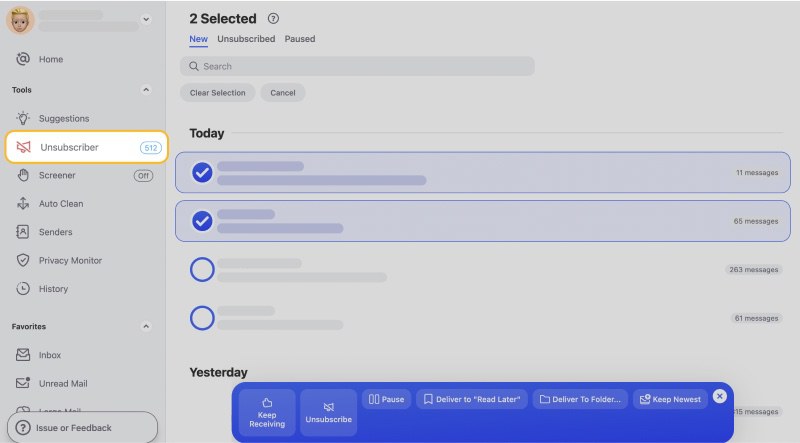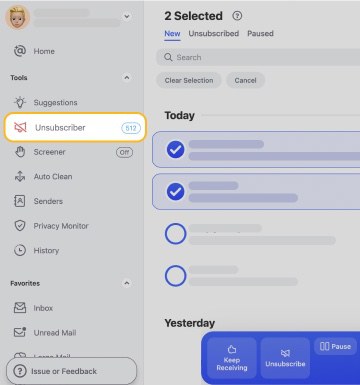 Message Filtering & Automation
If you are trying to quickly sort through dozens or hundreds of messages in your inbox, you need an inbox management app that can filter messages in multiple ways. You may want to do this by sender or subject, but you may also wish to filter messages on a more creative level like "financials" or "social media notifications."
Mailstrom's offerings are quite limited here. Within the Mailstrom app, you can filter messages by size, sender, subject, or date. Otherwise, the only options you have for pre-defined filters are "Shopping," "Social," and "Mailing lists," and "People I've emailed."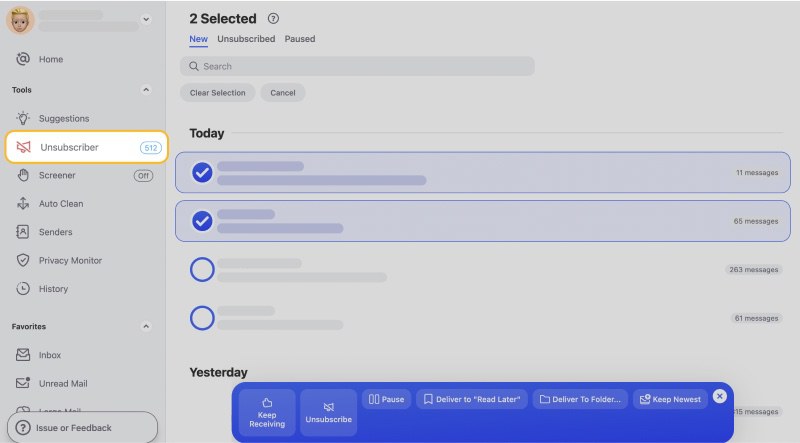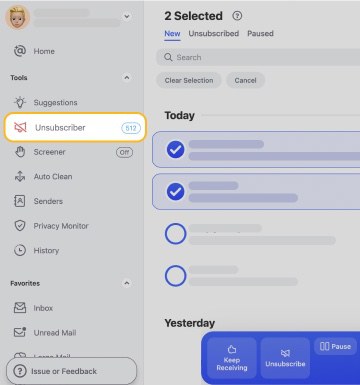 Also, Mailstrom doesn't offer much in the way of inbox automation. All you can do here is set up automations that move messages from specific senders into folders that aren't your inbox.
On the other hand, Clean Email organizes all emails into 33 different, easy-to-review smart bundles, called Smart Folders. These options include: "Seasonal sales," "Social notifications," "Finance and insurance," "Travel," "Entertainment," and much more! If you don't like how the Smart Folders sort things, that's okay, because you also have the option to filter messages by size, date, sender, read/unread status, starred/without star, and labels assigned.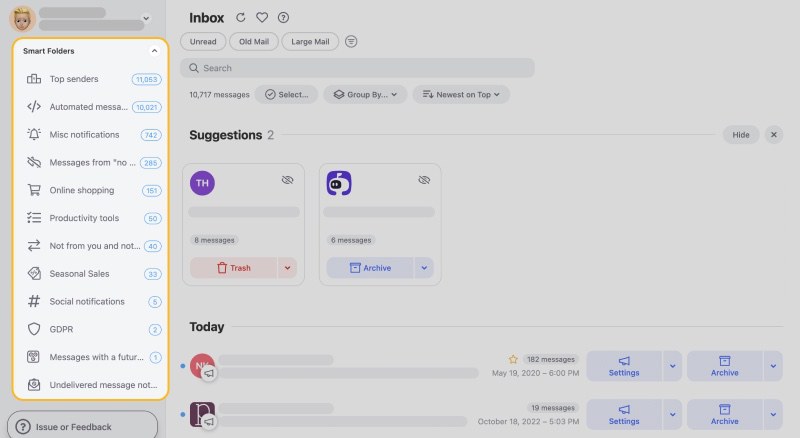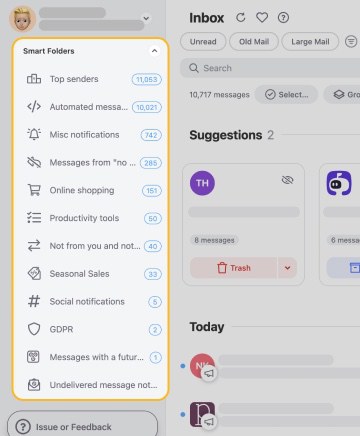 Furthermore, Clean Email has the capability to automatically apply selected actions to all future messages, thereby streamlining your email management process. The operation is straightforward: select the message, click the Create Rule button in the blue action bar, then choose the action to be applied to future messages from that sender. Actions could include deleting, archiving, labeling, moving, marking as read or unread, adding or removing stars, or designating as spam. The app will seamlessly handle the rest for you.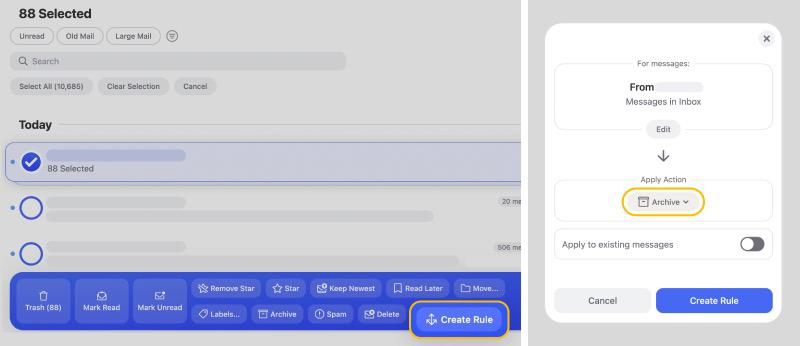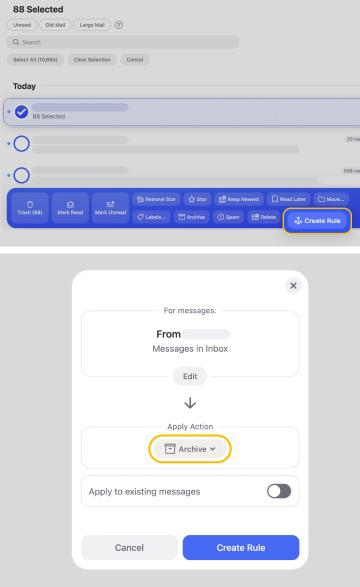 Other Unique Features
While Clean Email and Mailstrom offer a range of impressive features, they cannot fully replace your chosen email client. Notably, Clean Email does not function as an email client in any capacity—it does not support writing or replying to messages. On the other hand, Mailstrom does provide an option to reply to emails directly within the app. However, the lack of a feature for composing new messages underscores that Mailstrom too cannot serve as a complete substitute for a comprehensive email client.
Mailstrom's unique features include Chill, which hides selected emails until a future date, and an efficient email forwarding functionality, optimizing the management of your inbox.
Inversely, Clean Email offers unique email management features that Mailstrom does not. For example, the Screener tool keeps emails from unknown senders out of your inbox and in a separate folder until you review them and decide to block or move to a folder. Also, the app offers Cleaning Suggestions, which are helpful hints based on past actions you've performed with messages.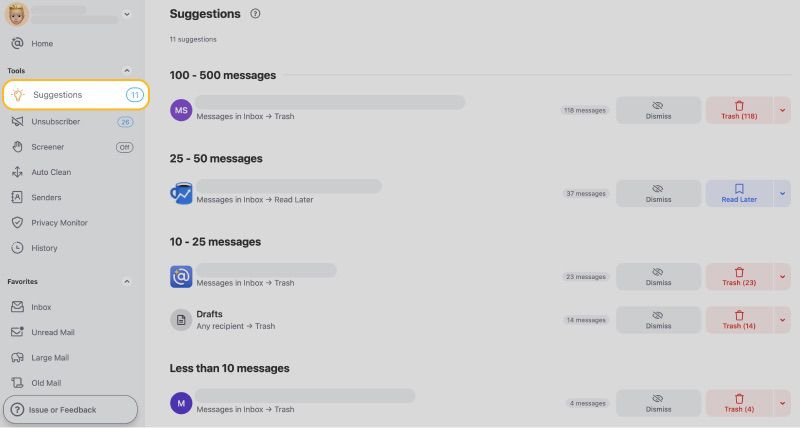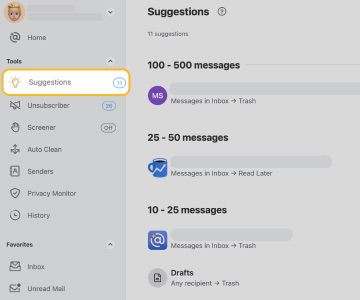 Pricing
You can try Mailstrom for free to load up to 5,000 emails and remove 25% of them, but unlimited removal is available only if you purchase one of the three premium plans: Basic, Plus, and Pro. The Basic plan costs $9.00 per month ($59.95/year), and you can use it to manage one email account. The Plus plan costs $14.00 per month ($99.95/year), and you can use it to manage up to 3 accounts. Finally, the Pro plan costs $29.95 per month ($199.95/year), and you can use it to manage up to 20 accounts.
Opting for an annual subscription, Clean Email emerges as a more affordable Mailstrom alternative. You can choose from one of three plans, based on the number of accounts you wish to manage. For 1 account, you pay just $29.99 per year (or $9.99/month if you choose the monthly plan). For 5 accounts, you'll pay $49.99 per year ($19.99/month). Finally, for 10 accounts, you pay just $99.99 per year ($29.99/month). All app's plans include all features, and there are no additional fees or charges to worry about.
Platforms
Regarding platform compatibility, Clean Email clearly stands out as the more versatile option compared to Mailstrom. While Mailstrom is limited to web use, Clean Email extends its functionality across a range of operating systems, offering dedicated applications for web, macOS, iOS, and Android.
Mailstrom does offer an alternative for iOS users through Chuck, another product from the same company. However, this requires users to switch between different applications, depending on the device they are using. Clean Email's seamless multi-platform support offers a more streamlined and consistent user experience, irrespective of the device in use.
Discover Clean Email's edge as a versatile Chuck Email alternative.
Privacy
Based on its Privacy Policy, Mailstrom respects user privacy by only collecting necessary data to improve services and user experience. They don't use personally-identifying data for purposes outside service improvement, nor do they use user data for ads. They retain user data only for as long as needed, and respect users' GDPR rights, including rights to access, correct, or erase their personal data. Mailstrom also employs third parties in a limited, necessary capacity and doesn't share user data for direct marketing purposes.
Clean Email prioritizes security and privacy, ensuring it neither retains, sells, nor analyzes user data beyond what is strictly necessary for delivering its public features. It operates without advertising, fully funded by fair service charges, and it guarantees not to share, sell, or anonymize any user data. All access tokens and mailbox details are encrypted, ensuring they are only used for scanning your mailbox and executing selected actions, and they are inaccessible to anyone at Clean Email.
How to Use Clean Email as a Mailstrom Alternative
If you are using Mailstrom as an email client (to reply to emails), Clean Email can't be a direct alternative to Mailstrom. However, in terms of email management features, Clean Email is a much more complete solution for users.
If you're ready to try Clean Email out as a Mailstrom alternative, here's how to get started:
Step 1. Go to: https://app.clean.email/
You can get started with Clean Email for free and instantly use it to transform a messy inbox into a neatly organized collection of email messages.
Step 2. Sign in with your email account.
Clean Email works with any IMAP email services, including Gmail, Outlook, iCloud, Yahoo Mail, and others.
Step 3. Begin with the Cleaning Suggestions feature for an effective start to decluttering your inbox.
Cleaning Suggestions provide recommendations on types of emails to clean and suggest actions like archiving or deleting them. You can choose to accept or decline these suggestions swiftly. Additionally, you can use these suggestions to establish an Auto Clean rule for similar future messages, ensuring continuous inbox management.
Step 4. Check out the Unsubscriber tab for detaching from unwanted mailing lists with just one click.
Unsubscriber handles the process by sending an unsubscribe request, and if overlooked, blocks the sender's future emails. You also have the option to delete all previous emails from the sender upon unsubscribing. Moreover, Unsubscriber allows you to pause subscriptions or reroute them to a different folder, providing additional options to maintain a tidy inbox.
Step 5. Explore the Smart Folders to manage emails based on specific criteria they have.
Smart Folders categorize emails from your entire account, including social notifications, bulk emails, travel, financial, and online shopping correspondences, among others. They present a structure similar to your inbox, with groups, filters, and similar settings, enabling swift and convenient email management.
Still seeking for the best Mailstrom alternative? For a detailed understanding of how Clean Email serves as an alternative to various other email tools, delve into our write-ups on the best safe Unroll.me alternative, Clean Email vs. Cleanfox, and Clean Email vs. Mailman.
---
Clean Email vs Mailstrom - FAQs
Is Mailstrom safe?
Yes, it is. Mailstrom is considered safe as it uses OAuth to access your emails, meaning it doesn't store your email password. Additionally, it commits to a strong privacy policy, promising not to read, sell, or share your email data.
Is Clean Email safe to use?
Yes, Clean Email is perfectly safe to use. You can read all about our security measures before signing up.
What is better than Mailstrom?
There are many mailbox management apps available, and many of them offer comparable or better features to Mailstrom. In addition to Clean Email as the best alternative to Mailstrom, you may want to consider Chuck, Sanebox, or Mailman.
Is Mailstrom free?
Mailstrom offers a limited free trial. However, to access all the features, you will need to sign up for one of the three paid tiers.