What Is Mailstrom App?
Mailstrom presents itself as the fastest way for email users to organize their cluttered inboxes. This inbox cleaner identifies bundles of related mail, grouping all messages from the same senders together so you can act on them collectively instead of having to delete, move, or archive every email individually.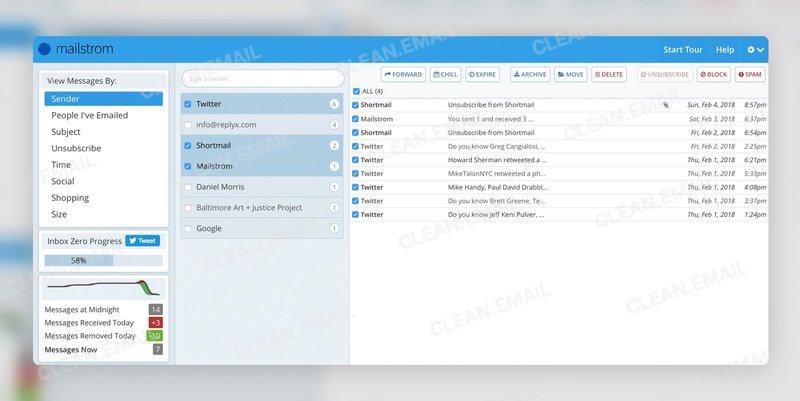 What Is Clean Email?
Despite its many merits, Mailstrom is not the best inbox cleaner available—not by a long shot. That's because there is also Clean Email, the best Mailstrom alternative you can find. Just like Mailstrom, Clean Email can delete you from unwanted subscriptions and block emails from senders you don't want to communicate with, but there's so much more this alternative to Mailstrom can do for you and your inbox management.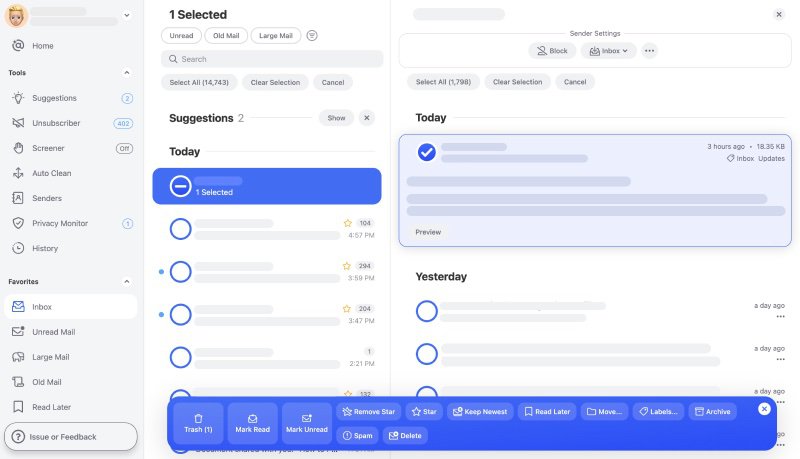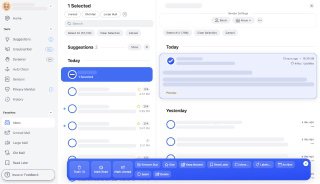 Features
Even though your email service of choice most likely has a built-in spam protection mechanism, the chances are that you still receive spam messages from time to time. That's because email spammers are getting more and more creative, constantly finding new ways how to circumvent spam filters. They are often willing to go as far as to send highly targeted emails that are virtually indistinguishable (at least from the point of view of spam filters) from legitimate emails.
Mailstrom has a unique one-click Block function that you can use to stop any unwanted senders or subjects from cluttering up your inbox in the future. All you need to do to use it is select an email from a sender you no longer want to receive any emails from and click the Block button.
Of course, not all unwanted emails come uninvited. If you shop online, you've probably knowingly or unknowingly subscribed to at least a couple of mailing lists. Although it can be enjoyable to occasionally receive an attractive discount, the reality is that most email users quickly end up drowning in an ocean of marketing emails, unable to focus on what really matters.
With Mailstrom's Unsubscribe feature, you can unsubscribe from mailing lists quickly and easily and get rid of old or unwanted mailing lists with a single click. By combining the Block function with Mailstrom's Unsubscribe feature, you can reduce the number of unread emails in your inbox from thousands to just a few in no time.
Unlike Mailstrom, Clean Email can also ensure that your inbox stays clean going forward by preventing marketing emails and newsletters from ever reaching your inbox with its Unsubscriber feature, which works even if the sender doesn't provide an option to unsubscribe.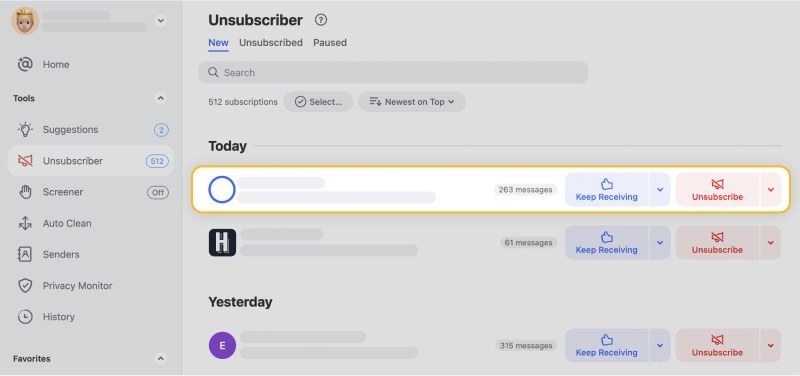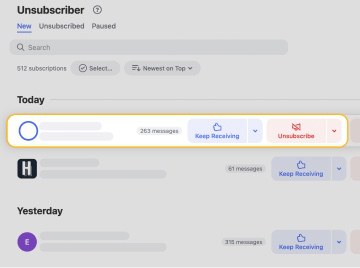 Another difference between Mailstrom and Clean Email is that Mailstrom doesn't organize emails into smart bundles like Clean Email does. You can filter emails by Sender, Subject, Time, Social, and Size in Mailstrom, and that's it. On the other hand, Clean Email organizes all emails into easy-to-review smart bundles, called Smart Views, which include Emails from "dead ends", "Marketing emails and Newsletters", "Project Management tools", "Bounce" notifications, Emails to yourself, "Emails not from you and not addressed to you", "Finance", "Travel", and much more!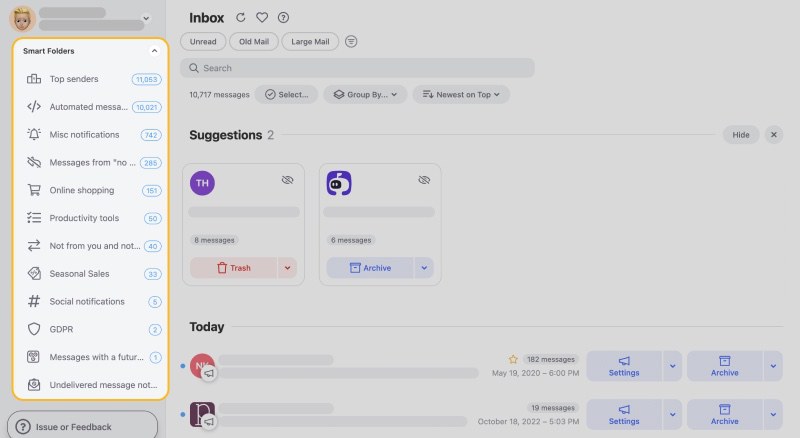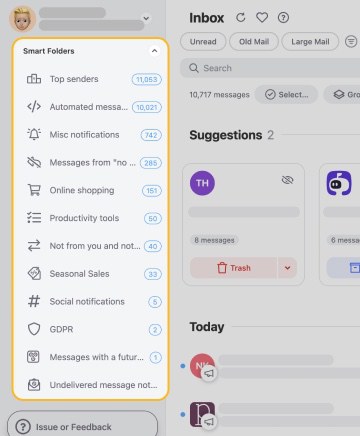 What's more, Clean Email can automatically apply selected actions to all future messages, essentially automating your email management. The way it works is simple: when you choose to remove, archive, or label, mark as read or unread, add and remove stars, or flag groups of emails, you can simply check the checkbox labeled as "Selected and future similar emails" and Clean Email will take care of the rest for you.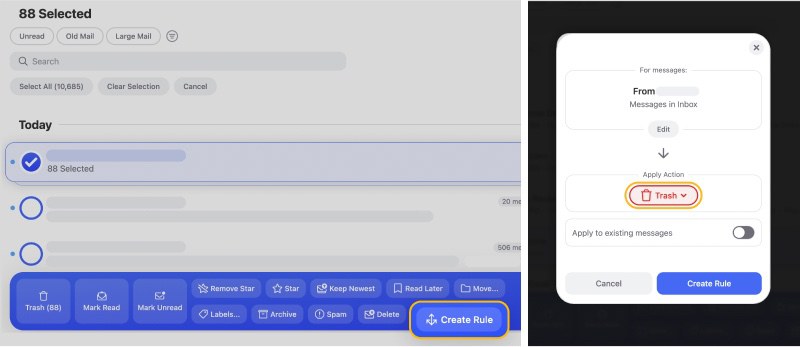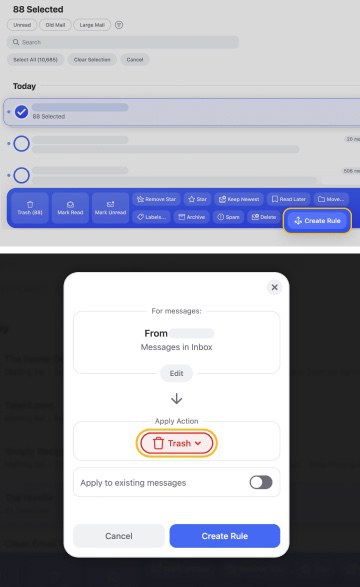 Is Mailstrom Safe?
Mailstrom is an inbox cleaner that doesn't hide the fact that it needs complete access to the contents of your emails to do what it's designed to do. It also collects potentially personally-identifying information like Internet Protocol (IP) addresses and non-personally-identifying information such as the browser type, language preference, referring site, and the date and time of each user request.
According to Mailstrom's privacy policy, the company may share your personally identifying information if the disclosure is done as part of a purchase, transfer, or sale of services or assets. In other words, if Mailstrom is ever acquired by another company, all information it has collected about you will instantly become the property of the new owner.
Your personal information may also leave Mailstrom's server if the company experiences a data breach. Because Mailstrom has complete access to the content of your emails, any cybercriminal who successfully overcomes its defenses can theoretically steal your entire inbox and use the information it contains against you.
The only way how to avoid this risk is to not use Mailstrom at all. Instead, use an email cleaner that doesn't require complete access to your inbox.
Is Clean Email Safe?
Unlike Mailstrom, Clean Email doesn't require access to the content of your emails or attachments to organize your emails, making it much safer.
All that Clean Email needs are email headers, which are small code snippets attached to email messages. The typical email header contains information about the sender, recipient and email's route to get to the inbox (To/From/Subject/Date).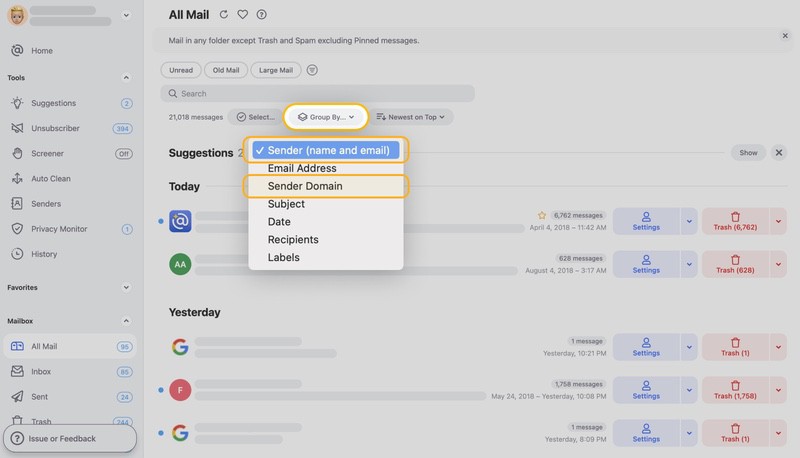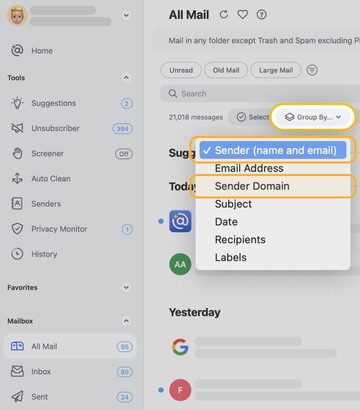 Clean Email uses secure access protocols to control access to your inbox, and it keeps all authentication credentials encrypted. Not even Clean Email employees can access them, so a data breach wouldn't potentially have disastrous consequences for Clean Email users. What's more, all data stored on Clean Email's servers are automatically removed after 45 days.
As such, Clean Email is a much safer inbox cleaner than Mailstrom, which is why Google, Yahoo, and AOL verified it as a trusted application. With Clean Email, you can rest assured knowing that your personal information won't fall into the wrong hands because Clean Email doesn't access any sensitive information in the first place.
Privacy Policy
To do what it's designed to do, Mailstrom collects various information about its users. This wouldn't be a problem on its own, but Mailstrom also shared this information with third-party vendors to process data, including Intercom, Stripe, IBM, Amazon, and others. What's worse, Mailstrom keeps the collected information even when you delete your account—for up to 3 months.
Sharing any information with third-parties for any purpose will be a huge no-no after May 15th 2019 because Google is making drastic changes to better manage how third-party apps earn users' permission to read, write, or send email from consumer Gmail accounts. Unless Mailstrom developers do something about the way Mailstrom collects user data, it's possible that Mailstrom will stop working in a not-too-distant future.
Clean Email doesn't have to change how it handles user data because it never sells or rents your email address or ANY personally identifiable or even aggregated information to another company. As such, Clean Email won't have any problem complying with Google's updated Gmail API policy after May 15th.
Pricing
You can try Mailstrom for free to load up to 5,000 emails and remove 25% of them, but unlimited removal is available only if you purchase one of the three available premium plans: Basic, Plus, and Pro. The Basic plan costs $6.95 a month or $59.95 a year, and you can use it to manage up to 3 email accounts. The Plus plan costs $9.95 a month or $99.95 a year, and you can use it to manage up to 5 accounts. Finally, the Pro plan costs $29.95 a month or $199.95 a year, and you can use it to manage up to 20 accounts.
Despite being significantly more capable than Mailstrom, Clean Email is actually more affordable—the trick is to pay once a year, which is how you can save up to 70%. If you need to manage just one email account, you can expect to pay just $2.49 a month in the form of a single payment of $29.99. It costs $49.99 a year to manage up to 5 email accounts, nearly half the cost of a similar plan offered by Mailstrom. Finally, it costs $99.99 a year to manage up to 10 accounts. All Clean Email plans include all features, and there are no additional fees or charges to worry about.
How to Use Clean Email as Mailstrom Alternative?
It takes just three simple steps to start using Clean Email as a safer and more powerful alternative to Mailstrom:
Step 1. Go to: https://app.clean.email
You can get started with Clean Email for free and instantly use it to transform a messy inbox into a neatly organized collection of email messages.
Step 2. Sign in with your email account.
Clean Email works with any IMAP/POP email services, including Gmail, Outlook, iCloud, Fastmail, and others.
Step 3. Use the Quick Clean option to analyze your inbox.
Quick Clean groups types of emails most commonly cleaned by Clean Email users, including older emails, social notifications, emails from dead ends, unread emails, and so on.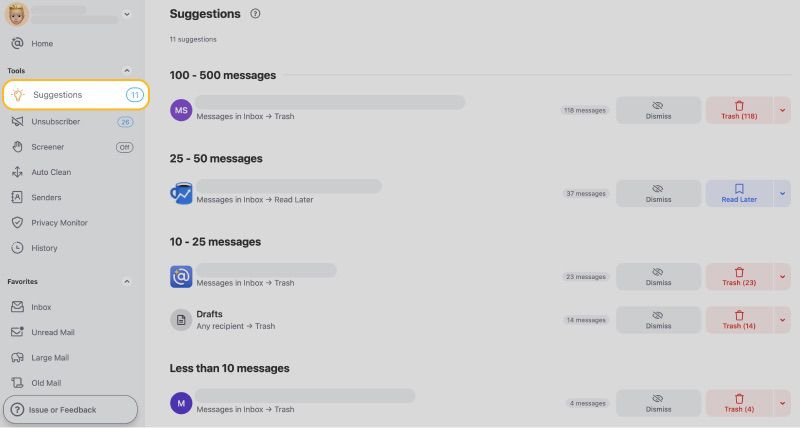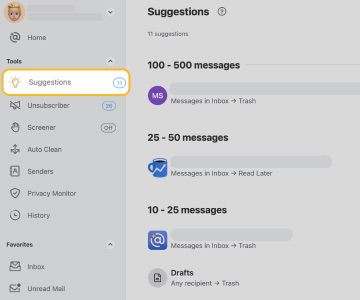 From there, you can continue exploring Clean Email's other features, such as Unsubscriber or Auto Clean Rules.
Conclusion
Clean Email proves that more affordable solutions are sometimes better than their expensive counterparts. Mailstrom pricing somehow doesn't reflect the fact that the inbox cleaner has only a fraction of Clean Email's capabilities, lacking sophisticated automation features as well as the ability to intelligently unsubscribe from mass email lists, for example. And with its questionable privacy policy now threatening its very existence, there's really no reason not to use Clean Email, the best Mailstrom alternative there is.