1. Clean Email (premium starts at $7.99 per user per month)
Is your inbox so messy that you often miss important emails because they are buried under a pile of spam? If that sounds familiar, you need Clean Email, an easy-to-use bulk email organizer that's capable of sifting through thousands of emails in a very short time to separate important emails from spammers' messages.
Because Clean Email has been developed with security and privacy in mind, it doesn't download or access full emails when cleaning out unwanted emails. Its algorithms only analyze email headers that contain subject line, sender and recipient information, dates, email size, and other similar metadata.
You can use Clean Email with Gmail, Yahoo, Outlook, iCloud, Fastmail, AOL, and many other email providers. All you need to do to get started is sign in with your email login credentials, and Clean Email will take care of the rest. Besides the web version, Clean Email has iOS, macOS, and Android app to boost productivity.
First, Clean Email will organize all your emails into easy to review bundles. You can then remove, archive, move, or label groups of emails instead of selecting them one by one. Finally, Clean Email will give you the option to apply selected actions automatically in the future, which is how you can keep your inbox clean without ever having to do anything.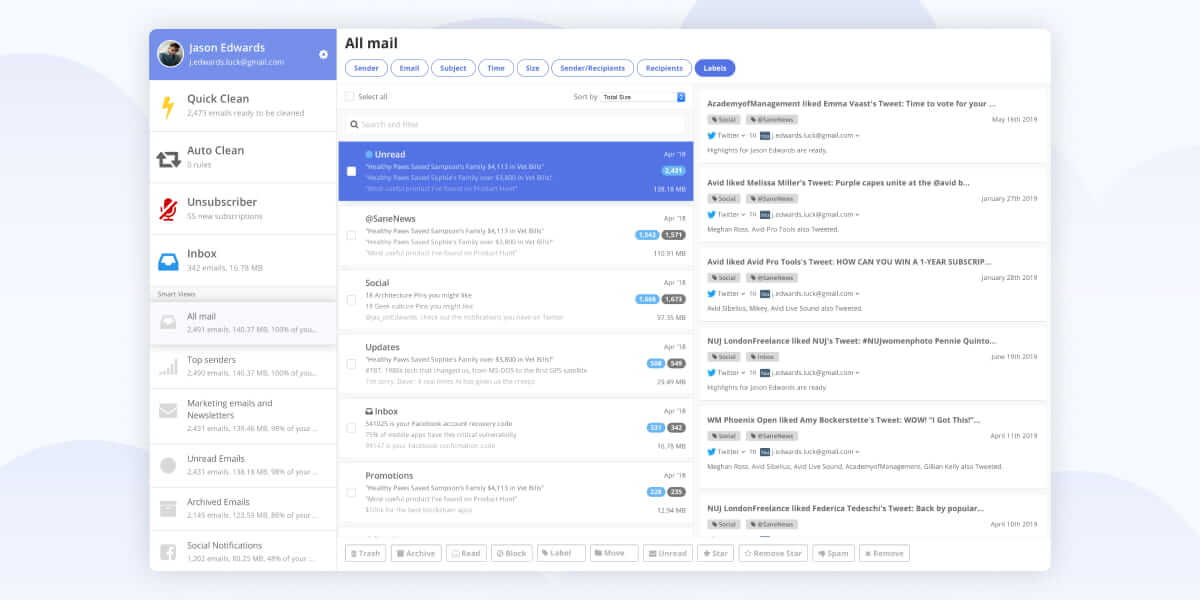 Clean Email is a subscription-based online service, and you can pay either on a monthly or yearly basis. Because there's no fine print to worry about and no commitments to keep you paying, there's really no reason not to give Clean Email a go to see if it can pay for itself—we guarantee that it can.
Pros:
Efficient bulk email organization
Works with all email providers
Smart unsubscribe feature
Automatic email management
Affordable subscription plans
Cons: