Benefits of Paid Email Services
Considering how many free email services there are, you might think that paid email services are a waste of money. For some people, that's actually true. If you use email a few times every month at most, even the best paid email service probably wouldn't be a good investment for you.
On the other hand, if you're someone who uses email on a daily basis, any tool that allows you to use it more effectively and efficiently is guaranteed to pay for itself very quickly.
When you pay for an email tool, you typically receive professional support, which can be crucial if you use email to generate business leads or communicate with your customers, clients, or partners and can't afford to waste hours trying to solve a problem or figure out how to use a certain feature.
What Is the Best Email Service?
While it's impossible to pick a single best paid email service, there are several email services that have managed to stand out over the years and gain popularity. We have selected eight such services, making sure to include something for individuals and businesses alike.
HubSpot's marketing automation functionality includes an easy-to-use visual board where you can craft simple or highly sophisticated conditional workflows.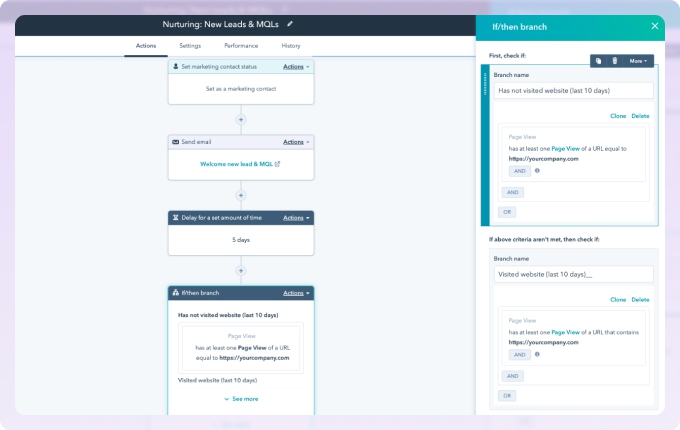 The workflows tool is automation beyond email, so you can scale your growth and spend less time on repetitive tasks. You can set up simple email list autoresponders, or build a smart and complex network of rules designed to target specific users with the exact right email, live chat, website experience, and more.
Aside from the marketing automation functionality, HubSpot has a full growth suite that includes sales software, marketing software, and support software, which all integrate automatically with HubSpot's free CRM. The combined effect of having all of your data and growth activity in one place can unleash tons of creative automation possibilities that would be difficult or impossible if you use separate tools.
👍🏼 Pros:
Efficient automation features
Easy to use
Endlessly customizable
👎🏼 Cons:
Can be difficult to keep up with new features
Tutanota is a privacy-oriented email service that automatically encrypts all data, making it impossible for someone to snoop on your email communication. The service is licensed under an open license and its source code is freely available on the internet for anyone to view and evaluate. Tutanota is accessible from the web, but you can also use its mobile app for Android and iOS.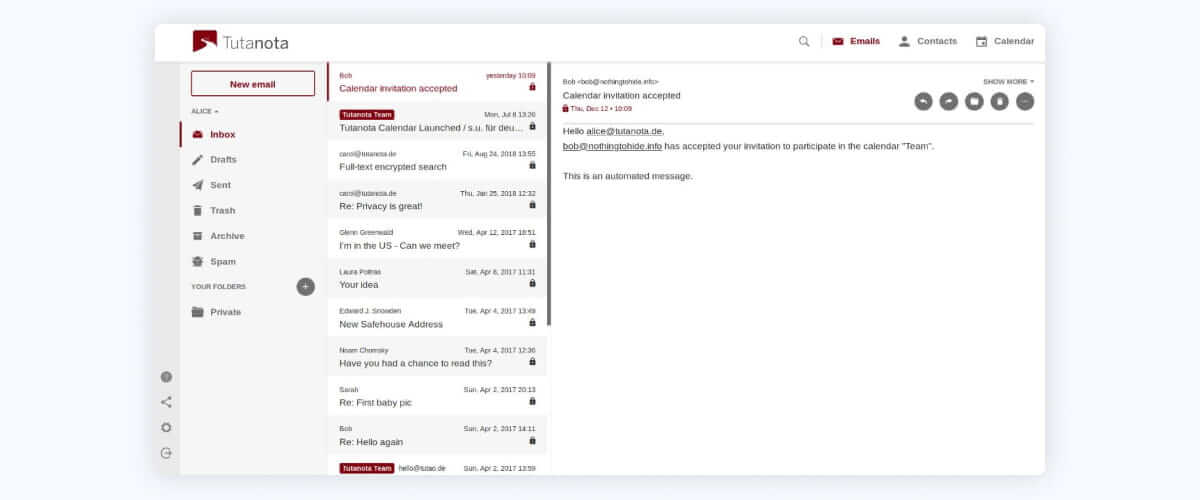 Many would pick Tutanota as the best paid email service for individuals, but Tutanota also offers an affordable business version that enables companies and organizations of all sizes to easily secure their email communication, making it one of the best business email services out there.
The basic version of Tutanota is available for free, but it includes only a very limited set of features, which is why most long-term users eventually purchase either the Premium or the Pro plan and gain access to such features as unlimited search, expandable aliases, inbox rules and filtering, custom domain login, and priority support.
Price: 1 GB of storage email storage space for free, additional storage space and extra features available from €1.20 a month or €12 a year.
👍🏼 Pros:
Robust privacy and security
Open source
Apps for mobile devices
Even in the era of mobile devices, email marketing remains just as relevant as ever, and when it comes to email marketing services, MailChimp is at the very top. Each month, MailChimp users send over 10 billion emails, and around 14,000 new customers register every day. What attracts so many users to MailChimp is the simplicity with which it's possible to create an email marketing campaign with a personal touch and integrations with all the major e-commerce providers.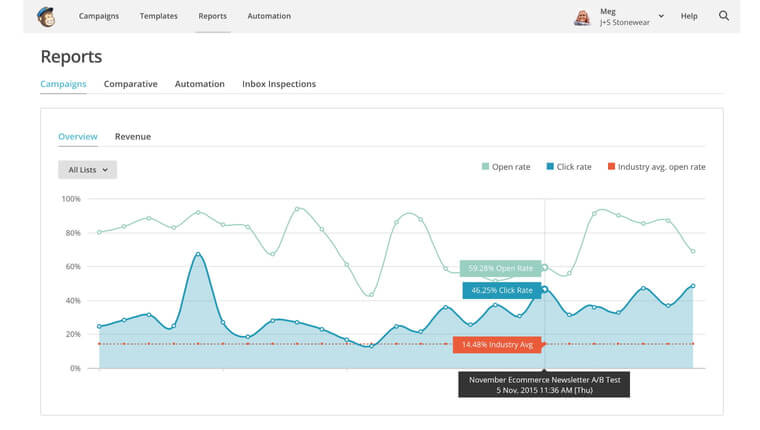 New users don't have to pay anything for MailChimp as long as they send less than 12,000 emails per month. When they exceed this number, they are required to purchase either the Growing Business plan or the Pro plan. The biggest difference between the two premium plans is the inclusion of Pro Support with the Pro plan. MailChimp's professional support team is trained to help users troubleshoot even the most serious and unique problems, and it's one of the main reasons why so many businesses consider MailChimp to be the best paid email marketing service out there.
Price: Send up to 10,000 emails per month to as many as 2,000 contacts for free or pay $9.99/month for the most affordable premium plan.
👍🏼 Pros:
Comprehensive reporting
Great free plan
Simple yet powerful template editor
👎🏼 Cons:
Limited email automation features
Pabbly Email Marketing is an affordable alternative to MailChimp and other email marketing solutions. With this, you can send bulk emails to all their prospective users and manage your email lists, contacts, and establish direct contact with your customers in just one click. It removes the lengthy process of connecting SMTP that causes confusion. Moreover, you can deliver unlimited emails either by sending it from a single server or by dividing them equally in percent or ratio among different SMTP servers. This ensures that your account will not get suspended when your SMTP gets broke. As here, you can send emails from other SMTPs too.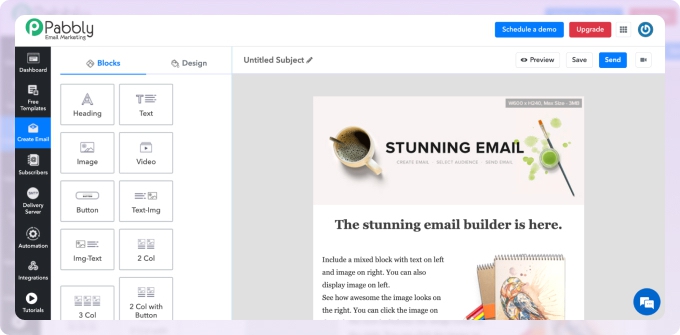 It has several features like drag and drop email builder, supports custom tags, 500 customizable email templates, offers readily available sign-up forms for websites, and can import email contacts using CSV files.
Like all other best email services on this list, Pabbly Email Marketing comes with professional support and it's trusted by some of the largest companies in the world, including Cisco and Avaya. It doesn't matter whether you're an aspiring entrepreneur or the owner of a large enterprise with international presence, Pabbly Email Marketing has multiple price plans to satisfy everyone.
Price: Send 12,000 emails to 1,100 subscribers for free or pay $24/month for the most affordable subscription plan available.
👍🏼 Pros:
Subscriber segmentation
Easy to work with
Autoresponder emails
👎🏼 Cons:
Customer support could be better
It takes time to write persuasive marketing emails, so every email service that makes the task easier and makes it possible to follow up leads and customers automatically is welcome. Sendloop is one such service, and some go as far as to call it the best private email service out there.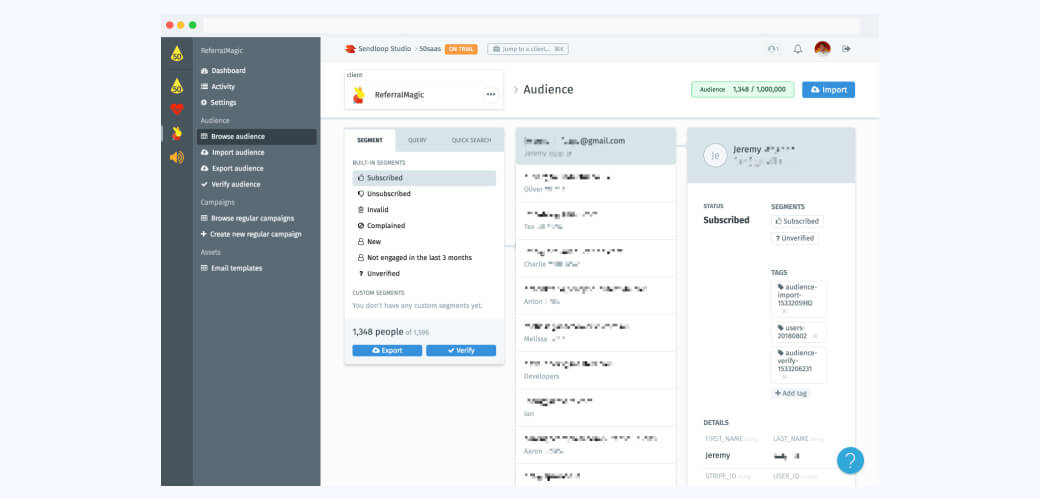 Sendloop handles everything from email marketing to marketing automation and email delivery, providing an all-in-one digital marketing platform fit for the 21st century. Its features include an email slicer, Facebook lead ads, list management, fast subscriber import, mobile apps, reporting, email templates, integrations with other best email services, and much more.
Price: Unlimited emails from $9.00/month.
👍🏼 Pros:
Great customer support
Easy-to-work-with WYSIWYG editor
Wide variety of templates
Founded in 1995, Constant Contact has been a leading email service used by small and medium-sized businesses for over 25 years. Its biggest claim to fame is its ease of use. Even business owners with limited marketing experience can use Constant Contact to quickly and painlessly create a professional email marketing campaign and enjoy fantastic conversion rates.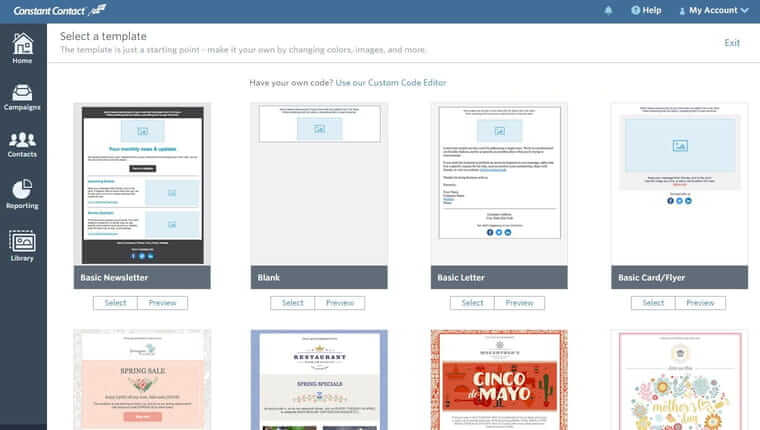 Constant Contact has a drag-and-drop style email template editor that requires zero experience with HTML or CSS, producing mobile-responsive emails that look great across all devices with a few simple clicks. It's similarly easy to automate email delivery or trigger a chain of email messages based on where contacts click. Powerful list-building tools can help you expand your reach and find more email users who might be interested in your product or services.
Constant Contact boats one of the highest deliverability rates in the industry, with 98% of Constant Contact emails hitting customers' inboxes. The high deliverability rate is also an important reason why so many businesses choose Constant Contact despite its steep price.
Price: $20/month to send unlimited emails and $45/month to unlock additional features.
👍🏼 Pros:
Flexible and intuitive template editing
Event management features
High deliverability rates
👎🏼 Cons:
Expensive if you have more contacts
ConvertKit is widely known among content creators as one of the best paid email service providers. It was created by Nathan Barry for professional bloggers, but it can be used by anyone to create and execute email marketing campaigns and boost sales. Because ConvertKit wasn't created for professional markets, it puts a lot of emphasis on ease of use, allowing its users to spend more time doing what they love to do and less time on email marketing.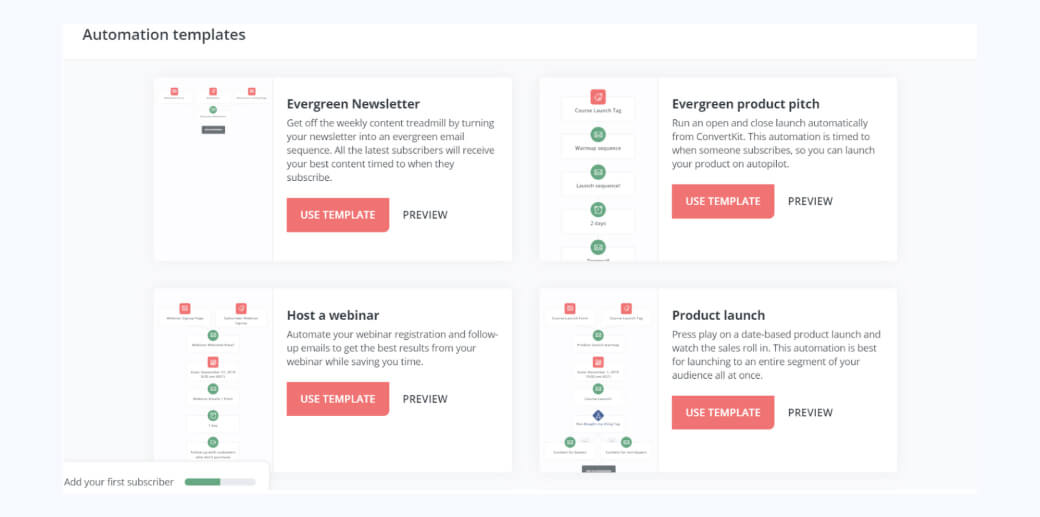 ConvertKit understands that your email list is your biggest asset, and it gives you all the tools you need to grow it. You can create easy-to-embed opt-in forms to turn casual readers into repeat customers. All ConvertKit opt-in forms comply with GDPR, and they are based on responsive templates that you can customize any way you want. When a simple opt-in form isn't enough, you can use ConvertKit to prepare a landing page without knowing any code.
To help you understand your contacts and improve the effectiveness of your email marketing campaigns, ConvertKit displays the most important metrics right on your homepage dashboard, and you can learn even more information by taking advantage of its reporting features.
Price: Start at $29 a month for a maximum of 1,000 contacts.
👍🏼 Pros:
Makes it easy to create a professional landing page
Helpful customer support
Visual automations builder
Advanced reporting
👎🏼 Cons:
A/B testing functionality is limited
Named after the popular email marketing strategy, Drip is one of the best business email services for those who would like to start building personalized marketing campaigns without much effort, from email to social and beyond. It focuses on extracting useful information from customer data and using this information to create highly personalized experiences that stand out and convert.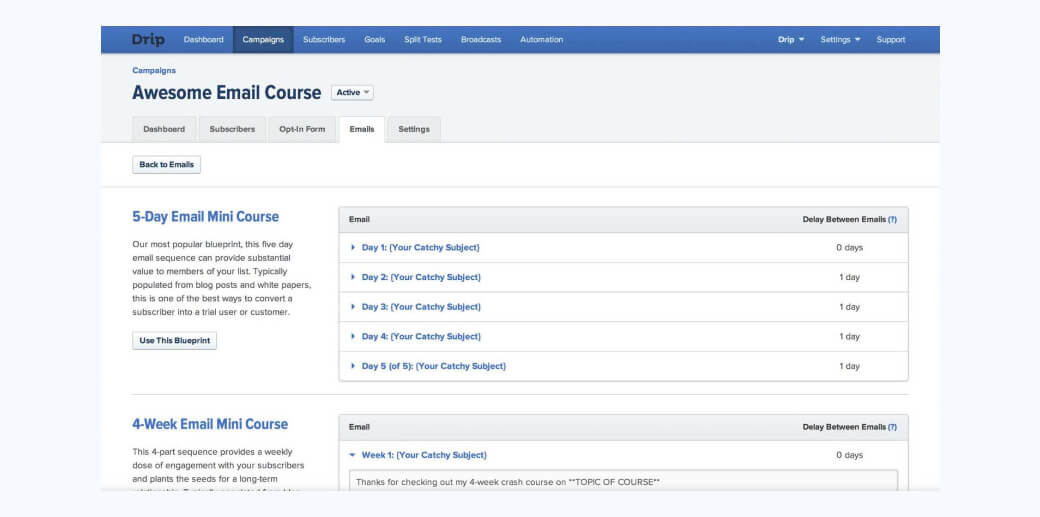 Drip features a number of engagement-generating tools, including a visual email builder with support for dynamically generated content blocks capable of showing personalized product recommendations, shopping card content, and other information without any code. Thanks to its third-party integrations, Drip allows marketers to be as creative as they can.
Unfortunately, all this functionality comes with a steep price tag, and many businesses won't be happy to pay $29 a month for a maximum of 2,000 people in their account.
Price: Start at $29 a month for a maximum of 2,000 people in your account.
👍🏼 Pros:
Comprehensive features
Surprisingly straightforward
Great integrations
Professional customer support
👎🏼 Cons:
One of the more expensive marketing tools
Clean Email Can Help You Keep Your Mailbox Under Control
The most email services you rely on, the sooner email management turns into a huge problem. How do you manage the deluge of emails that arrive on a daily basis from various email services and other places? One possible solution is Clean Email, a modern inbox cleaner that uses intelligent algorithms to make your life easier.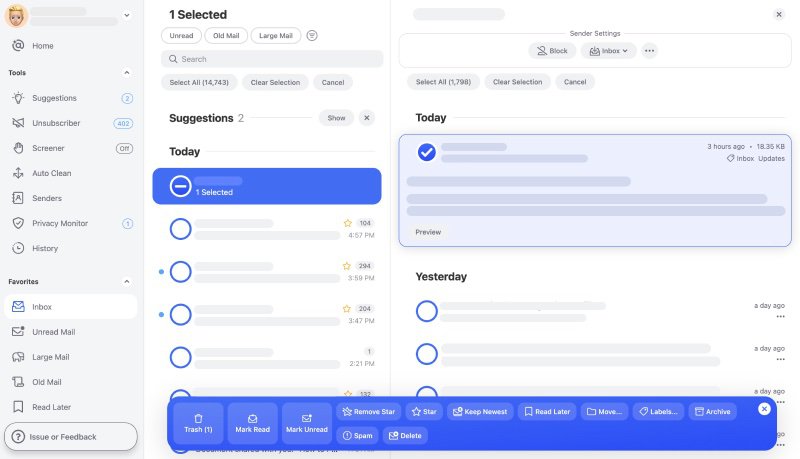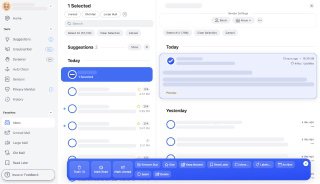 Clean Email is a popular email cleaner that supports Gmail, iCloud, Yahoo, Fastmail, Outlook, Hotmail, Office365, AOL, or any IMAP service. Clean Email can quickly organize thousands of emails into easy-to-review bundles without reading the content of the emails, and you can then decide what to do with each bundle.
For example, you can instantly delete all spam emails, move emails from email marketing services to a separate folder, apply labels, unsubscribe from unwanted emails, or block certain senders, just to give you a few examples.
Clean Email can also apply actions automatically to new emails coming to your mailbox, which means that you can automate your entire email management workflow with a few clicks and never worry about your inbox running out of space ever again.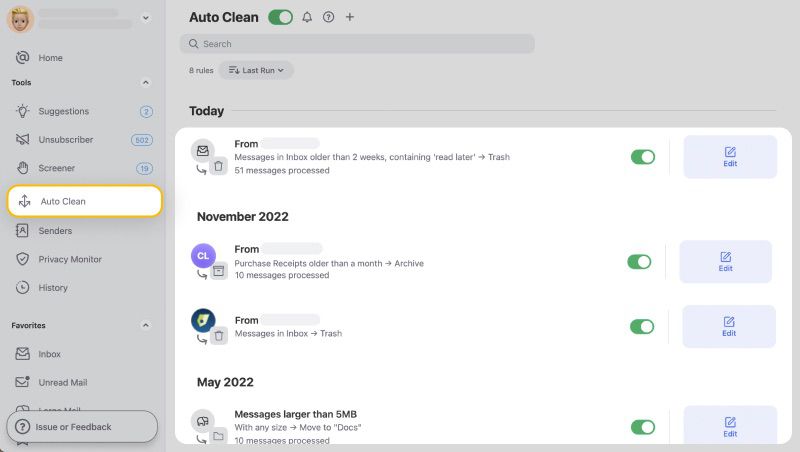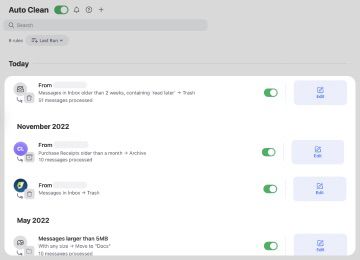 Clean Email has a simple pricing structure with absolutely no fine print. If there's one best paid email service tool that's definitely worth the money, it's Clean Email, and you can learn more about it here.
Conclusion
Best paid email services can enhance your email experience and save you valuable time by automating certain mundane and repetitive tasks. There's a wide range of paid email services to choose from, and it's up to every individual to evaluate his or her needs and decide which paid email services are worth the money.