Why Use Productivity Apps?
If you're like most people, you probably already use your smartphone a lot more than you would like. So, why would you use it even more and make it so that your productivity depends on it? Because top productivity apps actually deliver the results they promise.
Unlike many famous productivity techniques, best productivity apps are convenient and don't take much effort to use. Try the apps featured in this article for a few days, and we guarantee you won't be able to imagine your life without them.
Even though you can save a lot of time and money with our selection of productivity apps, you can try each app for free and pay only when you decide to unlock extra features or support its developers. If you're paid by the hour and spend two hours every week on email management alone, just imagine how much extra money you could make thanks to a bulk email cleaner with automatic inbox management capabilities such as Clean Email. The answer is: a lot.
11 Best Productivity Apps
Our selection of best free productivity apps includes something for everyone. We list the pros and cons of each app, but we encourage you to try all the best apps for productivity we've selected regardless of what their pros and cons are so you can come to your own conclusions.
1. Clean Email (Free for cleaning up to 1000 emails)
Just ask yourself how much time every day you spend managing your emails. Probably a lot, right? If you could largely automate your email management with a simple app, you would be able to accomplish more in less time, earn more money, and get home sooner. With Clean Email, a bulk email organizer that runs in any modern web browser, you can.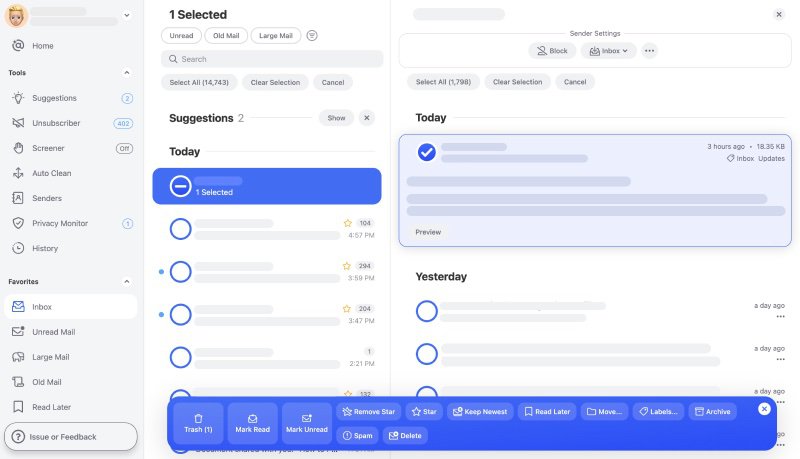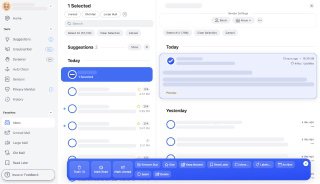 Clean Email has incredibly useful automation features that you can use to sort incoming emails, allowing you to focus on your work instead. Creating automation rules is as simple as it gets, and all major email services, including Gmail, Outlook, and Yahoo, are supported. What's more, Clean Email can also organize your emails into different bundles, which you can then easily remove, archive, move, or label in bulk, instead of organizing your emails one by one.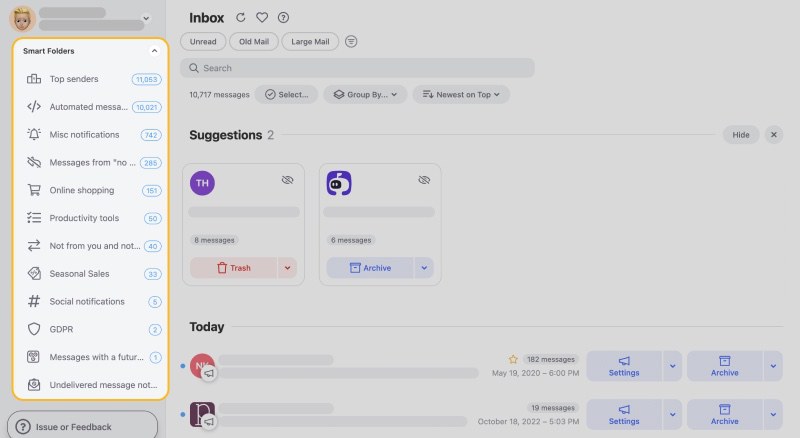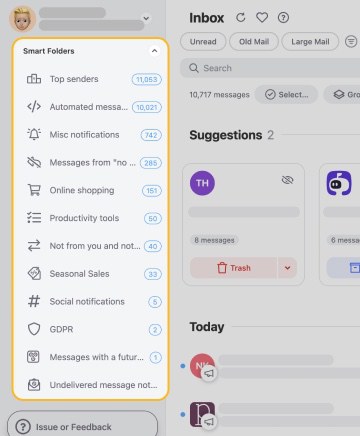 👍🏼 Pros:
Supports all popular email services
Intuitive bulk email organization thanks to smart algorithms
Powerful automation features to keep your inbox clean and organized without any effort.
2. ProofHub (Starts at $45 per month when billed annually)
ProofHub is an all-in-one project management software app for enhancing the productivity of teams and completing projects on time. Also, the user interface is easy-to-understand, and you need no special technical knowledge to operate the platform. You can assign tasks, see projects in multiple views, chat with team members, set dependencies among tasks, upload and organize files, and get real-time notifications using ProofHub.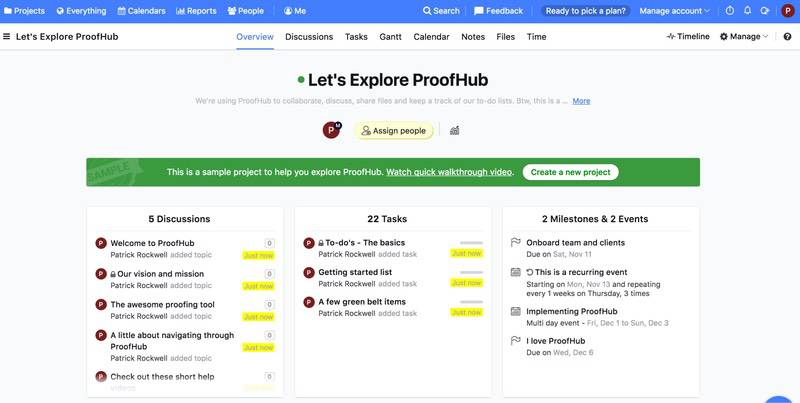 Being a cloud-based software, it is possible to access ProofHub from anywhere using the internet. Moreover, the ProofHub mobile app is available for both Android and Apple devices, so you never have to worry about missing important updates of your projects. Currently, ProofHub has two pricing plans with the Ultimate plan being the recommended one. The Ultimate Plan is available for $89/month (limited time offer) and lets you manage projects as efficiently as possible.
👍🏼 Pros:
Makes all necessary project management tools available under a single roof
It does not charge per user
Suitable for teams of any size, any industry.
👎🏼 Cons:
Limited app integrations as they are under development.
3. VoilaNorbert (Starts at $49 per month)
Prospecting, outreaching, and generating leads - all these tasks take a lot of time. VoilaNorbert can help you be more productive when it comes to fulfilling them. It is an email finder tool that automatically finds the right email addresses for you with a click of a button. It can also verify email addresses in bulk if you already have an email list.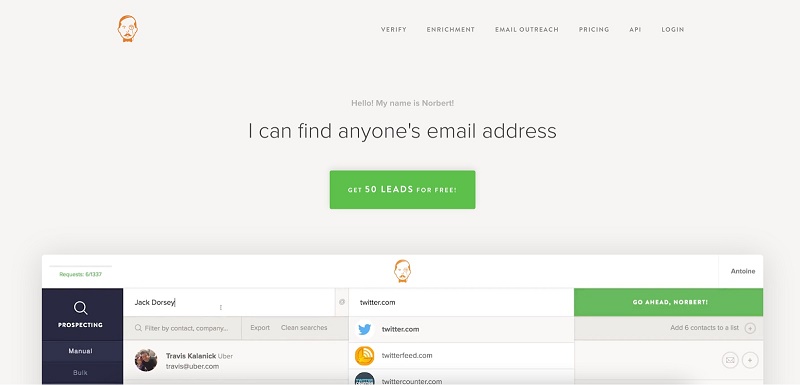 With VoilaNorbert, you can save a lot of time on creating a verified email list of relevant contacts. It also has an email enrichment feature, so you can have a more detailed database.
👍🏼 Pros:
First 50 searches are free
Easy interface and user-friendly
Simple to use
Reliable.
👎🏼 Cons:
Paid plans start after the first 50 free searches.
Evernote is a versatile notebook app that helps you capture everything from text to pictures to audio. It has a ton of useful features that make it far more powerful than your trusted paper notebook, including a web clipper, tags, and a camera scan tool. Evernote runs on Windows, macOS, Chrome OS, Android, iOS, and several other operating systems, but you can use it from any computer with a web browser and internet connection.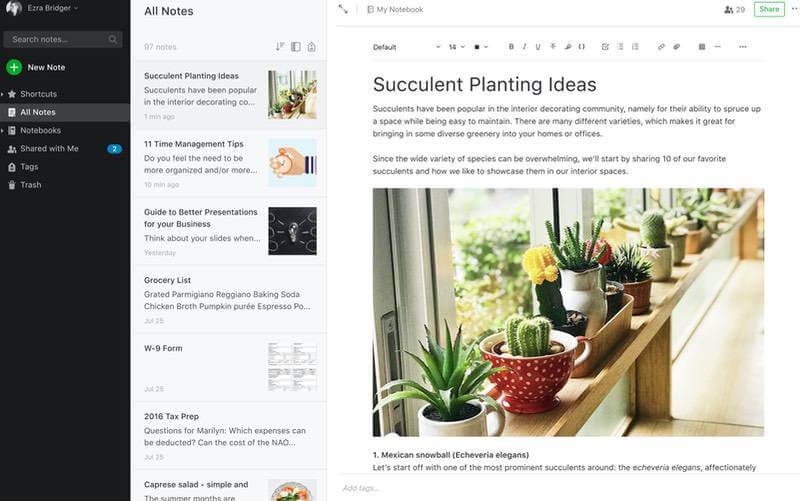 The free version of Evernote is great for basic note-taking, and it comes with a monthly upload limit of 60 MB and a maximum note size of 20 MB. The paid version of Evernote increases these two limits to 10 GB and 200 MB respectively for €6.99 a month.
👍🏼 Pros:
Hassle-free note-taking with reliable cloud synchronization and outstanding search functionality.
👎🏼 Cons:
Premium plans are too expensive.
5. Pocket (Freemium)
There's so much content on the internet and so little time to consume it. If you often stumble upon something interesting that you can't enjoy at the moment but would like to enjoy later, Pocket is the best productivity app for you. It essentially replaces bookmarks with dedicated cloud storage space for web content. When you find an article worth reading, a video worth watching, or a podcast worth listening to, you can simply share it to Pocket and later access it from anywhere.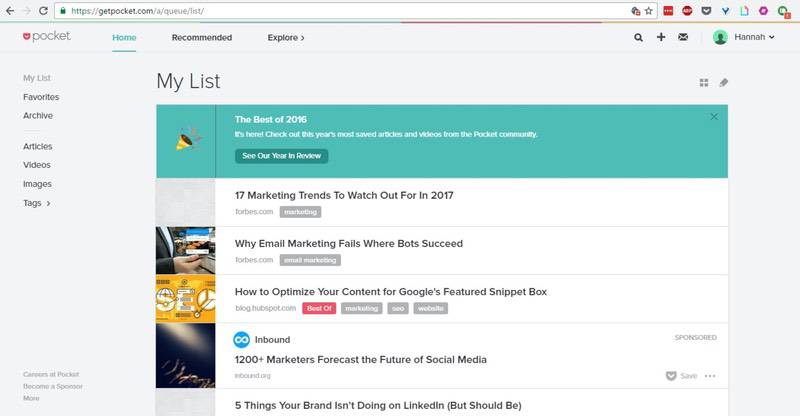 Apart from helping you get rid of bloated bookmark menus, Pocket also makes online content easier to consume. There are several text and font options to play with, and a built-in TTS engine can read your articles to you when you're doing household chores or driving during your commute. The free version of Pocket works great if you're fine with ads, but you can also pay $44.99 a year for the Pocket Premium subscription to enjoy an ad-free experience.
👍🏼 Pros:
Works on all devices
Intuitive user interface
Adjustable font size.
👎🏼 Cons:
Once you get used to archiving articles with Pocket, it's easy to end up with a massive pile of unread content.
You shouldn't be surprised to see a password manager on our list of best apps for productivity. Passwords are an important part of our daily lives, and it takes a lot of time and effort to remember them all, especially if you listen to security experts, who preach the importance of using a unique password for each site you visit. A password manager such as Bitwarden can remember all your passwords for you, so you can focus on your work and not your passwords.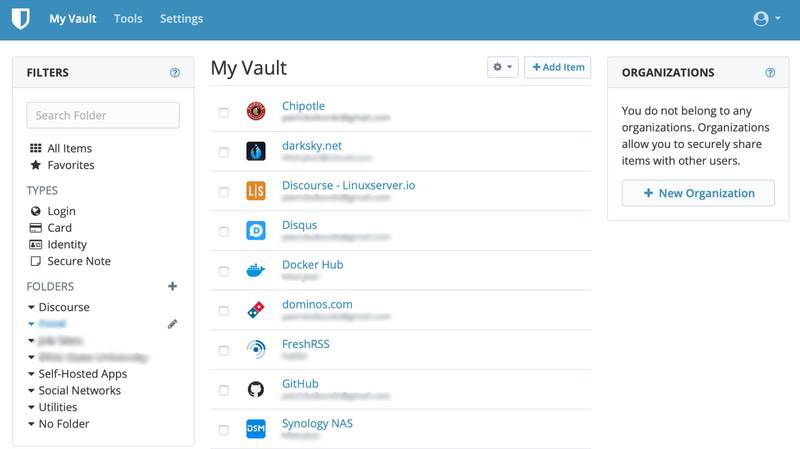 Bitwarden is open source, free, and its intuitive user interface makes it very easy to get started. It protects your passwords with end-to-end AES 256-bit encryption, salted hashing, and PBKDF2 SHA-256, which are trusted by intelligence agencies around the world. The free version of Bitwarden comes with all the core features, but there's also a paid version with a few extras.
👍🏼 Pros:
Open source and free
Excellent web browser extension
Simple and highly intuitive user interface
Completed an independent third-party security audit.
7. Trello (Freemium)
Trello is not only one of the best project management apps currently available but it's also one of the best apps for productivity in general you can download. First released in 2011, Trello is a flexible project management software with boards, lists, cards, progress tracking, and many other useful features. It's designed with small teams in mind, but you can also use it for your personal projects and daily tasks.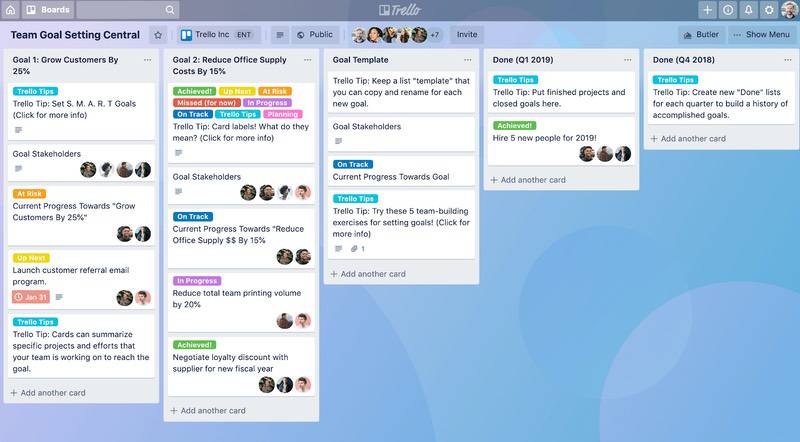 The free version of Trello comes with unlimited boards, lists, cards, members, checklists, and attachments. You can, however, add only one Power-Up, which is how Trello calls integrations with third-party apps, such as Butler, Notejoy, Jira, Zendesk, and others. The cheapest paid version of Trello costs $9.99 a month per user when paid annually.
👍🏼 Pros:
Lightweight and easy-to-use Kanban app with all the essential features
Works on mobile devices and desktop computers alike.
👎🏼 Cons:
Not suitable for large teams with many projects.
Kanban-style project management apps like Trello are great for coordinating the work of multiple team members working on small to medium-size projects, but they can be unnecessarily complicated if all you need is to keep yourself organized. Todoist is a simple to-do app that works across many different platforms, making it easy to create tasks and monitor your progress from any device.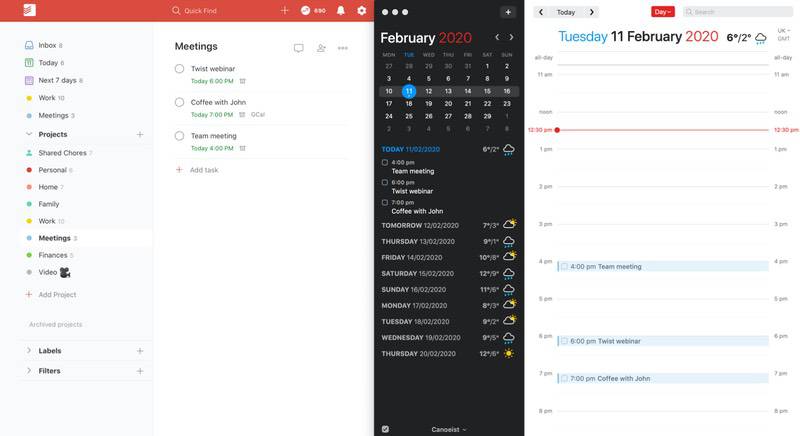 When creating tasks, Todoist gives you the option to assign labels, set recurring due dates, add an unlimited number of subtasks, and give different tasks different priorities. You can easily share tasks with other Todoist users to free up your mental space, and multiple people can comment and collaborate on a single task in real-time.
Unlike other to-do apps, Todoist actively motivates you to complete tasks by monitoring your progress and awarding you points for completing tasks and maintaining your streaks. Most essential features are available for free, and the premium plan costs only $3 a month.
👍🏼 Pros:
Works across many different platforms
Polished user interface
Offline functionality
Natural language input.
👎🏼 Cons:
Several important features are not included in the free plan.
Google Calendar is one of the best productivity apps for scheduling meetings and events and getting reminders about upcoming activities. You can use it from any web browser, but Google also created apps for Android and iOS devices that make it easy to access Google Calendar anywhere.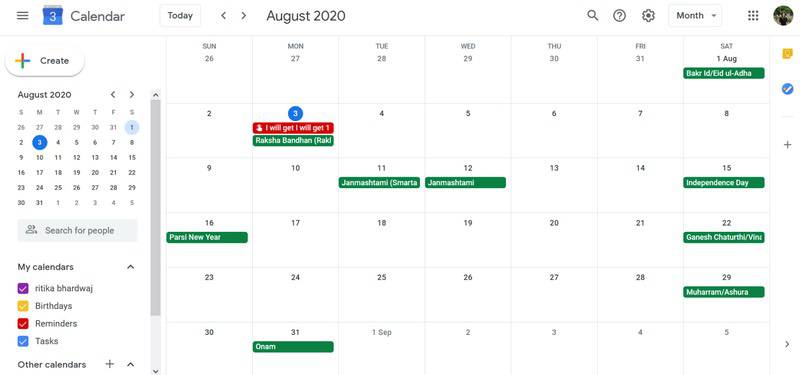 What we appreciate the most about Google Calendar is its simple, intuitive user interface, which adheres to Google's own Material design guidelines, making good use of gold colors, grids, typography, and empty space.
Gmail users will appreciate the fact that Google Calendar is able to automatically import events from Gmail email messages, such as hotel reservations, doctor appointments, and so on. Because Google Calendar strives to meet the needs of individuals and teams alike, you can easily share your schedule with others or create multiple calendars and use each for a different purpose.
👍🏼 Pros:
Intuitive material design
Seamless integration with other Google products
Can be accessed from anywhere
App for iOS and Android devices.
👎🏼 Cons:
The mobile app is missing some important features.
10. Slack (Freemium)
When it comes to team communication and team productivity, Slack is an easy choice because it offers a broad range of useful communication tools in one place, making it easy for team members to exchange ideas, share project-related documents, and stay productive.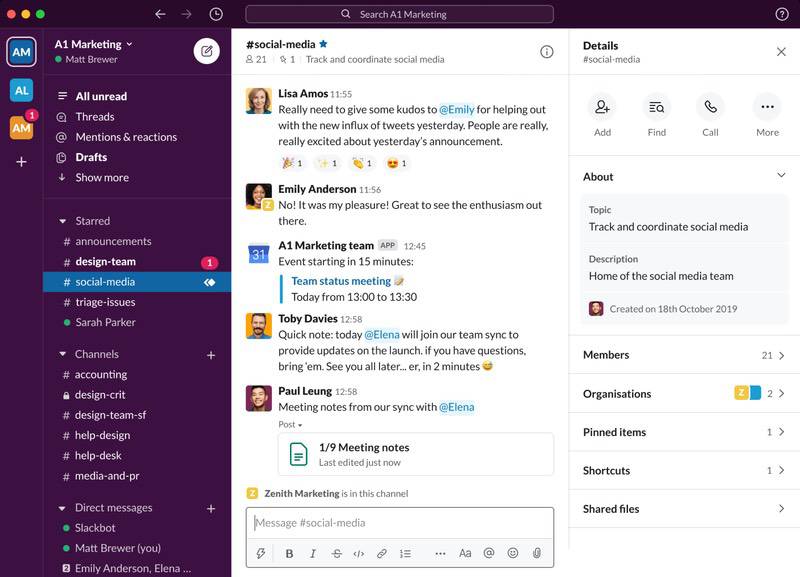 Slack is based around channels, which are basically virtual conference rooms that can be dedicated to a specific topic, team, or project. Slack users can participate in multiple channels at the same time and switch between them with a simple click. In addition to exchanging simple text messages and file attachments, Slack users can also participate in voice and video calls to share information more efficiently.
Because modern teams depend on many different apps to get work done, Slack supports over 2,000 third-party integrations. You can streamline your work by connecting it with Google Drive, Office 365, HubSpot, Dropbox, Zendesk, Zoom, and many other best productivity apps.
👍🏼 Pros:
Generous free plan
Packed with useful features
Third-party integrations
Automatic rich snippets.
👎🏼 Cons:
Can get quite expensive
Lacks certain video and audio chat options.
11. Toggl (Freemium)
How do you know that the best apps for productivity listed in this article are making you more productive? You use another productivity app to track where your time is going. Toggl is one of the most straightforward time-tracking apps available, allowing you to measure with a single click how much of your time you spend productively and how much of it you waste on distractions like social media.
Toggl supports all popular platforms, including Windows, macOS, Linux, iOS, and Android. If all you need is basic time-tracking, you can use it for free. The premium version starts at $9 per user per month when billed annually, and it features detailed dashboards, email tracking reminders, scheduled alerts, and more useful features.
Toggl is also available as an extension for Chrome and Firefox, so you can use it even on your work computer without having to ask your IT department for permission. Toggl integrates with several of the top productivity apps we've already mentioned in this article, including Trello and Google Calendar.
👍🏼 Pros:
Simple to use
Supports all popular platforms
Integrations with other services
Lightweight.
Conclusion
As you can see, there are many ways how apps can improve your productivity and help you accomplish more in less time. In this article, we've introduced the top 11 best apps for work, but the same apps can be used beyond the workplace as well.