What Is SaneBox?
Launched in 2010, SaneBox is an inbox cleaner that's provided by its developers as software as a service. It integrates with IMAP and Exchange Web Services (EWS) email accounts, including Gmail, Outlook, iCloud, Yahoo, and others.
SaneBox analyzes metadata like the email sender, the subject line, and the timestamp to determine which emails are important and which are not. SaneBox then keeps all emails that it considers to be important in the inbox, while filtering out unimportant emails into a different folder.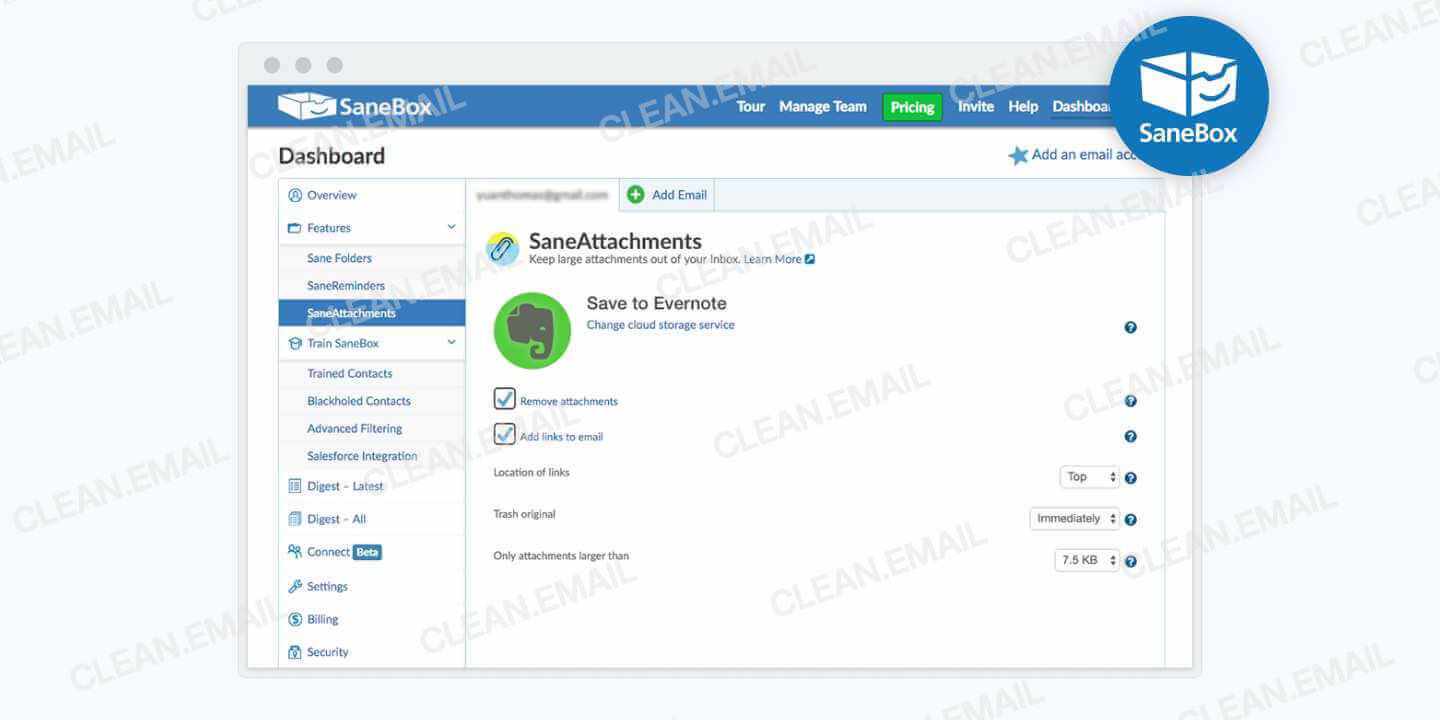 Several other email management features are available in addition to the ability to organize emails according to their importance, such as the option to snooze emails for later or a Dropbox integration that makes it possible for SaneBox users to automatically move email attachments of a certain size into Dropbox, Box, Google Drive, and several other cloud storage services.
What Is Clean Email?
Just like SaneBox, Clean Email is an inbox cleaner provided as software as a service, which means that it's available over the internet on a licensing basis and charges are based on actual usage. Launched in 2015, Clean Email is often presented as one of the best SaneBox alternatives because of its friendly user-interface, attractive pricing, useful features, and firm commitment to security and privacy, but more on those later.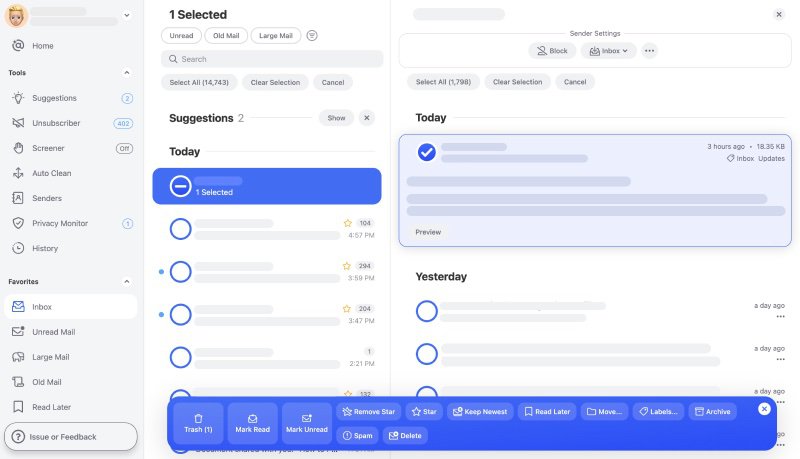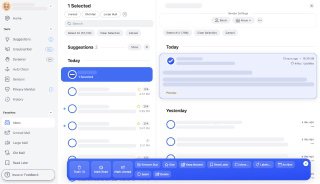 The fact that Clean Email is 5 years younger than SaneBox should actually be seen as an advantage because it means that Clean Email has been developed with newer technologies to meet the requirements of modern users. Without having to carry the burden of legacy code, Clean Email feels fast, responsive, and reliable.
Features
The main feature of SaneBox is its ability to distinguish between important and unimportant emails. As we've already explained, SaneBox is able to tell which emails can be safely thrown away because it analyzes email metadata, including the email sender, the subject line, and the timestamp.
Clean Email works very similarly, relying on advanced algorithms that analyze email headers containing the subject line, sender and recipient information, dates, email size, and similar metadata. The main advantage of relying solely on metadata has to do with security and privacy, as we explain in greater detail in the next chapter.
Whereas SaneBox is an interfaceless inbox cleaner that constantly learns your email habits to sort your email messages into folders, Clean Email doesn't decide anything for you but presents your inbox in a structured format, making it easy for you to decide which emails to keep and which to delete.

Both SaneBox and Clean Email come with several additional features whose purpose is to help you get greater control of your inbox. SaneBox can snooze non-urgent emails for later, track and notify you when someone hasn't replied to your email, and rescue emails mistakenly marked as spam, among other things. However, it doesn't have Clean Email's automation features, which can completely automate your inbox management and make email overload a thing of the past.
When you apply an action on a group of emails in Clean Email, such as when you mark emails as read or unread, flag emails as spam, archive emails or delete all messages you don't want in your inbox, you can tell Clean Email to apply the same action automatically in the future to all new messages that meet certain criteria.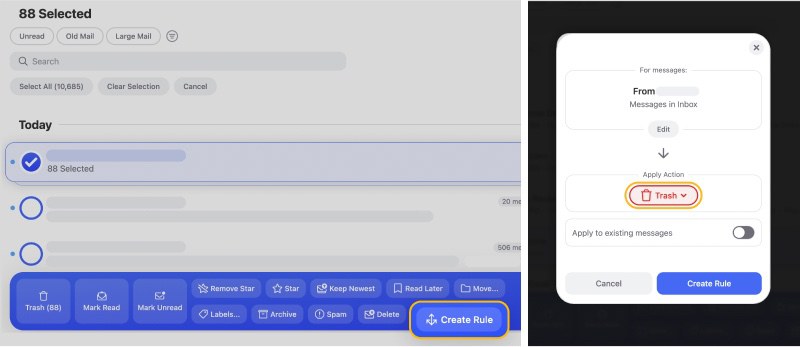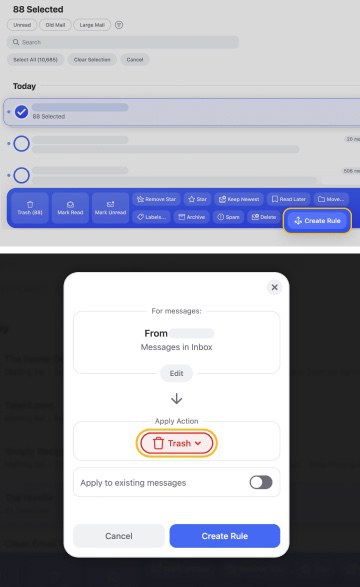 All automation rules you create appear in the Automation dashboard, where you can conveniently pause, resume, or delete them. The same dashboard also displays how many emails were affected by the rules you've created. With enough automation rules, you can completely forget about manual inbox management and use email without ever dealing with clutter and spam messages.
Security and Privacy
Before you allow any third-party app to access your inbox, you should carefully review its privacy policy and make sure that it doesn't contain any glaring security weaknesses that could make it possible for malicious hackers to access your personal emails.
The good news is that both SaneBox and Clean Email are secure and trustworthy, relying on a modern, open authentication protocol called OAuth2, which is used as a way for internet users to grant websites or applications access to their information on other websites but without giving them the passwords. All major free email services, including Gmail, Yahoo, and AOL, support OAuth2, so you can keep your password to yourself and still enjoy every SaneBox and Clean Email have to offer.
SaneBox and Clean Email have very similar privacy policies, but Clean Email is more upfront about what happens to the data of its users. For instance, Clean Email states that it keeps all email access details encrypted and never shares, gives away, sells, or analyzes user data. While we have no reason to believe that SaneBox is doing any of those things, it would be nice to have everything black on white so to speak.
We also appreciate that Clean Email doesn't keep the data of users who have decided to delete their account. The SaneBox app, on the other hand, holds on to user data for 90 days after account deletion, and they don't really explain why, which is somewhat suspicious to say the least. All in all, Clean Email is an excellent privacy-oriented SaneBox alternative that you can trust with your data.
Cost
Both Clean Email and SaneBox are subscription-based apps whose price is determined by the number of email accounts you want to manage with them. With Clean Email, you can manage one email account for as little as $9.99 a month, but there's also the option to pay once a year, which can save you up to 70% ($29.99 per year / per 1 account).
SaneBox is cheaper than Clean Email when billed on a monthly basis, costing $7 a month for one email account, but it's considerably more expensive when billed annually, costing $59 a year for one email account. There is a cheaper plan available for $24 a year, called Appetizer, but it doesn't include all features.
As an alternative to SaneBox, Clean Email is more affordable despite offering more attractive features, which is why we recommend it to all budget-minded email users who want to get as much value for their money as possible.
Is It Possible to Use Both SaneBox and Clean Email?
The short answer is: yes, you can use both SaneBox and Clean Email at the same time.
In fact, Clean Email can actually help you manage your SaneBox folders and quickly get rid of unimportant emails. When you organize your inbox with SaneBox, all distracting emails are moved to your Sane folders. Because Clean Email shows the actual content of the user's inbox, it will show SaneBox folders among the other email bundles, allowing you to apply any action to them with a simple click.
What's more, each and every action you apply in Clean Email will be visible to SaneBox, helping it better identify important messages, hide distractions, and banish annoying senders. That's how SaneBox and Clean Email can help each other, and, in turn, make it easier for you to keep your inbox organized.
How to Start Using Clean Email as a SaneBox Alternative?
Regardless of if you're not satisfied with SaneBox or are just looking for an additional inbox organizer, Clean Email is the right choice and getting started is easy:
Go to: https://app.clean.email
Log in with your email address and password.

If you don't remember your password, please use your email provider's website to reset it.
Use the Quick Clean feature to organize your inbox in one click or explore Clean Email's other features, such as Unsubscriber or Auto Clean features.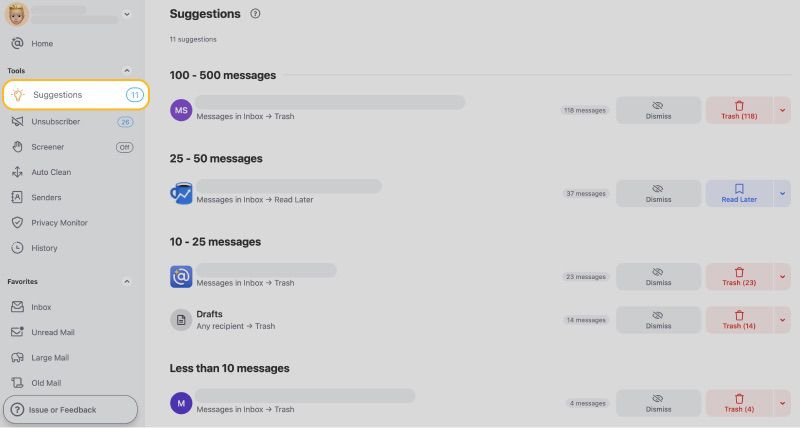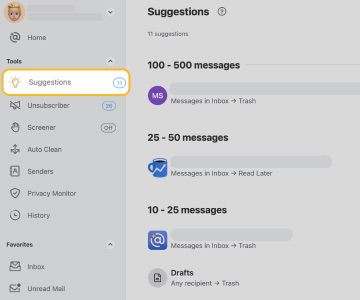 To use Unsubscriber to prevent marketing emails and newsletters from ever reaching your inbox: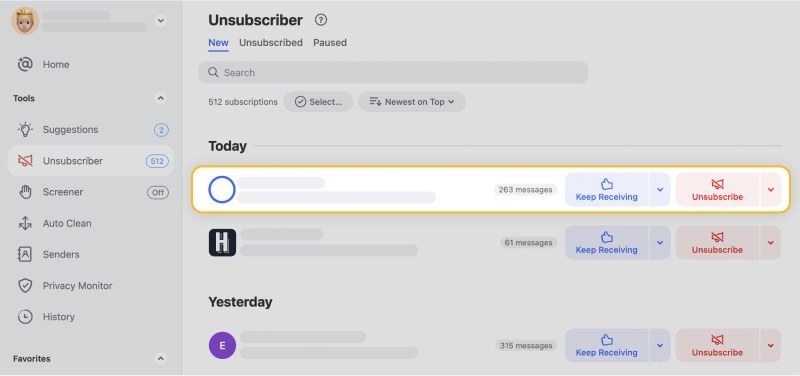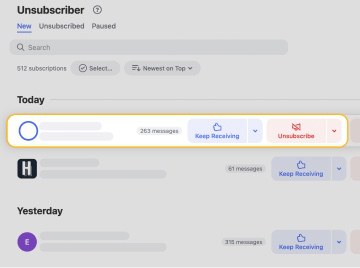 Log in to Clean Email with your email address and password.
Access Unsubscriber by clicking the Unsubscriber button.
Select which subscriptions you want to keep in your inbox and which you want to unsubscribe from by pressing the "Keep in Inbox" or "Unsubscribe" buttons respectively.
To use Auto Clean features to apply any action to new or changed emails in your inbox without any manual work: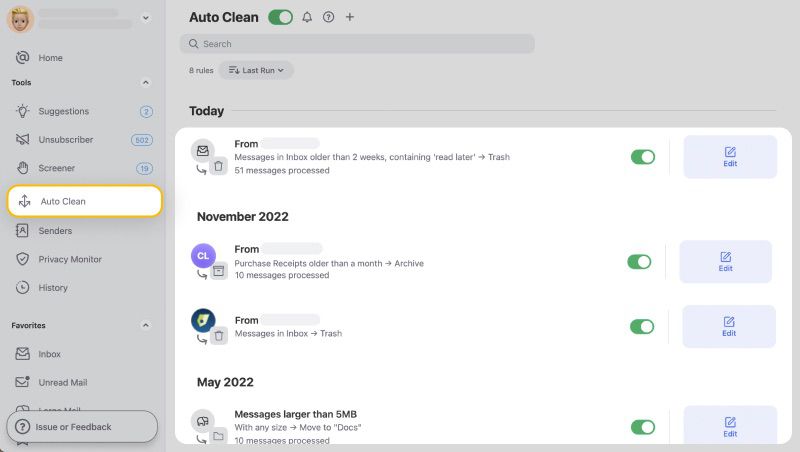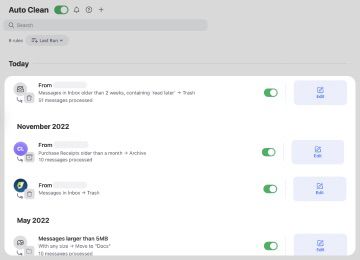 Log in to Clean Email with your email address and password.
Click any View and find emails you'd like to apply any action to.
To create a new Auto Clean rule simply check the "Auto Clean" checkbox before applying an action.
Clean Email doesn't interfere with SaneBox, so you can use both inbox cleaners at the same time to combine their strengths.
Conclusion
If you're looking for an equally capable but more affordable SaneBox alternative, we highly recommend you give Clean Email a try and experience first-hand just how much it can make your life easier. SaneBox pricing doesn't quite correspond to the features it offers, and its privacy policy is not nearly as direct as Clean Email's.