13 Best Small Business Software
We've tested various software tools and selected ten that we liked the most.
Pricing: One Clean Email account costs $29.99 a year.
For most small businesses, email is an indispensable communications tool, used for pursuing leads, staying in touch with existing customers, and coordinating the work of individual employees. With hundreds and sometimes even thousands of emails sent and received every single day, it doesn't take a long time for employees to start complaining about their inboxes becoming overloaded and full of unwanted emails.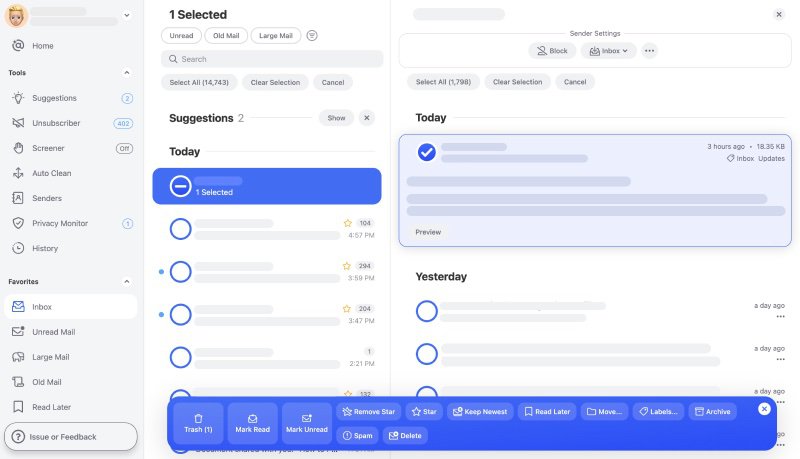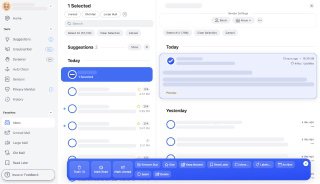 To combat inbox clutter, many small businesses swear by Clean Email, which is a bulk email organizer and our favorite software for small businesses. Unlike many other similar small business software solutions, Clean Email is trusted even by businesses that handle a lot of sensitive information because its algorithms only analyze email headers that contain harmless metadata—the actual content of emails and attachments are never accessed.
The main feature of Clean Email is its ability to organize emails into easy-to-review bundles, but this popular small business software can do a lot more than that. For example, it can block unwanted senders, automatically apply selected actions, or make sure that newsletters and unwanted subscriptions will not show up in your inbox.
👍🏼 Pros:
Easy to use
Respects your privacy
Many useful email management features
Affordable
👎🏼 Cons:
Free trial is limited to 1000 emails
Pricing: EmailAnalytics offers individual plans starting at $5 a month, and Enterprise pricing for teams starting at $5 per user per month.
EmailAnalytics is a small business productivity software. It silently monitors employee email activity in the background, giving managers insight into one of the largest time-sinks of any professional's day: the email inbox. The average professional spends between 25-50% of their time in their email inbox, and EmailAnalytics illuminates that activity for managers.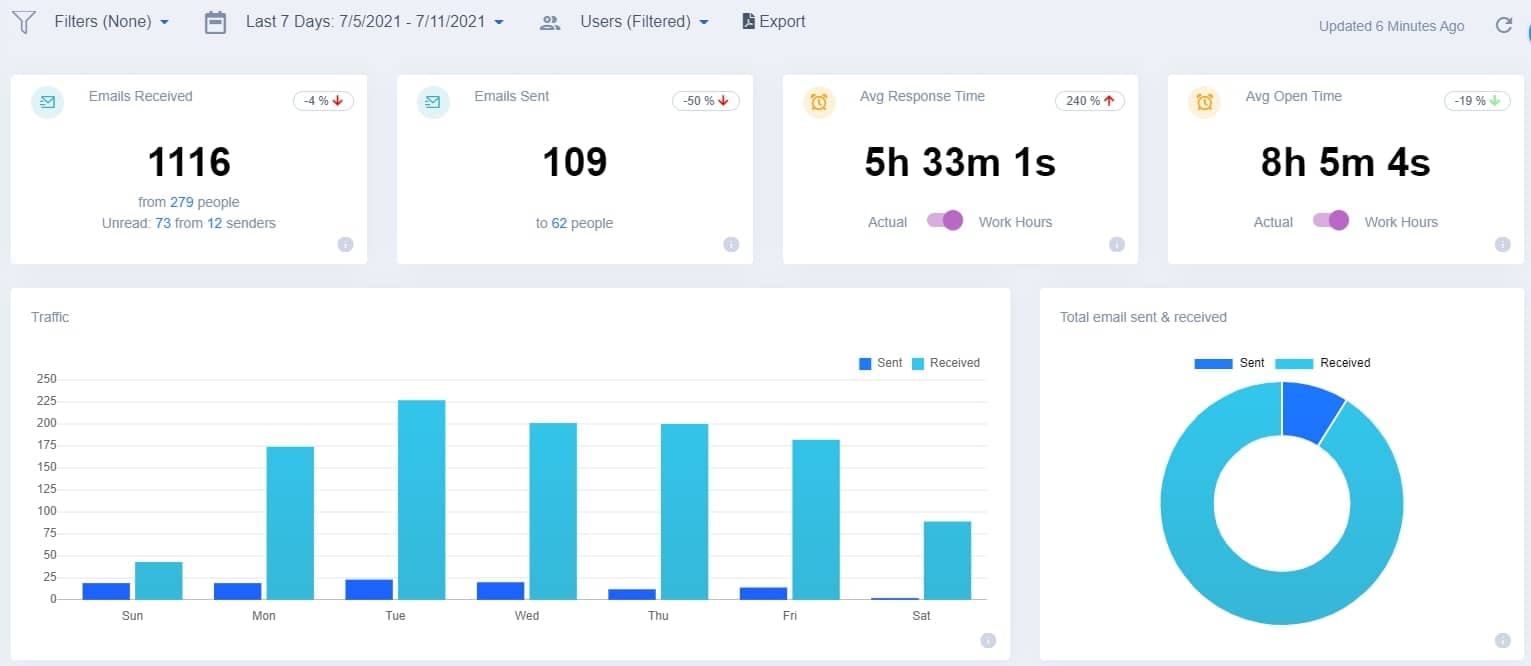 Sales teams and customer service teams love EmailAnalytics because it calculates and reports on KPIs like average email response time, emails sent, emails received, and much more. It can even be used to monitor every email address company-wide, providing insights to IT managers and C-level management that was previously inaccessible. And it's convenient, too; users can receive daily or weekly email reports to get insights delivered right to their inbox.
EmailAnalytics customers boast a 42.5% faster average response time than non-EmailAnalytics users, giving them a huge advantage over the competition, because 35-50% of all sales go to the vendor that responds first. New users can try EmailAnalytics for free for up to 14 days, and there are multiple pricing options depending on functionality needs. The free trial is fully-featured.
👍🏼 Pros:
Easy to setup
Affordable
Email reports are very convenient
👎🏼 Cons:
Limited customization options
Pricing: HelpCrunch offers two main subscription plans, one encompasses a live chat set of features, and the other one has live chat and email marketing functionality. Each of these plans includes Standard, Premium, and Enterprise options. The most affordable plan starts at $15/user/month.
HelpCrunch is a one-stop customer communication platform for support, marketing, and sales. It empowers companies to provide instant and high-quality support to their customers leveraging the smooth live chat widget, knowledge base, automated messages, and popups. Moreover, proactive messages and pre-chat forms allow you to acquire 78% more leads and convert them on autopilot. The tool is compatible with web and mobile applications.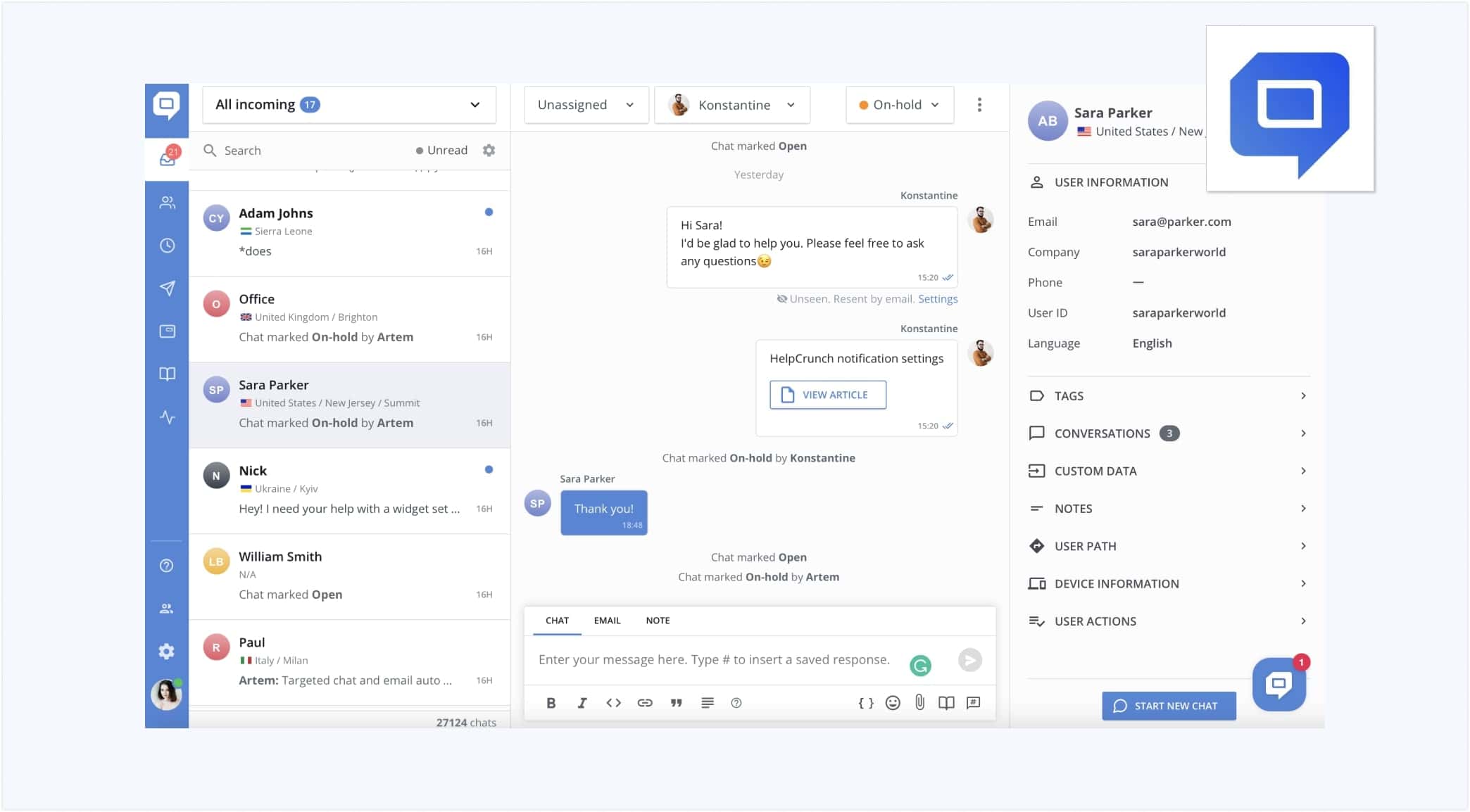 One of the main advantages of HelpCrunch is a comprehensive fluent live chat. Agents can easily talk with customers, access full user information, and utilize saved responses for faster support. In fact, the live chat widget is one of the most customizable tools ever, thanks to its extensive design opportunities and CSS styling, you can make it look like an integral part of your brand.
Also, HelpCrunch provides its users with the knowledge base feature for 24/7 customer self-service. It allows businesses to reduce the number of repetitive questions and increase the customer satisfaction rate. By creating a single repository of helpful articles on your website, you empower visitors to find the information they seek by themselves. The most pleasant part of the feature is a WYSIWYG editor that makes article creation and editing a breeze. Besides, you can incorporate the knowledge base button into the widget which simplifies the search path for customers.
For sales and marketing goals, the HelpCrunch software enables users to create beautiful newsletters and fully automate email marketing activities. You can share your company news, special offers, updates, and collect feedback via newsletters manually or on autopilot. Once sent, track their performance (open, clicks, replies) in real-time. Additionally, the tool allows you to follow up via email in case your chat message stays unseen by a visitor for a set period of time.
👍🏼 Pros:
Comprehensive fluent live chat
Knowledge base feature for 24/7 customer self-service
Sales and marketing specialists can create newsletters and automate email marketing activities
👎🏼 Cons:
Needs additional training resources
Pricing: EdApp offers a free plan, which gives you access to their course authoring tool and full analytics suite. But if you wish to use more of their advanced services, they have a number of subscription plans starting at $1.95 per active user/month.
EdApp is a free LMS software that is jam-packed with multiple user-friendly tools, best-designed to handle your training needs, from course creation to deployment, even knowledge gap analysis and tracking. But what makes this software a perfect solution for small businesses is that most of its features can be used for free.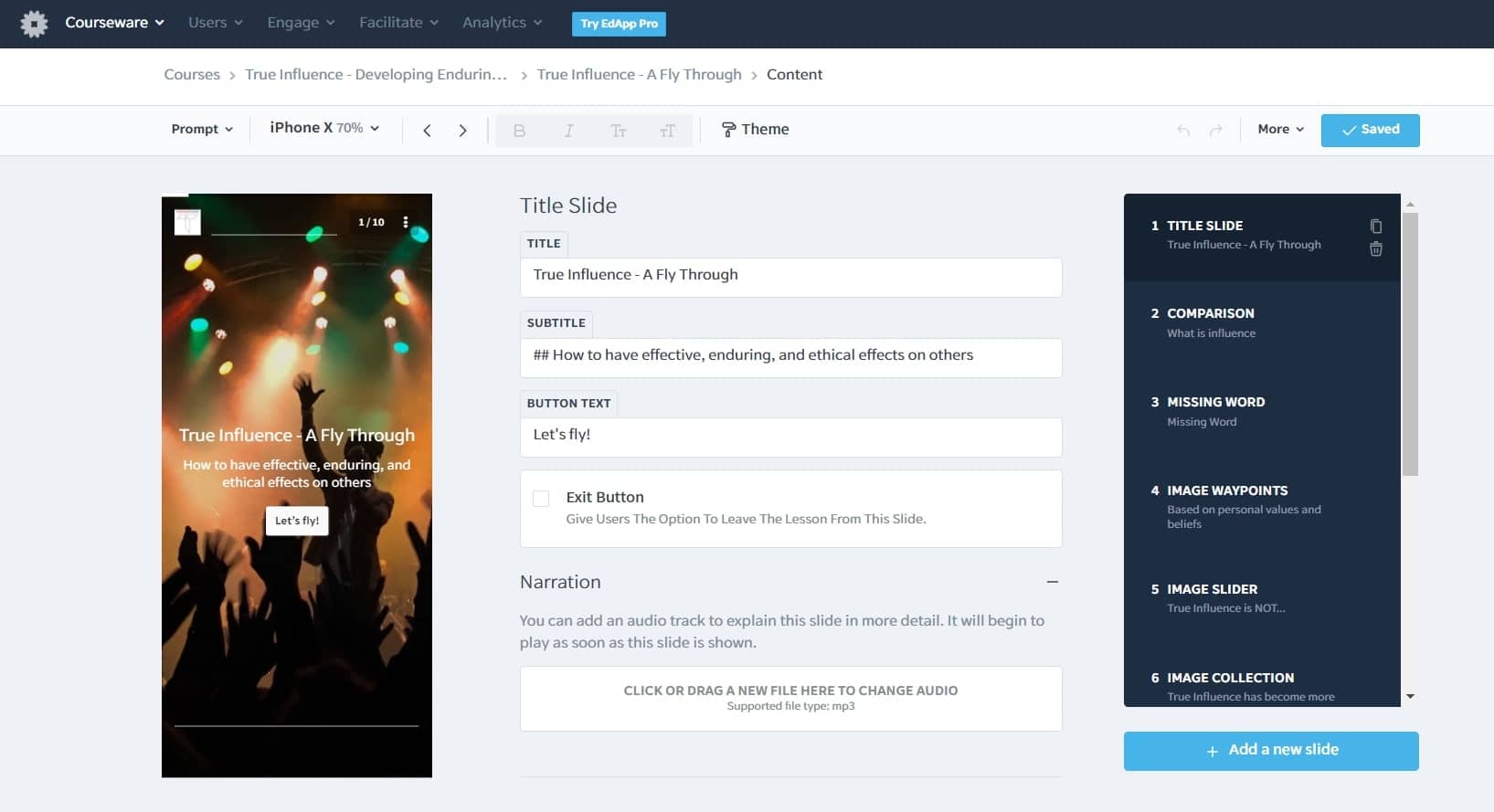 This small business training software has a built-in authoring tool that allows you to design beautiful microlearning content from scratch. It's also equipped with gamification tools, which can help you easily gamify your quizzes and enable leaderboards to make the training more fun and engaging for your learners. All EdApp courses are mobile responsive by default and formatted for both iOS and Android devices, offering you the ultimate flexibility in terms of lesson delivery.
EdApp's free plan gives admins complete access to their analytics suite, allowing them to track their employees' learning progress and identify any knowledge gaps. They also offer actionable reporting and custom push notifications, but these features are only provided if you subscribe to their monthly plan.
👍🏼 Pros:
Unlimited course authoring
Gamification tools
Mobile accessibility
Full analytics suite
👎🏼 Cons:
Heavily template-based (If you want to go all-out with your branding, you'll need some CSS knowledge)
Pricing: QuickBooks offers three subscription plans. Simple Start costs $15.00 a month, Essentials costs $23.00 a month, and Plus costs $31.00 a month.
Developed by Intuit, QuickBooks is a small business accounting software geared toward small and medium-sized businesses. Available both as small business software for Mac and Windows as well as a cloud-based solution, QuickBooks makes it possible to instantly see how a business is doing, and it comes with hundreds of templates that cover everything from invoicing to accounts payable to inventory to time tracking.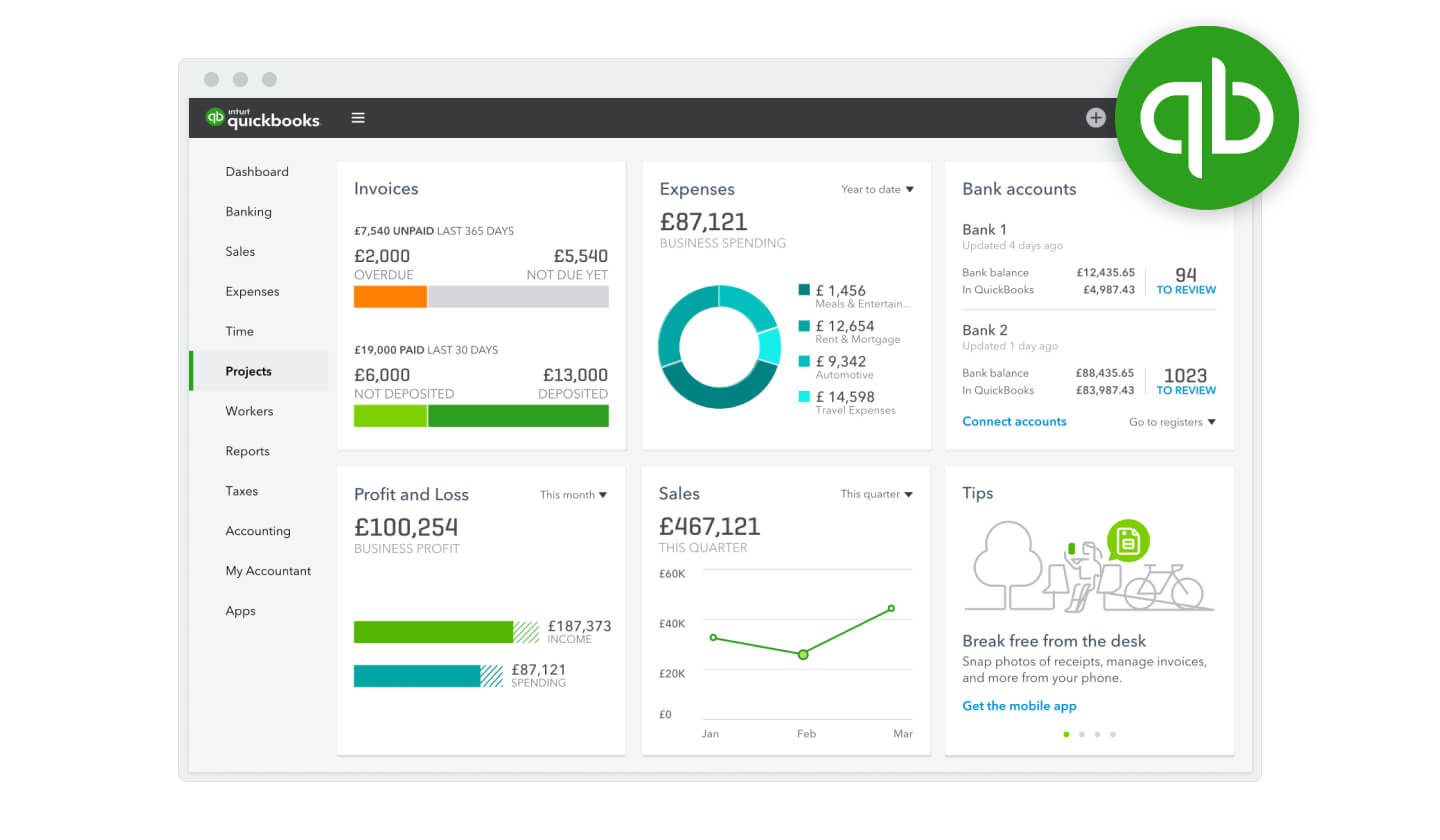 QuickBooks uses 128-bit SSL encryption to provide bank-level security and ensure your data is always safe. It also features automatic backups, allowing you to recover even from a devastating natural disaster. New users can try QuickBooks for free for up to 30 days, and multiple paid options are available for those who would like to keep using this popular small business accounting software.
👍🏼 Pros:
Third-party integrations
Great mobile applications
👎🏼 Cons:
Expensive
Isn't without its fair share of quirks
Pricing: Slack offers a free plan aimed at small teams that don't need more advanced features. Those who do need them can pay €6.25 a month for the Standard plan or €11.75 a month for the Plus plan.
Just because a business is small enough that all employees know one another doesn't mean the business has no reason to spend money on small business software programs for team collaboration and communication. Slack is the best software for small businesses that would like to have a single place for messaging, tools, and files.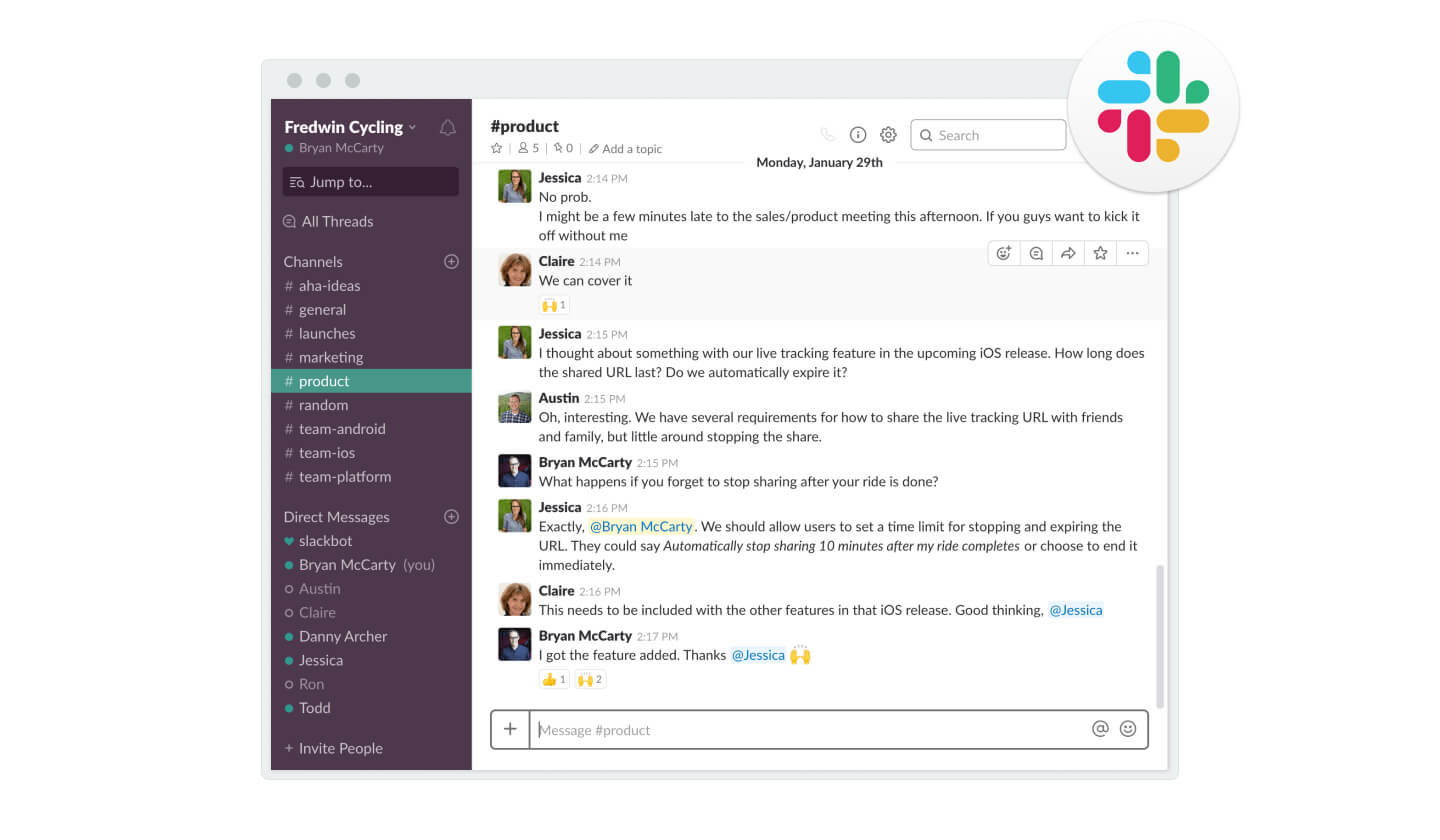 Slack was created as an internal tool for Stewart Butterfield's company Tiny Speck and first released in 2013, and it has since taken the world by storm and helped countless teams securely collaborate on game-changing projects.
Slack stands for Searchable Log of All Conversation and Knowledge, which succinctly describes what this small business software is all about. Conversations in Slack can be organized by team, project, client, or any other relevant way, and all messages and files sent and shared by team members can be retrieved with a simple search query even if the person who posted them has already left the conversation.
Slack integrates with over 1,500 third-party apps, including Google Drive, Dropbox, Asana, Trello, GitHub, and others. A free plan is available, but most small businesses will want to upgrade to either the Standard plan or the Plus plan.
👍🏼 Pros:
Incredibly easy to learn and get used to
Support for both public and private chat channels
Over 1,500 integrations with third-party applications
👎🏼 Cons:
The free version is seriously limited
Pricing: The Standard plan costs €3.6 a month, and the Professional plan costs €6.3 a month.
Zoho Corporation offers a compelling collection of web-based business tools and information technology that includes an online office suite called Zoho Office Suite. This alternative to Microsoft Office integrates flawlessly with Zoho WorkDrive, one of the best small business software programs for teams that work together and collaborate on various projects.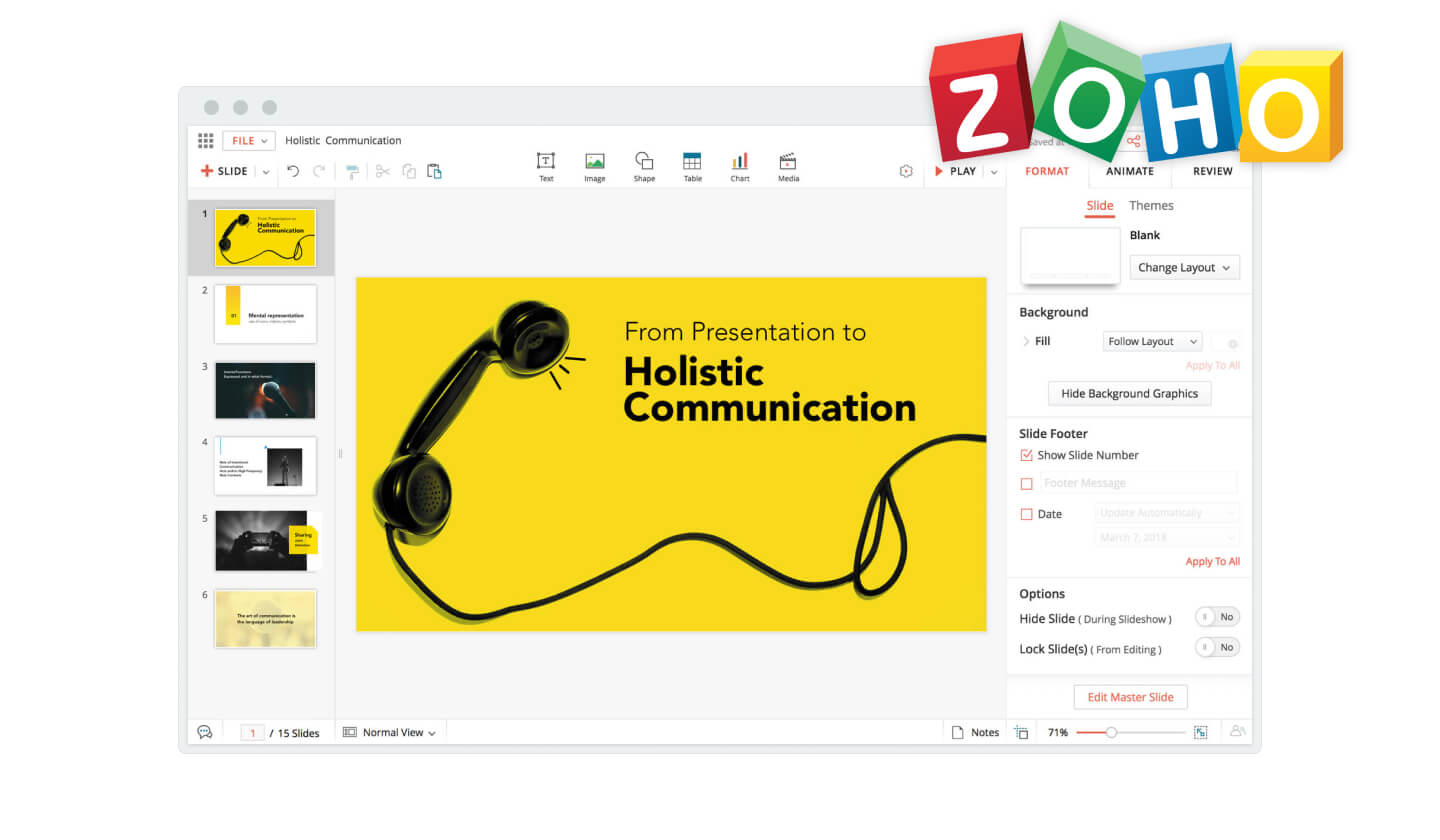 Just like Microsoft Office, Zoho Office Suite contains a word editor, a spreadsheet application, and a presentation program. The word editor is called Zoho Writer, and it's compatible with all common document file formats, including .doc and .docx. The spreadsheet editor is called Zoho Sheet, and it's a great lightweight alternative to Microsoft Excel. Finally, there's Zoho Show, which has all the features you could possibly need to deliver a captivating presentation. You can also use presentation background templates to create your presentation.
👍🏼 Pros:
Perfectly functional suite of office tools
Cost-effective
👎🏼 Cons:
Not as feature-packed as Microsoft Office
Pricing: Pipedrive offers four subscription plans, one aimed at enterprises and three at smaller businesses. The most affordable plan is called Essential, and it costs €12.50 a month per user when billed annually.
Pipedrive is a cloud-based customer relationship management (CRM) software designed for salespeople, by salespeople. More than 90,000 companies in 179 countries use it because it helps them close more deals by automating and tracking sales interactions, get more qualified leads fed straight into their pipeline, and clearly see what works and what doesn't with pipelines, dashboards, and personalized sales tips.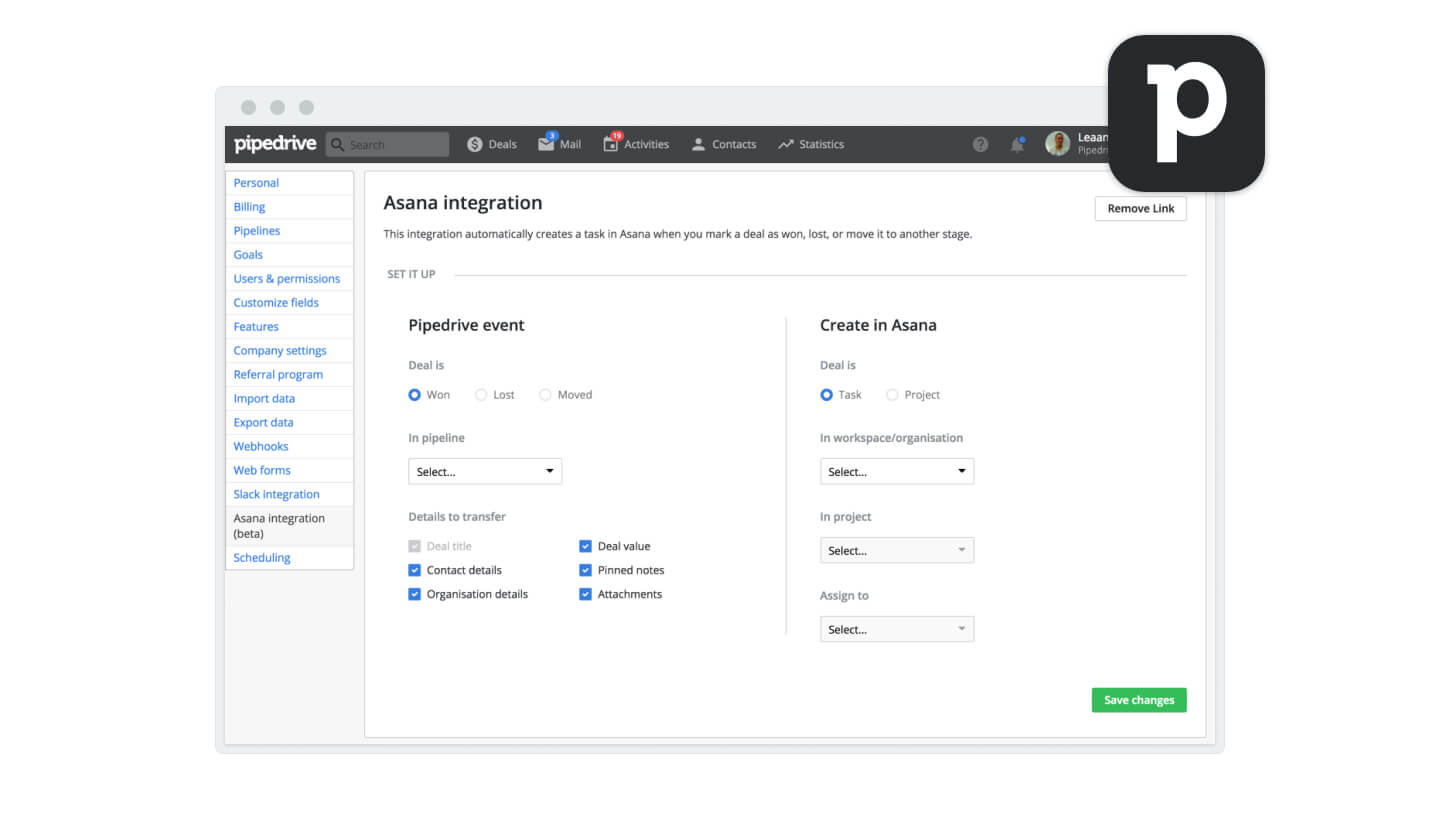 Pipedrive is a highly visual small business management software that gives its users clarity where they need it the most and is easy and intuitive to use. To keep users from constantly jumping between multiple software applications, Pipedrive can track email conversations and automatically connect emails to contacts and deals.
Sales reporting, sales forecasting, and mobile CRM are just three other noteworthy features of Pipedrive, but there are many others. Small businesses can choose from three monthly and annual plans, and they can switch between them as needed.
👍🏼 Pros:
Intuitive interface
Connects emails to contacts and deals
👎🏼 Cons:
Occasional UI performance problems
Pricing: The Professional plan is limited to a single user and costs $19 a month. The Team plan lets up to 3 users use Hootsuite at the same time for $99 a month. Businesses with more than 5 users can purchase the Business plan for $599 a month.
In this day and age, small businesses can't afford to ignore social media anymore. Establishing a strong social media presence is an important tactic that small businesses can use to stand out and compete with large enterprises with bottomless marketing budgets. With Hootsuite, you can take your social management efforts to the next level by managing all accounts from one place.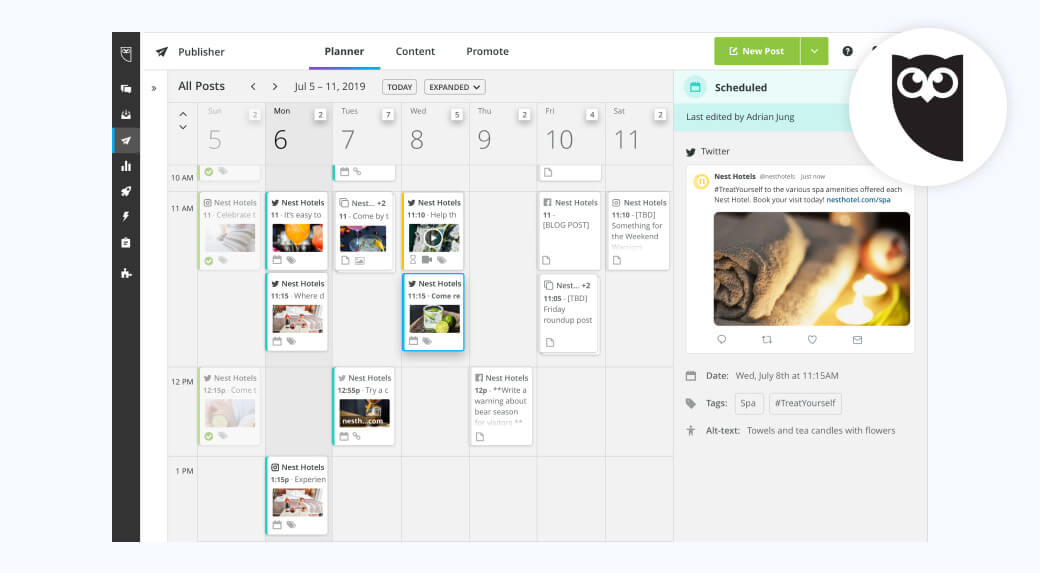 Hootsuite displays your social media content in a unified collaborative content calendar that makes it easy to plan the right content for each network, including Facebook, Instagram, YouTube, LinkedIn, Twitter, Pinterest, and others. To keep your audience engaged 24/7, you can automatically schedule posts to be published throughout the day, making Hootsuite great software for small businesses with customers around the world.
👍🏼 Pros:
Extensive analytics capabilities
Free for up to 30 days
Goes way beyond social media posting
👎🏼 Cons:
Expensive add-ons
Some features are available only to enterprise users
Pricing: The Free plan is limited to 2,000 contacts and doesn't include all features. The Essentials plan starts at $9.99 a month for 50,000 contacts and, it includes several extra features. The Standard plan starts at $14.99 a month for 100,000 contacts, and it includes all main features. Finally, the Premium plan starts at $299.00 for 200,000+ contacts and all features MailChimp has to offer.
Email marketing is one of the most effective forms of marketing that small businesses can use to inform existing customers about new products and services, promotional offers, and discounts. MailChimp is one of the best small business software solutions for email marketing automation, integrating all the tools businesses need to reach their marketing goals.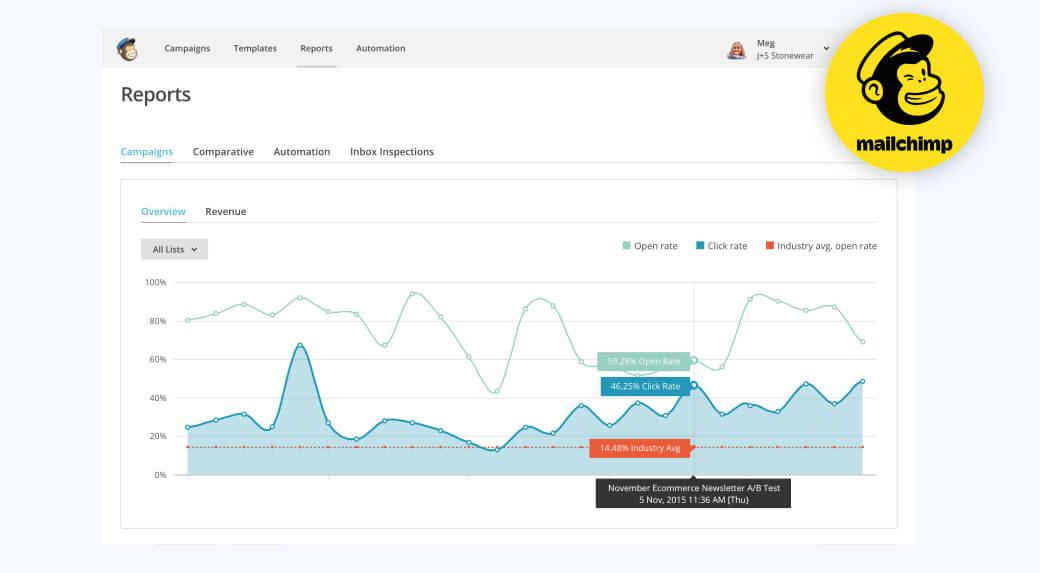 If you're just starting out with email marketing, MailChimp makes it easy to create polished signup forms and landing pages, helping you collect email addresses and grow your audience. Once you're ready to launch your first email marketing campaign, you can simply choose a pre-designed template and edit it to meet your needs using MailChimp's drag-and-drop email builder. From there, you can play with email automations, dive deep into real-time analytics, or connect MailChimp with your online store.
👍🏼 Pros:
Intuitive drag-and-drop email builder
Offers many third-party integrations
High deliverability
👎🏼 Cons:
Unresponsive support
Outdated email templates
Pricing: The free plan allows anyone to create up to 5 single-step Zaps. The least expensive plan that supports multi-step Zaps is called Starter, and it costs $19.99 a month when billed annually or $24.99 month-to-month.
Zapier is an incredibly useful tool that small businesses can use to automate time-consuming tasks and save money. It integrates with hundreds of apps and services, including Google Sheets, Gmail, Twitter, Slack, Trello, Facebook Lead Ads, MailChimp, Salesforce, Airtable, Stripe, Asana, WordPress, and more.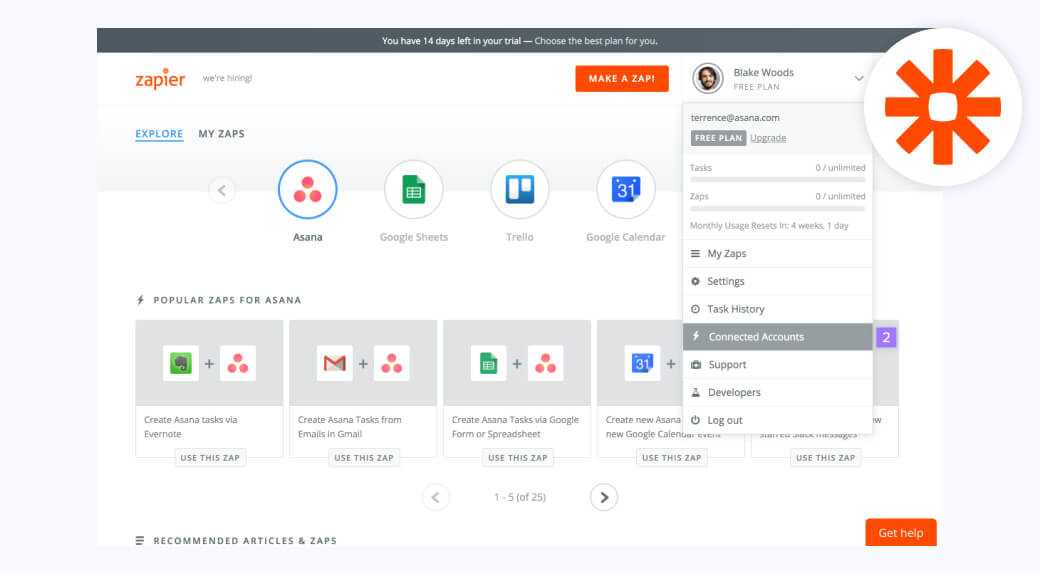 Automations in Zapier are called Zaps, and they consist of a trigger, such as receiving a new lead or an email, and an action triggered by it. For example, this small business software can be used to register new leads for webinars, share content across social media, add important tasks to a shared to-do list, get alerts for upcoming events, and just about anything else.
There are many businesses that have been able to save hours of time and thousands of dollars by automating time-consuming tasks, making Zapier potentially one of the most cost-effective small business software programs ever.
👍🏼 Pros:
Makes it easy to create complex automations
Supports many online services
No code required
👎🏼 Cons:
Error logging could be improved
Pricing: Free
There are many good reasons why over 1.3 billion (yes, billion) websites use WordPress as their content management system of choice. To start with, WordPress is completely free and open source, which means that small businesses don't have to pay anything if they decide to use it. In addition to its attractive price of $0, WordPress can be customized to create anything from an e-commerce site to a blog or app.
But what really makes WordPress the best software for small businesses that are interested in establishing a web presence is the astonishing number of third-party plugins and templates that are available for it. Without any coding, businesses can customize WordPress to build anything they want, and do so without spending a huge amount of money on custom web development.
👍🏼 Pros:
Free and open source
Many third-party themes and plugins available
Extremely customizable
Features an easy-to-use backend
👎🏼 Cons:
Basic knowledge of HTML and CSS is more or less required
Hackers often target WordPress websites
Pricing: The Basic Shopify plan costs $29 a month, and it includes all the basics for starting a new business. The regular Shopify plan costs $79 a month, and Advanced Shopify costs $299 a month.
Shopify is a popular e-commerce platform whose purpose is to make it as easy as possible for small businesses to sell goods and services online. It launched in 2004, and it's now powering around 500,000 websites and serving customers around the world.
To get started with Shopify, all you really need to do is create a user account, pick a suitable theme for your site, and add your products. If you decide to stick with Shopify, you can then add a custom domain name to make your online store more trustworthy and upgrade to one of the three available premium plans, the cheapest of which costs just $29 a month and includes 24/7 customer support, free SSL certificate, fraud analysis, and other perks.
👍🏼 Pros:
Easy to use
Attractive templates
Multi-currency selling
Comprehensive point-of-sale options
👎🏼 Cons:
Limited customization options for average users
Email marketing features are basic
Conclusion
With so many excellent small business software solutions to choose from, small businesses today can successfully compete with established players and capture a substantial segment of the overall market. In this article, we've introduced top 13 best software for small businesses, placing Clean Email at the very top of our list because of its ability to make email a joy to use, which is something every small business can appreciate.