What Is Remote Work?
Remote work, also known as telecommuting or working from home, refers to a work arrangement where employees perform their job tasks outside a traditional office environment.
With the aid of technology and digital tools, employees can work from virtually anywhere and even be more productive. Today's workers have a wide array of remote work tools at their disposal, including collaboration platforms like Slack and Microsoft Teams and email management apps like Clean Email, to enhance productivity and efficiency.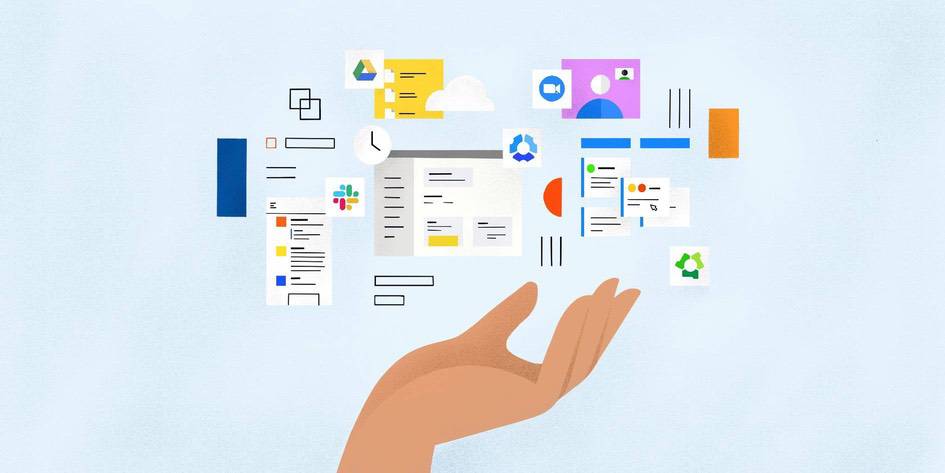 According to recent trends and Buffer's annual report called The State of Remote Work, flexibility remains a top benefit for 67 percent of remote workers. However, concerns such as "staying home too often because they don't have a reason to leave" have emerged as new challenges, reflecting the changing dynamics of remote work. But for many, the benefits, including more diverse career options and time saved from not commuting, outweigh the struggles.
Remote work continues to be attractive, with 93% of remote workers emphasizing the importance of work-life boundaries. A significant number of workers find it easier to manage aspects such as focused work (70 percent), stress (65 percent), and distractions (50 percent), contributing to the growing appeal of this work arrangement.
9 Best Tools for Working Remotely
There are hundreds of remote working tools, but there's no reason to fill up your entire hard drive with them. Choosing the right work from home app can greatly enhance your ability to communicate with teammates and manage tasks.
With the following top 9 tools for working remotely, you'll be able to achieve maximum productivity when working from home and put an end to procrastination.
Price: Free for cleaning up to 1000 emails, Subscription
Platforms: Web, Android, iOS, Mac
Most employees already receive way too many email messages every day, and remote working is guaranteed to increase their number even more. To avoid going insane from endless email notifications, you need an effective email management tool, and that's where Clean Email comes in.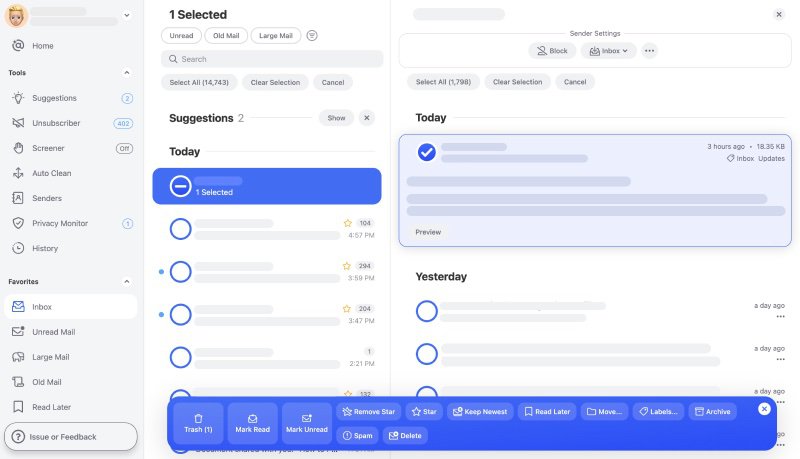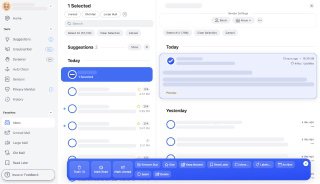 This smart mailbox cleaner can quickly segment your messy inbox into relevant groups using powerful filters and rules. One of its standout features is Smart Folders, which auto-sort your emails into predefined categories. For example, 'Top Senders' and 'Seasonal Sales' folders group all messages from the most frequent senders and online shopping websites, respectively, updating these categories automatically as new emails arrive.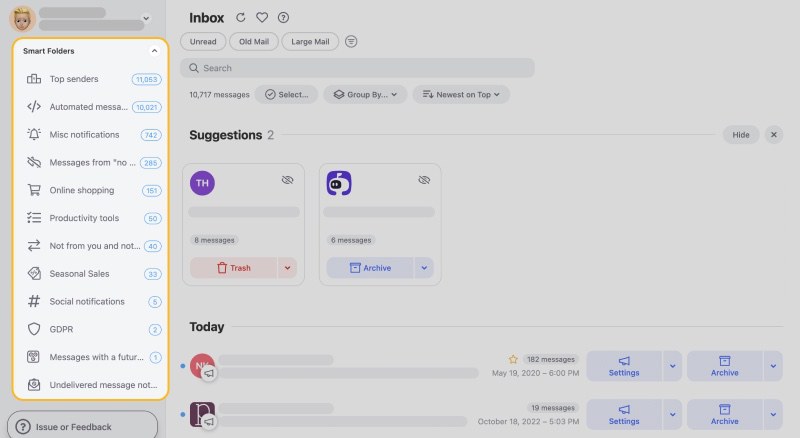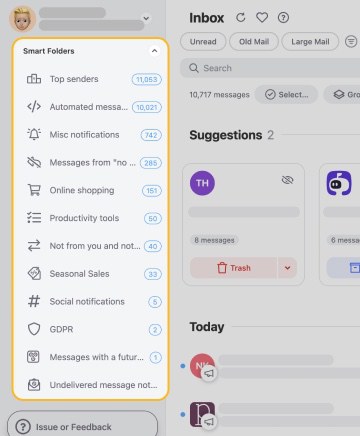 To save you time and make your life easier, Clean Email allows you to manage entire groups of emails, and it has a couple of other tricks up its sleeve as well. For example, it can instantly unsubscribe you from unwanted newsletters, and you can also use it to block unwanted senders. You can get started with it for free, so don't hesitate and get your inbox under control.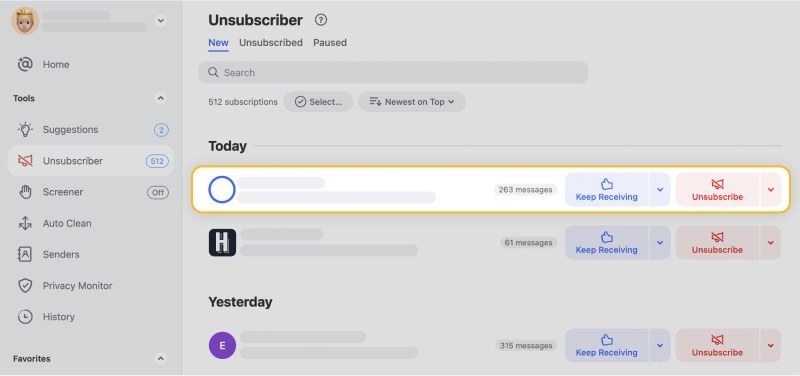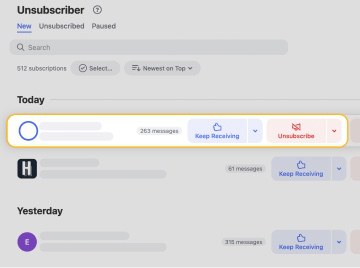 👍🏼 Pros:
Effortless email cleanup in just a few clicks
Intuitive bulk email organization
Unsubscribe from numerous subscriptions, even those without direct unsubscribe links
Automated email organization with advanced rules
Compatibility with all IMAP-based email providers
👎🏼 Cons:
Free trial version has limited functionality
2. Team Communication: Slack
Price: Freemium, Pro plan from $7.25 per user/month
Platforms: Mac, Windows, Linux, Android, iOS, Web
Everyone who's wondering how to work remotely with a team of people from different parts of the world needs to know about Slack. You can think of this remote working tool as an instant messenger on steroids or as a real-time alternative to email.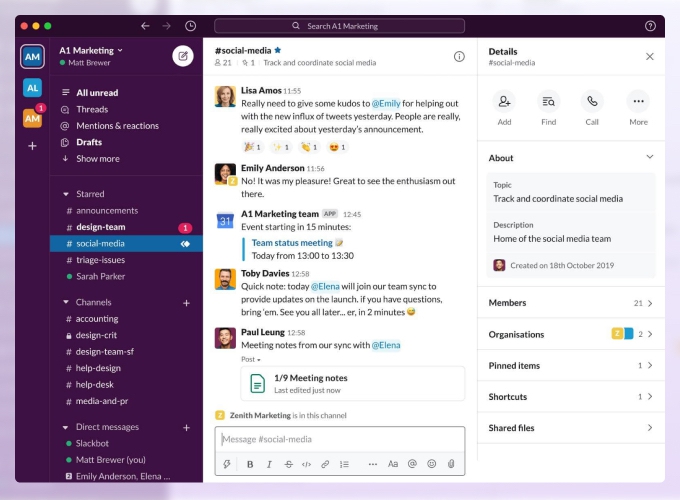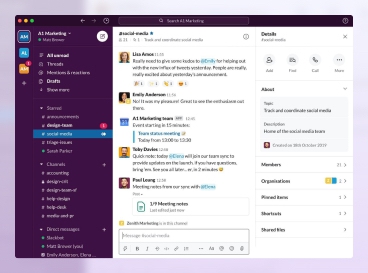 Slack conversations happen in dedicated channels, allowing you to separate projects and keep clutter at bay. In addition to sending text messages, users can send files and make voice and video calls. Routine actions can be automated for greater remote work productivity, and more than 2,600 third-party services can be seamlessly integrated with Slack.
👍🏼 Pros:
Rich customization options
Intuitive user interface
Countless third-party integrations
👎🏼 Cons:
The free plan offers a limited set of features
May become overwhelming due to frequent notifications
3. Business Contact Center: Dialpad
Price: Standard plan $15 per user/month, Pro plan $25 per user/month
Platforms: Mac, Windows, Linux, Android, iOS, Web
A unified communications platform, Dialpad offers a variety of business-oriented features and functions designed to make remote collaboration simple yet productive. Better yet, their phone systems are accessible from anywhere and on any device.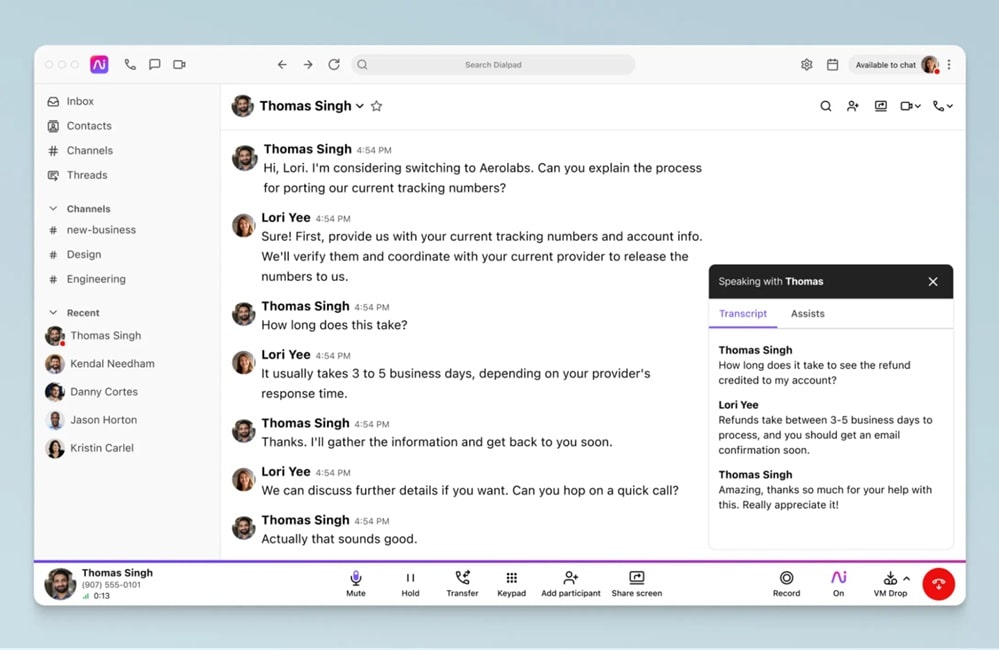 Providing users with real-time access to instant direct messages, group chats, voice calls, and video conferences, Dialpad also features an incredible Voice Intelligence system capable of providing real-time insights, call logs, and even voicemail transcripts.
👍🏼 Pros:
An affordable yet feature-packed integrated communications center
Built-In Voice Intelligence and Call Recording
Capable of various third-party integrations
HD Call Quality
Rich in both features and customization settings
User-friendly and easy-to-use interface
👎🏼 Cons:
Expensive
Requires an internet connection to work
VI transcription isn't compatible with every language just yet
4. Online Meetings: Zoom
Price: Freemium, Pro plan from $14.99 per user/month
Platforms: Mac, Windows, Linux, Web, Android, iOS
Zoom is a modern video conferencing and webinar solution with outstanding user reviews and enterprise-grade scalability. A single Zoom video conference session can include up to 1,000 video participants and 49 videos on a single screen.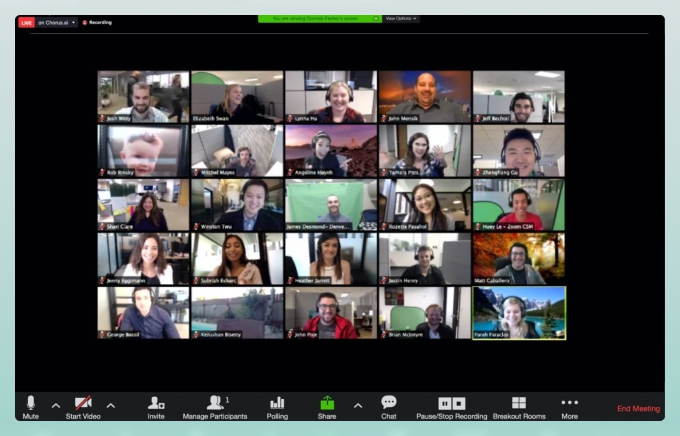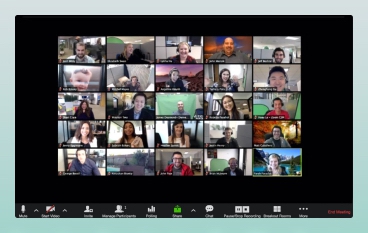 Zoom uses strong end-to-end encryption to make it impossible for third parties to snoop from a distance. Meetings can be scheduled and started from Outlook, Gmail, or iCal, and they can be recorded locally or to the cloud, with searchable transcripts.
👍🏼 Pros:
Relatively affordable compared with other similar products
Great stream quality
Plenty of features to play with
👎🏼 Cons:
Managing more than a few participants can be a hassle
You need to download the app
5. Project Management: Trello
Price: Freemium, Pro plans from $5 per user/month
Platforms: Mac, Windows, Linux, Web, Android, iOS
Trello is the first remote management software solution we recommend to those who are just starting to work from home and are looking for a simple way to stay organized. It's essentially a digital Kanban board that presents all tasks at a glance and makes it easy to add comments, attachments, due dates, and more.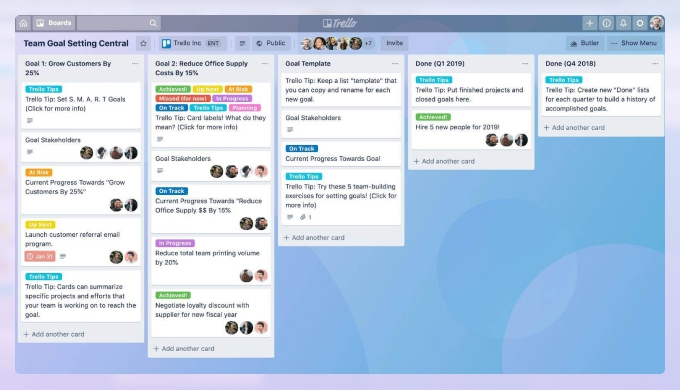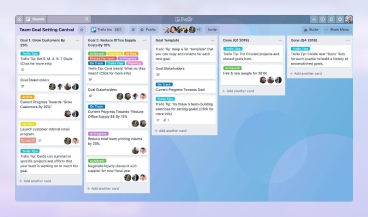 Tasks can be quickly assigned to different team members, and you can even automate your workflow using Butler, Trello's built-in automation. Smaller teams that can live without priority customer support and advanced features can use Trello for free.
👍🏼 Pros:
Easy-to-use Kanban app
Third-party integrations
Customizable and flexible
👎🏼 Cons:
Limited reporting capabilities
Price: Freemium, from $1.99 per user/month
Platforms: Mac, Windows, Web, Android, iOS, Chrome OS
Regardless of what your job is, it's only a matter of time before you'll need to share files with your coworkers. Google Drive lets you store up to 15 GB of files in the cloud, allowing you to easily and securely share them with others or collaborate on them with other Google Drive users.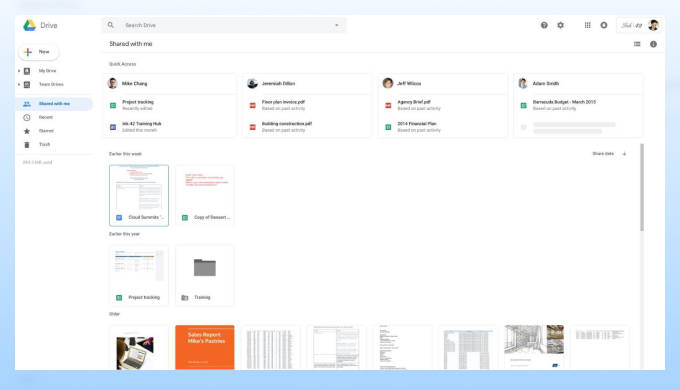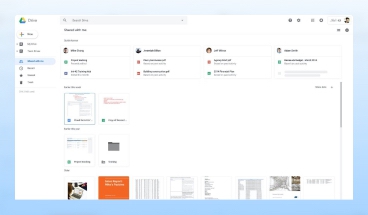 You can also use Google Drive to synchronize files between your devices. To do that, you need to install the Google Drive desktop client and store files in the folder it creates.
👍🏼 Pros:
You probably already have a Google account
Plenty of free storage space for regular use
Reliable desktop-to-desktop synchronization
👎🏼 Cons:
Privacy concerns
Storage limitations
7. Time Tracking: Toggl
Price: Freemium, from $17 per month
Platforms: Windows, Mac, Linux, Web, Android, iOS, Google Chrome
When working from home, it can be easy to lose concentration and spend more time watching funny videos online than working on that boring PowerPoint presentation your boss asked you to finish by the end of the week. With Toggl, you can track exactly how much time you spend in every application or website. You can then use the gathered data to generate detailed reports that make it easy to see how you can take your remote work productivity to the next level.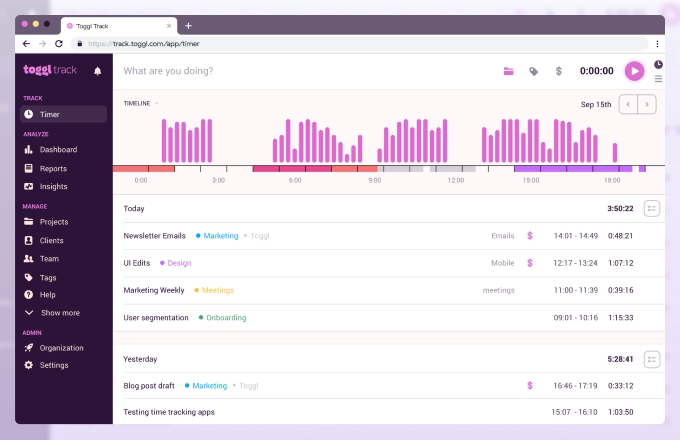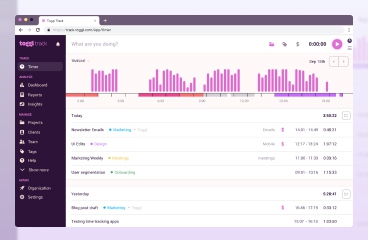 Toggl is one of the essential tools for remote teams since it allows team members to see who is over capacity and who might be able to lend a hand. The free version can be used by up to five users, and it integrates with over 100 third-party apps and services.
👍🏼 Pros:
Precise tracking of time spent on tasks and applications.
Great for team workload management.
Integrates with over 100 third-party apps and services.
👎🏼 Cons:
Some advanced features are restricted to the paid version.
8. Screen Recording: Loom
Price: Freemium, from $12.50 per user/month
Platforms: Windows, Mac, Web, iOS, Google Chrome
When doing remote work from home, you can't simply tell your colleague to come over and look at your monitor. What you can do, however, is use Loom to record your entire screen and share the recording via a link. You can even include footage from your webcam to let your colleague see your face while you're explaining, making Loom an excellent alternative to typing an email or meeting live.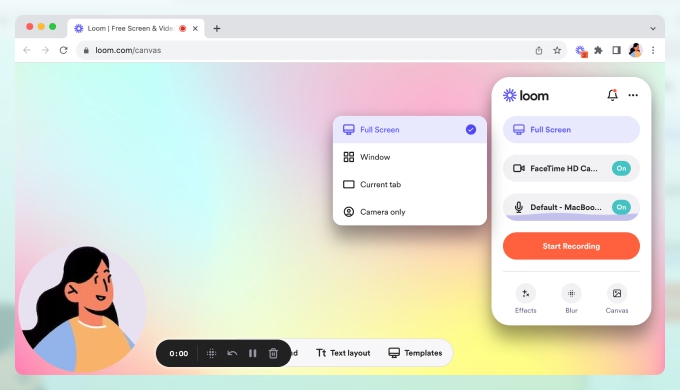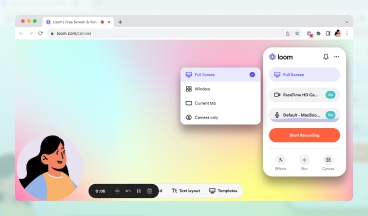 To install Loom, you don't need administrator privileges because this useful remote working tool is available as an extension for the Google Chrome web browser. The free version lets you save up to 100 recordings, each up 5 minutes long.
👍🏼 Pros:
Conveniently available as a Chrome extension.
Automatically attaches videos to Gmail for easy sharing.
👎🏼 Cons:
Free version limits recordings to 5 minutes each.
9. Password Management: Bitwarden
Price: Freemium, from $10 per user/year for individual use, from $3 per user/month for trams
Platforms: Mac, Windows, Linux, Web, Android, iOS, Microsoft Edge, Vivaldi Browser, Chrome, Safari, Opera, Brave, Firefox
Bitwarden is arguably one of the most useful remote working software tools because you can use it to safely store your passwords and other sensitive data, which can be indispensable when logging in to various online services and company systems. Unlike most other password managers, Bitwarden is open-source and audited by an independent third party.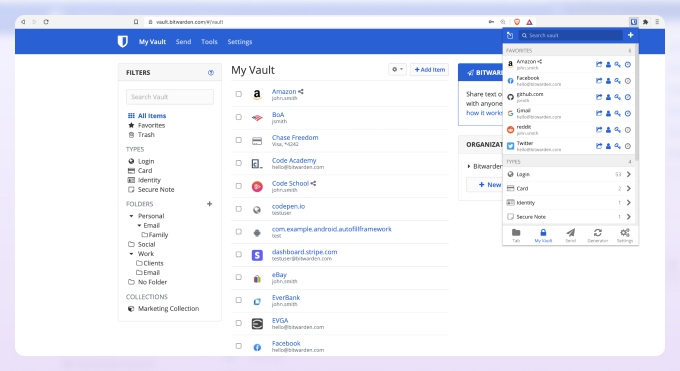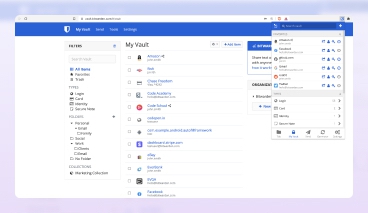 Being a cross-platform application, Bitwarden runs on mobile devices, desktop computers, and even inside your web browser. The free version doesn't come with any major limitations, but users can upgrade to Bitwarden Premium to unlock 1 GB of encrypted file storage, two-step authentication with a hardware token, and several other useful perks.
👍🏼 Pros:
Open-source and independently audited
Secure storage for passwords and sensitive data
👎🏼 Cons:
Premium users have only a 1GB cap on encrypted storage
Advantages and Disadvantages of Remote Work
As of 2023, 12.7% of full-time employees in the United States work remotely, with another 28.2% adapting to a hybrid work model. By 2025, it's projected that 32.6 million Americans, or about 22% of the workforce, will work remotely, although 59.1% of the workforce still works in-office.
The rise of remote work is particularly evident among younger workers aged 24 to 35, and in industries such as Computer and IT, Marketing, and Accounting. However, a gender gap and the fact that 16% of companies are fully remote indicate that remote work's reach is still expanding.
The opportunity to work from home or in a hybrid model is appealing for its flexibility, autonomy, and work-life balance, with 71% of remote workers enjoying these benefits. However, remote work is not suitable for everyone, with 12% reporting negative impacts on work-life balance.
The future of work in post-pandemic America appears to be shaping towards a more flexible model, encompassing both traditional office settings and new remote paradigms across various industries. Whether or not to embrace this trend hinges on carefully considering the key advantages and disadvantages of working remotely.
Advantages
Flexibility. Without a suited-up manager breathing down your neck and a clock to punch in and out, you can organize your day to suit your needs and personal preferences. Are you a morning person? Then, you can wake up an hour or two earlier and complete most items on your to-do list before your remote coworkers wake up. Remote work from home also gives you the freedom to run errands in the middle of the day, when shops and public services are still open.
Cost savings. For some people, just getting to work can be a large expense, especially for those who live in places with a poor public transportation system and have to drive in bumper-to-bumper traffic every morning. Having to buy formal clothing for which you have little to no use outside of work can be another major expense that can be easily avoided by working from home.
Improved work-life balance. Working remotely gives you more opportunities to spend valuable time with family and friends. A 15-minute break or just a good hug with a loved one definitely beats gossiping with coworkers in the breakroom or going outside to smoke/vape.
Disadvantages
Dependency on technology. It's impossible to work remotely without a computer and at least some remote working tools, such as email. The problem is that you probably don't live with an IT expert, so you're on your own when something breaks or, what's even worse, when you break something. The good news is that computers have never been more affordable and software applications more user-friendly.
Limited contact with coworkers. Depending on how well you get along with your coworkers, you might see this point as a huge advantage, but most of those who work remotely have experienced the feeling of social isolation. Interacting with others via email, phone, or video chat can alleviate this feeling. Still, the fact remains that humans are social creatures who need physical contact with others from time to time.
Procrastination. One of the biggest enemies of those who work remotely is procrastination. When you're your own boss, it's easy to let yourself check social media or watch YouTube every 15 minutes, constantly postponing important tasks. The good news is that there are many scientifically proven tips for beating procrastination, most of which boil down to self-control and discipline.
Conclusion
By equipping yourself with the right remote working tools, you can be just as productive—if not even more—as in your company office while enjoying the numerous benefits of working from home.
Related posts:
---
Best Tools to Work Remotely - FAQs
What does remote working mean?
Remote working means that employees can work from various locations, not limited to the office. Often working from home, remote workers benefit from avoiding commute hassles and gaining more time with family, utilizing technology to stay connected and productive.
How to be productive working from home?
Being productive while working from home requires a dedicated workspace, clear scheduling, and minimizing distractions. Use tools like Clean Email for an organized inbox, take regular breaks, and establish a consistent routine to further enhance efficiency and well-being.
Why is it better to work from home?
People who work from home can avoid long commute times, and the financial strain they can cause. They also enjoy far greater flexibility than their office-bound colleagues, both in terms of their work hours and the location from which they work.
Are people more productive working from home?
Research shows that working from home often leads to increased productivity compared to office work. However, it's not suitable for everyone, as some individuals may miss the social interaction with coworkers.
What are the disadvantages of remote working?
Some of the most frequently mentioned disadvantages of remote working include isolation, decreased work/life balance, lack of motivation, personal distractions, and lack of adequate technology at home.
How can I improve my remote working?
To improve remote working, set a schedule, minimize distractions and equip yourself with the right remote working tools, such as the ones listed in this article.
How do I manage my team remotely?
With the right remote working software tools, managing a team of remote workers is easy. Tools like Slack can be used to enhance team communication, while Trello and other similar project management software can be used to assign tasks and track progress.