Clean Email and Unroll.Me Comparison
Regular email users often struggle with inbox overload, particularly from spam senders and advertisers. Even with the spam filters provided by email services, these unsolicited messages can clutter your storage. The daily influx of emails can be overwhelming, even for those careful about subscribing to email lists.
The good news is, there's a solution for a clutter-free inbox. Consider Clean Email if you're seeking a secure Unroll Me alternative that truly unsubscribes you from email lists. Not only does it keep your data safe, but it also stands as the top choice available in the market today.
In this showdown of the most popular bulk email unsubscribers, we compare Unroll.Me with Clean Email to help you choose the right tool for cleaning up your messy inbox. Even though the apps may seem similar from a distance, the differences between them are actually quite pronounced, and you need to be aware of them to make the right choice.
Clean Email

Unroll.me

Unsubscribe Feature
Unsubscribes from emails
Doesn't actually unsubscribe,
but blocks the sender and
moves emails to Trash
Bulk Unsubscribe Option
Yes
(on the web and mobile apps)
Yes
(on mobile apps only)
Auto Clean Rules
Yes
No
Cleaning Suggestions
Yes
No
Pre-defined Filters
Yes
(33 Smart Folders, and more)
No
Settings to apply to Senders
Block, Mute, Unsubscribe if
mailing list; Deliver to,
Star, and more rules
Only Unsubscribe
(if a mailing list)
Digest
Read Later
Daily Rollup
Privacy
We only access the envelope and header information associated with your emails. https://clean.email/privacy
We access information from
transaction-related emails
that you receive to develop
and prepare measurement
products and datasets. https://unroll.me/legal/privacy/
Email providers supported
Gmail, Hotmail/Outlook, Yahoo, iCloud, AOL, and any IMAP email service
(log in directly with your email credentials)
Gmail, Outlook, Yahoo,
AOL, and iCloud
(you'll need to create
app-specific passwords)
Platforms
Web, macOS, iOS, Android
Web, iOS, Android
Multiple accounts support
Yes
No (on the web)
Yes (on mobile)
Available in the EU & EEA
Yes
No
Sharing data with third parties
No
Yes
What Is Unroll.Me?
Unroll.Me is an online service and app that can show you a list of all your active subscriptions, allowing you to effortlessly stop receiving those you are no longer interested in. Its purpose is to help you manage your inbox more efficiently by getting rid of promotional and marketing emails cluttering your inbox.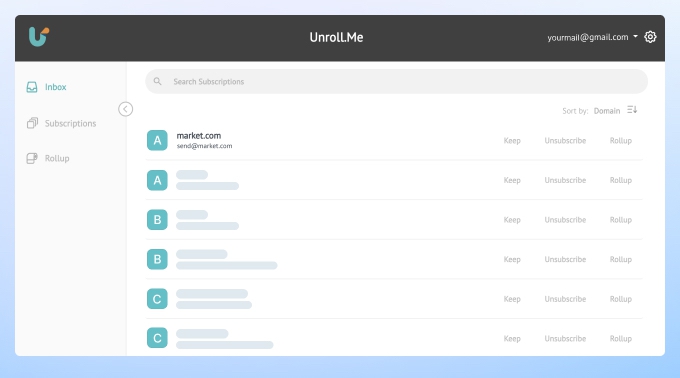 💡 Note: The service doesn't technically unsubscribe you from mailing lists. Instead, it blocks the senders, moving their messages to your Trash temporarily. The blocking filter can be removed at any time if you choose to re-subscribe to the service. Keep in mind that if you stop using the service, the previously blocked messages will start arriving in your inbox again.
At the moment, Unroll.Me supports Outlook.com (including Hotmail, MSN, & Windows Live), Gmail, Google Apps, Yahoo! Mail, AOL Mail, and iCloud/Apple-based email accounts.
⚠️ Important: Due to Google's policy that restricts third parties from accessing its APIs unless they comply with Gmail's privacy requirements, you need to use a specific app password for signing up to Unroll.Me with your Gmail account. This password is generated as a part of Google's two-factor authentication process.
Price: Free
"Unroll.me, a free service to unsubscribe from email lists, can scour people's inboxes for receipts from services like Lyft and then sell the information to companies like Uber. The data is anonymized, meaning individuals' names are not attached to the information, and can be used as a proxy for the health of a rival," Mike Isaac and Steve Lohr state in their article for The New York Times.
How to unsubscribe from emails using Unroll.Me
Download and install the Unroll.Me app or access their website.
Sign in using your email account (it may take some time, just follow their instructions).
Unroll.Me will create and show you a list of your email subscriptions.
To unsubscribe, click the 'unsubscribe' option next to the subscription you no longer want.
💡 Note: At the moment, Unroll.Me's web service lacks a bulk unsubscribe feature. You must unsubscribe from each subscription one by one. However, you can use the bulk unsubscribe feature in the Unroll.Me mobile apps.
Features Beyond Unsubscribing
Unroll.Me can also combine all subscriptions that you want to receive into a single email, called The Rollup. You can craft your personalized email digest by selecting your preferred subscriptions for the Rollup, and decide the time of day you want your tailored email delivered.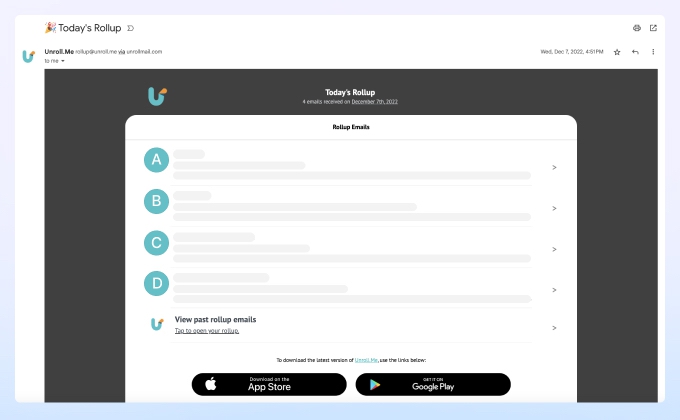 👍🏼 Pros:
No cost to use.
User-friendly interface.
Beneficial Rollup feature.
👎🏼 Cons:
Utilizes user email data to support their e-commerce measurement business.
Doesn't technically unsubscribe from mailing lists.
Absence of a bulk unsubscribe feature in the web service.
Lack of email management features beyond unsubscribing.
Doesn't comply with all GDPR requirements.
Doesn't operate in the EU.
What Is Clean Email?
Just like Unroll.Me, Clean Email's Unsubscriber feature can show you a list of all your active subscriptions so you can unsubscribe from those you no longer want to receive with a simple click.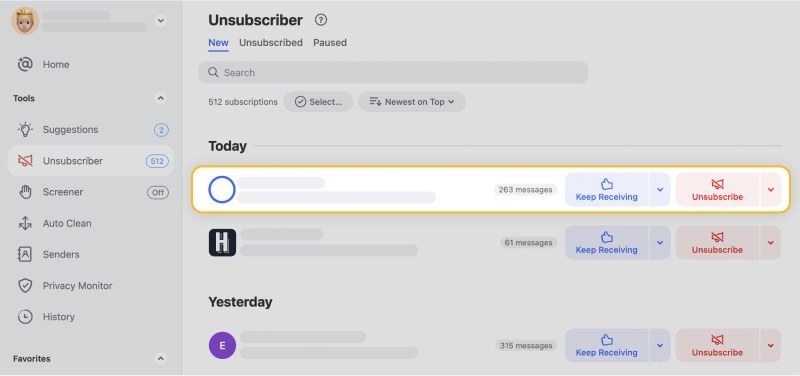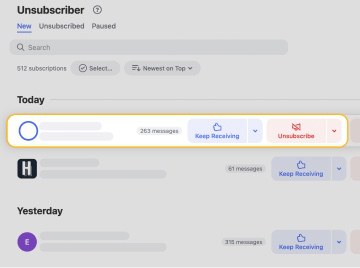 The app's bulk unsubscribe feature allows you to opt-out from multiple subscriptions simultaneously, saving time and effort. Just select the subscriptions you want to leave, and hit the Unsubscribe button.
💡 Note: Another distinct advantage is the comprehensive unsubscription method used by Clean Email. It ensures actual unsubscription by sending requests to the sender, following unsubscribe links, and automating unsubscribe form completion. If any sender disregards these requests, the app promptly blocks emails from that sender, sending them directly to your Trash.
Beyond unsubscribing, the app offers flexibility with your subscriptions. You can pause newsletters and reactivate them when needed, maintain only the latest email from a sender by auto-deleting older ones upon arrival of a new one (the Keep Newest feature), or re-direct emails to different folders (such as Read Later, for example, which is excellent for interesting newsletters you read once a week), ensuring a clutter-free main inbox.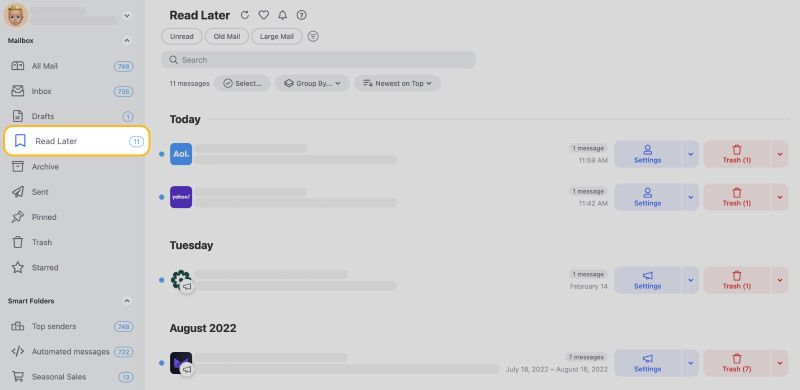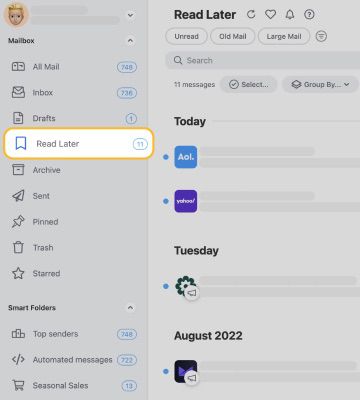 The app works with all IMAP services, including Gmail, Yahoo! Mail, Outlook, iCloud, Fastmail, AOL, Office 365, and others. It is available on the web, macOS, and as a mobile app (for iOS and Android), and it takes just a few seconds to get started with it.
⚠️ Important: Clean Email has consistently met Google's thorough multi-step verification process since May 2019 and continues to pass its annual security assessments and third-party audits. This means you can conveniently connect your Gmail account without needing an app password, just sign in with your usual Gmail credentials.
Price: Subscription
Clean Email operates on a freemium pricing model. With a free account, you can clean up to 1,000 email messages, enabling actions such as moving or deleting messages, applying labels, and more. A free trial also allows you to experience premium features such as the Screener, Sender Settings, and Auto Clean, at no cost for 14 days. Besides, you can apply up to 25 unsubscribe actions for free.
While this app isn't entirely free, it offers value that justifies its cost. Post-trial, you have the choice to upgrade to a premium subscription which unlocks all the features and the freedom to manage more messages. This paid model doesn't involve earning revenue through selling user data or incorporating ads, ensuring a privacy-focused user experience.
How to Use Clean Email's Unsubscriber Feature
With the Unsubscriber tool, a perfect alternative to Unroll.Me, you can unsubscribe from all unwanted emails, including newsletters and emails from marketers—even if the sender didn't include an unsubscribe link.
Instead of relying on an unsubscribe link provided by the sender, the app sends an unsubscribe request on your behalf and proactively blocks incoming email messages from the same sender if the request is not honored. That way, you're guaranteed to avoid unwanted email messages getting into your Inbox even if the sender would like to keep sending them.
This Blocking approach has several significant benefits:
You can unsubscribe from any sender.
Your unsubscribe request is immediately honored.
You can see exactly which emails you unsubscribed from.
You can re-subscribe to any paused or blocked subscriptions at any time. However, this option isn't available if the sender honored our request to unsubscribe you completely.
You're in full control of your inbox.
To use Unsubscriber:
Go to: https://app.clean.email/
Sign in with your email address.
Click the Unsubscriber tab on the left-side panel.
Select which subscriptions you want to get rid of, pause, read later, and more.

Choose the respective action and enjoy your clutter-free inbox!
Features Beyond Unsubscribing
What really makes Clean Email the best Unroll.Me alternative is the fact that it has a lot more to offer besides unsubscribing from emails.
It is the solution that can reliably help you declutter your inbox in just a few minutes without compromising your privacy or security.
With the Smart Folders feature, the app automatically organizes emails by their type, grouping all messages from the top senders, online shopping emails, social notifications, travel emails, etc., together and making it possible to act on entire groups of messages at the same time instead of having to organize each and every message manually, which is an incredibly time-consuming task.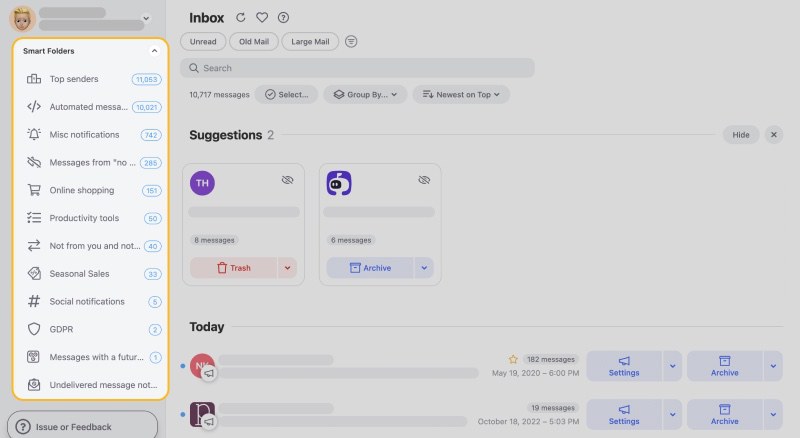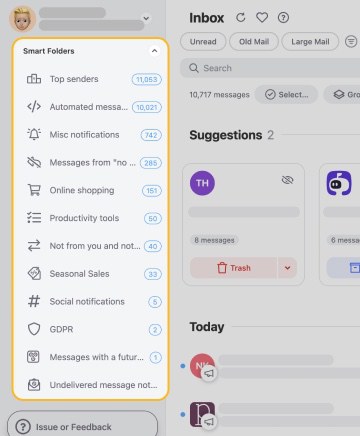 Similar to the Rollup feature offered by Unroll.Me, Clean Email has its own approach to subscription email management. Its Read Later feature lets you move subscription emails out of your Inbox so that you can catch up on them later, when you have more time.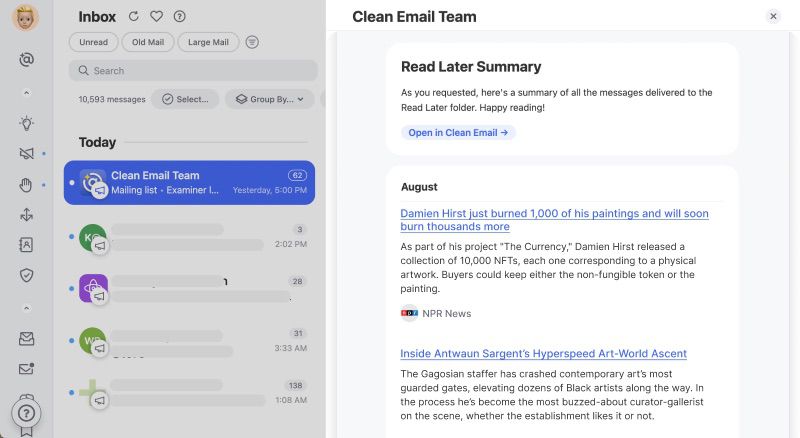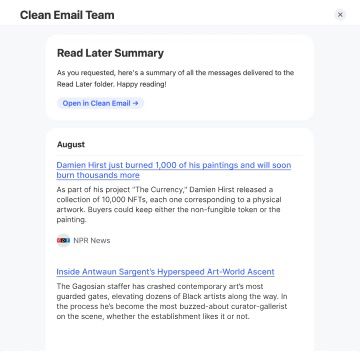 The Screener tool offers an extra layer of defense against spam. Once enabled, it intercepts emails from new senders, letting you check them before they land in your inbox. This is really handy in reducing unwanted emails.
Another useful feature is Auto Clean. It lets you make rules that instantly complete certain tasks to new email messages. For example, it can automatically mark promotional emails as read or move regular, less important updates to a certain folder.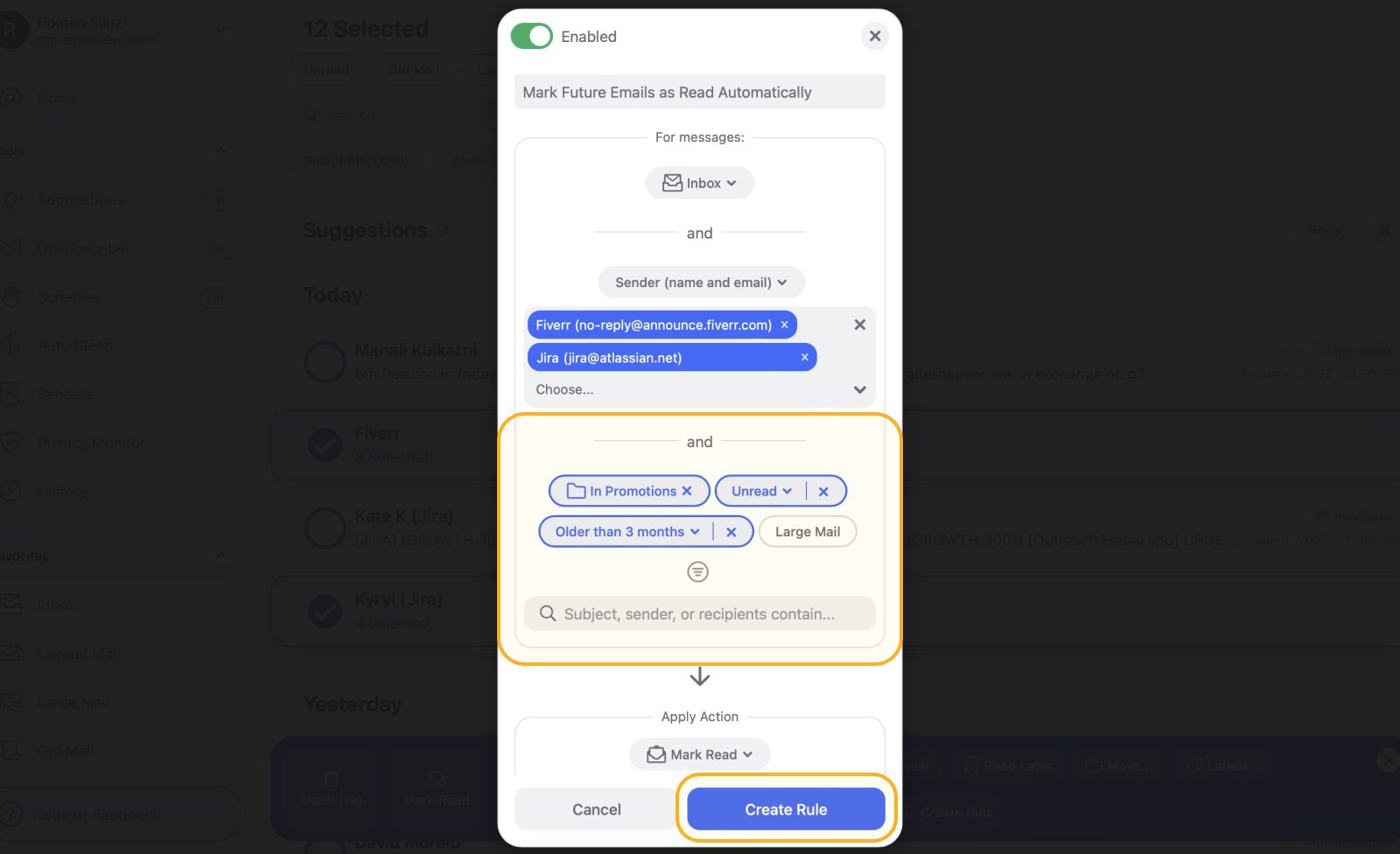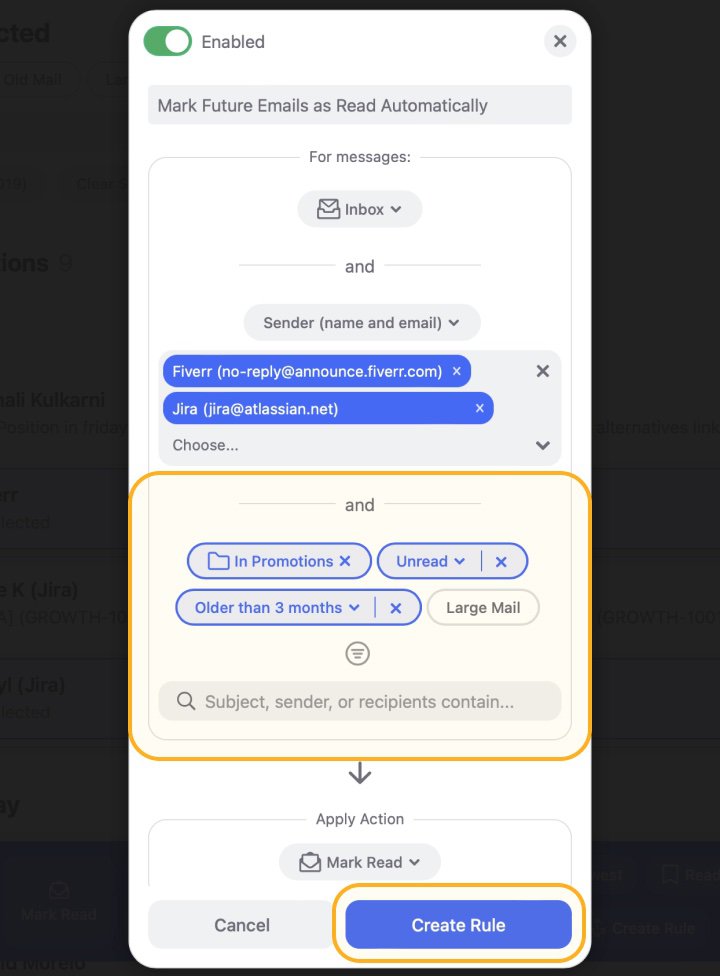 Because email privacy and security continue to be growing areas of concern, Clean Email now offers a feature called Privacy Monitor, which allows you to regularly check your email against known data breaches and security incidents. If your account has been compromised, you should take actions like setting up multi-factor authentication, making a new password, and more.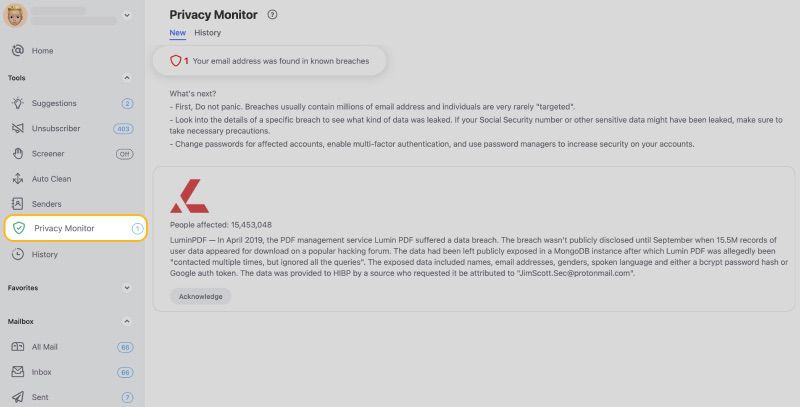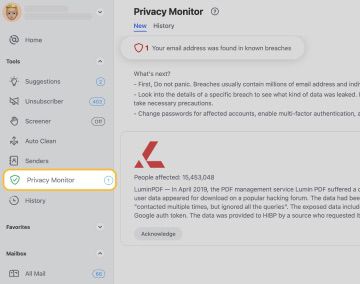 👍🏼 Pros:
No other email unsubscribe service can match Clean Email when it comes to the diversity of its email management features.
Effectively identifies subscriptions, even those without an unsubscribe link.
Offers highly customizable automation features that reduce manual work.
Operates worldwide and complies with all GDPR regulations.
👎🏼 Cons:
Not a completely free service.
May be complex for new users.
Is Unroll.Me Safe?
Unfortunately, Unroll.Me is not a privacy-oriented email unsubscriber. When you sign up for Unroll.Me, you become part of NielsenIQ's online shopping panel and give the service permission to automatically recognize commercial emails and extract purchase information from them. That's right! The app is analyzing the content of its users' emails and sells the information it finds to make money.
"Unroll.me, a popular service that aims to rescue your email inbox from unwanted newsletters and promotional messages with an easy automated unsubscribe service. The problem is, it's been selling you out to advertisers, and you should stop using it immediately." – Sam Biddle, theintercept.com.
Unfortunately for European users, Unroll.Me still doesn't comply with all GDPR requirements, which is why users living in the EU can't use it. EU users who had created an Unroll.Me account in the past are out of luck as well because all EU user accounts were deleted back in 2018.
"Unfortunately, our service is intended to serve users in the U.S. Because it was not designed to comply with all GDPR requirements, Unroll.Me will not be available to EU residents," stated Unroll.Me. "We are truly sorry that we are unable to offer our service to you."
It's likely that Unroll.Me is unable to comply with all GDPR requirements because its parent company, NielsenIQ, shares users' personal information with any other partners it chooses, as the small print of Unroll.Me's privacy policy implies. The good news is that there are apps like Unroll.Me that offer the same features and capabilities while complying with all GDPR requirements.
Is Clean Email Safe?
This app never accesses full emails, making it the safest and overall best Unroll.Me alternative there is. The app's algorithms analyze the envelope and header information associated with your emails that contain a subject line, sender and recipient information, dates, email size, and similar metadata only. All analyzed data is automatically deleted from Clean Email's servers after 45 days, which is long enough to make the app convenient to use but short enough to make it secure.
When you give Clean Email permission to access your inbox, all access details remain fully encrypted, and you can revoke the permission at any time. Because it is a paid service, it doesn't have to sell its users' data just to stay afloat. In fact, its privacy policy clearly states that it never shares, gives away, sells, or otherwise uses user data, including but not limited to email addresses, content, and attachments.
The fact that Clean Email respects the privacy of its users shows when you compare Unroll.Me reviews with Clean Email reviews. Professional reviews and end-users alike choose Clean Email for being trustworthy and safe while bashing Unroll.Me for selling user information.
Their praise is well-earned because Clean Email passed Google's strict multi-step verification process in May 2019, demonstrating its commitment to meeting the security standards necessary to minimize the risk of email data breach. Moreover, every year the app passes Google's security assessment and third-party audit. This alone makes it one of the best Unroll.Me alternatives available.
"Here at Clean Email, we are committed to your security and privacy. We don't keep, sell, or analyze your data for purposes beyond our public features," state Clean Email's developers. "Instead of relying on data from emails to sustain our business we've chosen to charge a reasonable fee in exchange for our services."
With such an excellent Unroll.Me alternative as Clean Email, there's really no reason to make serious privacy compromises and blindly trust some profit-seeking corporation to handle your personal information well.
Want to migrate from Unroll.Me to Clean Email? Read this guide on how Clean Email features work compared to Unroll.Me.
How to Delete Unroll.Me Account?
If you want to stop using Unroll.Me, you can delete your user account and switch to Clean Email instead.
To delete your Unroll.Me account:
Go to: https://unroll.me/
Click Log In in the top right corner of the page.
Log in with your account.
Click the Settings gear icon in the upper right corner and choose Settings.

Scroll down until you see the Delete My Account option and click on it.

Fill out the required information and confirm your decision to delete your Unroll.Me app account.
If you have the Unroll.Me app installed on your mobile device, you can use it to delete your account:
Open the mobile app.
Go to settings (click your profile picture on top).
Select Mailboxes and choose the email address account you want to delete.
Go to My Account and click Delete Account.
Other Alternatives to Unroll.Me
When seeking alternatives to Unroll.Me, it's essential to explore all available options to ensure you find the one that fits your needs best. Here are three more Unroll.Me alternatives that have garnered attention for their functionality and user-friendliness:
1. Cleanfox
Type: Email unsubscriber only.
Price: Free
Unsubscribe feature: Cleanfox doesn't technically unsubscribe from newsletters. Instead, it automatically deletes incoming unwanted mailings to ensure you don't receive them again. Alongside deleting new emails from the selected senders, it can also move your old messages from those senders to the Trash.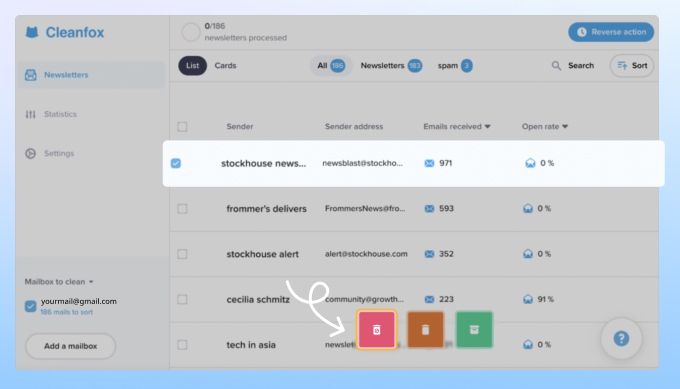 If the sender persists in sending emails, Cleanfox directs those messages straight to your mailbox's trash. You can review and retrieve any blocked newsletters by clicking the Reverse action option at the screen's top right.
Unlike Clean Email, which is highlighted as the top Unroll.Me alternative, if you stop using Cleanfox, those emails will still find their way to your inbox.
Privacy Policy: https://www.cleanfox.io/en-GB/fox/privacy/
For the app to be free, Cleanfox extracts transactional data from user mailboxes to conduct statistical studies that are marketed with various economic operators, including companies, associations, schools, and universities.
Check out our article about why Clean Email is considered the best alternative to Cleanfox.
2. Mailstrom
Type: Email management service.
Price: Starting from $9/month for 1 email account. Free trial is available: Inbox snapshot
(5,000 emails), managing up to 1,250 emails.
Unsubscribe feature: Mailstrom's Unsubscribe feature lets you unsubscribe from mailing lists with one click if an unsubscribe address is available. If not, you have to unsubscribe through the sender's website in a new tab, doing the work yourself. Keep in mind that Mailstrom lets you unsubscribe from just one subscription at a time.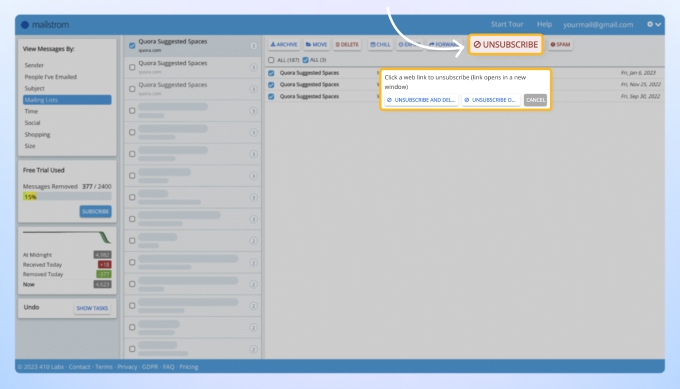 You have two choices: 'Unsubscribe only' (which keeps existing emails from this sender) and 'Unsubscribe and delete' (which removes existing messages from this sender).
Privacy Policy: https://mailstrom.co/privacy
Mailstrom's privacy policy is user-centric, limiting the use of user data solely to enhance or provide available features in Mailstrom, making it a privacy-conscious alternative to Unroll.Me. They steer clear from using user data for ad-serving purposes, including retargeting or interest-based advertising.
Check out our comparison of the most popular email tools: Clean Email vs. Mailstrom
3. Sanebox
Type: Email management service.
Price: Starting from $7/month for 1 email account. 14-day trial
Unsubscribe feature: Sanebox introduces the SaneBlackHole feature, which, rather than unsubscribing, reroutes unwanted emails directly to the trash. When you move an email to the SaneBlackHole folder, future messages from that sender go directly to the trash. If you reconsider, simply retrieve the email from SaneBlackHole to correct it.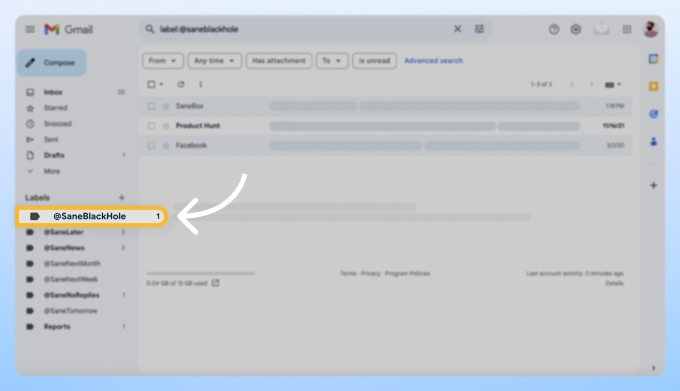 The downside of using Sanebox is that it doesn't actually unsubscribe from newsletters. Instead, it sends them to trash while you use the service. When you stop using Sanebox, you'll still receive these emails.
Privacy Policy: https://www.sanebox.com/privacy
Sanebox prioritizes user privacy by making sure emails don't leave your server and keeping all credentials safe. Their clear privacy policy ensures users that their data is kept private and not used for other reasons.
Check out our article about the best alternative to Sanebox.
Conclusion
Facing an overwhelming flood of emails, bulk email unsubscribers are truly indispensable tools that make it much easier to remain organized and productive. However, there are certain privacy and security implications of using an email unsubscriber, which is why you should always choose one that is guaranteed to respect your privacy and keep your personal information secure.
Clean Email is the best Unroll.Me alternative because it actually respects the privacy of its users and offers many extra features that Unroll.Me doesn't have, such as the ability to completely automate email management and enhance your account's protection level with the Screener and Privacy Monitor features.
---
Best Unroll.Me Alternative - FAQs
Does Unroll.Me sell your info?
Yes, Unroll.Me really sells the personal information of its users to third parties, at least by default, and the service faced a massive backlash over the practice. Its privacy policy allows users to opt out of having their data included in its measurement panel from the Unroll.Me website or the Unroll.Me mobile app, but most users are not aware of this option. That's why we recommend all users choose one of the available alternatives to Unroll.Me instead.
Is Unroll Me safe in 2023?
This depends on how much you value your personal information. It isn't going to cause viruses or hack your accounts, but if you want to keep your information private, then it is not safe to use Unroll.Me moving forward. The company is still harvesting and selling the personal information of its users.
Does Unroll Me actually unsubscribe from emails?
No, Unroll.Me does not truly unsubscribe you, instead, it blocks your subscriptions resulting in those emails landing in your Trash folder. On the contrary, Clean Email is one of the best Unroll.Me alternatives diligently ensure your unsubscription. It performs this by sending emails to the sender, employing unsubscribe links found in the email headers, and automating the unsubscribe form completion process.
How do I get rid of Unroll.Me?
To delete Unroll.Me, log in to your account and navigate to Settings. Then, select "Delete my Account." Remove it from any web browser extensions and delete the app on your mobile devices.
Does Unroll.Me delete emails?
The app will delete any future emails from accounts that you have blacklisted using their service. However, the app will not delete emails you previously received from bulk senders.
Why is Clean Email a good Unroll.Me alternative?
Clean Email is an excellent alternative to Unroll.Me for one simple reason: it does everything Unroll.Me does without selling the personal information of its users to third parties. In fact, this app offers even more features than Unroll.Me, including an intelligent Screener feature and the ability to automate your email cleaning routine.
Is Unroll.Me legit in Europe?
No, Unroll.Me is not available in Europe. It doesn't comply with the region's GDPR regulations.