Wanted: Mailman App Alternative
Like it or not, but email is a critically important communication channel used for all kinds of personal, work-related, and official digital correspondence. If you've been using email for some time, it's likely that your inbox has become a digital vault where some of your most sensitive information is stored.
There are many tools that can help you keep this vault organized and maintain Zero Inbox, including a Gmail plugin called Mailman. There are also many excellent Mailman app alternatives, including Clean Email.
In this article, we compare Mailman and Clean Email to see which of these two tools deserves your attention and money more.
What Is the Mailman App?
The Mailman app is one of the best Gmail add-ons for users who are tired of constantly receiving an endless stream of messages that keeps them from focusing on what's important at the moment. A 21-day free trial is available, and subscription plans start at $8 per month if paid annually.
According to its official website, this add-on is used by employees working at some of the world's largest companies, including Google, Dribble, and Lyft. The website even displays their testimonials, in which they praise Mailman for improving their Gmail experience.
So, what does Mailman actually do?
It basically acts sort of like an email firewall that you can flexibly configure to eliminate inbox distractions by batch delivering messages when it suits you the most.
For example, you can configure Mailman to deliver new emails only two times a day, or, if you would rather approach it from the other end, you can set a period during which you don't want to receive any emails at all.
Recognizing that some senders, such as your boss or your loved ones, are more important than others, Mailman lets you set VIPs using email addresses or keywords to ensure their emails always arrive in your Gmail inbox as soon as possible.
Emails that are likely spam are reported in daily summaries, where they can be individually reviewed and blocked with a single click to prevent other emails from the same address from bothering you ever again.
Because of these features, Mailman is often recommended as one of the best Sanebox alternatives, which uses artificial intelligence to sort messages into specific folders and remove distractions.
👍🏼 Pros:
Effortless management of incoming messages
Works with many popular email clients
21-day free trial available
Doesn't share data with third parties
👎🏼 Cons:
Works only with Gmail
Won't help you clean existing emails
Customer support provided only via chat
What Is the Clean Email App?
Clean Email is a Mailman app alternative that lacks some features for scheduling email deliveries, but it offers many useful inbox cleaning features that Mailman doesn't have.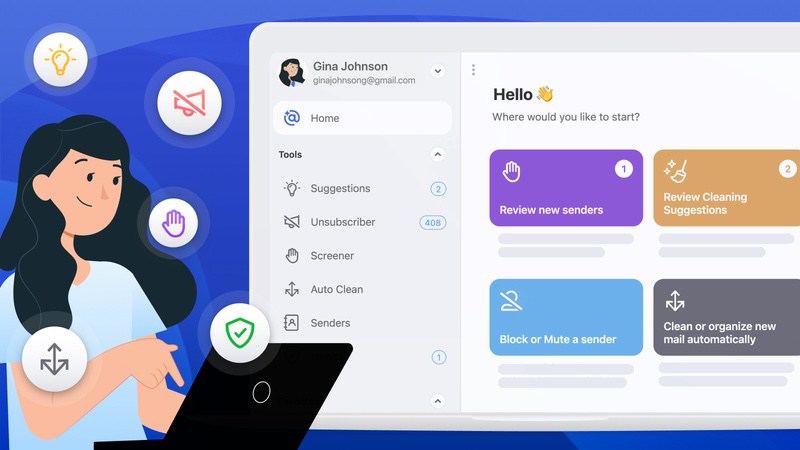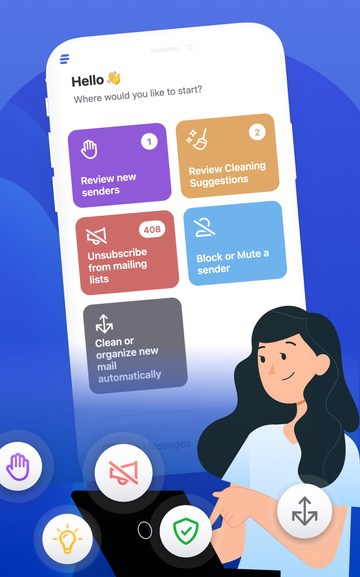 To start with, the app allows users to delete or otherwise organize thousands of messages in a few clicks just like apps like Mailstrom (that's why it's so often recommended as an excellent Mailstrom alternative).
The entire bulk organization process is effortless and begins with the selection of a message based on which the user wishes to create an automation rule. When the user decides to, for example, delete the message, the app provides the option to apply the rule to all matching and future emails as well.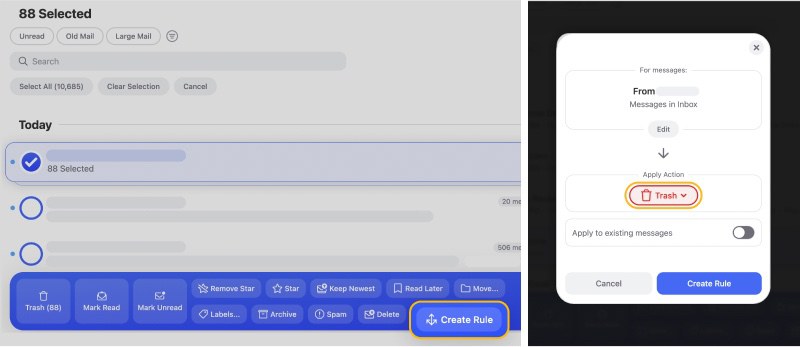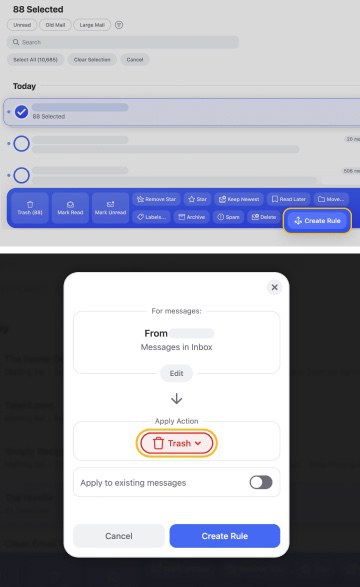 Just like Mailman, Clean Email lets you manage all previously created rules from a convenient dashboard. You can pause and resume rules with the click of a button, and deleting rules that no longer serve their original purpose is equally easy.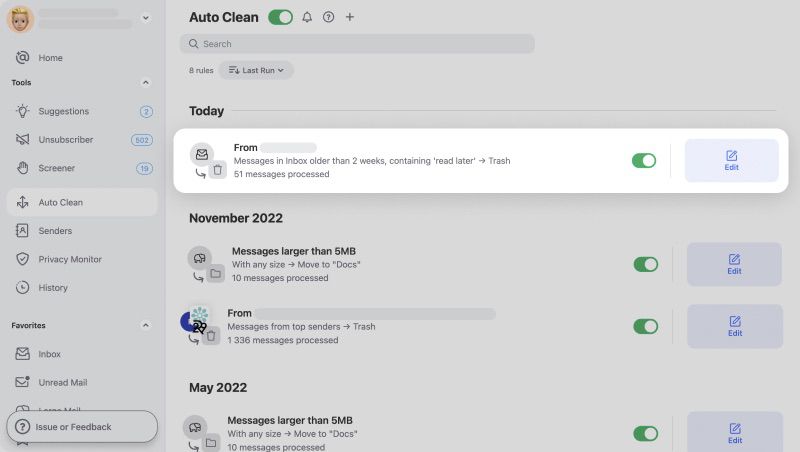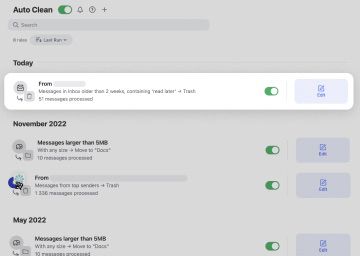 The app can also unsubscribe from unwanted subscriptions even if they don't contain unsubscribe links, and it can block any sender without notifying them. These features can greatly cut down on the number of messages that arrive in your inbox on a daily basis.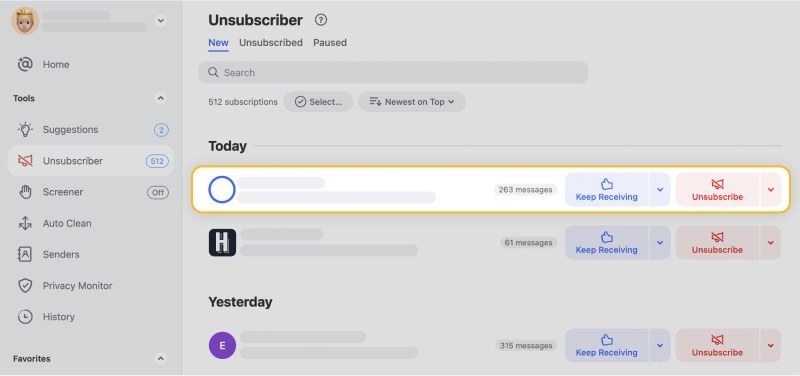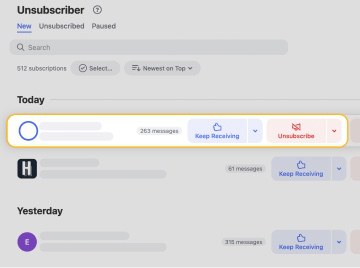 Whereas Mailman is a Gmail add-on that can't help you manage non-Gmail inboxes, Clean Email is a web and mobile application, and you can use it to manage just about any inbox, including Gmail, Yahoo, Outlook, AOL, and others.
The free version of Clean Email can organize up to 1,000 messages (+ 2,000 more by mentioning the app on social media and inviting new users), and subscription plans start at just $9.99 per month, but the monthly cost of the app can be much lower if you pay annually and take advantage of the numerous discount deals that are available throughout the year.
👍🏼 Pros:
Cleans both existing and future emails
Mobile and web app available
Works with all popular mail services
Can clean thousands of messages for free
Doesn't share data with third parties
👎🏼 Cons:
Customer support provided only via email
Verdict: Clean Email Is an Excellent Mailman App Alternative
If all you expect your inbox management tool to do is to control the flow of incoming emails so that you can better focus on your work, then Mailman is a decent choice.
But if you actually want to achieve Zero Inbox and maintain it on an ongoing basis, then Clean Email provides a much broader and more capable selection of inbox management features, including Auto Clean rules, Unsubscriber, and others.
Since both Mailman and Clean Email offer a free trial, there's nothing stopping you from giving both of them a try to see how well they work and how closely they can meet your needs.
Just keep in mind that Mailman works only with Gmail, so it won't help you manage any other email account.
---
Mailman Alternatives - FAQs
Is Mailman Gmail assistant free?
Mailman is a free-to-try Gmail plugin that works with multiple email clients, including Apple Mail, Spark, Mailbird, and Polymail. You can use it without paying for up to 21 days before upgrading to a paid subscription plan.
How do you use the Mailman app?
To use the Mailman app, you need to log in with your Gmail address and complete a simple setup process to configure your first email automation rules. You can then access other features Mailman has to offer from its centralized dashboard.
What is the best way to organize your Gmail inbox?
We believe that Clean Email is the best way to organize any Gmail inbox because this inbox management tool extends automatic email organization to past emails, allowing you to clean up a messy inbox with ease.