Tame Your Inbox with Auto Rules
Auto rules, also referred to as email filters, are a great way to take your inbox management to the next level by automating routine, repetitive tasks, such as moving emails into different folders based on their senders or content, archiving unimportant emails, and marking emails as read, just to give a few examples.
Email users sometimes shy away from auto rules because they believe they're too difficult to create and manage, but that's true only if you create them the wrong way. With the right software, such as Mailbird, it shouldn't take you more than a few minutes to learn how to filter emails by automatically applying powerful rules to incoming messages.
What Is Mailbird and Does It Have Auto Filters?
Mailbird is one of the most popular third-party email clients for the Windows operating system, having received a number of awards and raving reviews from professional reviewers and regular users alike.
Compared with other email software for Windows, Mailbird stands out with its ability to manage emails from multiple accounts in a single unified inbox. By making it possible to see all emails in one place, this app greatly reduces the number of clicks users have to make to go through new messages, saving them time and making it less likely for them to miss important messages.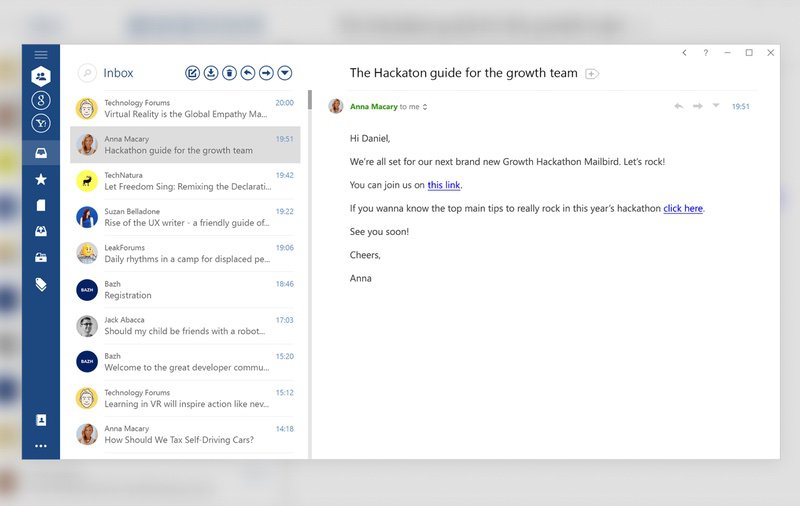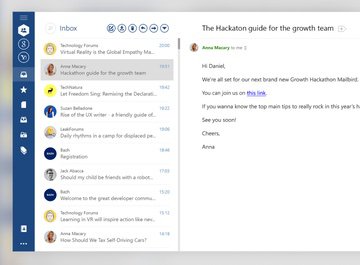 Besides its unified inbox, Mailbird also offers a customizable user interface with support for themes, integrations with apps like Facebook, Twitter, Dropbox, Google Calendar, WhatsApp, and Asana, multi-language support, and, above all else, auto filters.
As we explain in the next chapter, Mailbird auto filters can be created with a few simple clicks, and they can greatly reduce the amount of work required to achieve and maintain Inbox Zero, a state where you have zero unread and unorganized messages in your inbox. As such, auto filters can complement your existing email spam filter.
How To Create Filters with Mailbird
Mailbird filters are easy to create and use to automate email tasks, but the feature is hidden in the Settings menu. Here's how you can access it:
Launch the software.
Click the three horizontal lines in the top-left corner.
Choose Settings.

Go to Filters.
Now that you're in the Filters tab of the Settings menu, you can create your first Mailbird automatic filters:
Choose the mail account for which you want to create Mailbird rules. Use the Unified accounts option to create rules that apply across all accounts.
Click the Add button.

Set conditions for the emails you want to filter, e.g. fill in the From email address section.
Set Actions for the filtered emails, e.g. Mark as starred.

Review the rule and click Save or Save & Run.
Mailbird rules are applied to incoming messages when the email client is running, so you should let it run in the background instead of closing it.
As you can see, learning how to create filters with Mailbird is easy, but other even more convenient email filtering solutions exist, and they're worth considering even if you're satisfied with Mailbird because they complement it—not replace it.
How Clean Email's Auto Rules Can Add Value
Clean Email isn't an email client. Instead, it's an inbox organizer that you can use alongside Mailbird to supercharge its email filtering capabilities.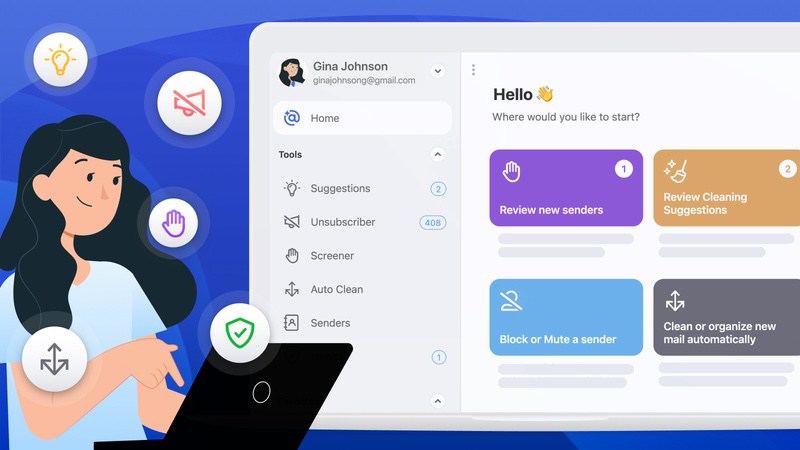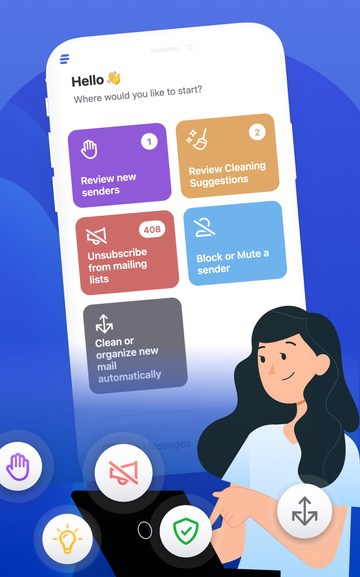 As we mentioned in the previous chapter, filters in Mailbird have one huge limitation: they work only when the software is running. When you turn off your computer, Mailbird sorting rules no longer matter, and new messages will end up on one large pile in your inbox as if you never created any Mailbird rules in the first place.
Clean Email is different. Because it runs in the background, it can monitor your inboxes around the clock and apply auto rules even when your computer isn't running. Just like Mailbird, the app works with all mail services that support IMAP. In fact, you can use it on any computer and mobile device.
Instead of having to manually create every email rule from scratch, in Clean Email, you can simply choose to apply any email management action with a single click to future emails that meet the same criteria. Here's how it works in practice:
Go to: https://app.clean.email/ and sign in with your email address.
Go to the Inbox folder and select any message you want to organize. Clean Email will automatically select all other messages from the same sender.
Choose what you want to do with the selected messages (e.g. send them to Trash).

Click the Selected and future similar emails option to create an auto rule based on the action.
This way, you can instantly organize all emails that are already in your inbox and ensure that new similar emails will be organized automatically by Clean Email. Of course, you can also create auto rules from scratch if that's what you want to do.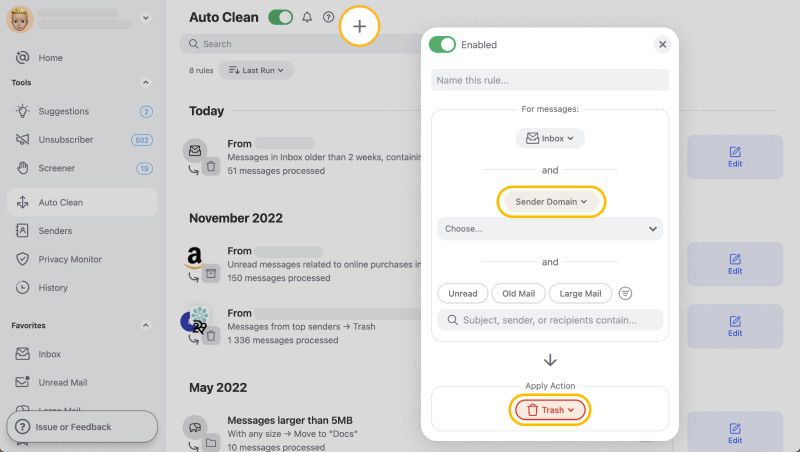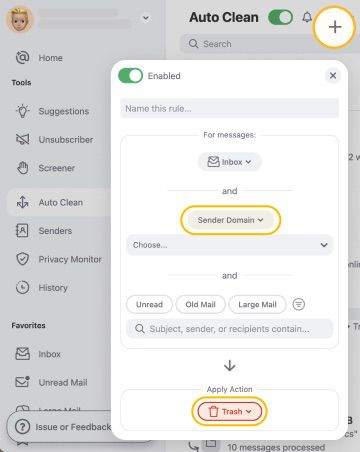 All auto rules created using Clean Email can be managed from a convenient dashboard, where you can individually turn them off and on again.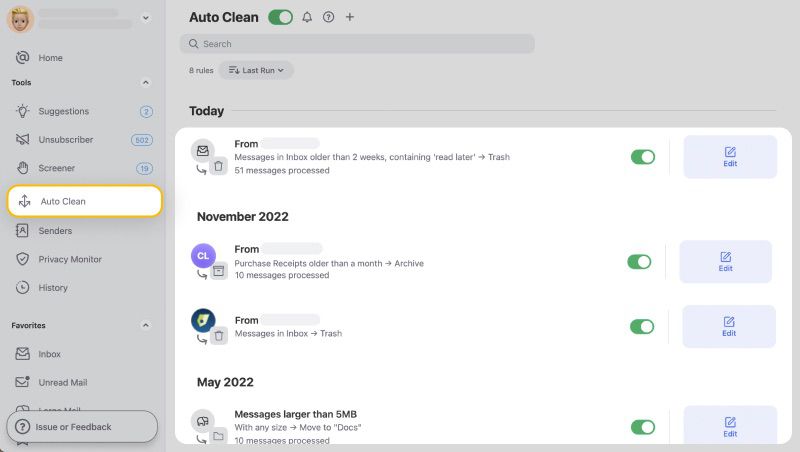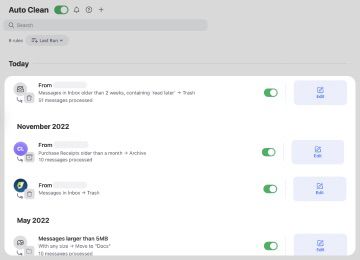 In addition to automatically managing messages using filters, Clean Email users can take advantage of a number of other useful inbox management features, including:
Unsubscriber: The app can unsubscribe you from all unwanted subscriptions from one screen.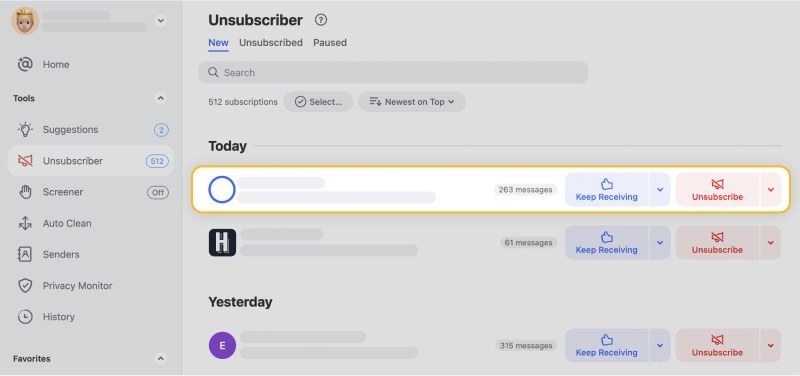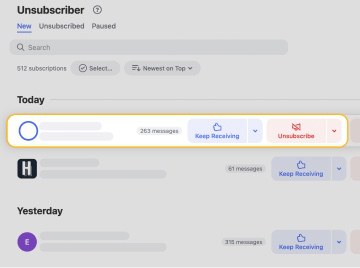 Smart Views: Similar emails are grouped together into easy-to-review bundles, and you can manage them in bulk from the same place.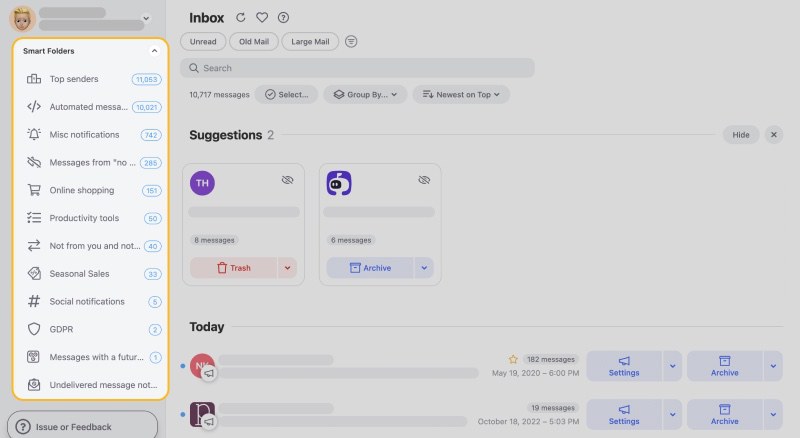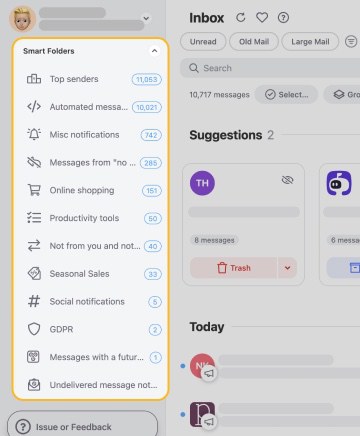 Read Later: Emails you don't have time to read right now can be moved to the Read Later folder so they don't take space in your inbox.
Keep Newest: Clean Email's Keep Newest feature can prevent your inbox from becoming cluttered by removing older emails when new similar emails arrive.

Privacy Guard: This feature can increase your security by checking if your email address has been included in known data breaches.
These and other features make Clean Email an excellent companion for all users of Mailbird and other third-party email clients whose automatic filters leave something to be desired.
---
Mailbird Filters - FAQs
Does Mailbird allow user generated filters?
Yes, users can create filters in Mailbird to automatically organize new messages. Mailbird filters can be created from Settings → Filters.
Can you set up filters with Mailbird?
It's possible to manually set up Mailbird filters, but the filters will only be applied locally when the email client is running.
Is Mailbird really free?
No, it is a paid email client that you can try for free to see how it works. To continue using it, you have to purchase either a Personal or Business license, and you can choose between a subscription model or a lifetime license.
Is Mailbird safe to use?
This email client doesn't share your data with anyone else, and it stores all sensitive information only on your computer, so you can consider it to be perfectly safe to use.
Does Mailbird work with Gmail?
Of course! It works with all popular email services that support the IMAP protocol, including Gmail, Outlook, Yahoo, iCloud, AOL, and others.