What is A Canned Response?
A canned response is a predefined answer to a frequently asked question. Mostly used for customer queries to give a quick reply to a question. They can be used in emails, online chats, and messages.
Using such responses keeps your customers satisfied and engaged in the process, which is always the main goal for any business. If your customer has a question and receives no response, they're unlikely to follow through with the purchase.
Using predefined responses gives the chance to continue a conversation and get the ball rolling quickly! The benefits of using canned responses are speeding up the conversation, increasing customer satisfaction, solving problems quickly, and increasing overall customer engagement.
Does this sound like something your business needs to use? Keep reading to learn more about canned responses.
How to Start Using Canned Responses
What are your frequently asked questions?
Once you identify your FAQ, you can begin to create the right kind of response to satisfy the customer.
Include the right information
Ideally, your predefined response should satisfy your customer, albeit temporarily. Include all relevant information to help them.
Keep it short and to the point
Make sure your response is short but effective to fulfil the customer's needs, without confusion.
Personalise your responses
By using a personalised canned response, the customer feels special, meaning they'll stick around for longer.
Always use a CTA
Don't miss out on the opportunity to use a call to action in your template response. This helps customers along the buyer's journey.
Canned Response Examples and Why They are Useful
Don't know where to begin when using template responses? This section explains why these responses are useful, and when to use them.
Here are some canned response email templates to get you started.
Hello [Name].
Thank you for the message, I need to check with [someone or something] before I can give you an answer.
I'll pop it on my list and get back to you by next week.
Speak soon!
Hi [Name]
Have you been able to read my previous email? I was asking about [brief reminder and what you need].
When I have your response, I can get started with [project].
(OR let me know if you have any other questions or need anything from me.)
Thanks.
To politely say "I'm not interested"
Thanks for reaching out, unfortunately, this isn't something we are looking for right now.
If we need something like this in the future, I will keep you in mind.
To pass a message on to someone else
Hello there,
Thanks for reaching out to us. I have cc'd the best person to answer your question!
Please feel free to contact [name of person] directly to get the correct response.
Best wishes,
[Your name]
You can always personalise canned email response templates to suit your business needs. These don't always need to be long messages, they can also be short recognition messages to the potential customer.
For example, you can simply set up a response when someone signs up, purchases something from your website, or requests a review of a product.
Find more professional email templates to use for your business and bad email examples to avoid!
How to Make a Canned Response in Gmail
Creating canned responses for your Gmail emails is a great way to quickly respond to messages landing in your inbox. You can select them when composing a new email or set up emails as auto replies.
For now, let's go through how to create, use, and edit a canned response in Gmail.
How to Use Canned Response in Gmail on The Web
To use Gmail canned responses, you need to first turn this feature on.
Go to Settings → See all settings.

Click the Advanced tab.
Scroll until you see Templates and click Enable.

Click Save.
Now you're ready to create your canned response templates.
Start composing a new draft message.
Now click the three dots in the bottom right corner of the message.
Click Templates, then click Save draft as template → Save as new template.

You'll now be asked to name the template.
Click Save and you are done!
Once you have your Gmail canned response template created, you can begin to use it.
Then you can easily use the created template and set it up when needed. Here is how:
Start a new message.
Click the three dots at the bottom.
Click Templates and choose your response.

Add in further recipient details.
Click Send!
How to Edit a Canned Response in Gmail on The Web
It's easy to make changes to your canned response templates, and here's how:
Compose a new message.
Insert the template you want to change.
Complete your changes then click the three dots again.
Now go to Templates, Save draft as template, then Overwrite template.

Choose the template you're currently editing and click Save.
💡 Note: To delete a template, follow the same steps but click Delete template in the popup box, and choose the template you want to delete.
Master Email Management with Clean Email
While Clean Email cannot help you with creating and using canned responses since it's not an email client, this app is used to declutter, organise, and manage your mail to create a stress-free emailing experience.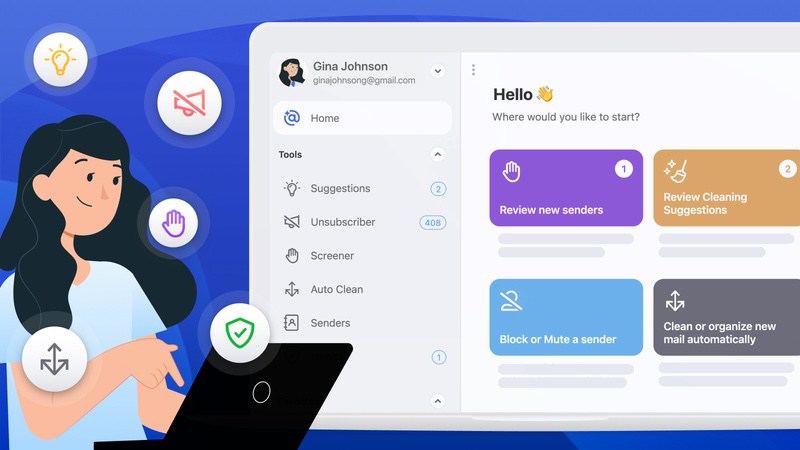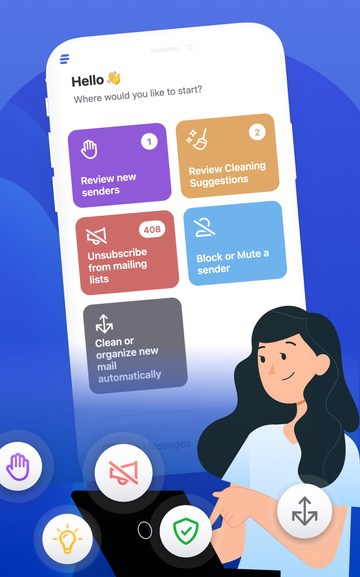 This inbox management tool is full of handy features to assist you with creating an inbox that works for you, not against you.
You can easily unsubscribe from unwanted newsletters, archive tons of emails, automate email tasks, and so much more.
The Auto Clean feature enables you to create automated rules to complete any routine daily tasks for you. All you need to do is set them up once and never worry about sorting or organising your emails again. Just click the Auto Clean section on the left-side panel, press + and start creating your rule.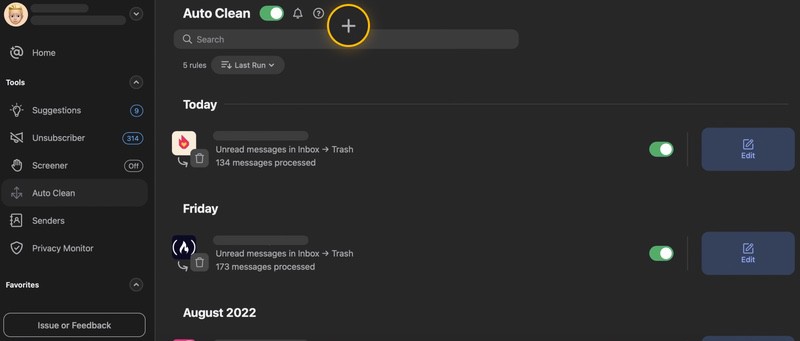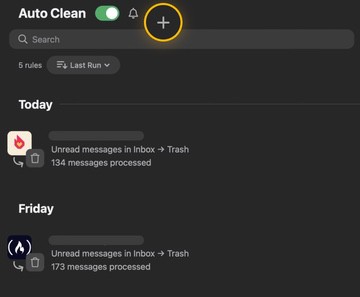 You can choose nearly any action to perform against your emails, from your chosen criteria. For example, you can move emails to a certain folder, send emails to trash, archive emails and star important emails.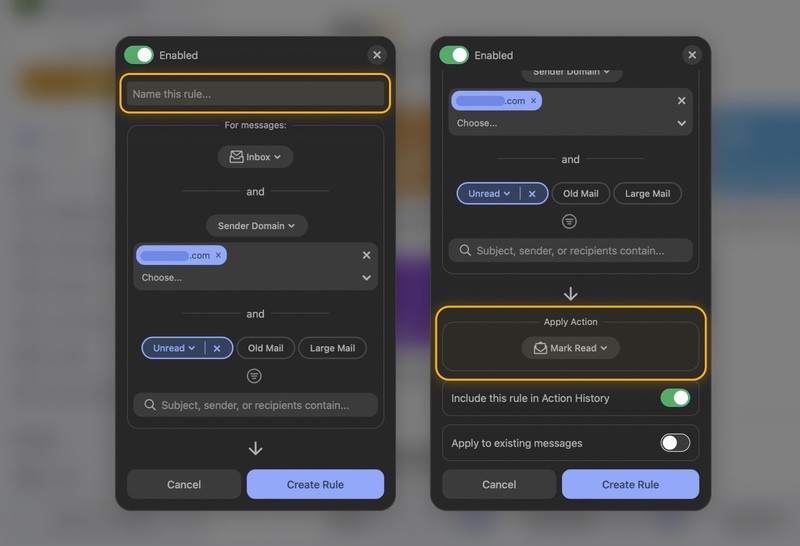 Auto Clean rules can be created for specific senders, certain keywords, and more.
The Unsubscriber feature allows you to remove yourself from any unwanted email subscriptions. This means less clutter landing in your inbox!
Click on the Unsubscriber section in the left-side pane to see all your current subscriptions. Then you can choose what action to perform. You can unsubscribe from here, keep the subscription, send it to the Read later folder, and much more.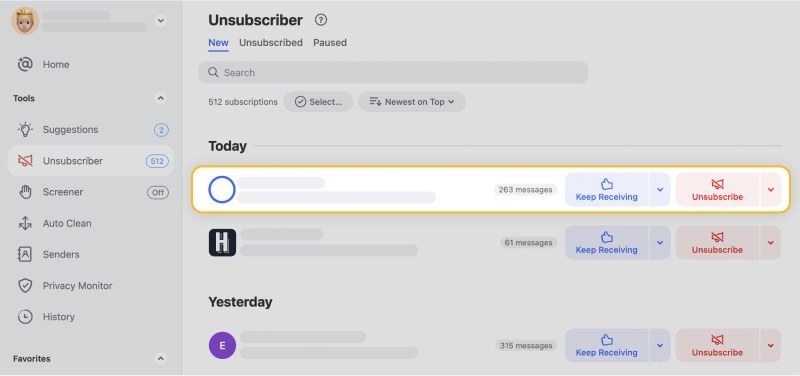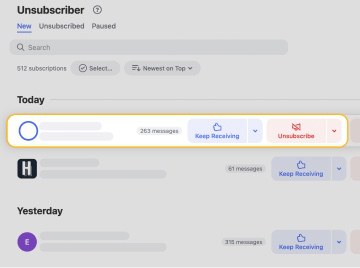 Sending subscriptions to your Read later folder frees up important space in your inbox and leaves out the clutter.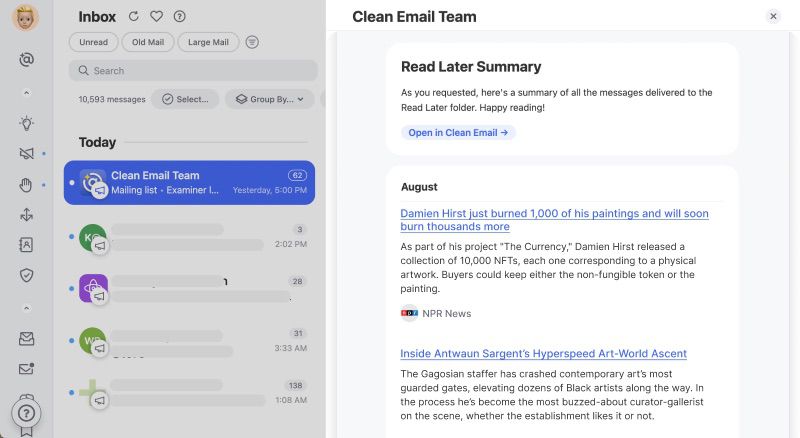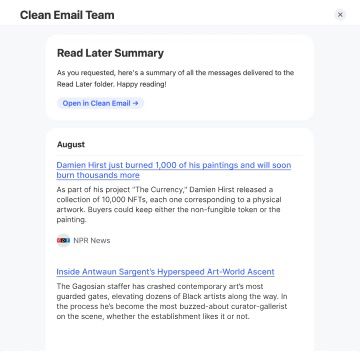 The Smart Folders feature automatically organises your emails into folders full of similar messages. All emails related to a certain topic or subject will be in one place (e.g. emails related to shopping are in the 'Online shopping' smart folder), making it easier to locate, organise, and respond to messages.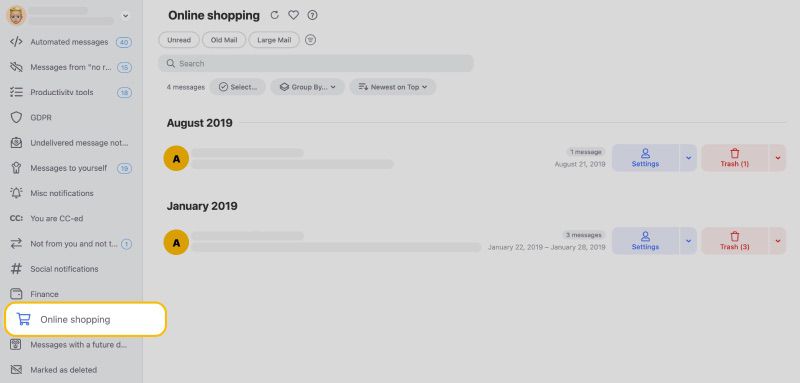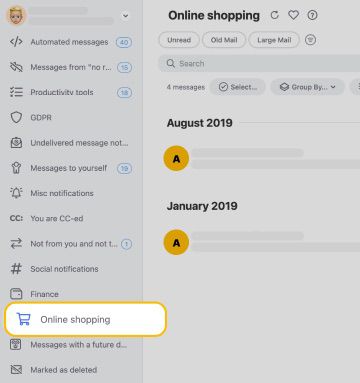 💡 Note: Clean Email will never share your information or data with anyone inside or outside of the team, we care a whole lot about your security and privacy.
Wondering to get more email etiquette tips and tricks? Check out our guides on what email reply etiquette is and what the proper business email format is.
---
Canned Responses - FAQs
What does canned response mean?
A canned response is a predefined email template to quickly reply to someone's frequently asked question.
How do you use canned responses?
To use them, you need to first create a template. Once you have your template email, you can select it when responding to a question via email. You can also set up canned responses for your website's online chat, or FAQ section.
How many canned responses can I have?
You can create as many templates as you need.
Does Microsoft Outlook have canned responses?
Yes, you can also create canned responses in Outlook by creating and saving email templates.
How do I stop a canned response?
To stop these responses, go back into your email settings and disable templates.