Common Email Mistakes and Why to Avoid Them
To maintain your business image, you need to avoid simple common email mistakes. Otherwise, you risk people not taking you seriously, or believing in you and your business.
Email mistakes range from misspelt words to sending a message to the wrong recipient. However, once you have trained yourself to always use proper email etiquette, you can avoid email mistakes easily.
It is so important to always check your emails before sending, mostly because it saves you any embarrassment or negative impact on yourself, or your business.
15 Unprofessional Email Mistakes
Here are some of the worst email mistakes you can make, but so easily avoid!
1. Too Formal or Informal
There is a fine line between being too formal or being too informal when emailing. You need to know when it is appropriate to change your formalities.
If your encounters with the recipient are not overly formal in person, don't write overly formal emails. If it is someone you haven't met yet, don't be too informal until you have built a relationship.
2. Not Using Greetings or Closing
Always make sure you use a greeting when sending a message. This ensures you sound friendly, and easy to communicate any problems with.
Using greetings and closings created a good first impression, otherwise, you can seem quite demanding. Learn more about how to start an email in our blog.
3. Tone of Voice
Read your emails back to yourself before you send them to make sure you aren't coming across as too strong, demanding, or confusing.
You only get one chance when emailing to make sure your tone is correct. If you don't make your points clear, it can be hard for readers to understand, and get the wrong idea.
4. Lacking Attention to Detail
By not using correct grammar, spelling, punctuation or use of capitals, your emails can seem lazy, and as if you're uninterested.
Always pay attention to the small details in your message to make sure you seem friendly, and professional.
5. Personal Information
Business emails should be just that. Nobody has the time to read about your personal life when there is work to be done.
People want to read and respond to emails quickly to ensure they're being productive. Keep your emails clear, concise and to the point.
6. Update the Subject Line
The subject line is an important part of a message. Correct any email subject line mistakes before sending!
By changing the subject line readers can correctly search and respond to emails.
7. Reply-All
It isn't always necessary to reply to all recipients within an email thread. It's rather annoying when you receive a message that doesn't concern you. These emails clog up mailboxes and waste time.
So, if you only need to respond to one person, just reply to them.
8. Using Whom it May Concern
When you begin a message with Whom it May Concern, it shows you haven't bothered to do any research into who it is you're emailing.
By using someone's name, or correct title, you can come across as more personal, and less generic.
9. Emailing vs Face to Face
If you can avoid sending messages, do it. There is no point in sending a message to someone in your office, or someone you can pick up the phone and talk to.
Emailing is a less personal experience and should not be used when face-to-face interactions are more appropriate.
10. Using Abbreviations and Emojis
To keep your emails professional and avoid any email mistakes, forget using any emojis, or abbreviations.
Again, things can get lost in translation, abbreviations may not be understood and emojis don't work on all platforms and mail clients.
11. The Wrong Recipient
Sending a message to the wrong person can be quite damaging, especially if it was informal, unkind, and to your boss!
Always add the recipients AFTER you have written a message and always check you have added the correct people.
Another rule to remember to avoid making these email mistakes at work is to just not send anything via email that isn't professional.
Wondering to get more tips about sending emails? Check out our guides on how to CC in email, how to send an email without showing recipients, and what the rules of effective email communication are.
12. Not Proofreading
Not proofreading is one of many common email mistakes you can avoid. Something many people don't bother with when really, you can change a lot of mistakes before hitting send!
Always read your emails to yourself, and out loud to ensure everything is correct before sending them.
13. Long Emails
A common email mistake in the workplace is writing long messages. No one has the time to read through long emails unless it is something important, and the recipient was expecting a long message.
Otherwise, you are wasting time, and may not get a reply. Keep emails to the point and professional!
14. Forgetting Attachments
It's quite awkward having to resend a message with the attachments you forgot.
The best-case scenario is you remember you have forgotten, but if you haven't realised, then the reader may be confused. Always add attachments first and double-check they're correct.
15. Personal Email Address
If you want to maintain your professionalism, always use your business mail account. Avoid email mistakes like this by creating a professional mail account to communicate formally.
This just saves the embarrassment of accidentally sending a message using your high school mail address.
Create an Organised Mailbox with Clean Email
Clean Email can help increase productivity in the workplace by making sure your inbox is organised and decluttered. Once your inbox is managed correctly, you can get more work done and feel less stress!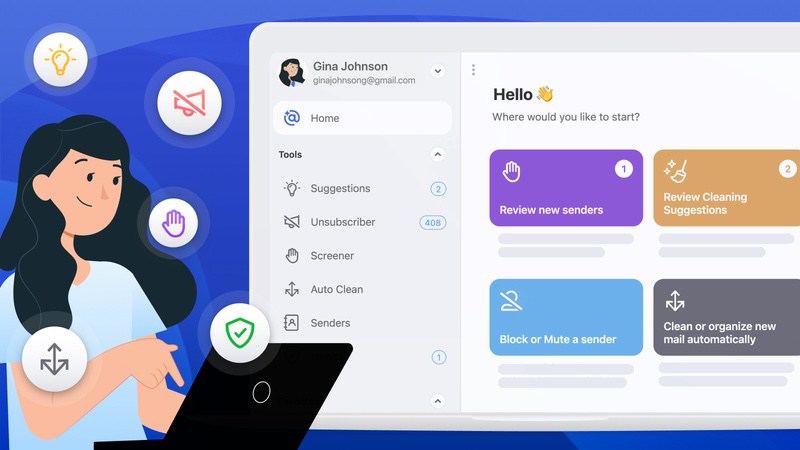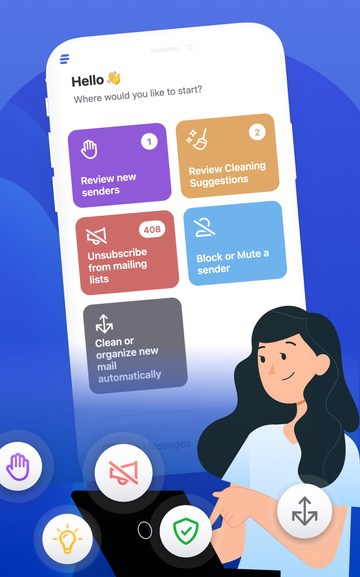 Clean Email is not an email client, meaning you cannot create and send emails. However, it does offer many handy tools and features to manage your messages.
Some easy-to-use features to quickly declutter your inbox are:
Auto Clean
Auto Clean allows you to create automated email rules to save you time and organize your emails as soon as they hit the inbox! You can create rules and filters to move emails to trash, archive, send them to new folders, and more.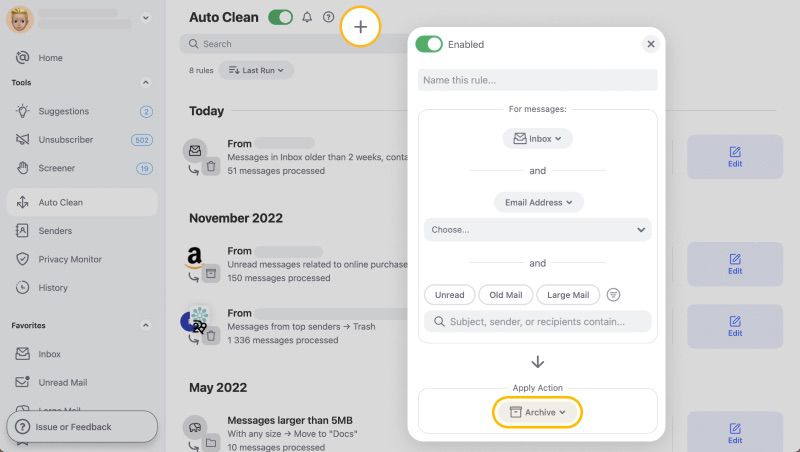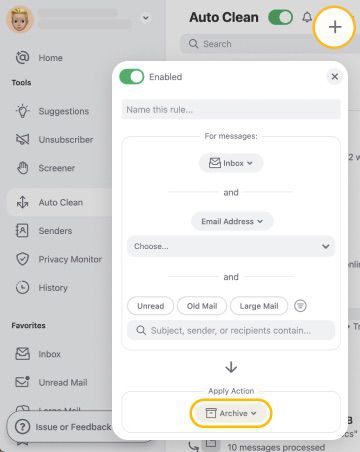 Once you have created the rules you can always pause, edit, or remove them.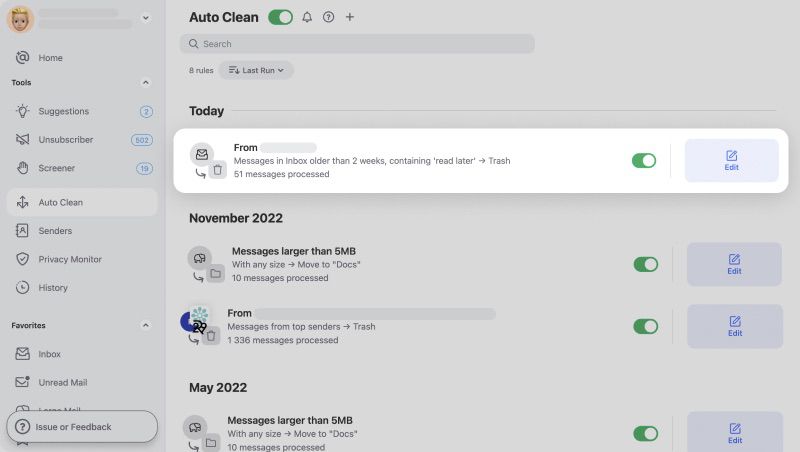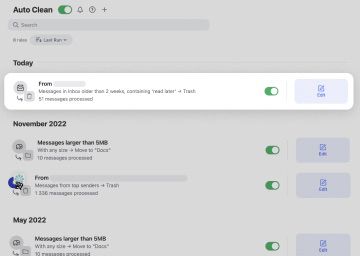 Unsubscriber
You can unsubscribe from unwanted emails with just one click. A request will automatically be sent on your behalf, and you will no longer receive these emails in your inbox.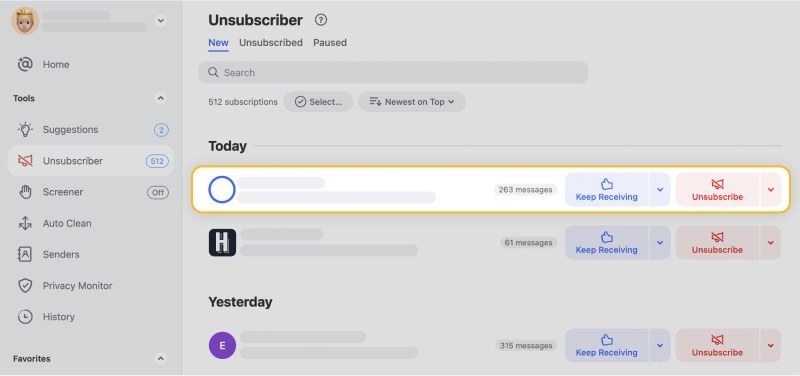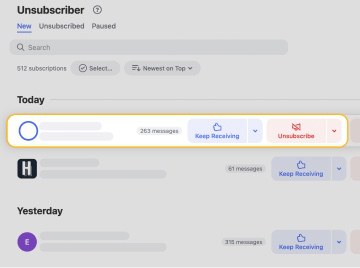 Unsubscriber also enables you to move emails to the Read Later folder, block senders, and keep subscriptions coming into your main inbox.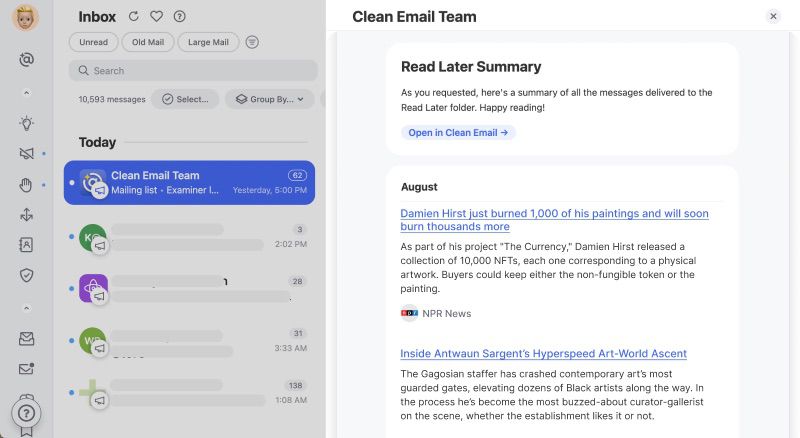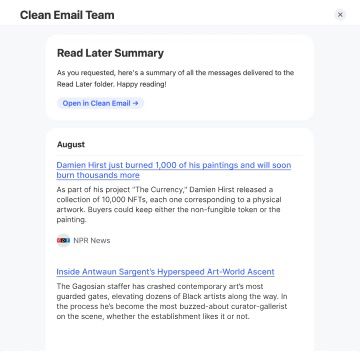 Smart Views
Smart Views sort your emails into relevant easy-to-manage groups. For example, if you need to check your emails that are older than 6 months, you don't have to set up a filter. You just need to click the relevant Smart View from the left-side panel.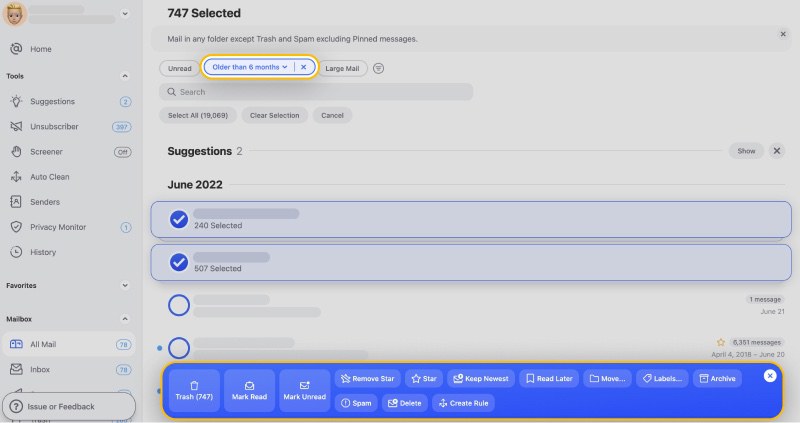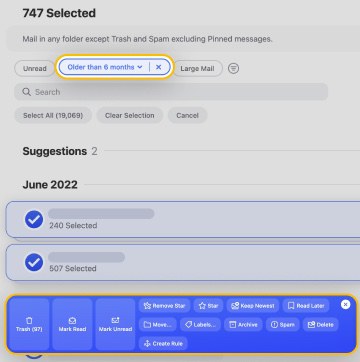 Clean Email is a privacy-oriented solution. We never sell or share the user data with any third parties. The app is available on Mac, iOS, Android, and on web.
---
Common Email Mistakes - FAQs
What are some common email mistakes?
Some of the most common email mistakes are sending to the wrong recipient, not proofreading emails, being too formal or informal, and not paying attention to detail.
What is the biggest mistake in email writing?
A big mistake is sending inappropriate messages to the wrong person. This can end jobs, and relationships, and be very awkward.
How do you correct a mistake in an email?
You can correct a mistake in a message before sending it by making sure you proofread your messages and reply to each point in an email. If you have already sent the message, you can only apologise, and try again.
What should you avoid in an email?
You should always avoid using emojis and abbreviations in emails. This will always come across as unprofessional, and unnecessary.
What makes an email unprofessional?
Unprofessional emails can consist of a lot of things, for example, using an old mail address, not addressing the reader correctly, being too informal, and not using greetings or closings.