What are Email Threading and Unthreading?
Email threading puts all related emails into one group. Kind of like a conversation thread, but more formal, and usually professional.
For example, you can use an email thread to communicate with more than one person about a project or group task.
Email threads make it easier to stay on track of a topic and find specific conversations. They are usually arranged with the most recent response first, meaning you need to stay on track with the conversation, or you may get lost!
When you unthread or split an email thread, all messages will no longer be grouped and will show as separate emails within the inbox. You may want to do this if the thread has gotten too long.
Advantages and Disadvantages of Using Email Threads
Here are some advantages and disadvantages of email threading.
Advantages
A way to keep everyone informed on the task and project.
Easier to track emails about a specific topic.
Reduces the amount of email clutter by having all emails in one place.
Groups all related emails together with all recipients.
Disadvantages
You or someone else may receive irrelevant emails. This can clog up your mailbox.
Some email clients don't support the use of email threads, so either you or some recipients will just receive separate messages.
Email threads can get too long, and important information can be lost.
So, using email threads is a great way for effective email communication with your team, and keep everyone in the loop!
Best Practises for Email Thread Etiquette
When using email threads, you want to ensure you're using proper email thread etiquette to make the most of your group messages.
Typically, email threads are supposed to be professional and to the point.
Only use professional, useful responses.
When you add someone new to the thread, let others know.
Only add people who need to be in the thread. Adding someone to the thread means you let others know first, and only forward emails when appropriate.
Have one thread per project or topic.
Only create an email thread if you require more than one response.
Don't use one-word answers. It isn't like text messaging.
Set rules for the thread, for example, to only reply on certain days.
Know when to end the thread!
Only use necessary images, otherwise, you can clog up the emails.
If initial points are lost at the start of the thread, be sure to clarify them.
Only Cc on email or Bcc if appropriate.
Learn more about how to send an email without showing recipients and what the email etiquette rules and common email mistakes are.
How to Manage Email Threads
Here's how you can manage email threads using different mail clients on either the web or using your mobile.
Most of the time, email threading is set by default. If you would prefer your emails to be ungrouped, you can choose to turn this setting off.
Gmail threads
Managing email threads with Gmail is simple. Conversation view is turned on by default for Gmail users. This means 'conversation' emails will be automatically created into an email thread.
How to manage threads in Gmail on web
Open Gmail in a web browser.
Click the gear icon to open settings, then click See all settings.

Stay in the General tab and scroll to find Conversation View.

Here you can choose to turn Conversation View on or off.
Finally, click Save.
How to manage threads in Gmail mobile app
Open the Gmail app on your mobile.
Click the hamburger menu on the top left to open the left-side panel. Then, go to Settings.
Cick on your email account address.
Go to the Conversation View section. Now you can switch the toggle to turn the Conversation View on or off.
Outlook email thread view
Conversation view in Outlook groups together all emails with similar titles. You can choose from a range of options to customise your selection.
How to find threads in Outlook on web
Log into your Outlook mail account on web.
Click on the gear icon on the top to open Settings.
Scroll to find the Arrange message list section.

Then, you can choose to Group into conversations or Show each message separately.
Once clicked on the selected option, the settings will be applied automatically.
How to find threads in Outlook mobile app
Open the Outlook mobile app.
Click on the profile icon on the top left. Then, go into Settings by clicking the gear icon.
Locate the option to Organise By Thread.

Here you can toggle the option on or off.
Manage threads on Yahoo
The conversation view is enabled by default. However, if the email thread is too long, you may want to turn this off so you can view individual emails.
Web
Open Yahoo Mail on the web.
Click the gear icon to access Settings. Then, click More Settings.

Within the left panel, click Viewing email.
See the Group By conversation toggle switch and turn it on or off.
Mobile
Open the Yahoo mail app on mobile.
Clicking the profile icon on the top left. Then, go to Settings.
Within settings find the Conversations toggle and turn it on or off.
Email threads in Apple Mail
Apple Mail will automatically group emails in conversations by default. However, you do have the choice to turn it off.
Mac
Open Apple Mail on your Mac.
Select View at the top of the screen.

Now click Organise by Conversation.
If you see a checkmark, it's already enabled, if not, click to enable.
iPhone
Open Settings on your mobile device.
Click Mail and scroll to see Threading options.
Slide Complete Threads to enable conversations.
How to Add Someone to an Email Thread
When writing a message, add all recipients in the "To" section. You can either Cc or Bcc. Bcc means they are blind copied into the email.
To add someone to an existing thread, select the emails and forward them to the missing person. Or you can send a new message, including the missing person, and clarify the main points again. This means they won't have to read tons of older emails.
How to Remove Someone from an Email Thread
To remove someone from email threads, just remove their email address within the Cc or Bcc section when composing the next message.
How Clean Email Increases Email Productivity
Clean Email can help increase email productivity by decluttering your inbox and creating a stress-free workday.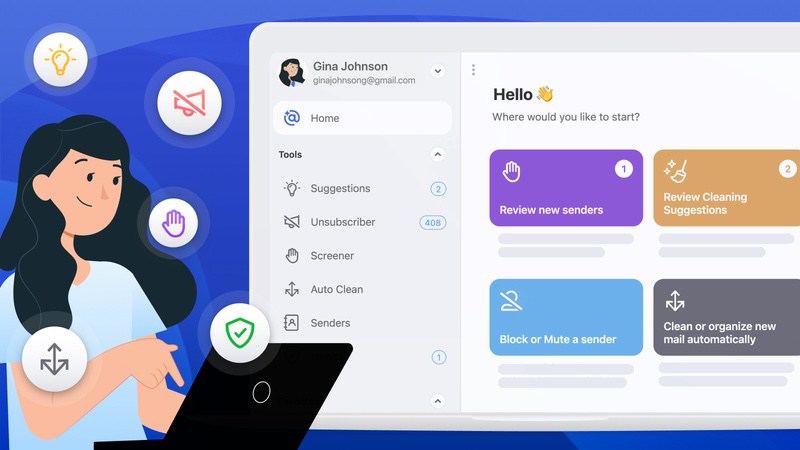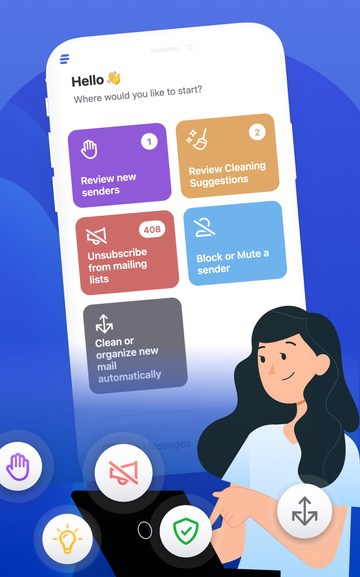 Clean Email isn't an email client, and you cannot create email threads with it. However, it is a helpful email management solution to achieve a clean and organised inbox.
You can download the app on iOS, Android, and Mac, or use it on web.
Some useful features you will find in the app are:
Unsubscriber
With Unsubscriber you can remove any unwanted subscriptions with one quick click. When you click Unsubscribe, a request will immediately be sent.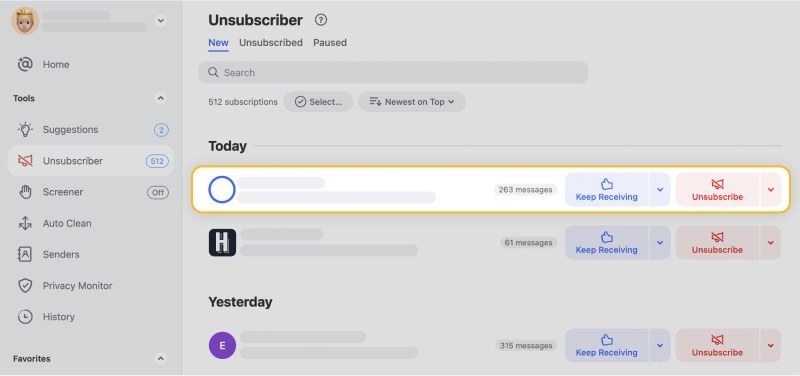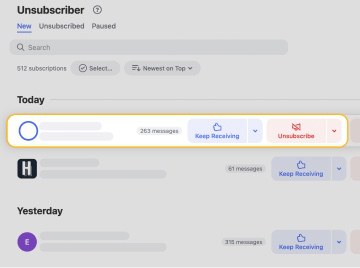 Other things you can do with Unsubscriber are keep emails or move them to the Read Later folder.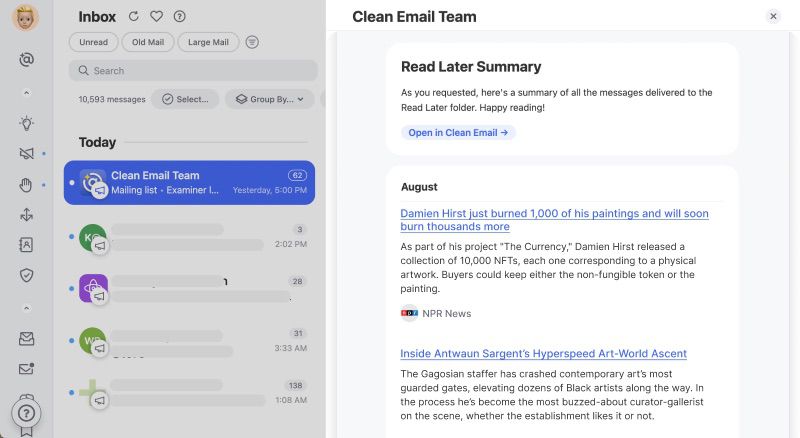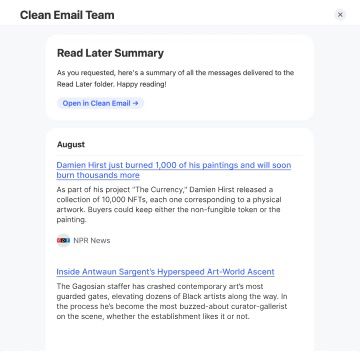 Auto Clean
Create automated email rules so you never have to perform manual tasks again. You can move emails to archive, trash, or into their own folders, and more.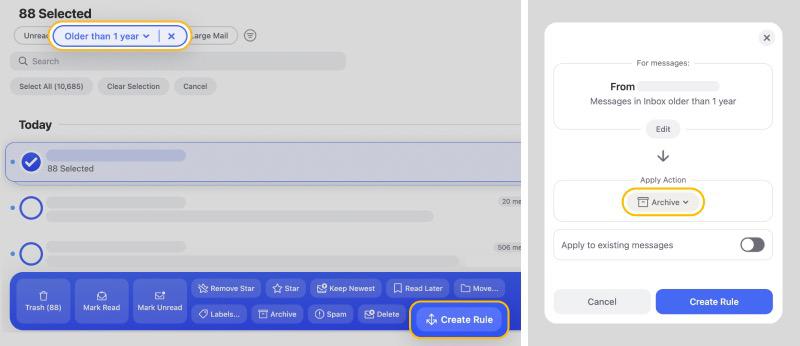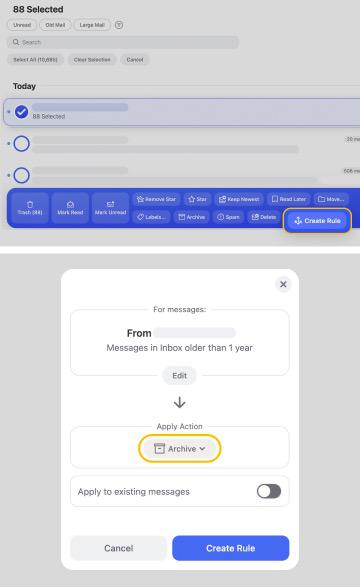 Once you have created rules, you can always edit, pause, or delete them within the Auto Clean dashboard.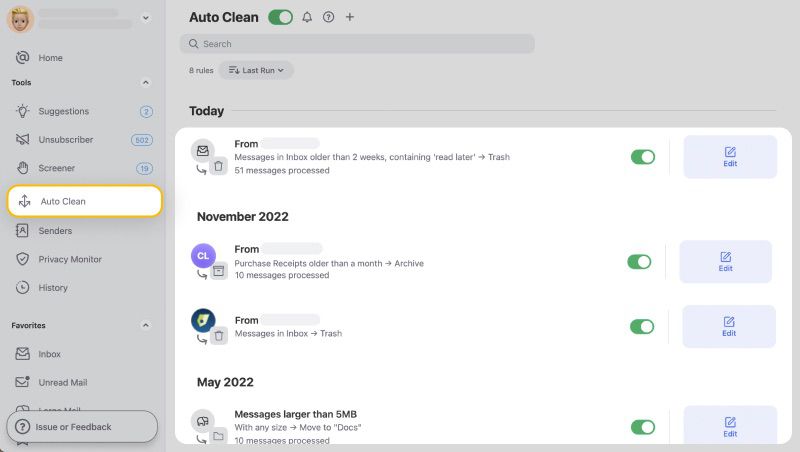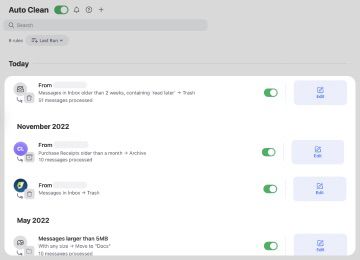 Smart Views
With Smart Views, you can use predefined rules to sort your emails into relevant groups automatically. The benefit of using this tool is that it easily locates topic-related emails without having to scroll.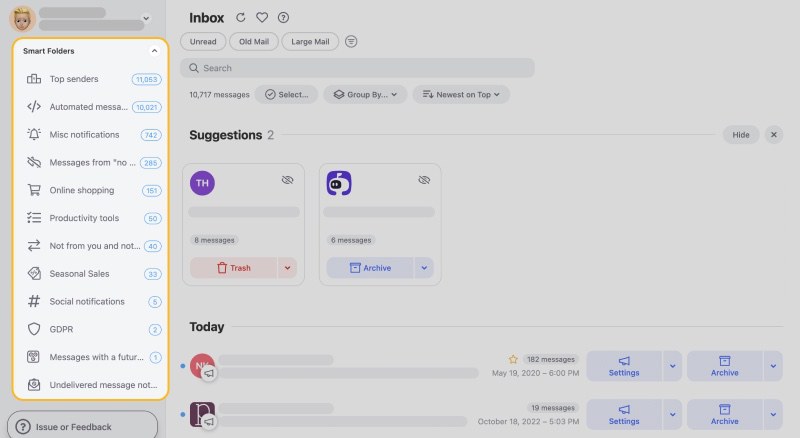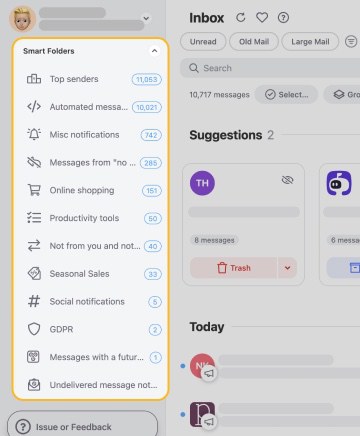 For example, you can find all social media-related emails under the Social Media view.
---
How To Manage Email Threads - FAQs
What is the email thread meaning?
Email threading is when all subject or topic-related emails are grouped, instead of having individual emails.
How do email threads work?
Email threads work by keeping all conversation emails in one message thread. This means you won't have to scroll through individual emails, or potentially miss out on any information. It's like a conversation. All recipients will see each other's replies.
How do I stop email threads?
Most email clients will have email threading on by default. You can easily turn this off within the settings.
What does organising email by thread mean?
This will group emails in order depending on the subject or topic. This is helpful unless you lose information within the thread and need to find it!
How do I manage email threads?
You can manage email threads within your mail provider or client application settings. Here, you will be able to choose how your emails are organised into groups, and whether you want the settings to be on or off.