What Is a Follow Up Email?
A follow-up email is sent to someone you have already contacted. You may have sent them an initial message to ask a question or make yourself known, and you've had no response.
Tons of emails land inside overflowing inboxes every day, so there's a chance your message was missed, or forgotten about. This is when sending a follow-up email after no response is a great idea.
Some reasons to send a follow up are:
To make the recipient aware of your initial message.
To hopefully receive a response or acknowledgement.
Or to remind someone of important information, like a meeting date and time.
A follow-up email template doesn't need to be long or contain too much information. The best emails are to the point, and short. They are simply acting as a reminder for the last message you sent.
How To Write a Follow-Up Email
To write a follow-up email, head into your email service provider and locate the first message you sent.
Start with one of the following:
Decide if it's appropriate to forward the message (not recommended, this isn't very professional and provides no context).
Copy the previous message to insert into the follow-up.
Take important information from the initial email to include in a follow up message.
Then, begin to compose your message and send it.
Best Follow-Up Email Format
The best follow-up email template after no response is something short, to the point, and initiates a response.
Here's how to write a follow-up email that works.
1. The Subject
This is what the recipient sees when the message lands in their inbox. You want it to be inviting and 'clickable'. Meaning they are going to want to open it.
Keep the subject line short but to the point. Something like "Important information about XYZ"…
2. The Greeting
Keep the greeting formal. Unless you know this person on a first-name basis. Formality is always best if you are unsure, so greet them using their title and their name.
Check out our guide on how to start an email professionally.
3. The Body Text
The body text doesn't need to be long; most people skim over long emails and then miss the important information.
Include the key points of the previous message, remind them of the details and share any links you would like to refer the recipient to.
4. The Closing Line
Again, the closing line for your email template doesn't need to be long.
Let the recipient know what you will do with their response, and how it will help you. Or what will happen with the lack of their response?
5. Signing Off/Signature
To finish, sign the email off professionally with your name.
When to Send a Follow-Up Email
You need to know when to send the follow up. There needs to be a reasonable amount of time between the initial message to the next. Your recipient may already be thinking about responding but has not found the time to yet, so don't bounce back into their inbox just yet.
Some things to consider are:
Is the situation time sensitive? Do you need a response for an upcoming event?
Do you know the recipient personally? If so, you may already know the right time frames to send another message.
Otherwise, an acceptable time frame would be 3 days to one week. No later! It can seem like such a long wait but be patient.
Follow-Up Email Samples
Not sure where to start? Here are some follow-up template emails you can edit and use as your own.
To The Point
For a generic recipient, someone who doesn't know you, or someone unnamed, it's best to use a generic follow up message.
A straight-up follow-up email example:
Subject line: Appreciate your response…
Dear Sir/Madam,
Just following up on an email I sent last week, can you please look and respond as soon as you can?
I would like to talk about the email further, please contact me.
Looking forward to hearing from you.
Kind regards,
[name]
Acknowledgement
Let your recipient know that you understand they are busy and may find it hard to respond to a message, but you would still like a response! These emails are polite, but again, to the point.
A polite follow-up email example:
Subject line: Waiting to hear back from you…
Dear [name]
Hello, I'm just following up on a previous email I sent to you. I understand you are busy and have lots of emails to respond to! However, I would appreciate it if you can review the email and get back to me when you can.
If I haven't heard anything by the end of the week, I will be in touch again.
Yours sincerely,
[name]
Real Casual
Finally, you can always send a real casual message to get your point across and initiate a response.
A casual follow-up email example:
Subject line: Would love to hear from you!
Hi
[name]
I sent you an email last week and I am just emailing to see if you've had the chance to read it. If not, no worries, could you look and respond when you can?
If you haven't responded in the next couple of days, I'll give your number a call.
Kind regards,
[name]
So, there you have it! Now you can go and send those follow-up emails using our templates for follow-up emails.
If you enjoyed this article, look at our other articles about email etiquette:
How Clean Email Can Organise Your Entire Mailbox!
While Clean Email cannot help with creating templates or sending emails since it is not an email client, this handy tool can help you manage your mail, clean your inbox, and save you so much time!
With Clean Email, you'll get rid of old emails, unsubscribe from unwanted mailing lists, automate routine mail tasks, and more!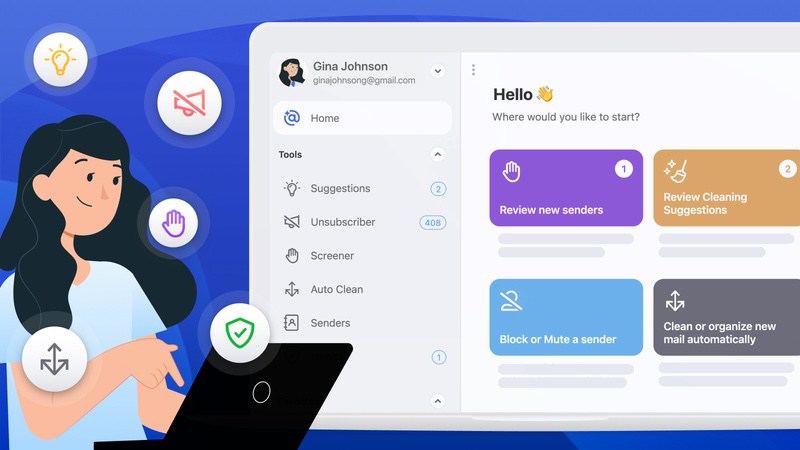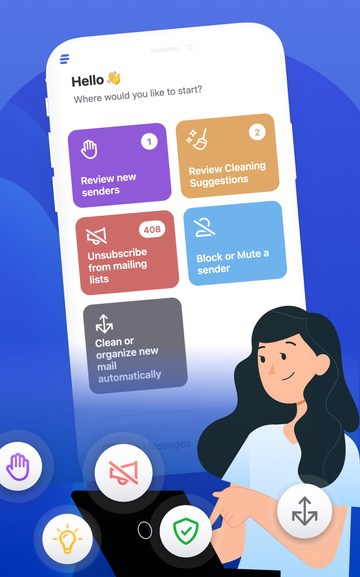 The app is available for download on iOS, Android, and Mac and to use on web.
Smart Folders make locating and sorting emails easier. This feature works by grouping all similar emails using predefined filters. All you need to do is select the Smart Folder, choose an email group, and apply an action such as delete, archive, move, star, etc.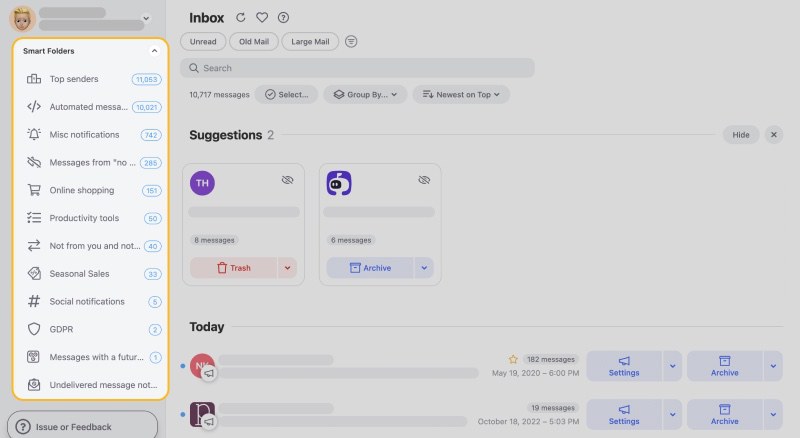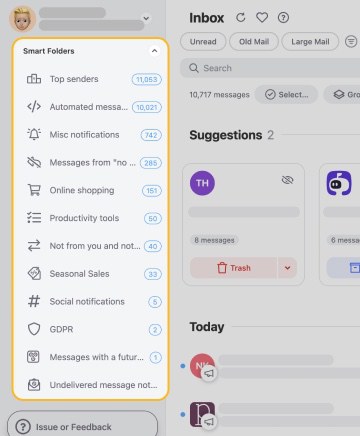 For example, if you are wanting to sort shopping-related emails, simply click the Online shopping Smart Folder. You can then define your search further by selecting old to new, and more.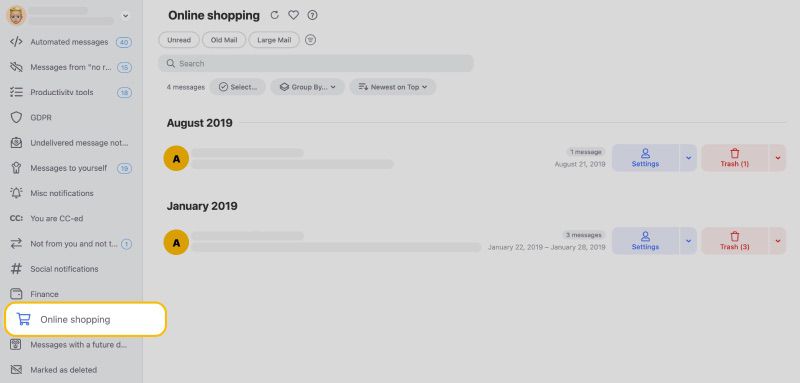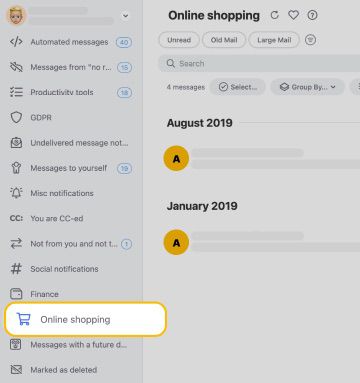 With Unsubscriber you can quickly remove yourself from unwanted mailing lists. Subscriptions can slowly clog up your inbox, especially if you're not interested in even reading the message.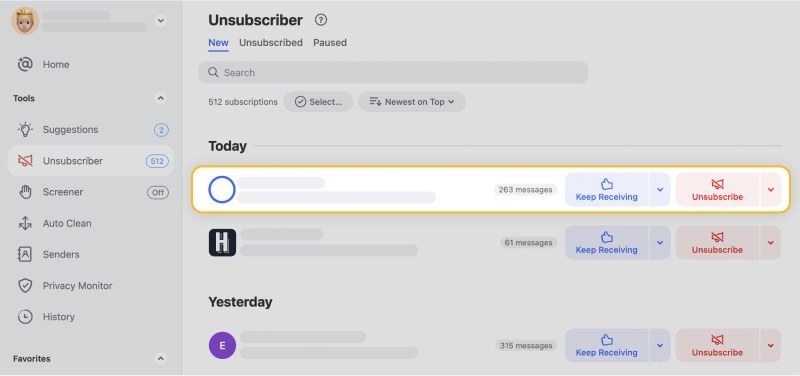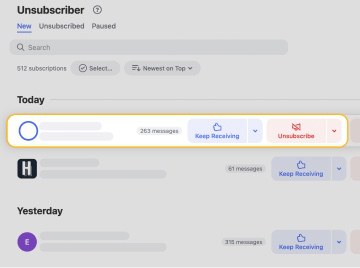 So, with Unsubscriber, all you need to do is choose an option; Unsubscribe to send an unsubscribe request on your behalf, Read Later to move emails to a different folder, or Keep the subscription.
Auto Clean is a tool to create automated rules. This means no more manual work on your behalf! Easily set up automated rules to move and sort emails as soon as they land in your inbox, or to sort existing emails.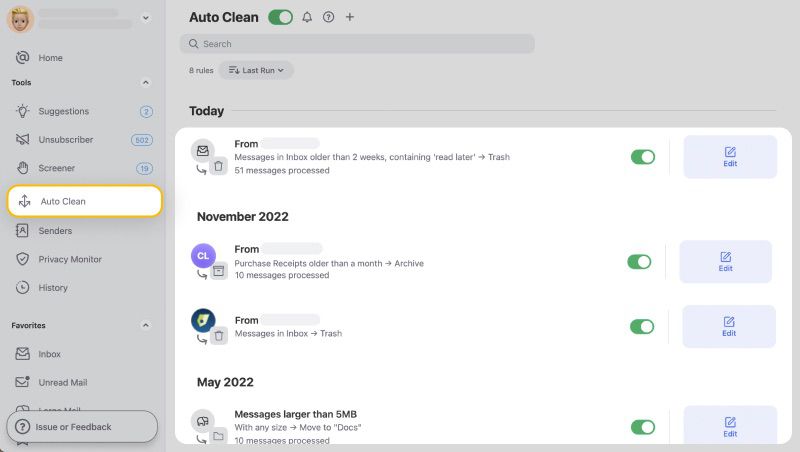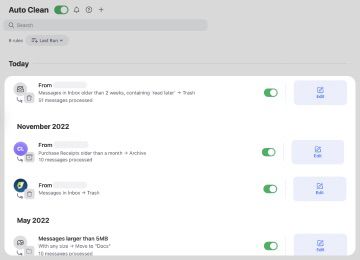 For example, you can create a rule to automatically move all emails containing a certain subject to a different folder.
Cleaning Suggestions is the quickest way to clean your mailbox. This feature works by suggesting you your commonly used actions with the app and commonly used actions of the other users. From here, it's easy for you to simply click on a suggestion and clean your mail.
At Clean Email, we care about your privacy and security. We do not keep, sell, or analyse any of your data.
---
Follow Up Templates - FAQs
How do you politely follow up on an email?
To politely follow-up on an email, acknowledge the recipient is busy, but still request a response and what you will do without a response.
How do you write a follow-up email after no response?
Your follow-up email only needs to be short, simply state you are following up, need a response and what will happen without a response. You can also include any detail they may have missed.
How do you follow up professionally?
To follow-up professionally always use a professional greeting, make sure the body text is to the point, keep the email formal, and close with your name and signature.
When should I send a follow-up email after no response?
If you urgently need a response for a deadline, email when you think is appropriate. If you know the person, send them an email again in a few days, or contact them separately, or if you're unsure, give it at least a week.