Why Is a Professional Email Sign-Off Important?
There isn't much point in crafting your greeting, first line, and the whole body of your message If you're going to sign it off badly.
It leaves a bad first impression and seems quite rude. You wouldn't just bluntly end a conversation in real life, so don't do it via email either.
Business email sign-offs should make the reader want to connect with you or complete the call to action. To ensure they do this, your last line needs to motivate a positive response.
Overall, your email closing lines need to be friendly and polite and show a clear call-to-action to remove any confusion about the next steps.
With a perfectly crafted professional email sign-off, your audience will think highly of you and respond to your message. Without it, they may not even read the whole thing.
Keep reading this article to learn how to end an email professionally.
Best Ways to End an Email
When sending a message, whether it's formal or informal, you need to think about a few things.
Is this message going to be giving your first impression? If so, think about how you should end the email to ensure a positive response. Or is this message being sent to a colleague or even a professional you have already had previous contact with, and built some rapport with?
Be sure to do these five things when closing your message.
Craft a clever closing line.
When writing your closing line, think about how to portray gratitude, positivity, and motivation. You need your reader to proceed with your call-to-action. To do this you need to motivate a response with a clever closing line. Your closing line can even assume or anticipate an answer, for example, "looking forward to hearing from you."
Use an appropriate email sign-off.
Always end the email with the right sign-off. This means using "kind regards/best/thanks." Without the right sign-off, the message seems incomplete.
Always include your full name.
The reader needs to know who you are to avoid confusion when communicating with other members of your team. You can be easily found and referred by your reader when including your full name to finish an email.
Share your professional title.
Always include a little about your job role, it doesn't need to be in-depth, but it gives the reader more idea of who you are and what you know. For example, "head of sales".
Other forms of contact.
Although the reader has your mail address from the initial message, it's a good idea to provide other forms of contact. This can be a phone number, social media, or even the head office mail address.
Best Email Closing Lines
How to end an email using common sign-offs.
Best
Using 'Best' is a safe option. You will have seen this being used before because so many people use it. Probably a little too much! However, if you don't know what else to write, it's a good one to go for.
Cheers
Ending your message with 'Cheers' needs to be done for the right audience. It isn't the most formal email closing line; however, it sets a very friendly tone.
Thank you
An easy way to express gratitude to your reader. It's simple and friendly and used all the time.
Regards
Lots of people end their emails with regards and their names. It's a common email sign-off, and always taken positively.
How to End a Formal Email
Ending a formal email will use the same framework as stated above, however you may need to think about a few extra points.
How to professionally end an email:
Think of the email as a letter. You always sign a letter formally, so sign your message the same way.
Use your personality so you don't seem too robotic, but also use easy-to-read words that anticipate a response.
Always spell-check and proofread every aspect of the message.
Use the same signature or email template across your whole company, this shows consistency and professionalism.
Ask yourself, does this create a good first impression?
Keep it concise but meaningful. Professionals don't need a three-sentence long closing line.
Read more about how to write a professional email and what the best tips for effective email communication are.
Best Business Email Sign Offs
How to end a business email with formal sign-offs.
Kind Regards
A classic email sign-off that never fails. This shows your gratitude and is an already well-known email sign-off.
Thank You/Many Thanks
Saying 'thank you' expresses your gratitude for their time reading your message.
Sincerely
Probably the most formal way you can end an email. Needs to be used appropriately, otherwise using 'sincerely' can seem a little too much.
Best Wishes
A friendly way to end an email promotes positivity and shows kindness to your reader.
How to End an Email if You Want a Response
You can craft your closing line to pre-empt a response from your reader. You want a response if your message includes a call-to-action or needs an answer to a question.
Here's how to end an email professionally, for a response.
Thanks in advance
This email sign-off is quite clever. It shows gratitude and sets the expectation for a response. Again, you need to think about whom you are using this email closing line for, you don't want to seem demanding and pushy.
I appreciate your time/help/input
Showing gratitude is always a positive way to end an email. This also anticipates a response from the reader, if you have asked them for help within your message.
What to Avoid in Email Closing Lines
There are always things you need to avoid when closing your messages:
Take Care
This seems a bit off as if something bad is about to happen.
Love
You do not love your recipient, and they do not love you. It's unnecessary.
Thx, or other abbreviations
Emails are not messages sent through text or WhatsApp. Keep them professional, with full words and sentences.
Yours Truly
Again, you are not in love, and this isn't a love letter.
Nothing…
It seems like you forgot to finish your message, or just didn't bother.
Your Name or Initials
Quite a cold and blunt way to end an email, you are not giving a friendly vibe with this one.
Sent From my iPhone
This is a huge no. It seems like you didn't check your message before sending it and is also just very unprofessional.
Read more about email etiquette rules and common email mistakes.
Create the Perfect Mailbox with Clean Email
Writing professional emails and waiting for a response can seem quite daunting. To be best prepared, make sure your mailbox is perfectly decluttered and ready to receive more important emails!
While Clean Email is not a mail client and can't help you write and send emails, it is a great inbox management tool to help boost email productivity and keep your inbox organised.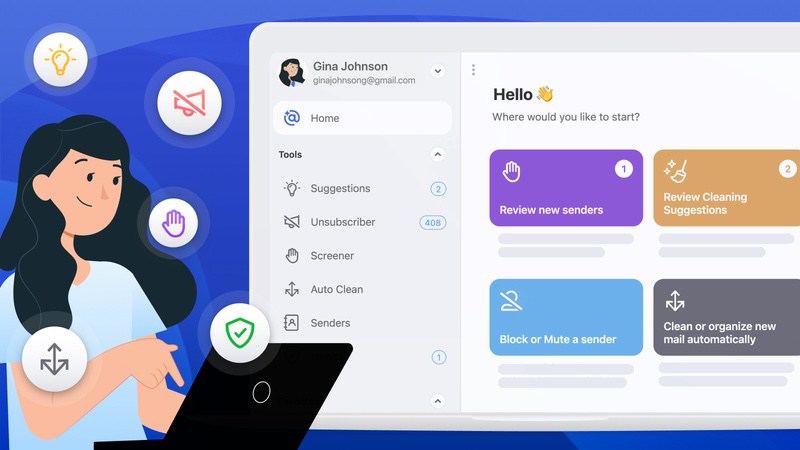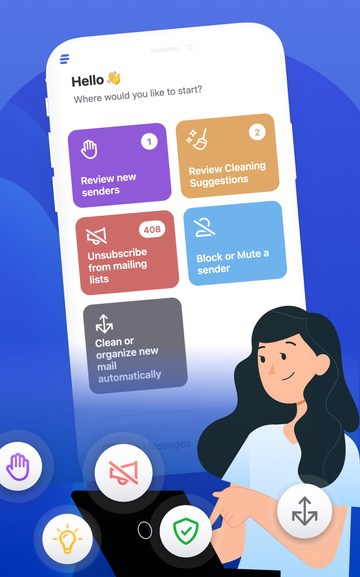 You can carry out tons of tasks with the Clean Email solution, this includes unsubscribing, blocking unwanted senders, creating automated rules, and more.
The Auto Clean feature allows you to create automated rules to manage your emails once they hit your inbox. Simply click the Auto Clean icon on the left-side panel. Then click Create New Rule and fill in your specific criteria.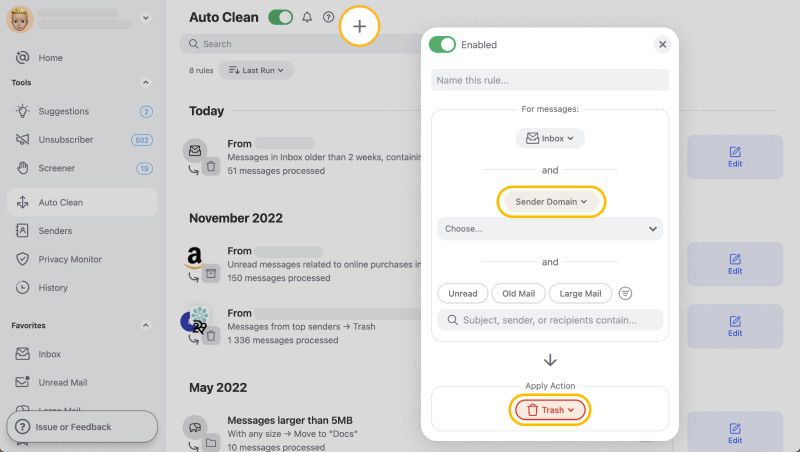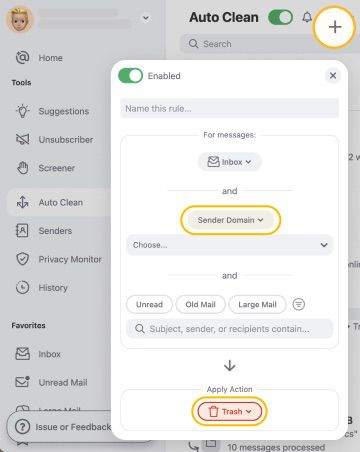 You can also use Sender Settings to perform other automated tasks depending on the sender. For example, send all their incoming mail to the Trash folder.
With Unsubscriber, you can decide to keep or remove the subscriptions and marketing newsletters you get. You can also send them to the Read Later folder to review them later.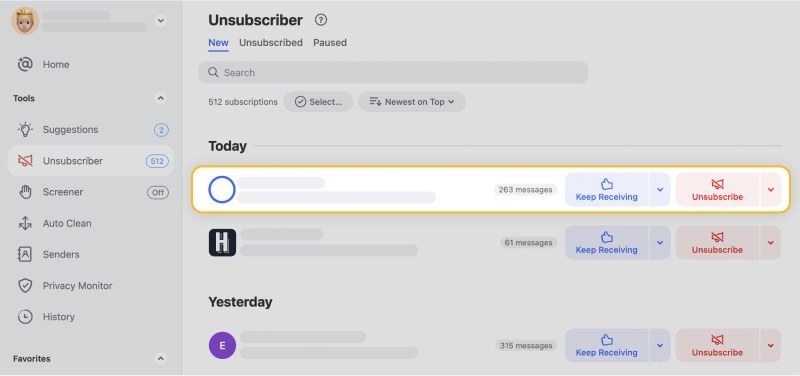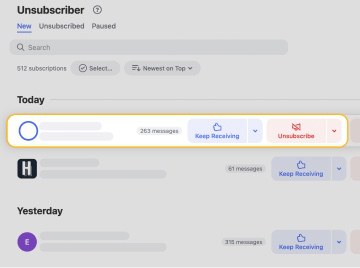 Senders with the same unsubscribe link are grouped, making it easy to remove yourself from lots of subscriptions in one go! Or you can select multiple newsletters and choose an action for them all.
Cleaning Suggestions will suggest cleaning methods for you. This is based on your frequently cleaned emails, and other users' commonly used actions with their emails. All you need to do is click on a suggestion and perform an action, like moving to Trash, for those messages.
In Smart Folders, all similar emails are grouped into their own folders, making it easier to find and organise your messages. For example, all social media related emails are in one place, and so are all finance-related emails, etc.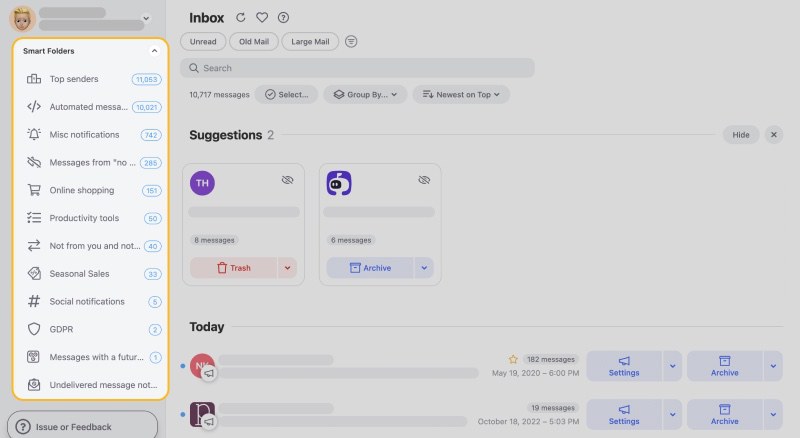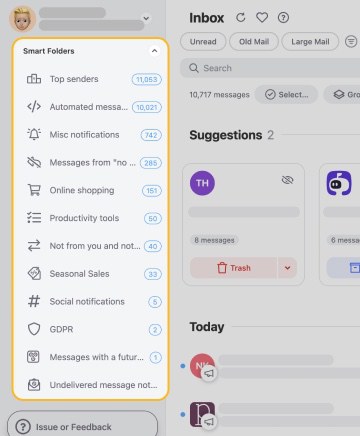 Clean Email will never keep, sell, or share your data. The only data we use is for the features of the application to work. We care about your privacy and security a whole lot!
Wondering to learn more etiquette tricks? Check out our guides on how to start an email and how to use professional email templates.
---
How To End an Email - FAQs
What is a good ending sentence for an email?
Keep your email sign-off concise and motivating. For example, use 'Kind regards', or 'Thanks in advance'. Always be friendly to set a good first impression!
How do you end a professional formal email?
To end a professional and formal email, use a sign-off like 'Sincerely', or just 'Thank you'! Don't use any slang or abbreviated words.
What is a closing salutation?
A closing salutation is simply the closing line of your message.
How do you end a letter waiting for a response?
To anticipate a response, use a closing like 'Thanks in advance'. This shows the reader you are expecting them to reply.
How do you end an email if you don't want a response?
You still need to end your emails politely, and you cannot say you don't want a response, without saying do not respond to this message. End with 'Best wishes' to show your communication may be finished.