What Is An Out-of-Office Email Reply?
An out-of-office email message is a way to inform others of your absence. Within your message, you tend to include when you are returning, a reason for your absence, and whom to contact instead.
Use an out-of-office response to ensure your business or work continues to run smoothly, and recipients don't think you're ignoring them! Out-of-office emails are used for sick leave, vacations, or any other long or short absence you may have.
It's best to let others know some detail of your absence and when you can reply to follow work etiquette; otherwise, it may seem unprofessional that you're not responding to important messages.
However, always be safe when sharing information, you never know who may read your message.
When to Use Out-of-Office Email Replies
It's a good idea to use an out-of-office email message if you won't be able to respond during your normal work hours. This includes short and long absences, from doctor's appointments to parental leave.
Think about how urgent your messages usually are, and how important it is for you to respond straight away. If a response can wait whilst you're on a short absence you may not need to create an out-of-office email.
However, if your responses are usually important and urgent, set up an out-of-office email to be safe. Include why you are absent (sparing the details, keep it professional), when you plan on returning, and whom to contact instead if applicable.
How to Create an Out-of-Office Email
Your out-of-office email doesn't need to be long, and you don't need to stress about it being perfect. All it needs to be is to the point and hold the right information.
Easily done!
Three things you must include in your out-of-office template are:
The dates you will be unavailable to the date of your expected return.
Why you are absent, but keep it short and professional.
Whom the recipient should contact if they need a response sooner than you can give one.
Your recipient can then decide if they can wait for your return, or if they want to contact someone who may be able to help sooner.
Learn more about how to set up an automatic reply in Outlook and how to set an out-of-office in Gmail.
Tips for Writing an Out-of-Office Email
Don't write a story, it only needs to be a few lines.
Only include the facts and keep it friendly.
Don't share any detailed information about where you are going, or for what reason.
There is no need to share too much medical information, ever.
Remember strangers may see this message, don't include detail you wouldn't want someone to know.
It is okay for your message to be short and vague. The recipient needs to see the important information only.
PROOFREAD! The last thing you want is your message to include typos that lots of people will read.
What to Avoid in Out-of-Office Email Templates
With any message you send, it can always go wrong…
So, here are things you should remember when writing your out-of-office email template to ensure everything runs smoothly:
It is still a work email, not a message to a friend.
You don't know who is going to read this email, it could be someone very important. Don't mess it up!
Never put any pressure on the response of the contacts you include. Don't say they will reply immediately.
Always set expectations that are realistic for yourself, and the external contacts you include in your message.
Make sure your dates are correct, don't set a date for your exact return if you aren't sure of when it will be.
Never include personal details of why you are off, where you are going, and detailed medical reasons.
You don't need to tell a story; the recipient just wants the important details.
Make sure there are no typos and the contact details are correct.
You can find many useful out-of-office email templates to suit your needs online.
An example of an out-of-office email template example is:
[Insert personal/professional greeting]
"Thank you for your email. I am currently out of the office until [insert dates and reason]. I can respond to your message upon my return."
"If you need a response before my return date, please contact one of my colleagues.
[Insert colleague name, job title, and appropriate contact details]
[Personal email closing and signature]
Look at these links to see more about templates:
Start Using Clean Email to Manage your Mailbox
Clean Email is a bulk email management tool to help you keep your mail account under control. Though it cannot help with creating templates or sending out-of-office emails since it is not an email client, you can use Clean Email to keep your Inbox organised and decluttered.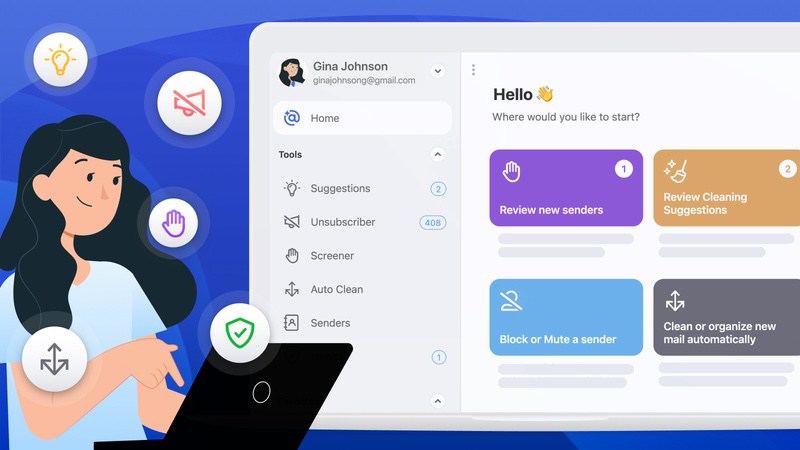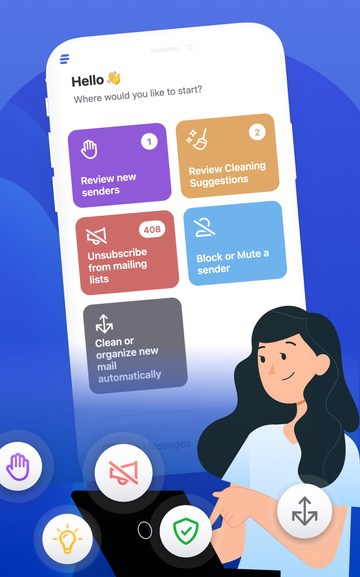 Clean Email is a handy application that will save you tons of time and reduce any email stress you already have. Use the app to fine-tune and automate your routine mailing tasks to create an easier work life!
With Smart Folders feature, you can locate and organise your emails quickly. It works by using predefined filters to automatically sort your mail into likewise groups.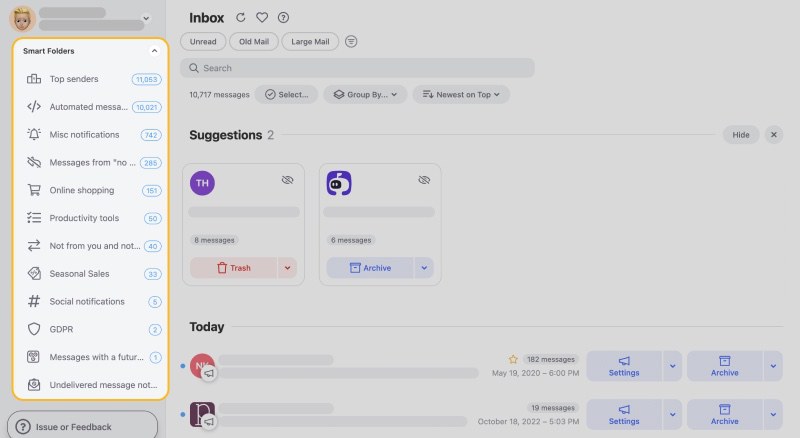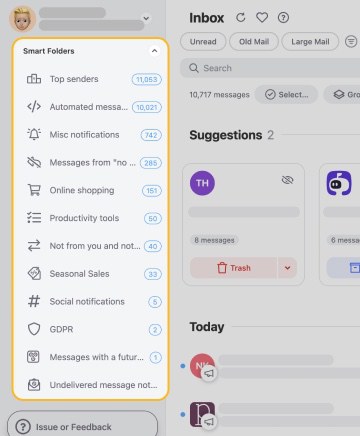 For example, you can view all social media related emails by clicking the relevant folder. You can refine your search further by clicking additional filters and sorting options.
Do you have tons of unwanted mailing list subscriptions? The Unsubscriber feature helps you get rid of any unwanted newsletters with the click of a button.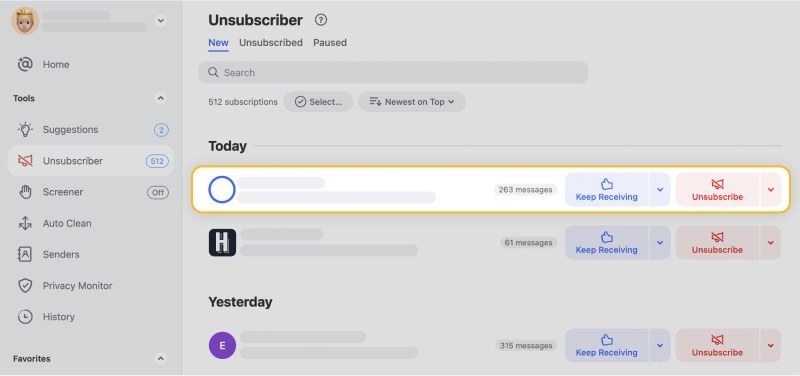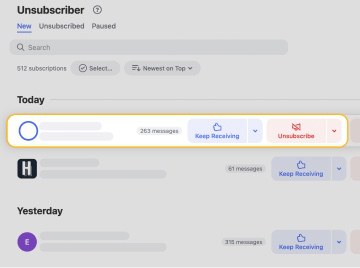 The app will instantly send unsubscribe requests and fill in the required unsubscribe forms, move emails to the Read Later folder, or keep the newsletters.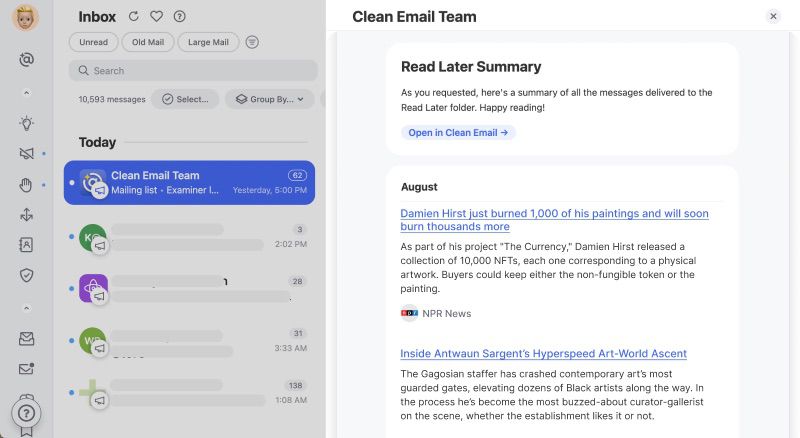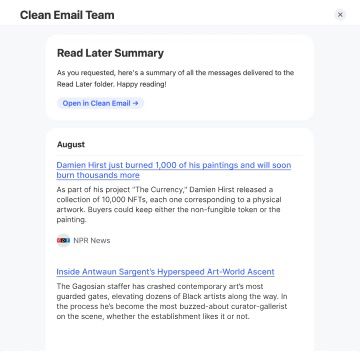 You can create automated email rules with Auto Clean. This is the ultimate time-saving tool that allows you to create a rule once, and forever have those emails sorted automatically. This cuts out any manual work you used to perform daily.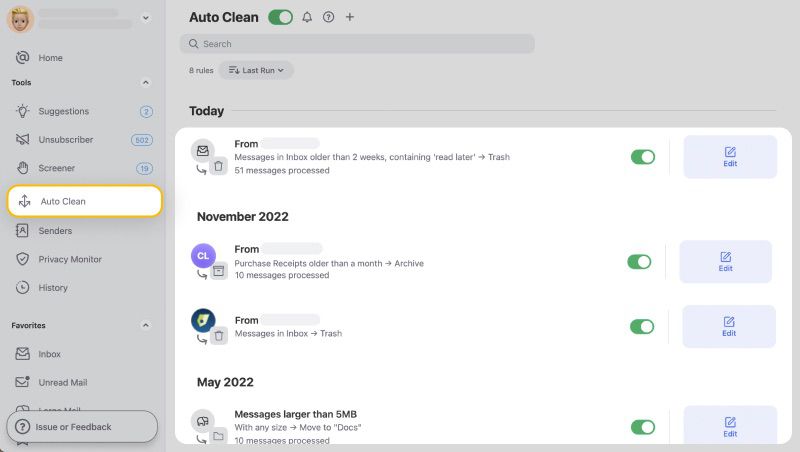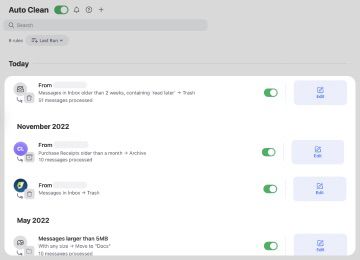 For example, you can move all emails from a specific sender into the Trash straight away. You can always edit, pause, or remove any Auto Clean rules at any time.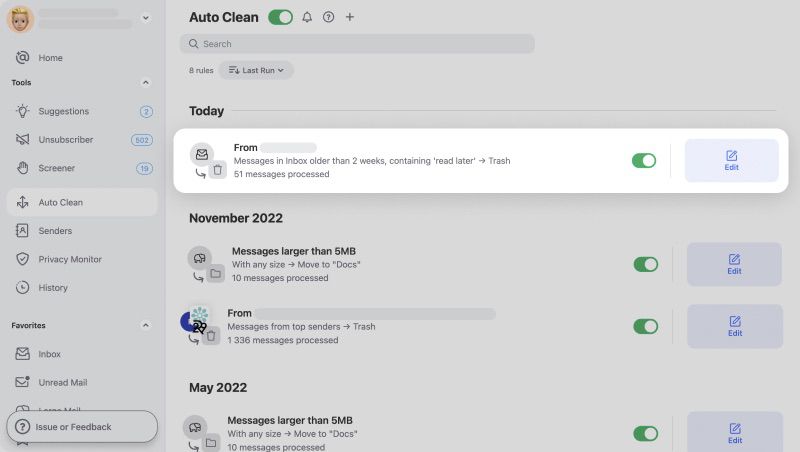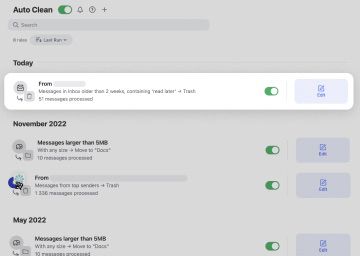 We do not keep, sell, or analyse any of your data. Clean Email does not use advertisements inside the application. All credentials are encrypted; this means our staff cannot enter your account and access any data.
Clean Email is available for download on iOS, Android, Mac, and to use on web. It works with all IMAP-based mail providers.
---
Out-of-Office Response - FAQs
What do you write in an out-of-office email?
Always include the dates you are gone and the date of your return. Give a brief explanation for your absence and whom to contact within your absence.
How do I put out of the office on my email?
You can usually find the out-of-office reply within your email providers' settings, under auto-replies.
How do I write a good out-of-office reply?
To write a good out-of-office reply, keep it short and to the point, always stay professional, and add relevant information. This includes dates, reasonings, and whom to contact instead.
When should I use an out-of-office message?
You should use an out-of-office message if you feel your response is urgent. You can set up a message for short or long absences.
How do I set up an out-of-office without an automatic reply?
To set up an out-of-office without an automatic reply in Outlook, disable the out-of-office automatic replies under where the message would go.