What is a Welcome Email?
A welcome email is an initial message sent to new subscribers, customers, or employees. This message is to help build a lasting relationship, and hopefully lead your reader to the end of your sales funnel if that's your aim.
First impressions are always important, especially when trying to build a good relationship with whoever receives the message. So, make sure you follow welcome email best practices!
If your welcome email is for a new employee, this helps them feel comfortable, and expect a friendly environment. A welcome message for a customer can show them personalised offers and keep them coming back to your product or service.
Welcome emails for subscribers help reduce the unsubscribe rate since they feel acknowledged and appreciated.
The Benefits of Using Welcome Emails
You might be thinking "I won't bother with that, some of my subscribers stick around without a welcome message."
However, have you read the benefits of a welcome email?
86% more effective than a standard newsletter email.
Higher open rates.
74% of people expect a welcome message.
50% open rate.
More clicks on internal links.
Creates more engagement throughout the relationship.
Will generate more sales and revenue.
Including offers leads to more sales.
High conversion rates!
The benefits outweigh the cons of having a welcome email, the cons are almost non-existent.
The only con would be the message landing in spam or making new subscribers want to immediately unsubscribe.
How To Create A Welcome Email
Writing a welcome email requires more thought and creativity than just writing an out-of-office email. It all depends on what you're selling or your reason for the email.
You can choose to keep it short and friendly, or a more detailed explanation of your product or service.
The best welcome emails are a happy medium between short and to-the-point, with personalised information and offers for the subscriber.
Keep reading to learn more about how to write a welcome email and get some welcome email ideas.
Main components of a welcome email
Here are some important components you should be including in your welcome email template.
A great subject line
You want your readers to open the message, right? Include who it's from and what they should expect when opening the message. Keep it short and direct!
What's next?
Include any relevant links or next steps for signing up.
Personalise
Always include their name and consider any extra details you asked for. You can include offers and discounts just for them.
Easy opt-out
There is nothing more frustrating than a message without an unsubscribe link. Always give a way to stop receiving emails!
Send it straight away
Don't wait to send your welcome message, set these emails to be sent as soon as you get new subscribers.
Encourage to whitelist address
Sometimes emails can land in spam. If your subscribers add the mail address to their contacts, you can avoid this.
Set expectations
Let them know how often you will send emails, how they ended up with the email, and who you are. Always be transparent, otherwise, you seem unauthentic.
Give a clear CTA
Every message should have a call-to-action. Include links or codes relevant to your welcome message.
No blurry pictures
Always use good-quality pictures, especially if you are selling a physical product.
Mobile friendly
Make sure your emails look good open on a mobile phone. If a message isn't compatible with mobile, fewer people will bother reading it.
You can find great welcome email examples online, or maybe look at your inbox, brands might have sent you welcome emails with offers or a code to activate your account.
Some examples of welcome email subject lines are:
X% OFF for you!
Quick, your X% DISCOUNT is waiting.
Welcome to [name], [their name] click the link to shop!
Hi [their name], thanks for joining us!
Someone says, DISCOUNT?
You can craft your subject lines differently; however, they're best short and to the point! Ask yourself, "would I open that?"
How To Clean Your Mailbox With Clean Email
Clean Email is a bulk email cleaner to help you manage your mailbox and stay organised. Though the app cannot help with creating templates or sending welcome emails since it is not an email client, it is a great tool to keep your inbox under control.
Using Clean Email will save you lots of time and reduce any email stress you have throughout your day, meaning you can work on what's important instead. The app is available for download on iOS, Android, Mac, and to use on the web.
Some best Clean Email's features are:
Need to get rid of all those unwanted email subscriptions? With Unsubscriber you can get rid of newsletters filling up your mailbox with just one click.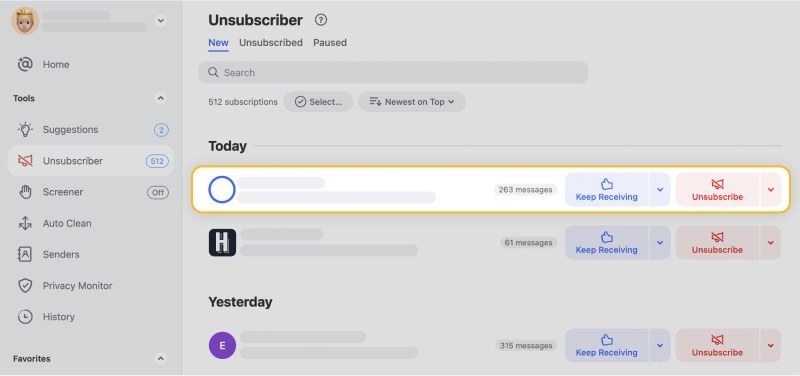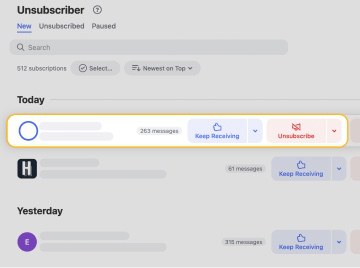 The app will send unsubscribe requests instantly and complete unsubscribe forms on your behalf. You can also choose to keep getting newsletters, move them to the Read Later folder, or block unwanted senders!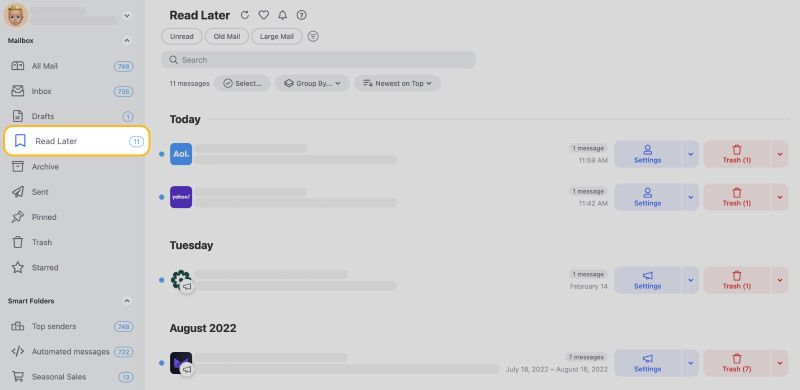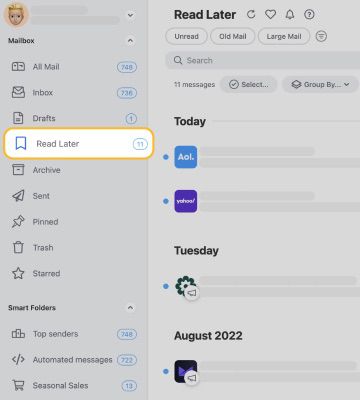 Smart Folders use predefined rules to automatically sort your emails into easy-to-view and manage bundles.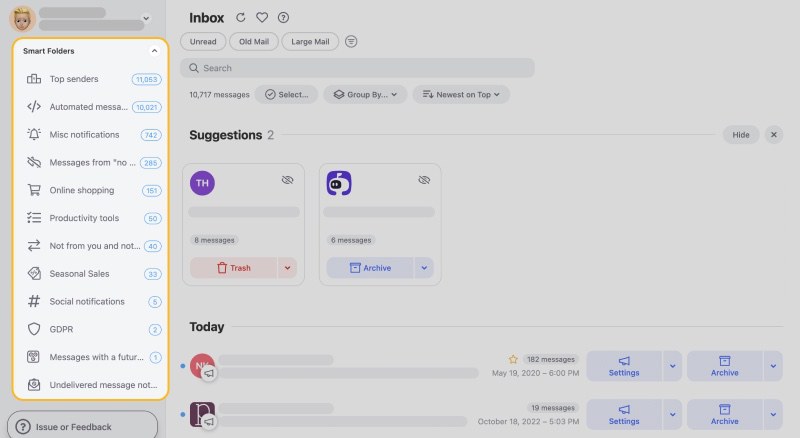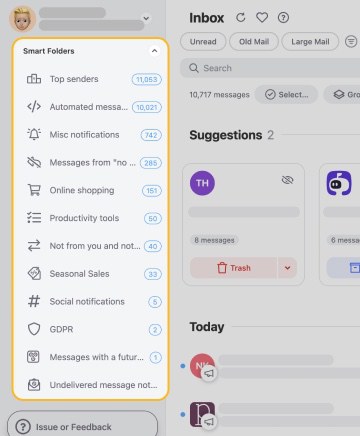 All you need to do is click on a Smart Folder you choose, refine your search, and begin sorting your mail. From here you can move emails to archive, trash, sort to different folders, and more.
Auto Clean enables you to create automated rules to sort and organise your mail as soon as it hits your inbox.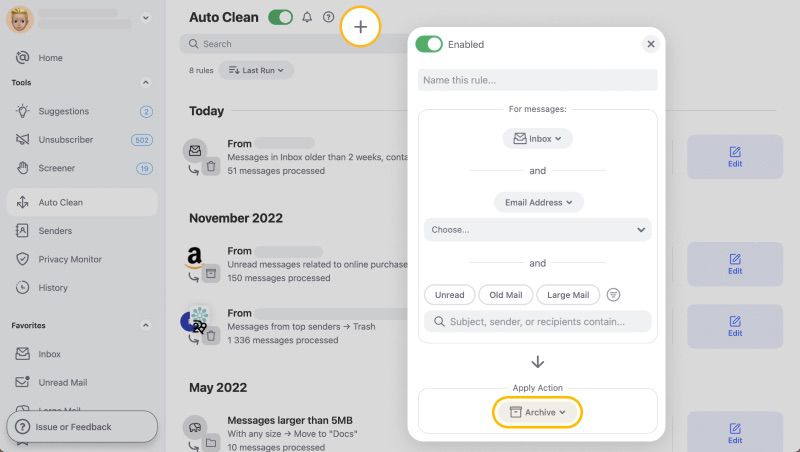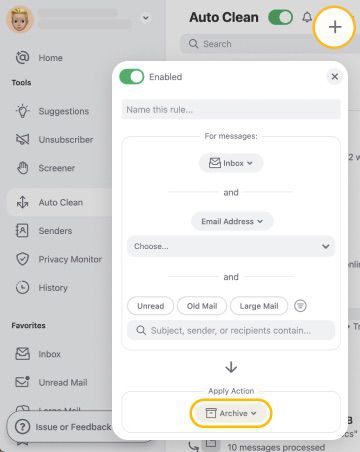 This eliminates the need to do any manual work! Once the rule is set up, it will do the work for you.
You can choose to move your emails to different folders, with specific criteria. It's all up to you. You can also edit, pause, or remove rules at any time.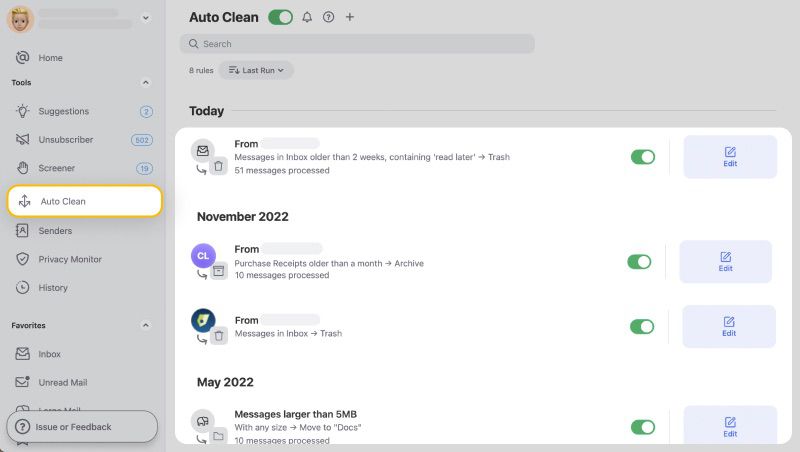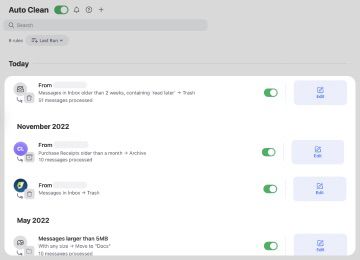 We care about your privacy and security, therefore we do not keep, sell, or analyse any of your data. The only data that is used is for features within the app to work. Clean Email does not use advertisements.
Other useful articles about email templates:
---
FAQs
How do you write a good welcome message?
To write a good welcome message, keep the subject line short and to the point, and always include something for the new subscriber like a discount code, or an offer.
Why is welcome email important?
Welcome emails are important for creating lasting relationships. You need a long-term relationship to convert your subscribers to buy your product or service.
How do you send a warm welcome email?
A warm welcome message allows you and your subscriber to get to know each other. This means no hard sell and no immediate action.
How effective are welcome emails?
Welcome emails are 86% more effective than sending a standard newsletter email.
When should a welcome email be sent?
All welcome emails should be sent as soon as the subscription is made. Most subscribers expect a welcome message to confirm their subscription, or to receive promised discount.