What Defines a Great AI Email Management Tool?
Before we delve into our top picks, let's briefly outline what makes an AI email management tool stand out from the crowd. We've combed through numerous offerings and used a set of key criteria to evaluate each tool. Here's what we kept an eye out for:
Mail management capabilities: Obviously, the tool should be capable of effectively managing your inbox otherwise there's no point in using it.
User-friendly interface: It's essential for AI email tool to have an intuitive and easy-to-use interface. You don't want to spend hours figuring out how to navigate your email tool.
Integration capabilities: The AI tool should seamlessly integrate with your preferred communication platform. Whether you're using Gmail, Outlook, or another provider, the tool should play nice.
Privacy and security: Given the sensitive information often exchanged via email, the chosen solution must offer robust security features and respect user privacy.
Price: Last but definitely not least, consider the cost. While most of us are willing to invest in efficiency, the tool needs to provide good value for the money.
Up next, let's delve into the specific tools that excel in the field of AI for email management, based on our criteria.
Top AI Email Management Tools
Let's explore the top AI email management apps that can help you regain control of your inbox and boost your productivity. Remember, each app has its unique features and offerings, so we recommend choosing one that aligns best with your specific needs and workflow.
Levity — an all-encompassing AI automatical tool that's crafted to ease your inbox management and other tasks.
Clara — a handy virtual assistant that you can CC at any time and from any mail thread.
Shortwave — an AI email client with powerful decluttering features developed by former Google employees.
Since each of these AI email management tools has its distinct functionalities and strengths, they can be used in a complementary fashion to supercharge your productivity.
1. Levity (Versatile AI Assistant)
📌 Brief description: All-in-one AI automation tool for email and more
Review:
Levity is a versatile AI tool for workflow automation that can be configured to streamline all kinds of tasks, including message handling. By leveraging artificial intelligence, you can, for example, automatically sort your emails based on their priority, route leads to your CRM, or process attachments to lift the burden of manual email organization. Despite its impressive capabilities, Levity is incredibly beginner-friendly, featuring a design that is intuitive and easy to navigate. This simplicity ensures that you can quickly set up your AI and get started without a steep learning curve.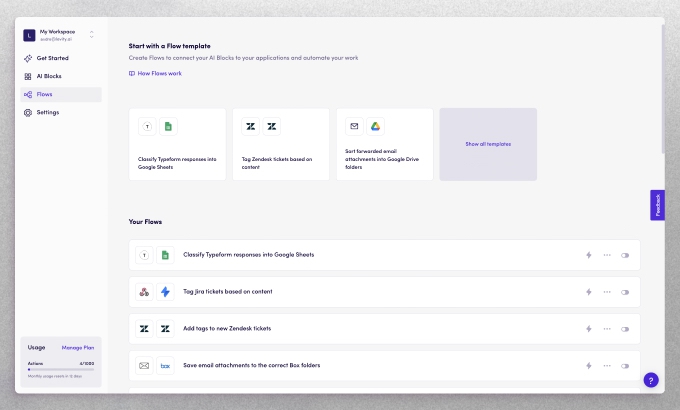 Levity boasts compatibility with a wide range of tools, including Gmail, Hubspot, Google Sheets, Zendesk, and many more, via Zapier and Make. This seamless integration ensures that you can conveniently embed AI in your existing mailing workflows, regardless of where they take place.
When it comes to privacy and security, Levity sets a high standard. The platform is SOC 2 Type I certified, and it's also GDPR-ready. All data is hosted on private clouds across leading providers like AWS, Google GCP, and Microsoft Azure, all of which maintain their own individual robust security measures.
Price: Based on the number of included actions (operations on a single data point). All users get 50 actions for free, and additional actions can be purchased starting from $240 a month.
Compatibility: Compatible with all major email services
👍🏼 Pros:
Versatile and highly capable
User-friendly interface
Compatible with all major email providers
A generous free trial is available
2. Clara (Time-Saving AI Employee)
📌 Brief description: A virtual employee that you can CC from any email thread
Review:
Clara is an AI-powered email management tool that feels as if you have a real assistant managing your emails thanks to its almost uncanny ability to interact with you through natural language prompts. Once Clara is CC'd in an email, it takes over the management of back-and-forths and schedules meetings on your behalf. With its automatic follow-up feature, Clara ensures that no potential meetings or tasks fall through the cracks.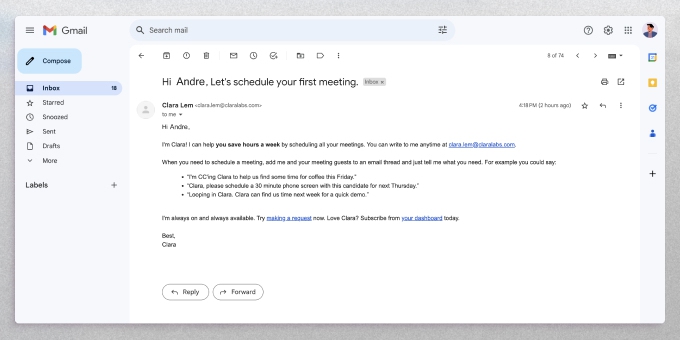 Additionally, this tool is adept at efficiently handling different time zones for global interactions. It can remind you of appointments or tasks according to your local time, thus eliminating the potential confusion that can arise from scheduling international meetings. It can also preemptively identify potential conflicts in your schedule, suggesting alternative times to ensure your day runs smoothly.
Unlike a human virtual assistant, Clara as your AI email assistant has the ability to work around the clock and can handle multiple mail threads simultaneously, exponentially increasing your productivity. With machine learning and AI algorithms continuously learning from your interactions, Clara not only gets smarter over time but also adapts to your personal communication style, ensuring that your virtual presence is as authentic as possible.
A crucial aspect to consider while using any AI-powered service is its privacy policy, and Clara shines in this respect as well. Clara's privacy policy is comprehensive, transparent, and respects user autonomy. It uses collected data primarily to enhance user experience, provide its email AI service, and ensure seamless communication.
Price: A free trial is available for up to 14 days, after which you can choose from three premium pricing tiers, with plans starting at $99 per user per month.
Compatibility: Compatible with all major mail service providers
👍🏼 Pros:
Full-time AI assistance
24/7 response times
Compatible with all email services
Efficient and smart scheduling of meetings
3. Shortwave (AI-Powered Inbox Declutter)
📌 Brief description: An AI email client with features for decluttering your Gmail inbox
Review:
Developed by ex-Google employees, Shortwave seeks to fill the void left by Google Inbox by harnessing the power of AI to help get things done. Operating as an alternative client for Gmail, this collection of mailing automation tools and email artificial intelligence features can capture the key points from any message, act as your personal translator, automatically apply relevant labels, snooze messages with natural language prompts, and more.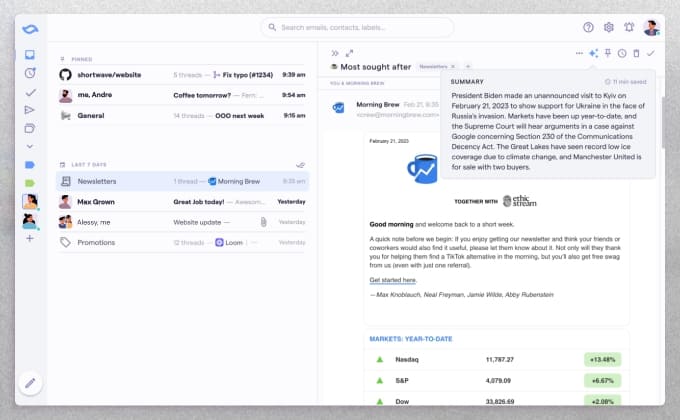 Shortwave boasts an elegant and futuristic user interface that lets you treat your inbox as a to-do list, enabling you to pin, reorder, and combine tasks through a simple drag-and-drop. Messages from unwanted senders can be blocked with a simple click, and all power users are guaranteed to appreciate the support for keyboard shortcuts.
The developers of the inbox AI organizer have pioneered the so-called Shortwave Method, which is about transforming that endless inflow of emails into a manageable, action-oriented process that gets you closer to your goals. Unsurprisingly, the method relies heavily on the AI email filtering and AI email sorting capabilities of Shortwave itself.
It's then somewhat unfortunate that this smart email organizer is compatible with Gmail only. On the flip side, Shortwave's focus on Gmail means that the tool can capitalize on the powerful security features built into Gmail's APIs, such as OAuth authentication and data encryption, to ensure a safer and more secure mail experience for its users.
Price: Shortwave offers a generous free version that includes 90 days of searchable email history. For more advanced features you can upgrade to the Standard plan, which costs $9 a month.
Compatibility: Gmail only
👍🏼 Pros:
AI-powered email summarization
Option to block unwanted senders
Developed by ex-Google employees
Affordable
Make Your Inbox More Manageable With Clean Email
While it's important to note that it's not completely AI-based, Clean Email certainly qualifies as one of the most effective inbox management tools because this smart email organizer offers a range of automation features that help manage your inbox efficiently.
The app's Cleaning Suggestions feature, in particular, serves as an AI email assistant that provides intuitive mailbox cleanup recommendations based on your communication activity, the sender's reputation, and actions taken by other users of the app.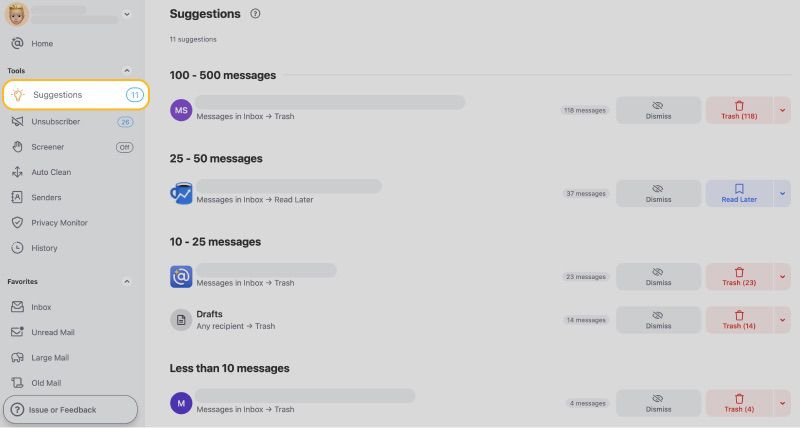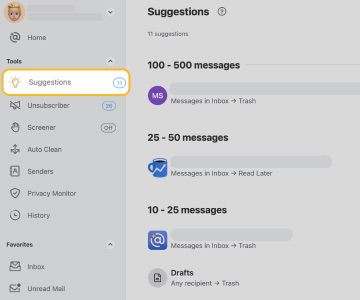 The Auto Clean feature is a powerful tool that allows you to set up customized rules for future message actions. For example, you can configure Auto Clean to automatically move all newsletters from a specific sender into a dedicated folder or archive all emails that are older than a certain date. This means Clean Email will execute these tasks automatically based on your set rules, keeping your inbox organized without requiring your constant supervision.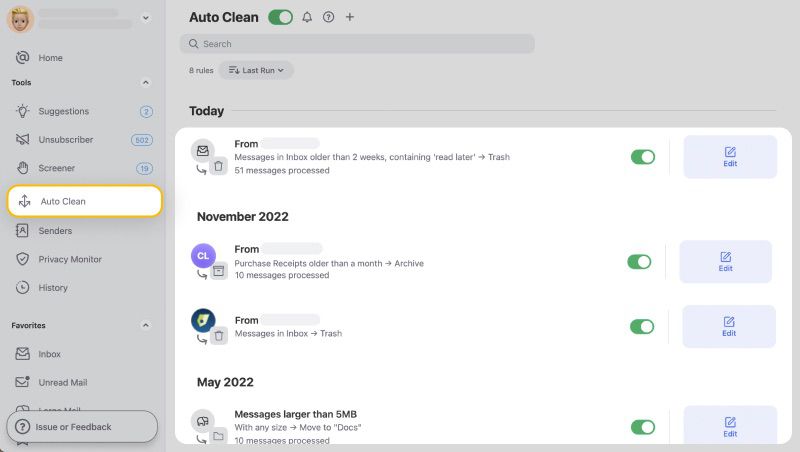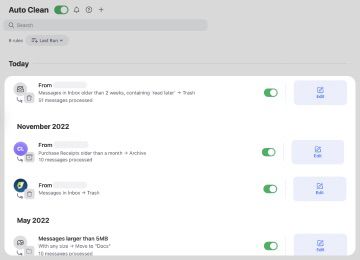 Similarly, the Unsubscriber tool is your shield against unwanted marketing emails and newsletters. Utilizing this feature to unsubscribe from multiple mailings, Clean Email guarantees that these newsletters won't infiltrate your inbox, regardless of whether the sender disregards unsubscribe requests.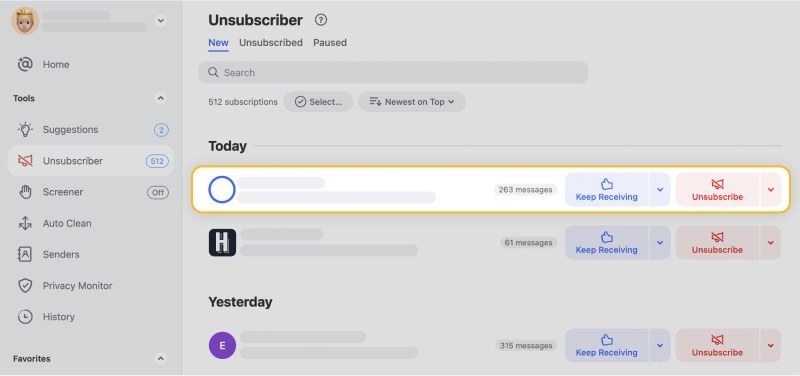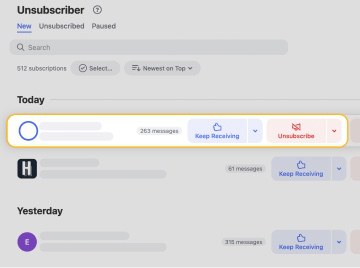 Furthermore, Clean Email's Smart Folders feature offers a novel approach to inbox organization. These are essentially predefined filters that group your emails based on various parameters, allowing you to automate email tasks effectively. For example, 'Top senders' will group all the messages from your most frequent contacts, while the 'Automated messages' folder collects all automated emails, such as updates and system notifications. These folders are not static; instead, they dynamically update as new emails arrive.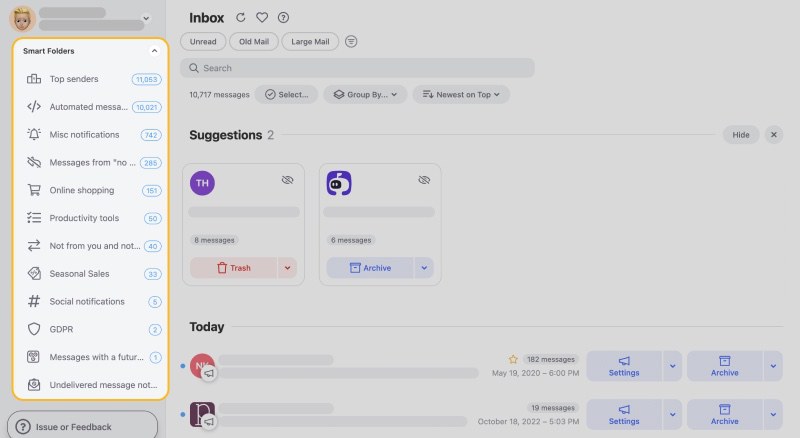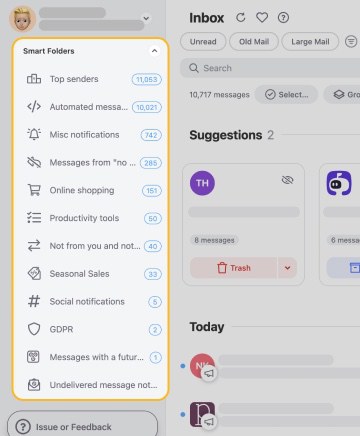 Besides its impressive features, Clean Email shines with its simplicity and user-friendly interface. It's designed with the idea that everyone — regardless of technical proficiency — should be able to manage their emails without complications. The application's intuitive layout, clear instructions, and simple controls make navigating through your emails, applying filters, and executing bulk actions a breeze.
Best of all, Clean Email works with all IMAP-based providers, such as Gmail, Yahoo Mail, Outlook, and others. Regardless of which service you pair Clean Email with, you can always rest assured that the tool doesn't store, sell, or analyze your email data, adhering to a strict no third-party access policy.
Wrap-Up
AI email productivity tools have emerged as game-changers for people whose lives depend on efficient communication via mail. By leveraging these tools, you can significantly increase your productivity, simplify the workflow, and manage your inbox more effectively. It's time to embrace the benefits of intelligent mail prioritization and AI email management in general and take control of your inbox.