When And Why Do I Need AOL Mail Forwarding?
Most of us have heard the term "message forwarding," but does that mean we actually know what it is or why we should use it? Well, when you receive a message from someone, you press "reply" to continue the conversation. However, there are times when you don't need to continue that conversation. Instead, you need to share it with someone else. That's where message forwarding comes in!
Email forwarding lets you instantly take portions of a conversation you had with one person and share them with another person. This can be handy in a variety of situations, both for business and personal reasons. For example, you may be bringing a new team member in on a project, or you may need to share school drop off procedures with your child's grandparents. Both of these would be perfect times to take advantage of AOL email forwarding.
Furthermore, there are times when you need access to something, like a file attachment, on multiple devices. However, you may not have access to your work mailbox from your personal computer, or vice versa. In those instances, AOL mail forwarding can help you share documents with secondary mailboxes.
How To Forward Email From AOL
There are a number of email forwarding services out there; however, most people don't need these tools. Instead, all you need to know is how to set up AOL mail forwarding and forward items from both the web and mobile app.
AOL email forwarding in AOL web
Log into your mail account at https://www.aol.com/.
Locate the message you'd like to forward. Click to open it.
Locate and click the Forward button on the left side of the top menu bar.

Enter the new recipient's address in the To box.
Add any additional information needed at the top of the message body.
Click Send in the top left. Your message will now be forwarded to the address you entered.
Email forwarding in AOL Mail mobile app
Open the app. From your inbox, locate and open the message you wish to forward.
Click More in the bottom menu.

Tap Forward in the drop-down list. Enter the new recipient's address in the To box and add any additional information needed at the top of the message body.
Tap Send in the top right corner.
Forwarding Multiple Email in AOL
Sometimes you may need to forward multiple messages to the same recipient. Some providers, like Gmail, let you do this easily. Unfortunately, AOL Mail doesn't include an option to forward multiple messages at once.
If you have Gmail, you can learn how to forward multiple emails in Gmail instead.
If you don't have access to another mailbox, you can also print your AOL messages to PDF and then attach them to a new message.
To do this:
Open your mail inbox.
Open a message you'd like to forward.
Click on More in the top menu bar, then choose Print.

When the printer dialog box appears, select Print to PDF from the printer options. Complete the process to save the PDF.

Repeat Steps 2-4 for all messages you plan to forward.
Now, click Compose in the top left.

Fill out the mailing information as normal.
Click Attach in the bottom toolbar. Select all the PDFs you just made.

When you're finished, click Send.
AOL Email Forwarding — Automatic Mail Forwarding
Sometimes, people have multiple mailboxes but like to check everything in one place. Instead of telling everyone you're changing your address, you can simply use automatic forwarding to automatically forward AOL email to another inbox.
💡 Note: Automatic email forwarding is not currently available to all AOL Mail users. If you notice that these directions do not work for you, it's likely that your account doesn't have access to this feature.
To set up automatic forwarding in AOL Mail:
Login to your AOL inbox.
Make sure your inbox view is set to Classic Mail. (You can change this by going to Settings, then pressing the box that says Switch to Classic Mail.)
Now, go to Settings.
Select General Settings in the left menu.
Now, select the tab labeled Forwarding.
Select Forward a Copy of Incoming Mail to.
Enter the address for forwarding, then click Save Changes.
Easily Organize Incoming Messages With Clean Email
As you already know, maintaining a clean AOL inbox is no easy task. Unfortunately, a cluttered inbox makes it that much harder to keep up with important messages, which can make AOL email forwarding that much harder on you. Thankfully, the Clean Email inbox management app is here to help you out!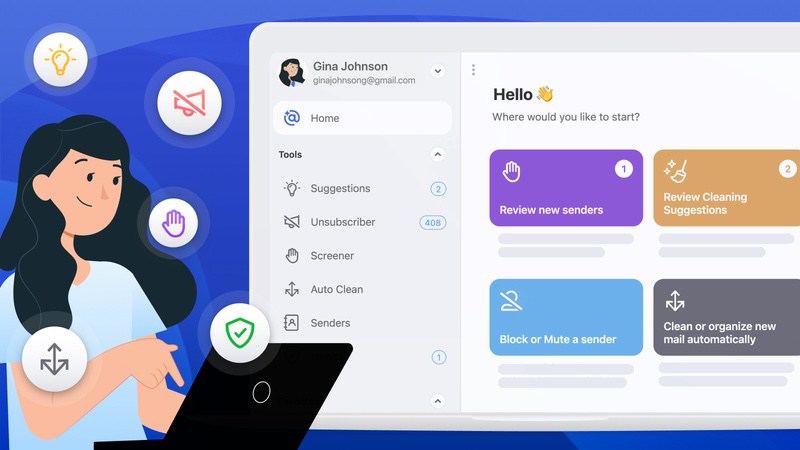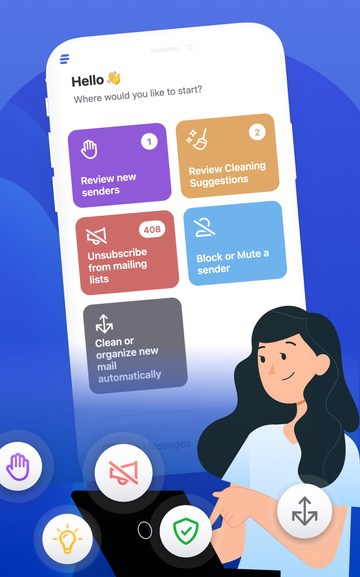 Clean Email isn't designed for email forwarding in AOL Mail as it is not an email client and can't send or forward messages, but it is a mailbox management tool designed to help you organize and declutter your inbox so you can easily locate those messages you must forward to coworkers or family members.
In fact, Clean Email has over a dozen tools within the app, all of which are designed to help you clean up your mailbox.
Some of these beneficial features include:
Auto Clean, which helps you set up mailbox automations based on email tasks you commonly perform.

Smart Folders, which bundles messages into predefined filters like "social media notifications" and "messages with attachments."

Screener, which lets you place messages from unrecognized senders into a separate quarantine folder.
Senders, which lets you set up rules to block, mute, or clear messages before they even enter your inbox.
Unsubscriber, which helps you removes yourself from promotional mailings or newsletters you do not want.
For a complete listing of all the great features the app has to offer, visit our Features page.
---
AOL Email Forwarding - FAQs
Does AOL have email forwarding?
Yes! You can forward AOL emails individually or set up your inbox for auto forwarding AOL email.
Can I forward AOL email to Gmail?
Absolutely! AOL mail forwarding works with any Gmail account.
How do I stop email forwarding on AOL?
If you have your account set up to automatically forward AOL email to another account, you can go to Settings → General Settings to disable it.
Can you forward multiple emails at once in AOL?
Unfortunately, forwarding multiple email in AOL isn't a native option from your inbox. However, you can try attaching an email to an email as a work around.