Why Use GoDaddy Email Forwarding?
If you have a personal or business website that is hosted through GoDaddy, then you probably use their provided mail service as well. Doing so lets you have customized addresses that match your domain, which can be great for business owners or entrepreneurs. However, this also means you have yet another (or several more!) inboxes to keep up with.
Unfortunately, you may not have time to go check yet another mailbox each day. If that's the case, you may want to forward GoDaddy email to another email account to keep everything organized. When you program GoDaddy to forward emails automatically, you can receive everything in a single location, then organize it based on your needs. This lets you stay on top of messages while also maintaining professional addresses for your website.
How To Setup Email Forwarding In GoDaddy
As of August 2022, GoDaddy has migrated all of their mail services over to Microsoft Office 365. This means that you no longer need to learn how to forward email in GoDaddy workspace, since it has been migrated over to Office 365. Instead, you just need to know how to setup mail forwarding in GoDaddy through the new Email & Office Dashboard.
Enabling GoDaddy Email Forwarding
As previously mentioned, GoDaddy workspace email forwarding is no longer possible since its migration to Office 365. However, GoDaddy does not allow any users to forward emails to addresses outside of their organization (website). So, before you can forward your emails, you have to enable this feature.
To do this:
Sign in to the Email & Office Dashboard using your GoDaddy username and password.
When you login, click Admin → Email Forwarding.
Choose Forwarding Status.
Turn the toggle under your domain name to On.
Wait until the status loads, then click Close.
You will now be able to move on to set up auto forwarding.
Auto Forward GoDaddy Email to Another Account
Although GoDaddy is now using Office 365 to host their mail, you still have to login to the GoDaddy Email & Office dashboard to set up your emails' transferring. Here's how you'll do that.
Sign in to Email & Office Dashboard.
From here, you will go to Manage → Forwarding. If you have access to more than one mail address from here, you will need to select the account you want to auto-forward first.

💡 Note: If you're an administrator, you can manage forwarding for all addresses associated with your domain by going to Admin → Email Forwarding. Then, choose a user and move to the next step.

Look under User, and verify the correct user is selected.
Now, move to the section labeled Forward Mail To, and enter the mail address where you want to forward your mail. If you want to keep a copy of your messages in your GoDaddy inbox, you will also check the box next to Keep a Copy of Forwarded Mail.
To finish, press Save. A confirmation message will appear on the screen.
Forwarding Single Messages In GoDaddy
Now that GoDaddy uses Office 365 for all of their mail accounts, you will follow the same steps as you would to forward one or more messages in Outlook. To do this, you simply select the message you want to forward, then click Forward from the Reply options.
If you want to forward multiple emails, you'll use Ctrl + Left Click to select all the messages you'd like to forward, then press Forward to send them away!
Forwarding to GoDaddy Email
Sometimes you may not want to forward messages out of your GoDaddy account, but rather forward them into it. If this is the case, you may want to dig into specific guides such as the following:
Keep Your GoDaddy Email Clutter Free With Clean Email
The transition to Office 365 gives GoDaddy users more mail features to utilize than ever before. However, Clean Email is an inbox management tool that can help you stay even more organized and productive.
Since Clean Email is not an email client, it cannot help you with GoDaddy email migration. However, the app offers a variety of features that can sort, filter, archive, delete messages automatically, and more, so you can optimize your inbox.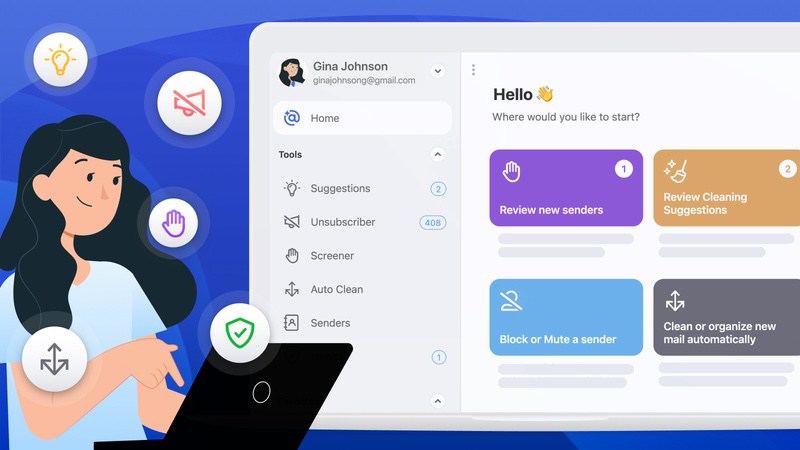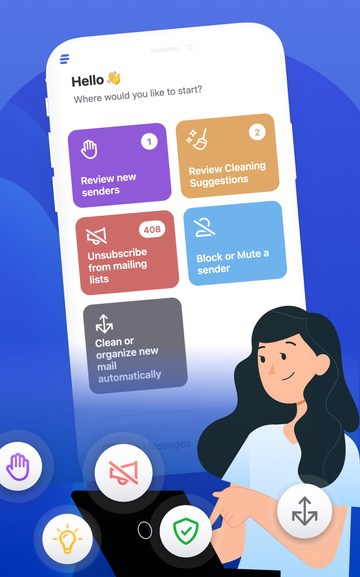 For example, you can use the Unsubscriber tool to remove yourself from unnecessary subscription messages. The app will send unsubscribe requests and complete unsubscribe forms on your behalf. Also, you can easily pause the subscriptions or send them to the Read Later folder.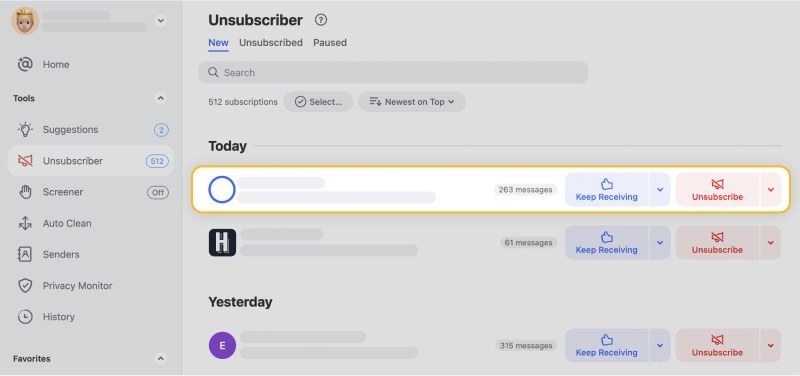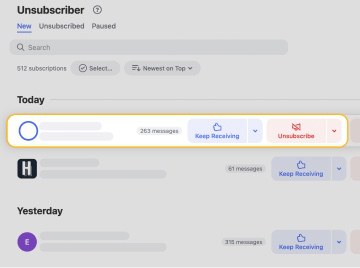 Also, Auto Clean lets you program automation rules to filter or manage messages based on your preferences.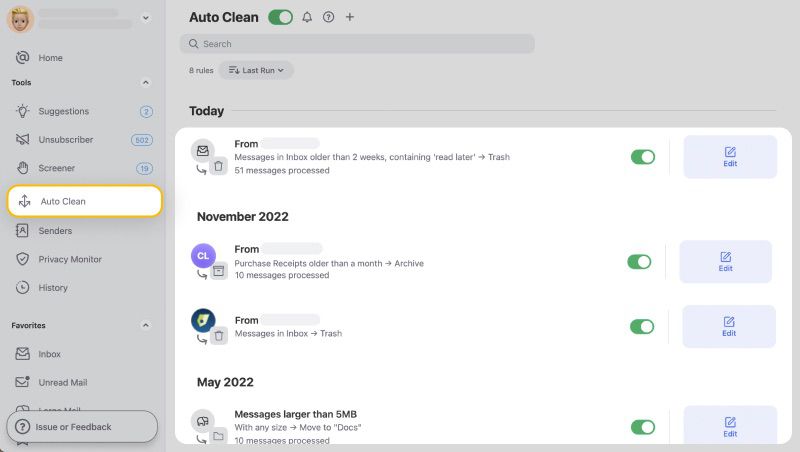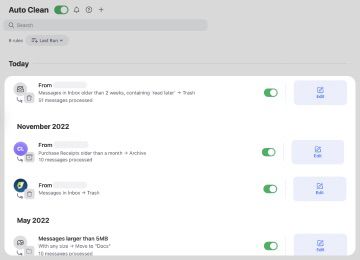 You can use Smart Folders to apply actions to messages sorted together based on certain criteria, like "Online shopping" or "Social notifications."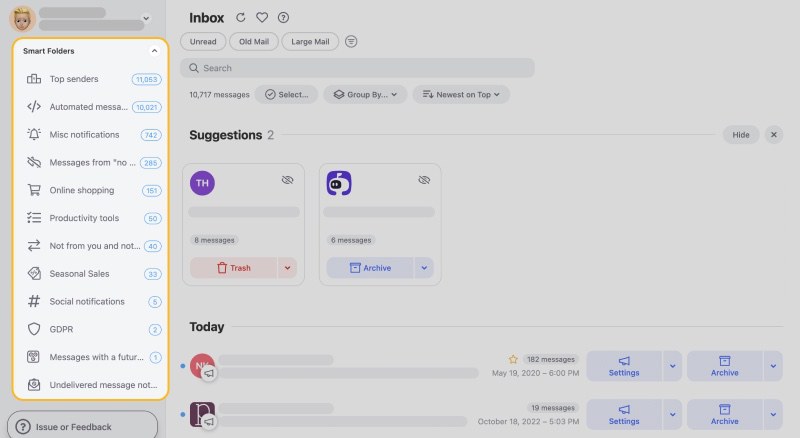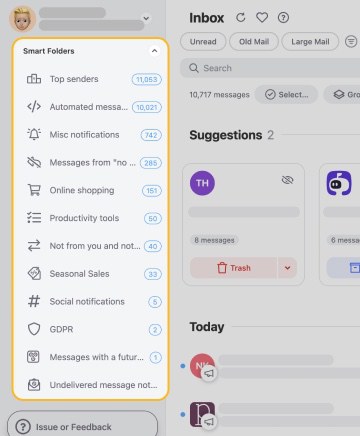 The Sender Settings feature will let you can automatically remove messages from a specific sender as soon as they arrive, and Screener will keep messages from unknown senders out of your main inbox until you approve them.
Clean Email works well with all mail providers that support IMAP, including GoDaddy and Office 365. It's also available on a variety of platforms including Android, iOS, Mac, and on the web.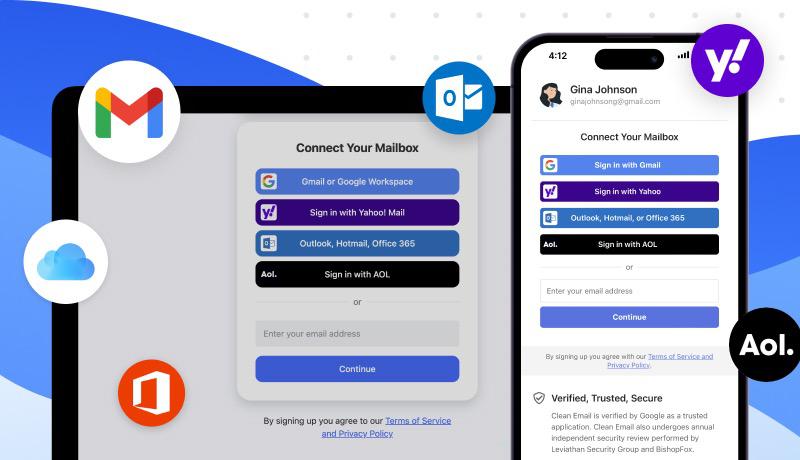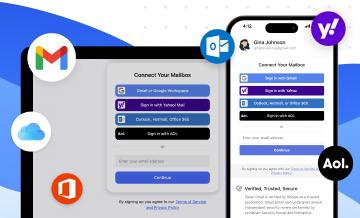 We also have a strong focus on privacy, which means we never collect or share your data for any reason.
To learn more about how this app can give you the tools you need to reclaim your inbox, visit our list of newly added features.
---
How to forward email in GoDaddy - FAQs
Does GoDaddy offer free email forwarding?
If you are paying for mail services through GoDaddy, you have access to GoDaddy free email forwarding within the Email & Office Dashboard.
How do I change my GoDaddy email forwarding?
To make changes to your forwarding settings, you can login to your GoDaddy Email & Office Dashboard.
How do I forward my GoDaddy email to my Gmail?
To setup email transferring to Gmail, you will need to login to your Email & Office Dashboard, then navigate through the settings to add your Gmail address for mail forwarding.
How do I turn off email forwarding on GoDaddy?
To turn off GoDaddy email forwarding, simply login to your Email & Office Dashboard, then navigate to Manage → Forwarding and turn the toggle OFF.